This post may contain affiliate links, which means we may receive a commission if you purchase through our links. Please
read our full disclosure here
.
Broadway is back on College Fashion! We've decided to revive the Stage Inspiration column, which features outfits inspired by various musical theatre productions. This time, we'll be looking at the musical Chicago and fashion inspired by costumes from the 2002 movie version starring Catherine Zeta-Jones, Renee Zellweger, and Richard Gere.
(In case you missed them, see past Stage Inspiration posts on fashion inspired by Hairspray, Wicked, Les Miserables, The Phantom of the Opera,The Rocky Horror Show, and Rent.)
You Can Like the Life You're Livin': About Chicago
Set in Prohibition-era Chicago (shocker, huh? I'll bet you were totally expecting it to be set in LA), Chicago was written by John Kander, Fred Ebb, and Bob Fosse. The musical satirizes bureaucratic corruption, public obsession with scandal, and the idealization of the "celebrity criminal." 
Velma Kelly is a vaudeville performer accused of murdering her husband and sister in a jealous rage.  Roxie Hart is a naive but ambitious housewife who shoots her lover.  Ironically, the media attention they receive from the murders is what helps propel them to the top. Yet they quickly learn that when it comes to the Second City, fame is fleeting.
Chicago premiered in 1975 and starred Chita Rivera, Gwen Verdon, and Jerry Orbach (of Law and Order fame) as Velma, Roxie, and Billy, respectively.
The 1996 revival, which was the longest-running Broadway revival ever, starred Bebe Neuwirth, Ann Reinking, and James Naughton.
In 2002, Miramax released a film adaptation that went on to win six Academy Awards, including Best Picture. 
Outfits Inspired by Chicago the Movie
Now that you're up to speed on the musical and film, check out a few outfits inspired by the 2002 movie!
All That Jazz
Get ready to paint the town in an ensemble inspired by Velma Kelly, the vampiest vaudeville vixen in town.
A swishy, tiered frock will look great on the dance floor  Add seductive touches like fishnet stockings and a lace bed jacket. While you might not want to rouge your knees, you can definitely slick on a coat of crimson lipstick. Finally, accessorize with piano-inspired earrings and oxblood stilettos. You'll be dressed to kill!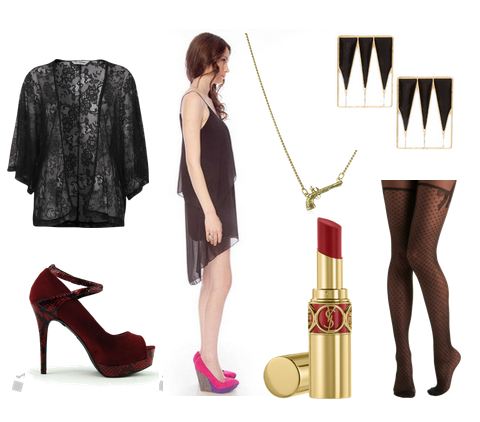 Product Information: Dress, Jacket, Tights, Shoes, Necklace, Earrings, Lipstick
Cell Block Tango
The Six Merry Murderesses of the Cook County Jail may be psychopathic killers, but there's no denying that these ladies are fierce. During the popular number "Cell Block Tango," the inmates explain the reasoning behind their crimes while dancing in skimpy bondage-inspired outfits.
Channel their style (but not their 25-to-life sentences) with edgy pieces like a cropped cutout top and high-waisted bandage skirt. Since this look is skintight, stilettos would be sexpot overkill, so choose unexpected footwear like tough combat boots. Tie on a blood-red hair scarf and a fun handcuff-shaped bracelet for the final touches.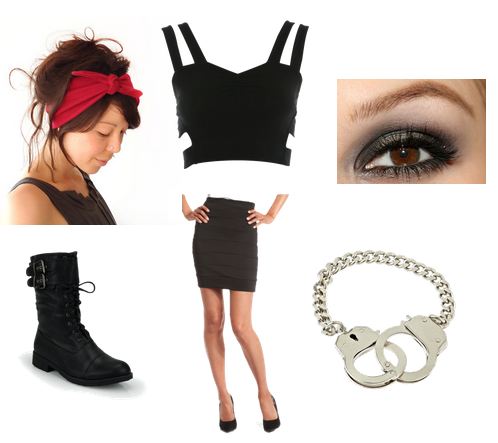 Product Information: Scarf, Top, Skirt, Boots, Bracelet
All I Care About
Slick lawyer Billy Flynn, who represents both Velma and Roxie, doesn't really care much about money, fame or power…or so he says. He specializes in the "razzle dazzle," using the sensationalist media to give a scandal-hungry public what it wants. The courtroom is his stage and his only business is show business.
While I'm hoping that all you pre-law folks consider justice at least somewhat important, there's definitely a [sartorial] lesson or two to be learned from Mr. Flynn. Menswear-inspired clothing is hot as ever for fall, so give a pinstriped blazer and cropped trousers a spin! A vintage scarf and oxford flats add some pizzazz while a briefcase-esque satchel holds all your essentials. Top it all off with a cool fedora.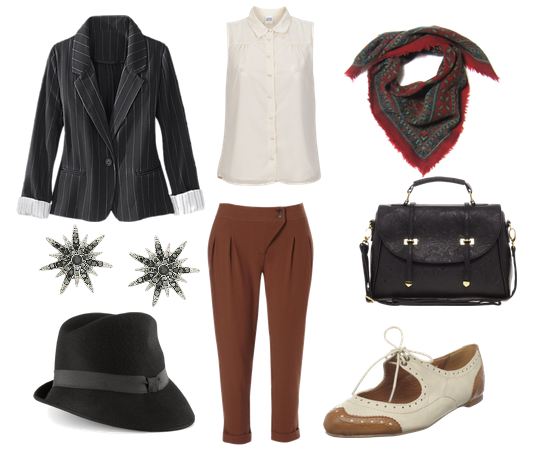 Product Information: Blazer, Top, Trousers, Shoes, Purse, Hat, Earrings, Scarf
Roxie
Roxie dreams of being a celebrity — that means somebody everybody knows — and her wardrobe, both real and imaginary, reflects this overarching desire. She's all about slinky slips, sequins, and slits up to there.
Snag her sexy ingenue look with tap shorts and a sequinned top. Back seam tights and T-strap pumps, along with an updo featuring finger waves, add to the retro vibe. Finish the look with a glamorous white faux fur coat. The only name on everybody's lips is gonna be yours!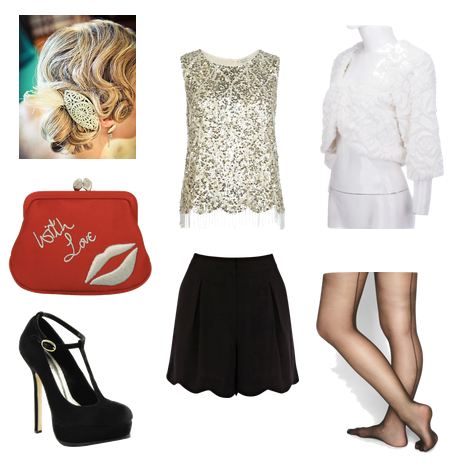 Product Information: Jacket, Top, Shorts, Tights, Shoes, Clutch
What did you think?
Would you wear these outfits? Are you a fan of Chicago? Are there any musicals that you'd like CF to cover next? Let us know in the comments!