This post will explain how to dress like a Scorpio with water sign-inspired fashion tips.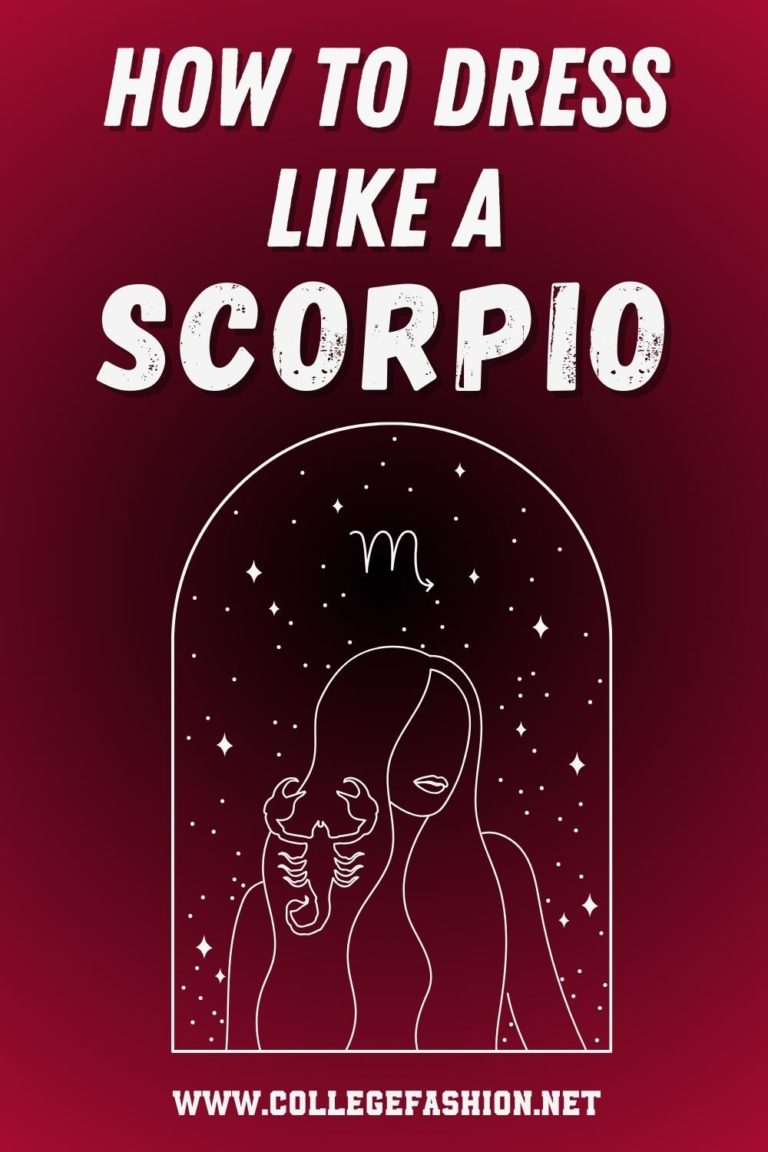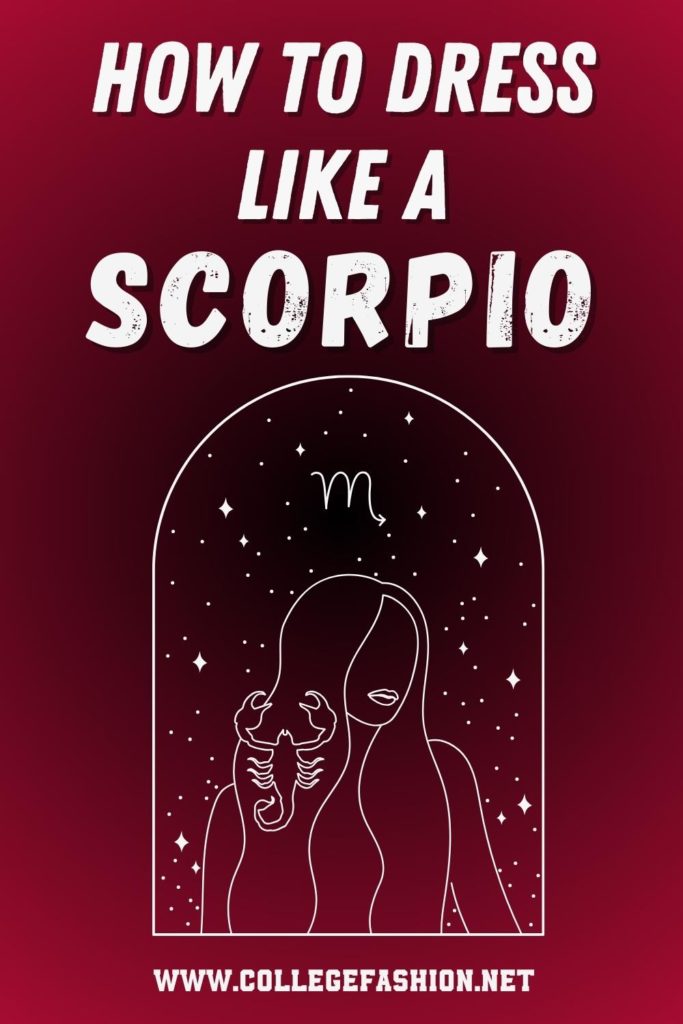 Welcome back to our zodiac fashion series, where we give you fashion tips inspired by your sign and show you how to dress to maximize your best qualities based on astrology.
We're continuing our series with Scorpio, a water sign that applies to birthdays between October 23 – November 21.
If you're a Scorpio looking to refresh your wardrobe or are just curious about how a Scorpio would dress, read on for our Scorpio style guide, full of tips on incorporating your sign's style into your everyday look.
MORE ASTRO STYLE: Aquarius Style Guide, Pisces Style Guide, Aries Style Guide, Taurus Style Guide, Gemini Style Guide, Cancer Style Guide, Leo Style Guide, Virgo Style Guide, Libra Style Guide
How to Dress Like a Scorpio
When it comes to Scorpio style, think equal parts edgy/dark and sexy/seductive. The scorpion of the zodiac, this water sign's style doesn't slay — it stings!
Scorpios have a rep for being dark and mysterious, so it makes total sense that their power color is black. That's why you'll find plenty of dark colors in their closets (especially black). Monochromatic black outfits are going to give a Scorpio a sense of power and composure and always look polished.
If there's any zodiac sign that gravitates toward aesthetics like dark romance, goth, punk, and dark academia, it's Scorpio. Anything dark is going to pique a Scorpio's interest!
This sign has a fascination with topics and aesthetics that are dark and mysterious and that allow them to tap into their intuitive nature, which they derive from being a water sign. If something is a bit spooky or witchy, there's a good chance they're into it… and being born around the Halloween season undoubtedly plays a role in this!
Scorpios can be intense and have a fiery disposition, stopping at nothing to achieve a goal, dominate the competition, or gain control of a situation. They can convey their tough-girl exterior by wearing studs, exposed zippers, and other edgy details that show the world they aren't to be messed with — they are ruled by Pluto, the planet of destruction (and transformation), after all.
At the same time, Scorpios are known for being passionate and seductive due to both their secretiveness and the part of the body that is governed by this sign. Because of this, they aren't afraid to wear sexy clothing, which includes details like sheer lace or mesh, edgy faux leather or patent leather, and daring silhouettes.
Scorpios know how to be alluring, both in the way they dress and the way they present themselves to the world, drawing others in with their magnetism and intensity.
Scorpio Outfits
Want to wear a Scorpio outfit? These Scorpio-inspired pieces are based on the zodiac sign's defining personality traits and are all under $100.
Scorpion Graphic Print Tank Top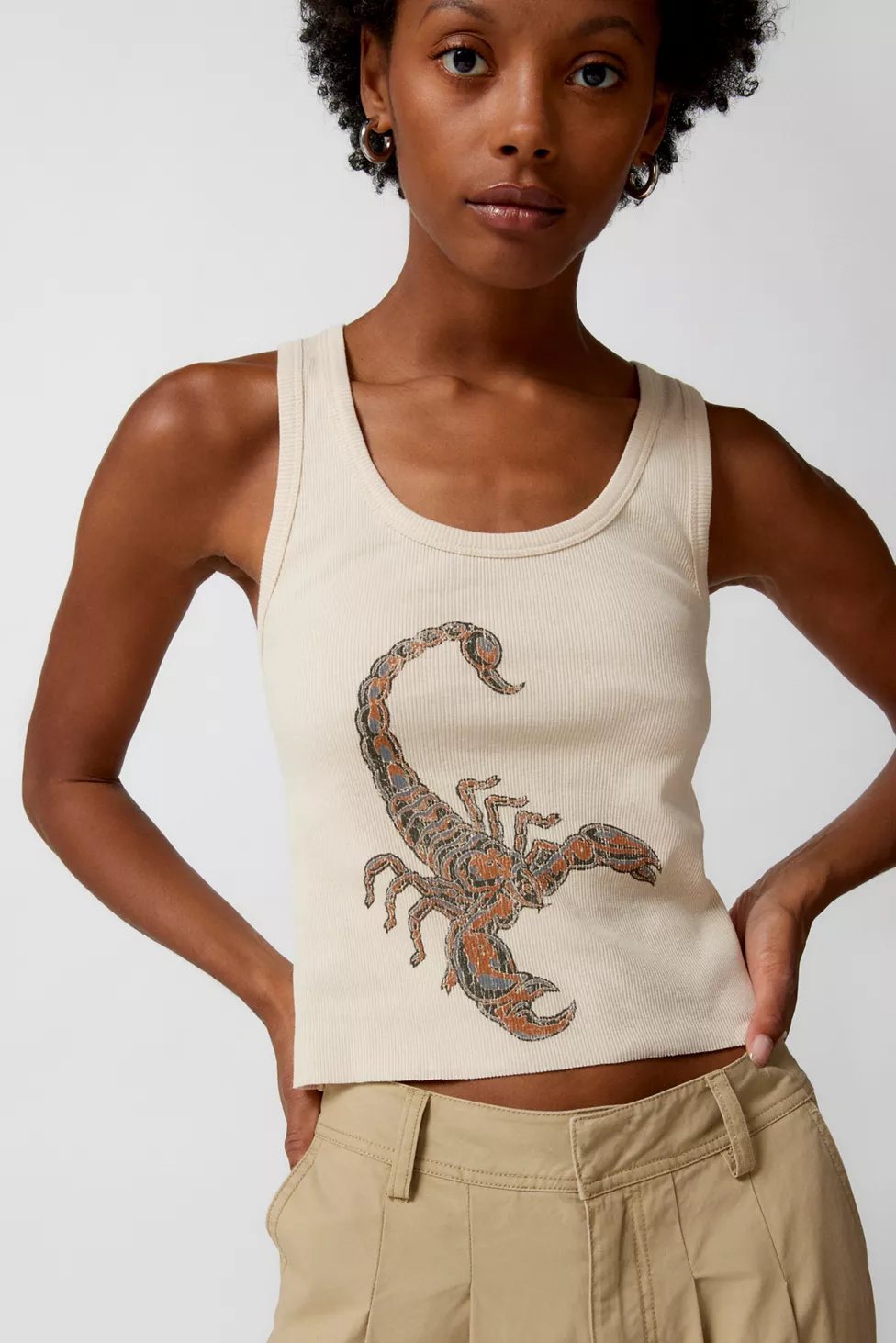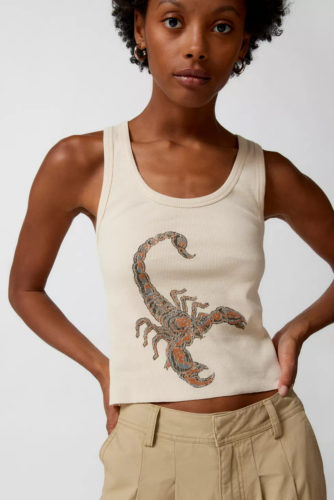 It's nearly impossible to see a graphic print of a scorpion and not immediately think of Scorpio. In fact, I'd argue that Scorpio has the most easily and widely recognizable symbol of all 12 zodiac signs!
That's why this scorpion graphic print tank top is perfect for Scorpios, with a slim fit, slightly cropped length, and Y2K-inspired look to keep it on-trend. Plus, it says "fearless" on the back, a trait that describes Scorpios to a tee. They are fearless when it comes to conquering challenges and facing the dark, "shadowy" aspects of life that many others prefer to shy away from. Embrace that characteristic with this tank — especially during Scorpio SZN.
Black Lace Mini Dress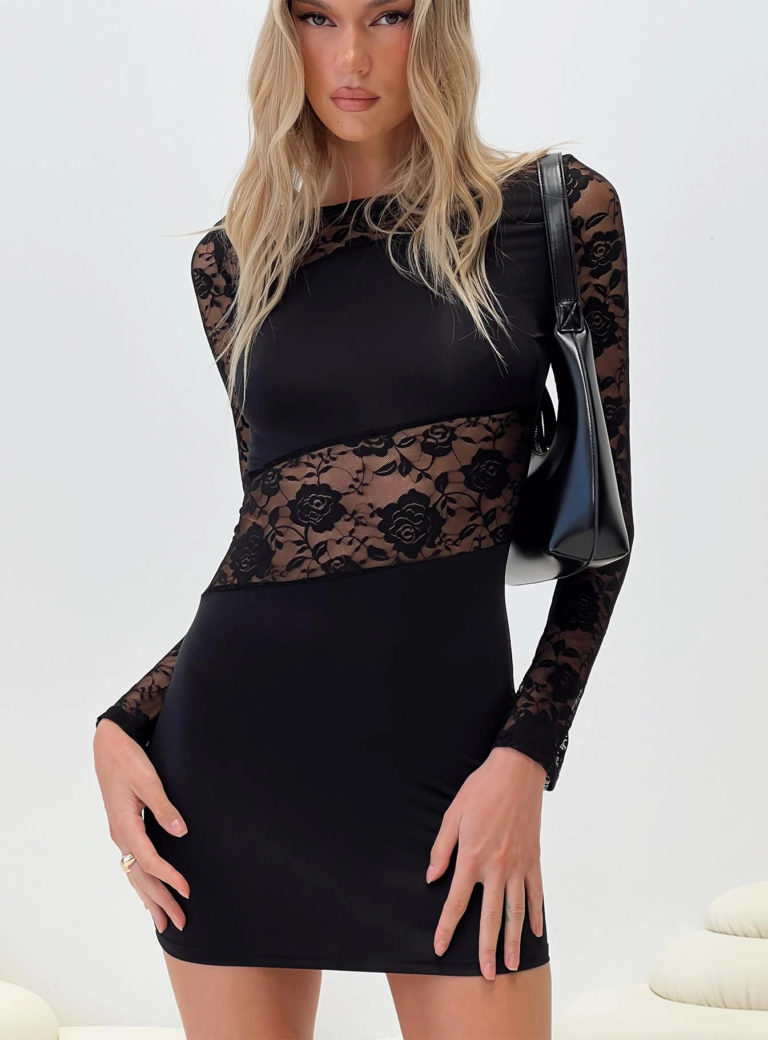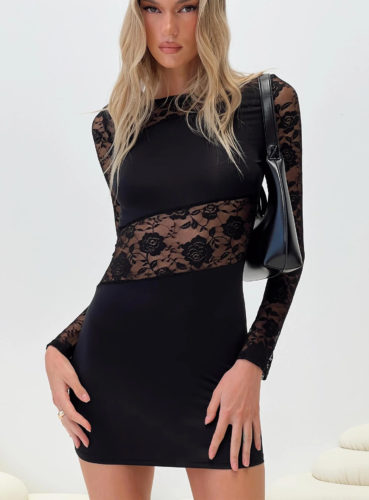 Every Scorpio needs a sexy LBD in her closet. With black being Scorpio's power color, it's all the more reason to make sure you add a piece like this black mini dress to your wardrobe.
Sheer floral lace paneling throughout makes this dress so alluring by giving a flirty glimpse of skin without baring it all — similar to a Scorpio's secretive yet seductive energy.
Navy Floral Lace Top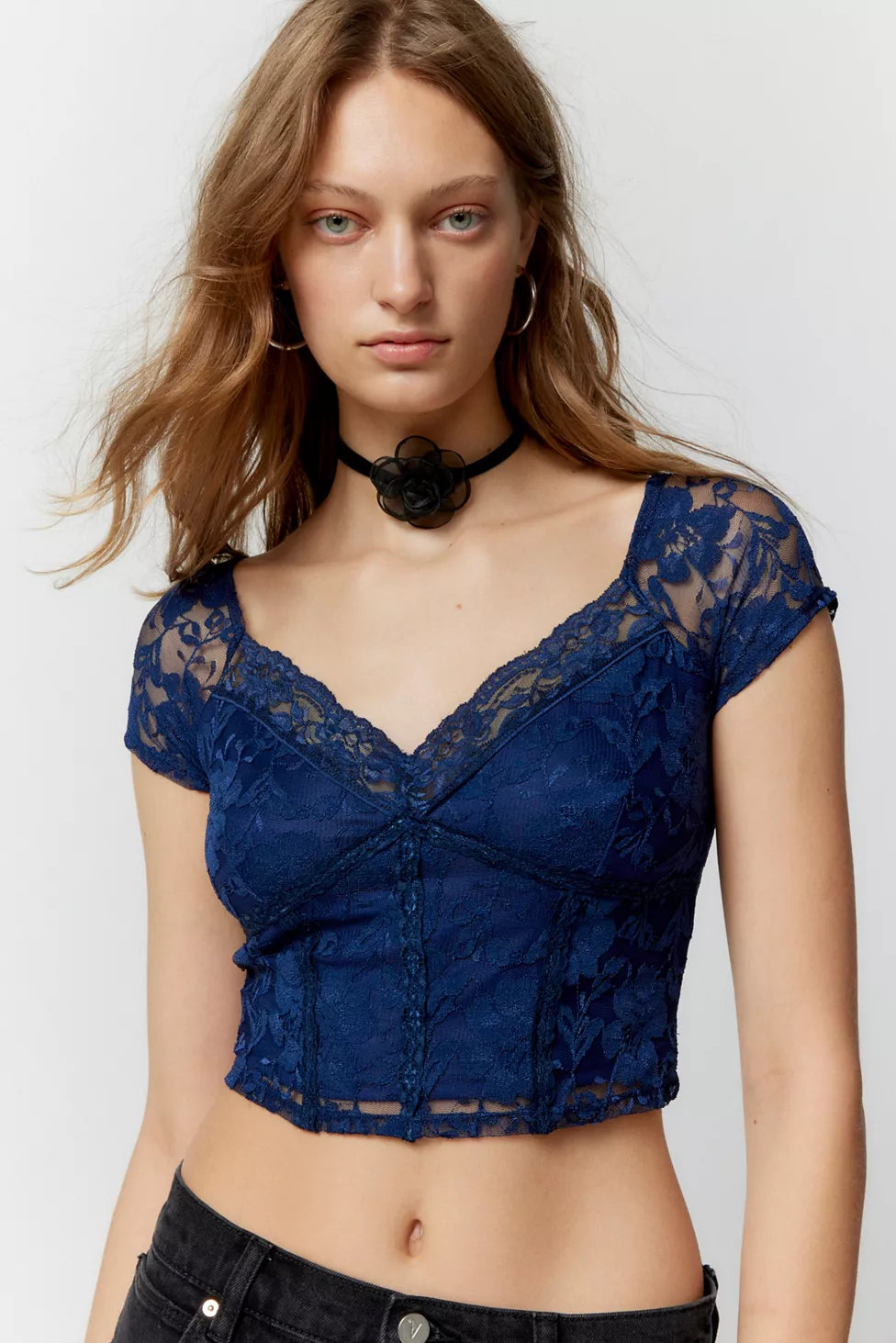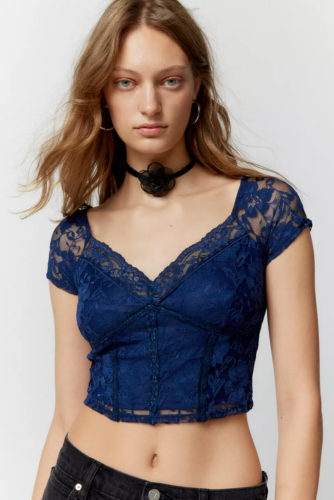 Everyone (myself included) often forgets that Scorpio is a water sign, not a fire sign — it's surprising, considering Scorpios are known as being fiery, passionate people!
Embrace your water sign energy by adding dark blue hues to your wardrobe. This navy floral lace top is the color of the deep ocean, and its floral lace construction gives it a dark romantic aesthetic that is a Scorpio's dream. The cropped length and corset-style silhouette add to its sexiness.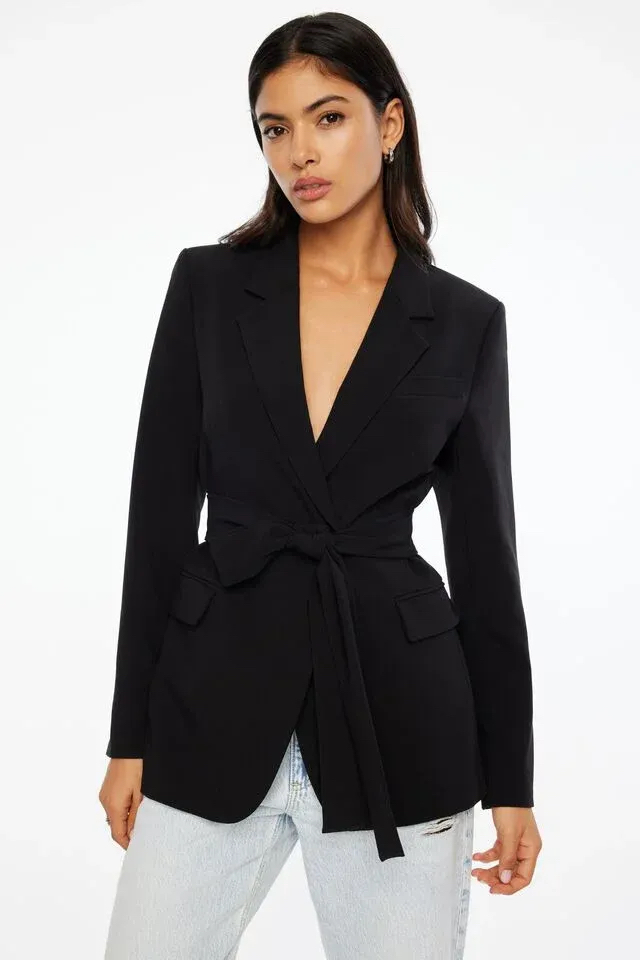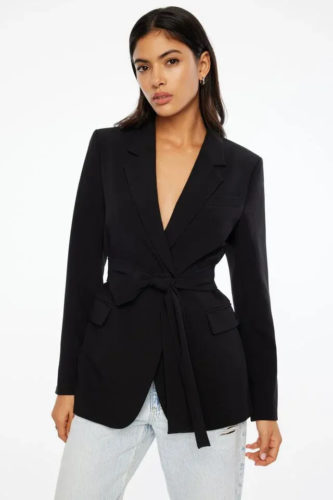 Scorpios are known for being ambitious (they love having power in pretty much all areas of their lives), so show everyone you mean business with a sharp black blazer.
This blazer has a tailored fit with an adjustable belt to give you a cinched-waist effect. Whether you're giving a class presentation or heading to work, a chic black blazer will make you look polished, put-together, and capable of getting the job done.
Blazers aren't just for dressing up, though; you can wear this over a cute going-out top over the weekend with jeans or faux leather pants. Talk about versatility!
Faux Leather Pants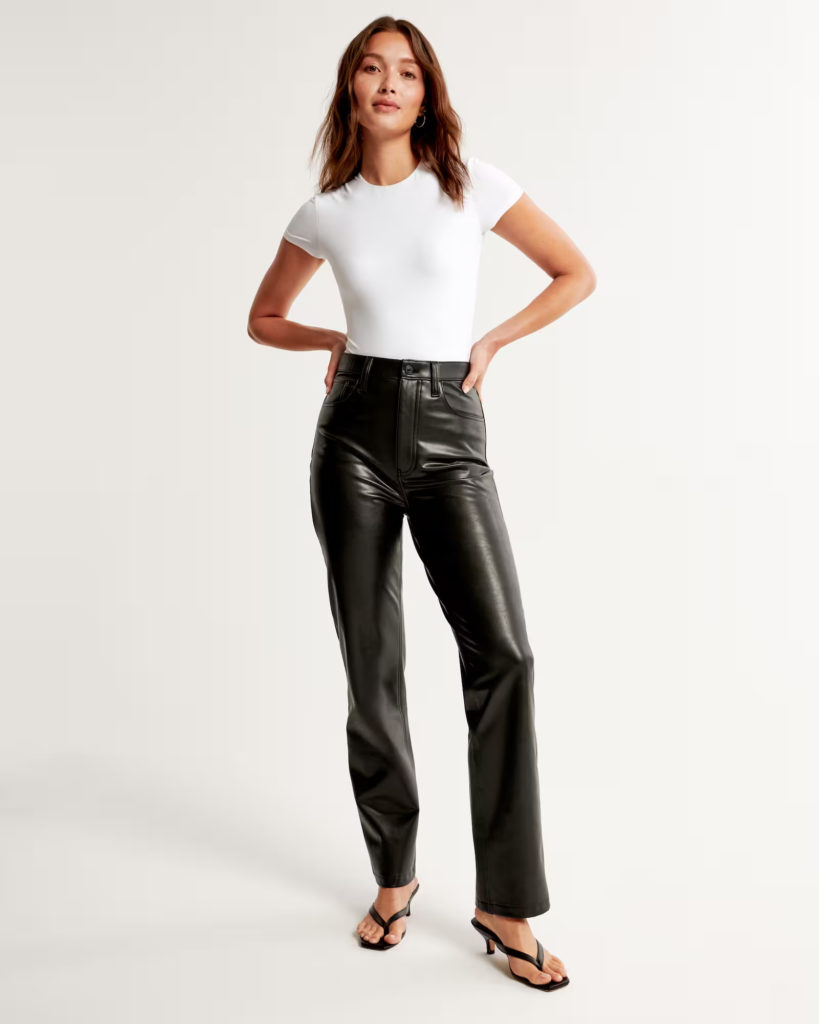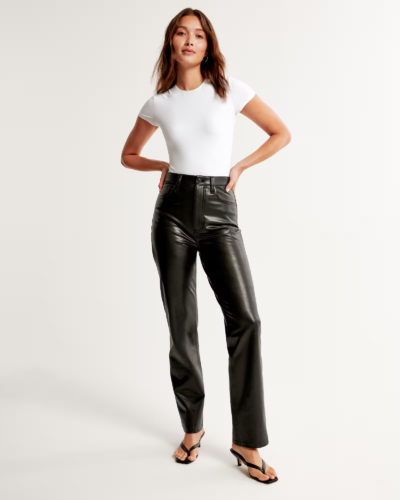 Scorpios have an innate edge, so anything faux leather is going to be right up their alley. These vegan leather straight-leg pants are a perfect addition to a Scorpio's wardrobe for that reason.
Because of their '90s-inspired silhouette, these pants can be dressed up with heels and a bodysuit for a night out or worn casually with a t-shirt and flat boots, loafers, or sneakers for a more laid-back look. Day or night, they'll give you just the right amount of edginess.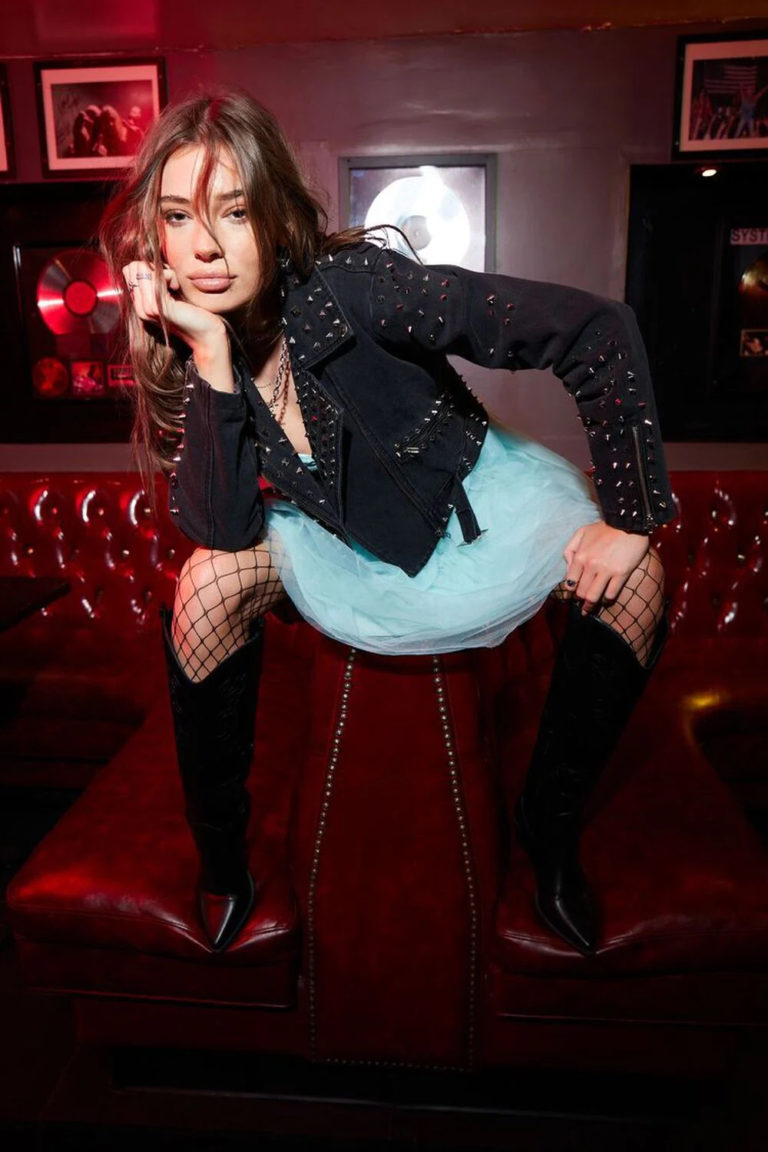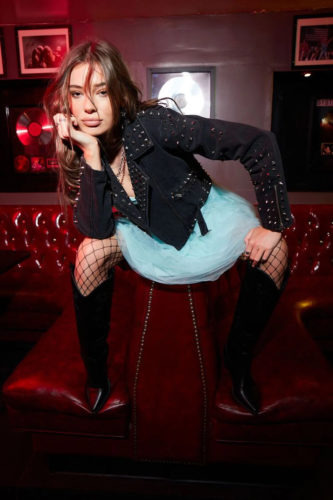 Speaking of edgy, it doesn't get much edgier than a studded moto jacket. Throw on this cropped twill moto jacket with all-over stud embellishments, and it will transform even the most basic outfit into an edgy, rocker-inspired look.
Scorpios tend to have a "don't mess with me" vibe, which is exactly what this studded jacket is giving, especially when paired with knee-high boots or combat boots.
Scorpio Shoes & Accessories
No scorpio style guide would be complete without some cool girl accessories. These shoes and accessories under $100 are perfect for a Scorpio looking to enhance her outfits and show off her dark, edgy sense of style.
October Birthstone Necklace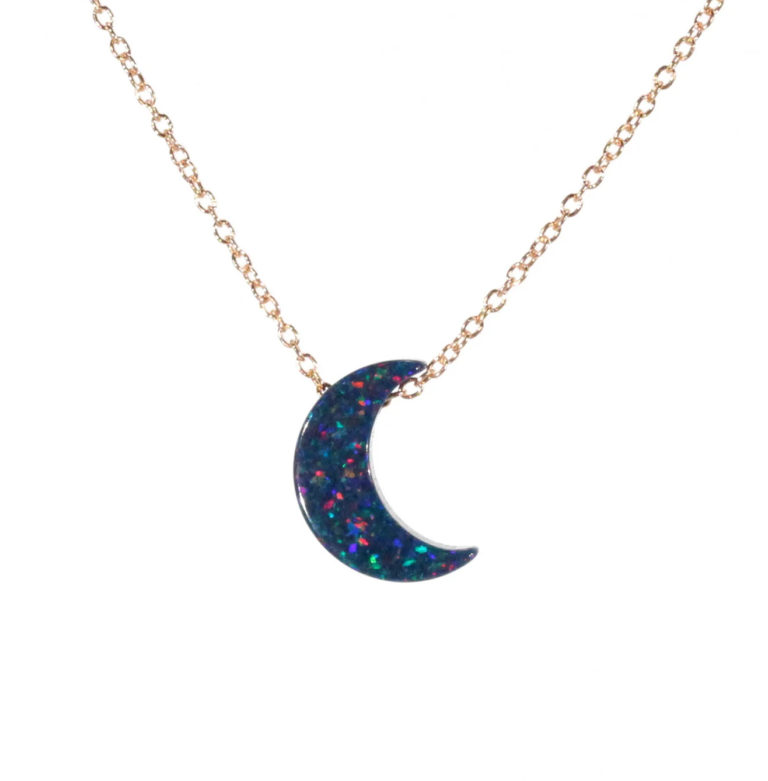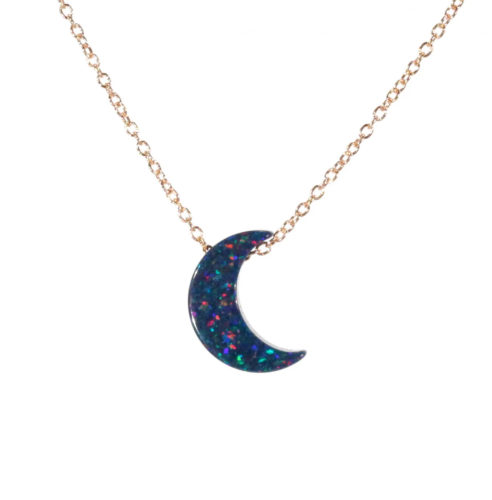 If your birthday is in October, you can choose between the month's classic birthstone, opal, or its modern birthstone, tourmaline. Since we suggested pink tourmaline as a good fit for October Libras, why not wear opal instead?
Opal has a variety of base hues, including white, red, and black. But what makes opal so cool is its multicolor effect with rainbow flashes called "play-of-color," which give it the look of different colors depending on how light reflects off of the stone. Scorpios are multi-faceted, showing different sides of their personalities at different times, which is why this stone is a particularly good match for them.
Since black is Scorpio's power color, I'd suggest opting for a black or dark-colored opal like this black opal crescent moon necklace. Its crescent moon shape adds to its appeal since Scorpios gravitate towards things like astrology, magic, space, and spirituality.
November Birthstone Ring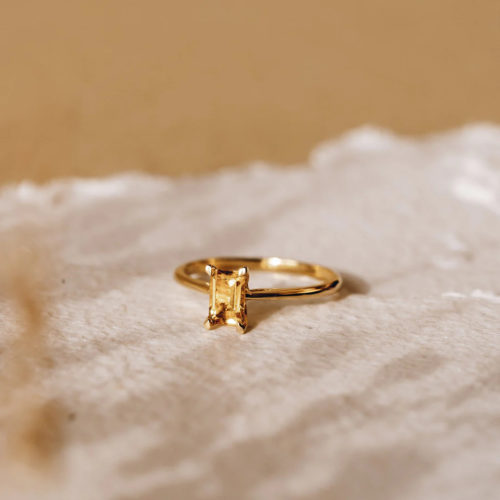 If you're a Scorpio born in November, you can take your pick from the month's two birthstones, topaz and citrine, which have similar qualities.
Since Scorpios are known for having fiery tempers, give citrine a go. This stone is said to help soothe tempers and bring about a sense of calm by releasing anger and tension. It's also known as the "success stone" or the "money stone," which can help you attract success as you tackle your goals head-on.
This baguette-shaped citrine ring has the feel of an heirloom piece that you can easily pair with other rings for a modern look.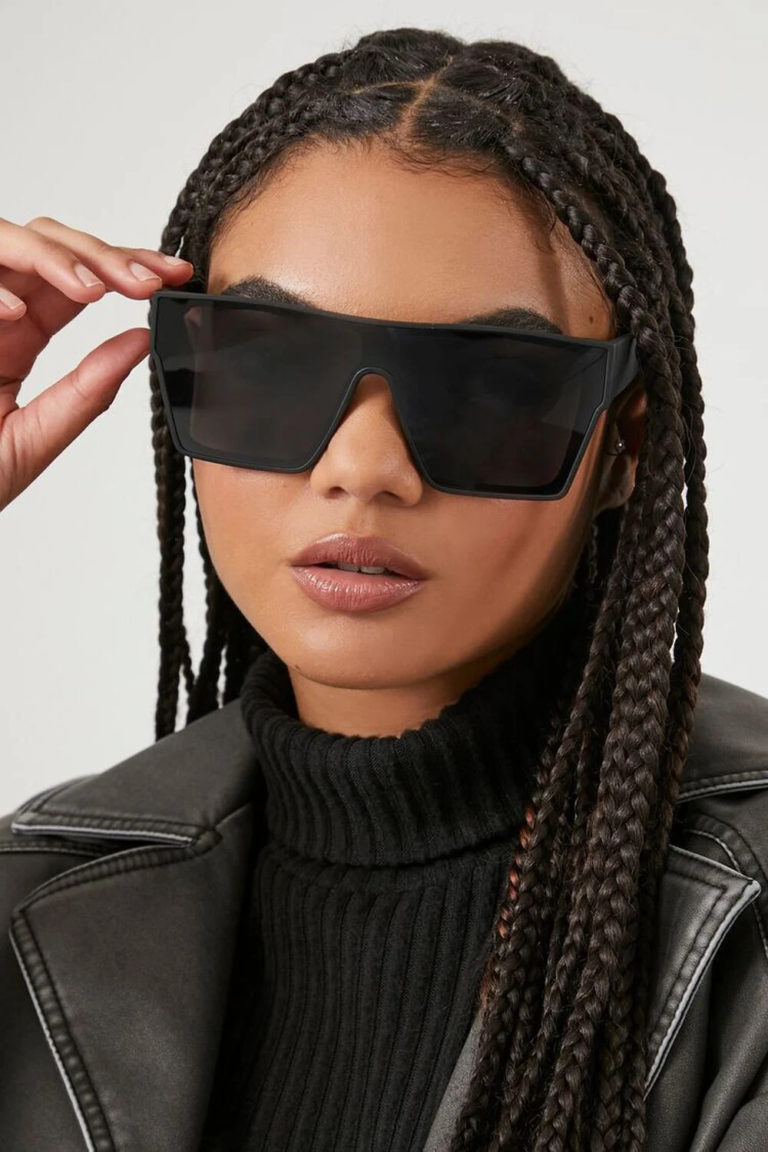 As a Scorpio, you love embracing your mysterious side and keeping people guessing. By wearing a pair of ultra-dark, oversized shield sunglasses, you'll have everyone wondering who's hiding behind those shades!
These sunnies will add to your enigmatic allure since they keep the area around your eyes totally covered. (They also will come in clutch the morning after a late night out on the town. Dark undereye circles? We don't know them!).
Black Patent Platform Mary Janes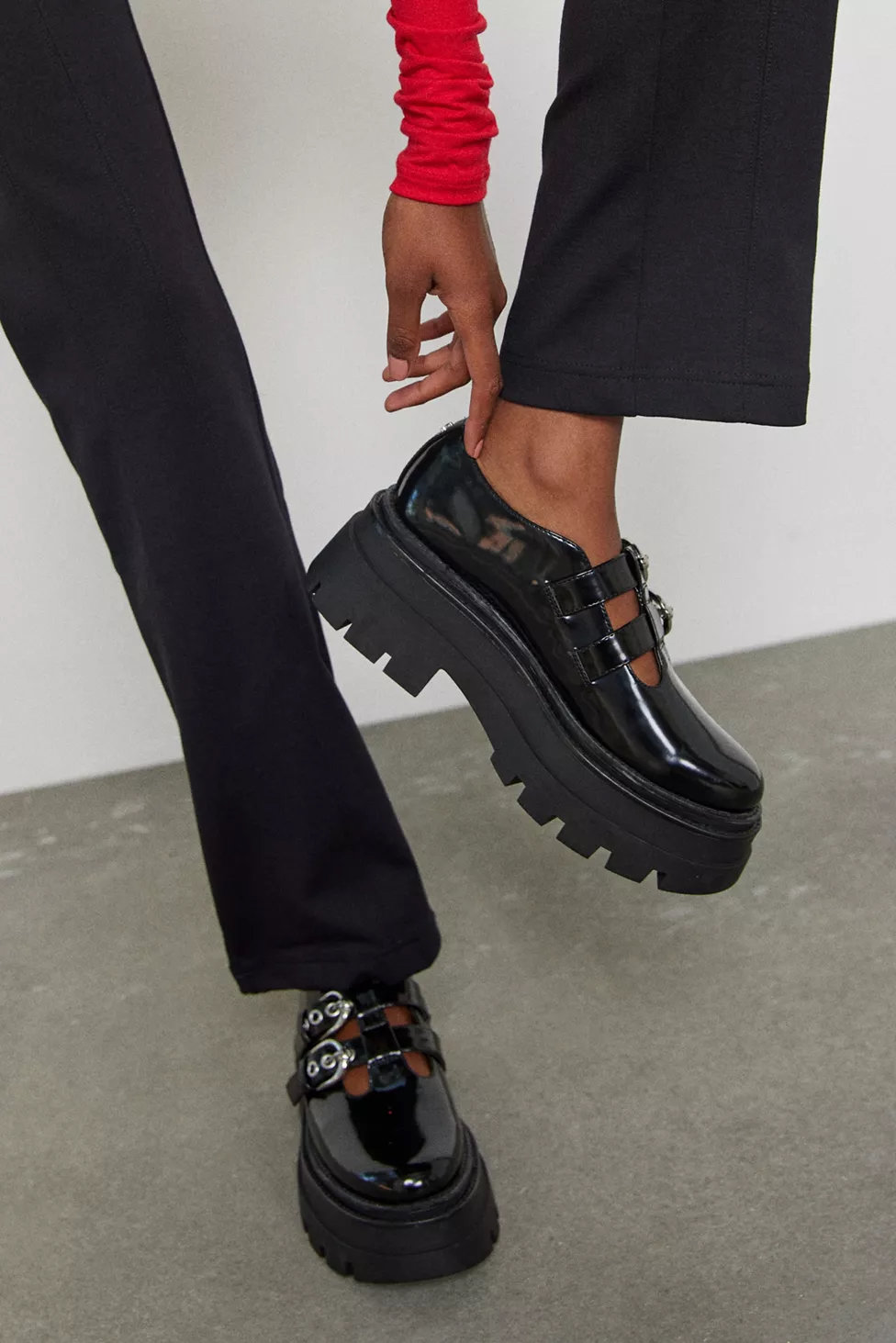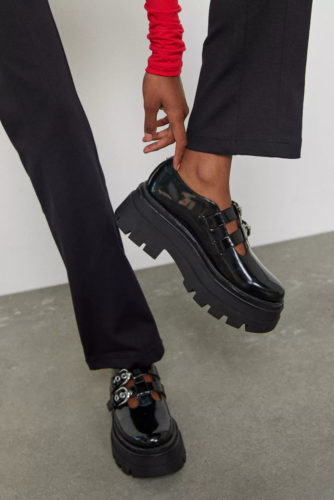 Quirky, edgy, and right on trend, these black patent platform Mary Jane shoes with double buckle straps were made for a Scorpio. They are the perfect shoe to wear with dark romance or dark academia core outfits, with chunky platform lug soles that make them badass.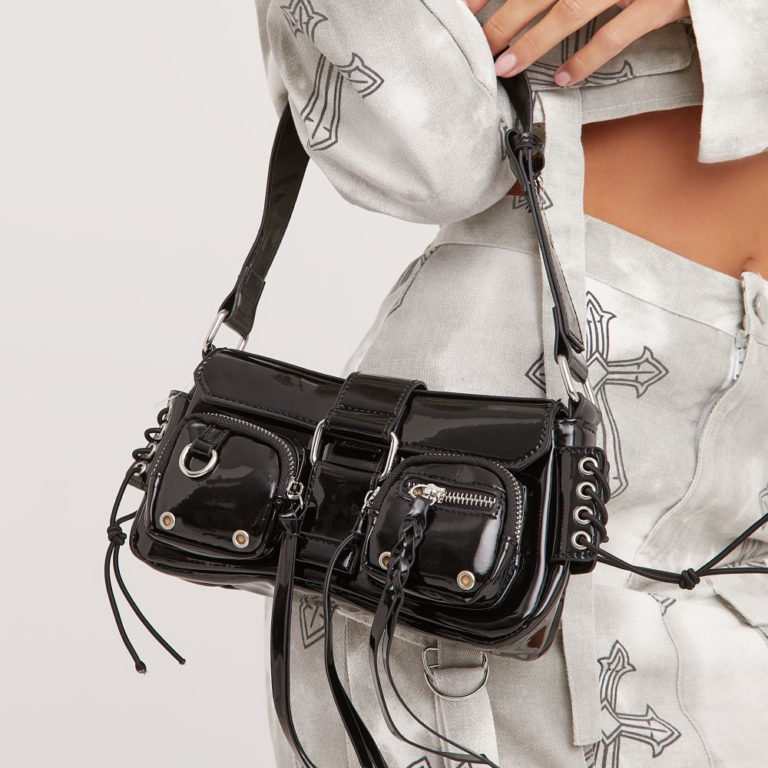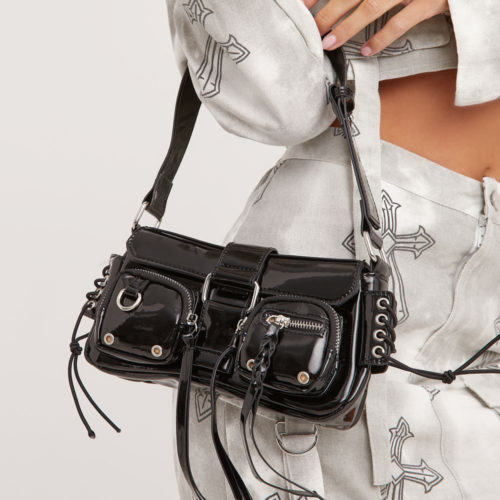 An edgy handbag is a must for a Scorpio. Embrace this season's moto trend with an edgy moto shoulder bag like this patent one, which has zippers and lace-up detailing throughout to add to its tough-girl vibe. It makes for the ultimate compliment to your weekend going-out looks, especially when paired with patent footwear.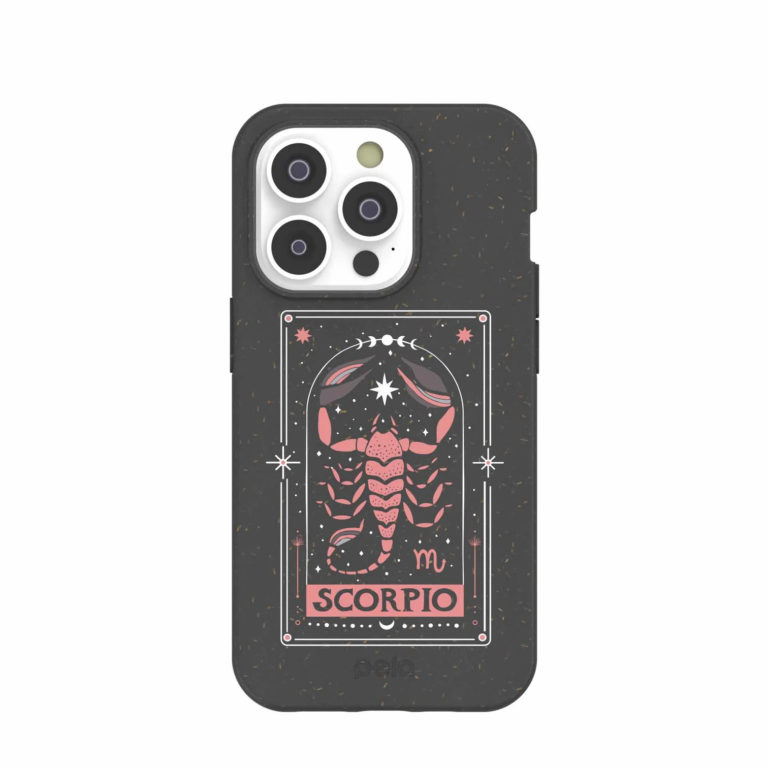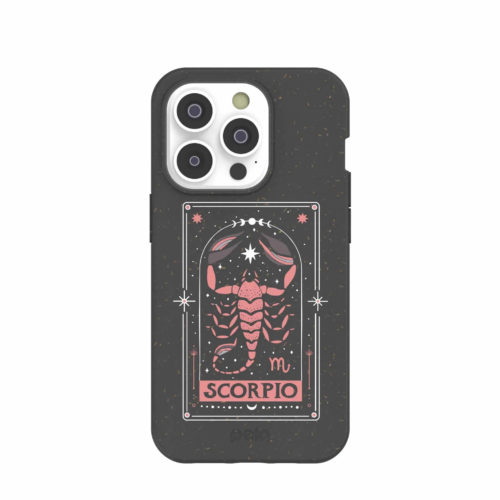 Show off your star sign with a Scorpio phone case depicting a scorpion, the symbol of Scorpio's zodiac sign. It's sustainable and compostable and features a black background that is sure to appeal to your dark aesthetic.
What do you think of our Scorpio style guide?
Do you agree with these Scorpio fashion picks? Which of these looks is your favorite? Leave a comment and let us know!