This post will teach you everything you need to know about the dark academia aesthetic.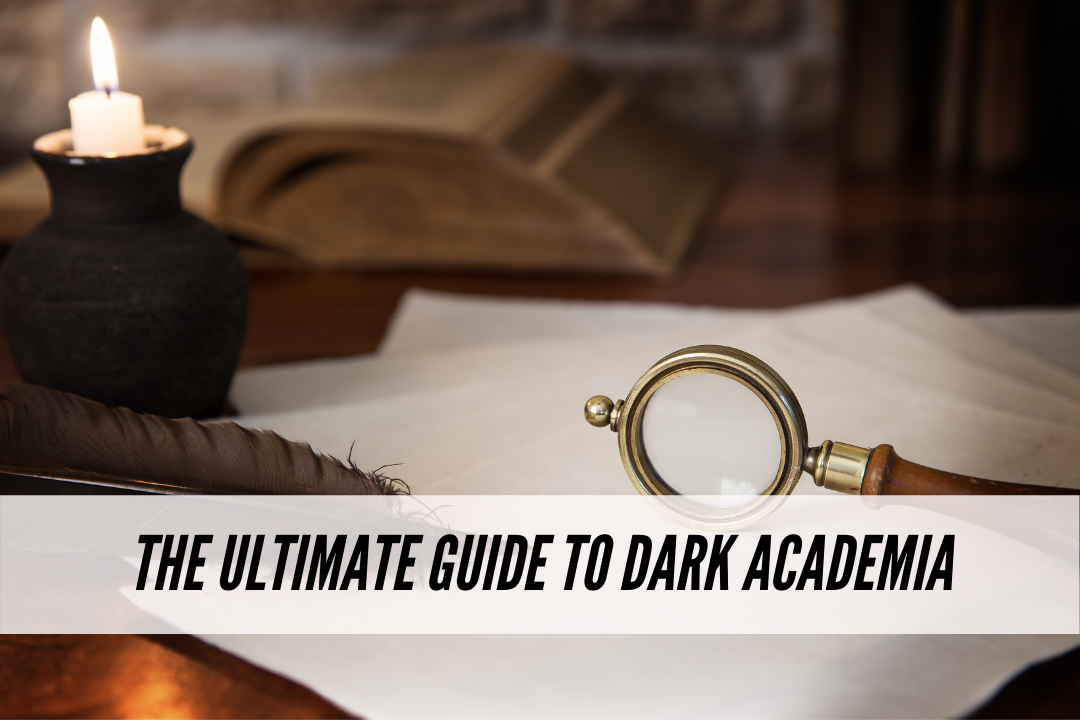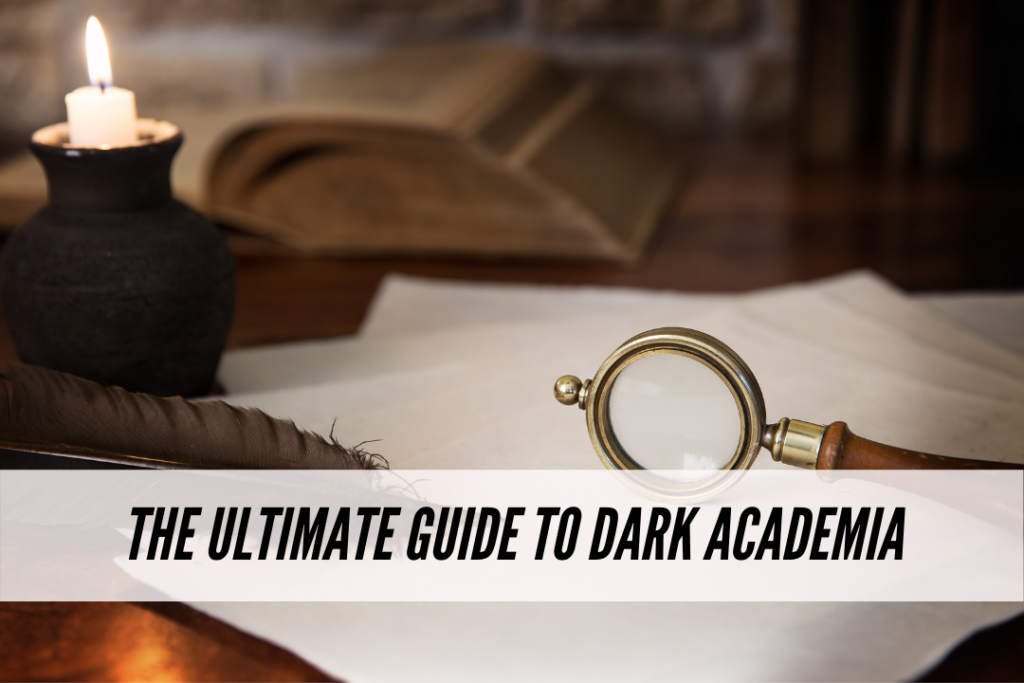 Last week I did a post on the Romantic Academia Aesthetic and today I want to shift gears and tackle the other end of the Academia spectrum, the Dark Academia Aesthetic.
If you adore the haunting beauty of Allan Edgar Poe; if Byronic heroes with their turbulence set your heart aflutter; or if your ideal afternoon includes long walks through a misty, rain-drenched moorland in anything by the Bronte sisters; then this aesthetic could be right up your alley.
All academia aesthetics are centered around learning and the accumulation of knowledge. Dark academia, unlike the other aesthetics, is melancholic, romanticizes knowledge, and has a dark brooding but oddly comforting aspect about it. It focuses on self-discovery and the importance of looking within yourself.
As you embark on your new scholarly approach to life, you may want some clothing to get into the darkly illuminating mood.
A Dark Academia wardrobe features include dark colors, lots of oversized sweaters, coats, sweater vests, loafers, and turtlenecks.
My rule of thumb is "What would a distinguished professor wear?"
Think classic, well-tailored pieces. Materials such as tweed, wool, and plaid are also staples.
Activities and interests for dark academia include but aren't limited to the following:
Classic Architecture
Science
Philosophy
Mythology
Walks in the rain
Journaling
Watching Dark Academia shows (A Series of Unfortunate Events, Peaky Blinders, His Dark Materials, Chilling Adventures of Sabrina)
Or movies (Dead Poets Society, The Riot Club, Good Will Hunting, Knives Out)
Classic Novels (Wuthering Heights, Jane Eyre, Frankenstein, The Picture of Dorian Gray)
Romantic poetry (Wordsworth, Keats, Byron. Dickenson)
Here are some of our suggestions to help you get into this dark aesthetic's mood.
Dark Academia Outfit 1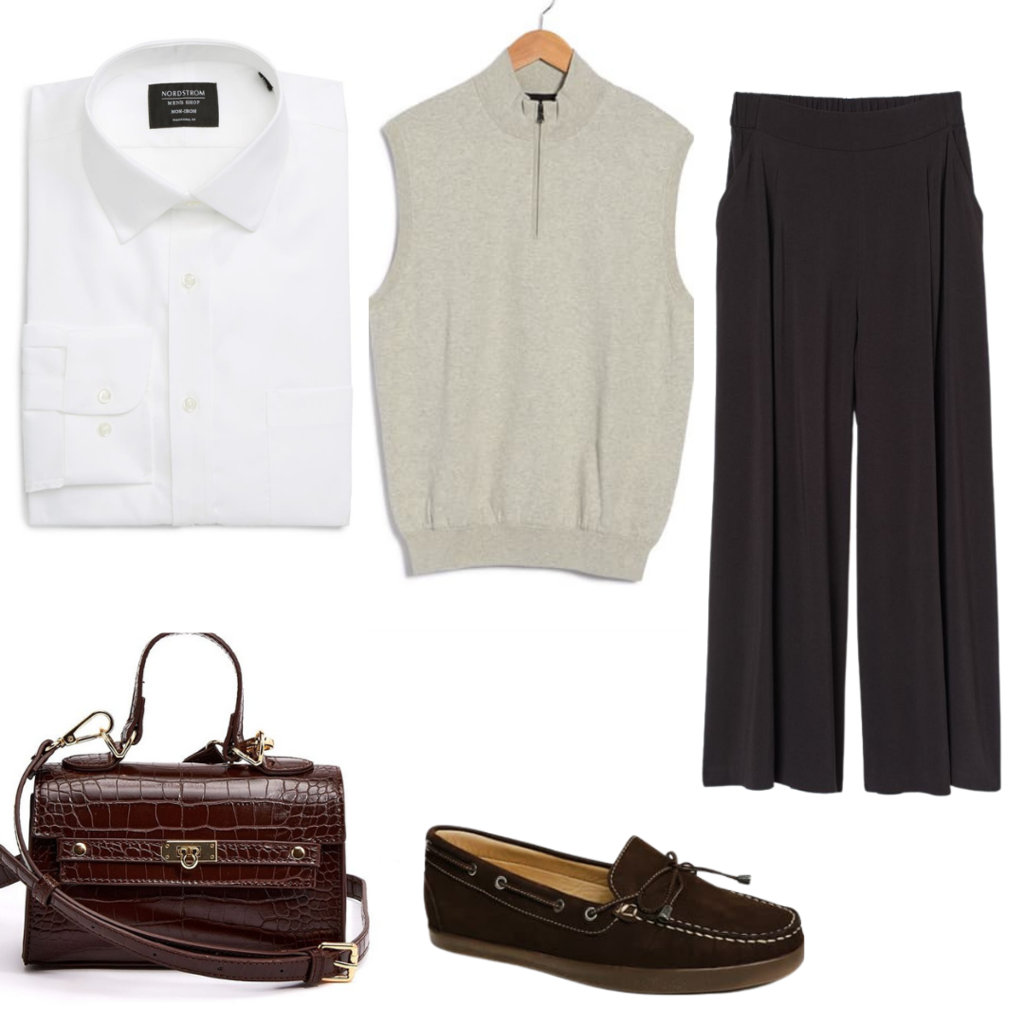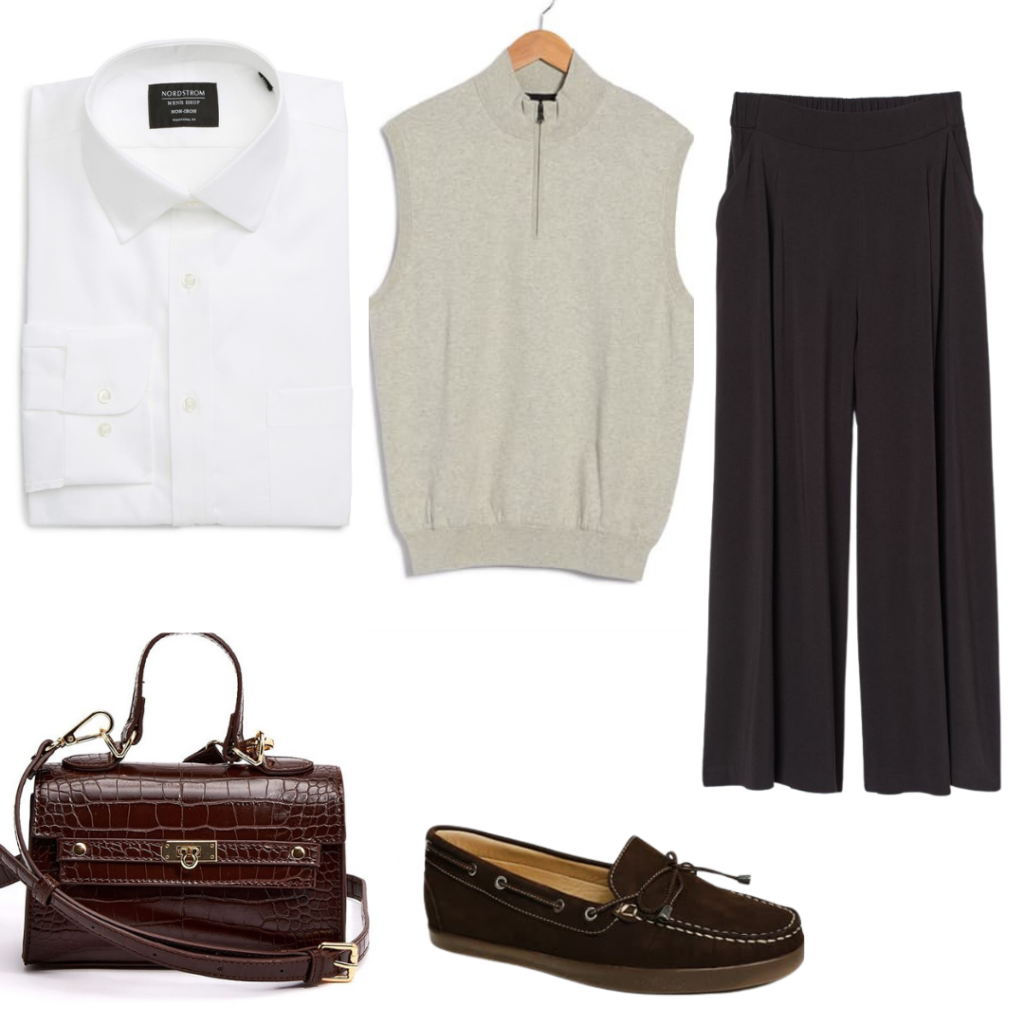 Products:
This outfit gives me the feel of a private school uniform in the best possible way. Most Dark Academia books take place in boarding schools so this first outfit is very fitting.
We have a staple white shirt that most people already have on hand already. (It's a classic wardrobe essential for a reason.)
Up next, we have an ever academic-looking grey sweater vest. The zip in front makes it more versatile for most weathers or occasions.
I love this vegan leather satchel because you very rarely see people going around with satchels and when I do see one, it sticks with me for the rest of the day. It also harkens back to the old school days when children carried satchels to school. Start a statement with this bag on your shoulder.
Lastly, we have a pair of brown loafers. Loafers seem to be my go-to shoes right now if I'm looking for something comfortable and corporate-looking at the same time.
Dark Academia Outfit 2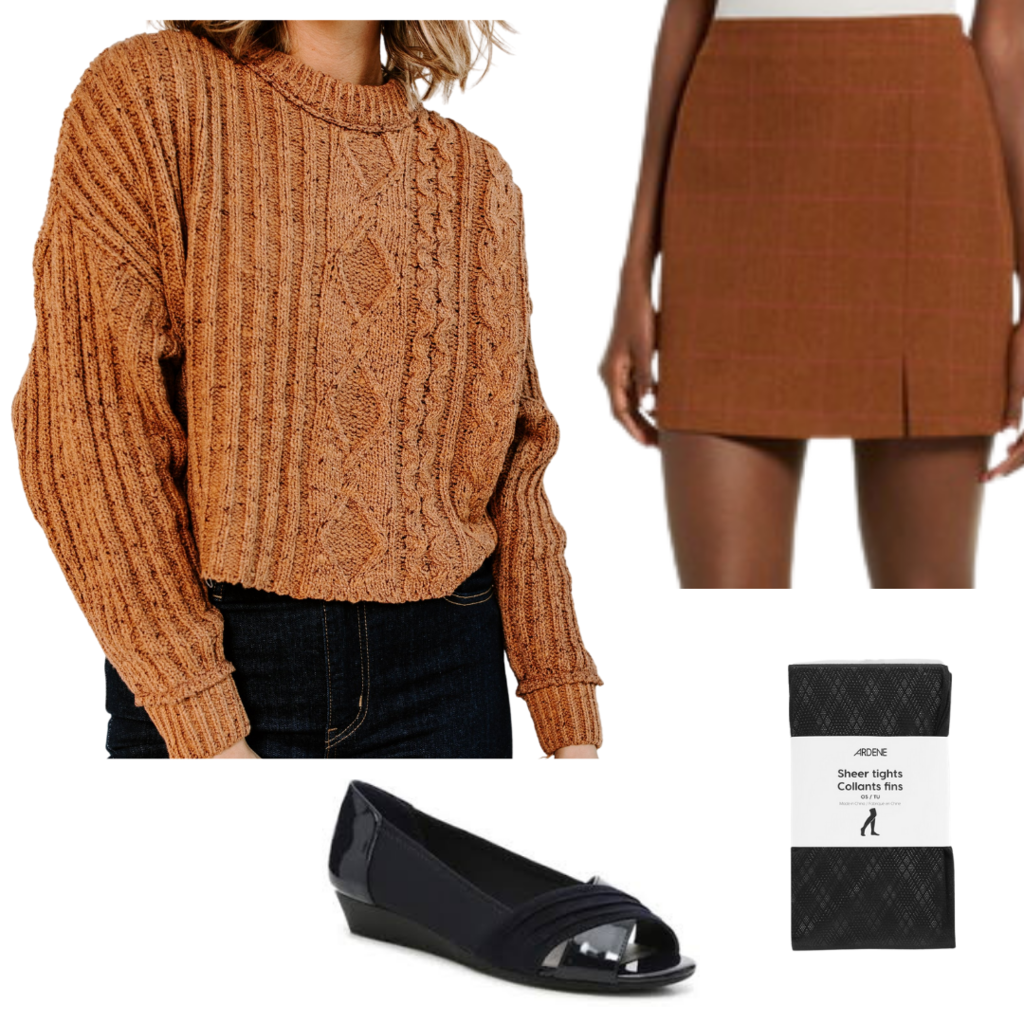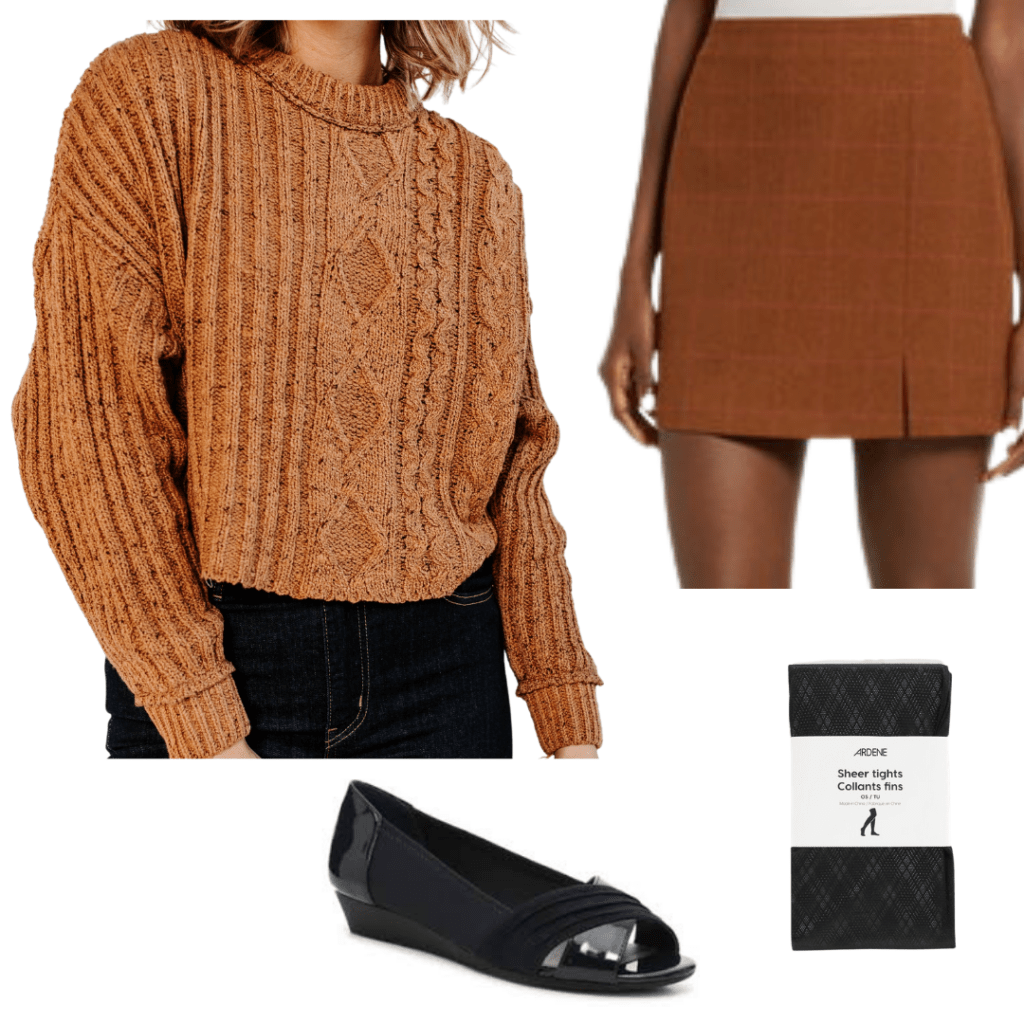 Products:
This cozy look is perfect for sitting down with a gothic novel while the rain pours outside and the wind sounds like ghosts calling.
This beige cable-knit pullover just screams late nights studying with a cup of coffee and a lofi playlist. It looks cozy and warm which is ideal for these crazy temperatures we're having.
The brown skirt with windowpane print almost looks like plaid, a Dark Academia material, and the small slit on the side gives it just a hint of attitude.
For footwear, I chose these black pumps with a short wedge heel. They're a simple yet elegant addition to the look.
Finally, I added some black tights for warmth and for their faint patchwork design.
Dark Academia Outfit 3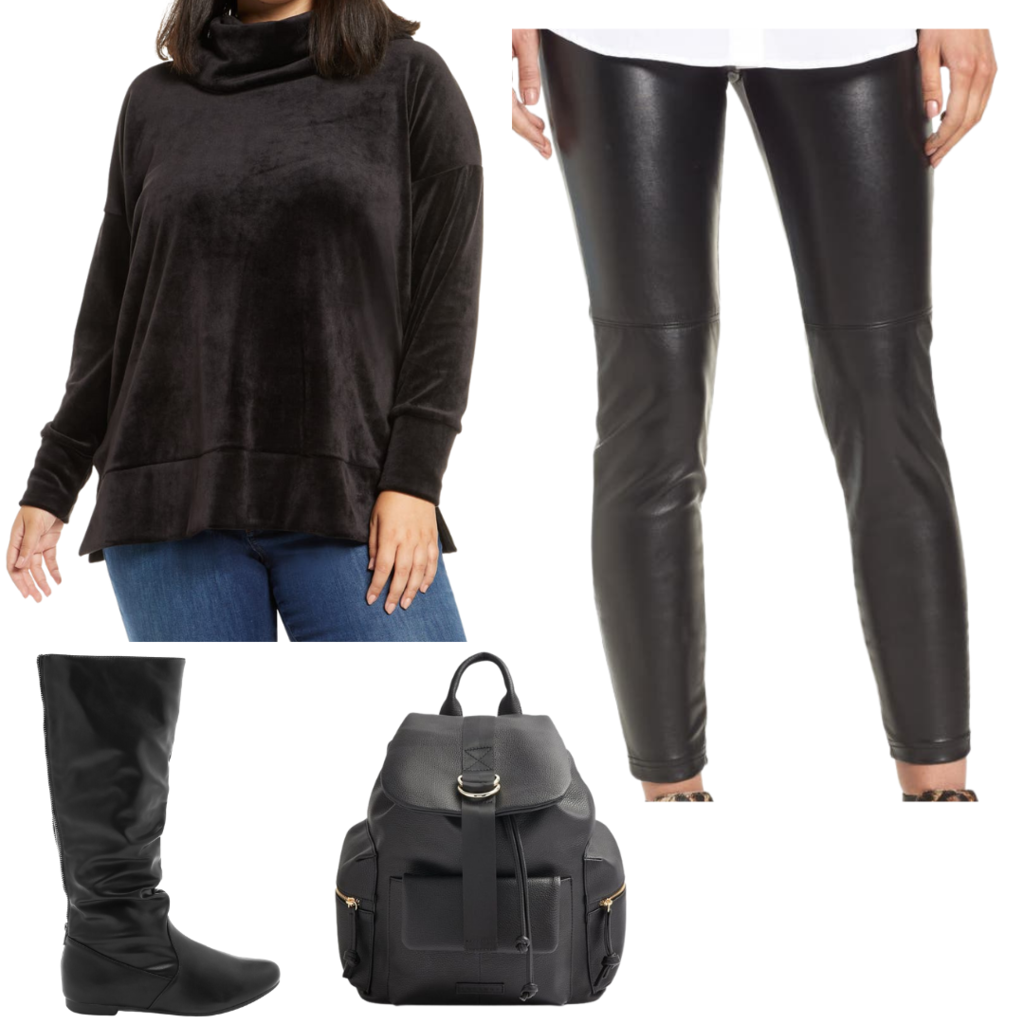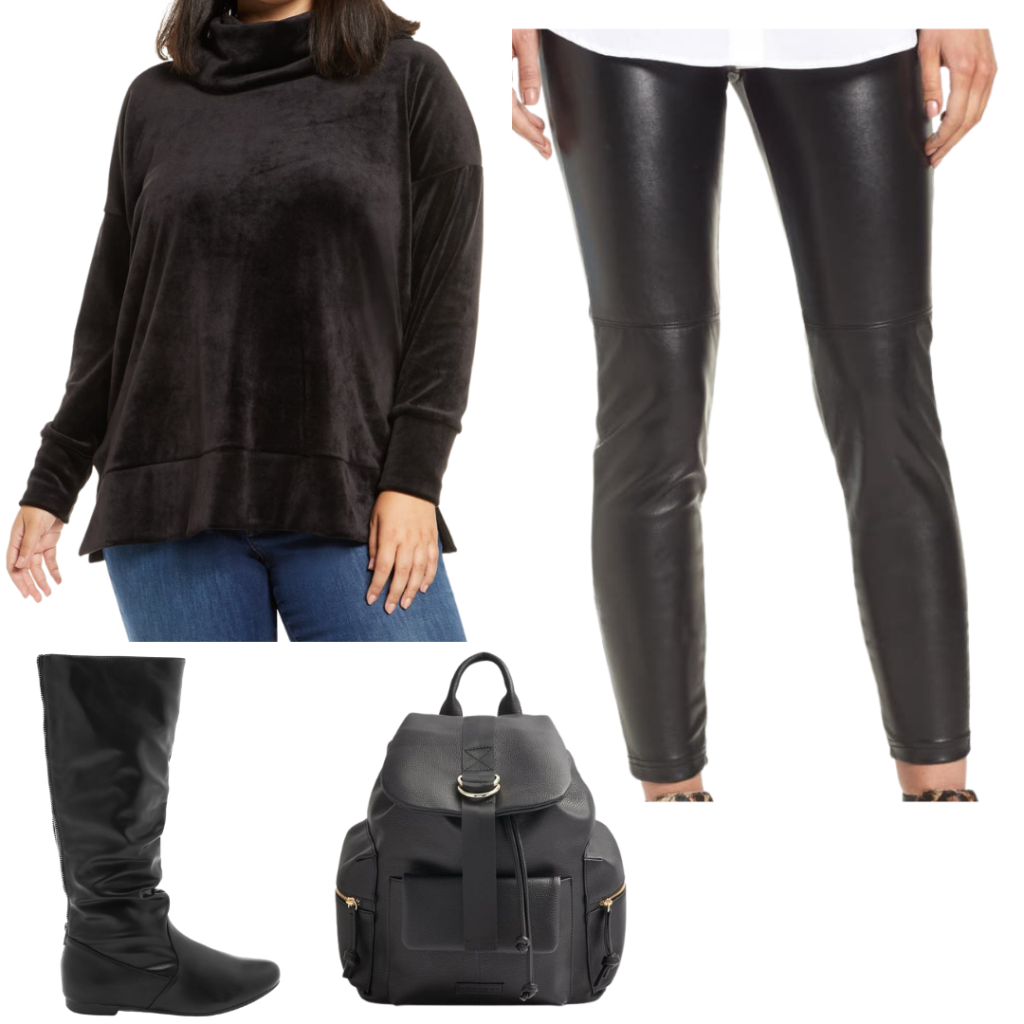 Products:
Black is without a doubt a gothic, brooding color, so that's why I decided on an all-black outfit.
Velvet is either a hit or miss in terms of texture but those who love it, love it with a vengeance. This black velvet tunic with a cowl neckline can be worn in both casual and formal settings.
These high-waisted faux leather leggings have this cool, unbothered feel about them and give the look a touch of modern edginess.
Up next are a pair of faux leather boots because what other footwear do you associate with walks through old buildings or country roads? They're mid length and not too high so they're comfortable and stylish at the same time.
To complete this ensemble there's a rucksack-like backpack. It has a lot of pockets which are perfect for going for a long trek or for carrying your writing supplies for your next gothic novel or poem.
Dark Academia Outfit 4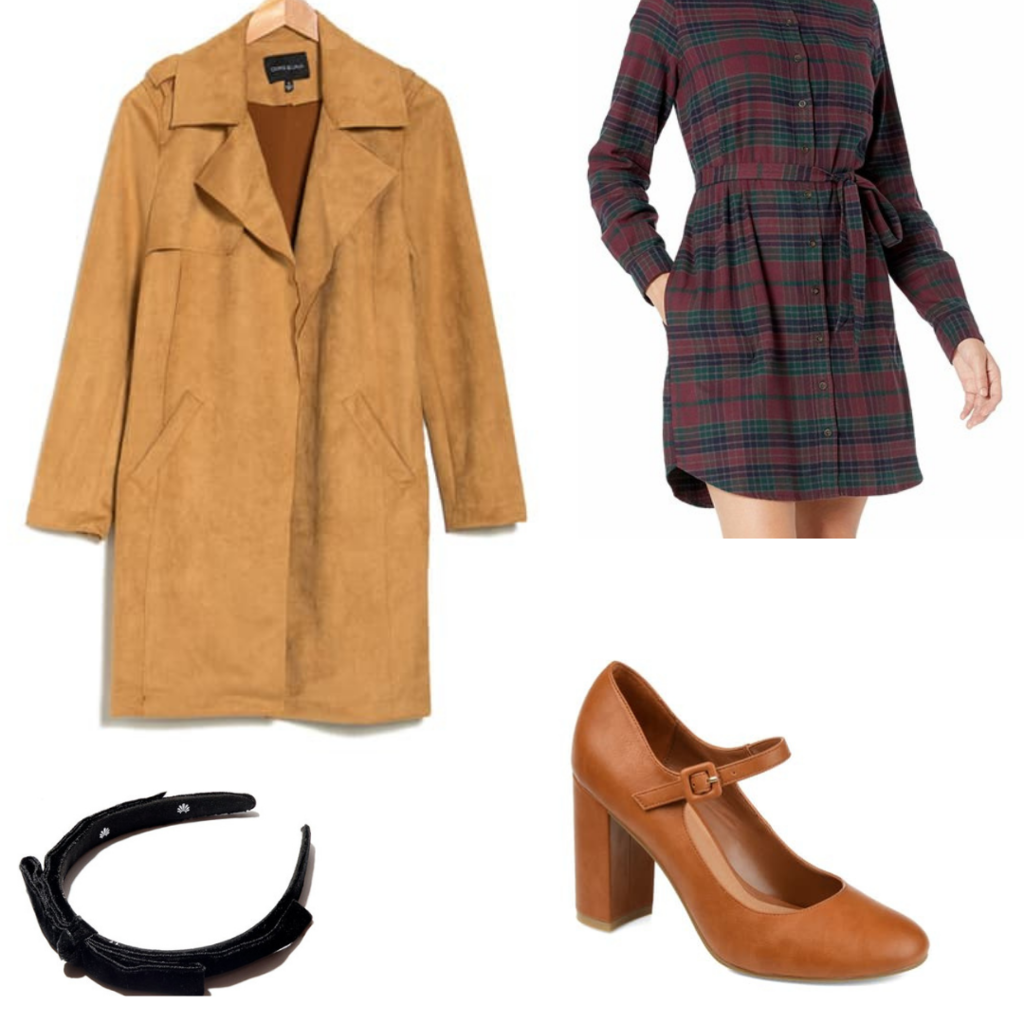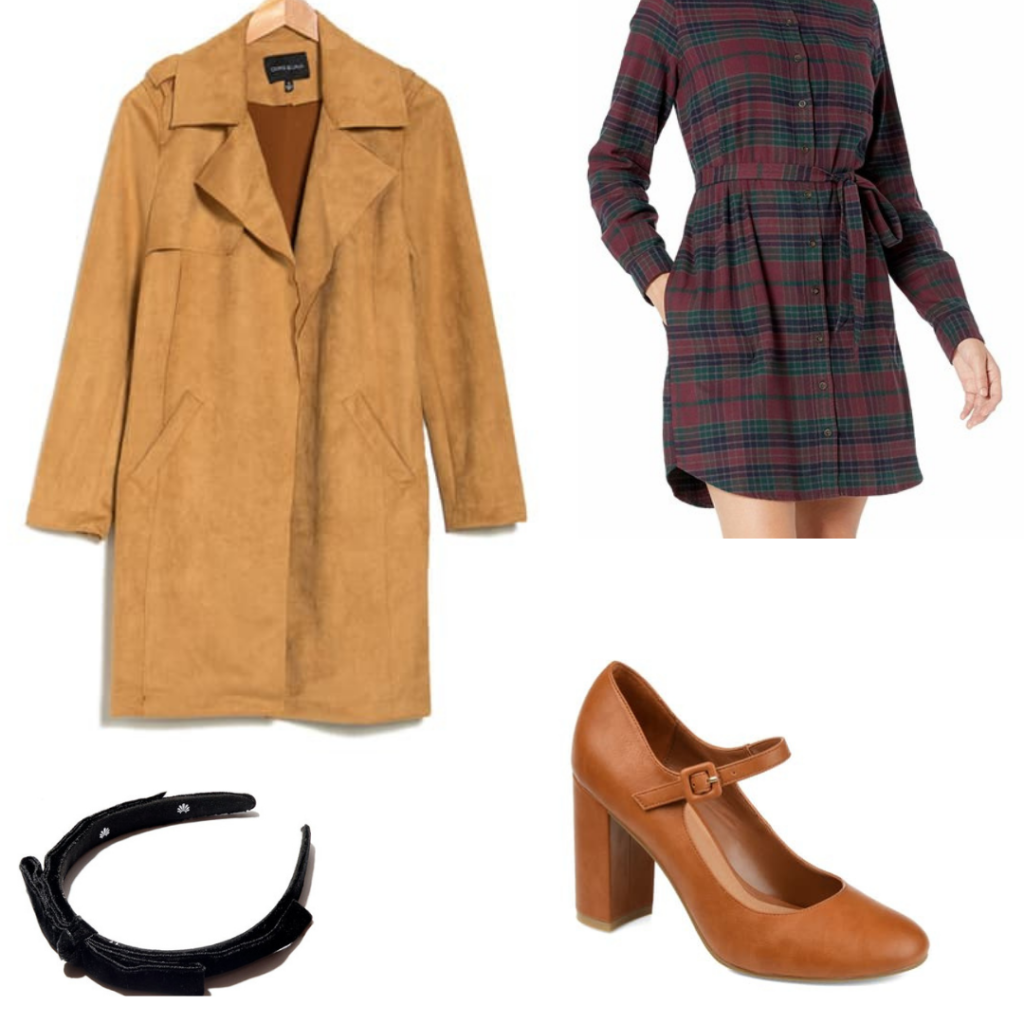 Products:
This look reminds a little of Nancy Drew which is perfect because mysteriousness and intrigue are at the heart of Dark Academia.
First off, we have this brown trench coat from Nordstrom which I adore, because long coats are my absolute favorites. This coat has a mysterious and sophisticated air about it and is perfect for feeling like you're in a 1950s detective movie.
Next up, we have a green and red plaid dress. With its buttons and long sleeves, it has a preppy, uniform-like feel about it. It's really cute and it comes in various different colors on Amazon.
These light brown (cognac is the official name; very high brow) Mary Jane pumps from Nordstrom Rack are not for the faint of heart. They are a peculiar mix of classiness and quirkiness that combine to make one inimitable shoe.
Lastly, I choose a black hairband that gives me Chilling Adventures of Sabrina vibes. (Totally a Dark Academia show, if you're interested.) The small bow on top is an adorable addition and the mini fans on the inside give the hairband a unique flair.
Also read: The Ultimate Green Trench Coat Outfit
These are our picks for Dark Academia outfits. What do you think?
Are there any other aesthetics you'd like to see? Do you veer on the light side or on the dark side of academia? Let us know your thoughts below in the comments.
If you liked this article about dark academia outfit ideas, consider checking out some of our favorites below —