I've been noticing that oftentimes, subtle details can make an entire outfit. It's easy to gawk at someone rocking a killer dress or toting around this season's trendiest bag, but I'm more impressed these days by people who took the time to really put a look together head to toe.
Amani did just that. From her olive green duster jacket to her crisp white sneakers and bold sunglasses, it's clear she didn't slack in any part of putting her outfit together. As if I wasn't already sold enough on her look after chatting with her, she turned around and I saw her gold hair clips. This girl deserves a standing ovation.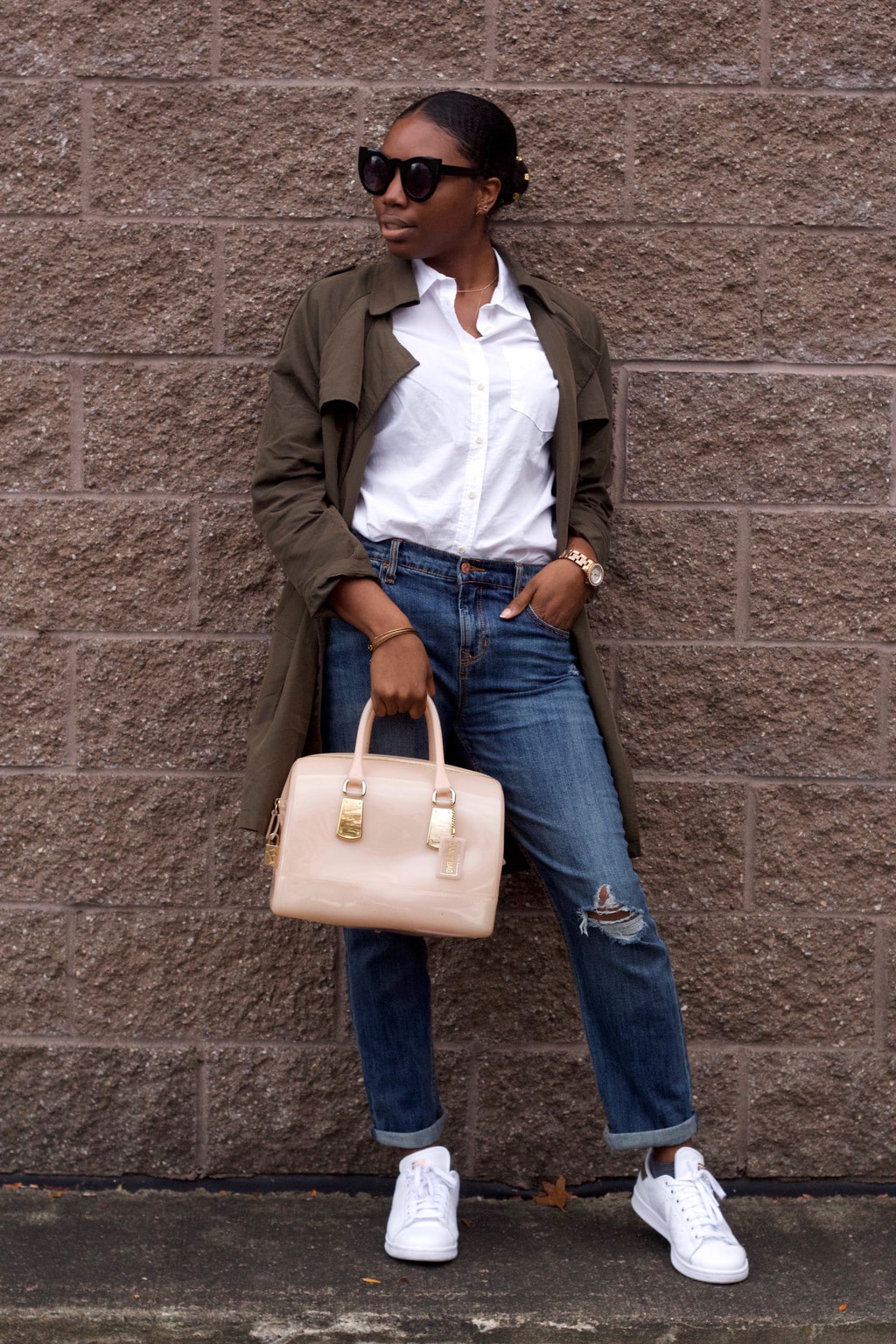 Amani 101
Name: Amani
School: Southern Connecticut State University
Year: Senior
Major: Public Health & Political Science
Hometown: Hamden, CT
Let's Talk Fashion
Who or what inspires your style? "My moods are usually what inspires my styles. Some days I'm feeling very chill and other days [I feel] like I'm at NYFW. I try to be very versatile and [try] many different styles to see which type of look I like best on [myself]. Whether it [is] a preppy look, [a] street look, or [a] more vibrant look, I just like to try different things."
Where do you like to shop? "Forever 21 and Urban Outfitters are my favorite stores to shop for cool pieces."
How would you describe your sense of style? "It's unpredictable. Sometimes you never really know what you're gonna get from me. However, most of my fashion looks have this underlying flirty feel to them."
What fashion advice would you give to other students looking to improve their style? "When you go shopping, pick out [the] pieces [that] stand out [the] most to you. Try them on and whatever [speaks to you], go for it. Also, look at fashion bloggers and different instagrammers and see what catches your eye. You can definitely find someone and get some style tips from [them] in that sense."
Why did you choose this particular outfit? "I wanted [a preppy yet] laid-back look [that] also screams sophisticated."
What are your favorite trends right now? "My favorite trends are Vans with the fishnet socks. Another trend [I like] is the track pants with a very classy lace top. I love when street meets elegant."
What do you do for fun – do you have any unique hobbies or interests? "I love filming YouTube videos and blogging."
If you could raid anyone's closet, who would it be, and why? "Rihanna or SZA for sure. They both have such amazing pieces. They both have underlying themes to all their [out]fits which is street, but also elegant and flirty. This is the theme and inspiration I look for in all of my [out]fits."
Elements of Amani's Outfit
1. Olive Jacket + White Button-Up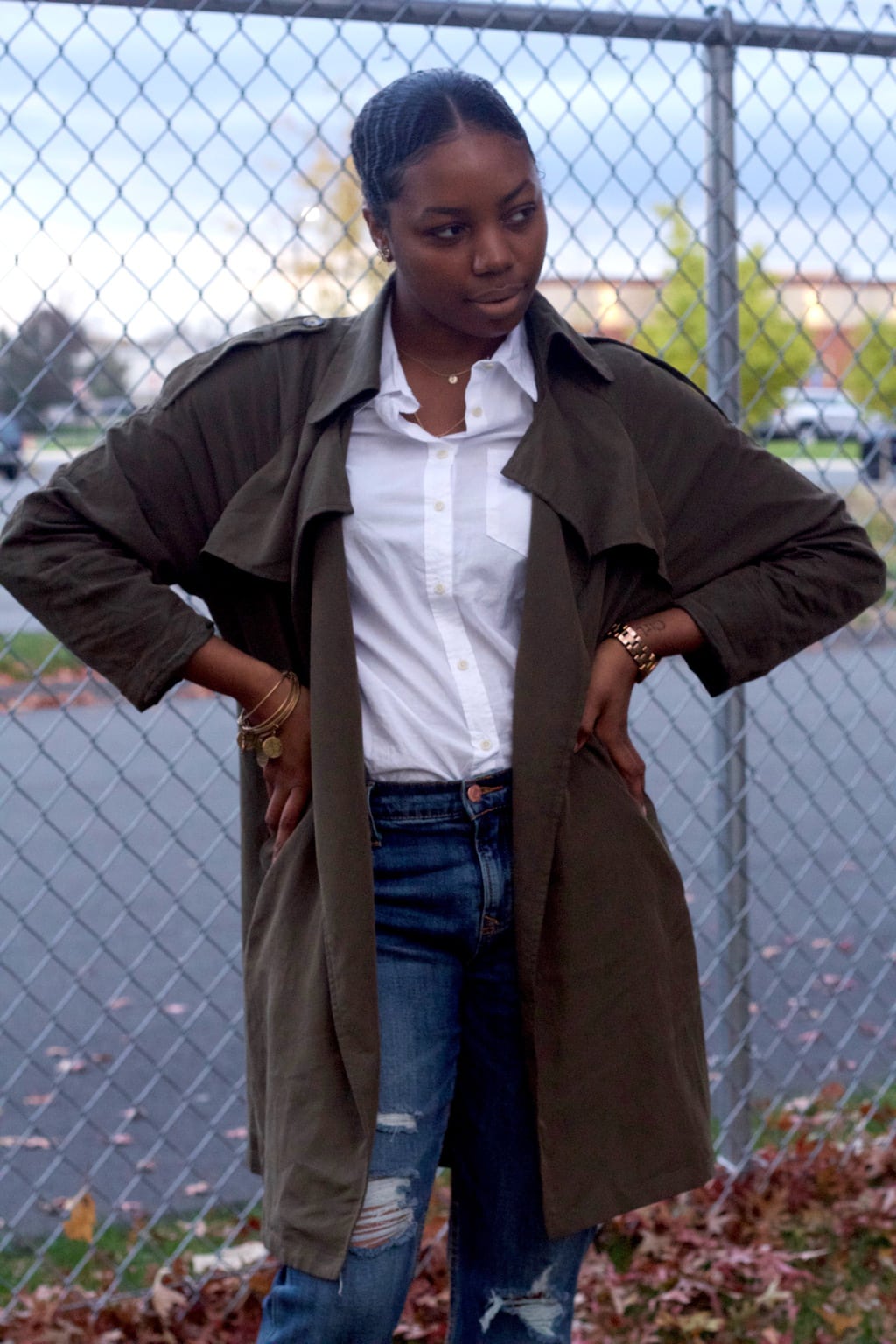 If you've reached that mid-to-end-of-semester slump, Amani's duster and white button-up shirt are inspiration to dress up for class. This olive green duster jacket is a practical raincoat, but also a stylish way to layer during fall. As for the shirt: have you noticed how it matches her shoes? That is true attention to detail.
2. Mini Tote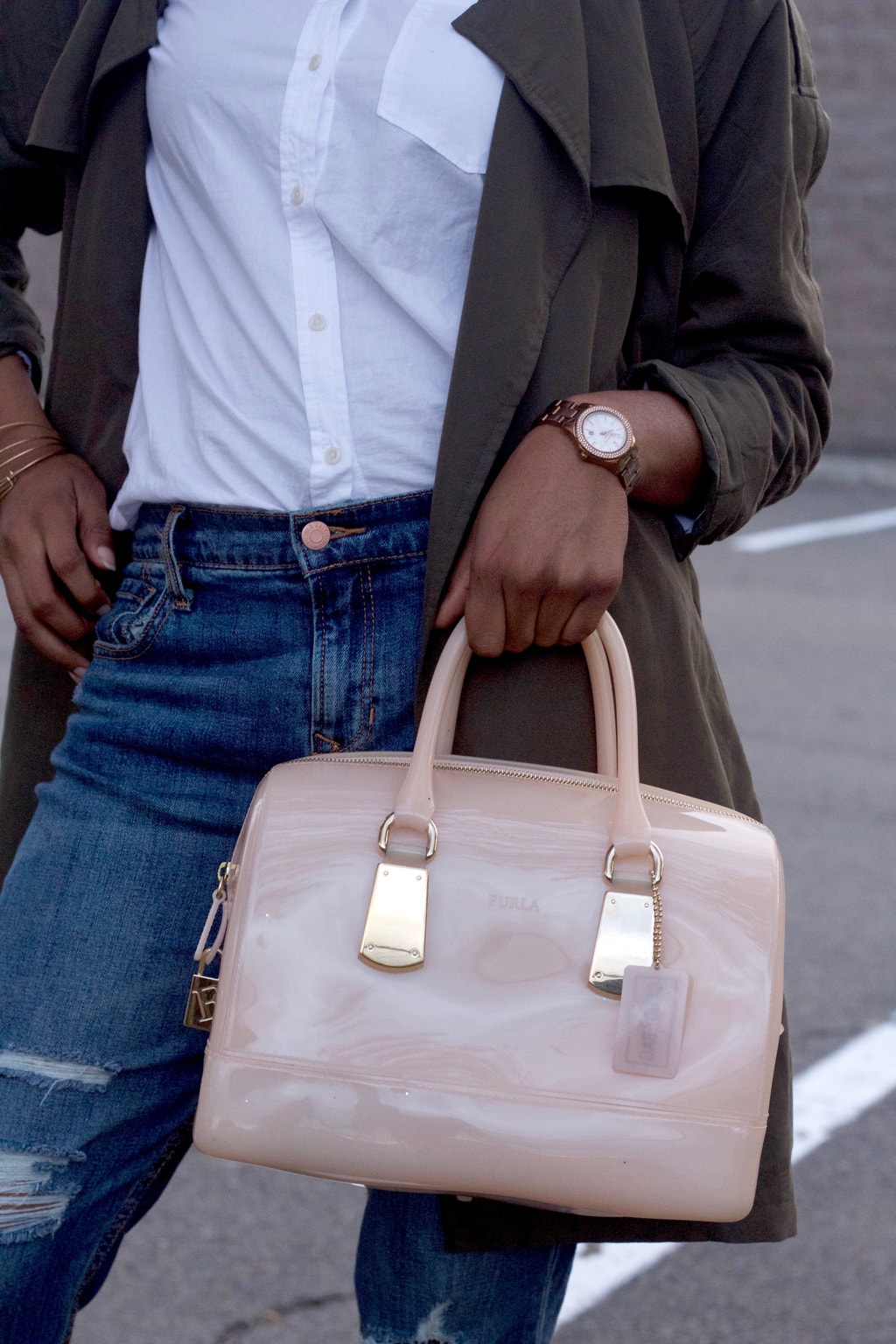 I love this bag because of the structure and shape. Notice how the material is almost like super-patent. It gleams and shines, almost as if it's liquid. The gold buckles and embellishments match her gold jewelry and hair accessories. Amani is killing it.
3. Gold Hair Clips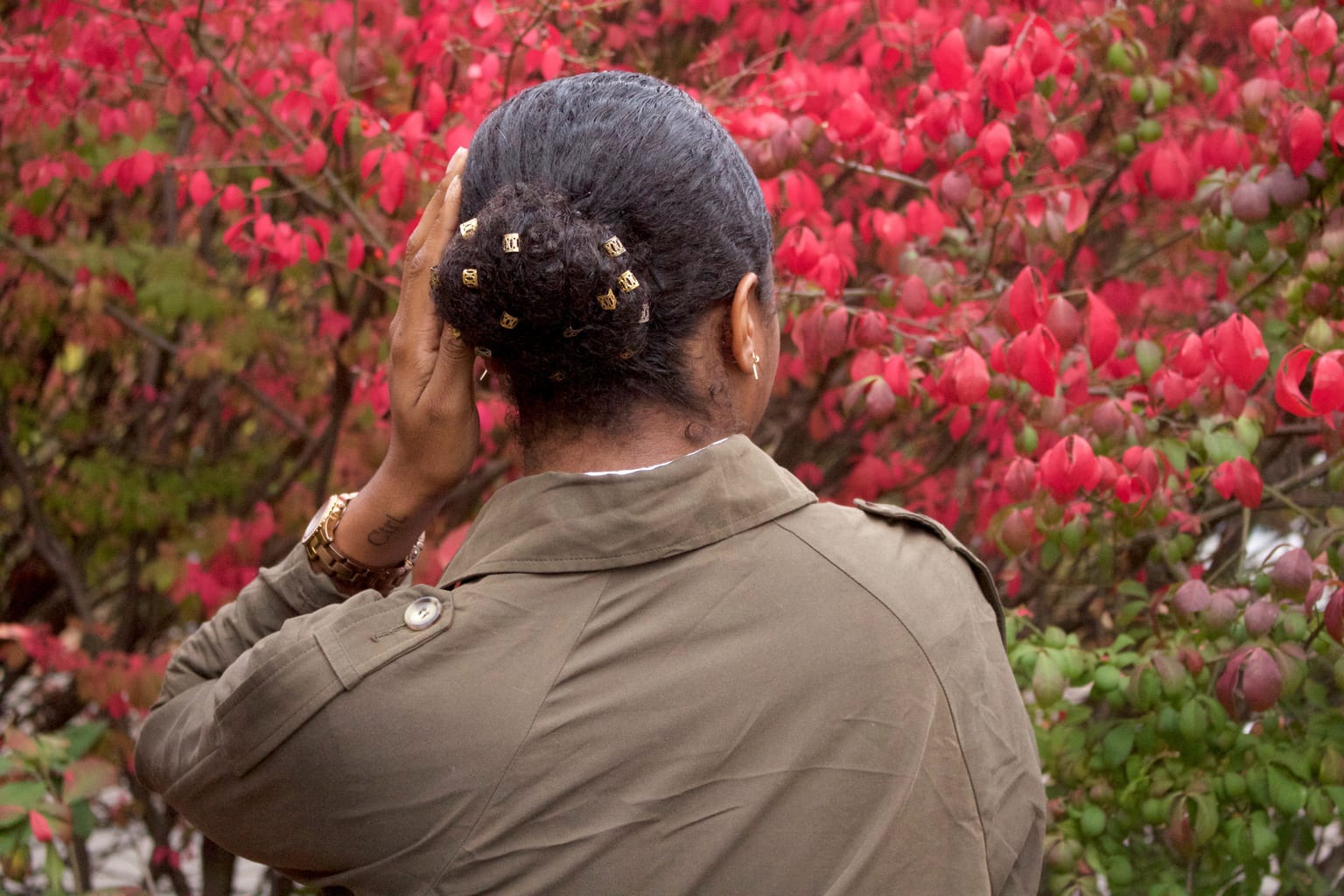 How often do you wear hair accessories? My guess is rarely. So many of us never think about putting a little glimmer in our hair, but Amani should be inspiration for us. These small gold clips truly give us a glimpse into how she not only shows up for class, but how she shows up with style.
Now we want to know what you think!
Do you love Amani's look? Are her subtle accessories and accents slaying you the way they totally slay us? Would you wear her outfit? Comment below!