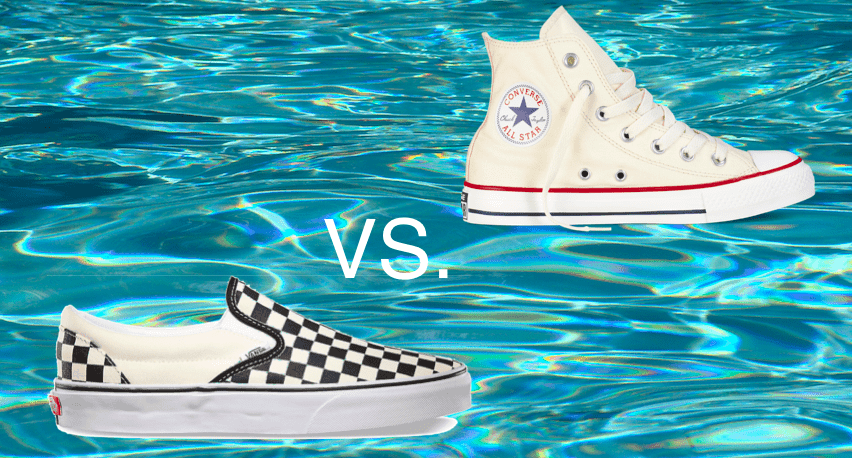 A few weeks back, I wrote about the Hunter Boots vs. Bean Boots debate and now I'm going to break down the sneaker battle between Converse vs Vans.
Both shoes are perfect for warm weather because they come in a plethora of colors and styles. They also both have a rubber sole and, most commonly, canvas material. So should you buy Converse or Vans? Here's a breakdown for those who are as indecisive as me.
Converse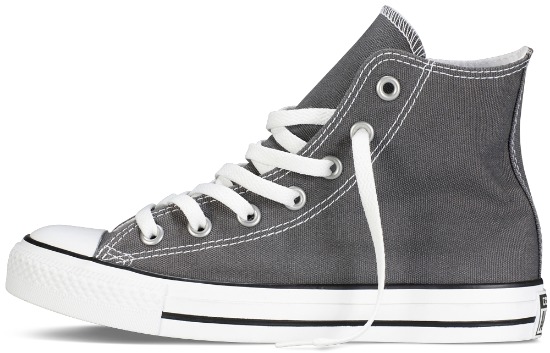 Converse shoes have been around since 1908 and they later created sneakers using the rubber they made for their galoshes. The sneaker became known as the "All-Star", as it still is today.
The All-Star sneakers were originally used by basketball players, but as we all know now, people wear them for every possible purpose.
Also read: History of the Trend: Converse Sneakers
Pros & Cons of Converse
Pros:
Converse All-Star sneakers have two basic styles, the high-top, and the low-top. I think the high-tops are really cute and definitely on trend, but sometimes the laces can get annoying, especially if you're running late.
The low-top sneakers are really cute and perfect for running errands or going from class to class. Both styles are nice as long as you stick to the classics. Converse in colors like white, black, navy, and gray look great with any outfit because they're so versatile.
Con:
Converse has a tendency to make feet look narrow and I personally think they take a while to form on your feet. So unless you plan on wearing these every day, know that they won't fit like a glove for a while.
Vans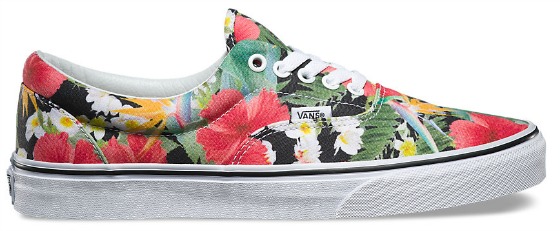 Vans have been making their "off the wall" sneakers for 50 years as of March 16th this year and they've long been the go-to shoe for skaters. Towards the end of the 1970s, the Era, Old-Skool, and Classic Slip-on became super popular in Southern California. These shoes were created for and praised by skaters and BMX riders for their durability and comfort.
Pros & Cons
Pros:
My favorite style of Vans is the Classic Slip-on. They have major durability and comfort as soon as you wear them and they look great for either going out at night with some friends or grocery shopping with your roommate.
Some Vans come with a padded collar at the back of the foot, like the Era or Sk8-Hi shoes. Vans also make varying styles of their classics that come in awesome prints and colors.
Cons:
Sometimes if you get the ones with a thin sole and wear those for too long they can get really worn and sometimes get holes at the toes, but this of course would happen to most shoes after a ton of wear. To me, it means that you just need to get a new pair (yay)!
Converse vs Vans: So… Which should you buy?
I think Vans are totally the way to go if you need a new Spring sneaker or just want to pick up a new pair of shoes. They are durable because they were created for rough use, especially if you decide on the ones designed specifically for boarding.
The prints they come in are really cool and not cheesy either. I think Converse is a great buy, but I definitely would suggest getting a pair of Vans first.
Different Ways to Wear Converse and Vans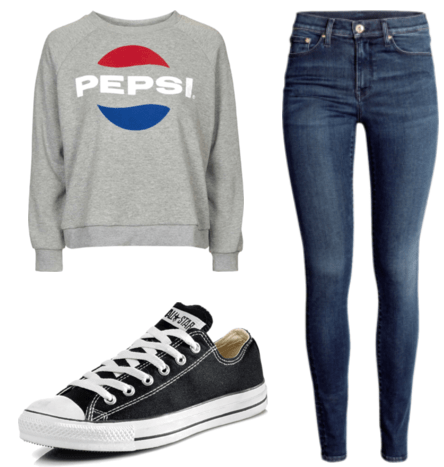 Products:
This outfit is great for just chilling or going out to lunch. A simple sweatshirt paired with jeans and black Converse gives off an All-American feel and creates a classic look without trying too hard.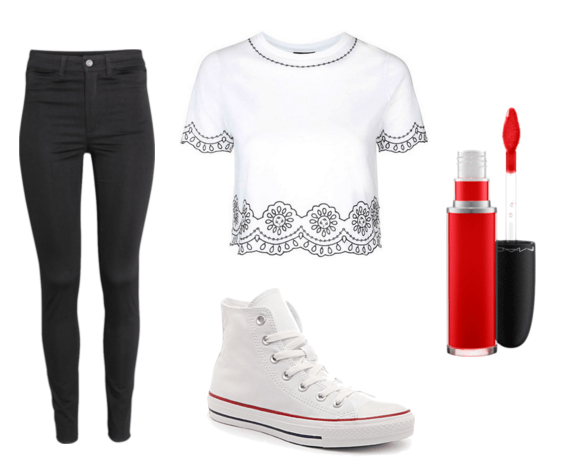 Products:
This look would be great for a GNO or going to a family party. The crop top and high-waisted jeans have a fun feel without being "too much" for a night out or day party, while the basic colors really let the red lipstick pop.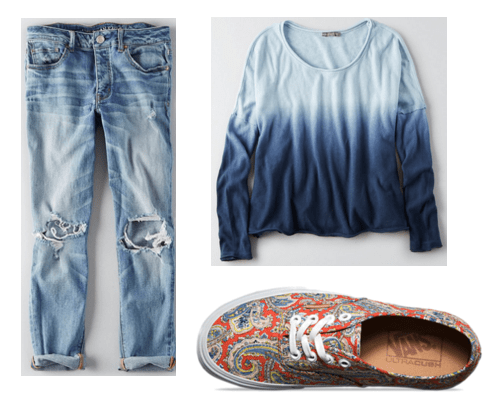 Products:
Ripped baggy jeans, a loose-fitting top, and Vans form the epitome of California style. They have a kicked-back feel that is effortless and still looks awesome.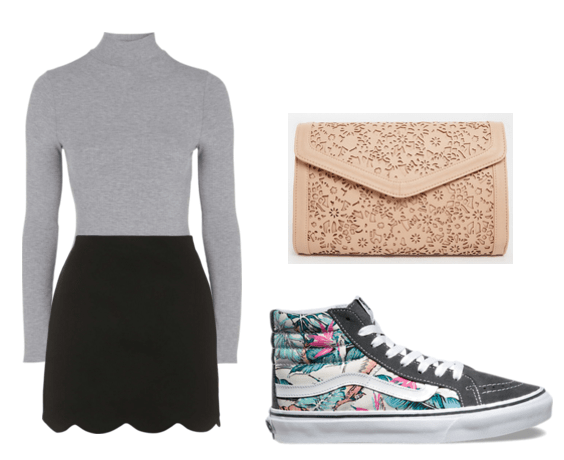 Products:
This dressier look is both cool and easy to wear. The simplicity of the bodysuit and skirt give you the chance to wear printed Vans and a cutout clutch while still looking balanced. Here, the Sk8-Hi style Vans look amazing but this outfit could also look great with white Vans…right Daniel?
What do you think?
Let me know what you think! Do you think Converse is better than Vans, and if so why? I love both shoes so if you really can't decide, just get 'em both!
If you love this fashion shopping guide and tips on Converse vs Vans, you can check out our related posts below –