This post will show you the 43 best clothing stores for teens, with options for every budget!
Do you ever want to go shopping, but feel like you're out of places to shop at? We've all been there, and for teens, it can be even trickier to find stores that cater to their style preferences.
Luckily, there are sooo many amazing stores (both online and IRL) that offer super cute clothing for teens at every price point.
So if you're looking for new places to shop, read on for a giant list of the 43 best stores for teens, with options for every budget.
Related reading: The 20 Best Stores for Fashion on a Budget
Most Popular Clothing Stores for Teens
When it comes time to buy some new clothes, these are the go-to shopping destinations for teens. You can count on these stores to offer wide selections of both stylish clothing, as well as basics that are essential to any wardrobe.
Lulus is an online store that offers cute, feminine designs at an affordable price point, and has arguably one of the best selections of dresses out of this whole list!
If you have an occasion like a dance or prom, graduation, or any other event where you need to dress up, Lulus should be one of the first stores you check out to find the perfect dress.
While Lulus is particularly known for its dress selection, it also has everything from denim to shoes and accessories. Plus, in addition to their own brand of clothing, Lulus also sells other popular brands like Levi's, Free People, and Billabong.
If you're looking for cool, vintage-inspired clothing that is unique, Urban Outfitters is for you.
Not only do they offer new clothing that takes inspiration from vintage styles, but they also re-work pieces in their Urban Renewal Recycled line which features up-cycled pieces that are updated by hand and all totally unique, plus a vintage line with one-of-a-kind finds.
Urban Outfitters is also one of the best places to find oversized band tees and funky accessories.
H&M has something for everyone, but their "Divided" section is especially perfect for teens, with trendy and budget-friendly designs that include Y2K-inspired items, band tees, and festival-ready pieces. You can find crop tops as low as $6!
I could spend hours browsing the ASOS website – they have a huge selection of trendy styles from many brands you probably won't find at your local mall. Their own ASOS brands are available in over 30 sizes, with the goal of helping you find your perfect fit and a commitment to body positivity.
To help you narrow down your clothing search, here are some of the best clothing brands for teens to check out at ASOS: Topshop, COLLUSION, Missguided, Bershka, New Look, Kendall + Kylie, and Crooked Tongues.
Do you wish there was a store that always ran sales and always added new products to their site? Well, let me introduce you to PrettyLittleThing.
PLT almost always is running a sale or offering a massive discount code, and adds new styles to their website daily. At PLT you'll find ultra-trendy pieces, as well as loungewear and basics like joggers, t-shirts, and bodysuits. They also offer a variety of sizing and fit options including plus size, tall, petite, and shape.
Missguided is similar to PLT, with freshly updated styles and always running a killer sale. You can score the trendiest clothing items at up to 70% off and pick from a variety of sizes and fits (plus size, tall, and petite).
No matter the season or your style, you're practically guaranteed to find something you love at this store.
Pacsun (which stands for "Pacific Sunwear") is the ultimate destination for cool, beachy clothing that has the laid-back vibe of its California roots.
Offering products that "all youth can express themselves through," PacSun has a Unisex line of clothing (in addition to Men's and Women's) curated without a specific gender in mind.
It's also one of our favorite stores to shop at for affordable swimwear, with tons of styles that were made for sunny days at the beach.
Forever 21 is a teen's heaven when it comes to shopping. It's cute, it's affordable, and it's constantly updating its merchandise to reflect the current trends.
With already-low prices and frequent sales, Forever 21 is a no-brainer when it comes to shopping.
Originating in Australia, this retailer aims to bring the Aussie lifestyle to the world by offering casual, cool clothing at an accessible price point. CottonOn is a great spot to buy basics at, along with swimwear and activewear.
Think of Bershka as Zara's younger sister. Owned by the same brand, Bershka is young, hip, and a bit more affordable than Zara. Be sure to check out their stylish shoes and accessories, as well.
Abercrombie & Fitch has had a MAJOR glow-up in recent years. No longer the preppy, logo-covered clothing of the past – Abercrombie now offers elevated basics and chic pieces that are right on-trend.
Most notably, their vast selection of denim with various fits (like their Curve Love collection), cuts, and washes ensure that you'll find the perfect-fitting jeans.
Hollister makes "SoCal inspired clothing" that will make you feel like you're in sunny Southern California, and like Abercrombie, they have a great denim selection. Hollister's goal is to help teens feel confident and comfortable with their clothing, including a Pride Collection.
You can feel good shopping at Hollister knowing they have a commitment to sustainability, and in 2020, founded the first-ever World Teen Mental Health Day to destigmatize teen mental health and wellness.
Shopping at a Francesca's store feels like you're shopping in your BFF's closet. Filled with sweet, feminine items, you can find adorable dresses, eye-catching jewelry, and the cutest gifts for your friends (or yourself).
American Eagle is a go-to store for denim and casual clothing that's ideal for everyday life. AE's laid-back vibe is evident in everything from their basics to their dresses and skirts.
P.S. Did you know you can recycle your old jeans at an American Eagle store and get $10 towards a new pair?
You'll find budget-friendly basics, denim, and graphic tees at Aeropostale, which is another excellent store for everyday clothing you can wear to school or to hang out with friends.
You can count on Old Navy to always have great deals on clothing that is fashionable without being overly trendy or short-lived. Be sure to check out their activewear, which is comparable to higher-end brands at a much cheaper price point.
Did you know that Gap has an entire line of clothing just for teens? Made for "the generation moving us forward," this laid-back collection is designed with teen body proportions in mind and with an effort to reduce water and waste.
Brandy Melville's aesthetic is beloved by cool girls who know the importance of good basics and perfectly-oversized graphic tees. Whether you're looking for a simple tank top or a vintage-inspired t-shirt, Brandy Melville's got you covered.
The only thing we don't love about Brandy is that their size range is not inclusive — they pretty much only carry XS, S, M, and L. It's not a good place to shop if you are outside of that size range.
Related reading: Best Online Designer Stores: Where to Shop Online for Designer & Luxury Pieces
Heading to prom, a dance, or a formal? Windsor is an excellent place to find the perfect gown or dress for your dressy occasion.
In addition to their huge dress selection, Windsor offers bold and trendy clothing at an affordable price point.
Garage is a Canadian brand for young women with a mix of basics and trendy clothing that will keep you looking stylish. Be sure to also check out their swimwear and loungewear collections, which are super cute.
Trendy Teen Stores
If you're looking for trendy clothing that's going to make a major statement, check out these stores which stay up-to-date on the latest and greatest fashion trends.
If you're not already shopping at Princess Polly, you're missing out!
This online clothing store which originated in Australia offers some of the hottest, trendiest clothes you can find at reasonable prices (plus they often offer discount codes!). You'll find pieces here that you won't be able to find anywhere else.
Season after season, Zara remains one of the ultimate destinations for fashionistas of all ages. Zara's TRF line is especially perfect for teens, with more youthful styles that play on the latest fashion trends.
(Hint: type "TRF" into Zara's search bar in order to view the collection).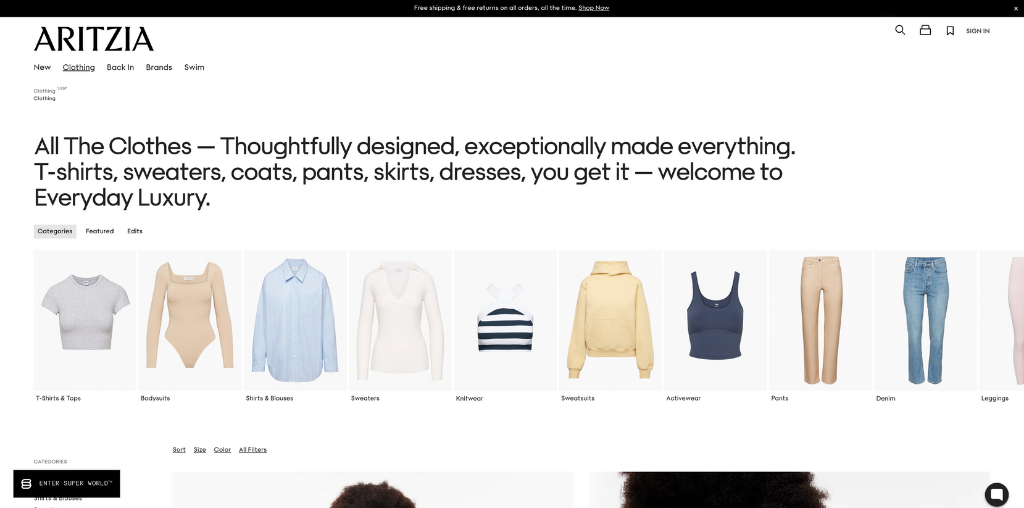 You can't open up TikTok without seeing influencers raving about the on-trend clothes at Aritzia.
The Canadian-based retailer is one of the most popular stores for young people right now, and though their prices are high compared to many other stores on this list, fans rave about their quality.
Look to them for cult fave staples like their "effortless pant," and don't sleep on their TNA line of basics.
Edikted is known for its trendy, eye-catching clothing for teens that is always on sale. If you're into fashion that is popular on social media, you'll want to be shopping at Edikted for the coolest #ootds.
If your style is free-spirited or bohemian, Free People is the store for you. This brand nails the boho look like no one else, with unique designs, flowy fabrics, and beautiful prints.
Their FP Movement collection of activewear is also a must-have!
Garage's sister store, Dynamite, is a bit more elevated and luxe compared to Garage. Here you'll find chic dresses, tailored pants, and stylish blouses that are on-trend yet classic.
For stylish plus-size clothing, head to Torrid. Torrid has everything from jeans to bras, as well as shoes in wide widths.
Offering sizes 10 to 30, Torrid proves that style should not be restricted to a certain clothing size.
Madewell is known for its jeans: its "Denim Bar" is filled with various styles to flatter everyone. You'll also find effortless tees, cool sneakers, and everyday dresses that have Madewell's curated aesthetic.
The Ardene brand is a "celebration of what it means to be youthful, confident, and full of life." With clothing, shoes, and accessories at budget-friendly prices, this store strikes the ideal balance between trendy and practical.
Sportswear & Athleisure Stores for Teens
Are you looking for sporty clothing or athletic wear? The following stores are prime spots to pick up leggings, hoodies, and other teen wardrobe essentials.
If you need some new sportswear, why not go straight to the source? In addition to their iconic sneakers, Nike has workout clothing and athleisure items in tons of different colors and styles that are meant for movement.
Related reading: The 25 Best Athletic Wear Brands for Women
Like Nike, Adidas is a premier destination for sneakers and sportswear, plus accessories. You can shop by sport or by clothing item, depending on what you're looking for.
P.S. – If you need a new backpack for school, be sure to check out their range of functional backpacks.
Though it's pricey, there's no denying that Lululemon's athletic apparel is some of the best out there. Their special leggings for every kind of activity are definitely worth the splurge!
Aerie, the sub-brand of American Eagle, is dedicated to comfortable clothing like activewear, loungewear, swimwear, and bras and underwear.
I'm a big fan of this store – they use soft, cozy fabrics, fun colors, and offer flattering cuts. Plus you can shop here for Aerie's viral leggings and dupes for pricier leggings from other stores.
At Athleta you'll find clothes that can take you from the gym to the street, in sizes ranging from XXS to 3X and with 65% of styles made with sustainable materials.
Girls who are up to 14 years old can shop at Athleta Girl, with clothing specifically designed for younger customers to cover a range of activities.
Budget-Friendly Stores for Teens
You don't have to spend a lot for a stylish look. These stores are budget-friendly, but don't compromise on style!
Do I really need to convince you on Target's amazingness?! It truly has everything, including fashionable, affordable clothing for teens.
There are multiple clothing brands you can find at Target, but for young adults, I'd recommend Wild Fable, Xhilaration, and Colsie for more teen-friendly styles.
Amazon is an ultra-convenient place to shop for clothing – you'll be able to find almost any style you're searching for, often with a low price and fast shipping.
If you don't know where to start, try Amazon's StyleSnap, where you can upload a photo (for example, from social media) and Amazon will then recommend similar products that you can shop to recreate the look.
Love it or hate it, the low prices and vast selection of clothing at Shein are hard to beat! You can find a dupe of just about any style here, at prices that seem too good to be true. Like Amazon, Shein also allows you to upload a photo or screenshot and it will recommend similar items you can shop.
Boohoo drops over 500 new products every week, and makes fashion accessible thanks to their awesome sales and low price points. Their clothing and accessories range from basics to ultra-trendy, and will allow you to have fun experimenting with different styles.
Rue21 offers affordable, on-trend clothing for girls, tweens, and young women, from sizes XS – 4X.
If you're into TikTok, be sure to check out their edit by Avani Gregg for curated looks that are FYP-worthy.
Tillys is all about the laid-back, California vibe. Featuring brands like Roxy, Pura Vida, Vans, and Billabong, you can count on Tillys for great sales and good vibes.
High-End Stores for Teens
If you're working with a bigger budget or looking to splurge, check out the following stores. P.S. – you'll still be able to find affordable pieces at these retailers, too!
Nordstrom has something for everyone, whether you've got a large budget or a smaller one. Teens can check out Nordstrom's Young Adult section, with clothing brands like BP. and Topshop that have a more youthful, trendy aesthetic.
Revolve has a reputation for being pricey, but you're practically guaranteed to find a fire 'fit here. Worn by just about every influencer and social media star, the clothing at Revolve is going to make you feel like an "it girl" yourself.
If you want to shop at Revolve but would prefer not to spend as much, look for brands on their website like Superdown, Junk Food, and ASTR the Label.
Last but not least, Bloomingdale's is a department store with chic, higher-end pieces that are always in-style. Teens can shop in their Juniors section, which features brands like Free People, BLANKNYC, BB Dakota, and more.
What do you think of our guide to clothing stores for teens?
Looking for more places to shop? Be sure to see our guide to the best boutique fashion stores to shop online!
Which store is your favorite? Which other stores do you like to shop at? Leave a comment and let us know!
Enjoying these teen clothing stores? Here are some more articles you'll love: