This post will show you the 21 best boutique fashion stores to shop online for fashionable and affordable clothing.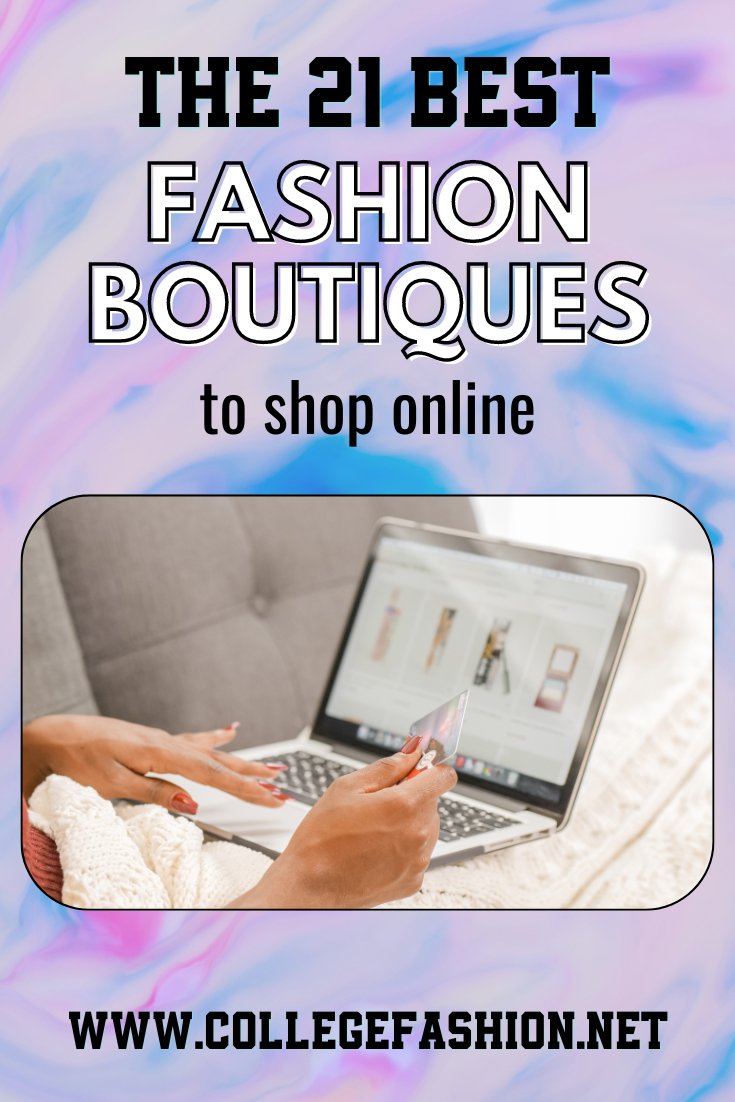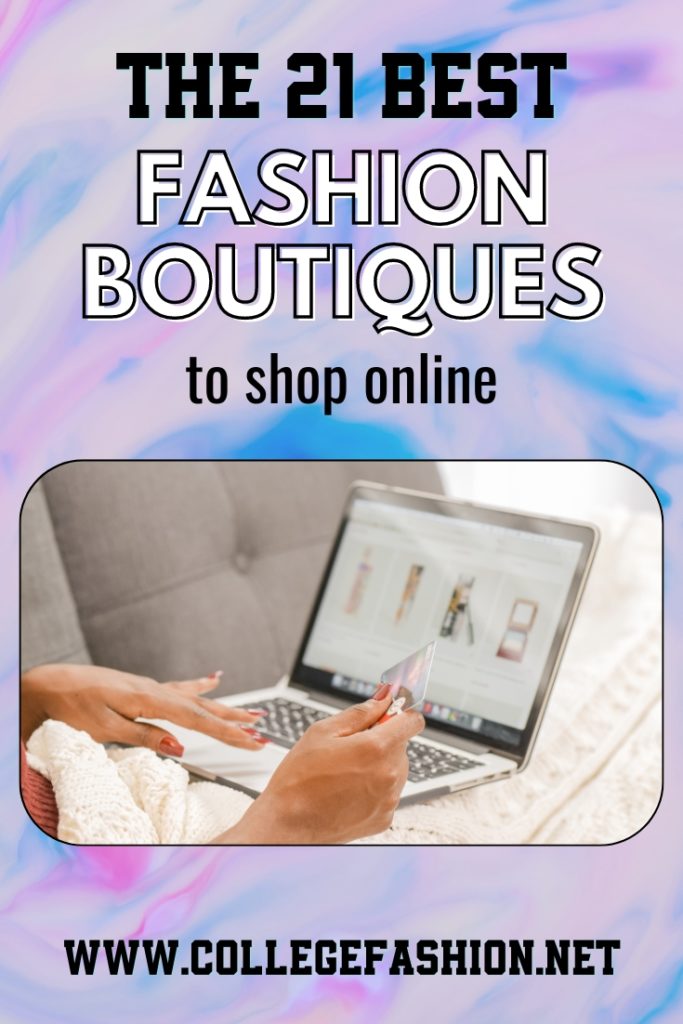 My favorite hobby? Online shopping. IDK about you, but I could spend hours browsing online boutiques — it's part of my everyday routine!
If you're looking for clothing that's a bit more unique and not what you'd necessarily find at your local department store, shopping from smaller boutiques and stores is the way to go. You're less likely to spot another girl wearing the same outfit as you if you shop small or from lesser-known stores compared to the shops at your local mall.
Here at College Fashion, we don't gatekeep, which is why I am sharing my list of the 21 best boutique fashion stores to shop online for fashionable and affordable clothing.
So, if you are bored of shopping at the same big-name stores, this post is for you! Be sure to bookmark it to come back to any time your wardrobe is in need of a refresh.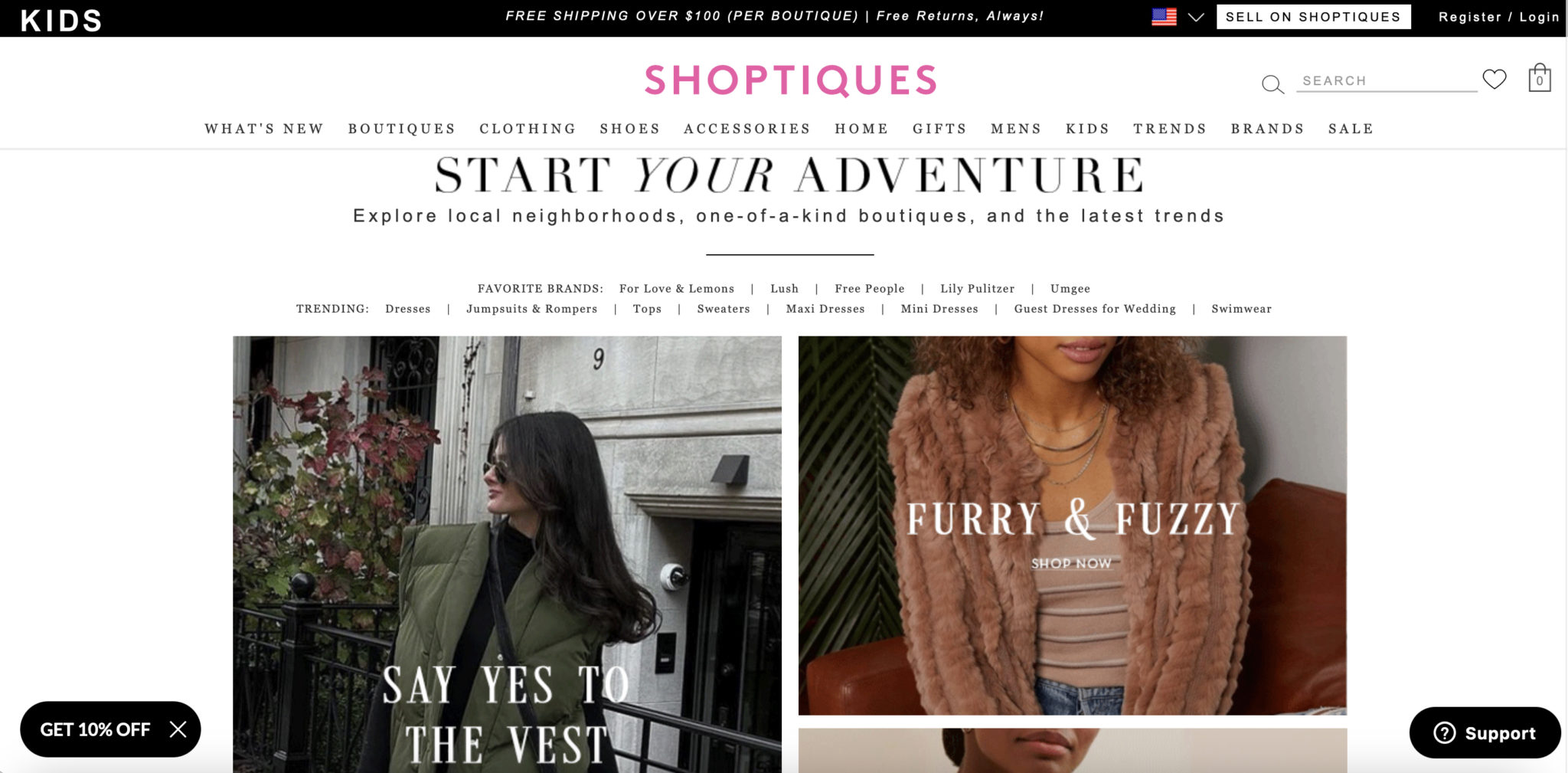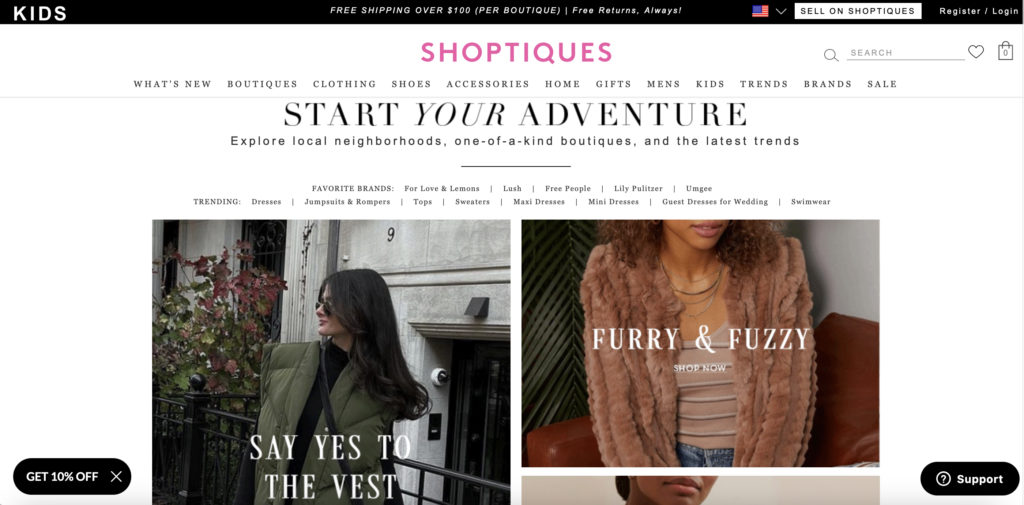 First up is Shoptiques, a website that allows you to shop the world's best local boutiques, all in one place.
With over 5,000 boutiques from around the world, including boutiques from New York City, Paris, and London, you'll be able to browse a massive selection of clothing, accessories, shoes, and more without ever having to leave your couch!
The website allows you to browse all items at once, shop by specific boutique, or shop by destination. This makes it ultra-convenient to find exactly what you're looking for and is fantastic for discovering small boutiques that may not have their own websites. This site also allows you to shop from multiple stores simultaneously, reducing the time you'd need to browse different websites.
Shoptiques offers free shipping on orders over $100 per boutique and free returns for worry-free shopping.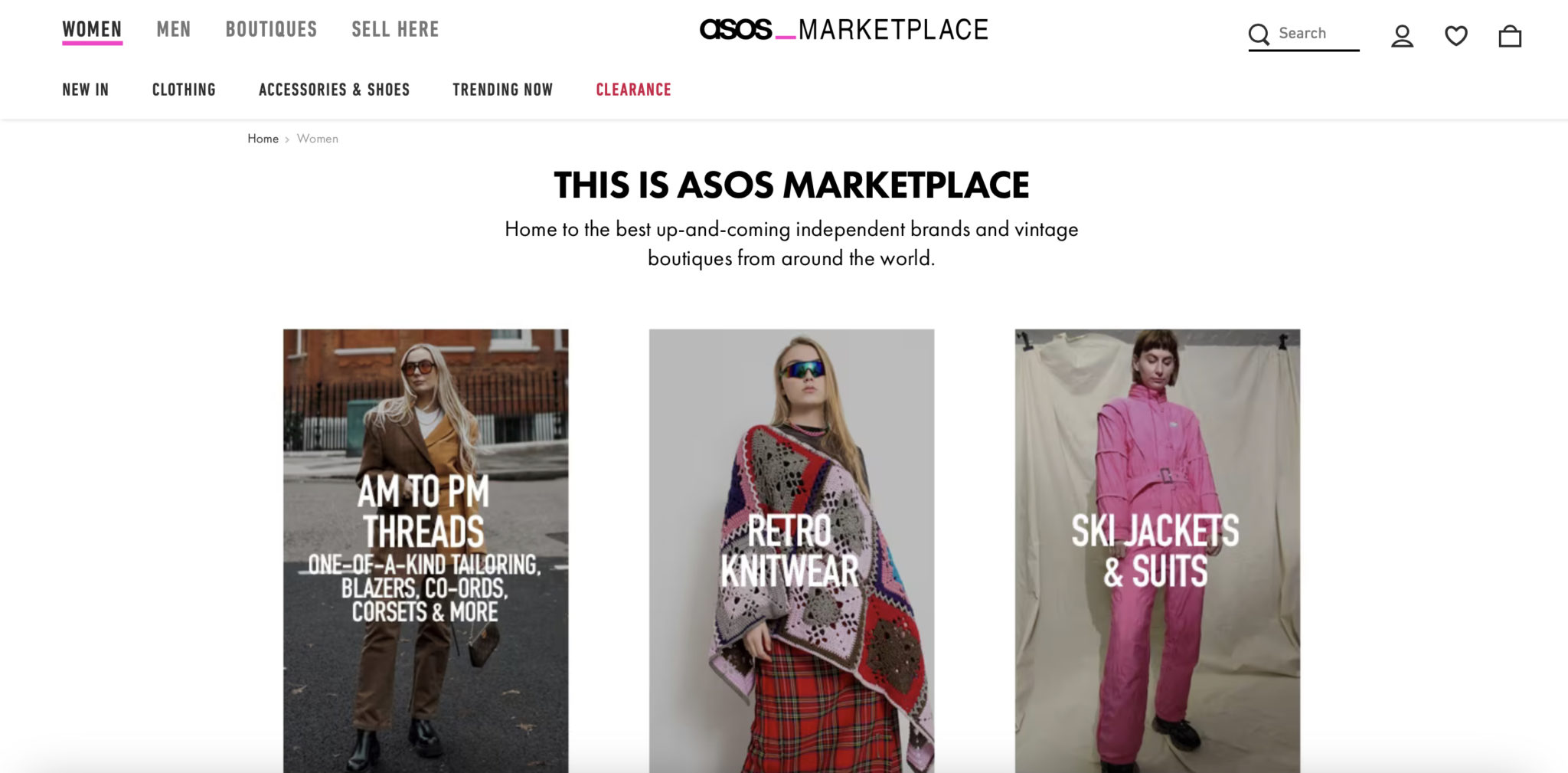 Sure, we all know Asos, but do you ever browse Asos Marketplace? An entirely different website, Asos Marketplace is home to the best up-and-coming independent brands and vintage boutiques from around the world.
With one-of-a-kind vintage finds (including everything from designer brands like Burberry to brand-less pieces), it is like shopping at your local vintage shop — but without having to sift through racks of clothing.
You never know what you'll come across on Asos Marketplace, and that's what I love about it!
You may have come across Hazel Boutique on social media being worn by your favorite influencers — even the Alix Earle (above) has worn the brand's signature sweatshirts featuring the Hazel logo, and Gia Giudice has her own collection with the brand, as well.
Hazel Boutique is the source for trendy, affordable clothing that will make your #ootd pics pop, ranging from dressy items to laid-back sweats.
Additionally, the boutique offers a vintage selection of t-shirts and sweatshirts with one-of-a-kind finds and home decor like cute candles and wall art to make your room as stylish as your wardrobe.
Related reading: Best Online Designer Stores: Where to Shop Online for Designer & Luxury Pieces
I love online shopping because it allows us to shop from stores from all around the world, like Beginning Boutique, which is based in Australia.
This boutique has the cutest clothing, especially dresses that are perfect for parties, weddings, and other special occasions, with most items under $100.
In fact, I actually try to avoid this website because it's nearly impossible for me to browse without ordering clothes every time I go on it! Thankfully, there is often a sale happening or a discount code being offered to make it that much more affordable.
Looking for trendy going-out clothing that won't break the bank? Check out Akira. This store has tons of cool designs that are perfect for your next night out on the town, along with designer shoe and handbag dupes to add major trend appeal to your outfits.
Akira offers clothing with eye-catching features like feathers, glitter, fringe, studs, chains, and more — their clothes are far from basic and sure to make you stand out in a crowd.
With over 1.5 million followers on Instagram, there's a good chance you've come across Vici Collection's fun, bright clothing pieces by now. This store constantly adds new merchandise, so you'll always find something fresh here, whether it's an occasion dress, office attire, or everyday clothing.
Vici's clothing is affordable and accessible for women at every life stage, and they provide tons of styling inspo in their product photos, which feel more like blog photos rather than the average store (love that!).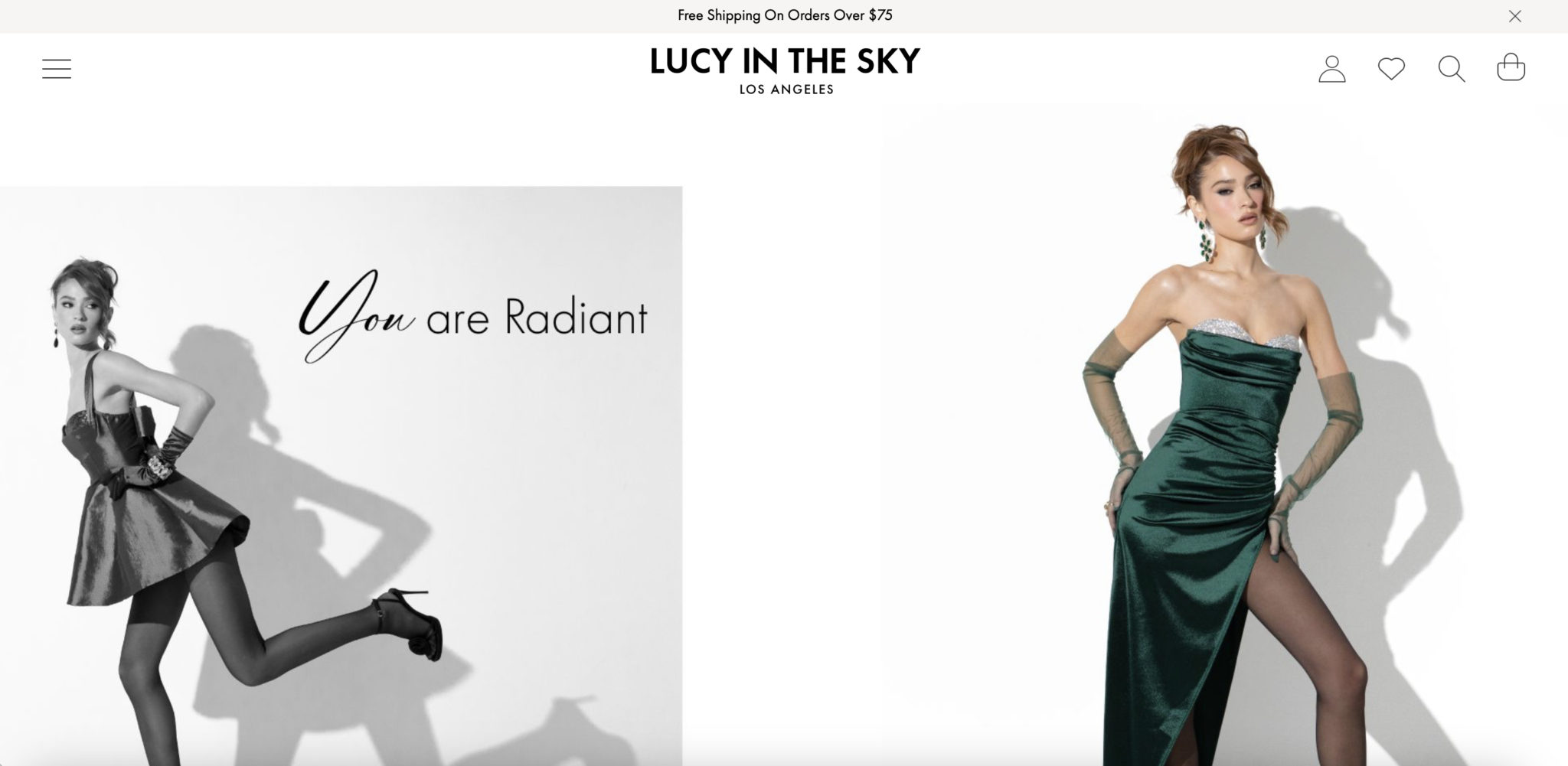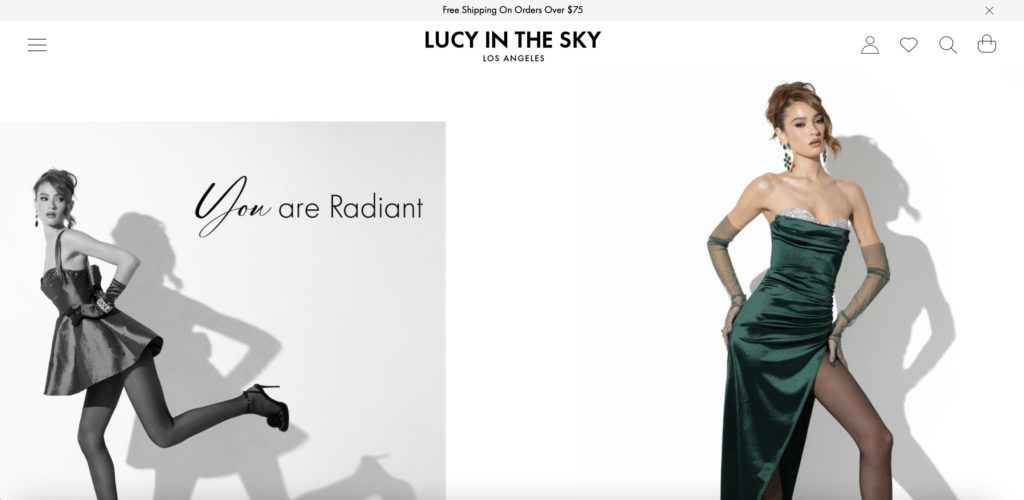 Based and designed in Los Angeles, Lucy In The Sky is the ultimate destination for dresses. Party dresses, wedding guest dresses, prom dresses, club dresses, vacation dresses… whatever type of fancy frock you're searching for, you'll find it here. You'll also find some bodysuits, two-piece sets, and crop tops in the mix, with most items under $100.
The website also allows you to shop by occasion, making it even easier to narrow your choices based on the event you're headed to.
Lucy In The Sky's clothing often has a sexy vibe and features details like cut-outs, lace-ups, and open-backs, so if you're ready to be the center of attention, shop here.
If you love shopping at Lulus (another one of our favorite stores), you'll adore Red Dress Boutique!
Here you'll find girly, feminine pieces with southern flair (the boutique is based in Athens, Georgia) that are budget-friendly.
From sparkly costume jewelry to formal dresses to denim, there are so many cute items to choose from. In addition to its own brand, Red Dress also carries a curated selection of other fabulous brands like LoveShackFancy and Wildfox.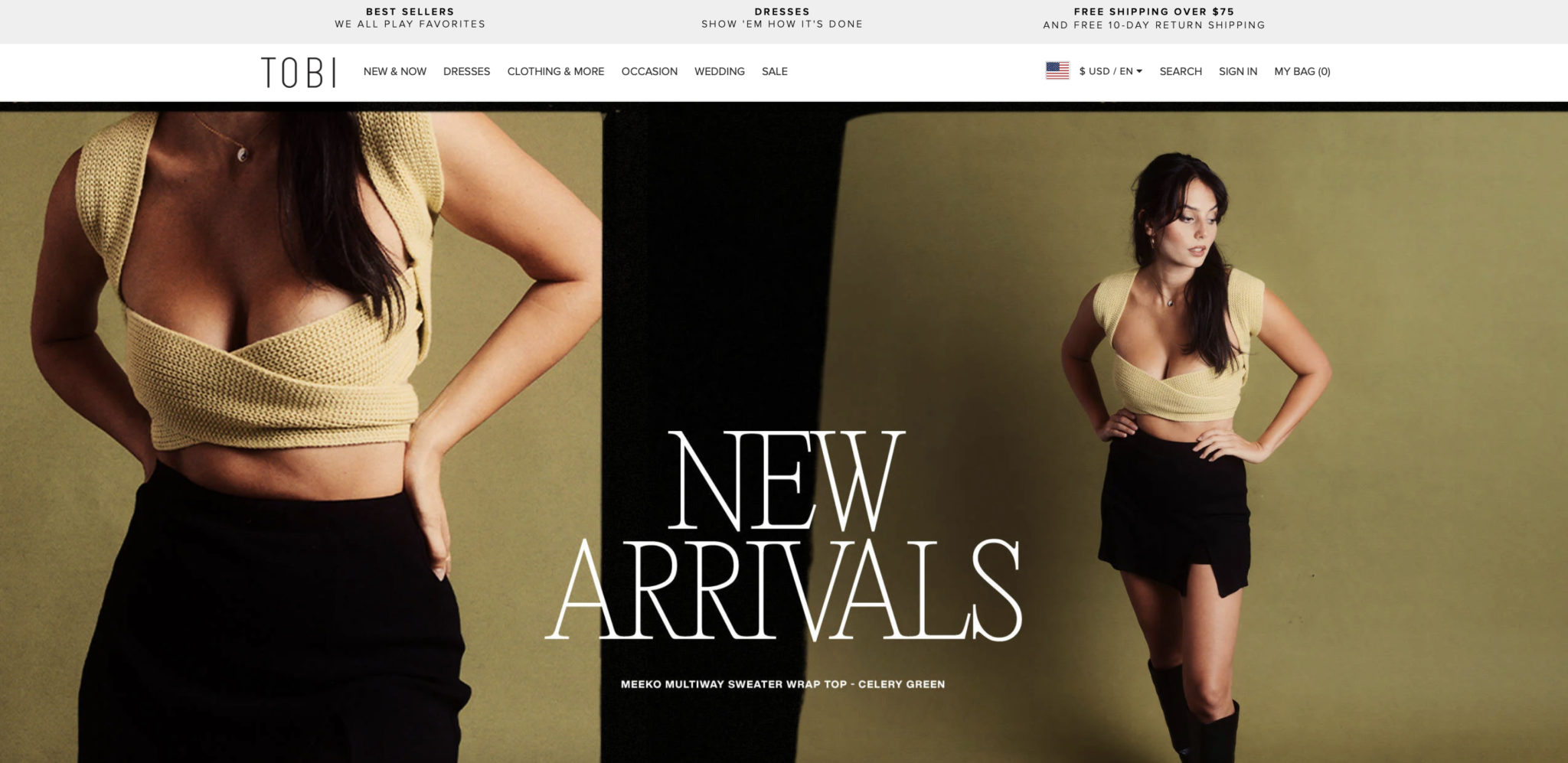 A store that is always 50% off? No, you aren't dreaming — you're shopping at Tobi!
This online boutique is almost always running a half-off sale, making its trendy clothing pieces ultra-affordable. In addition to cute, casual clothing, Tobi offers a stylish selection of occasion dresses perfect for date formals, weddings, parties, and more.
Check out the website's "Occasion" and "Wedding" sections which feature fashion picks for every type of event to make your shopping experience a breeze.
If you love classic or vintage clothing, ModCloth is the boutique for you, where you can even shop by decade!
With retro-inspired pieces that look like they came from your local vintage store, ModCloth puts a contemporary spin on its pieces and is committed to creating an inclusive community by offering sizes up to 6X.
No matter your size, color, gender, disability, or sexual orientation, ModCloth welcomes everyone and provides its own label in this inclusive size range. Funky prints, classic silhouettes, and super unique pieces abound here.
ModCloth also collaborates with brands such as Hello Kitty and Care Bears to create exclusive collections you won't find anywhere else.
Hailing from Indiana, Lane 201 sells a variety of trendy, seasonal styles that will take you from class to the club and everything in between, all at an affordable price point.
This boutique is a must if you're looking for outfits that have flair and are inspired by the latest trends — think bell bottoms, graphic print t-shirts, and colorful crop tops.
Pink Lily is more than a boutique: it's an "inclusive community where every woman can have the confidence to be her true self." Offering clothes ranging from size XS to 3X, you'll find trends for every woman, like girly dresses and vacation-ready cover-ups, along with a ton of darling accessories.
This year, Pink Lily will also be launching a clean beauty collection in addition to their self-tanning products.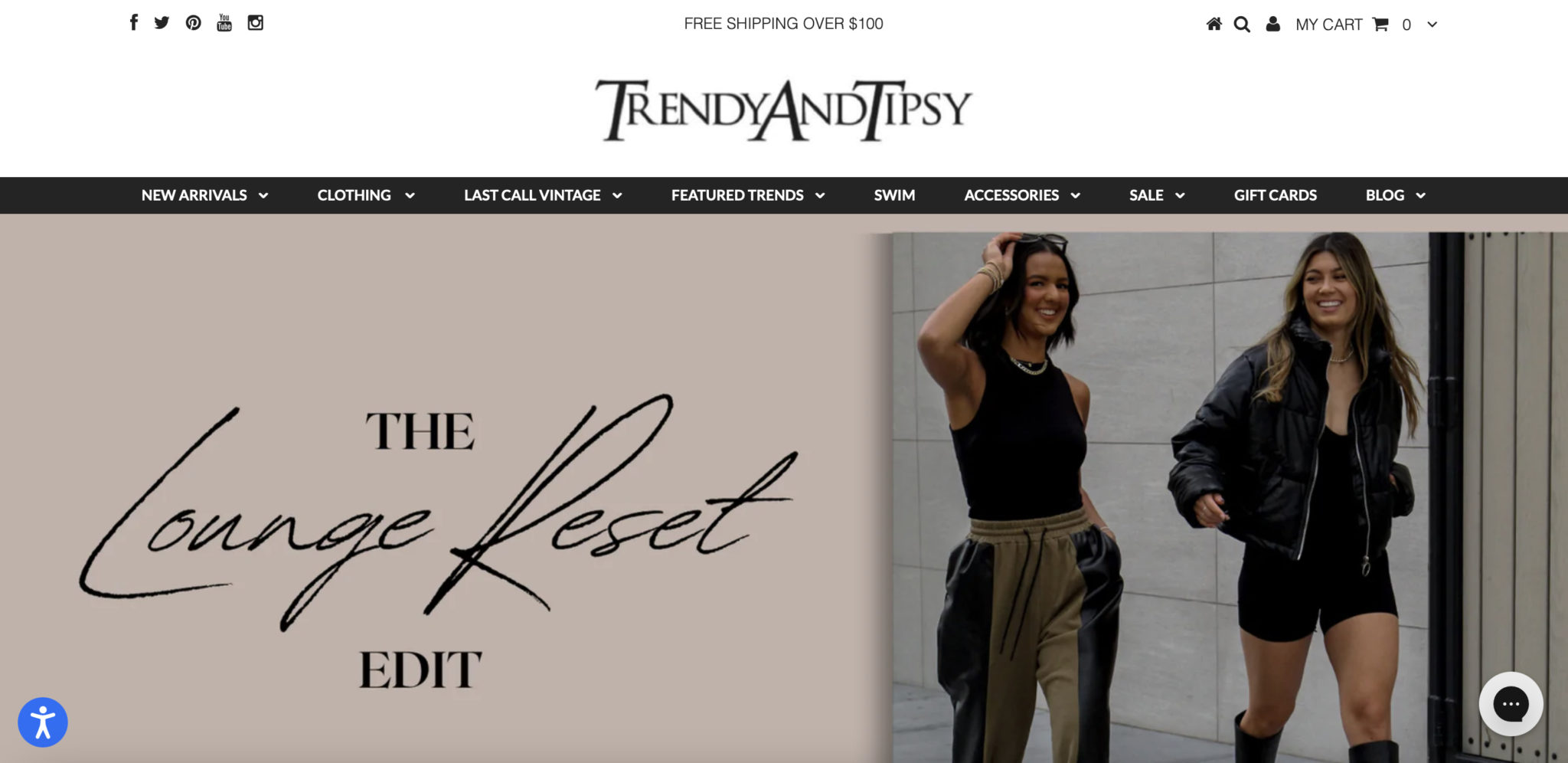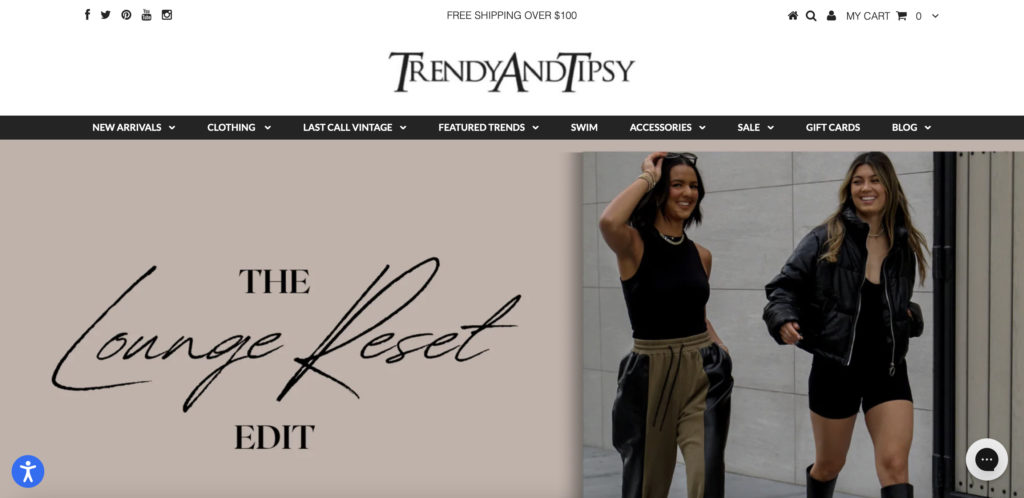 As its name suggests, Trendy and Tipsy boutique offers super trendy styles that will make your outfits pop. A little bit edgy, a little bit Western, and with a vintage-inspired vibe, all of your friends will wonder where you got your outfits from when you shop at this boutique fashion store.
You've got to check out their reworked vintage collection full of vintage graphic print t-shirts and flannels, bomber jackets, and other one-of-a-kind designs. These upcycled pieces often feature classic bands and musicians, so you can show off your taste in music, too.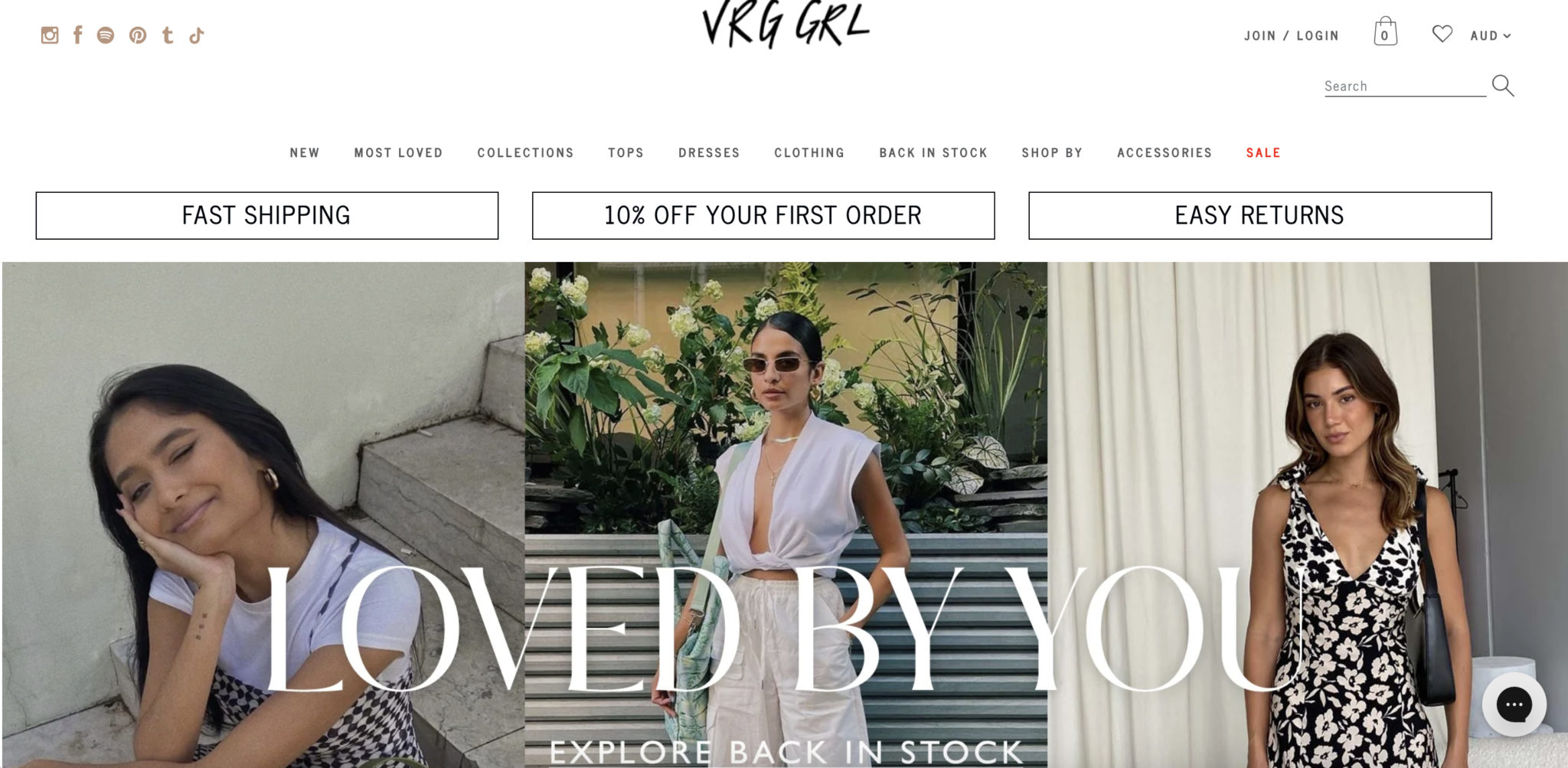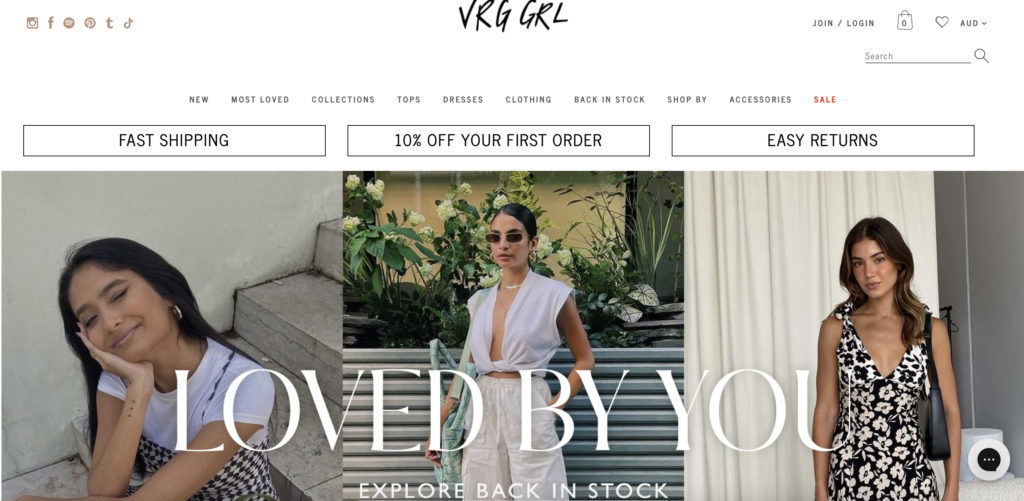 I am utterly obsessed with VRG GRL, an Australian boutique with beachy, on-trend designs you won't find anywhere else. The boutique encourages young women to celebrate their individuality and embrace their "inner cool girl" through fashion.
VRG GRL's designs have a summery aesthetic inspired by the East Coast of Australia, with crochet pieces, sweet slip dresses, gauzy cover-ups, and so much more. Their accessories are amazing, too, with adorable beach tote bags and vintage-inspired jewelry.
Also, check out their blog, which features travel guides, mood boards, and other bits of style inspiration.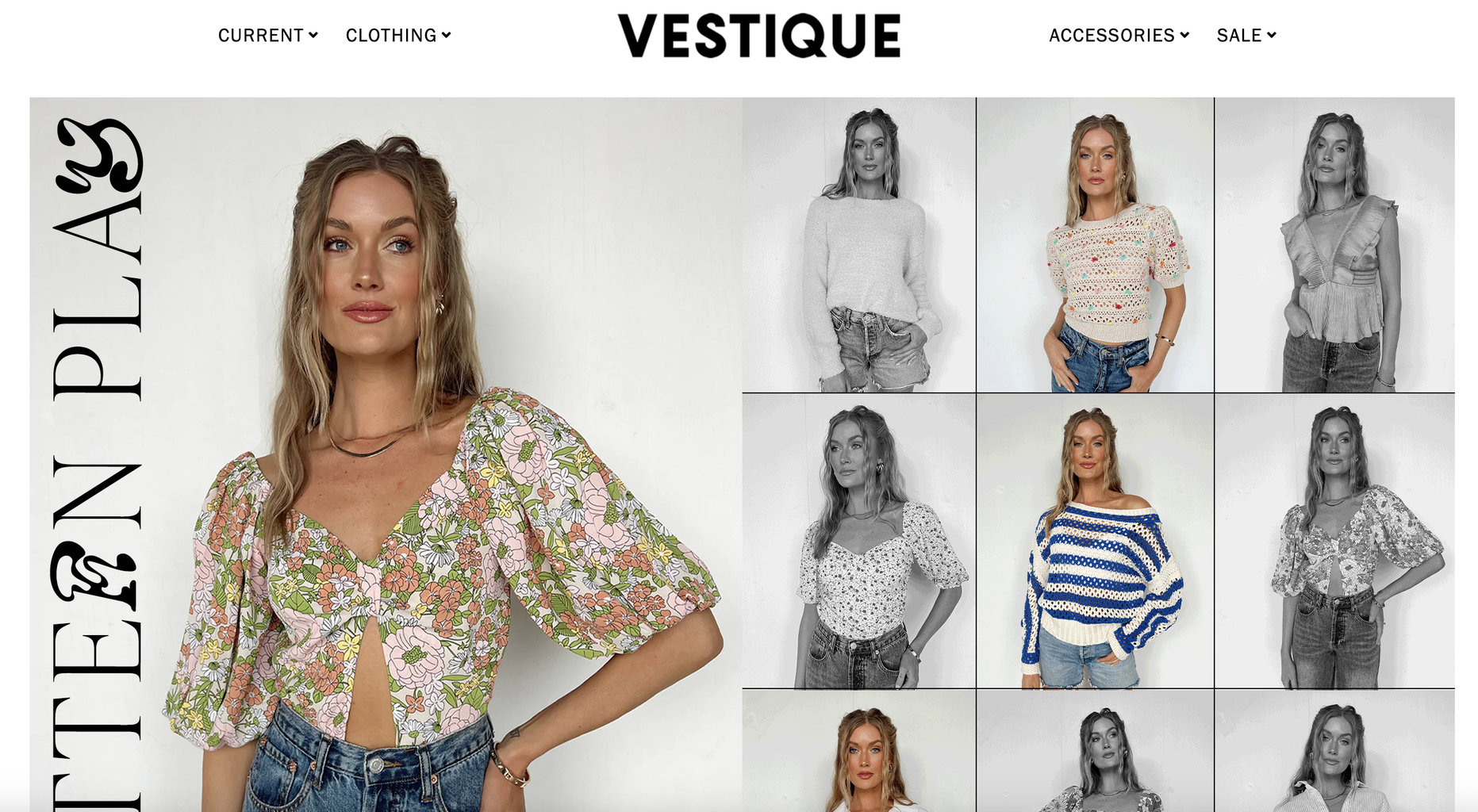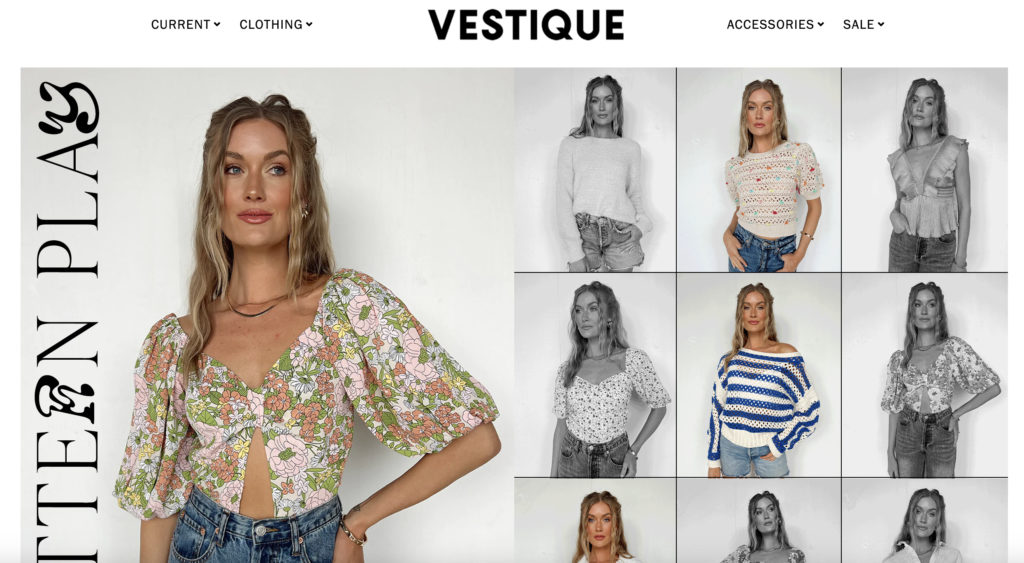 Vestique started as an online boutique by two college besties (we love that), so this boutique fashion store understands what college girls want when it comes to shopping, with on-trend and budget-friendly clothing.
This boutique even has a Campus Reps program for college students who'd like to serve as a liaison between their local Vestique store and their college community.
At Lit Boutique, you'll find clothing for the modern woman, with the latest styles from brands like Free People, Boys Lie, Steve Madden, and Show Me Your Mumu — all in one place.
On the website, you can shop by your vibe (lounge, luxe, party, etc.) or by curated shops like "Apres Ski" and "Girls' Night Out" to find exactly what you're looking for.
This boutique is also a women-led, minority-owned business, giving you that much more incentive to shop here!
Colorful Natalie just gets it. From Y2K-inspired accessories (including the cutest trucker hats and trendy sunglasses) to fun crop tops to printed pants, this boutique carries pieces that pop.
This is the best boutique fashion store if you want to find your next going-out outfit or Insta-worthy look that will have your friends flooding your DMs with questions about where you bought your clothes!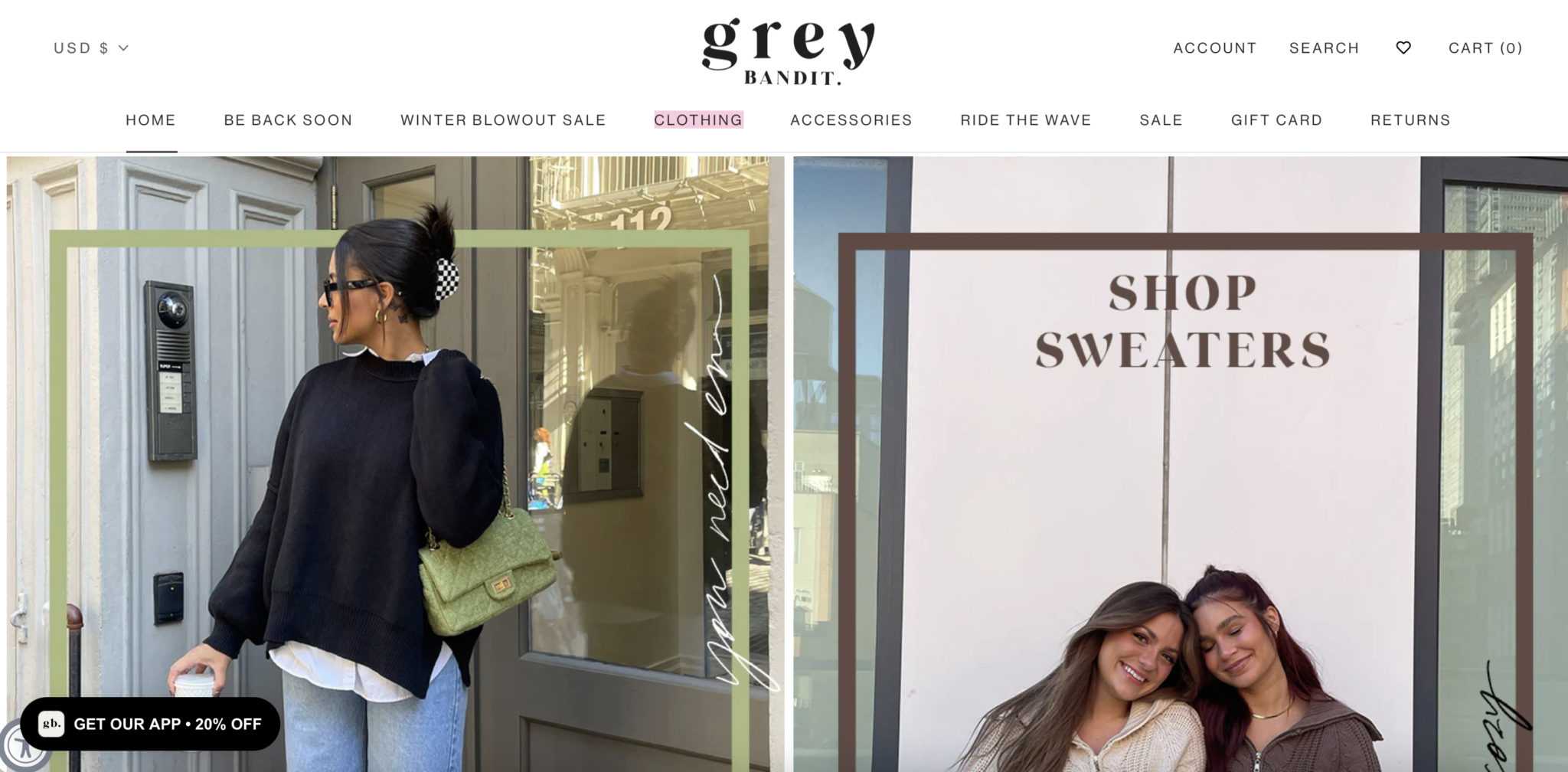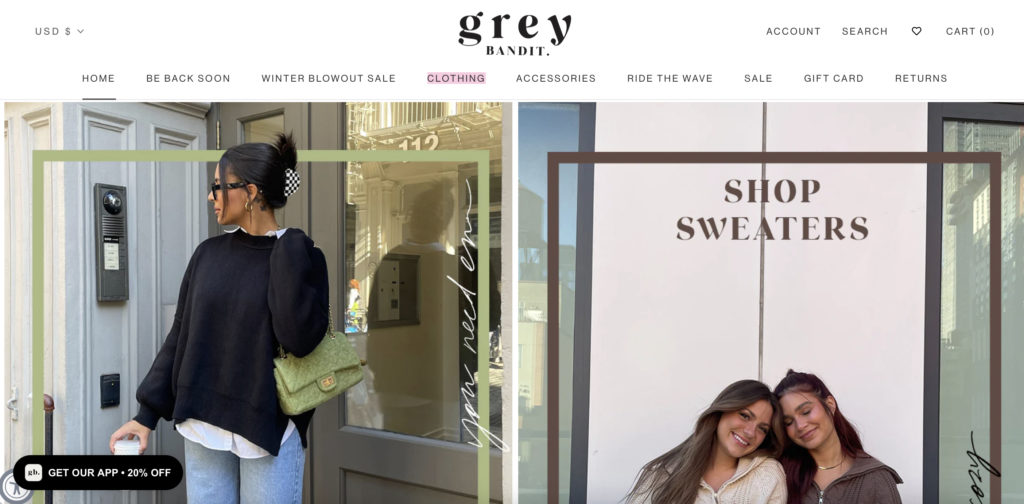 Grey Bandit is all about "promoting a lifestyle of wellness and positive vibes." With the mission to raise awareness for mental health and break stigmas surrounding mental illness, Grey Bandit created Ride The Wave, a collection where 30% of the net proceeds are donated to various mental health organizations.
These brand values set Grey Bandit apart from other stores, as do their extremely cute, budget-friendly clothing and accessories. Whether you're heading to brunch, to class, or to hit the town, Grey Bandit's got you covered.
"Edgy on-trend clothing" is what you'll find at Rock N Rags, a boutique that caters to young, fashion-forward women.
From lace-up corset tops and cargo pants to formal dresses for your next Greek life event, Rock N Rags is the destination for trendy yet affordable pieces.
P.S. — check out Rock N Rags University, the boutique's campus ambassador program for college students who want to promote the brand on campus and on social media.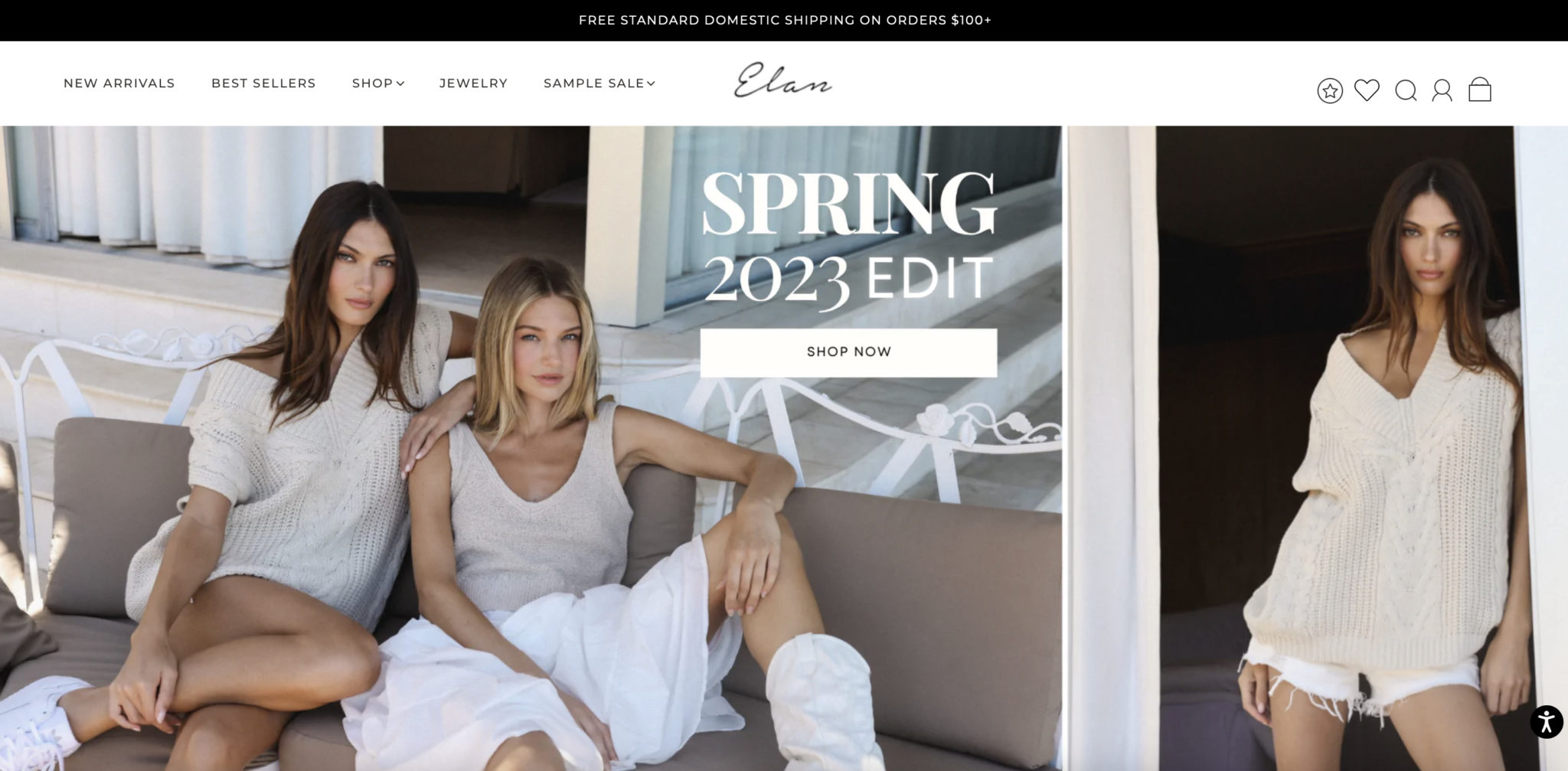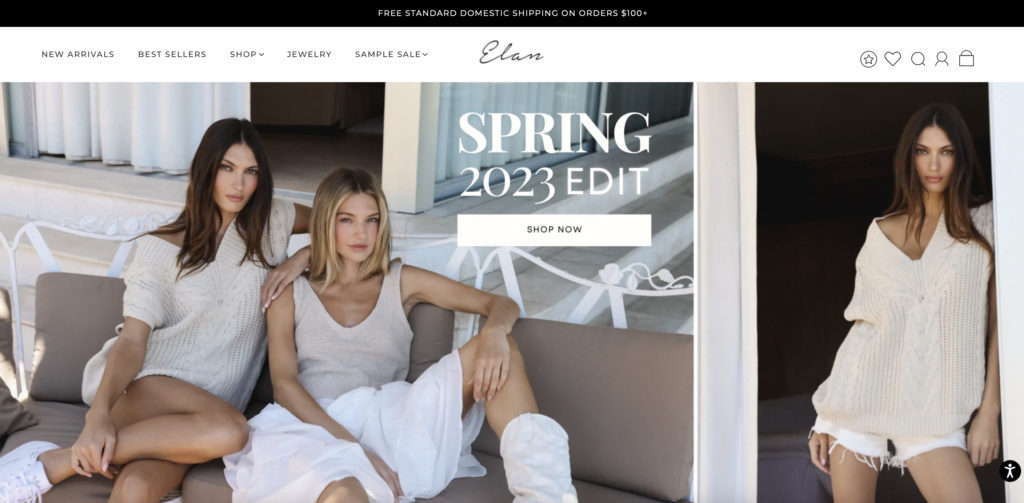 At Shop Elan, you'll find cozy attire, bohemian beachwear, and elevated, everyday clothing. This boutique offers neutral-colored items that are not overly trendy, meaning you'll likely get more wear out of them.
I especially love this boutique's selection of knitwear, including zip-up sweaters, cut-out sweaters, and more unique styles.
Bolt Boutique's mission is to help women feel confident with clothing that is "unique, wearable, and high-quality." In addition to the store's cute dresses, bell-bottom jeans, and cowgirl boots, you'll have to check out their adorable graphic print t-shirts with positive messages.
This boutique offers the perfect mix of bold statement pieces and casual, everyday clothing, making it a go-to shopping site.
What do you think of our list of the best boutique fashion stores?
Looking for more places to shop? Be sure to see our guides to the best online boutiques to update your closet, the 20 best stores for fashion on a budget, and our guide to the best clothing stores for teens.
Did we miss any of the best boutiques? Which store is your favorite? Leave a comment and let us know where else you like to shop!