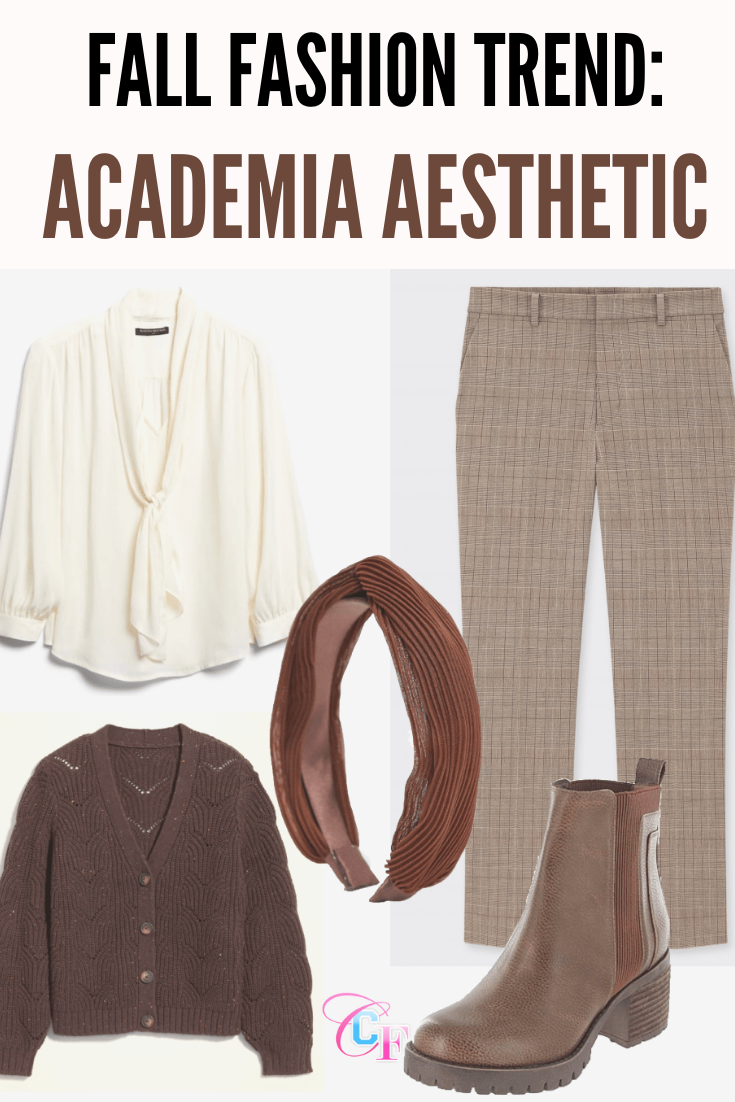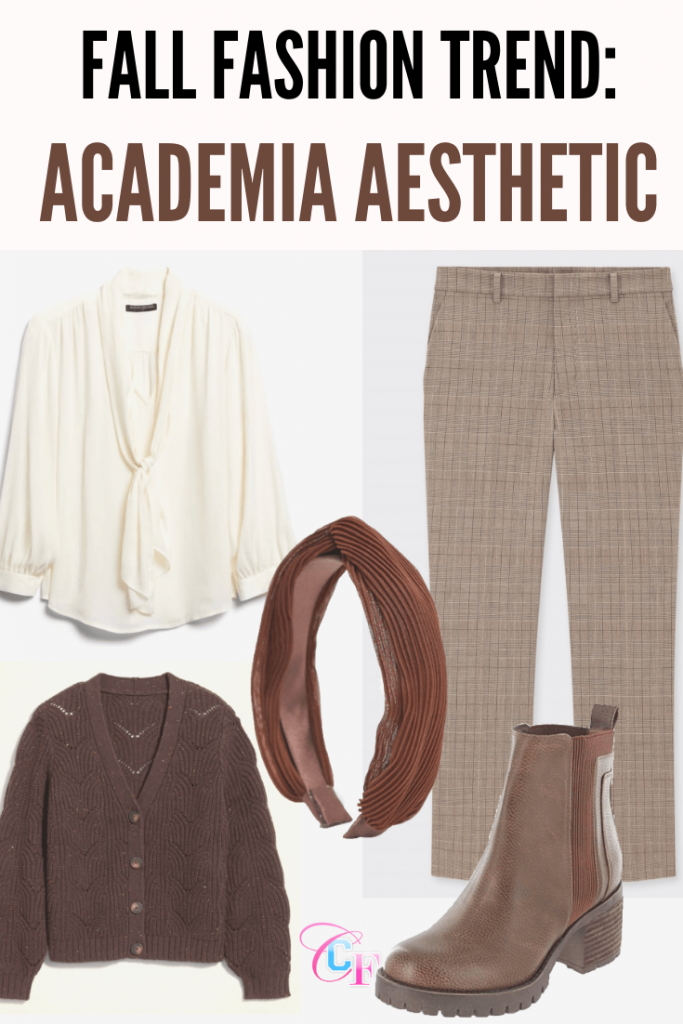 One of my favorite fall fashion trends and one that's becoming big again this year is the academia aesthetic. Whether you've seen it already on Tiktok or Instagram or this is the first you're hearing of it, read on for all the details on this fall fashion trend.
Inspired by the luxurious life of Ivy-league and prep school students, the academia trend puts the glamour back into studying at the library. So, this is a style us college girls can certainly get behind.
The style has also branched out into the Romantic Academia aesthetic and the Dark Academia aesthetic, which have their own separate articles. Today's post will focus on pure academia.
Read on for tips on how to incorporate the academia aesthetic into your wardrobe, and some clothing and outfit ideas.
The Academia Aesthetic
The academia "look" is all about doing more with less. This style throws it back with classic silhouettes and practical staple pieces while layering them in unique and stylish ways. Suits, cardigans, and shirts under dresses are the perfect academia-inspired outfits and will be perfect for fall.
Since this aesthetic takes a lot of its inspiration from Ivy-leagues and posh boarding schools (think, Gossip Girl but less mid-2000s), classic pieces like pleated skirts, blazers, sweater vests, and tailored trousers will absolutely be making an appearance.
The main element of this look is the structure of pieces. The academia fashion trend is all about contrast – pair a fitted pair of trousers with a blousy shirt, or a tight shirt with an oversized jacket to mix the textures, shapes, and silhouettes of each piece.
I also love tucking, twisting, and tying pieces of clothing to get many unique looks from your pieces. Kind of like the classic draped cardigan over-the-shoulder look, but unironically.
Choose your pieces carefully and deliberately, and that way you'll be able to make a ton of different looks out of only a few clothes. Accessories like tights, tall socks, and subtle jewelry are the key to upgrading the look and making your outfits 10x more sophisticated.
Finally, stick to a neutral color palette. The structure of these outfits are where the simplicity in each piece really pops, so a way to make sure your pieces are putting in the work is to stick with a simple color palette. Blacks, browns, whites, greens, and burgundy are the best fall colors and the perfect palette for the academia look.
Staple Pieces
A classy pair of glasses is the key to capturing that library look. Wear your favorite prescription glasses or protect your eyes from screens with a blue light blocking pair (these ones from Amazon are our favorites).
Chunky sweaters are an essential layering piece for the academia aesthetic, and great to have around with you as the weather gets colder. Wear it over a blouse, or throw it over your shoulder for a chic, runway look.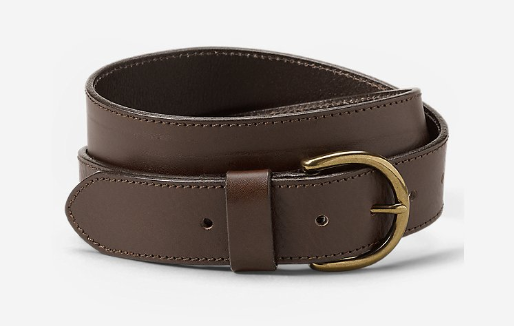 A simple belt is an easily overlooked piece, but super important for the structured pants in your looks. Choose one in a nice, deep brown and black so you'll have something to wear with every outfit. A belt with metal details can be a great focal point for your look.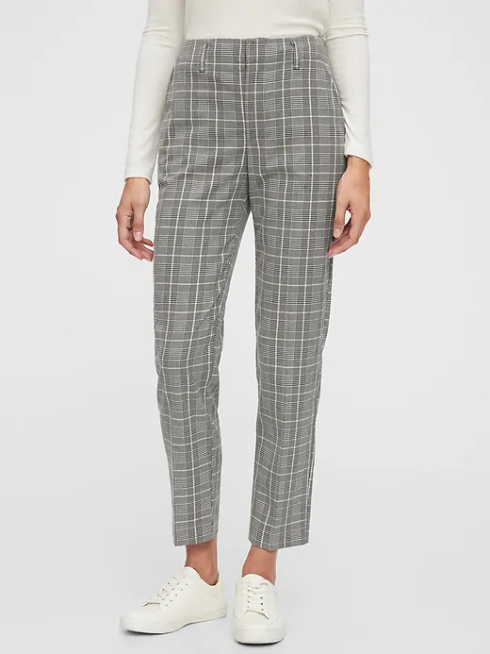 Plaid trousers are an absolute must have for any academia outfit. They'll give your look that preppy school uniform feel, and they can be dressed up or down super easily. We love pieces that are office or day off friendly!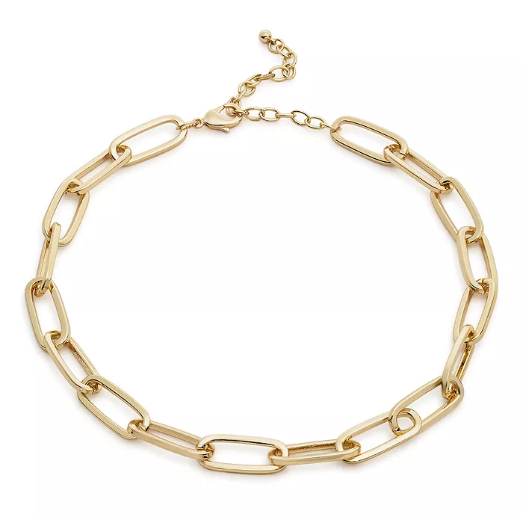 A chain necklace completes any look, but it can really pop in an academia-style outfit. Keeping jewelry simple will help your pieces stand out, and a gold or silver chain is just the right touch. You'll look super put together with an elegant piece of jewelry.
Not-So-Basic Brown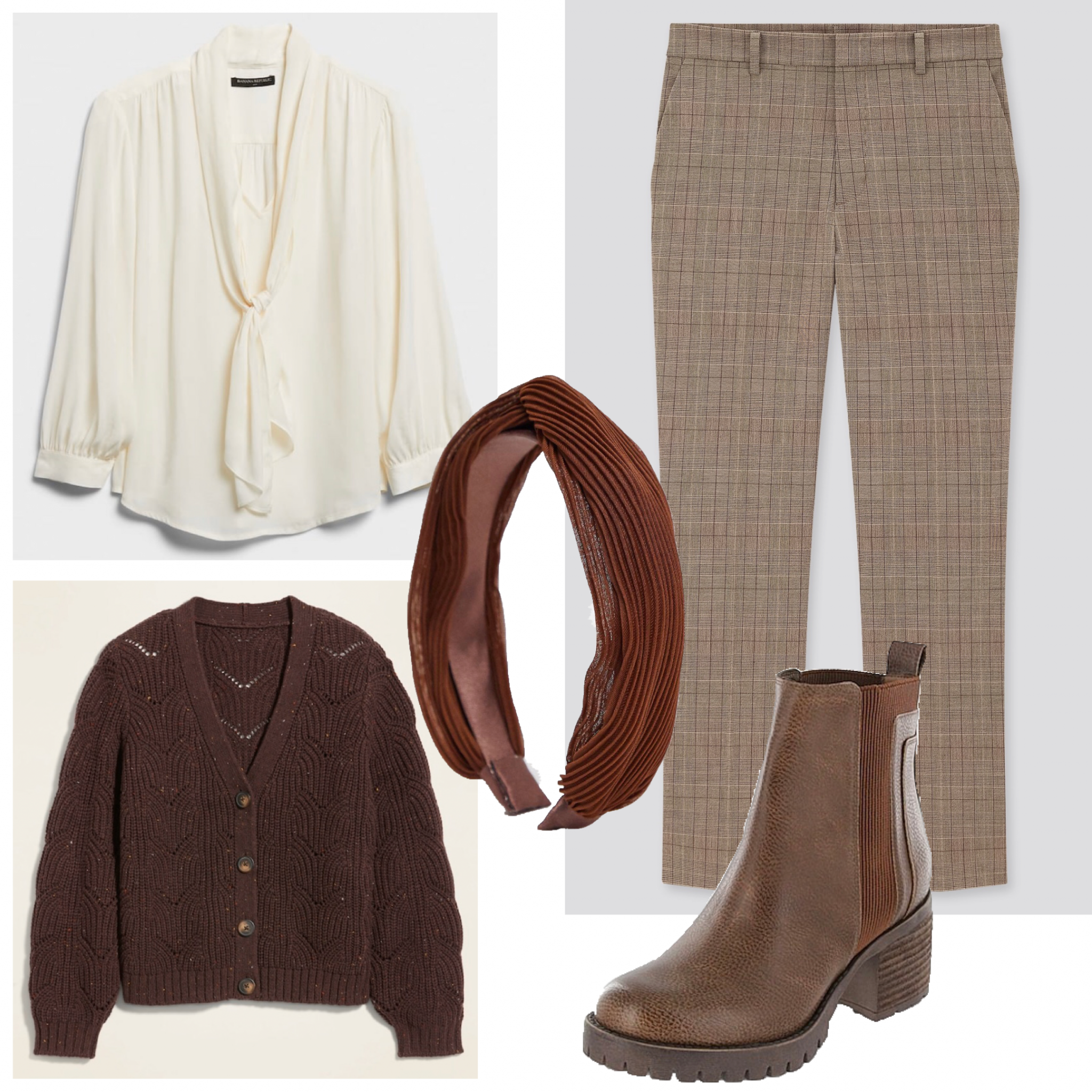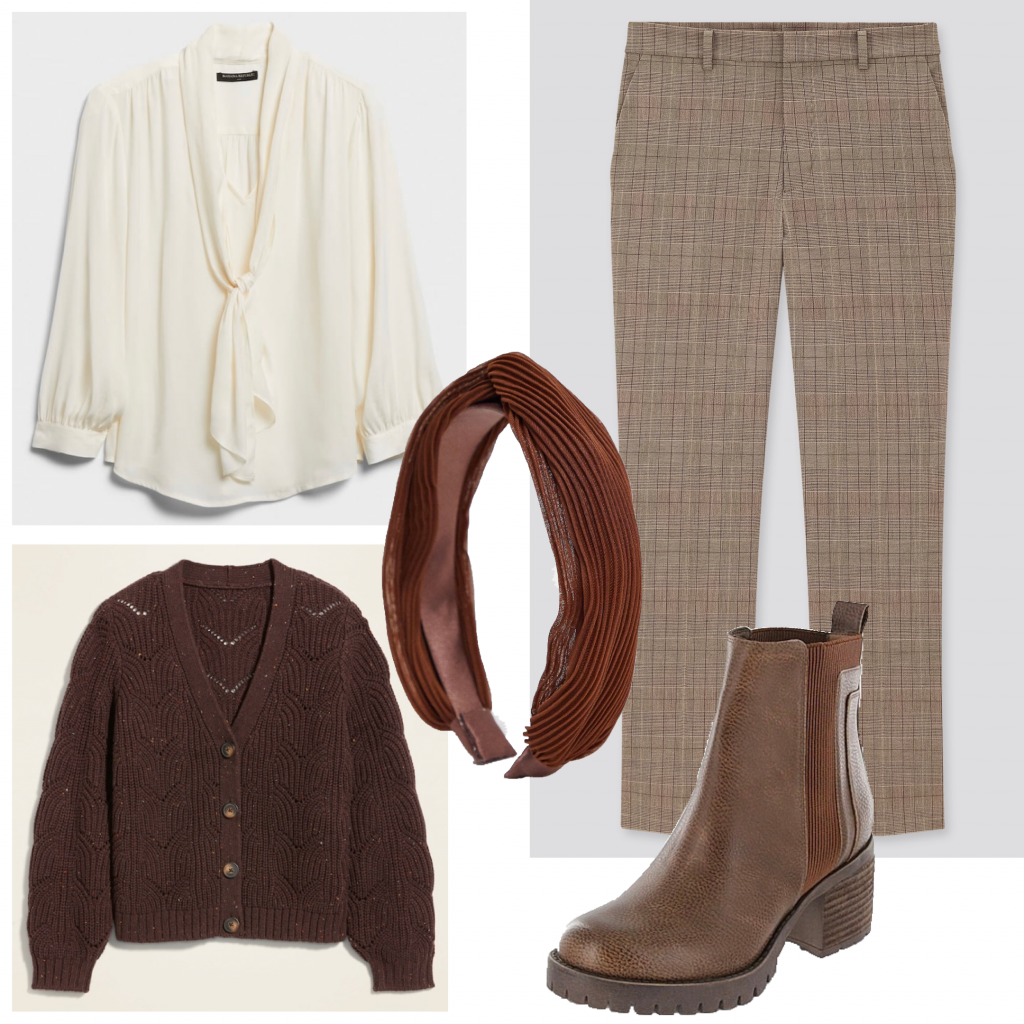 Products:
This outfit is such a cute way to pair together some basic pieces all in the same color family.
Start with a cream colored, flowy blouse and some tan and plaid pants on the bottom. A thick deep brown cardigan is the perfect fall accessory to throw on top!
Some low-heeled Chelsea boots are great for walking around campus while still looking stylish. Finally, accessorize with a unique brown fabric headband to truly make this outfit interesting.
Timeless Elegance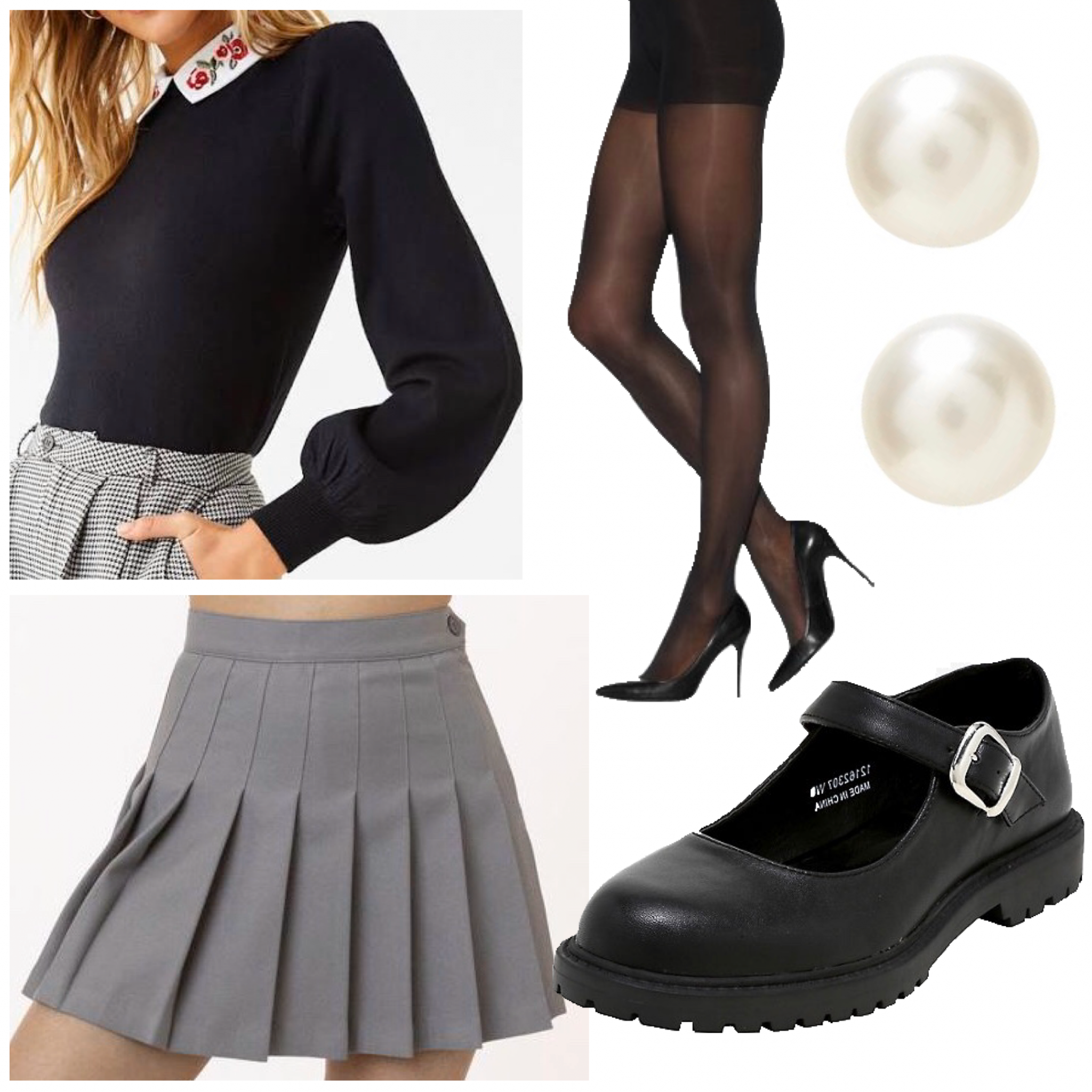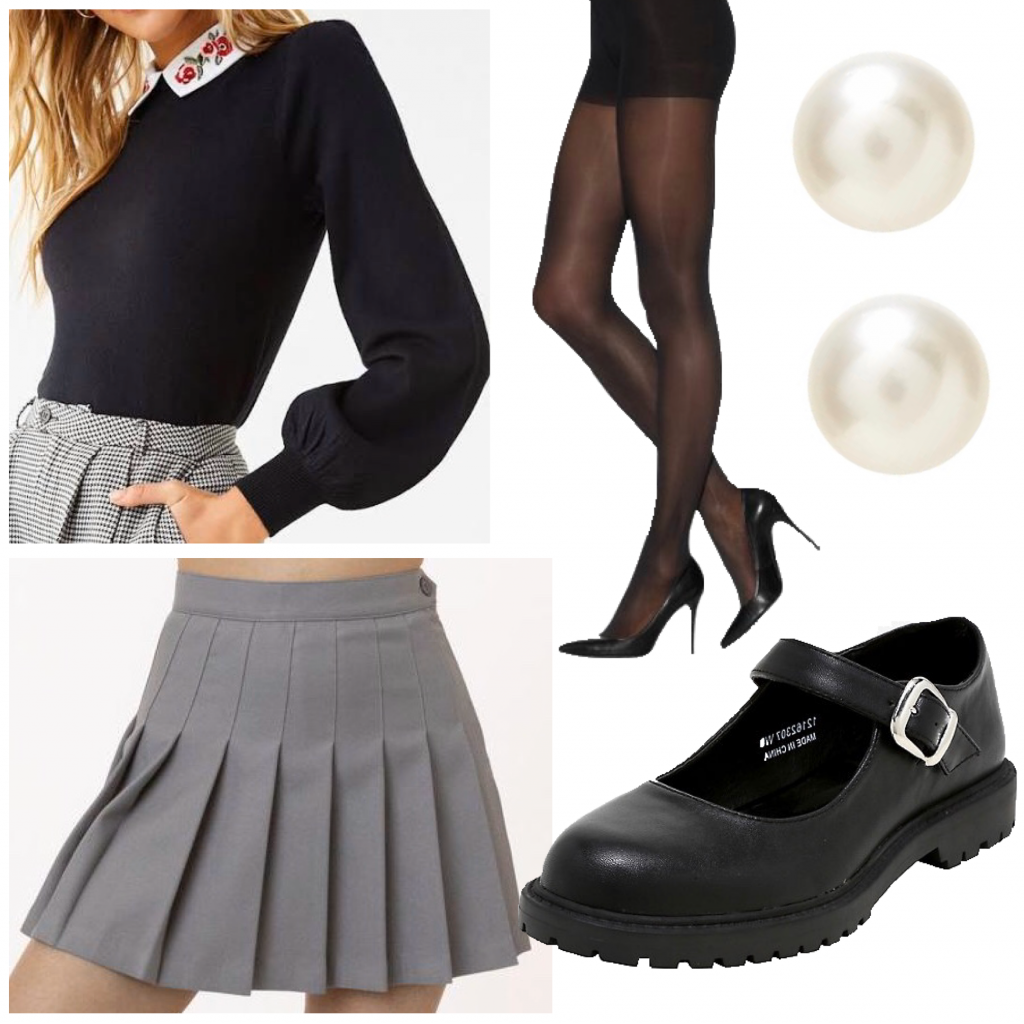 Products:
For a classy monochromatic look, this outfit is great for making a statement while still staying comfortable.
This beautiful statement sweater is show stopping in its structure and collar detail. Pair it with a trendy tennis skirt and bring one of our favorite summer pieces into fall. Underneath, add some basic black tights so you won't get cold.
These black mary-jane shoes are such a cute throwback to grade school, and they'll look so stylish when upgraded in this look. Pearl earrings are a great timeless accessory to make this outfit look all grown up!
Also Read: Class to Night Out: Ruffle Sweater
First Day of School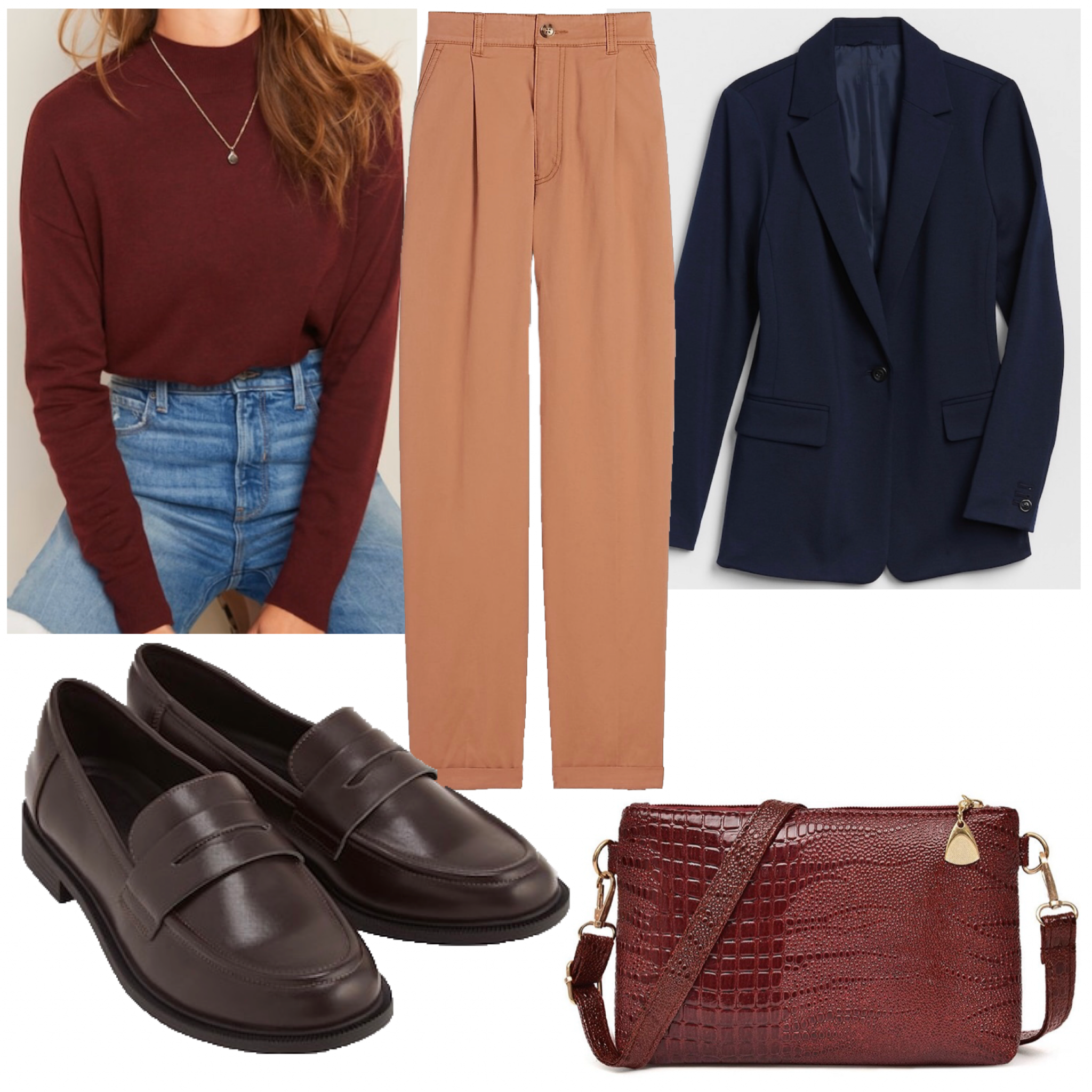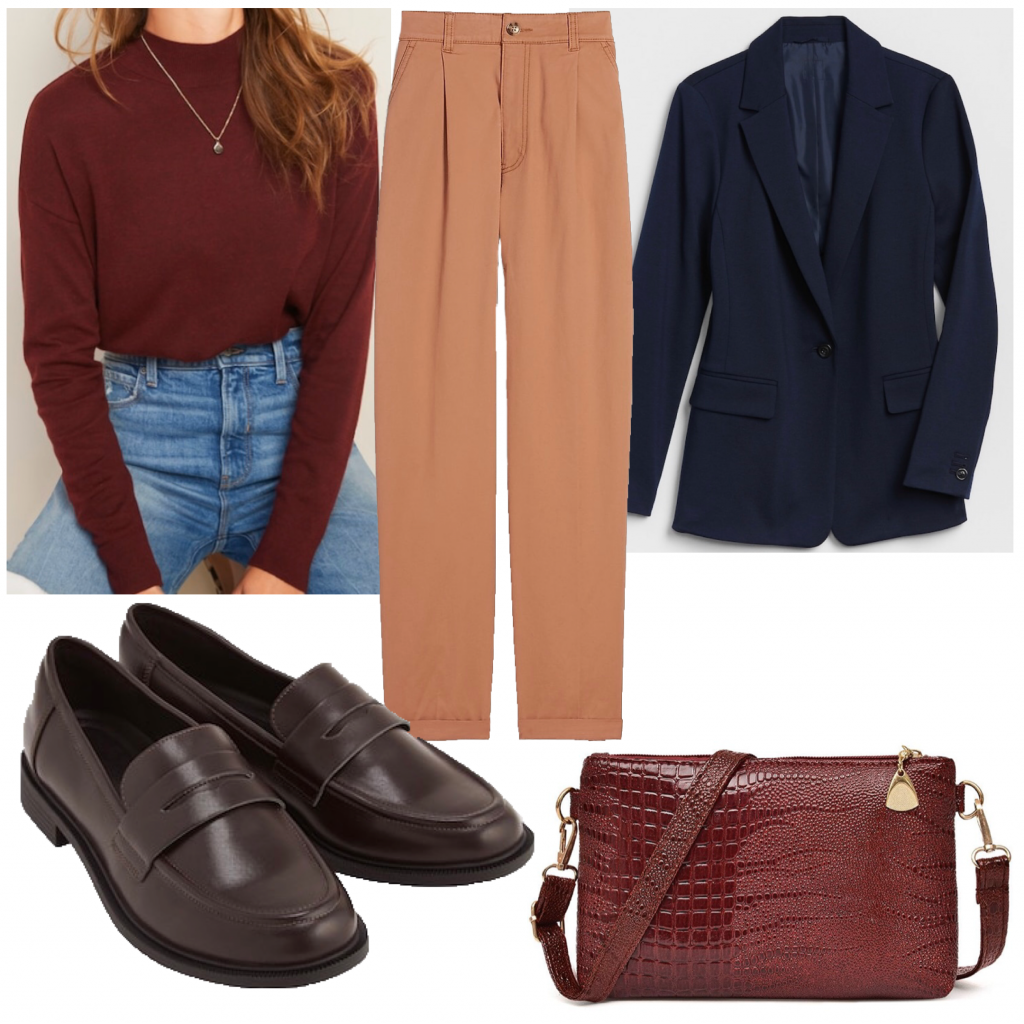 Products:
If you're looking for a more colorful look to offset the dreary sky, look no further!
This burgundy mock-neck top is a beautiful shade and easy to pair with other pieces. These khaki trousers have a gorgeous high waist and will look adorable with the top tucked into them. An oversized blazer is the perfect piece to contrast with the silhouette of the high waisted pants, and will be a welcome addition to the cold weather.
Finally, the accessories here are key. Every college girl needs a basic pair of loafers for the office or the classroom – they're another piece that can be easily dressed up or down depending on the look. A snakeskin-print burgundy bag matches perfectly to the top, and adds an interesting twist to the look!
What is the difference between the Light and Dark Academia Aesthetics?
Light Academia is a subculture that celebrates academic and intellectual pursuits. It has an airy, neutral feel and often revolves around self-care pursuits and cozy scenes of coffee shops and bookstores.
There are many other aesthetics in the Academia category, such as "classic," "Darkest," "Pastel," and "Romantic Academia," each of which has its own unique feel. (For more detail on all of these aesthetics and more, see the Academia section of the Aesthetics wiki.)
The rise of Dark Academia, one of the most popular aesthetics, is a result of social media. This subculture takes inspiration from scholarly figures, and academic culture and activities, but it's more somber than Light academia with an occasional dark side that can range from brooding to bleak. Think Victorian styles and a murdery mystery, Sherlock Holmes vibe.
What do you think of the academia aesthetic?
What pieces do you love most within the academia aesthetic? Which outfit are you excited to try out? Would you wear the academia trend?
Let me know in the comments!
Related Posts: