This post will teach you everything you need to know about the romantic academia aesthetic.
Anyone who has scrolled through Instagram, Pinterest, or Tumblr since 2010 is likely familiar with specific aesthetics.
Theme aesthetics are so fun to learn about and provide such a good community of like-minded people. From a style perspective, they're great for giving you ideas for what to wear.
So if you're one of those people who like their clothes to follow a certain theme, picking an aesthetic to follow or draw inspiration from would be for you.
Last fall, we talked about the academia aesthetic that's popular on Instagram, and today we're back with a riff on that same theme. (We also covered Dark Academia in its own post.)
Today, I want to focus on the Romantic Academia Aesthetic because we're coming up to Valentines' Day and it's the perfect time of year to embrace this cozy, vintage-inspired look.
For someone who is new to this aesthetic, you may be asking, what does romantic academia entail?
Well, in its basic form it's an art movement that romanticizes literature and learning. The feel of it is moody and romantic, with a hint of wistfulness and fantasy.
To generalize, people with this aesthetic tend to be daydreamers, building new worlds and spending a great deal of time in their imagination.
Their hobbies may include (but aren't limited to)…
Writing poetry
An interest in vintage clothing
Creative Writing (especially love letters)
Drama or theatrics
Philosophy or mythology
Watching period pieces (Pride and Prejudice, Bridgerton, Vanity Fair)
History
Walks in nature
Reading
Some of the main features of romantic academia style include:
Anything traditionally preppy like blazers, cardigans, and button-down shirts.
Materials such as linen, satin, and silk.
Soft colors such as pastels, light pinks, blues, whites, and beige.
If this sounds like stuff right up your alley, you might be wondering how to incorporate romantic academia into your wardrobe. For this, check out our suggestions below.
Related reading: Everything You Need to Know About the Soft Girl Aesthetic (+12 Outfit Ideas!)
5 Best Romantic Academia Aesthetic Outfits
Outfit 1: Long-Sleeved Dress Outfit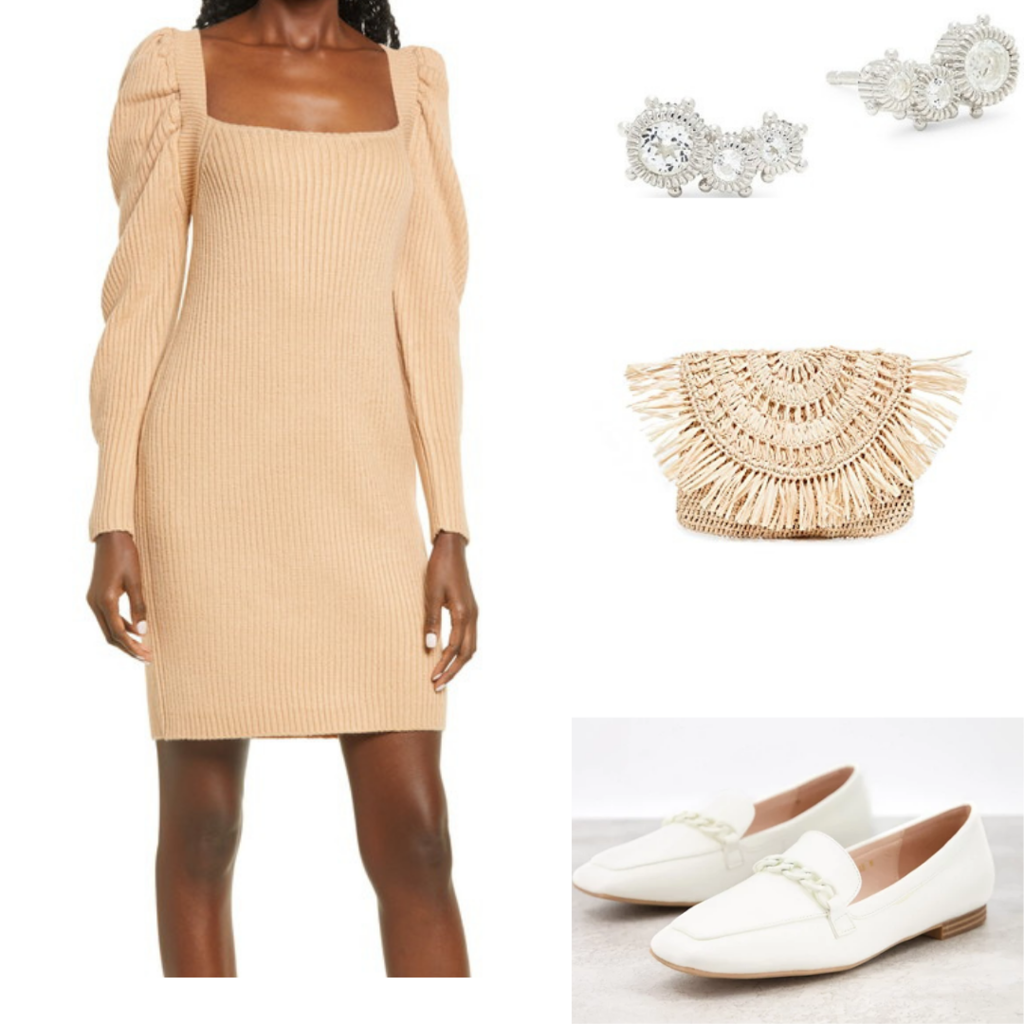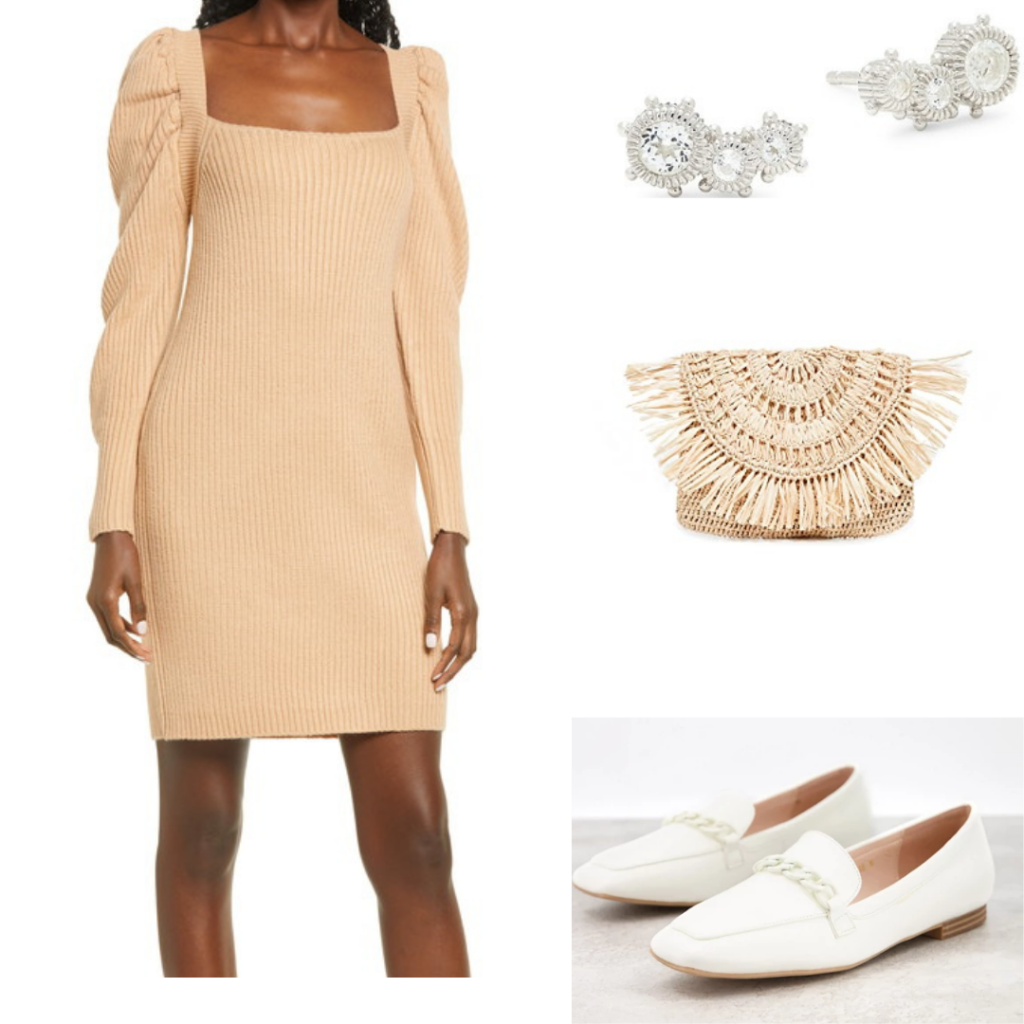 Products:
Muted tones are a hallmark of the romantic academia aesthetic.
I love the muted tones in this outfit because I think they give the look some class with just a hint of mysteriousness.
The long-sleeved knitted dress is cozy yet elegant and the slighted puffed sleeves give the illusion of a gown, something you often see in romantic academia posts.
I love the hay-like quality of the clutch. It offers a nice contrast to the more buttoned-up feel of the dress. It gives off a kind of connectedness with nature and just looks so unique.
The white loafers are a simple yet classy choice if you're ready to glide on to the next activity at any moment.
Lastly, the sterling silver and white topaz drop earrings from Saks Off 5th give the look a touch of sparkle. It'll be as if the stars in the sky have fallen and have found a new home in your ears. How poetic!
Outfit 2: Jeans And Sweater Outfit
This outfit is perfect for a study session in a library or at home. Imagine sitting down surrounded by books and stationery listening to classical music or a movie soundtrack while in this. Bliss.
The pink sweater from Revolve is warm and sweet looking. Ideal for this time of year when it's starting to get warmer but we're just not quite there yet.
This pair of indigo jeans gives the outfit a more casual flair. As you can see, romantic academia doesn't always have to be all high-brow and fanciful.
This beaded necklace with gold pleating gives this everyday look a touch of elegance. In my opinion, statement jewelry is always a good choice.
The pink loafers from Nordstrom Rack are perfect for taking a brief midday stroll and they look so cute with the sliver buckle on top.
Also Read: How to Wear Mom Jeans: The Best Cute & Comfortable Outfit Ideas
Outfit 3: Crop Top And Midi Skirt Outfit
This calm and casual look makes me want to run out in a field of lilies or picnic by a lakeside far, far away from everything.
The fluffy midi skirt from Nordstrom has a flowy, romantic feel to it that is perfect for Spring.
I know crop tops are associated with edgier looks but this crop top just stood out for its simplicity. Matched with the long skirt, it's a brilliant case of how opposites attract.
I chose the coral heels because heels just add a touch of romance and elegance to most outfits. The coral adds a pop of color to the mostly white ensemble in this look.
Also Read: How to Wear a Crop Top (+ 4 On-Trend Outfits You'll Love)
Outfit 4: Shorts And Blouse Outfit
This fun outfit would be perfect for a spring or summer day out.
Lace is an inherently romantic material, so that's why I chose this long-sleeved lace top from Revolve. The floral pattern will put you in a bright mood for writing or studying.
The ruffled shorts stood out to me, partly because I hadn't seen many shorts with ruffles along the front and because of the lilac color. It's a calming color that exudes elegance.
For footwear, I chose some white sandals also from Revolve because double straps mean that the sandals are more secure on your feet.
Finish the look with a statement headband, another favorite of the romantic academia set.
Outfit 5: Red Skirt, Sweater, and Red Loafers
For days when you're visiting a museum or gallery, or just writing outside, this outfit would be sure to make a statement.
What says romance more than flowers? This floral purse is perfect for carrying a small notebook for writing down your most intimate thoughts, or just your phone to capture your surroundings.
A midi skirt features once again. This red pleated midi skirt from Net-A-Porter has a sweet country feel to it. I could see someone twirling to Lana Del Ray's "Young and Beautiful" in it.
The red sweater just looks so comfortable and has a preppy look to it. Though it's flowy, it can be tucked into the midi skirt to give your waist some shape.
The ruby-red loafers complete this romantic look.
Also Read: How to Wear Loafers (Complete With Outfit Guides!)
What do you think of the romantic academia aesthetic?
For more on aesthetics, see: How to Get the "Clean Girl" Aesthetic That's Everywhere Right Now
Do you have an aesthetic? What romantic academia activities do you engage in? What other aesthetics would you like to see? Let us know below in the comments.
For more aesthetic outfit ideas, consider reading our related posts below –