This post will show you how to wear a crop top like a fashion girl.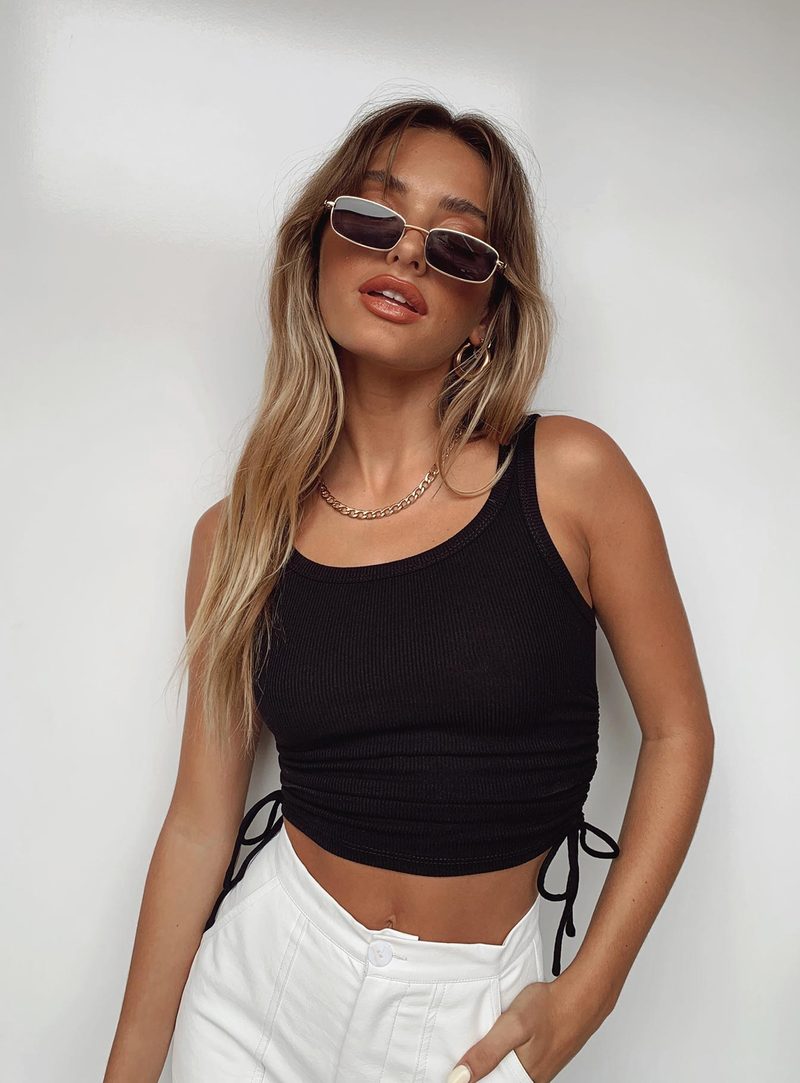 With summer in full swing, it's about time you tried the year's hottest summer trend: crop tops!
With scorching July temperatures sweeping the country, now is the perfect time to show a little extra skin.
Some of you may think crop tops are hard to wear, but I'm here to prove you wrong: They can be versatile AND insanely cute when styled correctly. Read on for my tips for wearing crop tops, as well as some sample outfits to get your inspiration going!
Tips for Wearing Crop Tops
Pick a length. Crop tops come in a variety of shapes and lengths, and depending on how daring you are, you can pick a top that shows only a sliver of your stomach or one that's more like a bustier. Daring? Try a cute bralette or bustier top with your favorite jeans. More conservative? Try a top that hits just above your belly button (as seen above). When picking the length of your top, you should also consider what you'll be wearing it with, and where you're going!
Pick and choose the rest of your look wisely. Crop tops are cute, but their vibe is all in the styling. Each piece you pair with your top will evoke a different look. A higher waisted bottom paired with a crop top and blazer, for example, is a more sophisticated take on the trend. A cropped lace-trim cami and a pink mini skirt, however, will give you a trendy Y2K vibe.
Try it out! Still afraid to incorporate crop tops into your summer wardrobe? Try wearing one on the beach over your bathing suit! It's an effortless, but totally tend-conscious choice that will have people talking! Still not convinced? Play around with different layers! Throwing a blazer or oversized mens shirt over a tiny crop top can make you feel more comfortable with this trend to start.
So those are my basic tips for rocking a crop top. Now, let's get specific and talk crop top outfits.
If you are obsessed with crop tops like me, you probably have a ton of them stored in your closet. You may be looking for some new styling ideas, and if so, I've got you covered.
Here are four cute crop top outfits that are completely on trend this season:
1. Crop Top Outfit #1
This is definitely my go-to crop top outfit for everyday occasions — it's super casual and extremely cute.
Start with a pair of black leggings (preferably high waisted). If you are tired of just the plain all black leggings, you could go for this pair which features a cool cross over design at the top.
Then, you will need to find the perfect casual crop top to go with these leggings. I highly recommend going for a graphic tee crop top. These are very in style right now and will make you look extra trendy in your crop top outfit!
For shoes, you can pretty much wear whatever kind of shoes you like for everyday outfits. If you want to keep up with some of the trends, I suggest going for some Nike sneakers like these Nike Aire Force 1 Shadows.
Also, don't forget your accessories! To finish off this casual crop top look, you could add a cute gold necklace like this one with a trendy baseball cap like this brown one to match.
2. Crop Top Outfit #2
If you like to be comfy in your outfits, you will absolutely love this idea for how to wear a crop top. This outfit provides maximum comfort while also making sure you look trendy.
Start with a racerback crop top like this white one and some joggers to match. I recommend going for these green joggers — green is a very trendy color right now and this particular shade is so cute!
For shoes, you can totally go for comfort, too. Just add some dad sneakers like these all white Fila sneakers to match the outfit.
And don't forget about your socks! Ankle socks with sneakers are trendy right now, so throw on some white ankle socks like these with your sneakers for a very of-the-moment feel.
For accessories, layer on a few necklaces (or cheat by buying this necklace that's three chains in one).
3. Crop Top Outfit #3
If you want a crop top outfit that's comfy but also a bit fancier, this is the look for you.
To create this outfit, you will need a long sleeve crop top like this all black one.
Then, wear your crop top with some trendy jeans. I suggest going for baggy jeans because they are really in style right now and will balance out a tighter crop top. These high waisted ripped dad jeans are the perfect ones to go with this crop top outfit.
To make this outfit look a little fanicer, you can go for some fancier shoes — I love these trendy thong heels in black!
For accessories, you could add some cute earrings like these chunky gold hoops, and if you want to do something with your hair, just style it up with this cute claw hair clip that has a cool design.
4. Crop Top Outfit #4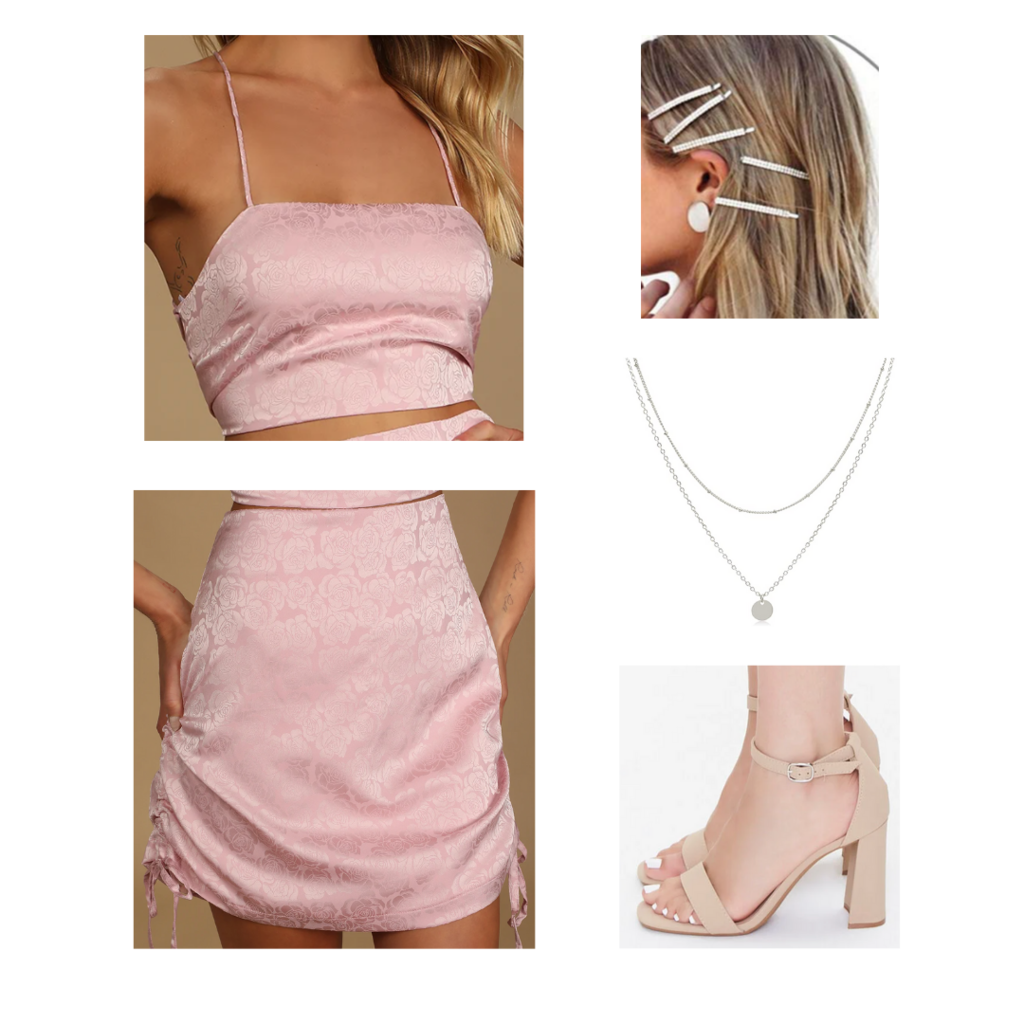 Products: Top, Skirt, Shoes, Necklace, Hair Barrettes
Crop tops don't just have to be paired with pants — I love them with skirts for fancier occasions, or just when you're feeling extra girly.
If you are looking for a cute way to wear a crop top to your next fancy event, look no further than this pretty light pink floral satin crop top and skirt set.
Not only will this outfit set turn heads at your next event, but you will also nail all of the summer fashion trends at once!
To make this outfit even fancier, add some fun shoes and accessories to go with it. I recommend wearing some cute heels to match like these nude strappy heels.
For accessories, I would add a pretty silver necklace like this one with some hair barrettes like these rhinestone ones to make you sparkle!
Which crop top outfit do you like the most?
Is this a style you've been loving this summer? Would you wear a crop top? Have any advice for girls looking to try this trend? Let us know with your comment!