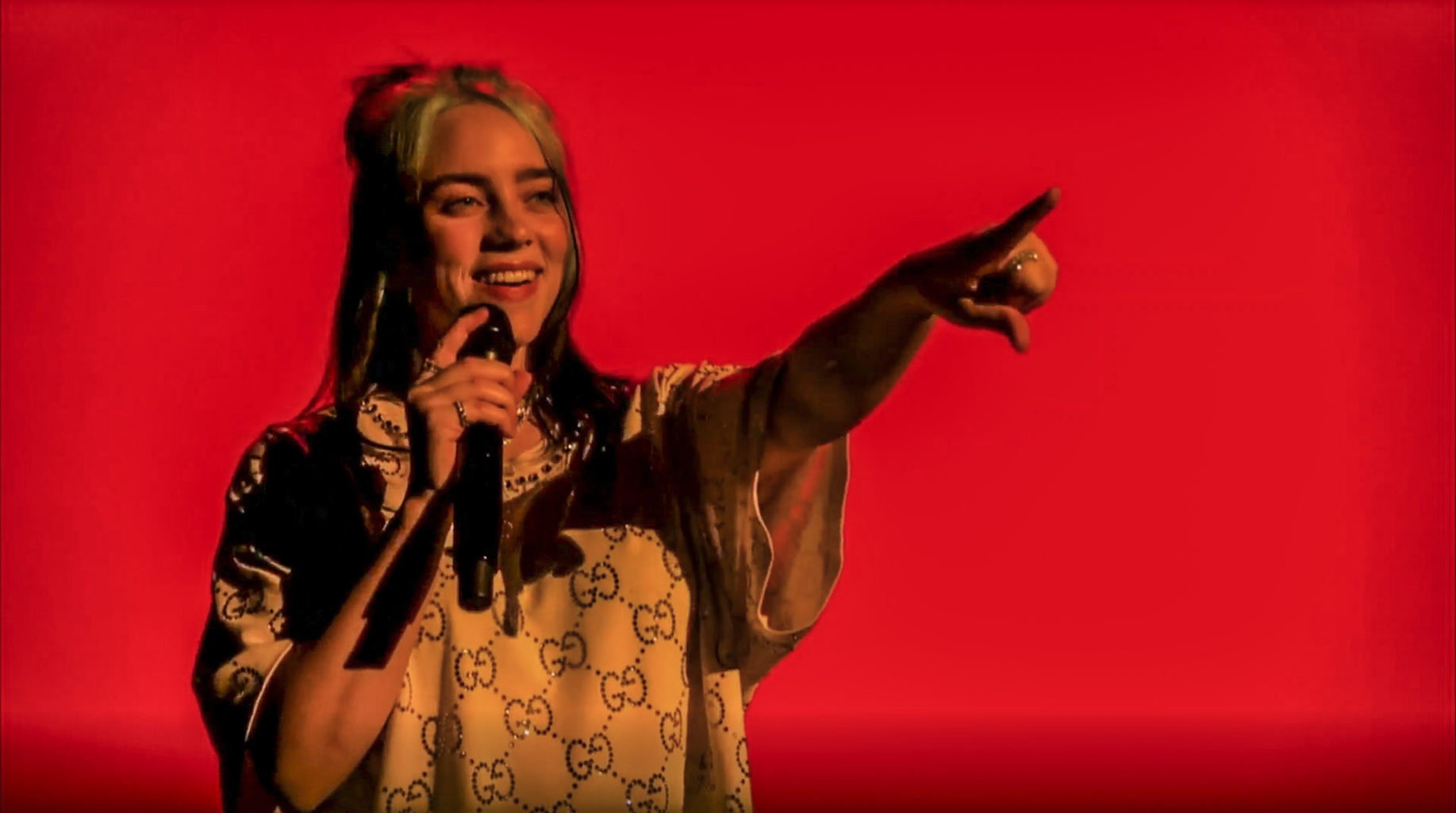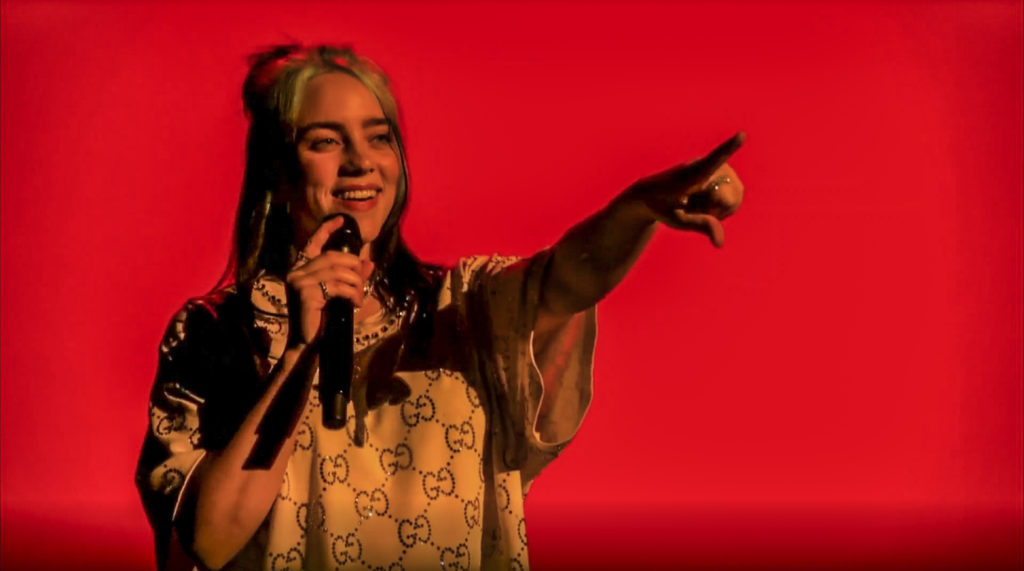 A while back, we listed our favorite celebrity fashion icons, and we're breaking down each celebrity's style in depth and showing you how to get her style for yourself. Today, we're showing you how to get Billie Eilish's style.
Daring and maybe a little bit intimidating, Billie Eilish has come into the game to change (and challenge) it. Describing her style as "weird", Billie likes to add a bizarre and peculiar flair to her wardrobe with bright colors and ill-fitting designs.
And yet, this "weird" style has earned her a reputable name in the media and fashion world. She's a revolutionary young teenager and a must-follow if you don't like to adhere to fashion rules.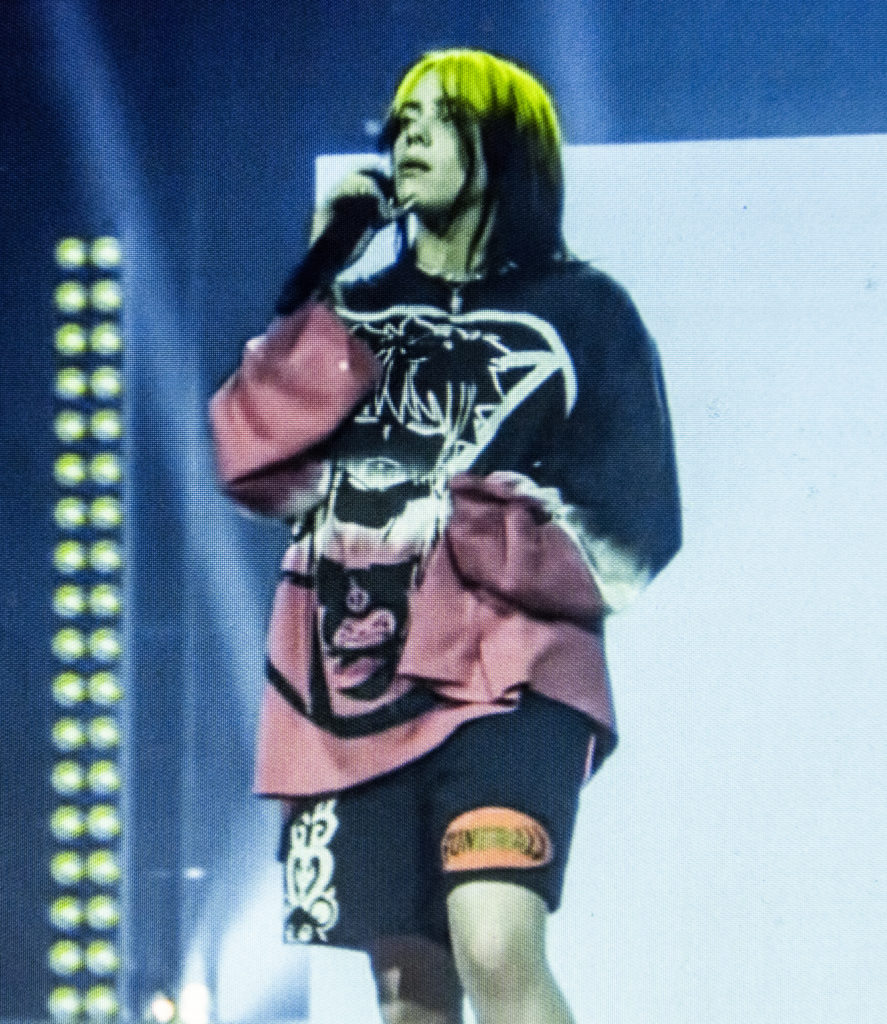 It seems like celebrities these days are younger and younger, and Billie Eilish is no exception to this whatsoever. The young singer has written and performed hits like "Ocean Eyes", "You should see me in a crown", and "Bellyache", topping music charts before most have even graduated high school.
Billie Eilish: Early Life
Billie Eilish was born on December 18, 2001, in Los Angeles, California. Coming from a musical and talent-worthy family, Billie describes:
"My mom is songwriter so she was the one who taught my brother and I all the basics and rules of songwriting. And yeah, there are no real rules in songwriting but there are little details that make something more of song rather than random noises.

My mom is also an actress and my dad is an actor and he taught me how to play the piano… Well actually I kind of taught myself but he really encouraged me to continue it. My brother and I have been in choir like our entire childhood. I've always been surrounded by tons of music and I love it."
In the fall of 2017, at just 15, Billie released her EP and a single on Apple Music. Eilish grasped fame instantly. She was named "Apple Music's Up and Coming Artist of the Month" just one month after the release of her music. Now at just 19, Billie Eilish is here to stay as one of the many young people making their mark in the music industry.
Billie is releasing a brand new album on July 30th of this year, and we can't wait to experience her newest era alongside her.
Billie Eilish's Fashion Revolution
Everything about this girl is unique, from her angelic voice and dark lyrics, to her young prodigy status, to her taste in fashion. When asked about her daily wardrobe, Billie said:
"I don't actually dress any different onstage versus off. I dress like I'm onstage all the time. I either thrift or I source pieces of from certain designers I like. Super-cheap meets fancy. Which caters to my style because I always dress really insane with a lot of different colors.

I always try to be really creative with what I'm wearing. I'll wear pants on my arms or I'll cut up a shirt and wear the sleeve as a headband or I'll wear a different shoe on each foot.

I'm working on the tour merch now but fashion is everything to me. Fashion and style inspire me and I'm actually learning and making some of my own pieces that I hope one day could be a brand or a collab or something. Who knows?"
How to Dress Like Billie Eilish
If you love Billie's style as much as we do, a brand collab could be life-changing! However, let's focus on Billie's current style, and get down to the outfit sets to copy Billie's style.
Billie Eilish Outfit #1 – Hot Pink Matching Set & Puffer Vest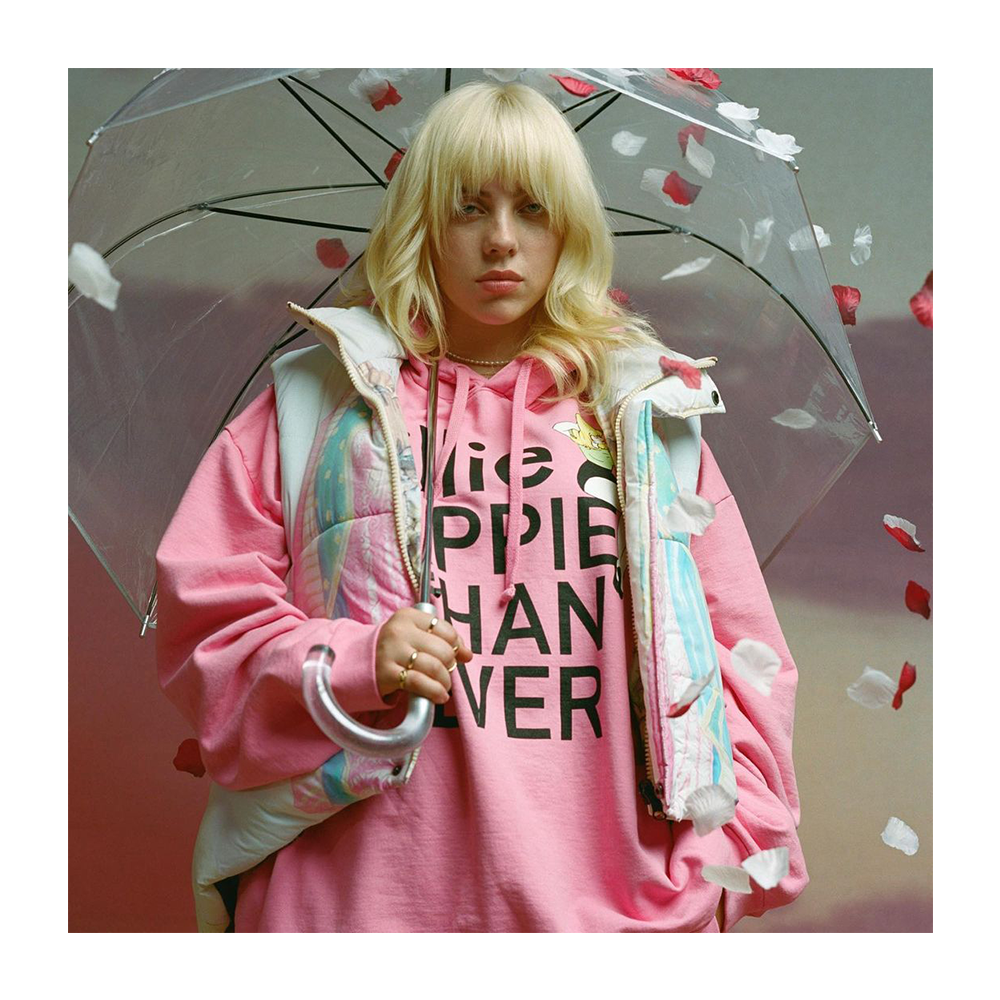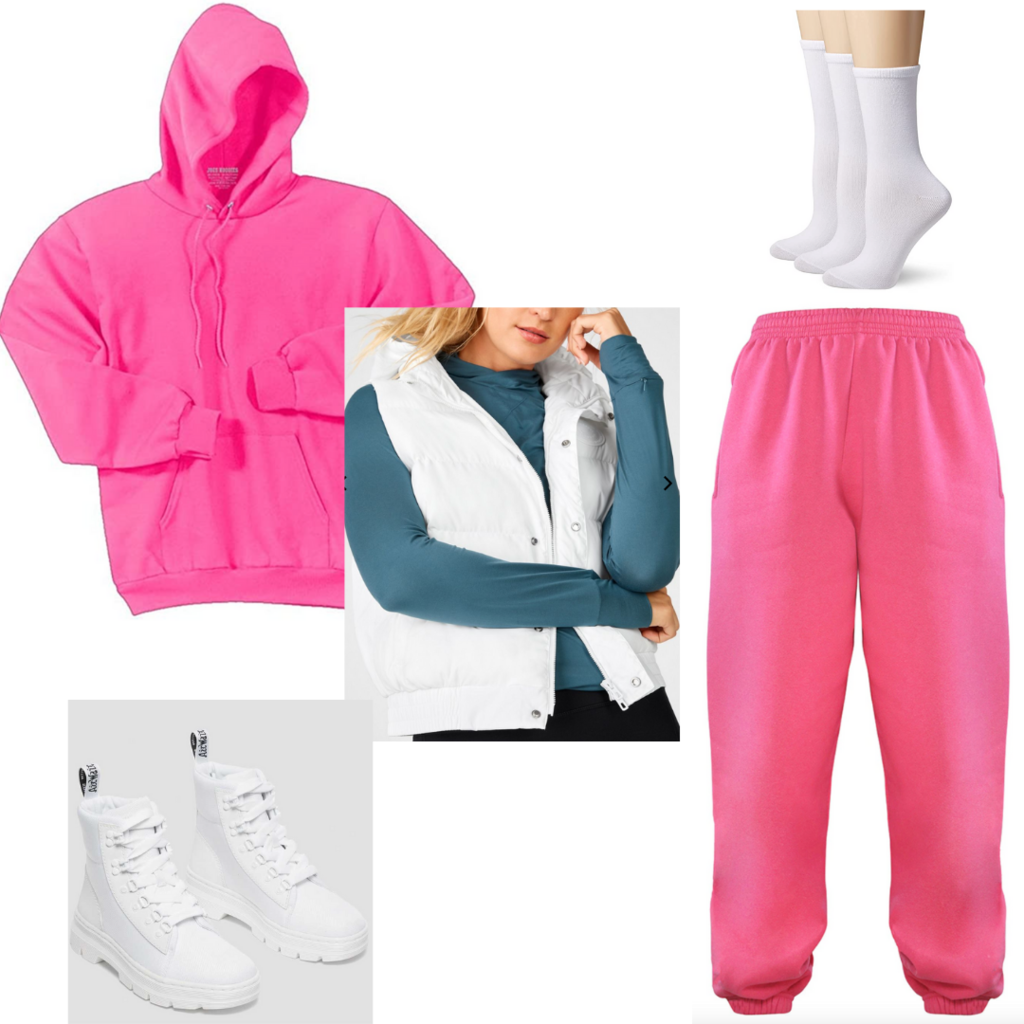 Products:
If you have been following Billie Eilish's style choices for a while, you know that hoodies are one of her top wardrobe staples. But, she doesn't just grab any old hoodie — she usually goes for a color that stands out.
For example, a hot pink hoodie like this one is a great way to get Billie's style — it's bold, bright, and really stands out. Plus, it has an oversized cut. Oversized everything is another one of Billie's style trademarks.
To pair with the hoodie, add some baggy pants, like these matching hot pink joggers.
One thing you may have also noticed if you pay attention to her outfits is that Billie loves puffer vests like this one. A white puffer vest will go perfectly with this hot pink hoodie and jogger outfit.
For shoes, you should go for some combat boots, another one of Billie Eilish's style staples. These white combat boots will be the best fit for this outfit!
And, don't forget to wear high ankle socks in white, too. (She wears these with a ton of her outfits.)
Billie Eilish Outfit #2 – All-Neutral Outfit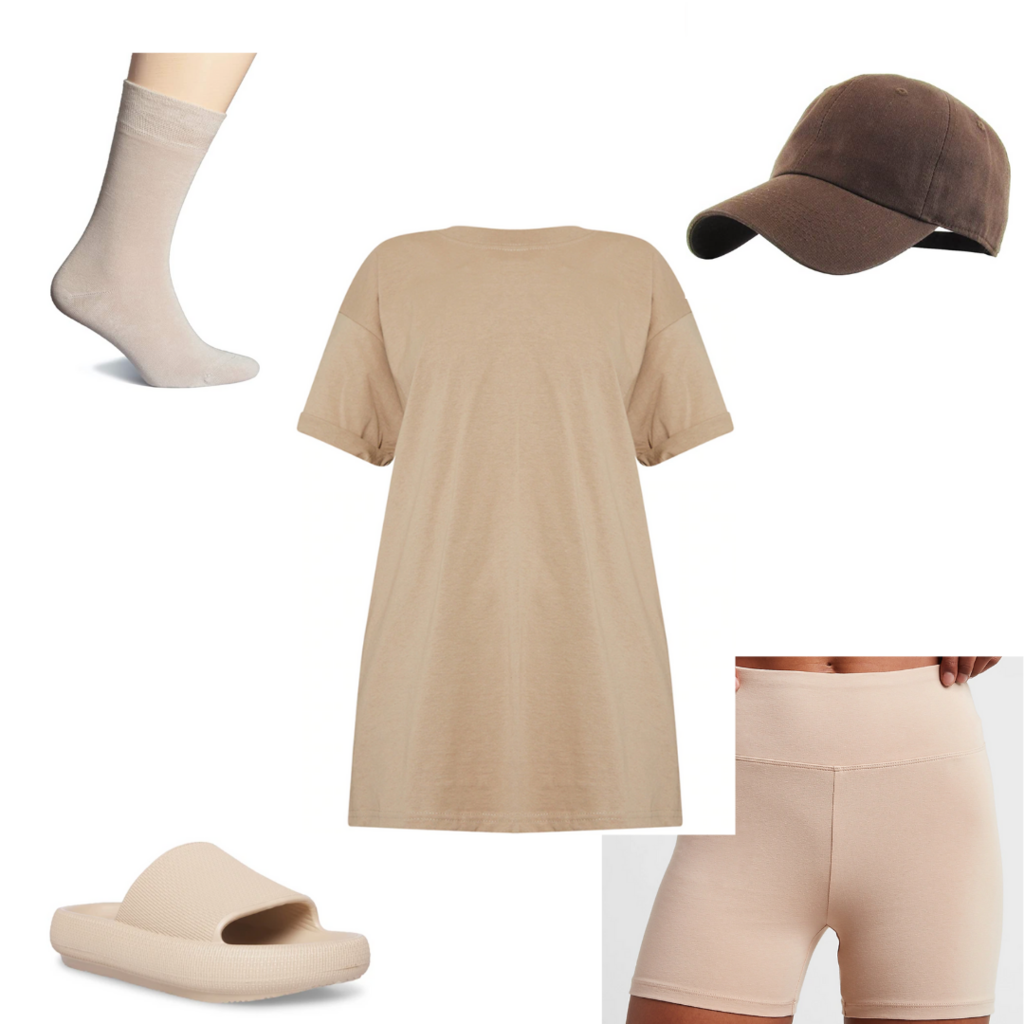 Products:
Another thing you may have noticed about Billie Eilish's style is that she loves to wear neutral colors. This can be seen in her new music video for her song "Lost Cause."
This outfit is inspired by the neutral-toned outfit that she wears in the music video. To recreate her look, you will need a t-shirt in a sandy color — make sure it is also oversized to get that trademark Billie Eilish vibe. This t-shirt will be the perfect fit!
Then, she also can be seen wearing some lighter-colored biker shorts. These beige biker shorts match with the shirt and give off the same vibe from the video.
In the music video, Eilish also is wearing a brown baseball cap, and this one is a great dupe for hers.Also, she has on some matching neutral tone high ankle socks.
Billie Eilish is not wearing any shoes in the music video with this outfit. But, if you don't feel like going barefoot, you could always go for some matching slides, which she often wears for casual outfits. I'm obsessed with these neutral-toned chunky slides.
Billie Eilish Outfit #3 – Shorts, Tee, & Cardigan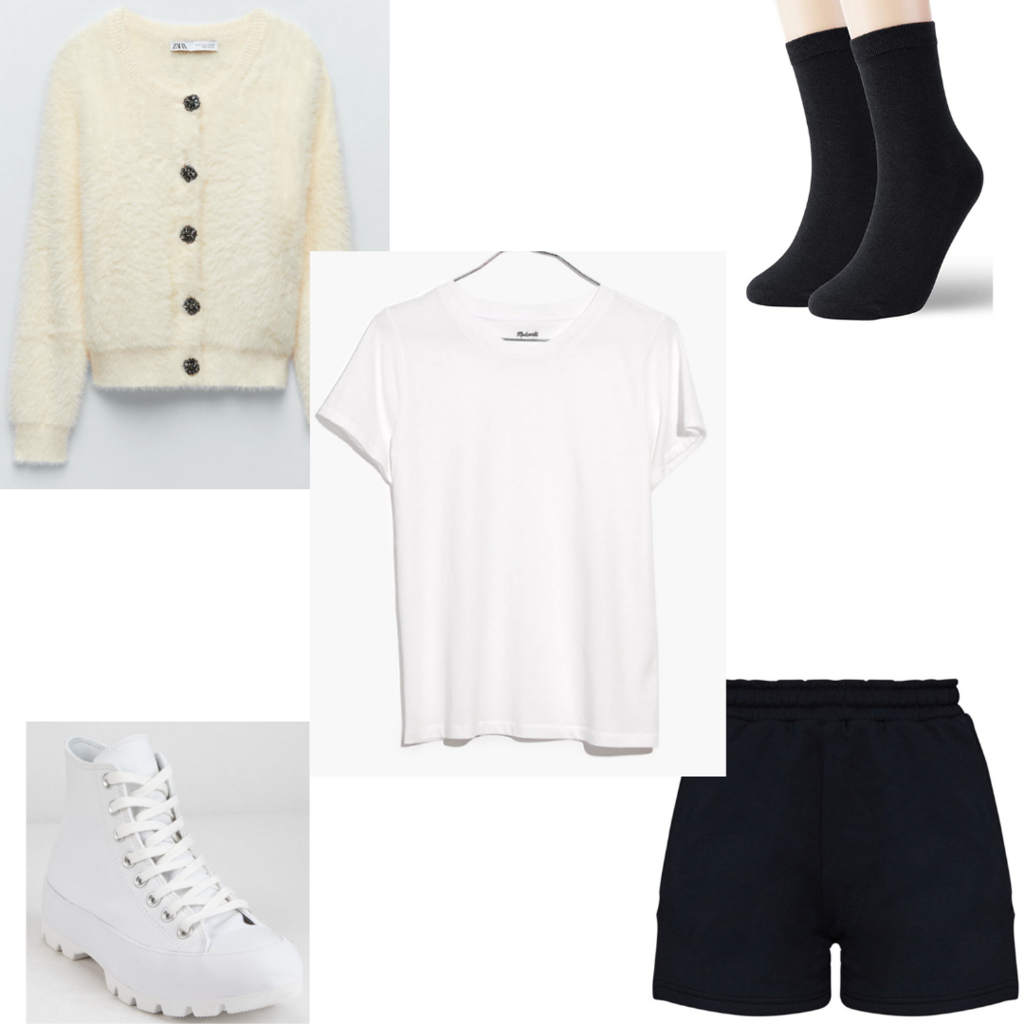 Products:
When Eilish announced her new album would be coming out this year, she also debuted her new look, which included blonde hair and some new style choices. In particular, she started gravitating toward more fitted clothing like cardigans and sweaters.
If you like that kind of look, you can totally get it by purchasing a button-up cardigan like this light yellow cardigan with jeweled buttons in the front. If you want something to wear underneath the cardigan, you can wear a plain white t-shirt like this one.
Then, for the bottoms, you should pair the cardigan with these black sweat shorts. (Billie often wears shorts like these with her outfits.)
For shoes, Billie is a huge fan of high-top sneakers, so add these high-top Chuck Taylors to go with your inspired outfit.
Lastly, don't forget the high ankle socks, which you can wear in black for this outfit to match the shorts. (Billie loves to match her socks and shorts with each other.)
Billie Eilish Outfit #4 – All White & Bucket Hat
Products:
This outfit is inspired by Billie Eilish's fancier looks, specifically pieces she wears to awards shows like the Oscars or the Grammys. Billie Eilish always stands out at these shows for her unique outfit choices.
To get this look, you will need a white jean jacket like this one to pair with some matching white pants like these white cargo pants. The cargo pants in particular have that trademark oversized Billie Eilish feel.
Then, for shoes, definitely rock some sneakers with this outfit. Nike sneakers will do the trick, but make sure they are high tops. Billie likes to wear sneakers that are unique. For example, instead of the regular all white Nike Air Force 1s that everyone wears, Billie can be seen wearing Nikes with bold designs or colors on them.
For accessories, you could throw on one of Billie's favorite hats, which is a bucket hat! This black bucket hat will match with the shoes in this look.
If you want to make your outfit even fancier, you could also add on some nails like these press-on long black nails in a stiletto shape that Eilish loves.
What do you think of our Billie Eilish style guide?
Do you like Billie's unique sense of style? What's your favorite look, or item she wears? Comment below!
Related posts:
Editor's note: This post was originally published in 2018; it was completely updated and revamped in 2021 with new photos and information.