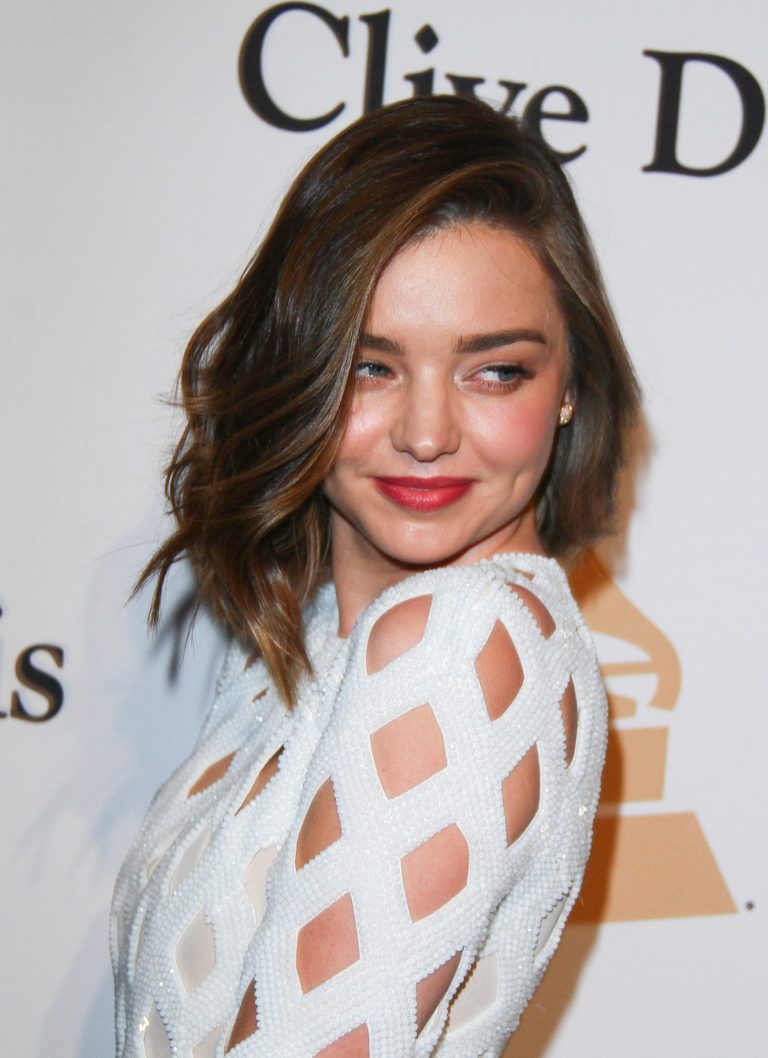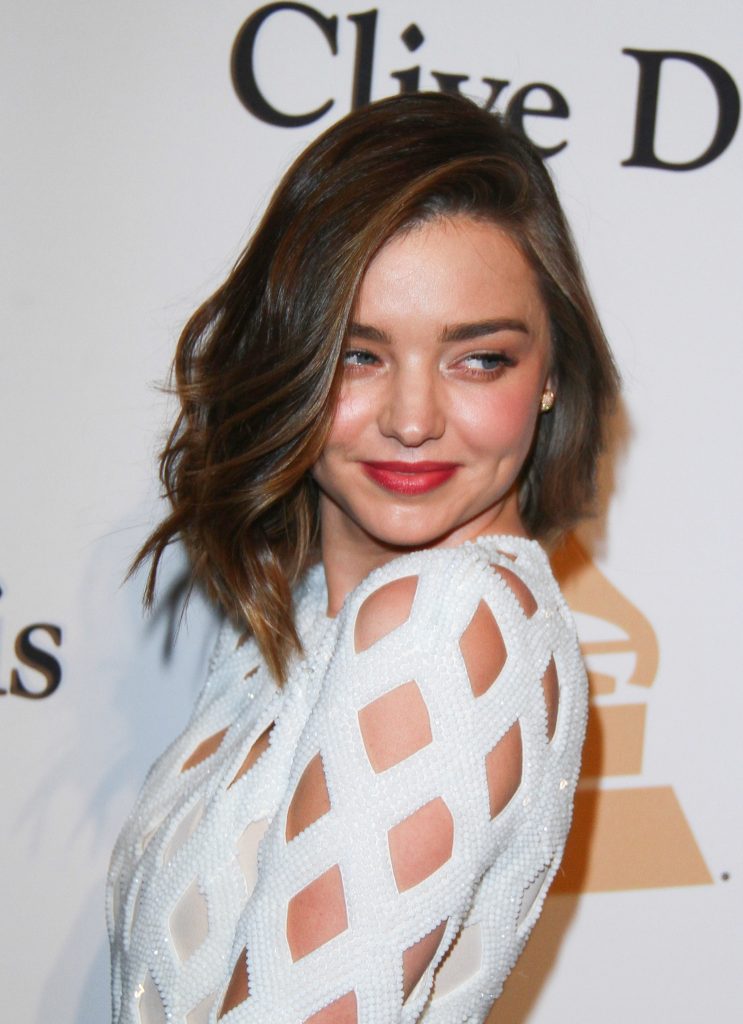 In honor of NYFW, I wanted to showcase the amazing street style of one of my favorite models: Miranda Kerr.
In case you didn't know, Miranda hails from Australia and is famous for being a Victoria's Secret model. She recently stepped down from the position to focus on her son Flynn and her skin care line Kora Organics, among other projects. Despite her busy schedule, she always manages to look stylish, and busy college students can take inspiration from her chic ensembles and rock similar outfits throughout the week.
Below is a week's worth of outfit inspiration based on Miranda Kerr's street style. Scroll down to see each look:
Monday: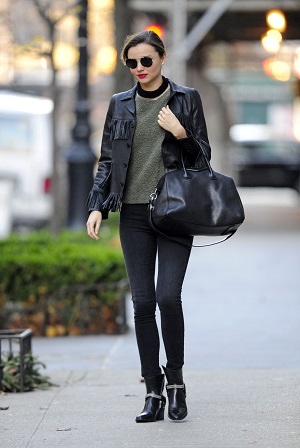 Photo: Pacific Coast News
Miranda sure knows how to look good in cold weather, and I am loving the unique hue of that sweater. Take a hint from her and pair your coziest sweater (this olive green one is a dupe for Miranda's) with a leather jacket; the combo will keep you as warm as a coat would.
For extra warmth, wear a shirt under your sweater. Black jeans keep the look sleek and streamlined, while matching booties keep your feet warm and add a touch of interest. Don't forget to grab a bag that's large enough to carry all of your books.
Tuesday: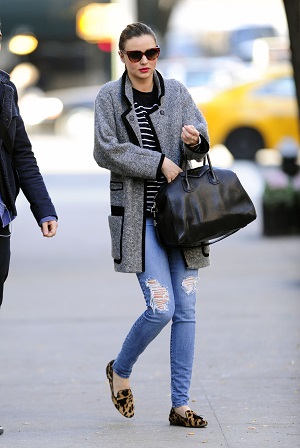 Photo: Pacific Coast News
For a casual Tuesday, try a mixed print combo of stripes and leopard. If you keep the leopard print small, it won't overwhelm the rest of the look. Leopard print flats are a good way to go, and H&M has leopard loafers that cost a budget-friendly $15.
Black-and-white stripes and a neutral-colored coat keep the outfit looking chic and classic. Pair those pieces with on-trend ripped skinny jeans, and you'll be ready to head out the door.
Wednesday: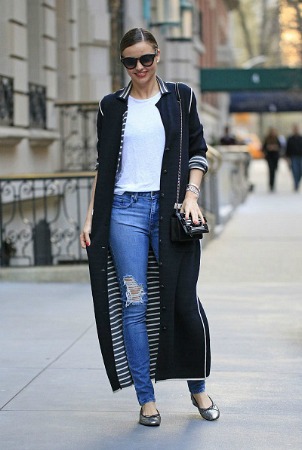 Photo: Pacific Coast News
A plain white tee and blue jeans are classic, all-American wardrobe staples that every girl has in her closet. Instead of pairing those pieces with a regular cardigan, layer on a trendy maxi-length cardigan for extra appeal.
Metallic ballet flats and a crossbody bag make this a perfect on-the-go look. This is more of a springtime ensemble, so if you're experiencing colder weather, be sure to add some extra warmth with a long coat or swap out the tee for a sweater.
Thursday: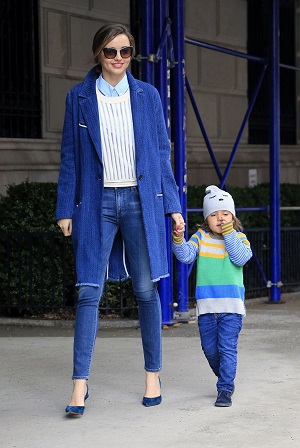 Photo: Pacific Coast News
Whoever said denim on denim doesn't work obviously never saw this outfit. The secret here is that Miranda's coat is not actually denim, just a denim-like blue. (Check out this coat for a similar look.) Also, she keeps her proportions sleek, so it doesn't overwhelm her frame like… ahem… Britney Spears' infamous dress did.
A cream-colored top worn over a collared, light blue shirt breaks up the denim tones nicely. Try out blue flats instead of heels for a busy day on campus.
Friday: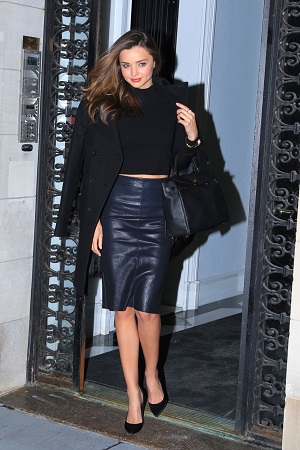 Photo: Pacific Coast News
The next time you head out on a Friday night, rock a leather pencil skirt (this one from Forever 21 is a total steal!). Miranda opted for an unconventional dark blue skirt, which looks so fashion-forward.
Pair the skirt with a black crop top and heels for a chic going out look. Don't let winter keep you cooped up indoors! Complete the ensemble with your go-to black coat.
Saturday: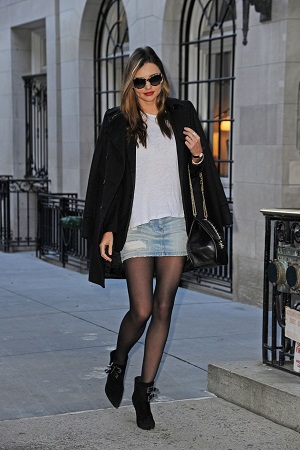 Photo: Pacific Coast News
I am pretty sure I haven't seen a denim mini skirt since the early 2000s, but Miranda makes it look good. Still have one lying around somewhere? (If not, here's one from AE.) Wear it like Miranda with a plain white tee, a black coat, sheer tights, and booties.
The simple top keeps the skirt from being too much of a 2000s flashback, and the tights keep the length from looking inappropriate. The sleek boots also add a fashion-forward vibe; just don't wear Uggs!
Sunday:
Photo: Pacific Coast News
As spring approaches, try wearing a dark floral dress for a cute between-seasons look. Boots keep a daisy print dress from looking too summery, but it will still get you in the mood for warmer weather. Winterize the dress and boots with a black cardigan or coat, as well as some thick tights.
Thoughts?
Do you like Miranda Kerr's style? Which outfit was your favorite? Would you wear any of the outfits? Who would you like to see covered next? Let me know in the comments!