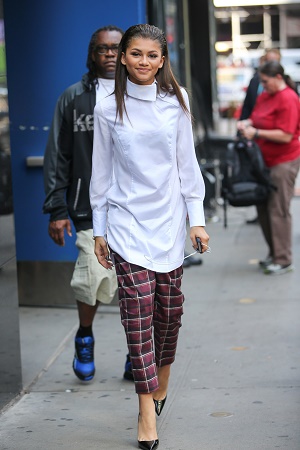 Today's A Week in Her Style post features a younger star whose style has recently made national headlines. In case you missed it, Zendaya found herself thrown into a controversy after some rude comments were made about her hair (which then caused Fashion Police to essentially implode). Always a class act, Zendaya defended herself gracefully, again proving herself to be an awesome role model for young women.
Eighteen-year-old Zendaya is a Disney Channel star whose style is sporty-casual with a healthy dose of risk-taking thrown in for good measure. Let her inspire you to be bold with your fashion choices this week!
Monday: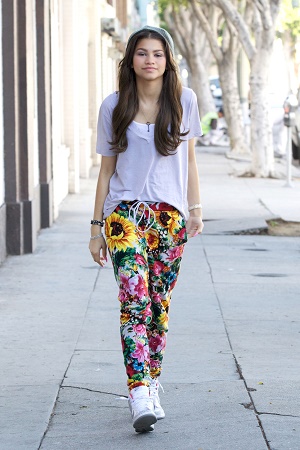 Kick the week off on a happy note with some bright floral joggers (like this pair from ASOS). They will put you in happy mood since they are not only cheery but also very comfortable.
A plain white tee adds balance to the ensemble, while simple sneakers look fresh and clean. Throw on a beanie to protect your ears from the still-chilly March air on your walk to class.
Tuesday: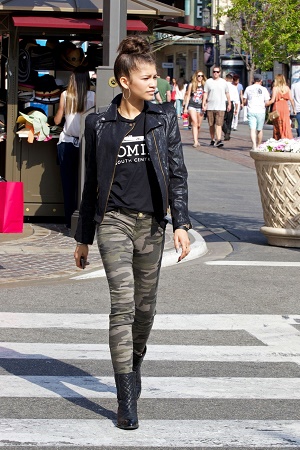 For Tuesday, it's time to ditch the girly and go for a more edgy look. The military trend is back this season so embrace it with some camo skinny jeans.
Pairing black with camo keeps the look fashionable and modern: A simple graphic tee and leather jacket are the perfect choices to accomplish this. Black ankle boots are great for spring as they're a bit dressy but still simple enough for everyday wear. I love the quilted detail on Zendaya's boots – it adds wonderful texture and interest to the outfit.
Wednesday: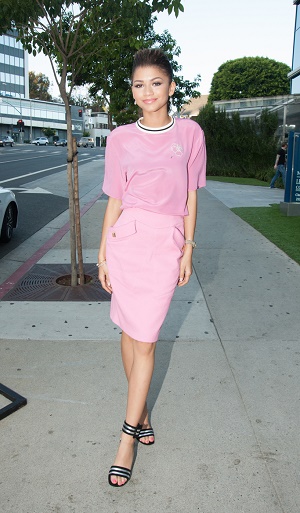 Pastel colors are having a bit of a moment (as they usually do in spring), and so are matching sets.
While Zendaya's look is not an actual matching set, you can replicate the aesthetic by rocking the same color on top and bottom. Baby pink is perfectly on-trend and looks fresh for spring. Add some of-the-moment sporty sandals (like these fun ones) instead of heels for a stylish and playful Wednesday look.
Thursday: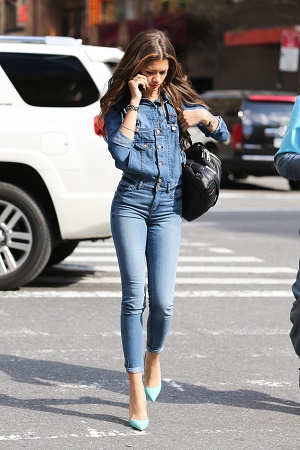 As you probably have seen, overalls have been all the rage in the street style world lately. Try out a pair in a daring way by pairing them with a denim shirt like Zendaya. If you are hesitant to rock head-to-toe matching denim, try a light blue button-up or t-shirt instead.
Pair your look with baby blue heels to keep with the dressy-casual monochromatic vibe, or swap out the heels for baby blue flats if you'd rather dress down.
Friday: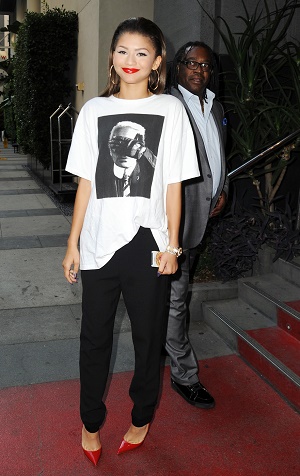 This outfit of Zendaya's is a great way to elevate a casual outfit for a party.
A graphic tee, like this music-inspired one, is perfect for a relaxed look and is also a great conversation-starter. Loose black joggers are definitely more suited to dancing than a mini skirt and look quite chic when paired with some fierce red heels.
Saturday: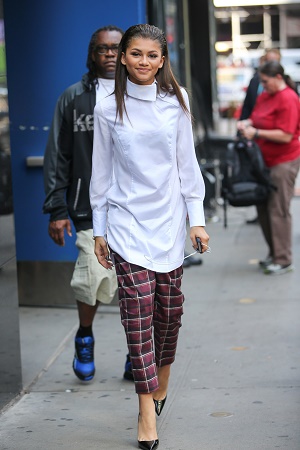 Plaid may be considered a fall print, but it's easy to make it work for spring. Try airy plaid pants (bonus points if you try on-trend culottes) paired with a crisp, collared button-up shirt. Add a pair of black heels or flats.
This look is chic and put-together but still simple. It would be perfect for a fun after-work event or dinner out with the ladies. If you're interning somewhere fashion-forward, you could even rock it at the office.
Sunday: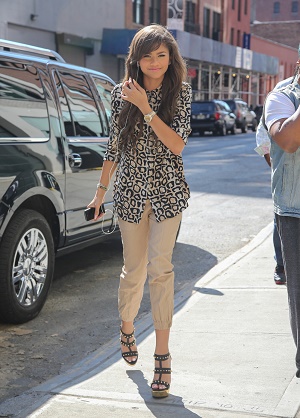 Animal print can work for any occasion, so why not try a neutral animal print top for a casual Sunday?
Pair your top with some matching neutral pants for a minimal and polished look. To make the outfit feel more special, add strappy wedges. The wedges keep the outfit from becoming "too dressed up" but still adds a bit of class to the ensemble.
Thoughts?
What do you think of Zendaya's style? Are you a fan of her aesthetic? Which outfit was your favorite? Would you try any of them? Who would you like to see featured here next? Let me know in the comments!