Hey CF readers! Do you ever want to try a new trend, but are afraid it might be a little too wild? Do you have trouble incorporating a new trend into your wardrobe? Or maybe you just don't know how to style it? Have no fear! I'm here to try out every wacky trend in the book, just for you, in Test Drive.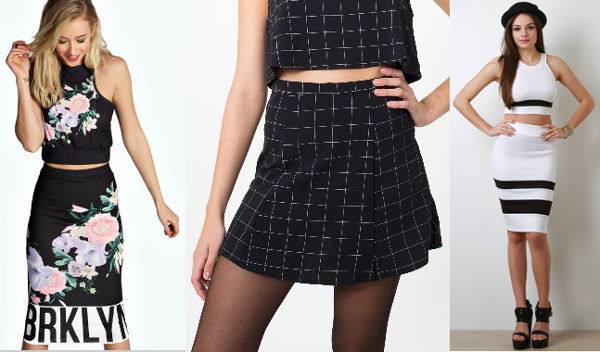 Matching Sets: Boohoo, American Apparel, Urbanog
Last time on Test Drive, we looked at the new denim staple – mom jeans. This week, we're looking at a fun, multi-talented alternative to dresses, matching sets.
What Are Matching Sets?
This is my favorite trend ever, and I've been watching it for a while. Popular among Taylor Swift, Mindy Kaling, and TheKardashians, matching sets are like the cool older sister to the dress. They are chic, versatile, and a breath of fresh air. The best thing about matching sets? Not only do you have one new outfit, you can wear the pieces separately to make dozens of new outfits!
Matching sets come in all different shapes, sizes, patterns, and colors. You can pick up a short, pastel set for spring, or a knit, long-sleeved and midi skirt set for the fall and winter. Typically, sets consist of a crop top and skirt in matching patterns, but you can also scope out matching sets with pants, shorts or skorts. The world is your oyster!
How I Styled It for School
The best part about matching sets is that, like a dress, they basically make an outfit all on their own. If you aren't in the mood for that whole "picking out pants and a top" nonsense in the morning (and I never am), a matching set is your best friend! It's the perfect way to look put together and on-trend.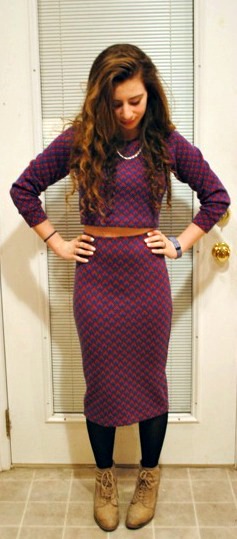 I bought this matching set at AmericanApparel. The thick, knit material makes it perfect for fall and winter, and I wear the top and skirt separately all the time.
Matching sets tend to do most of the styling on their own. I paired mine with heeled booties to keep the midi from overwhelming me, and tights to stay warm.
Where to Find Them
Matching sets are pretty on-trend right now, so they can be found at most trendy stores, and I only expect to see more in the spring. Here are a few of my favorites to get your search started: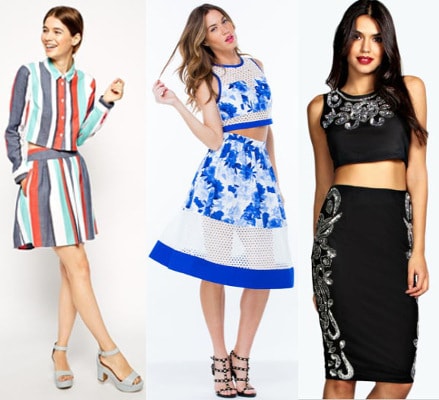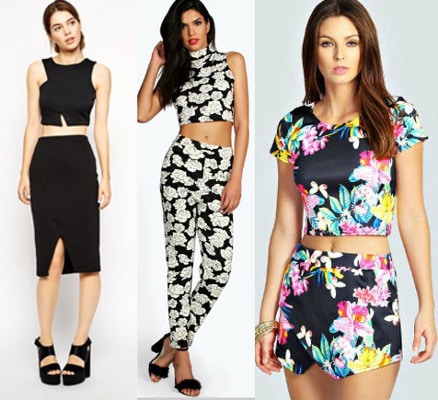 Styling Tips
There are a million different kinds of matching sets you can pick up, and each type has a unique vibe. Think about the look you're going for, then check out these styling tips:
Sweet. A set in floral or pastel with a flirty skater skirt (see 1, 2, and 6) is ideal for class or strolling on sunny days. Pair it with sandals or Keds, sunglasses, and bright nail polish.
Sporty. Sports bra-esque crop tops, tight midis, and racing stripes (header picture, far right) are a stylish way to keep a sporty vibe. Pair them with thick platforms and tons of bangles for a night out, or add a blazer for an artsy event.
Sophisticated. Matching sets with longer skirts and less midriff showing (see 3 & 4) are an elegant alternative to dresses for a fancy dinner. Throw on neutral heels, and you'll be dressed to impress in no time at all.
Pants. If skirts aren't your thing, try a matching set with pants or shorts, like set #5 above.
The Verdict
Matching sets are a stylish choice for all sorts of events. It all depends on the type you get. They are super easy to throw on and need minimal styling.
For class, keep the crop to a minimum and wear sandals or booties instead of pumps. For a night out, go crazy! I recommend thinking of a few outfits you could wear with just the skirt or top before purchasing your set.
What do you think?
Would you wear a matching set? Where would you wear it? Do you prefer a floaty skater skirt or a tight midi? Would you try a set with pants? What trend would you like to see next on Test Drive? Let us know in the comments!