This post may contain affiliate links, which means we may receive a commission if you purchase through our links. Please
read our full disclosure here
.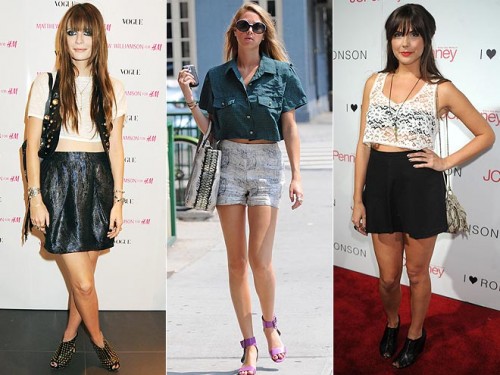 It is blazin' hot across America, and I don't know about you, but when the weather is sweltering, I like to get away with wearing the least amount of clothes possible. Since running around in your underwear isn't really an option (at least not where I'm from!) another light, cool piece to consider is a cropped top.
We've talked about these babies a few times before (check out this post, this post, or this post) but now is the perfect time to introduce them back into your rotation. The truth is, cropped tops are entirely possible to pull off, no matter your body type, and are a fabulous way to keep cool in the summer.
Need a little inspiration for rocking a crop top? Read on!
Tips and Tricks for Rocking a Cropped Top
I love the look of cropped tops, but I, like many girls, am a little uncomfortable showing my stomach. If that's you, too, don't worry: There are many ways to wear a crop top but still stay covered up — try wearing a cropped top with a fitted tank top underneath, or with a high-waisted pair of shorts or a skirt.
Another way to rock a cropped top but stay covered is to wear one over a simple dress. Be sure that the dress is fitted and not too patterned or busy for the best look.
The free-spirited vibe a cropped top gives off will look amazing juxtaposed against a pair of really structured shorts.
If you're brave enough to show off your smokin' hot abs, be sure to consider the venue. A picnic or concert with your friends is fine, but you might not want to bare your stomach while visiting your Grandma.
Look for varieties that are cropped, but still long enough to only show a sliver of skin when you move — this way, you get the best of both worlds!
Since certain cropped tops can cut your torso short, try pairing your crop top look with heels to elongate your entire body.
This is a bold item, so be sure to pair it with tons of confidence for the best look.
Outfit Inspiration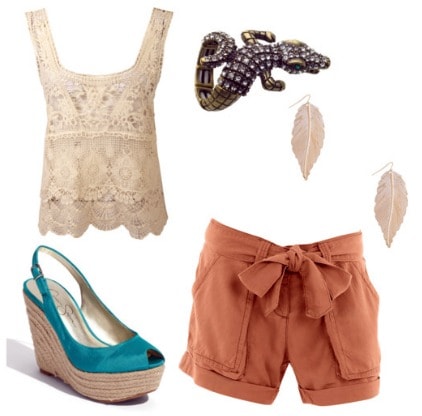 Cropped Top, Espadrilles, Shorts, Ring, Earrings
A crocheted cropped top like this one is the perfect centerpiece for a fun summer outfit. Pair it with a classy pair of loose shorts and teal espadrilles for an extra pop of color. Finish the look with a crocodile ring and feather earrings for a playful summer vibe.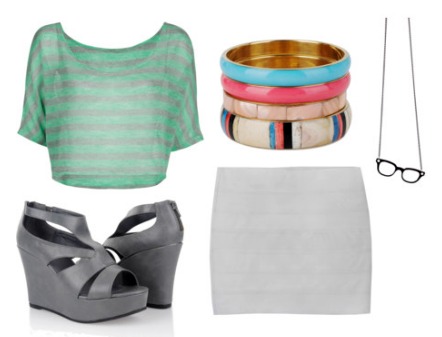 Cropped Top, Wedges, Skirt, Bangles, Necklace
Start this outfit off with a loose, striped cropped top and create contrast with a fitted white bandage skirt. Add a pair of wedges, and finish with fun accessories like this necklace with pair of glasses on it and color block bangles.
Rocked the Challenge? Send Us Evidence!
Did you fearlessly wear a cropped top this week? Send photos to fashionchallenge AT collegefashion.net along your your name, school, a description of what you're wearing, the URL of your blog if you have one, and any styling tips you might have. We'll feature your photo and pointers here, and drive a little extra traffic to your blog in the process 🙂
We can make you a celebrity overnight!
What Do You Think?
How do you feel about cropped tops? Have you tried them before? How do you like to style them? Let us know what you think by leaving us a comment!