This fashion guide will show you outfits I wore that were inspired by my favorite Disney Characters.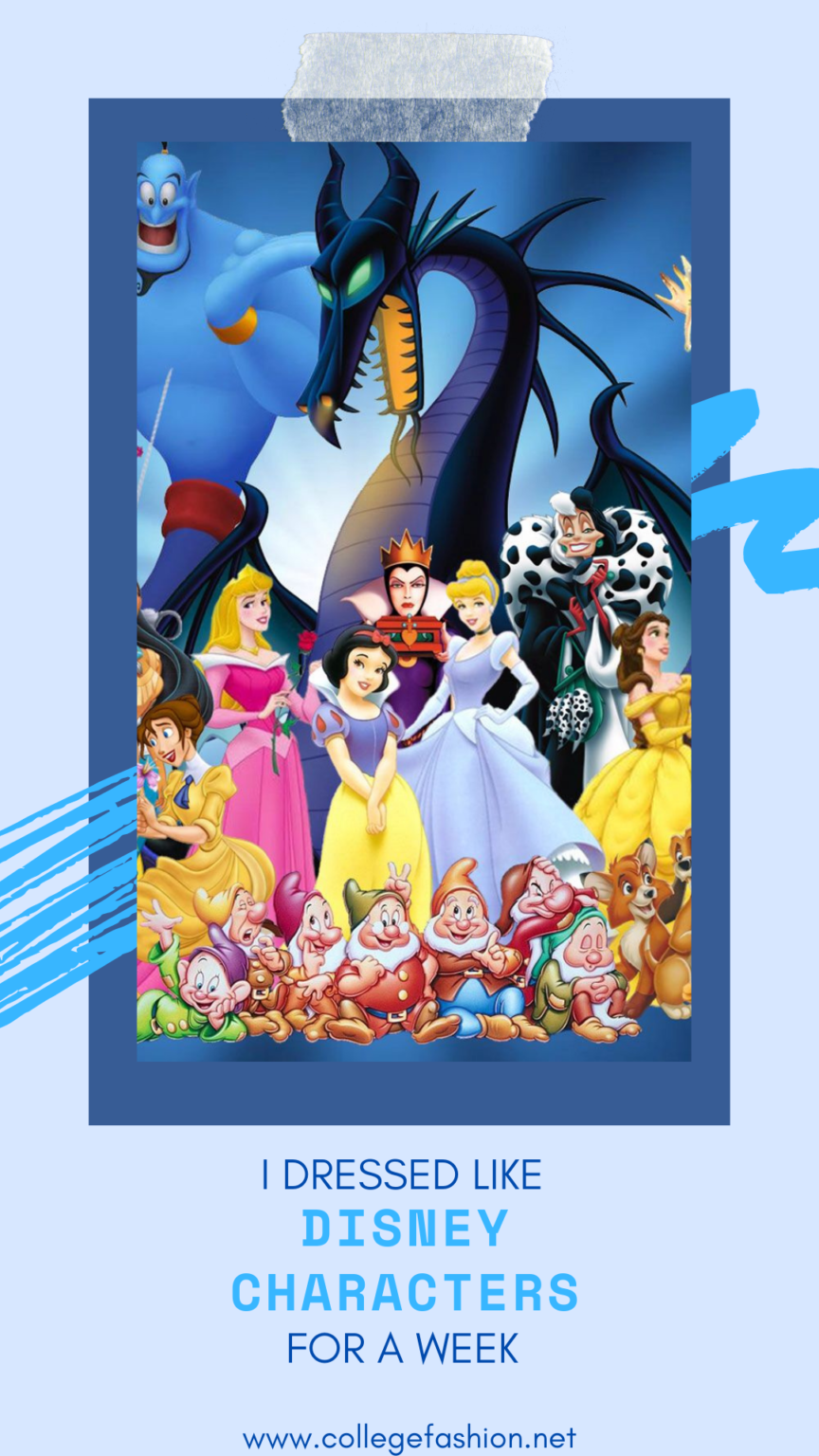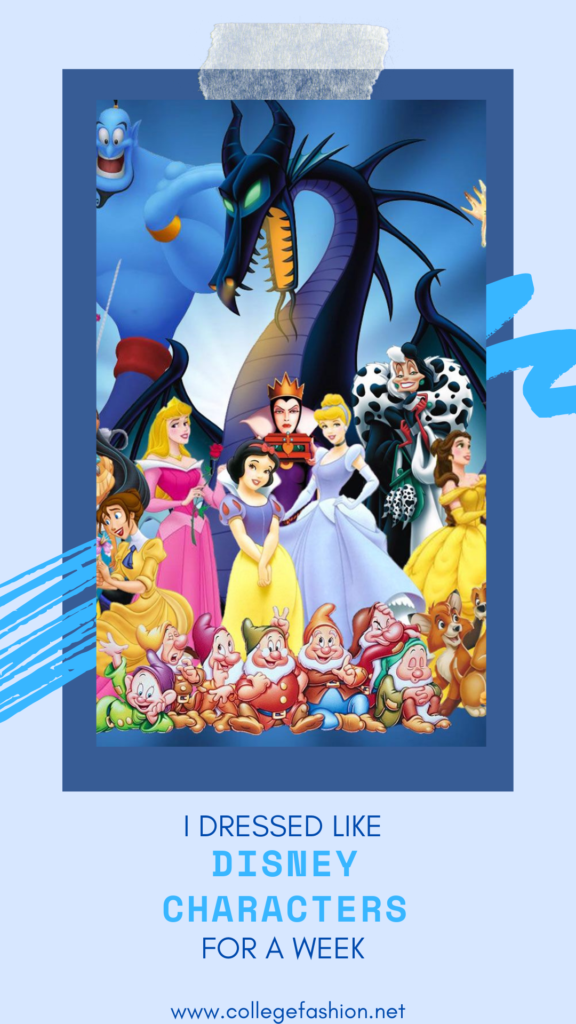 We've all looked to celebrity style for fashion inspiration at some point in our lives. But it's one thing to say, "I love her outfit," and it's another to actually copy it in real life.
For this series, I'm going the extra mile and making it happen. Each week, I'm getting inspiration from a celebrity and copying five of her looks as closely as possible. Then, I'm reporting back to you: Did the outfits work in real life? Did I feel comfortable? Did people treat me differently? I'm sharing it all.
In past posts I've covered the style of these celebrities: Zendaya, Gigi Hadid, Grace Kelly, Kendall Jenner, Vanessa Hudgens, Sophie Turner, Priyanka Chopra, Millie Bobby Brown, Hilary Duff, Lily Collins, Taylor Swift Part 1 and Part 2,  Selena Gomez, Alexa Chung, Queer Eye's Fab 5, Lucy Hale, Dakota Johnson, Hailey Bieber and Kaia Gerber.
I've also covered the style of certain iconic TV and movie characters: Iconic Halloween Characters Part 1 & 2, Iconic Christmas Characters Part 1 and 2, Rachel Green Part 1 and 2, Monica Geller, Little Women's Characters, Gilmore Girls' Characters Part 1 and 2, Iconic Olsen Twins' Movies, Winx Club Characters, Bridgerton Characters, W.I.T.C.H Characters, Power Rangers' Characters and Wanda Maximoff.
I also did a full behind-the-scenes on this series.
In honor of Cruella premiering, I decided to try my hand in Disneybounding for a week.
About Disneybounding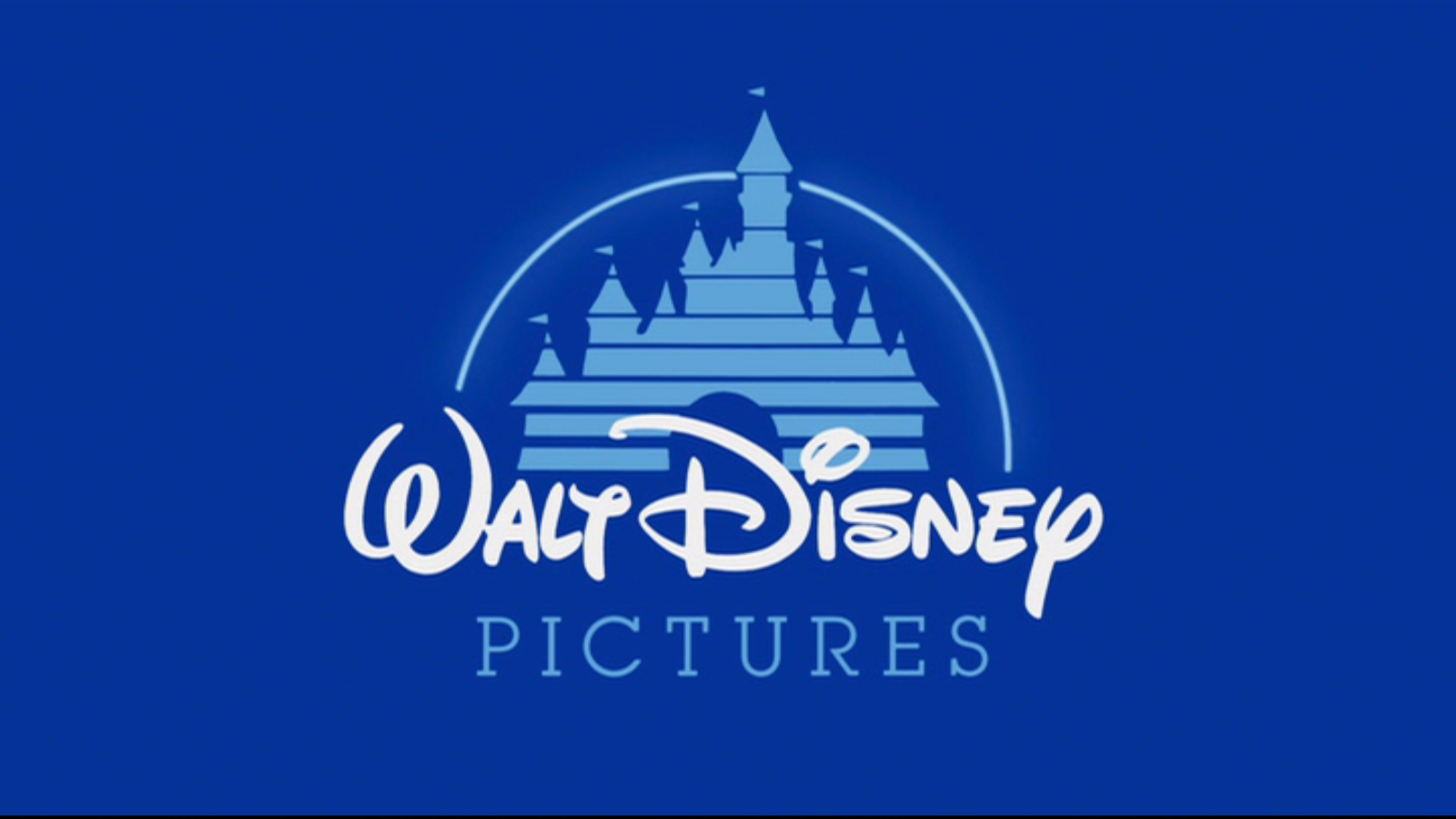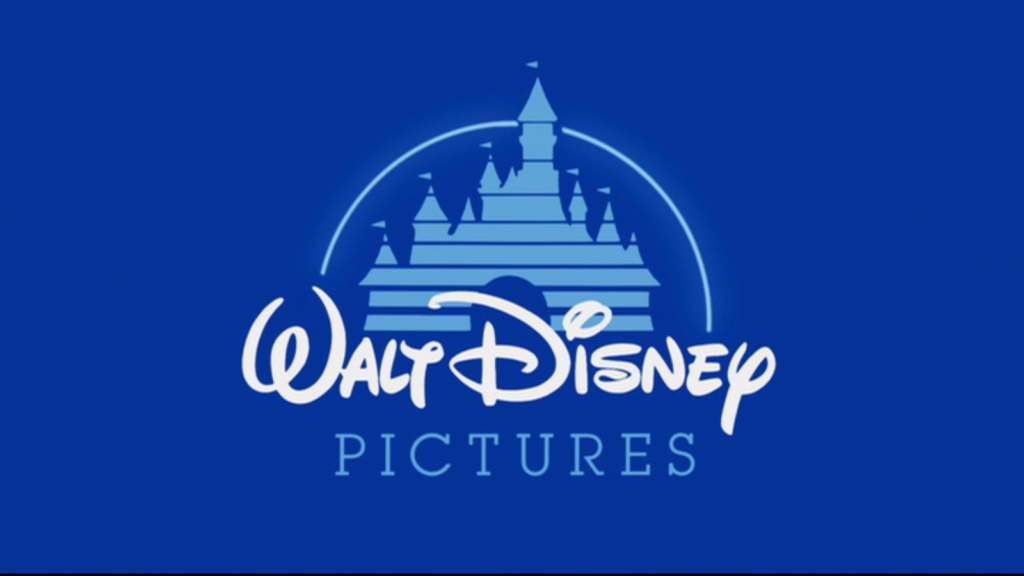 If you are a Disney fan and have been using the Internet for the last decade, you probably know what Disneybounding is. But, if you are not sure of what it is, here is a very basic explanation.
Since Disney doesn't allow adults wearing *actual* costumes inside the parks, adult Disney fans wanted a way to show their love for certain movies, characters, and even rides without getting kicked out. Disneybounding is, basically, an outfit inspired by anything Disney-related.
Since then, it has become a huge way for Disney fans to embrace their love for certain characters and movies everywhere they go. If an outfit is being worn for a day at Disney World or Disneyland, it's usually very comfy and breathable for a long day of walking and probably hot weather.
If you are interested, we have a more comprehensive guide for Disneybounding here.
Disclaimer
This week, I chose six Disney characters to create outfits around. One of them is Cruella, since her movie is coming out soon. For the rest, I chose three of my favorite characters of all time, as well as my sister's and mom's favorite characters.
I tried to emulate their outfits as closely as possible and also to have every single item and characteristic present in some way.
Here's how my Disney week went!
Disneybounding Fashion Guide
Monday – Outfit #1, Cruella De Vil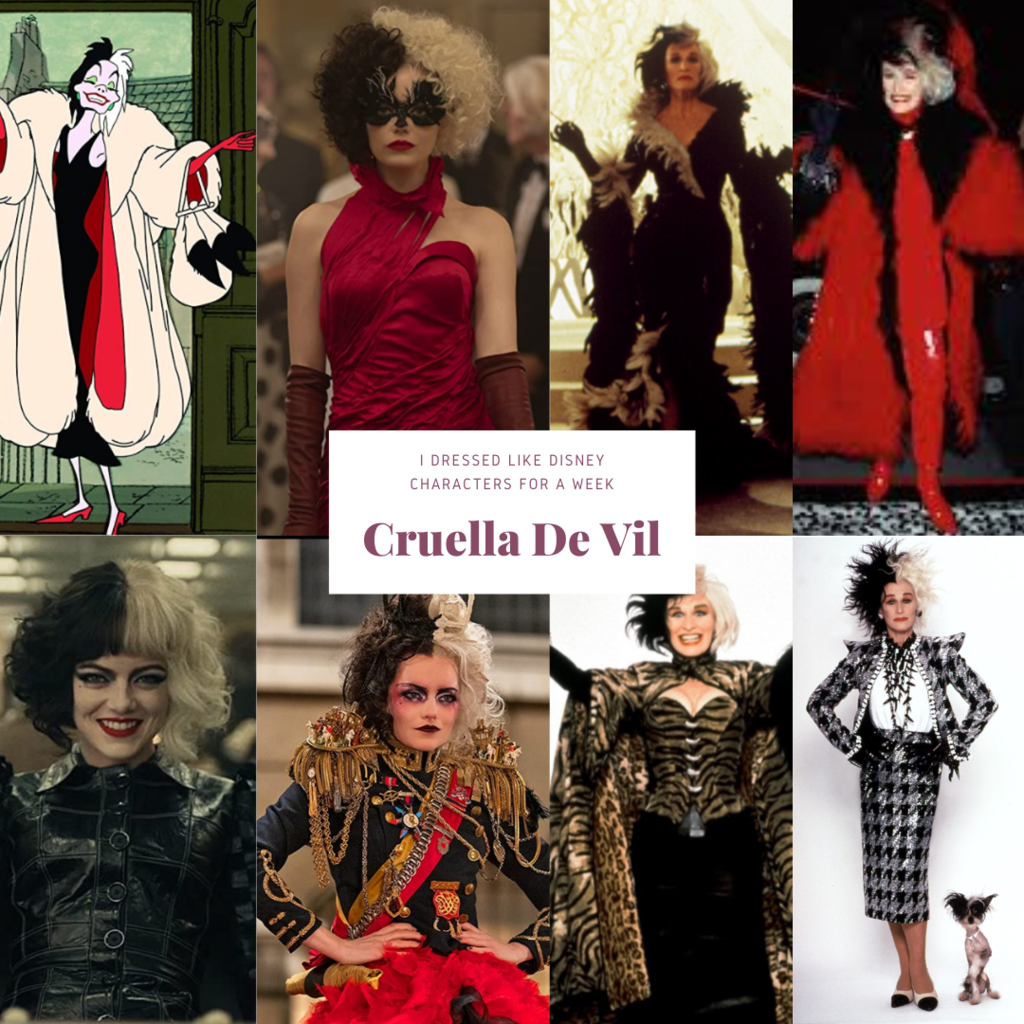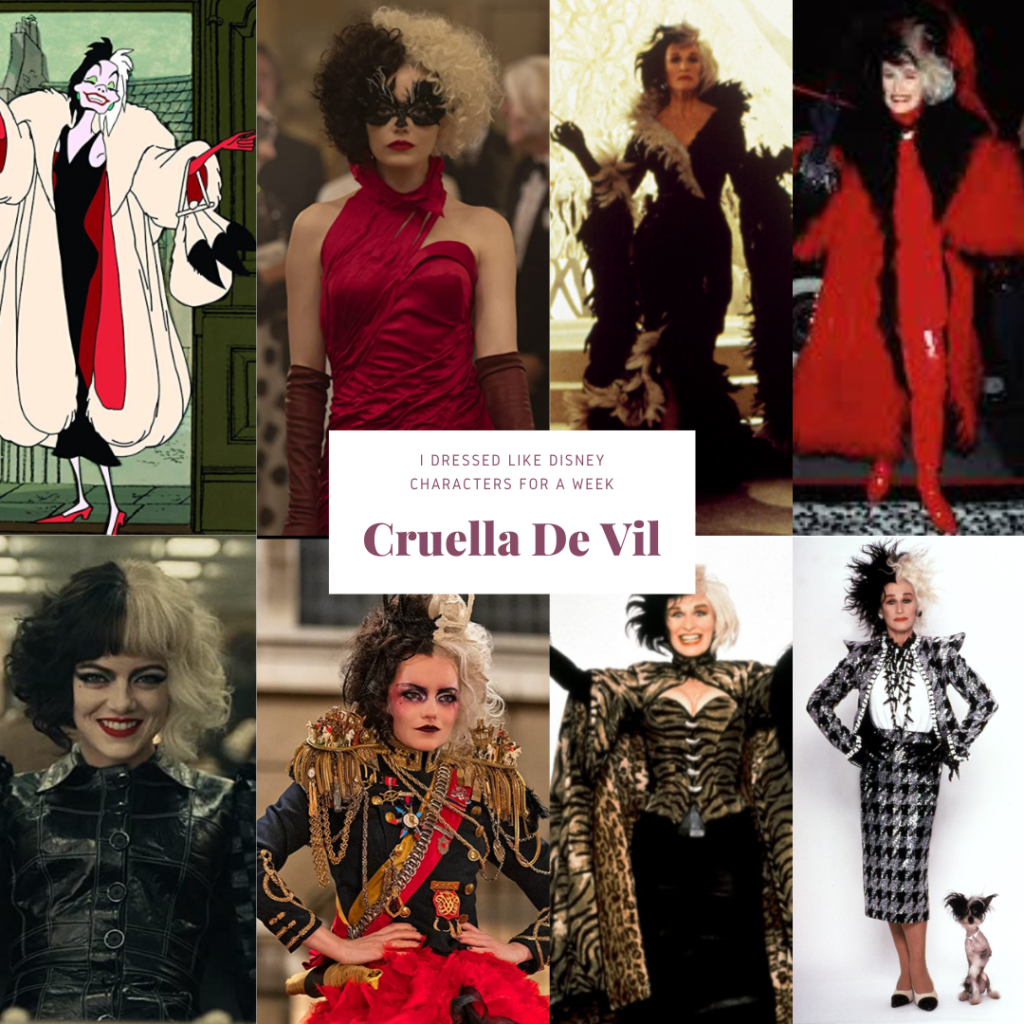 For Monday, I decided to start with Cruella. Her whole aesthetic is black, white, red, and over-the-top.
She is a glamorous woman, with very modern and unique clothes in both the animated and the 90's live action movies. In the new one, she is not the only fashionable character, so her whole style doesn't stick out as much as it did previously.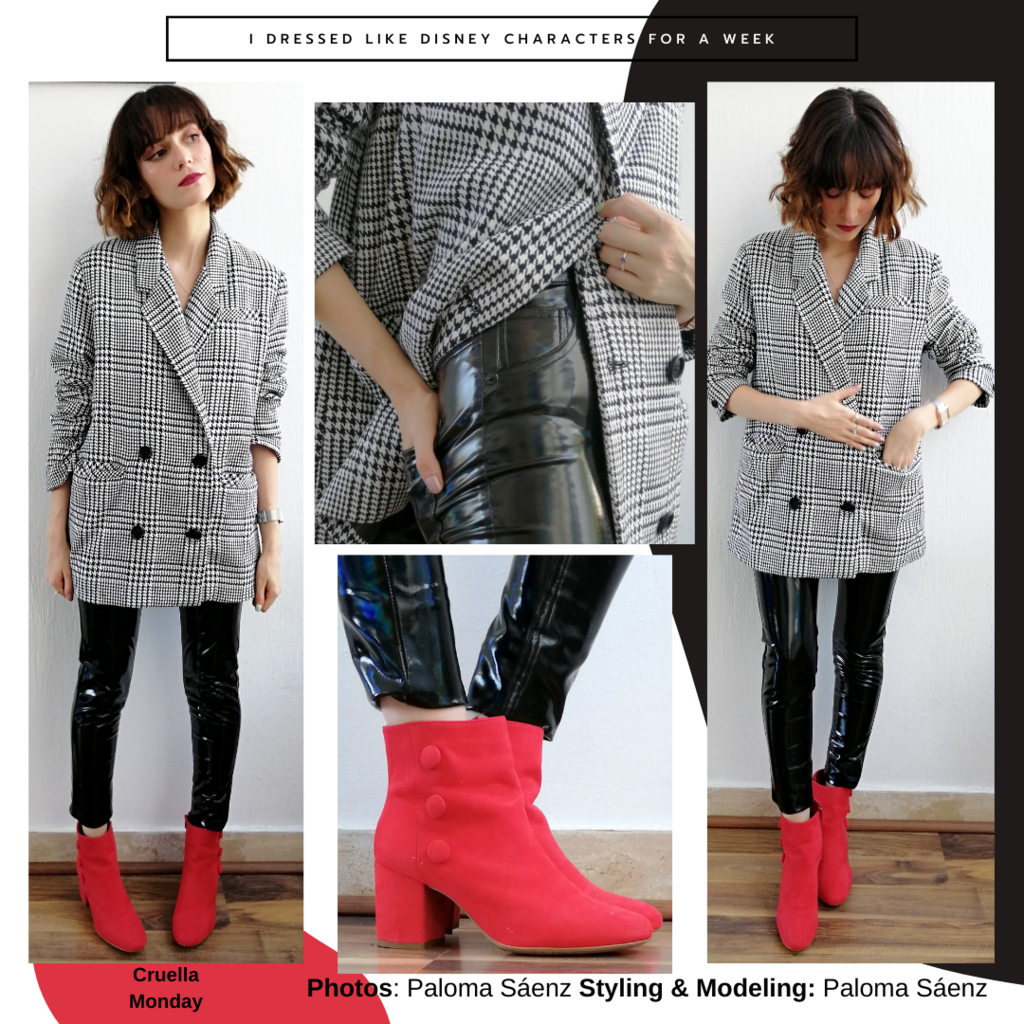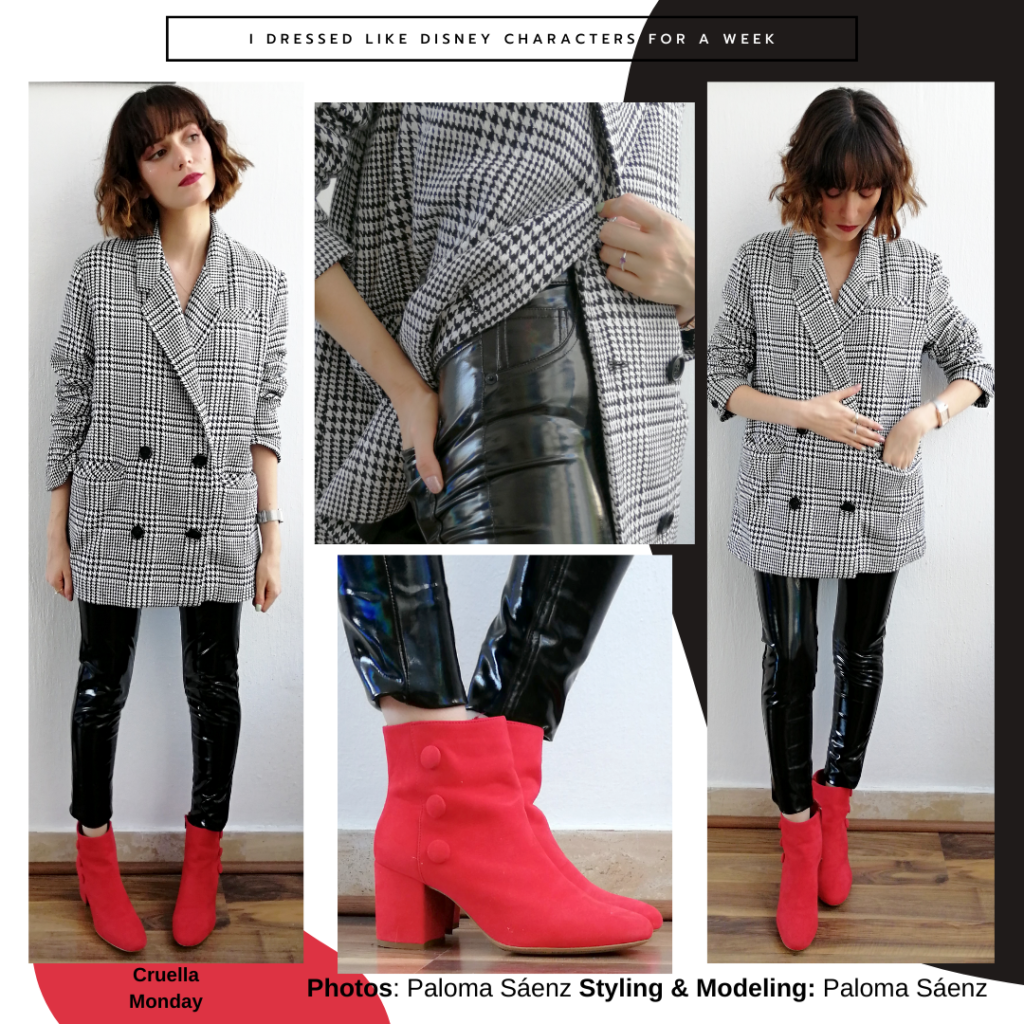 For my Cruella outfit, I used a boyfriend blazer that has a black and white houndstooth pattern. Then, I wore a pair of black vinyl pants.
For shoes, I went with a pair of red velvet booties. I didn't do my hair that day and used darker eyeshadow and heavier eyeliner.
I LOVED this outfit. It was edgy, put-together, and it made me feel super sexy. Since I'm not going to the office, I went without a shirt underneath. If I were going out to work, I would probably add a t-shirt.
Both the vinyl pants and the blazer are not summer-friendly at all, but since I didn't wear a shirt underneath it wasn't as hot as it could've been.
Tuesday – Outfit #2, Rapunzel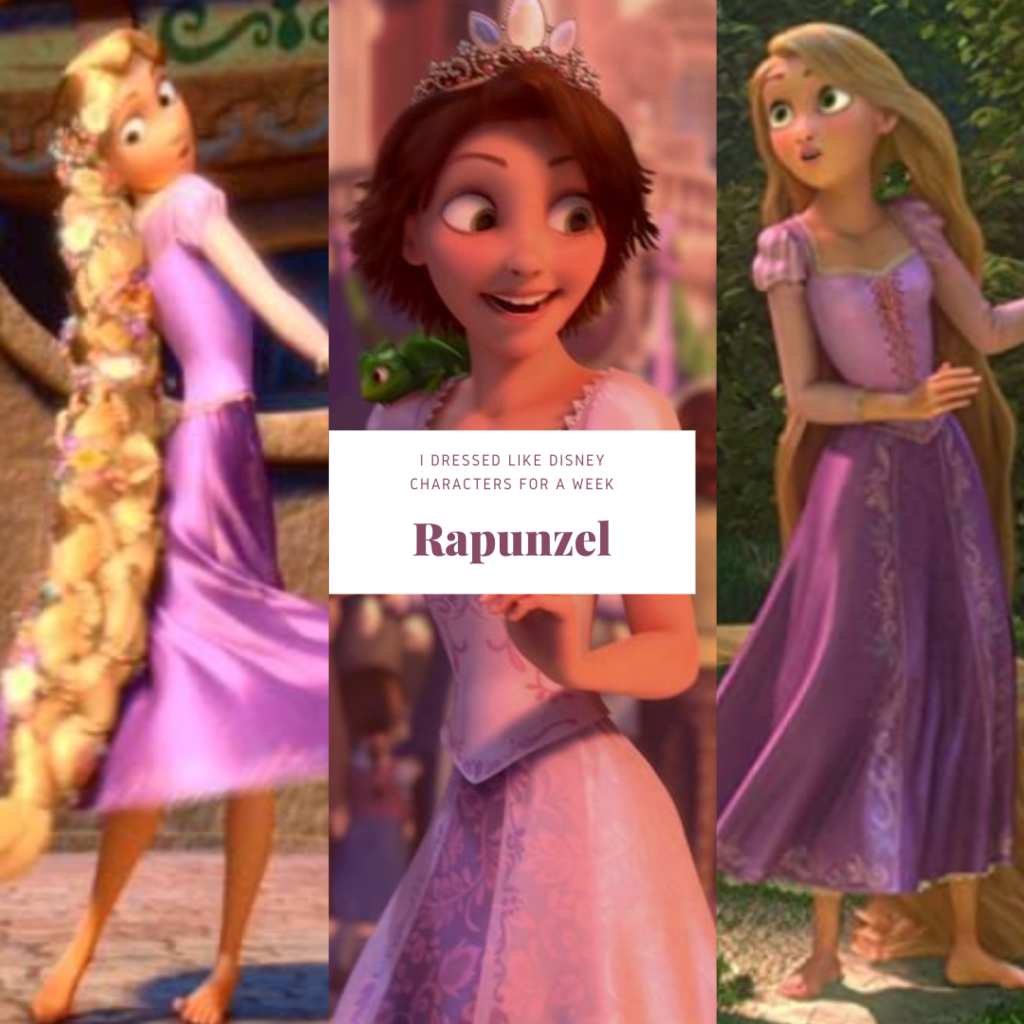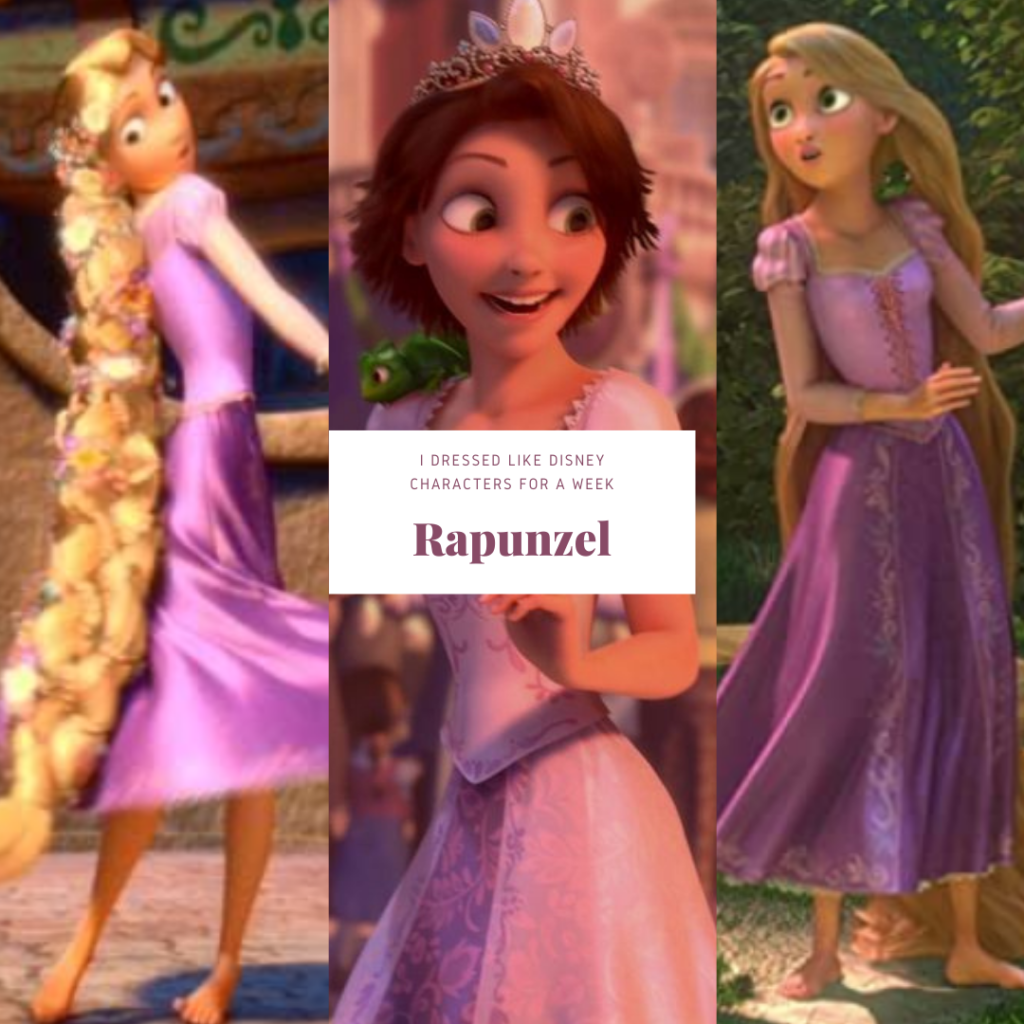 Tangled premiered in 2010 and it's the first princess movie with Disney's 3D style of animation.
Rapunzel is the protagonist and she is my second favorite princess. Rapunzel is a sweet and adventurous young woman. Her dress is lilac, purple, and light pink, and the sun is strongly associated with her.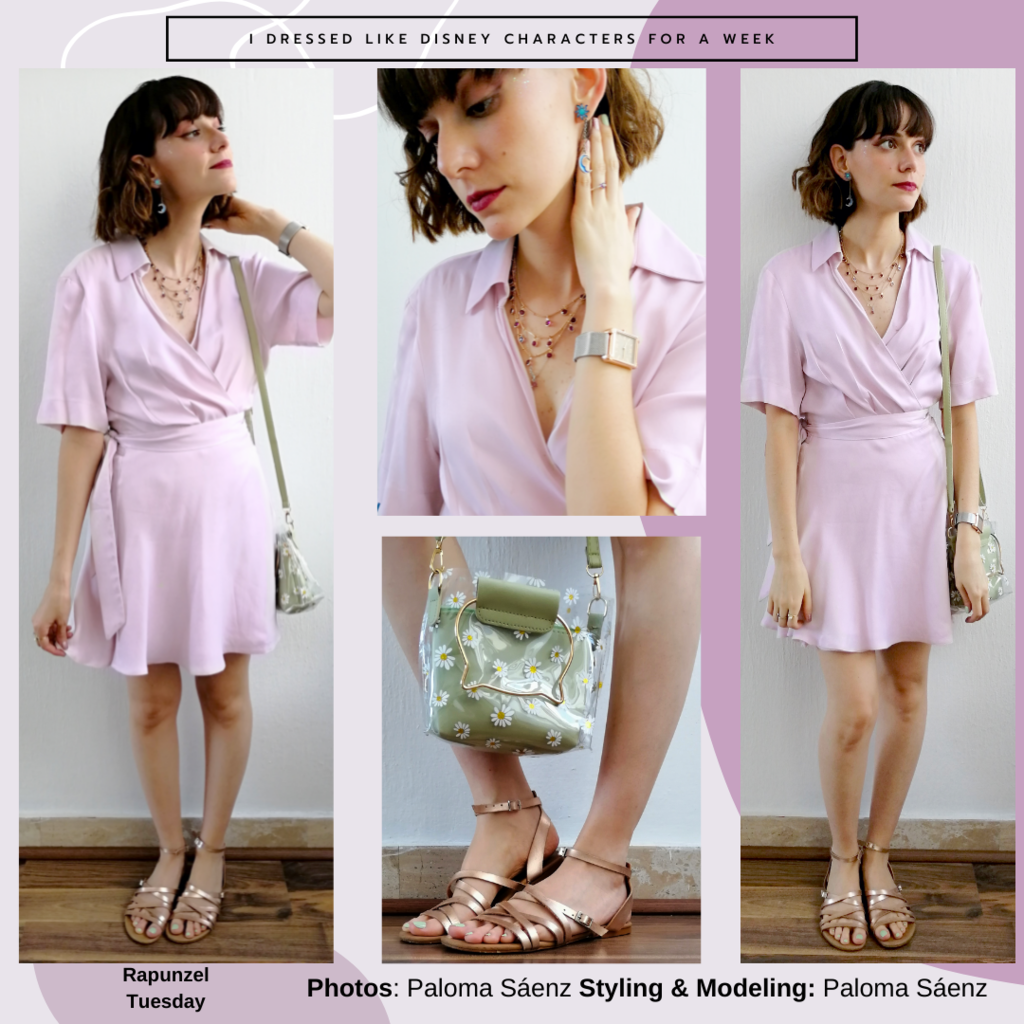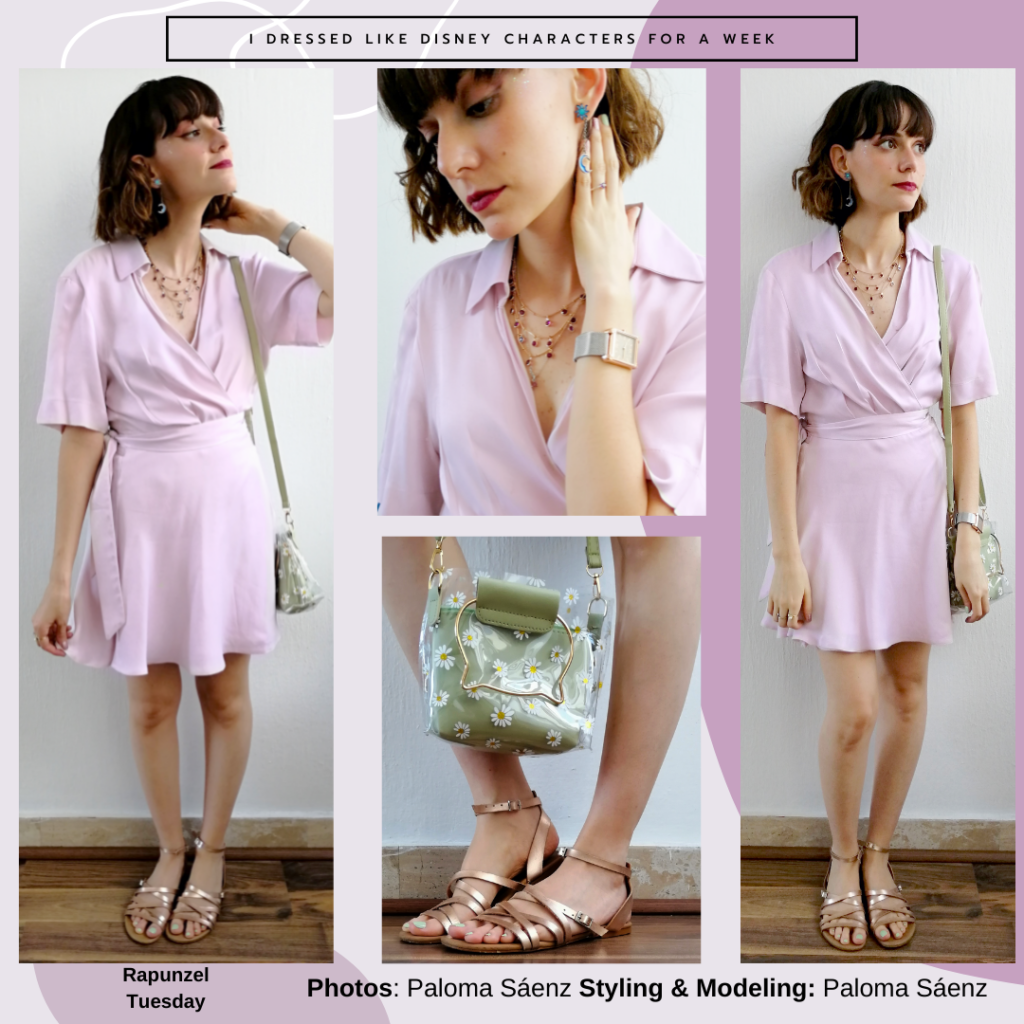 For my Rapunzel-inspired look, I wanted something really feminine and comfortable. So, I borrowed this satin wrap dress from my sister. The color is kind of between lilac and light pink and I thought it was perfect.
Rapunzel is barefoot all through the film and to emulate this, I wore a pair of rose gold sandals. I used my accessories to show other elements associated with her, like Pascal, flowers, and the sun. I wore a pair of sun and moon earrings and a green purse with daisies.
I adored this outfit! Honestly, I stole most of this look from my sister. She wore the dress and espadrilles before I was even planning this post.
I love how this looks and it was perfect for the weather. Personally, I would prefer to wear it with sneakers, but I was comfortable all day and, if I were going to a picnic or a brunch, I would definitely wear this.
Wednesday – Outfit #3, Hades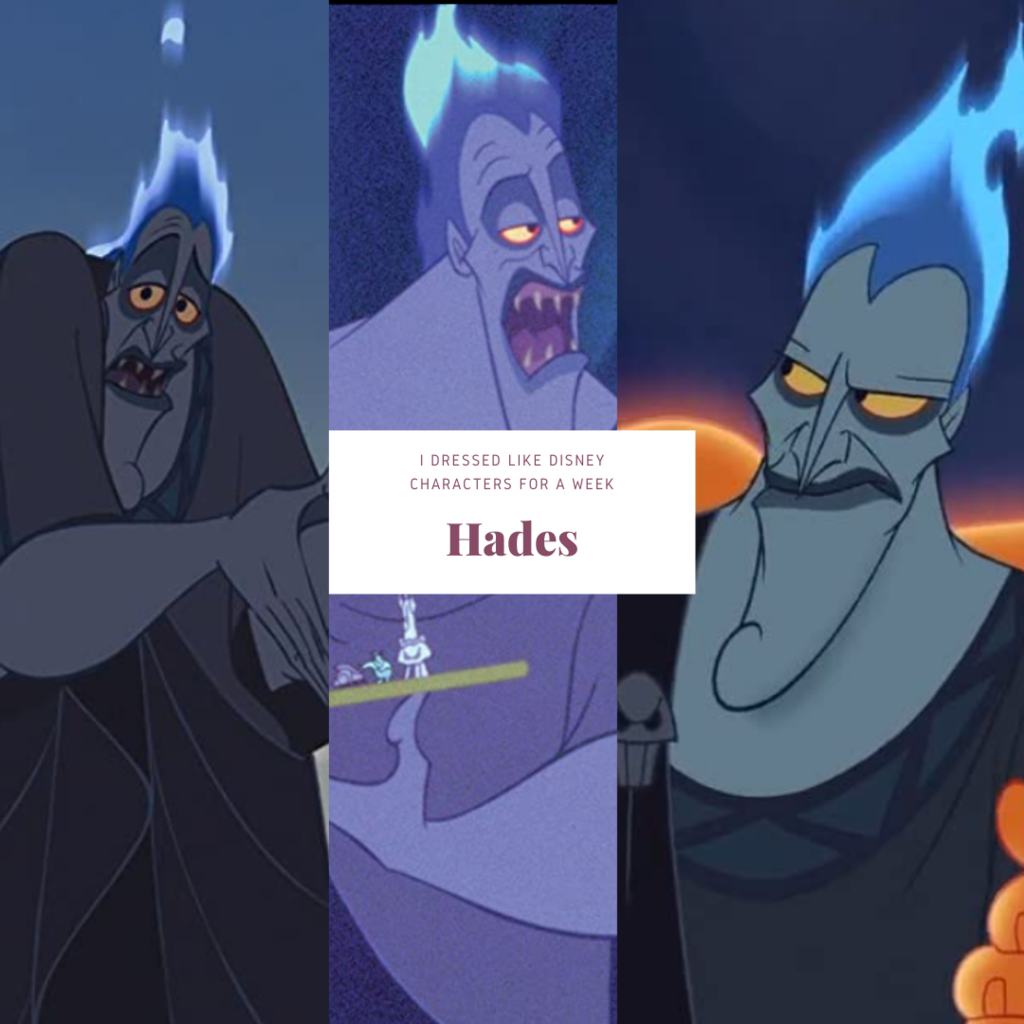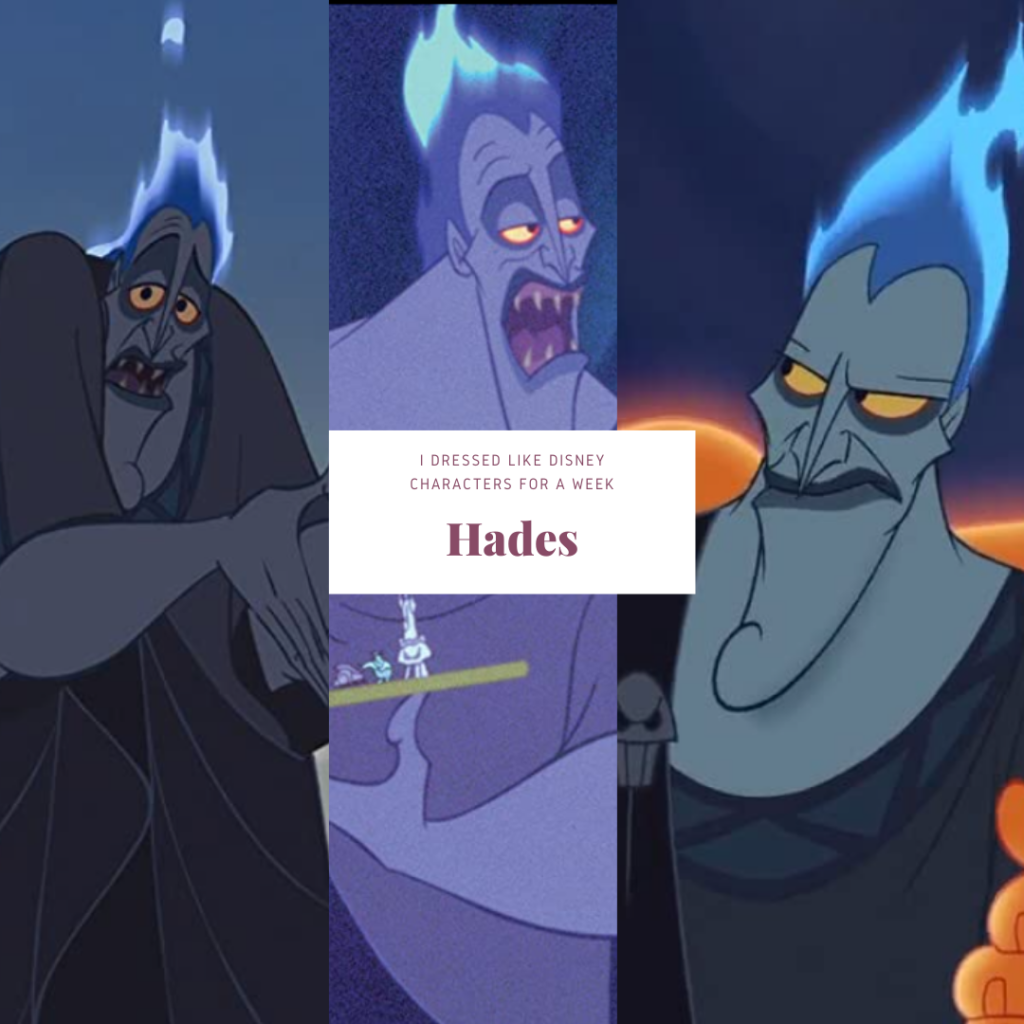 Hercules premiered in 1997 and it has some of the best Disney songs ever. I debated on which character I should draw inspiration from, especially between Meg and Hades, but the villain won this one.
Hades is one of my favorite villains: he's witty, fun, and deliciously evil. His color palette is comprised of black, dark grey, and electric blue.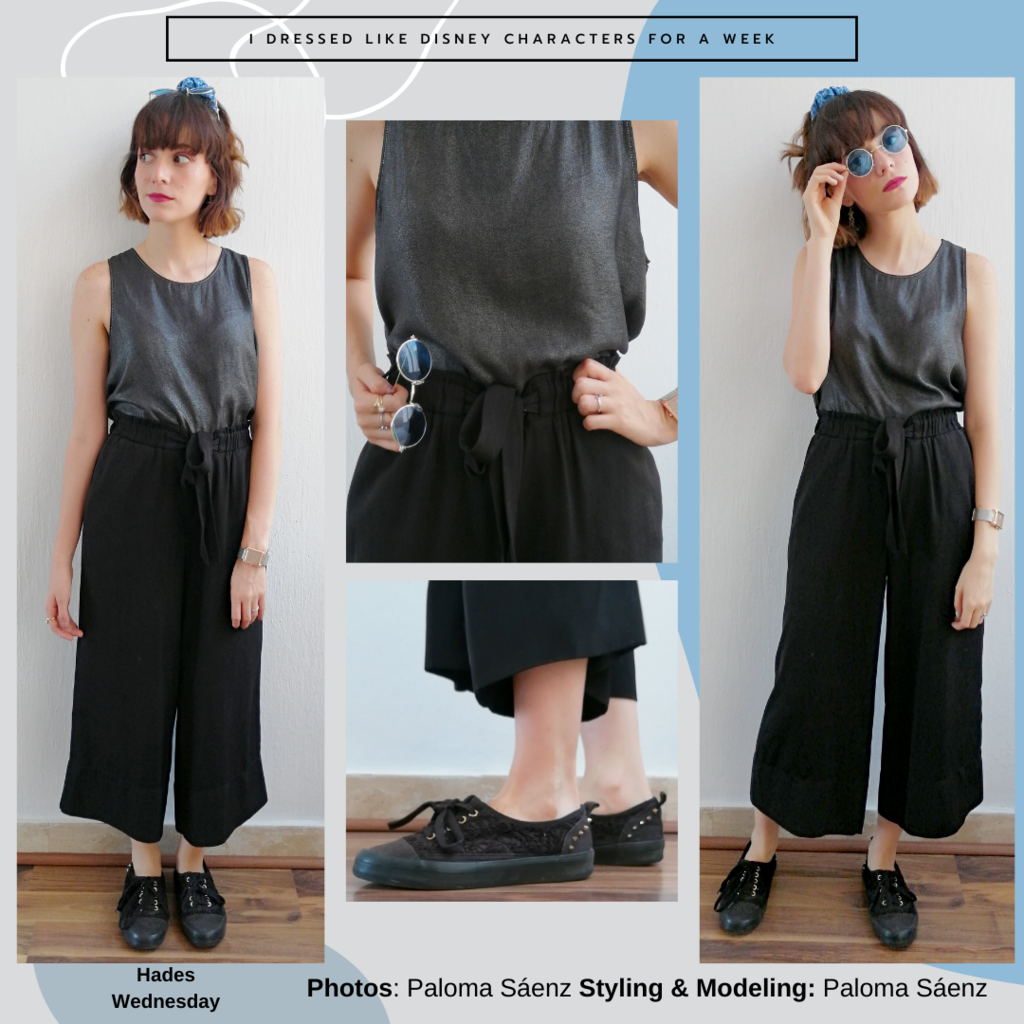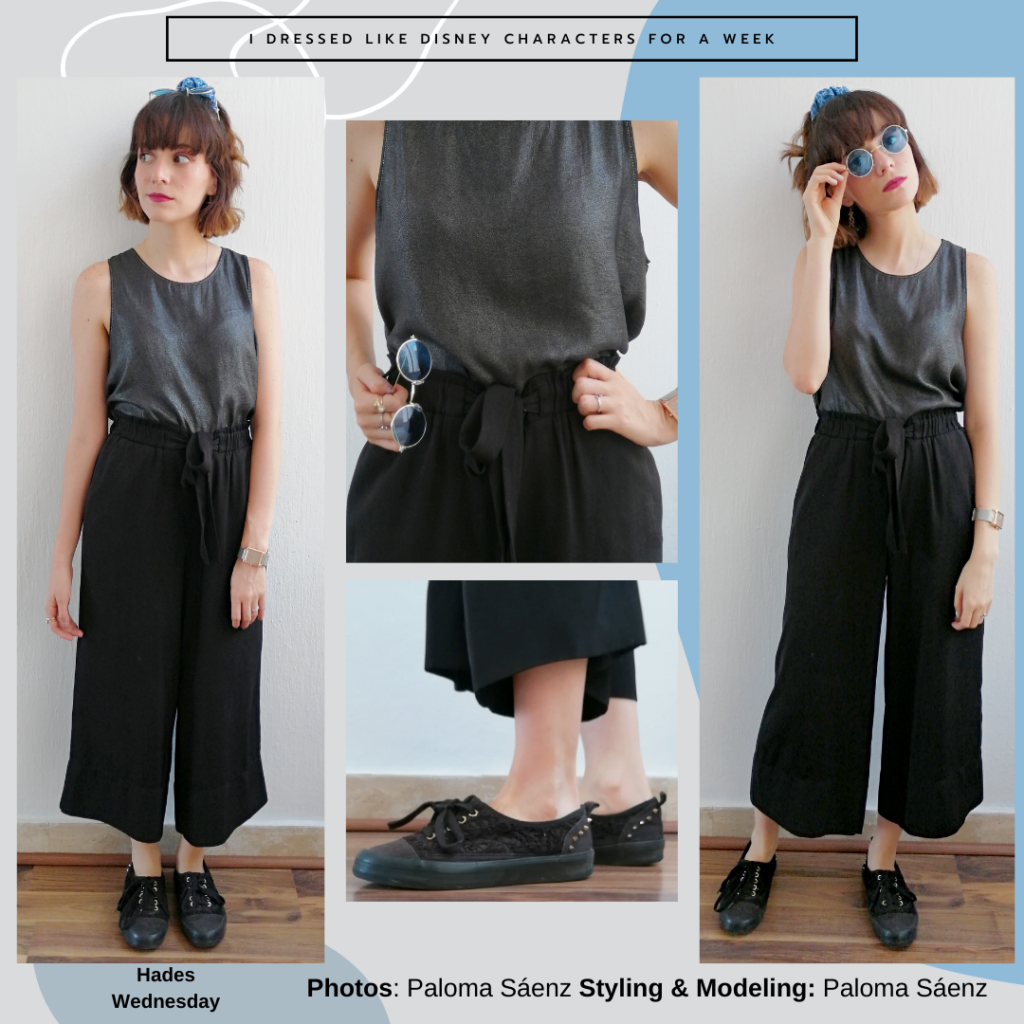 For my Hades look, I wanted something flowy and dark. I paired a shimmery, dark grey sleeveless top with a pair of black culottes. My shoes are a pair of black creeper sneakers. I chose them because they have lace, spikes, and a very punkish vibe.
To add blue and his flame hair, I put my hair in a half ponytail and added a blue scrunchie. Finally, for accessories, I used a pair of blue sunglasses.
This look is definitely my style. It was comfortable and edgy. At the same time, I could totally wear this one as is when I go back to work at the office. I could add a black denim jacket if it gets chilly and it would go perfectly.
Thursday – Outfit #4, Belle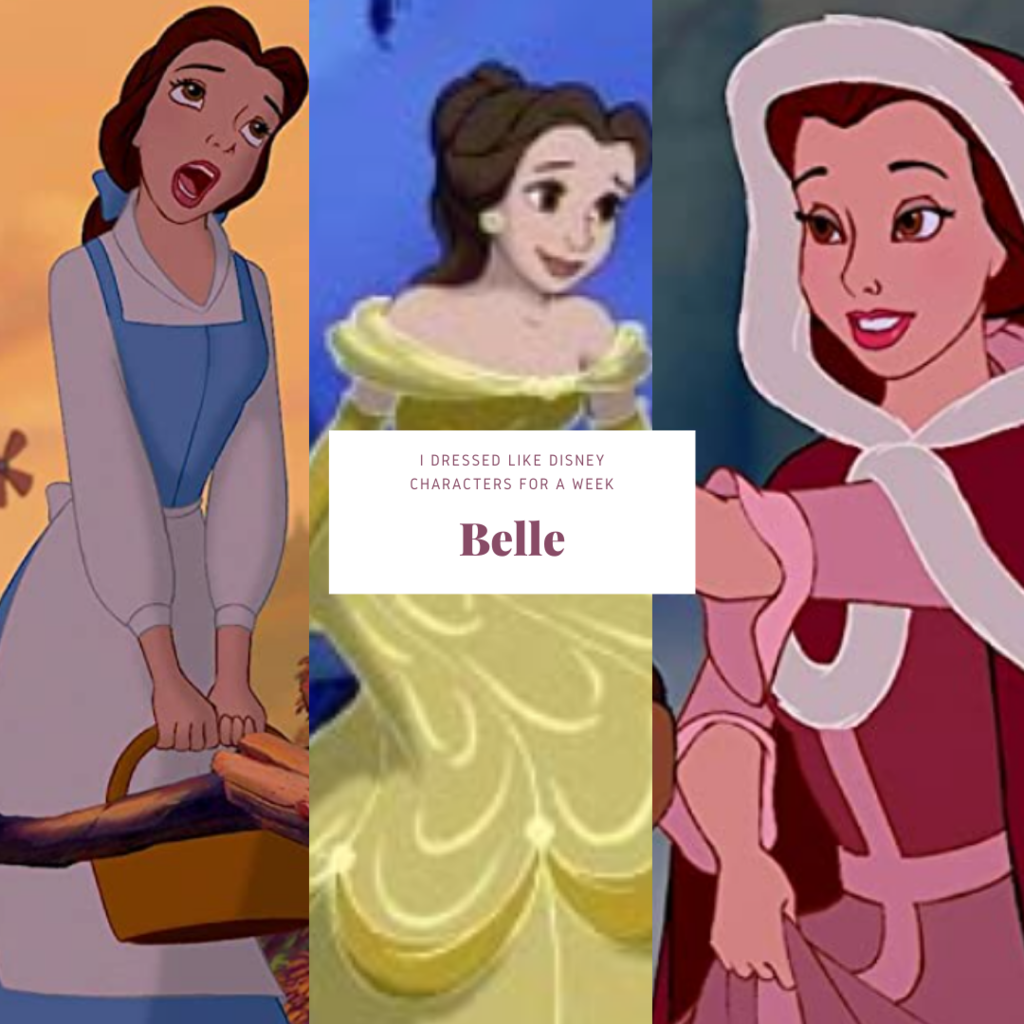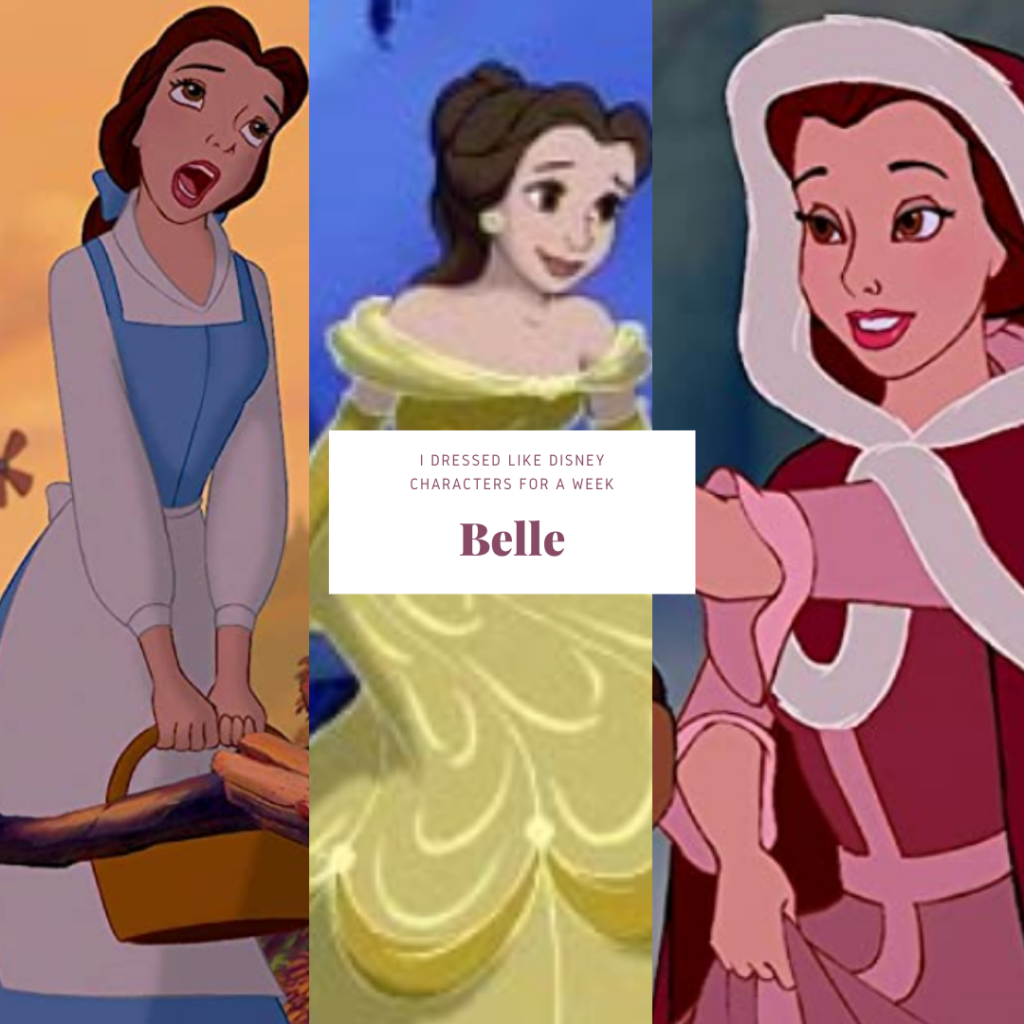 Beauty and the Beast premiered in 1991 and it was a huge success. The film is the first animated movie to be nominated for "Best Picture" at the Academy Awards. It remains the only 2D animated film to get a nomination and the only one in the Disney Animated Canon to be nominated!
Belle is the main character and my sister's favorite Disney character. Belle is beautiful, smart, and confident, just like my sister. She has two main looks: her "casual" blue and white outfit and her yellow gown.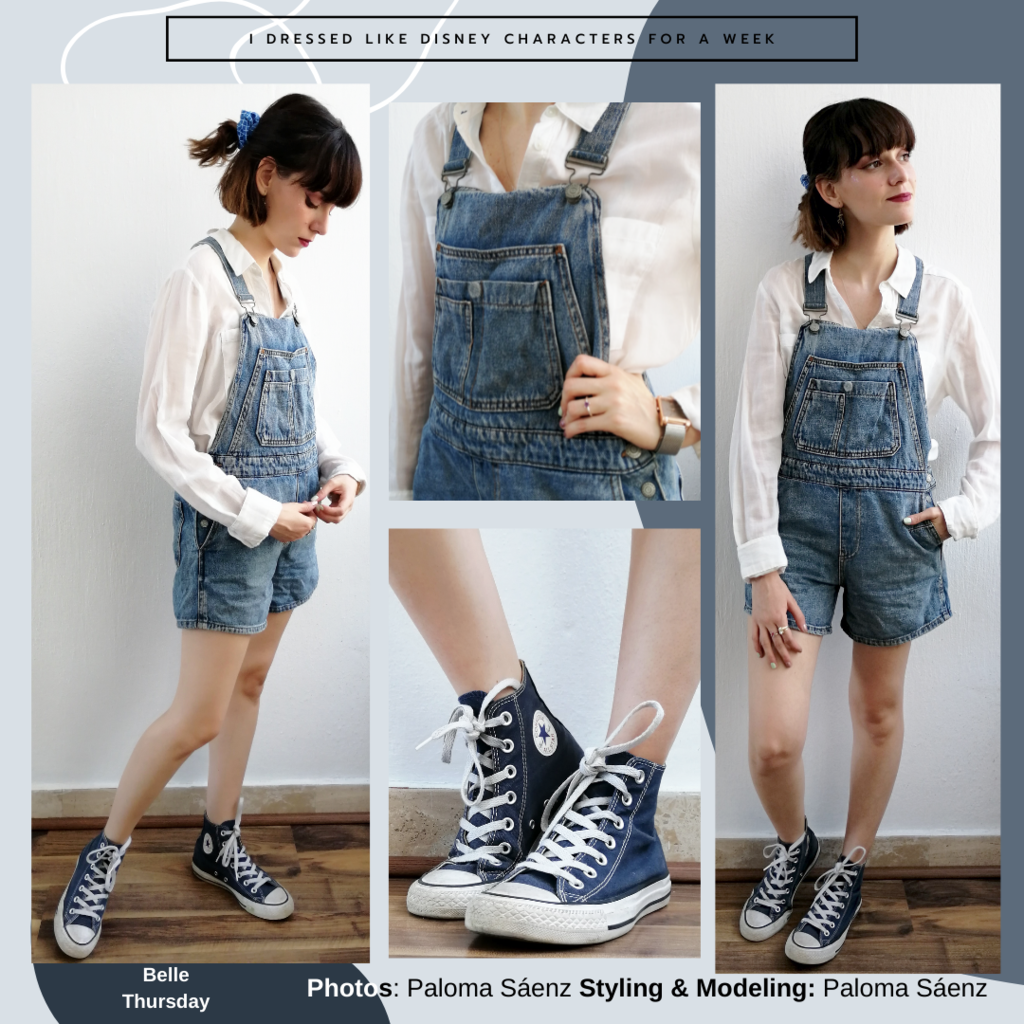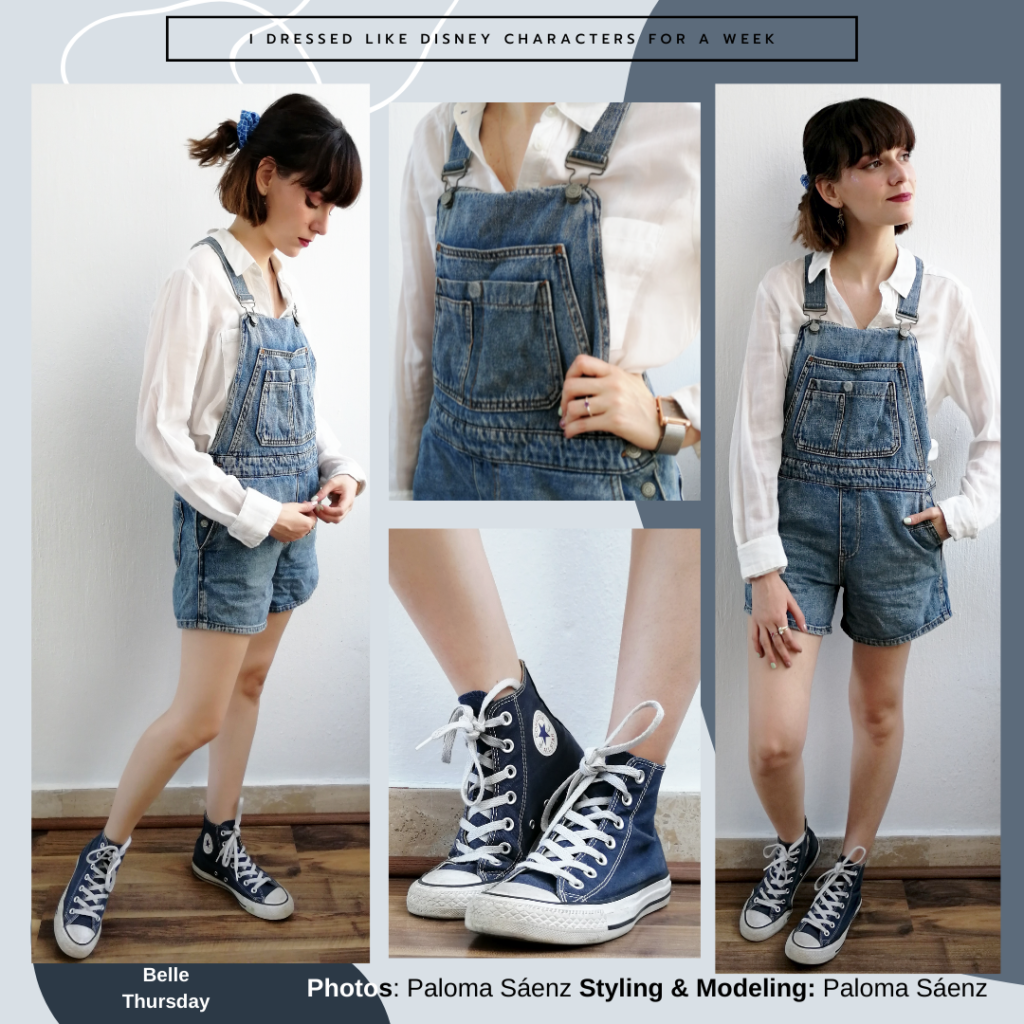 To recreate Belle's style, I decided I would use her blue and white outfit as a base. I put on a white oxford shirt and a pair of blue denim overalls. I had a hard time choosing my shoes, but I ended up going with a pair of comfy blue Converse.
To emulate her blue ribbon, I did my hair halfway up and used the same blue scrunchie I used for the Hades look.
This one is the perfect summer style! I haven't worn these overalls in quite a while and this outfit was a great reminder that they are actually really comfy and cute. In the future, I would probably wear them with just a t-shirt or a sweatshirt. Still, the oxford shirt is also a great option if you want to look more polished.
Friday – Outfit #5, Madame Mim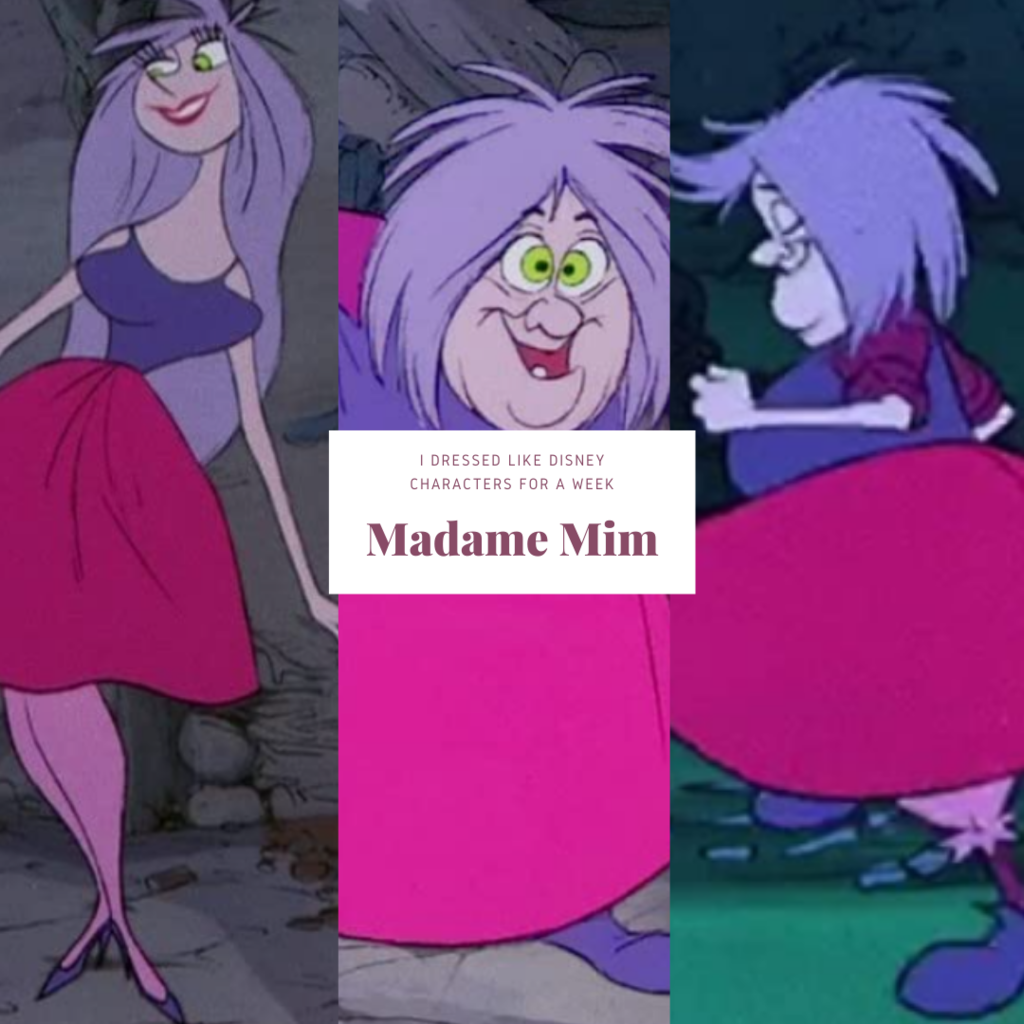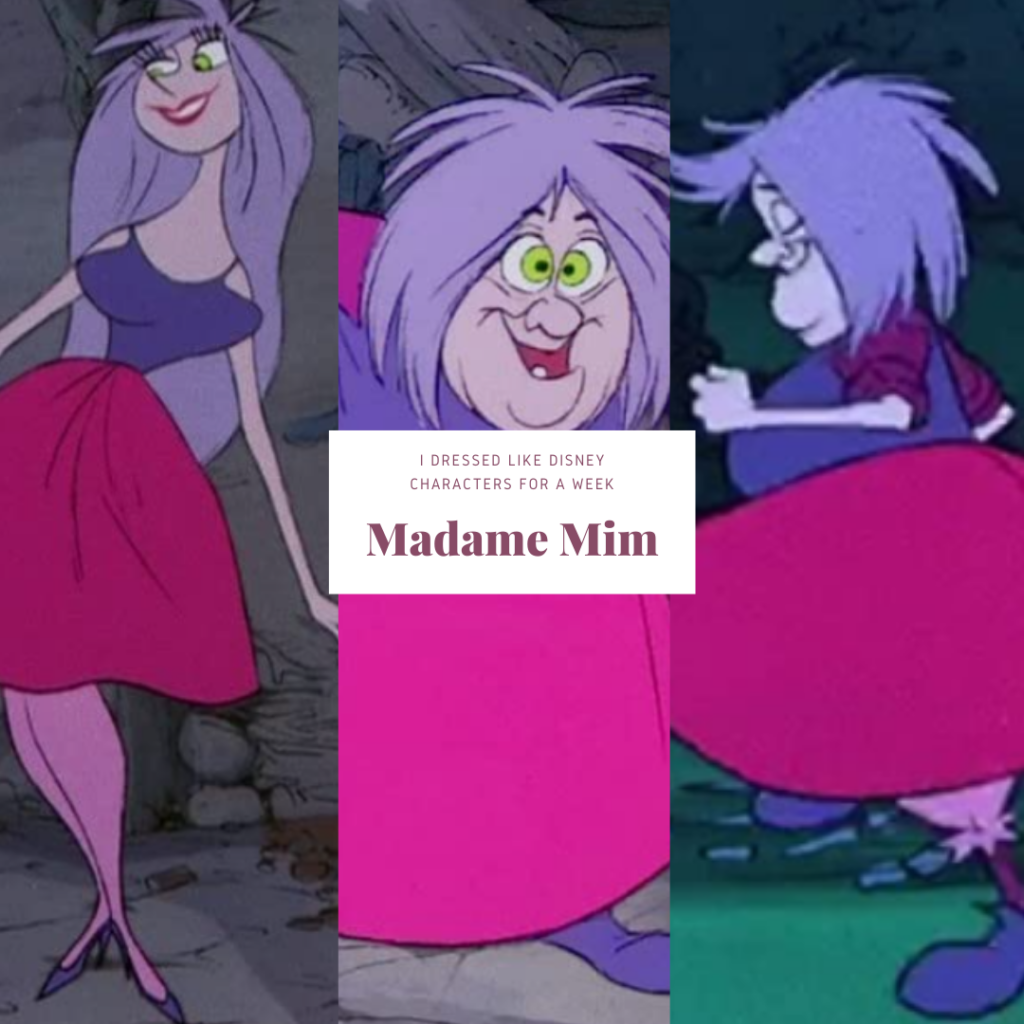 The Sword in the Stone premiered in 1963 and one of the obstacles in the film is the witch Madame Mim. She is my mom's favorite Disney character.
Madame Mim is wacky, evil, and the funniest character in the film. Her color scheme has hot pink, lilac, and purple.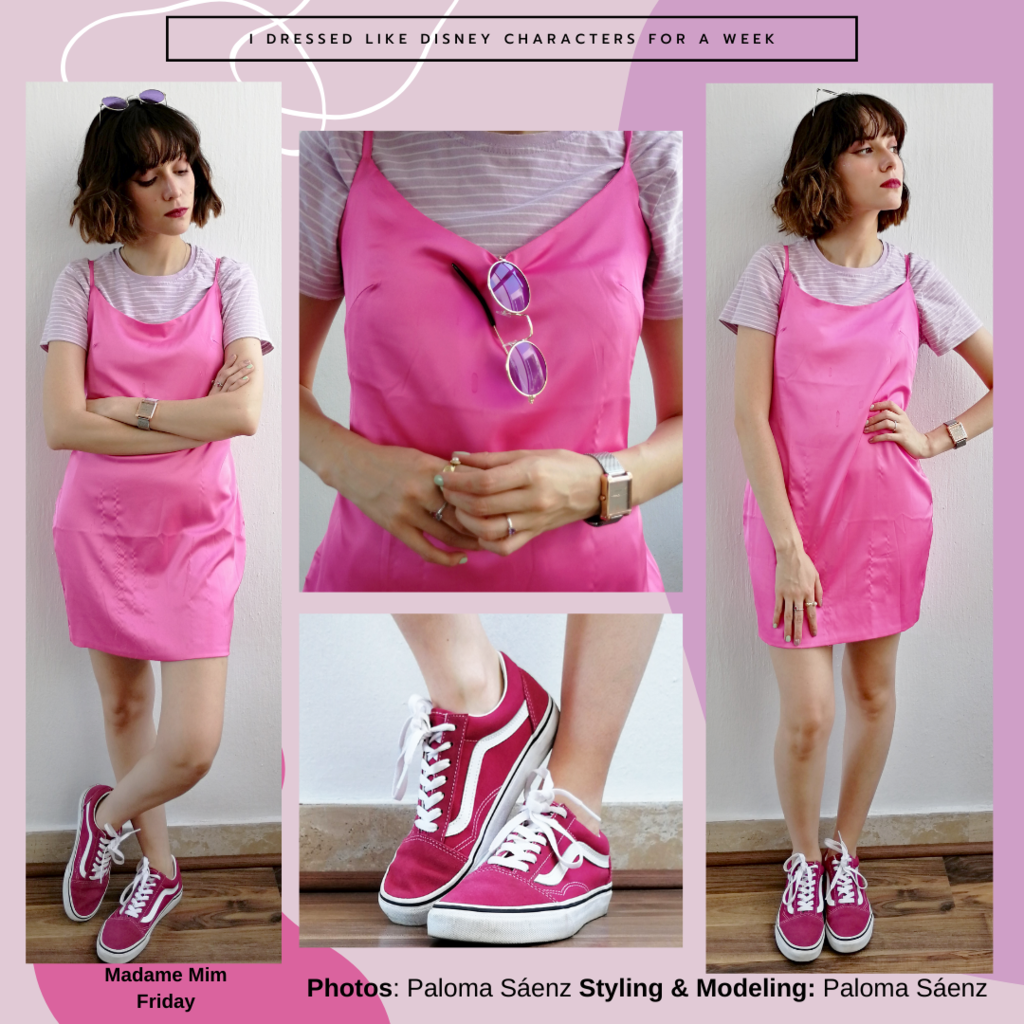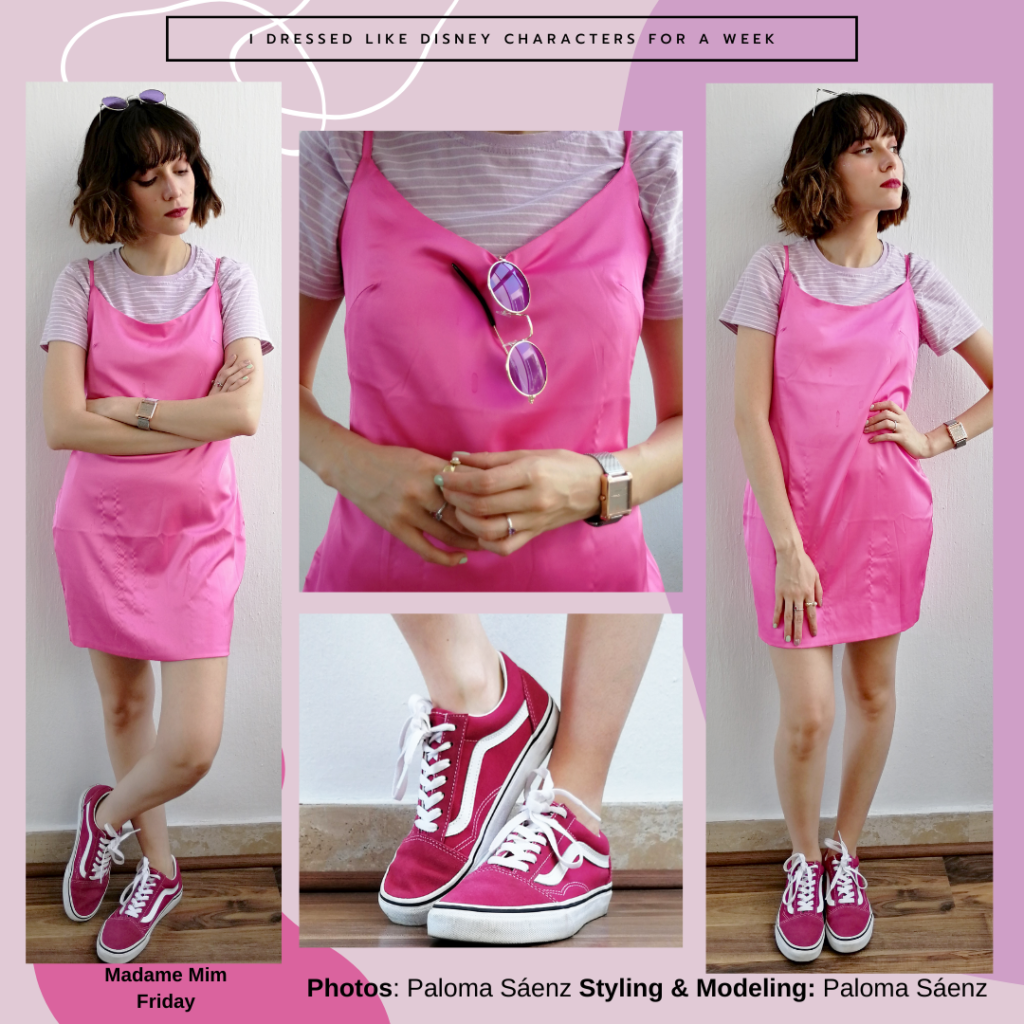 My Madame Mim look was a bit challenging to create. I wore a lilac t-shirt under a hot pink satin slip dress. Since I couldn't dye my hair purple or lilac for this, I ruffled my hair to make it as messy as possible and used a pair of purple sunglasses as an accessory.
For shoes, I wore my pair of pink Vans.
I thought I was going to love this one, but it didn't look like I hoped it would. It was cute and really comfortable. But, I feel like it needed a deeper shade of purple to compliment the pink without getting lost.
Saturday – Outfit #6, Ariel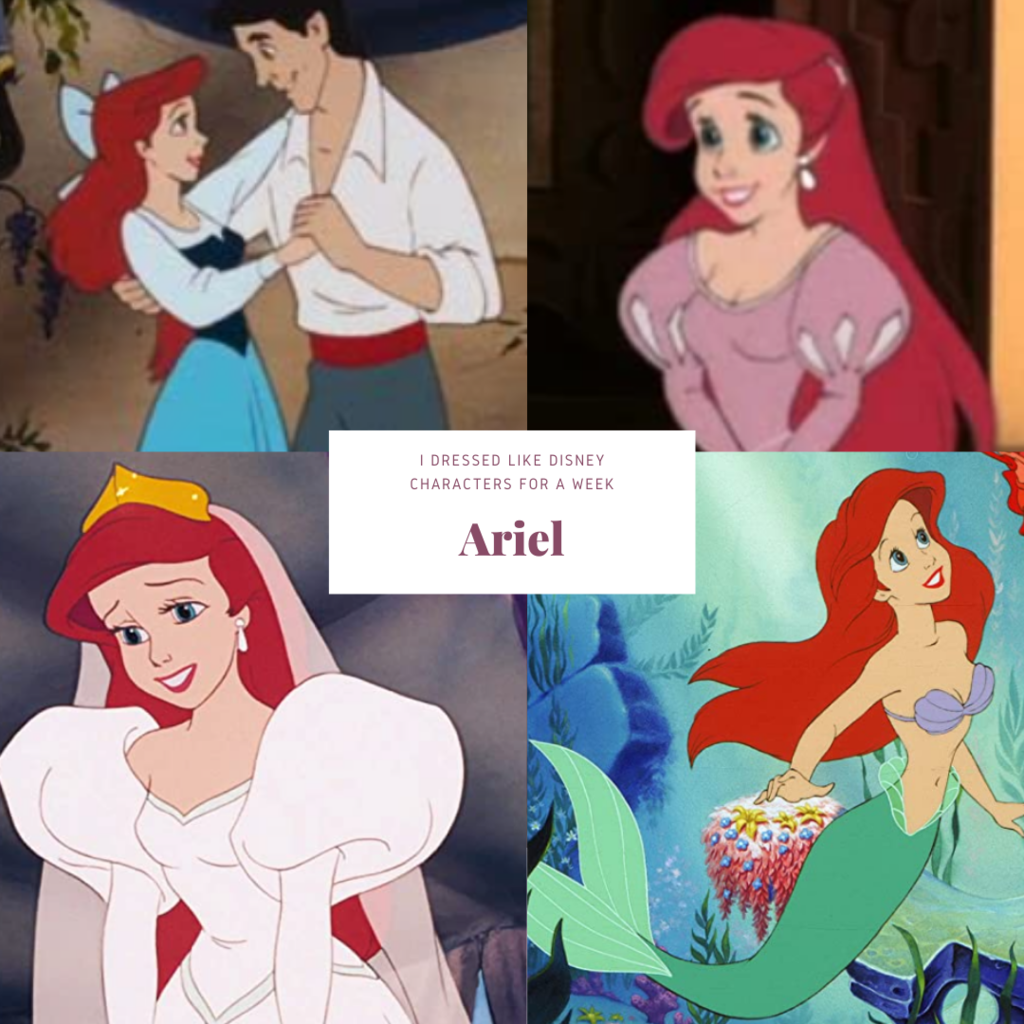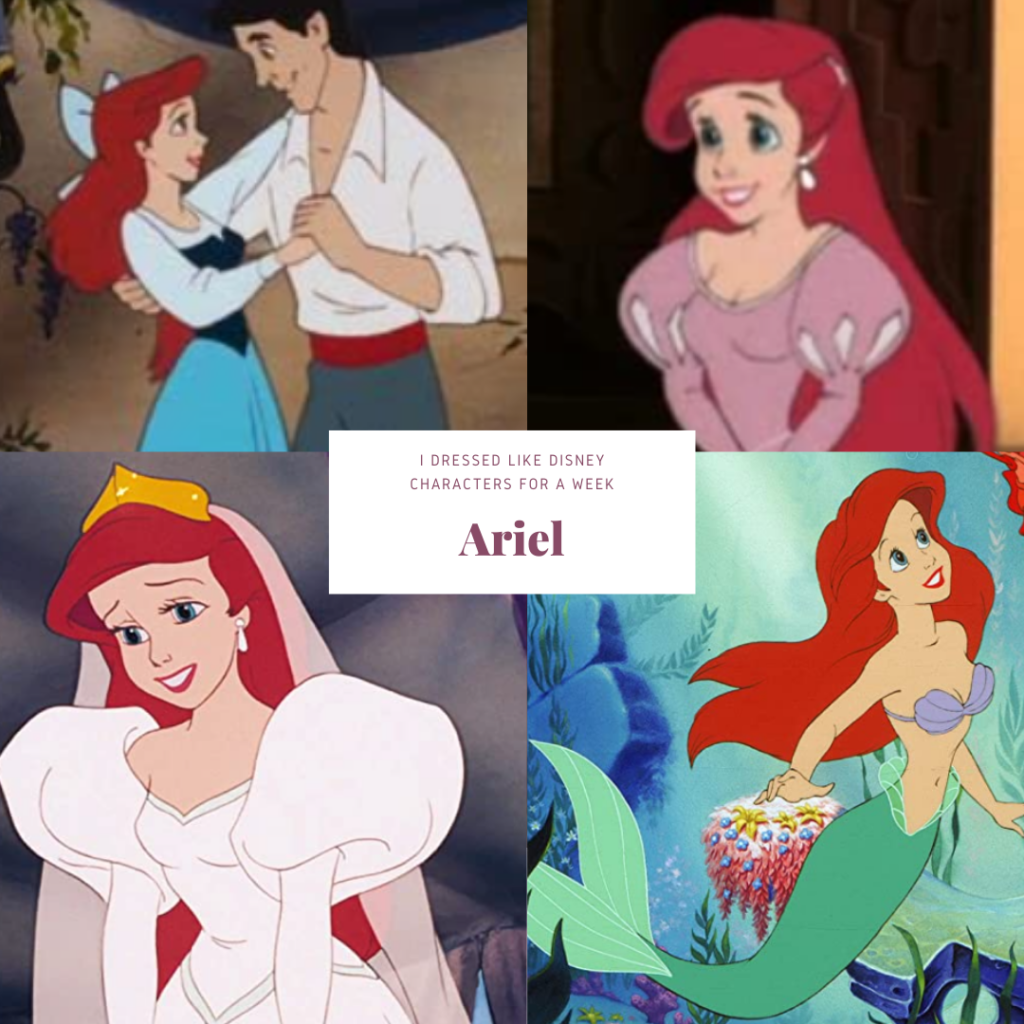 The Little Mermaid premiered in 1989 and it's the first movie of Disney's Renaissance. This movie is, by far, my absolutely favorite Disney movie. I get goosebumps when the film starts.
Ariel is the eponymous little mermaid and she is a feisty, adventurous, and self-assured young woman. She is also my favorite Disney character.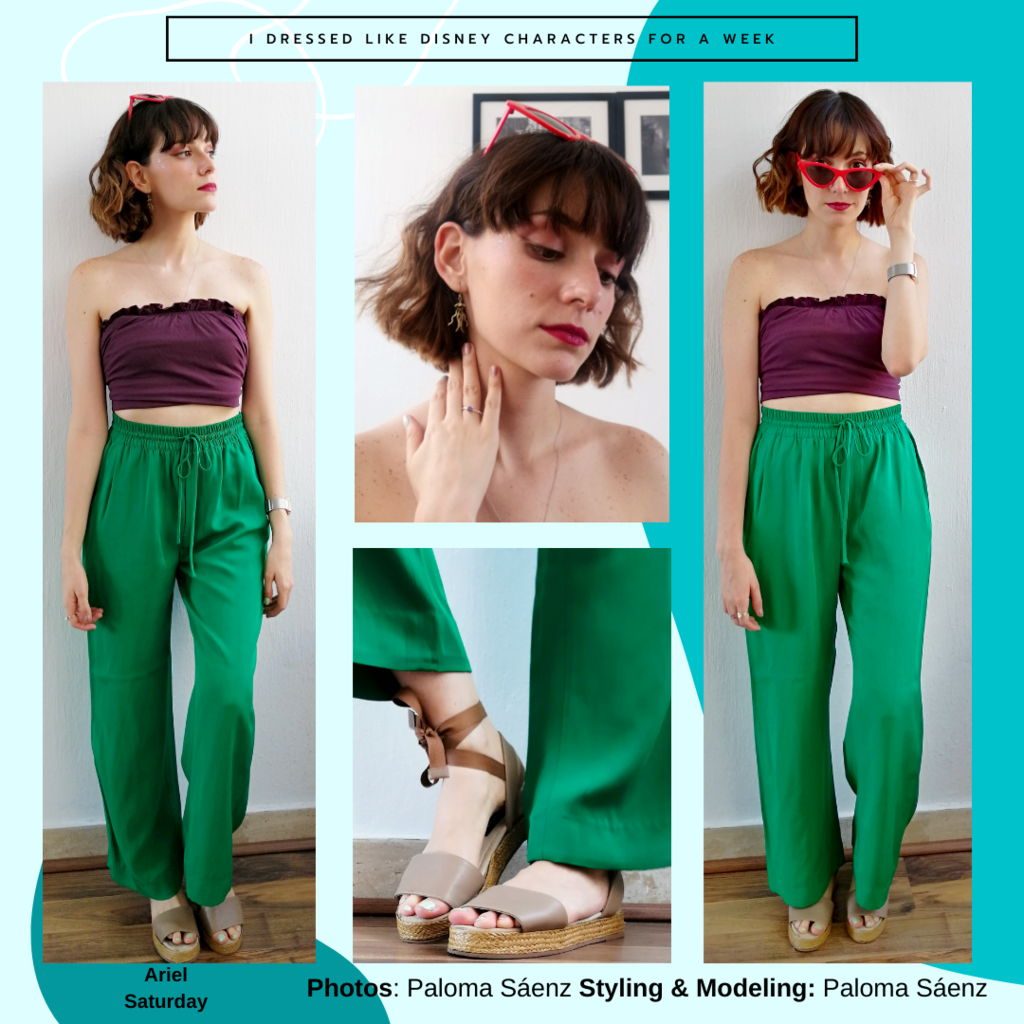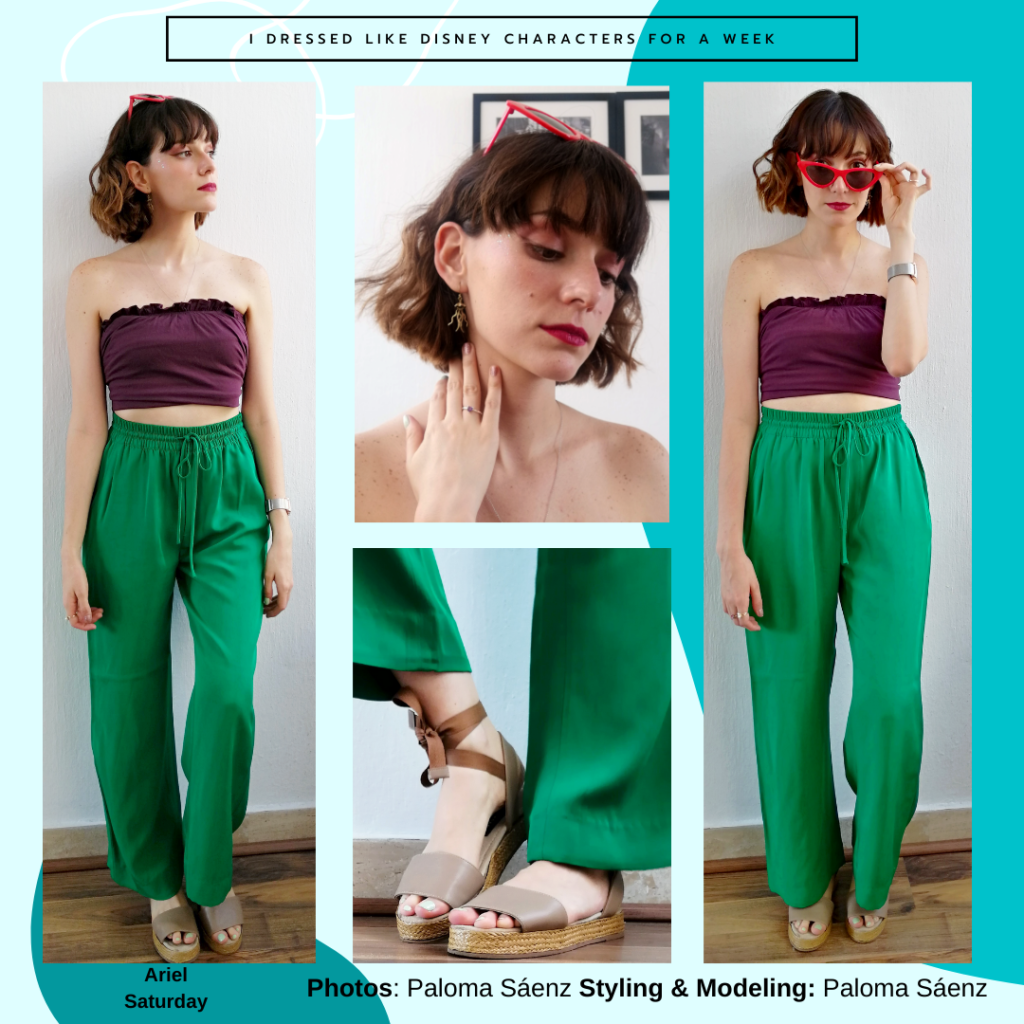 To create my Ariel look, I decided I'd use her mermaid form as a base. I took my green flowy pants and paired them with a purple tube top. The top isn't actually a tube top, but I borrowed a purple shirt from my sister and made it tucked it in to make it look like that.
Since she doesn't wear shoes and I don't have green shoes, I chose a pair of beige espadrilles. For accessories, I took a pair of red-framed sunglasses to emulate her hair, and my favorite earrings that are little jellyfish earrings.
Okay, I adored this look. It is so cute and sexy. This look was the perfect weekend outfit, especially with the weather like this. I'm thinking I need a purple crop top to wear this again, because I really, really want to wear this again without stretching out my sister's shirt.
Final Thoughts
Disney was a huge part of my childhood and I still like watching the new movies they make. My entire family loves Disney movies, especially the old ones. These films remind me of simpler times and that's just what I needed this week.
This was such an amazing opportunity to create different types of looks with my favorite characters as inspiration. My favorite looks were Ariel's, Hades's and Rapunzel's. I would definitely wear all of them again, but these three are going into my summer rotation.
I had so much fun this week. If you are in a nostalgic spiral and watching your favorite childhood movies, you might want to take some notes and get inspired by your favorite characters.
What Do You Think?
Do you like Disney? Which movie is your favorite? Which outfit would you wear? Do you have any suggestions on whose style I should recreate next? Let us know in the comments below!