This Wanda Maximoff outfits guide will show you look inspired by her style in the series WandaVision.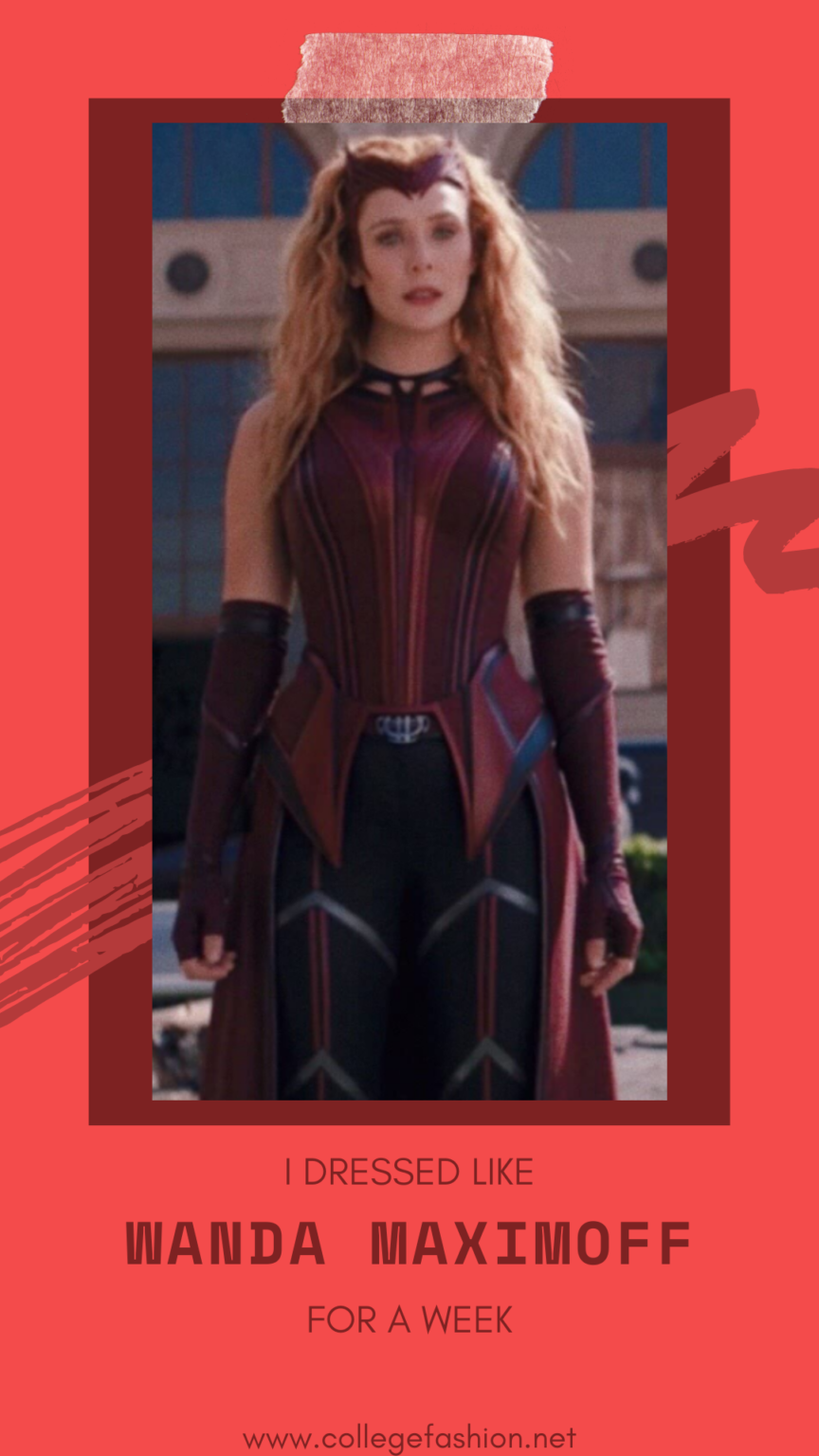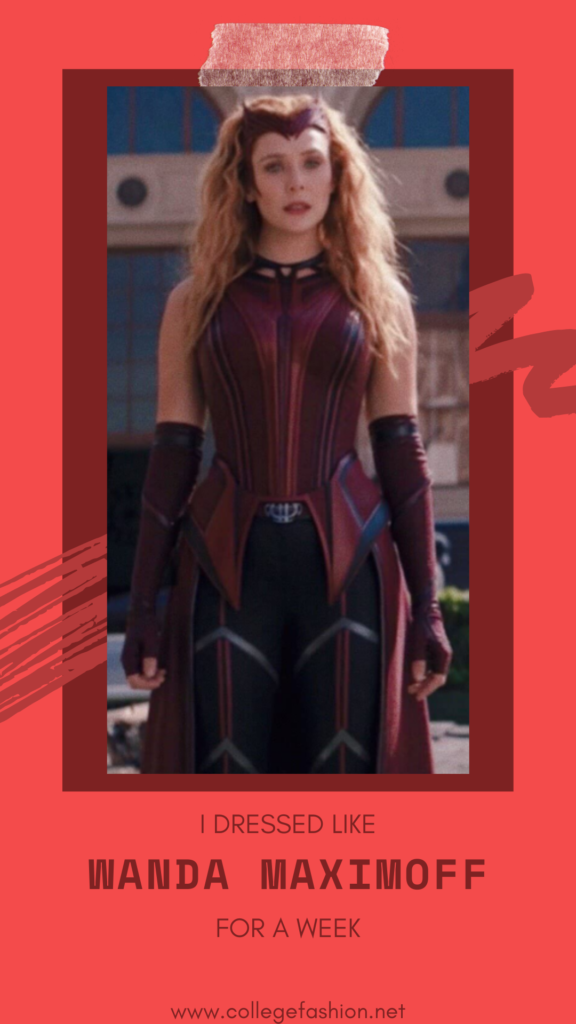 We've all looked to celebrity style for fashion inspiration at some point in our lives. But it's one thing to say "I love her outfit," and it's another to actually copy it in real life.
For this series, I'm going the extra mile and making it happen. Each week, I'm getting inspiration from a celebrity and copy five of her looks as close as possible. Then, I'm reporting back to you: Did the outfits work in real life? Did I feel comfortable? Did people treat me differently? I'm sharing it all.
In past posts, I've covered the style of these celebrities: Zendaya, Gigi Hadid, Grace Kelly, Kendall Jenner, Vanessa Hudgens, Sophie Turner, Priyanka Chopra, Millie Bobby Brown, Hilary Duff, Lily Collins, Taylor Swift Part 1 and Part 2,  Selena Gomez, Alexa Chung, Queer Eye's Fab 5, Lucy Hale, Dakota Johnson, Hailey Bieber, and Kaia Gerber.
I've also covered the style of certain iconic TV and movie characters: Iconic Halloween Characters Part 1 & 2, Iconic Christmas Characters Part 1 and 2, Rachel Green Part 1 and 2, Monica Geller, Little Women's Characters, Gilmore Girls' Characters Part 1 and 2, Iconic Olsen Twins' Movies, Winx Club Characters, Bridgerton Characters, W.I.T.C.H Characters and Power Rangers' Characters.
I also did a full behind-the-scenes on this series.
This week, my inspiration was one of my favorite MCU characters, Wanda Maximoff. Read on to see my Wanda Maximoff outfits.
About WandaVision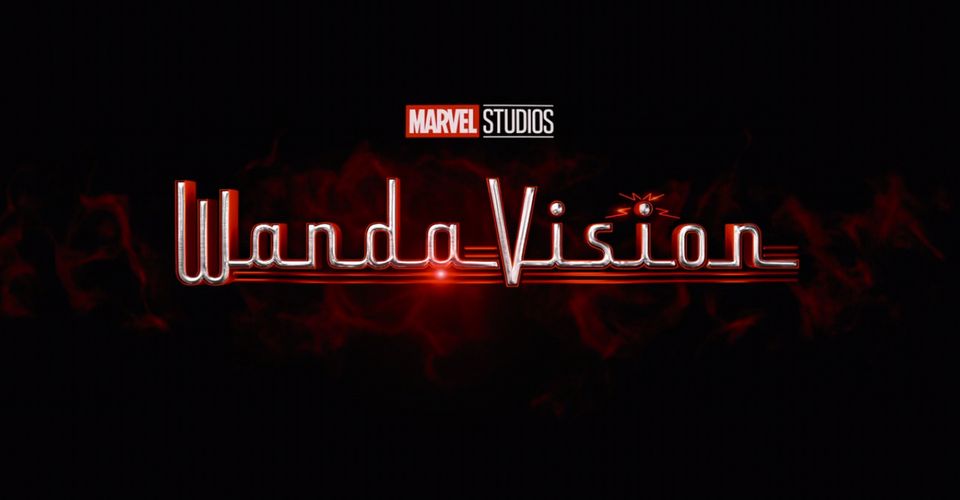 WandaVision is a miniseries created by Jac Schaeffer. It is the 24th installment of the Marvel Cinematic Universe and the first installment of its Phase 4. The show is also among the first developed by Marvel Studios as an episodic, live-action series for Disney+. The series is a tribute to classic American TV sitcoms.
Blending the style of sitcoms through the decades with the MCU, WandaVision is set in the aftermath of Avengers: Endgame. Wanda Maximoff (Elizabeth Olsen) finds herself in an alternate reality in which her lover, Vision (Paul Bettany), is inexplicably alive. The two are happily married and adjusting to a new life in the idyllic town of Westview. But, soon enough, it is obvious something's not right.
Disclaimer
While the series does cover shows from the late '2000s, the last episode I'll be focusing is the one set in the '90s.
This is because, during the last episodes, Wanda is mostly wearing sweatpants and a sweatshirt, or her (comic-book accurate) Scarlet Witch costume. Both, while doable, aren't a fashion challenge or a look I could recreate accurately at this point.
Wanda Maximoff Outfits Guide
Monday- Outfit #1, The '50s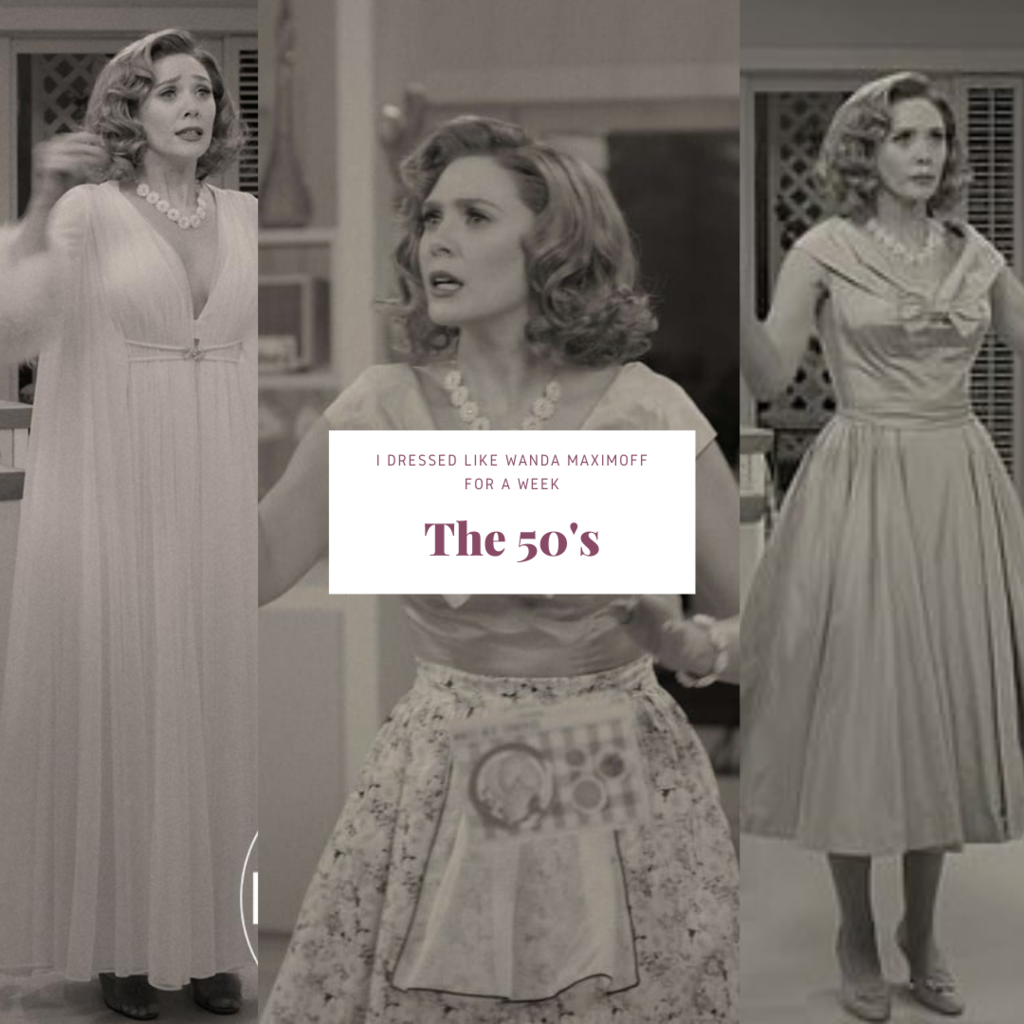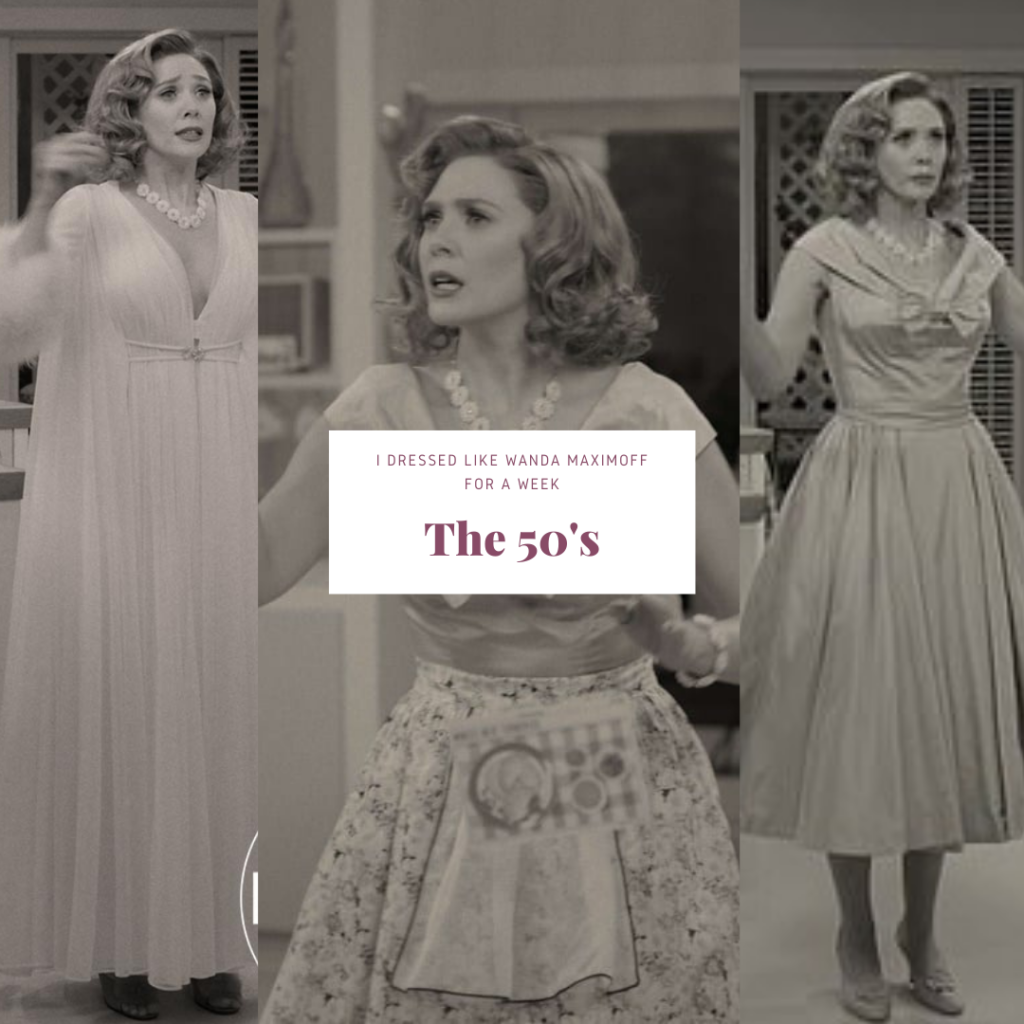 The first episode of the series is set in the 1950s and is mostly taking elements from sitcoms like The Dick Van Dyke Show.
Wanda dresses like a stereotypical '50s housewife. This involves A-line silhouettes, cinched waist, heels, and a flowy sleeping gown.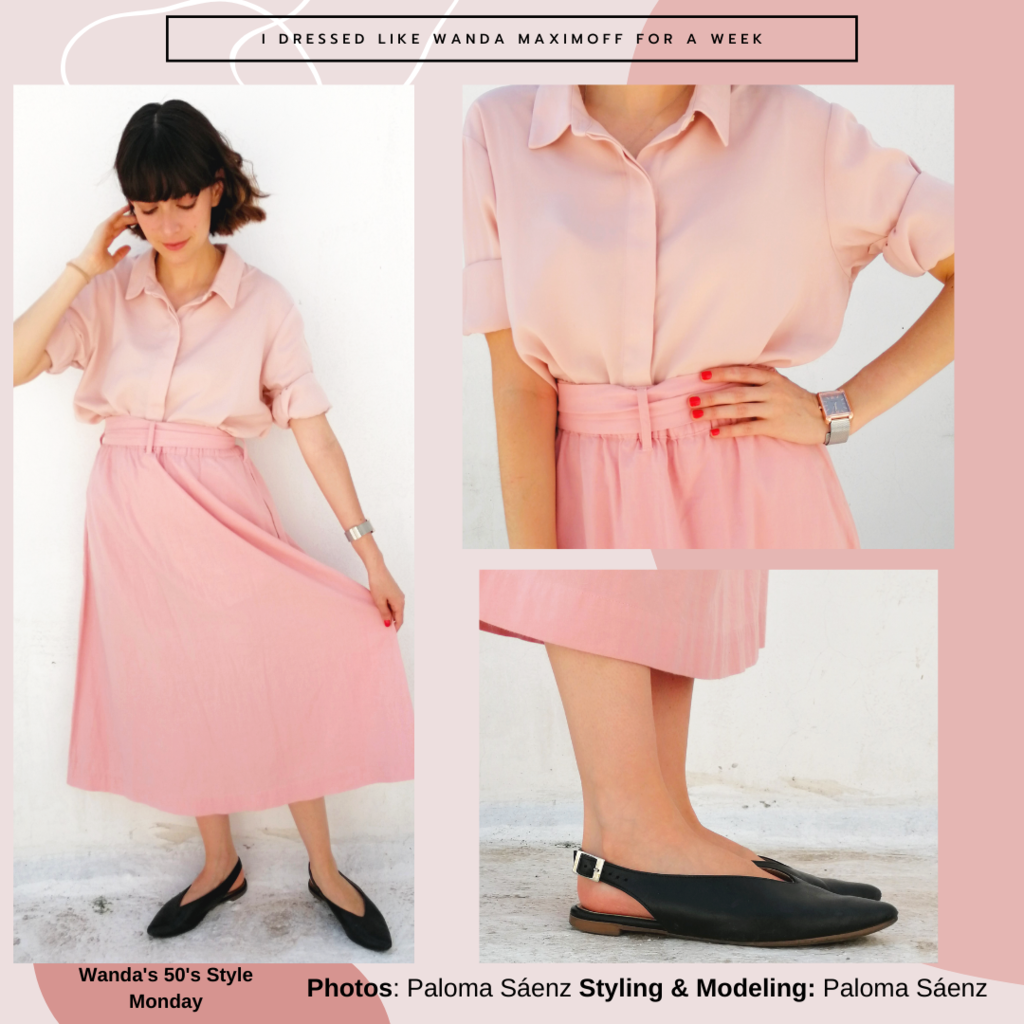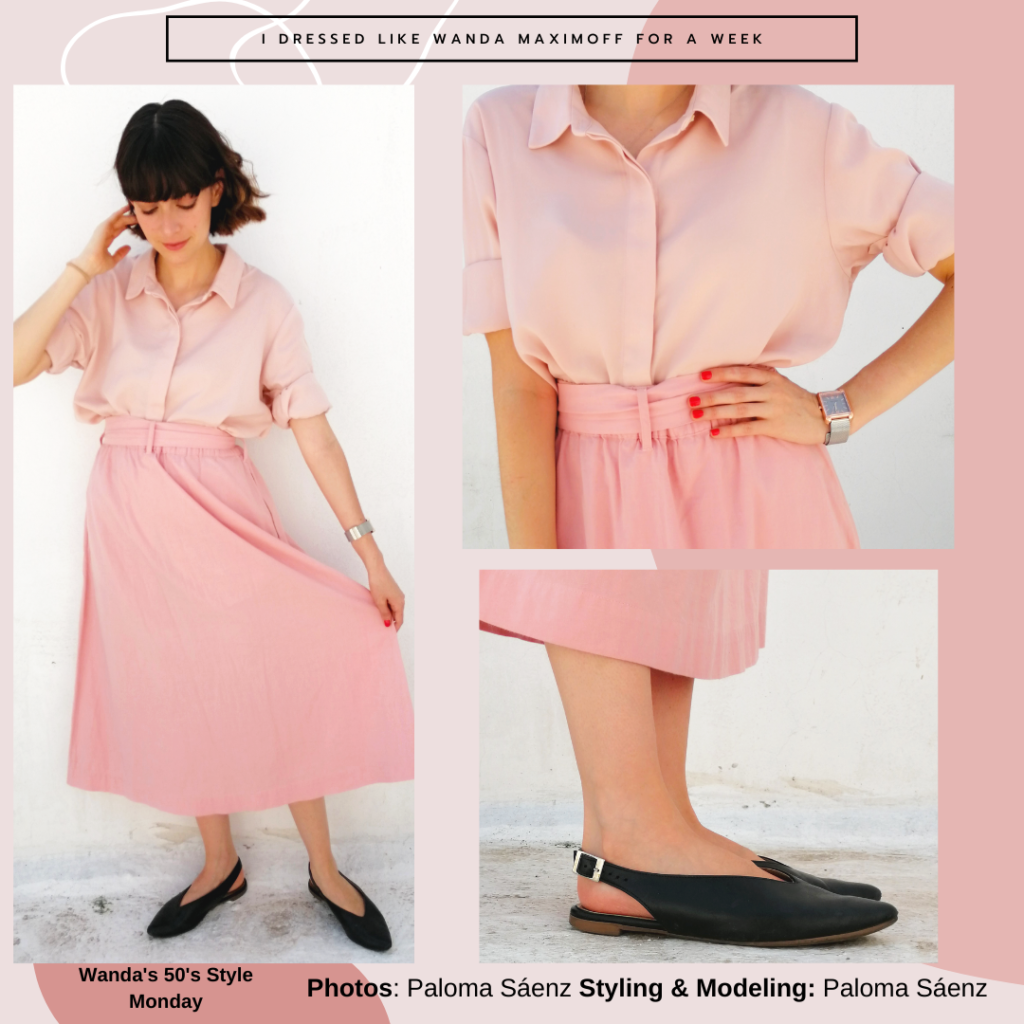 Products
Pink Oxford Shirt
A-line full Skirt
Flats
For my '50s-inspired Wanda look, I wanted to emulate the silhouettes she wears in the episode and try to use items that were as similar as possible.
Behind the scenes, some of her items are blue, but filming in black and white sometimes requires the use of different colors so they would translate a specific way. Given this, I'm not sure the color scheme wasn't a technical choice.
For my look, I paired a blush pink Oxford shirt and tucked it into an A-line full skirt. I borrowed the shirt from my mom and the skirt from my sister. I also rolled up the sleeves on the shirt to make it short-sleeved.
For shoes, I went with a pair of black pointy flats, since I didn't have kitten heels or similar heels to Wanda's. The flats are also my sister's.
I really liked this one, even though it isn't really my go-to style. Usually, if I'm going for something girly, I try to mix in something edgier here and there. This outfit was perfect for the weather, though. It has been getting hotter and hotter, so skirts and short sleeves are the best items to wear right now.
Tuesday – Outfit #2, The '60s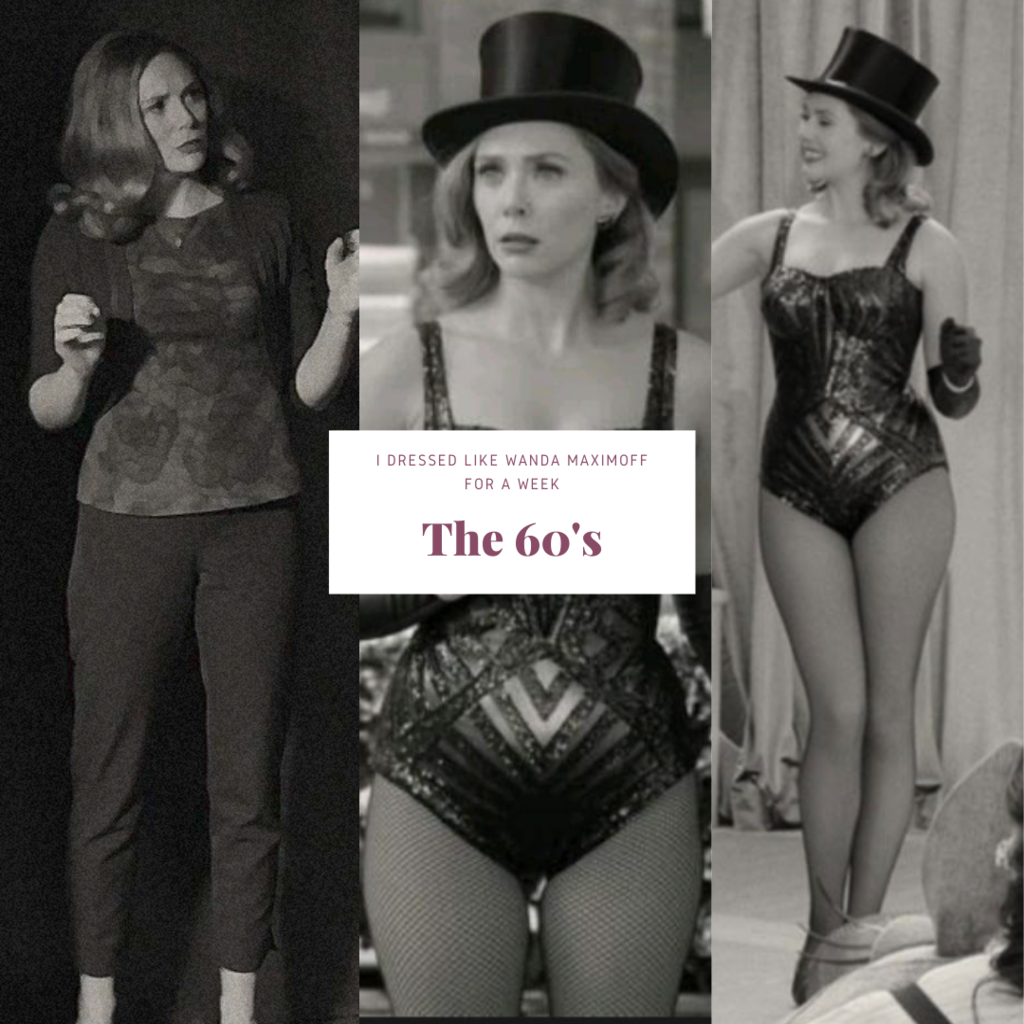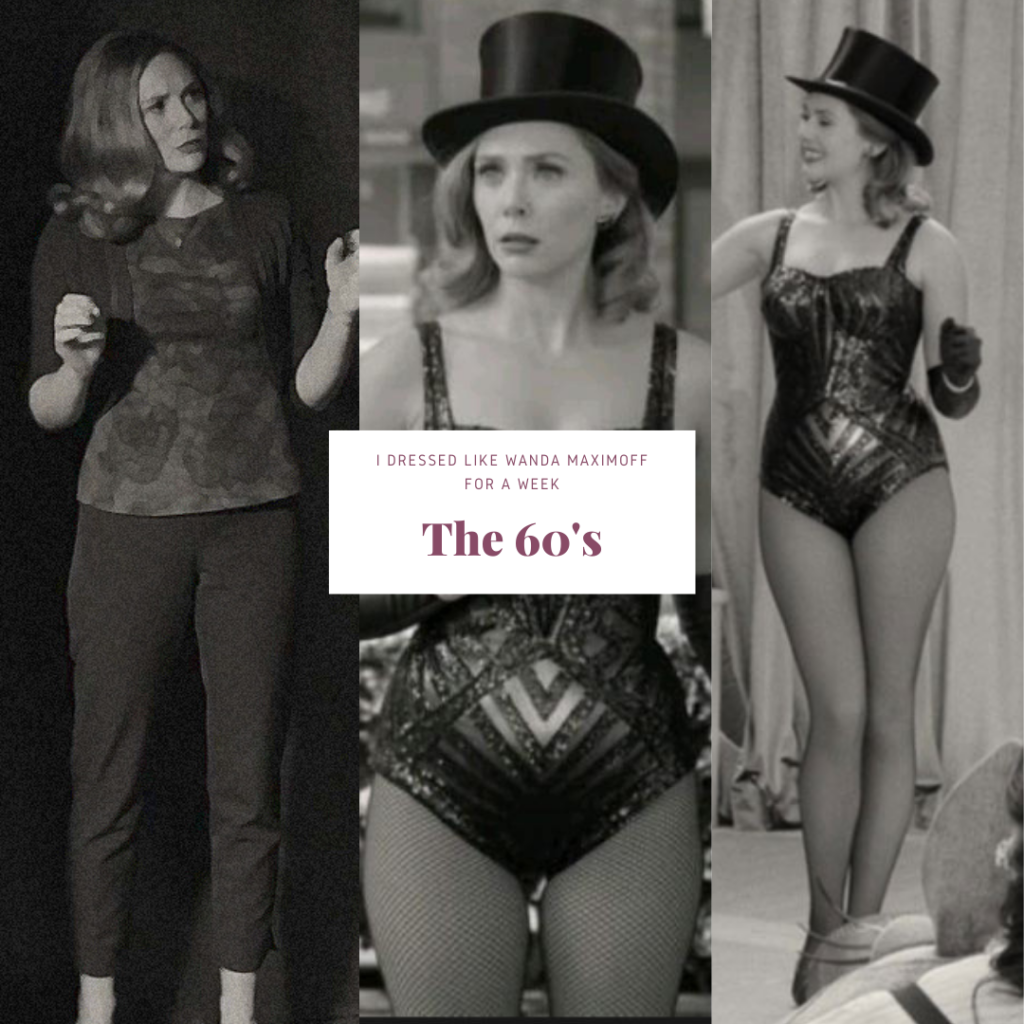 The next episode of WandaVision pays tribute to shows like Bewitched and, as such, is set in the 1960s.
This time, while still playing her part as a housewife, Wanda is more modern than her neighbors. Her wearing a simple top and pants, rather than a skirt or dress when at a semi-official function, is treated as odd.
As a magician's assistant, Wanda wears a corseted leotard and fishnets, too.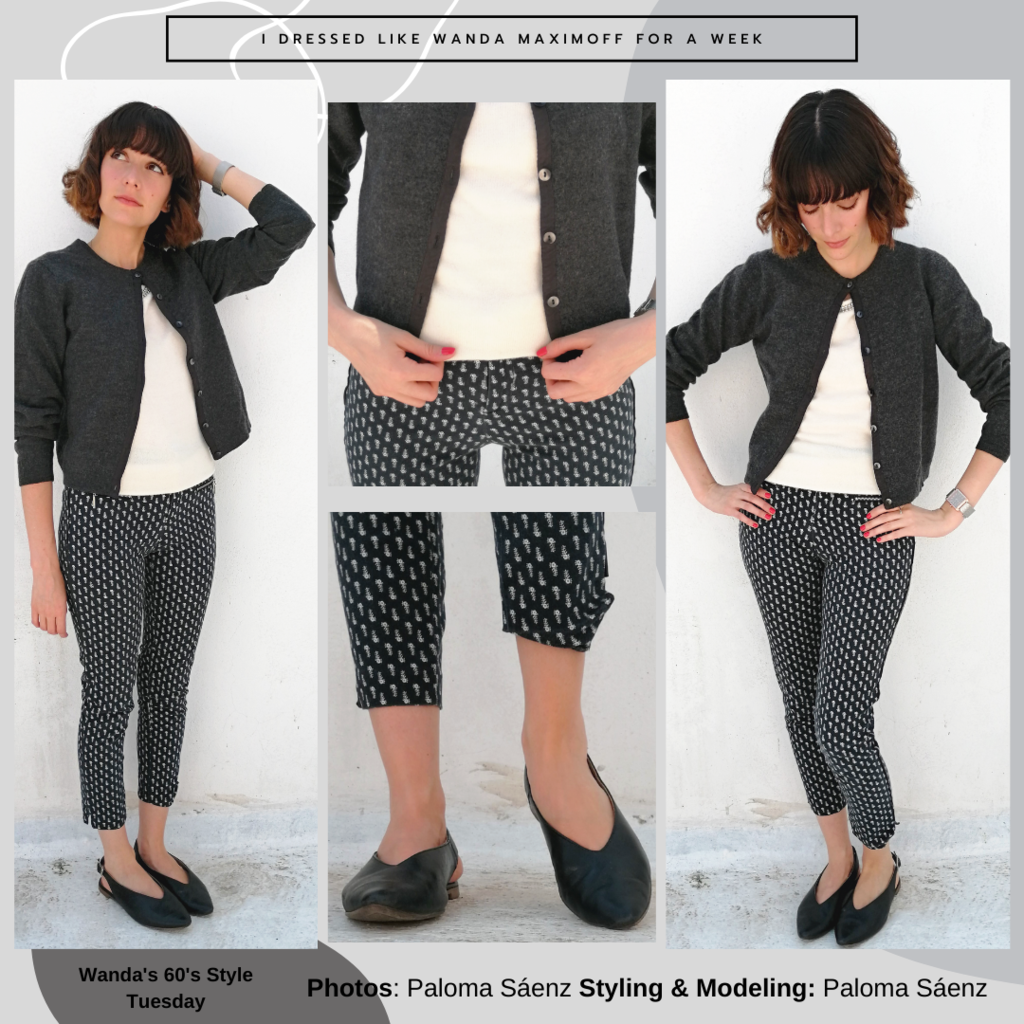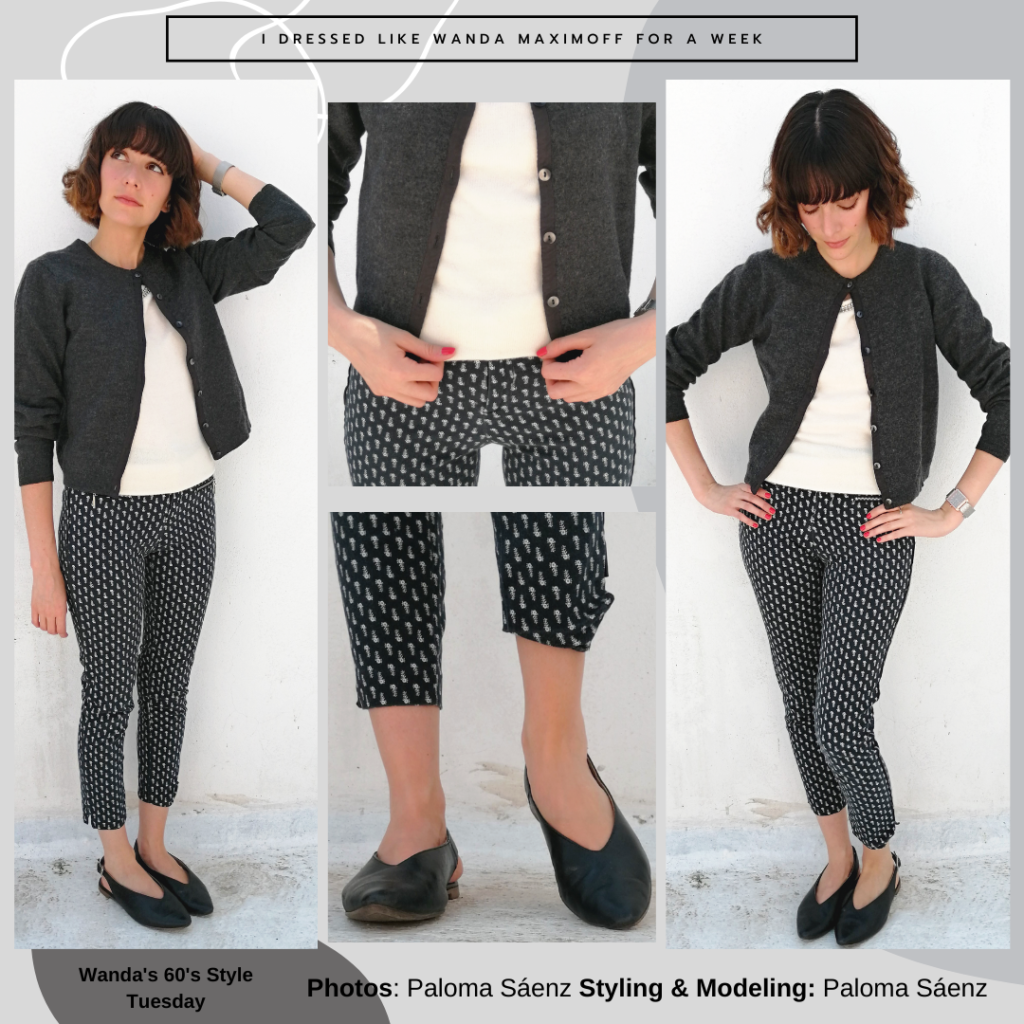 Products:
Off-White Shirt
Cropped Skinny Pants
Cardigan
Flats
For my second Wanda look, I wanted to emulate her pants and shirt casual outfit. WandaVision's second episode is also in black and white, so I also left out the color scheme in this one.
I wore a simple off-white shirt with a rounded neckline. The shirt I borrowed from my sister. For my pants, I went with a pair of black and white cropped skinny pants. I chose these pants because they have a similar length and style to the ones Wanda wears in the show.
I threw on a grey cardigan (which I borrowed from my mom) and only buttoned up the first button. Finally, I wore the same black flats that I wore on Monday.
I don't love this outfit, to be honest. The style I like, but for starters, it was too hot for me to wear the sweater outdoors. This look just wasn't practical.
Also, it might be time for me to retire these pants. I'm bummed out because they're an item I used to wear so much, but I no longer reach for them. I have loved them for years, but now they are too tight and are honestly worn out (which you can't tell from the photo). It was nice to wear them one last time, though.
Wednesday – Outfit #3, The '70s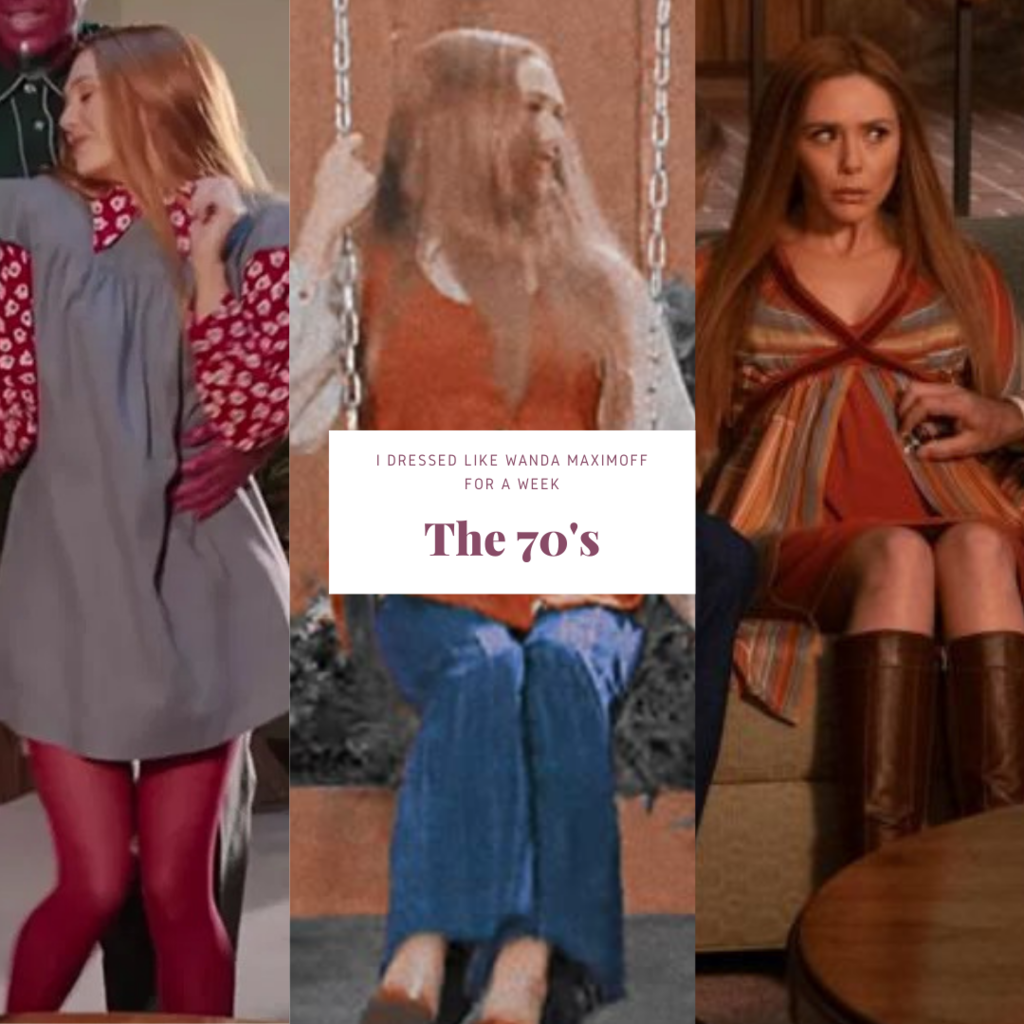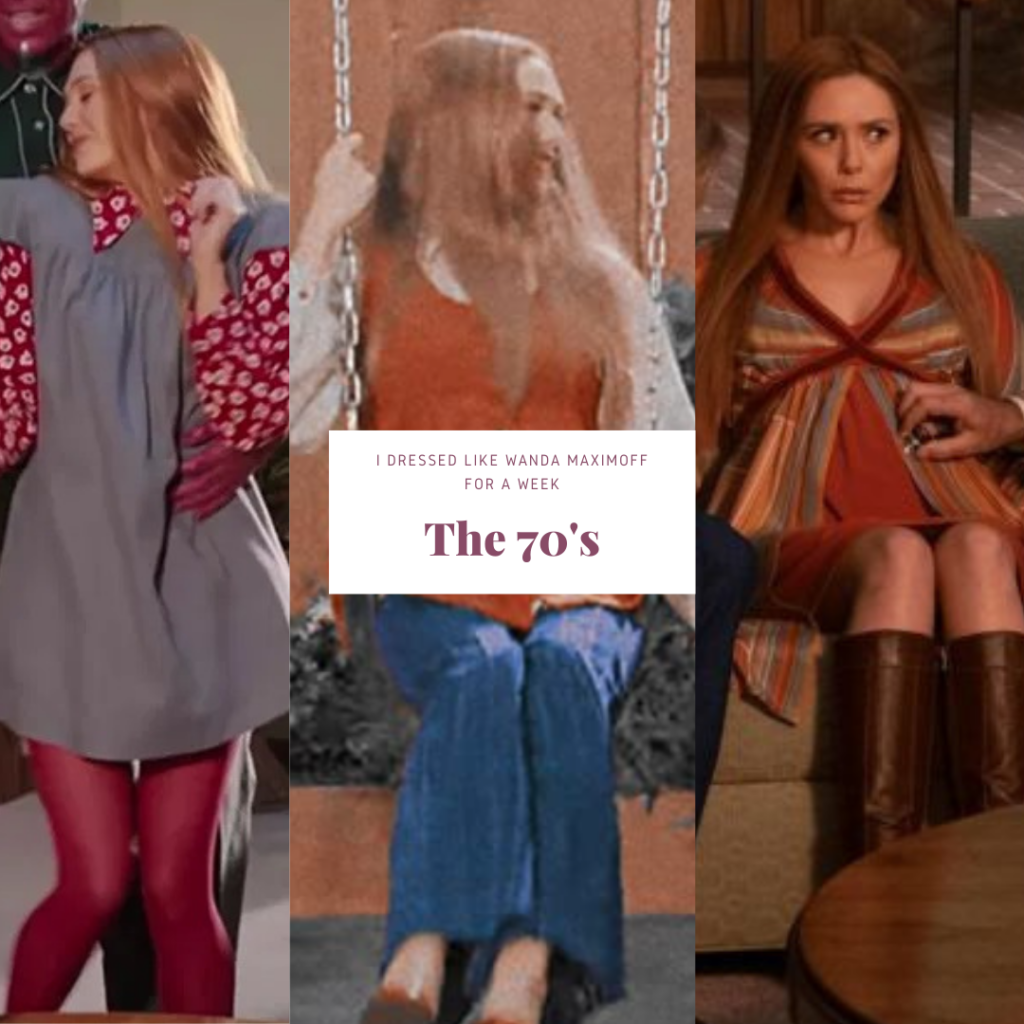 The third episode is 1970s-themed and borrows elements from family-focused sitcoms like The Brady Bunch. In this one, Wanda wears a flowy and colorful dress and high-heeled knee-high boots.
While her main look doesn't change during the events of the episode, Wanda does show multiple '70s outfits in the opening credits.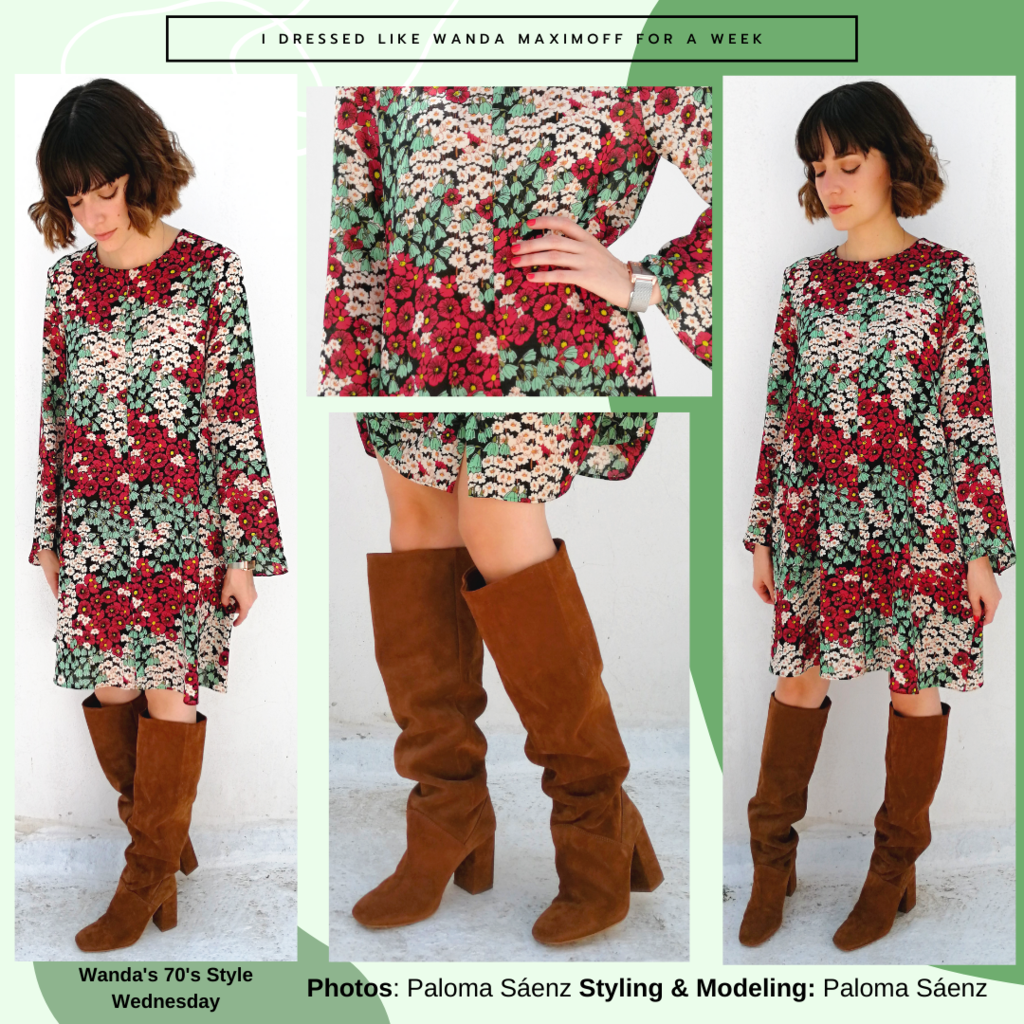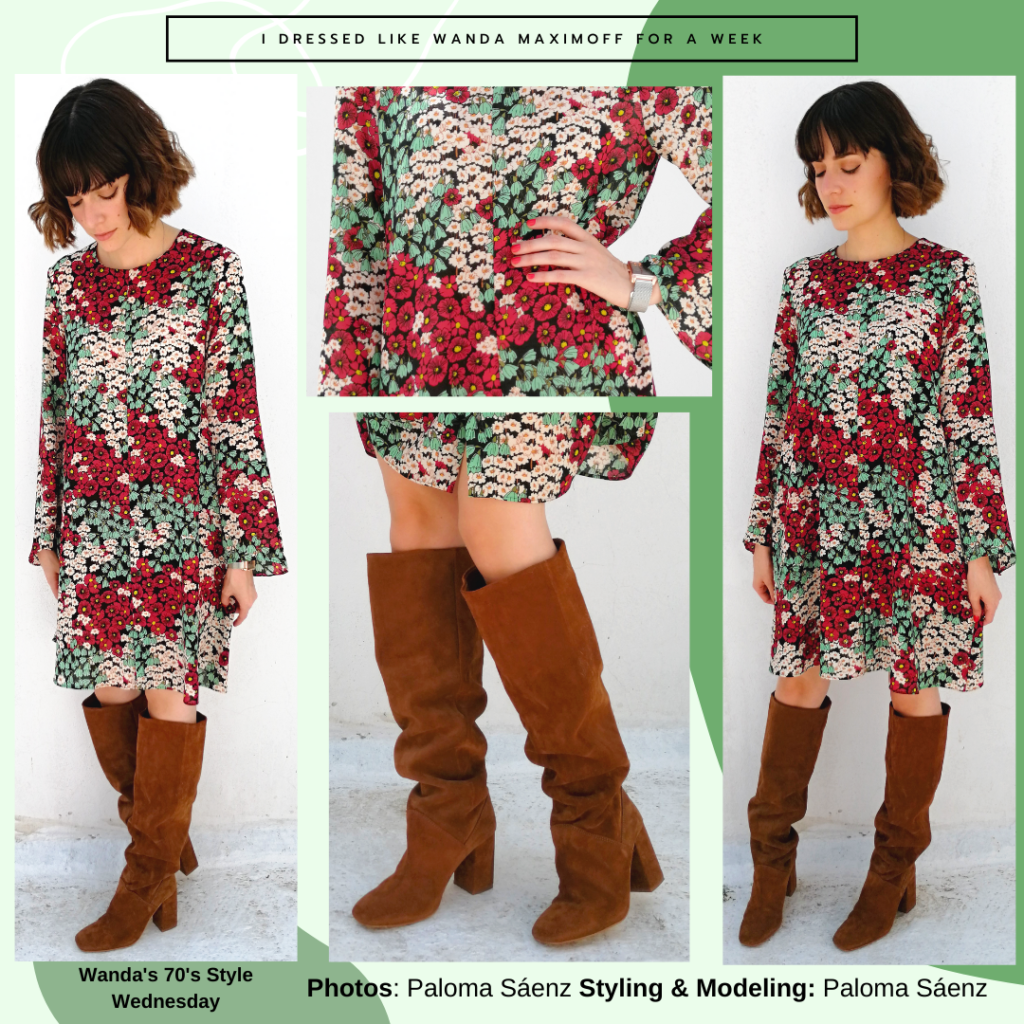 Products:
Floral Dress
Bell Sleeves
Boots
For my '70s Wanda Maximoff outfit, I wanted something similar to her flowy dress and boots.
I borrowed this dress from my mom. It is a floral dress in red, yellow, and green. The bell sleeves and flowy skirt give it a '70s vibe that is just perfect. Finally, my shoes are a pair of brown suede knee-high boots.
I adored this outfit! It was so comfortable and incredibly cute. Maybe it was too much for just a normal day working, but sometimes I need the extra cuteness.
Thursday – Outfit #4, The '80s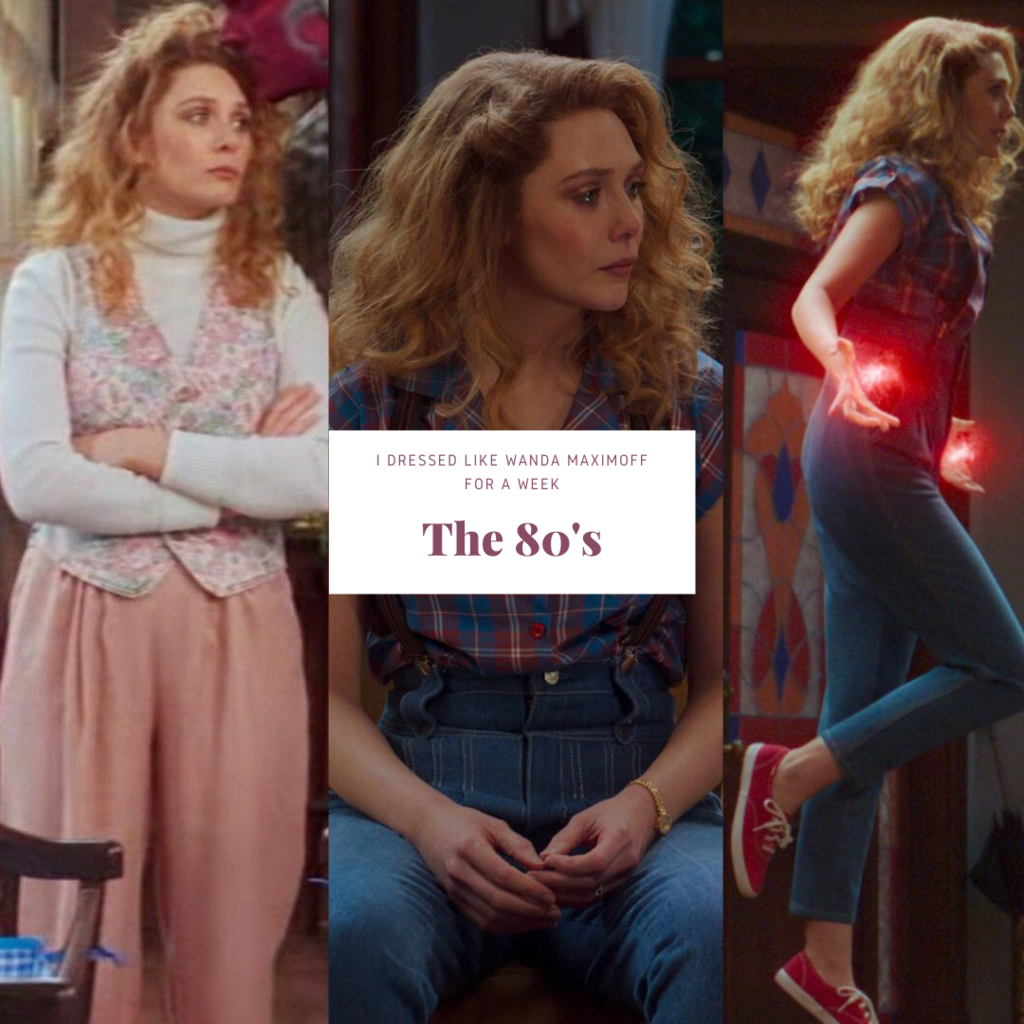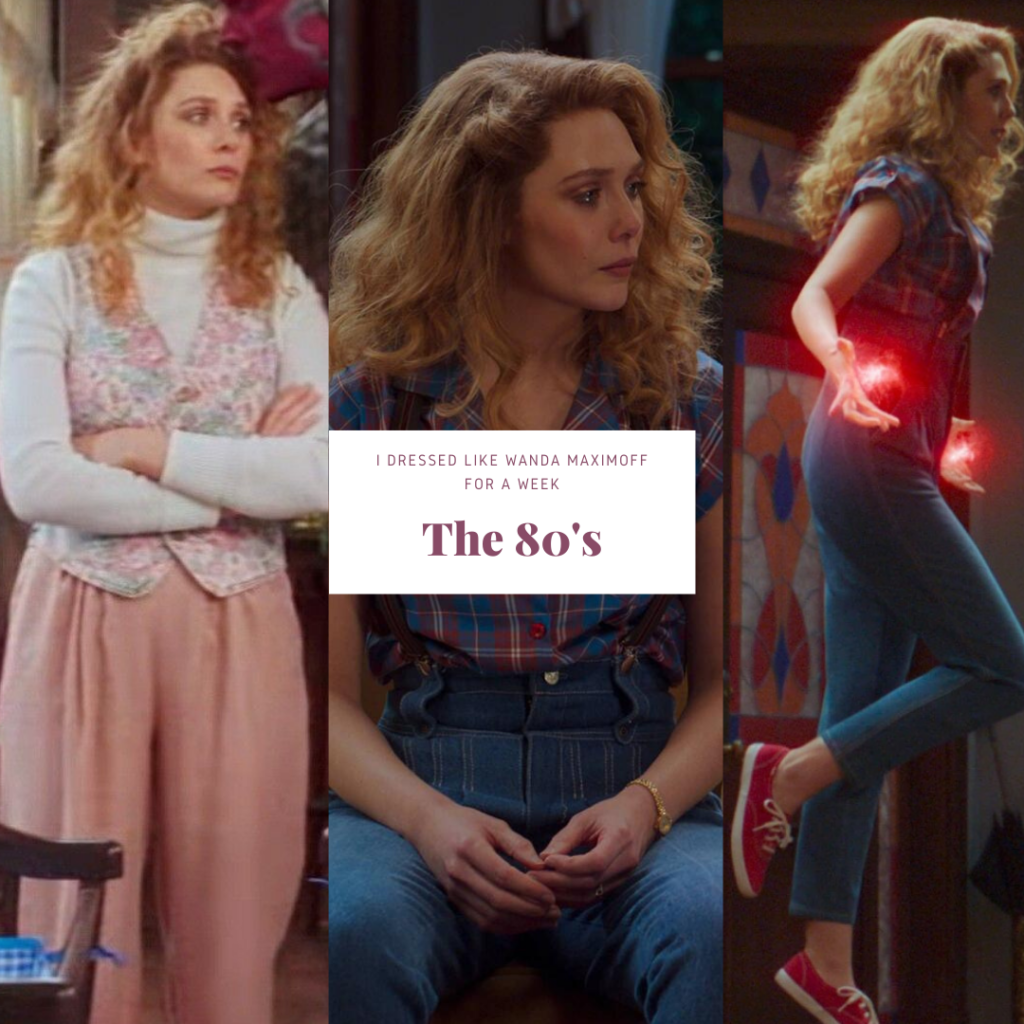 The fifth episode (the 4th one takes place outside of Wanda's alternate reality) shows Westview has leaped forward a decade. Set in the 1980s, this episode pays tribute mostly to Full House but also has elements of Growing Pains and Family Ties.
RELATED POST: '80s Style Clothing Ideas You Should Try This Spring
Wanda has enormous '80s hair and wears, mostly, high-waisted mom jeans, a tucked-in colorful plaid shirt, and sneakers.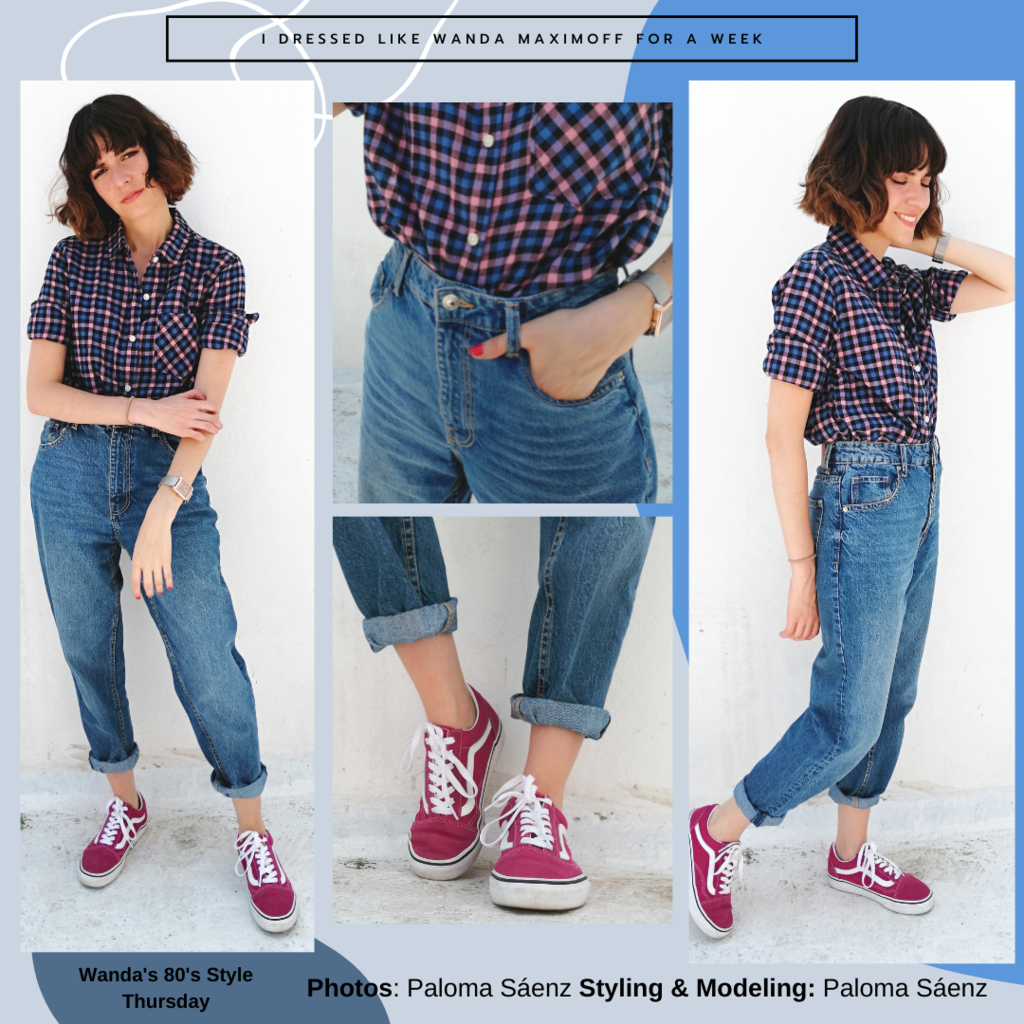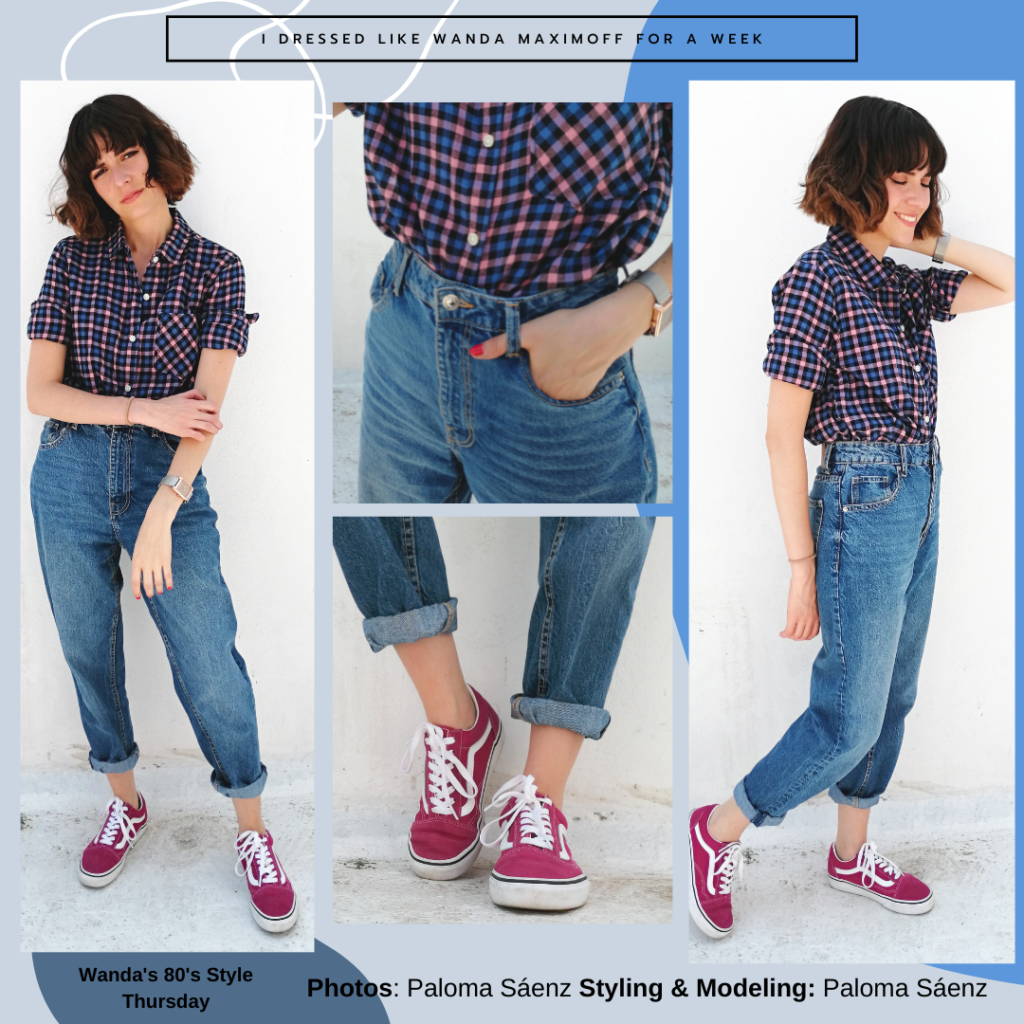 Products:
High waisted Jeans
Burgundy Vans Sneakers
Plaid shirt
For my '80s Wanda Maximoff outfit, I tried to emulate her casual plaid shirt and jeans combo. I had to compromise a bit with the color scheme, though, to fit the items I had on hand.
For my shirt, I wore a blue and pink plaid shirt that I borrowed from my sister. Just like the shirt on Monday, I rolled up the sleeves to make it short-sleeved like Wanda's shirt. For the bottoms, I wore a pair of mom jeans. Finally, my sneakers are a pair of magenta Vans, that looks kind of similar to Wanda's red sneakers.
This one could've been perfect for me, but the shirt is actually flannel and it is not appropriate for the weather. At all. It looked really cute, but I think this one would have been a lot more comfortable in colder weather.
Friday – Outfit #5, The '90s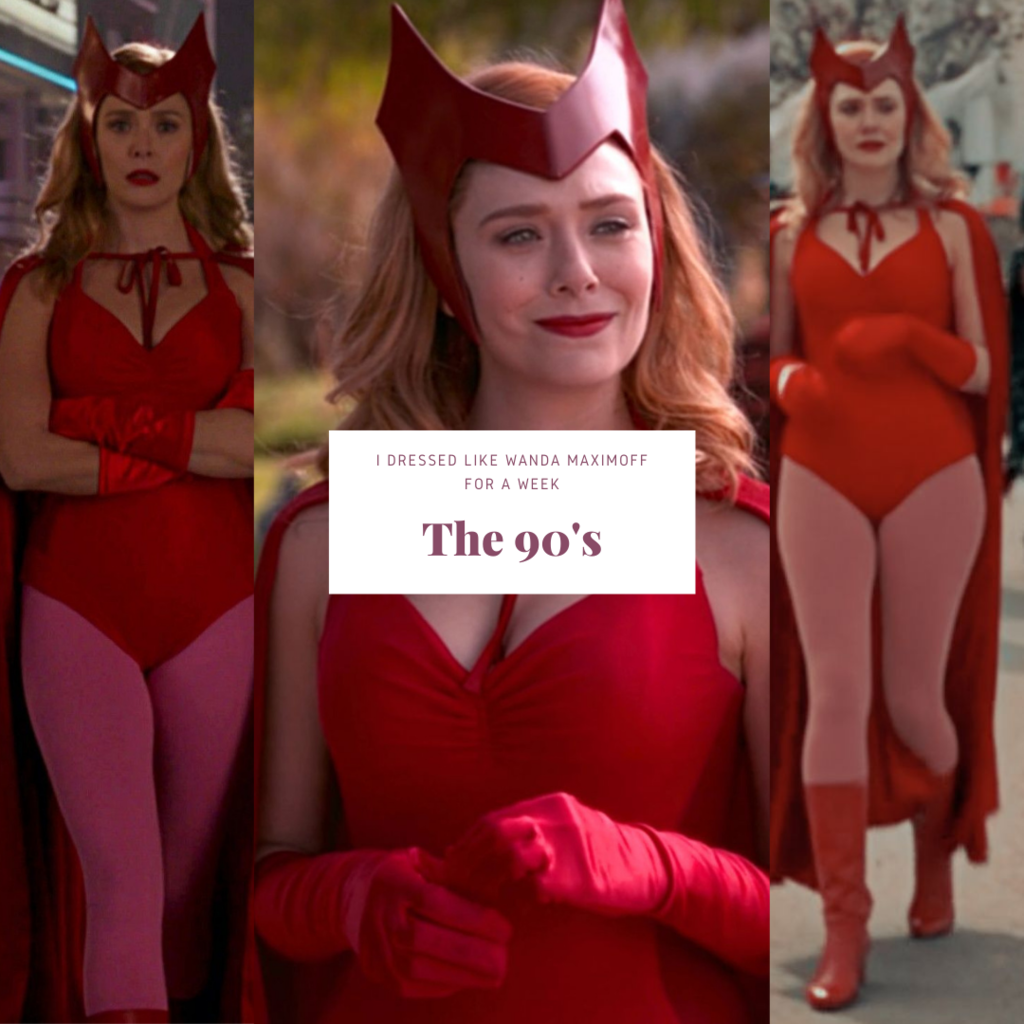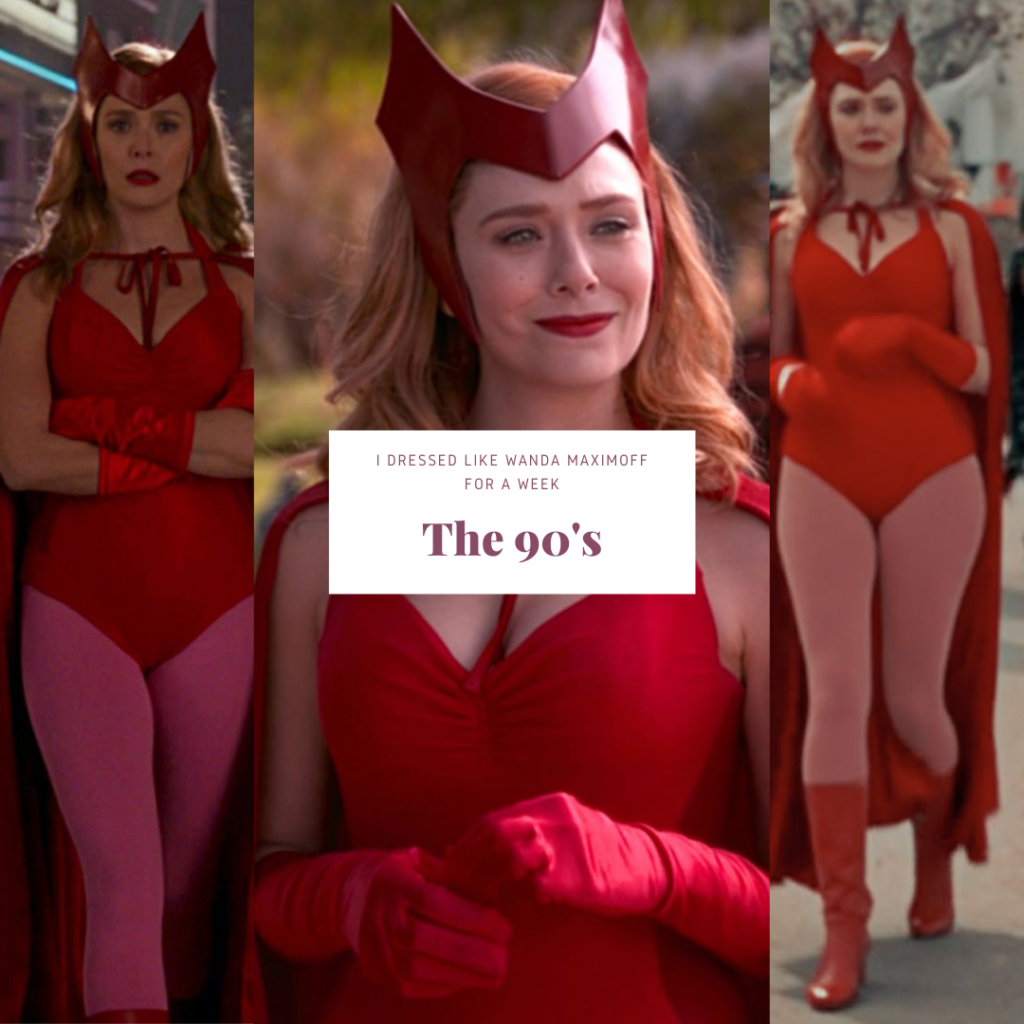 The sixth episode, according to its creators, takes place in the 1990s. In spite of this, the main source of inspiration for the episode is Malcolm in the Middle, which is set in the early 2000s.
Here, Wanda doesn't have an actual outfit. She wears a Halloween costume that is inspired by her comic book counterpart. It includes a red leotard, pink tights, a red cape, and a red headpiece.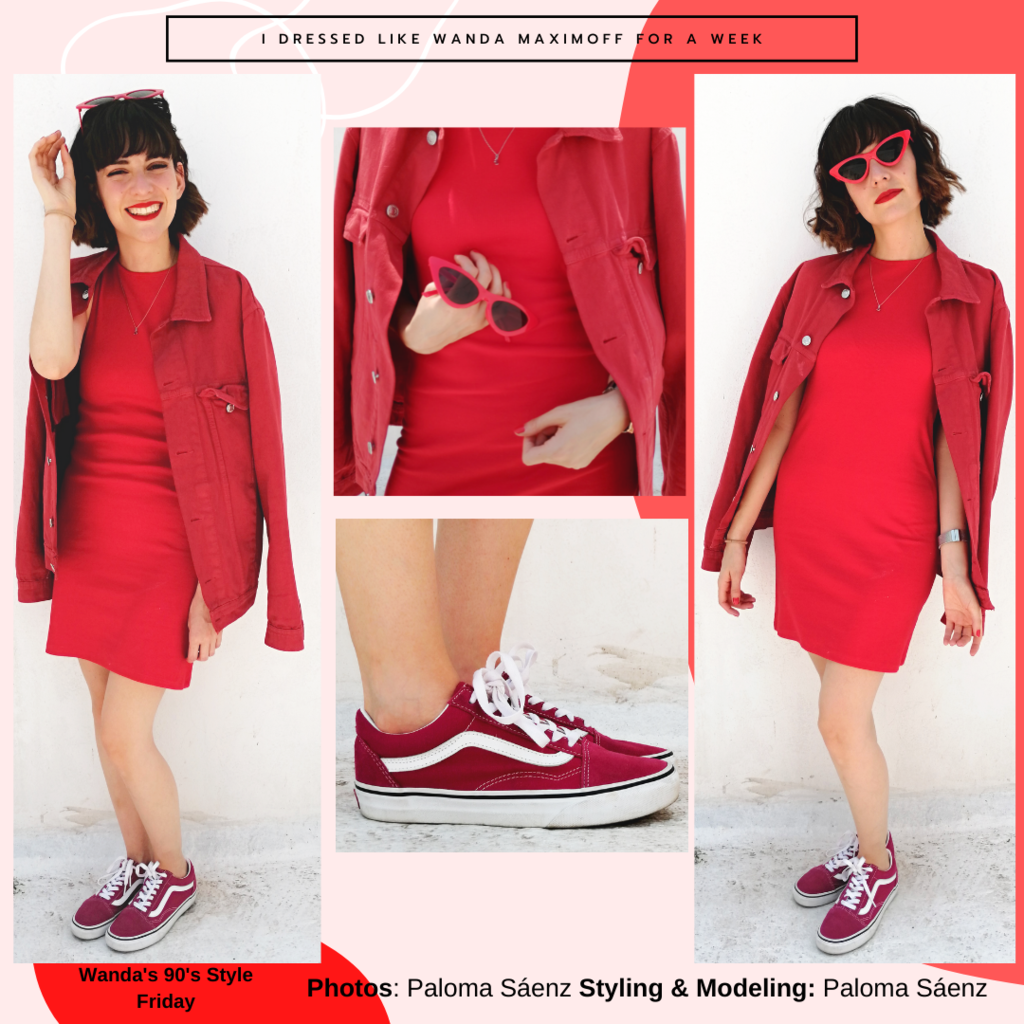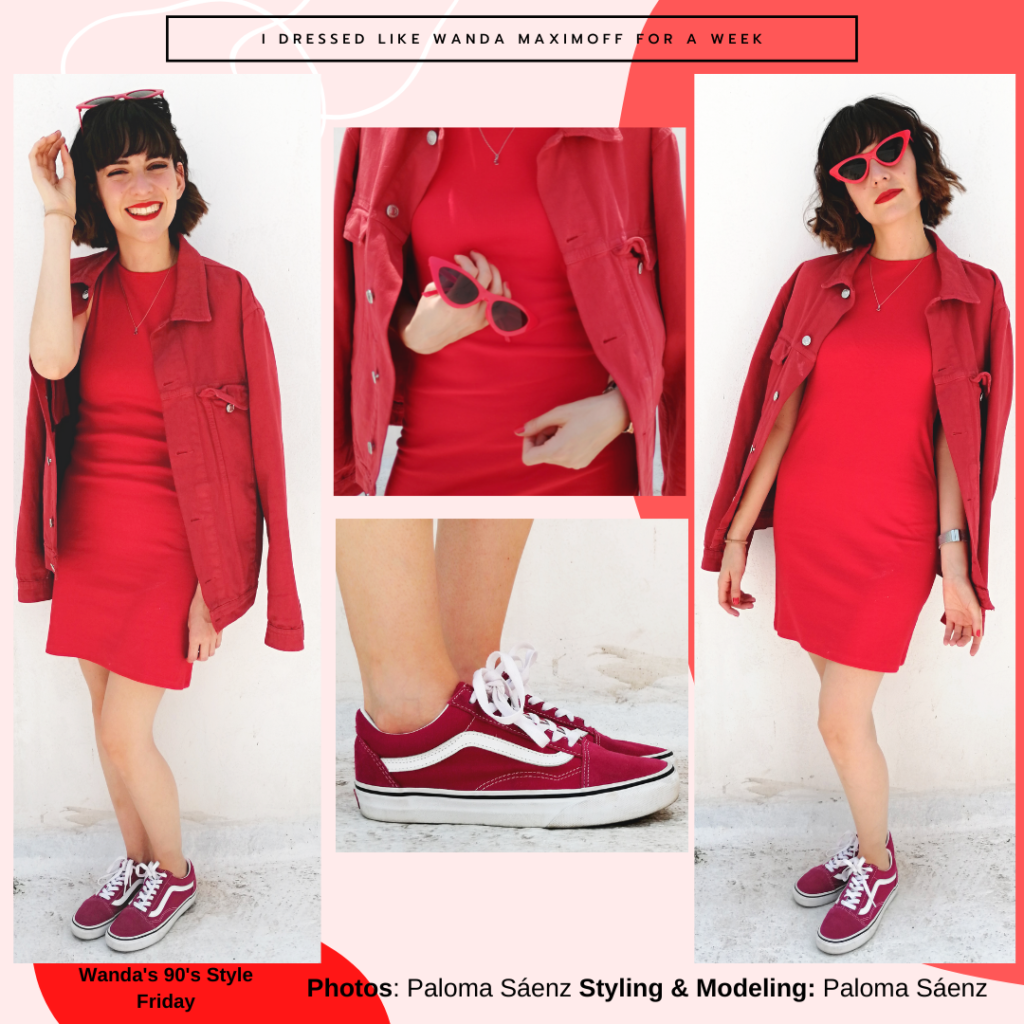 Products:
Red Dress
Denim Jacket
Sunglasses
Van Sneakers
For my '90s/Halloween costume look, I wore a fitted halter-neck red dress that emulates Wanda's red leotard. To recreate her cape, I just threw my red denim jacket on my shoulders.
For accessories, I put on a pair of red frame cat eye sunglasses. The sunglasses were to emulate her headpiece.
Finally, I had to decide on the shoes. I was between a pair of red booties, which she's wearing, or a pair of pink Vans, to give the look the pink touch that her tights add to her outfit. I ended up choosing Vans.
This one was my favorite. I loved the monochromatic look. It was so cool and pretty! The dress was super comfy and since I didn't actually wear the jacket, the weather wasn't a problem.
Final Thoughts
I absolutely loved the show and Wanda has always been one of my favorite Marvel characters. While I had previously written a style post based on her, that was before this show and Endgame came out, so I didn't have much to work with at the time.
This week was really fun! Each episode gave me a chance to kind of emulate a different decade. Although it was an extra challenge, it was also great to experiment with the items and try to make them as decade-accurate as possible.
My favorite looks were Wednesday's '70s look and the '90s red monochromatic outfit. Both of them were really cute and super comfortable. The red one I wore again, in a similar way, the week after I recreated the looks.
The MCU has tons of inspiration, but specifically, the new shows that are airing on Disney+ are giving our favorite heroes more to do and I might have more inspiration to draw from in the future. So, if you are looking for inspiration, Phase 4 from the MCU might be just the place where you'll find it.
What do you think of our Wanda Maximoff outfits guide?
What do you think? Have you seen WandaVision? Which decade-inspired look would you wear? Whose style do you think I should recreate next? Let us know in the comments below!
For more fashion inspiration like this Wanda Maximoff Outfits, you might also want our related posts below —