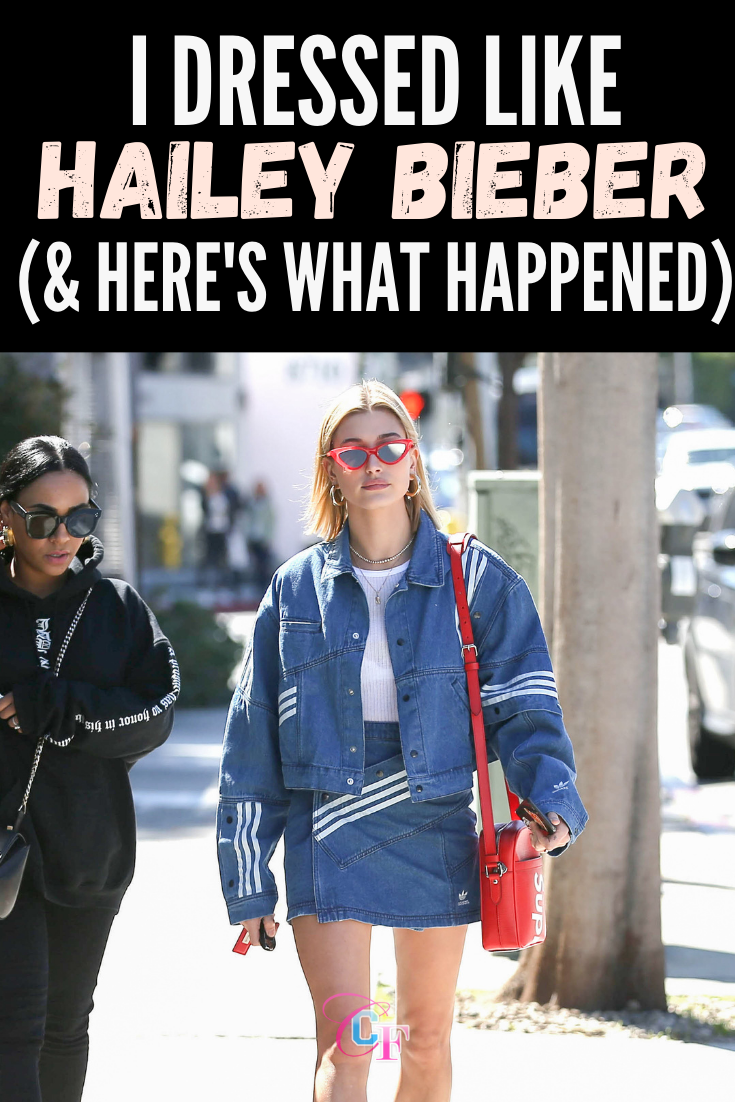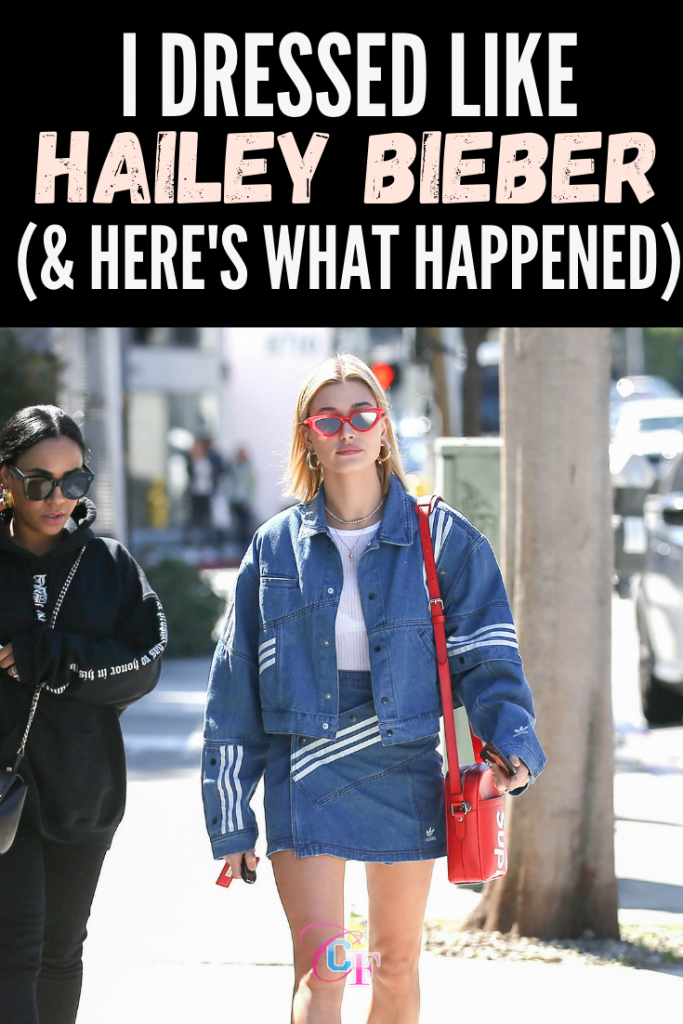 We've all looked to celebrity style for fashion inspiration at some point in our lives. But it's one thing to say "I love her outfit," and it's another to actually copy it in real life.
For this series, I'm going the extra mile and making it happen. Each week, I'm getting inspiration from a celebrity and copying five of her looks as closely as possible. Then, I'm reporting back to you: Did the outfits work in real life? Did I feel comfortable? Did people treat me differently? I'm sharing it all.
In past posts I've covered the style of these celebrities: Zendaya, Gigi Hadid, Grace Kelly, Kendall Jenner, Vanessa Hudgens, Sophie Turner, Priyanka Chopra, Millie Bobby Brown, Hilary Duff, Lily Collins, Taylor Swift, Selena Gomez, Alexa Chung, Queer Eye's Fab 5, Lucy Hale, and Dakota Johnson.
I've also covered the style of certain iconic TV and movie characters: Iconic Halloween Characters Part 1 & 2, Iconic Christmas Characters Part 1 and 2, Rachel Green Part 1 and 2, Monica Geller, Little Women's Characters, Gilmore Girls' Characters Part 1 and 2, and Iconic Olsen Twins' Movies.
Hailey Bieber's Outfits & Style Overview
Hailey Bieber (née Baldwin) is a fashionista who is the queen of two fashion trends: street style and layering.
The model is usually seen with comfy-yet-polished ensembles. Her looks are usually the result of mixing tailored items with athletic or edgy items.
Hailey seems to have a preference for tracksuits, oversized shirts and jackets, tailored coats and blazers, sneakers and booties.
Color-wise, it seems she tries to create a neutral base and complements with bright colors. She isn't afraid to rock a monochromatic look in full color, like bright red, hot pink or orange.
Hailey has a lot of different looks to copy from, but she has a couple of outfits that encapsulate her overall style. I'm going to recreate these specific looks, since they are similar to others she has worn before and continues to wear.
Also, I won't cover night or going-out looks, since I'm not going out at the time.
Hailey Bieber's Style – Outfit #1, Monday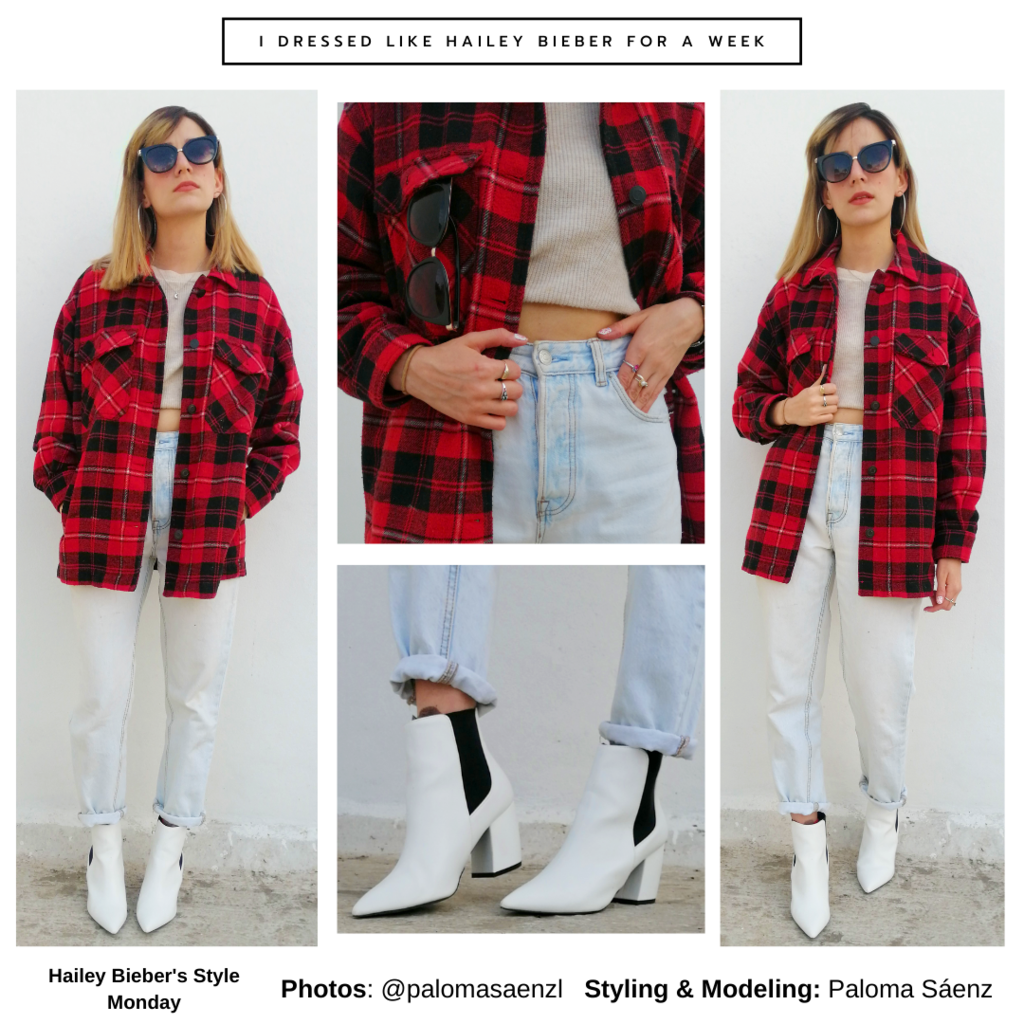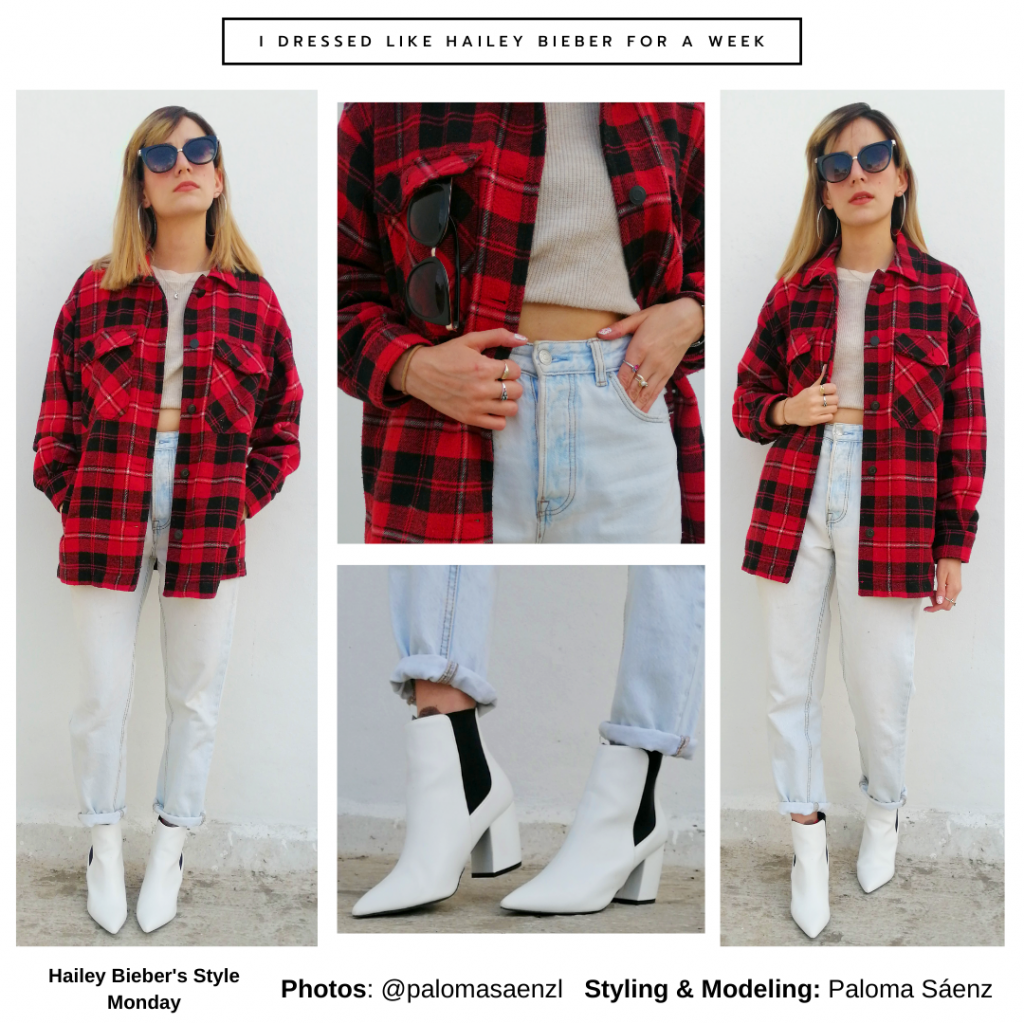 For the first day, I chose this simple look of Hailey's to recreate.
This is a popular combo I saw in my research: crop top and jeans, layered with an oversize shirt. For this one, Hailey's wearing a neutral top, jeans, white booties and a flannel.
For my version of this look, I wore a beige sweater and a pair of high waisted mom jeans in a light wash. I cropped the sweater by folding it into my bra to make it similar to Hailey's top. To layer it up and keep myself cozy, I added an oversized red flannel shirt.
For shoes, I went with a pair of white booties, similar to the ones she wore in the linked look. Finally, for accessories, I wore a pair of hoops and black sunglasses. I also straightened my hair and parted it to the right.
I've been doing home office, so this is a perfect look to be at home but elevated. It was perfectly comfortable and very easy to recreate. I really liked this look, but it didn't push me out of my comfort zone. I've worn versions of this, but instead of booties, I would normally go for sneakers.
Hailey Bieber's Style – Outfit #2, Tuesday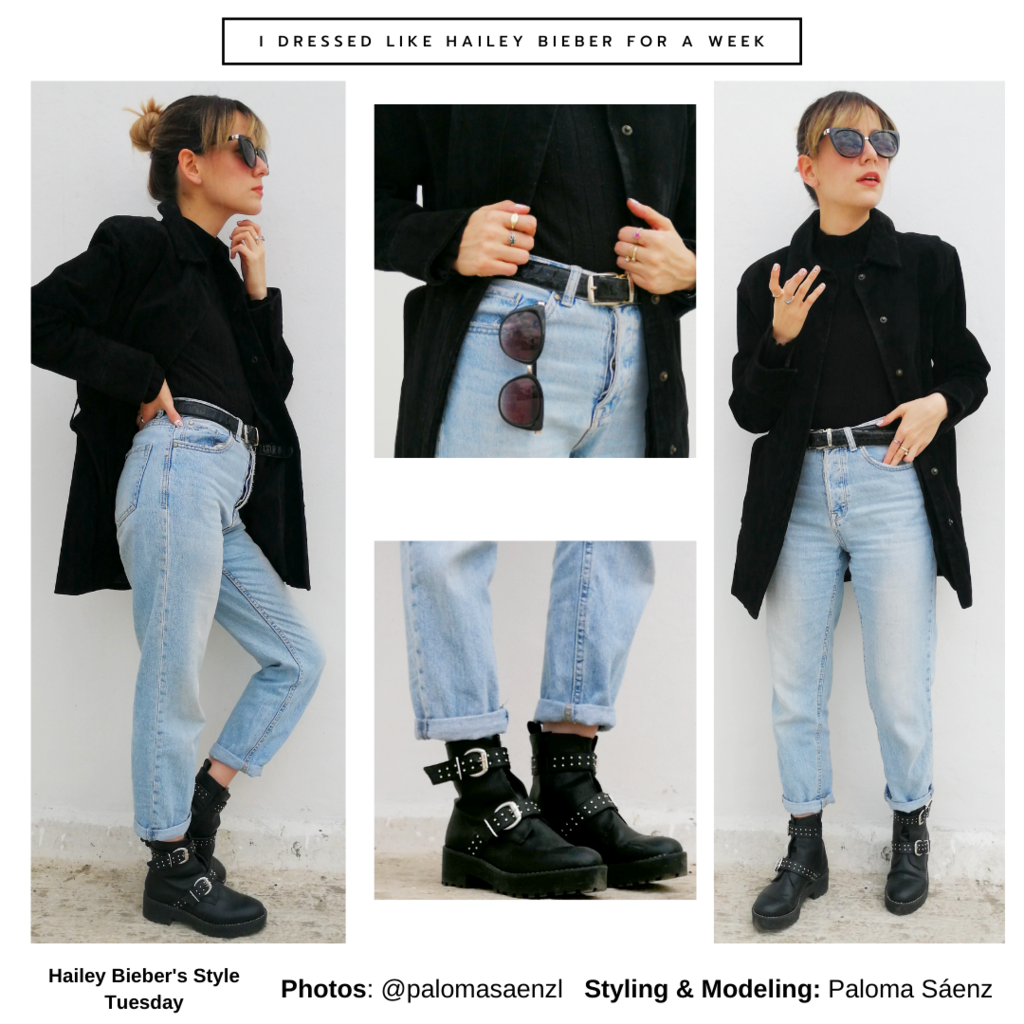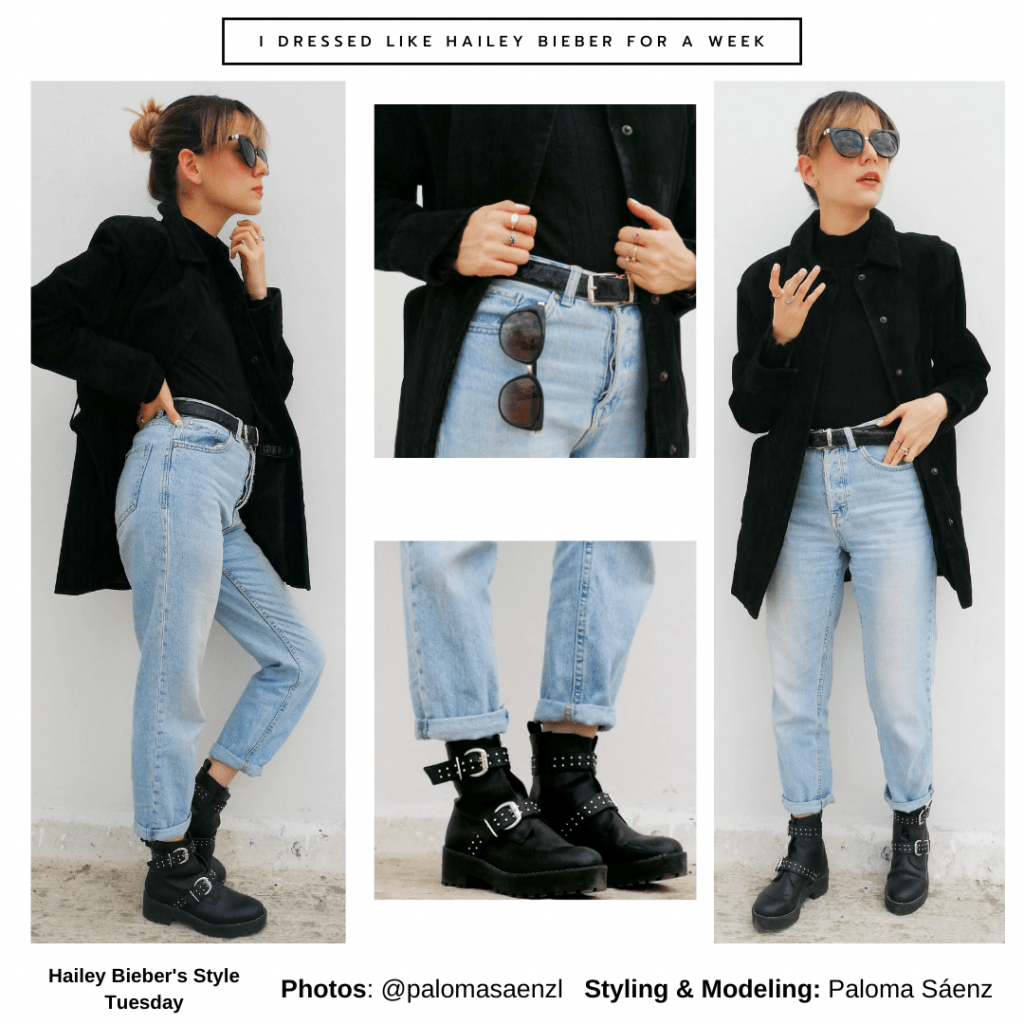 For Tuesday's look, I chose this black and denim outfit of Hailey's to recreate.
Again, this look is a usual combo of items for her. In the linked look, Hailey is wearing a black top, mom jeans, black booties, and a black coat.
To recreate her look, I wore a black mock neck shirt as a top and medium wash mom jeans as a bottom. Then, I layered with a suede black coat. My coat isn't as long, but it serves the same purpose.
My shoes are a pair of black booties with silver details.
For accessories, I used a black belt and black sunglasses. Finally, I decided to recreate her messy bun as well.
I really liked this outfit! It was cute and edgy. The coat wasn't as comfortable while working at home, though, I would've gone for a sweatshirt or jacket instead.
The hairstyle was practical since it kept my hair out of my face. I wore the sunglasses just for a bit, while I was in my garden, since I'm not going out.
Hailey Bieber's Style – Outfit #3, Wednesday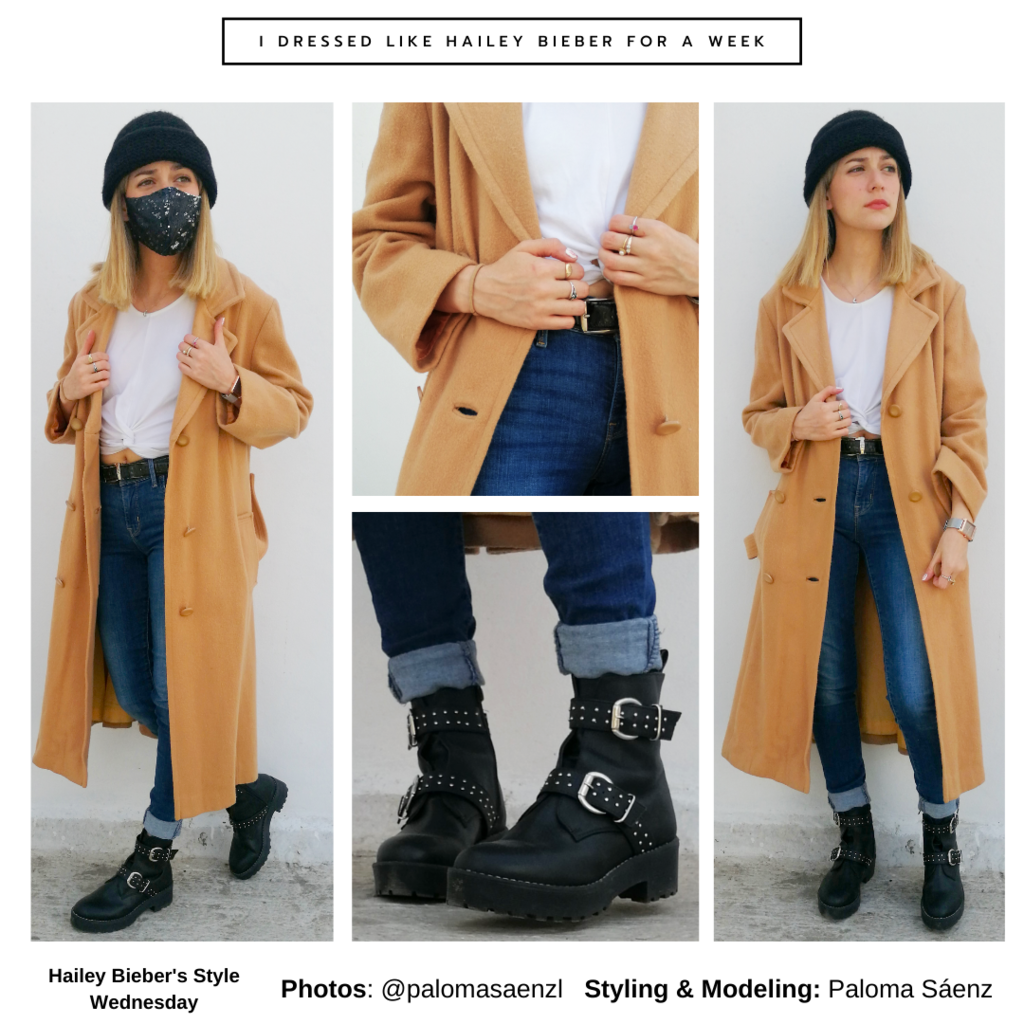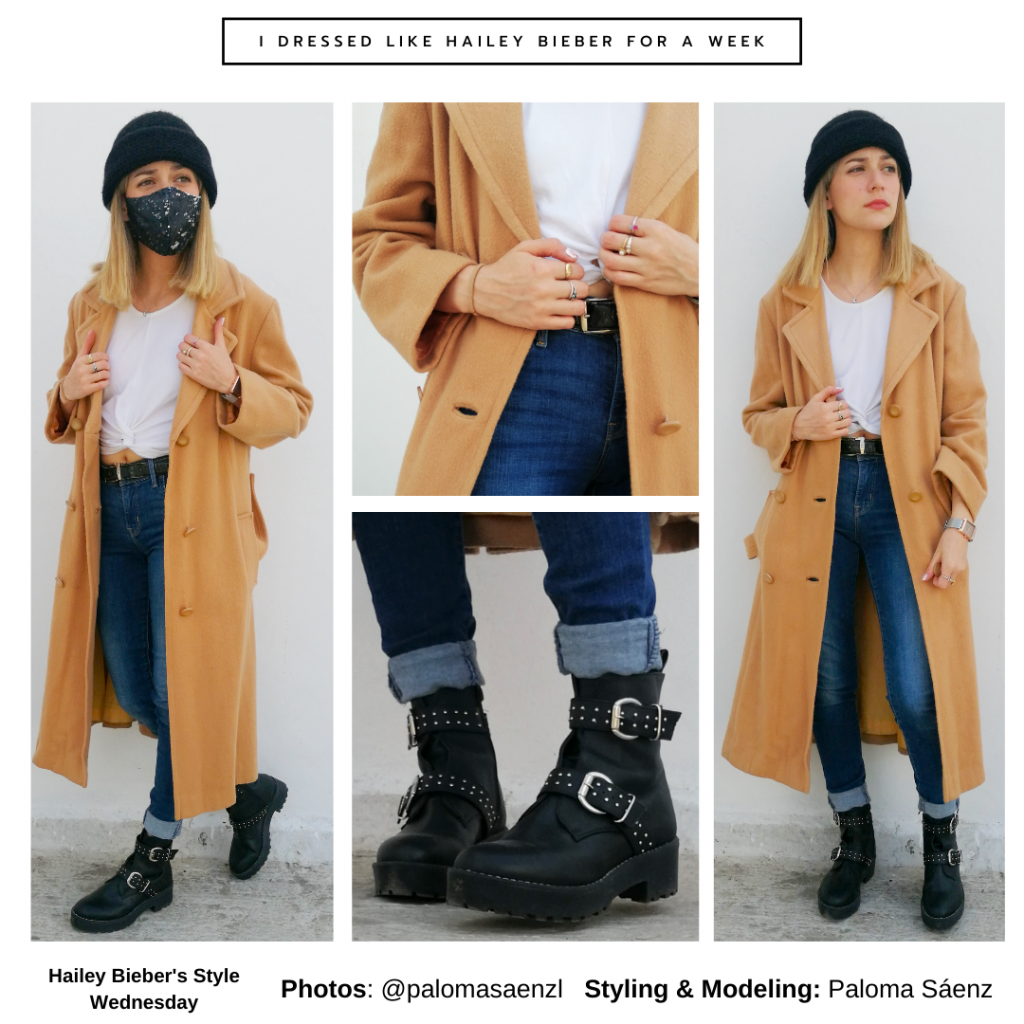 Wednesday's look was all about neutrals. I recreated this look of Hailey's, composed of a white top, black belt, jeans, black booties, a long coat, and a beanie.
For my version of this look, I used a white crop top and a pair of medium wash skinny jeans. I wore the same black belt and black booties from the day before. To layer, I put on a long beige coat.
Finally, for accessories, I used a black beanie. For this particular look, I also straightened my hair again and put on my black face mask, like Hailey did.
At first, I didn't like this look as much. It was comfortable, but it wasn't very cozy. The coat helped a lot, but my top still was sleeveless. I admit it wasn't my best idea to use a top like that in the middle of winter.
Overall, it was a very cute look, just not the most practical for this time of year.
Hailey Bieber's Style – Outfit #4, Thursday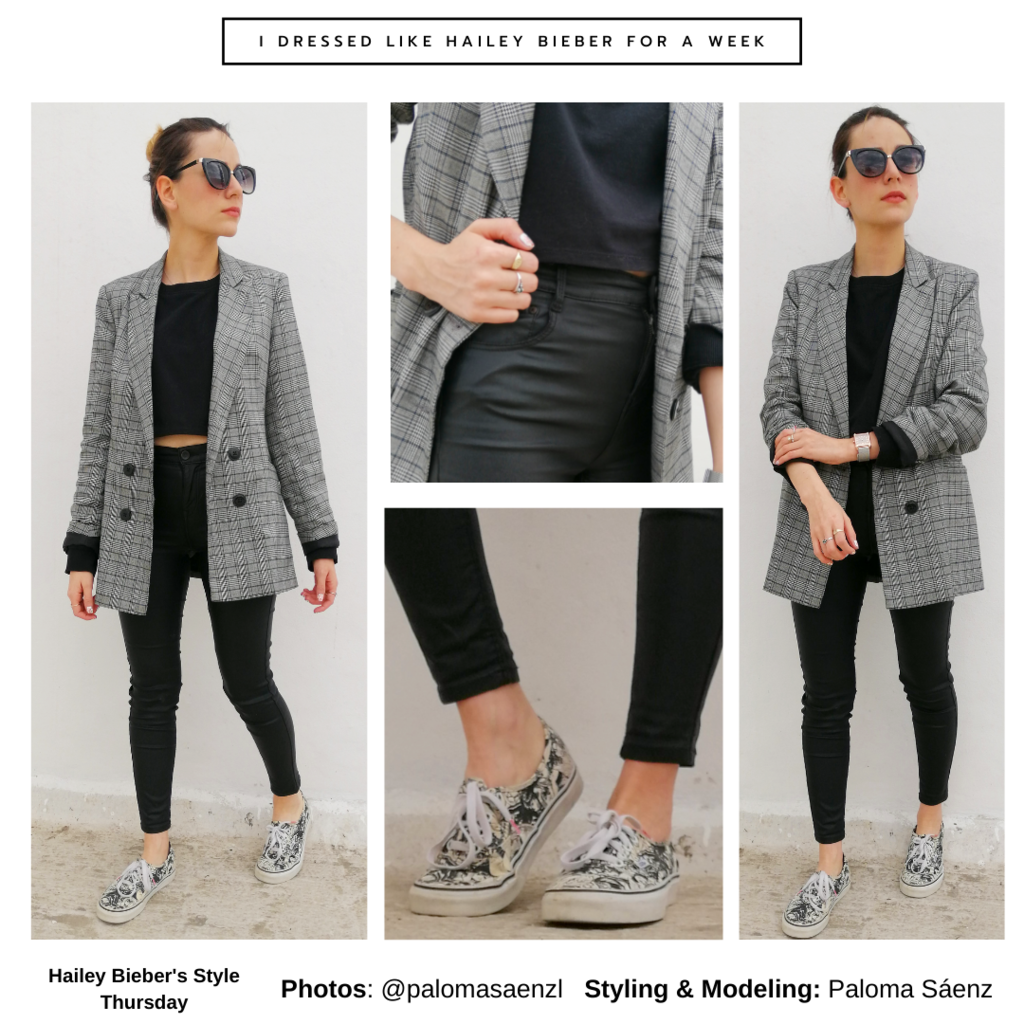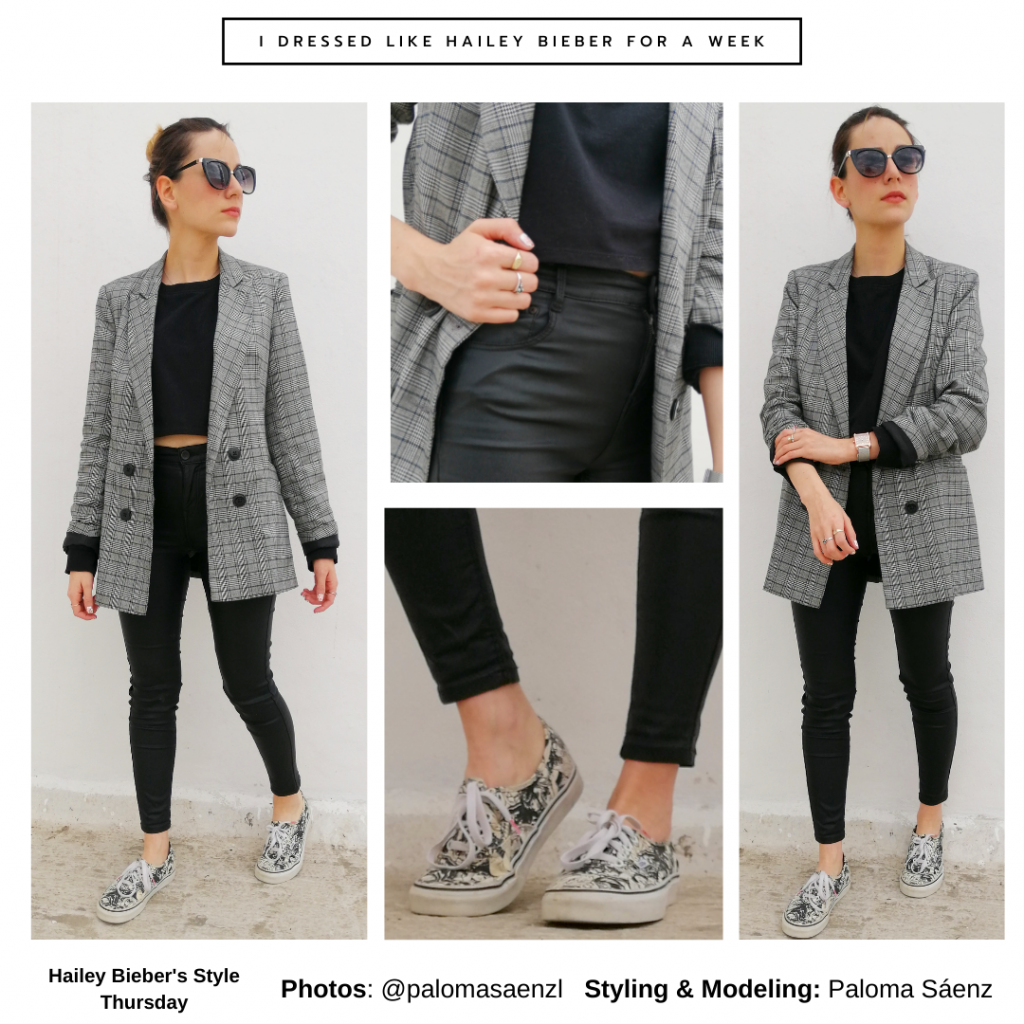 For the fourth day, I went for this menswear inspired, edgy outfit of Hailey's.
In the linked photo, Hailey is wearing a black top, a blazer, vinyl pants and sneakers.
To recreate Hailey's outfit, I used a black sweatshirt. For the bottoms, I used my black leather pants, since it they were the closest item to her vinyl pants I had in my closet.
To layer this look, I put on an oversized grey blazer and scrunched up the sleeves.
It took me a minute to decide on a pair of shoes for this look. I have a pair of high top Vans, like Hailey's, but they're red instead of black. To better match her look, I decided on a pair of black and white Vans.
I also recreated Hailey's slicked-back bun and accessorized with a pair of black sunglasses while walking around my block.
I adored this look! It is everything I love in one look: edgy, preppy and comfortable. It was warmer than I thought it would be, since I wore a sweatshirt instead of a simple top.
I think this look convinced me to get a pair of black high top sneakers, because I feel the only weak link of the outfit is the shoes. I chose them because they kept with the whole black and white theme, but I would've loved to have a pair of high top sneakers to match.
Hailey Bieber's Style – Outfit #5, Friday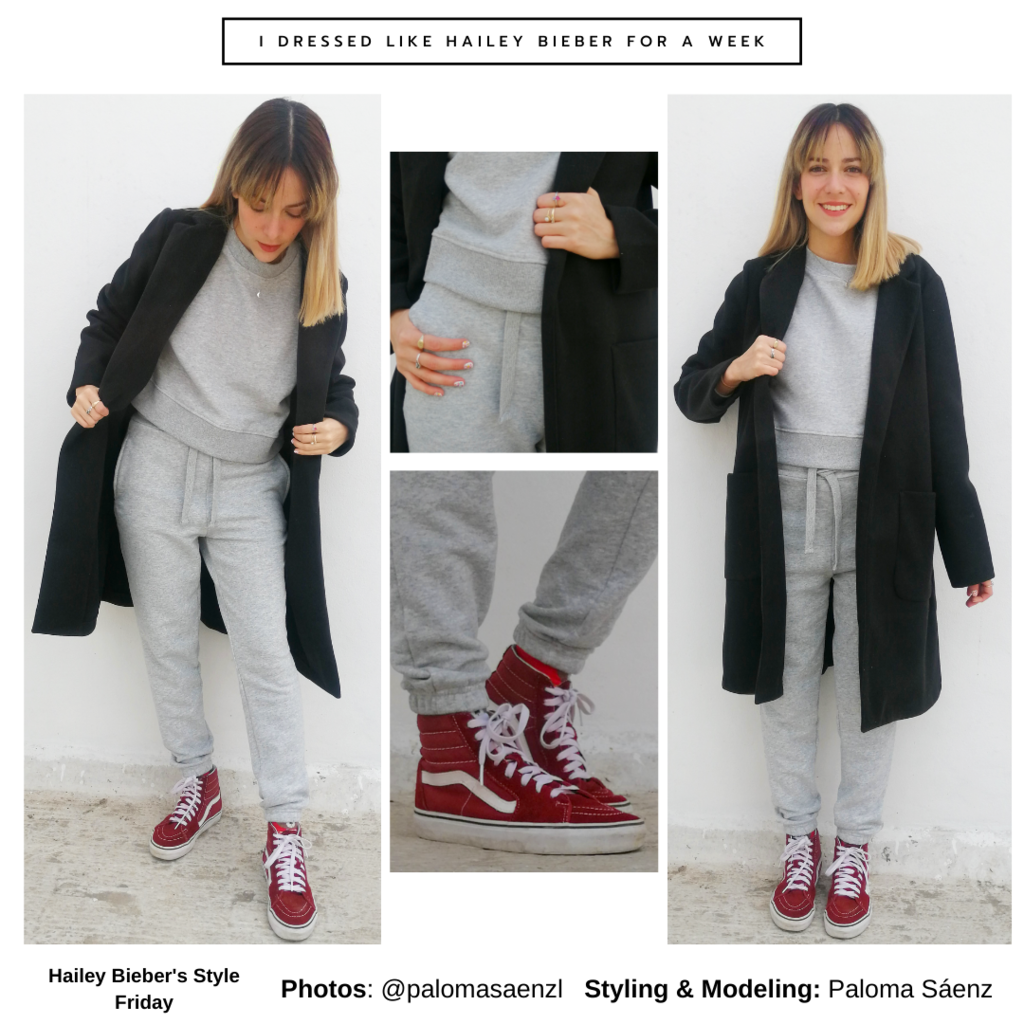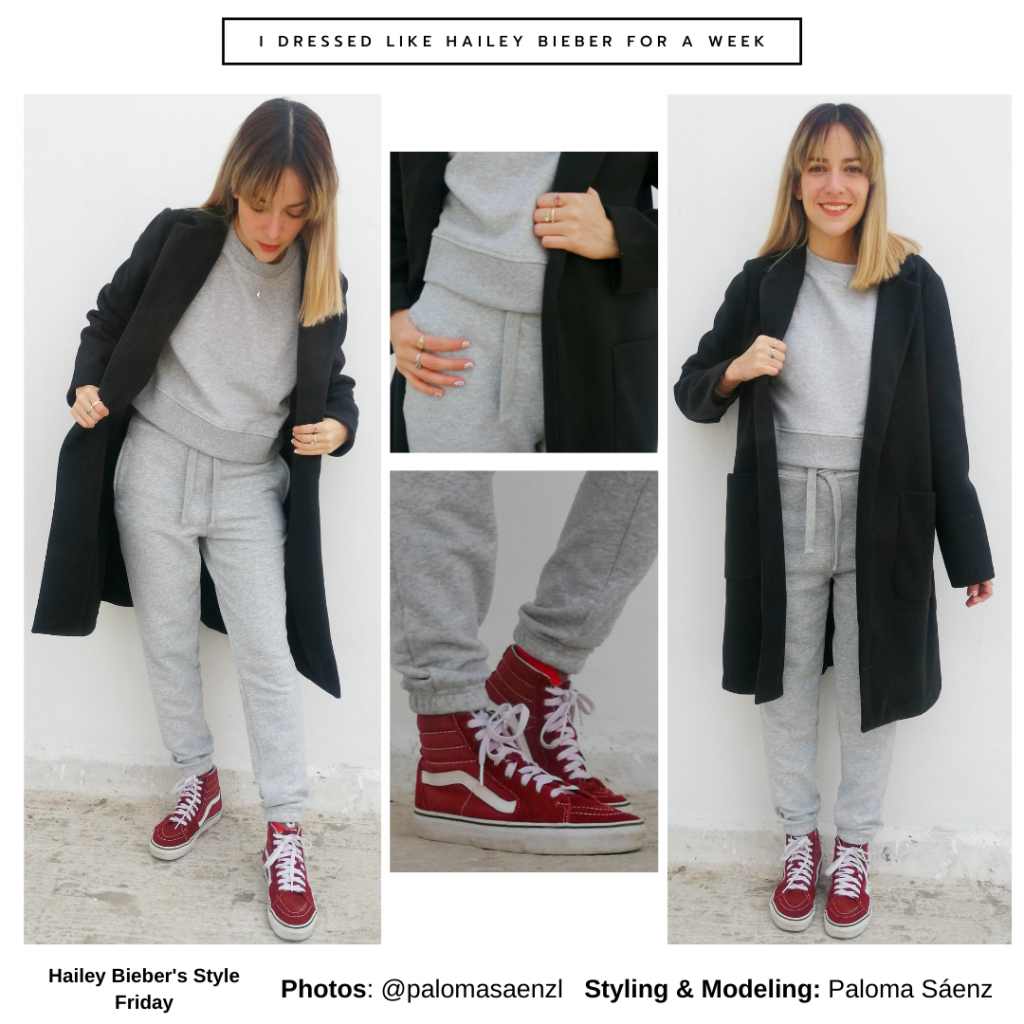 Final day of the week and, since we're still on quarantine, I decided to go for an extra comfy outfit. In the fifth image here, Hailey is wearing a gray matching set, a long coat, and sneakers.
Recreating this look was the easiest of the whole week.
For this outfit, I wore a matching set of grey sweatpants and sweatshirt. On top, I used a drop shoulder wool black coat. Finally, for shoes, I broke out the high top red Vans.
Like the rest of the week, I straightened my hair, but I also did my makeup, with warm toned browns and a mauve lip color.
I really loved this outfit! While I've been doing home-office, I have tried to stay away from sweatpants as much as possible. This is because I want to keep my outfits as exciting as if I was still going out. This helps me on my day-to-day mind-set.
But this look was equally comfortable and put-together. I might be rocking the sweats more often.
Final Thoughts
I really enjoyed this week's outfits! I feel like each one of them represents Hailey's street-style looks very well.
This week, I also decided to recreate her hairstyles and makeup. I'm not doing much with my hair these days and I don't wear makeup at all now, so doing this again helped me to feel more like myself. I'm going to keep it up.
It was a rough week for me and, honestly, I cried a lot most of it. I loved having this week as a reminder of what I love to do on my day-to-day.
My favorite outfits were Thursday's and Friday's, but I would 100% wear any of these again. I hope I can recreate some of her night looks, because they're also very colorful and cool.
It was a comfortable but stylish week.
If you want to recreate some of Hailey Bieber's looks, you probably have most of the items in your closet.
Keep in mind that most of the time her accent item is either a jacket, coat or purse. She loves to mix textures and menswear with more feminine or put-together items, so go for this if you're getting inspired.
What do you think?
What do you think? Do you like Hailey Bieber's style? Which outfit was your favorite? Which one would you wear? Do you have any celebrity or character you want us to cover in this series? Let us know in the comments below!