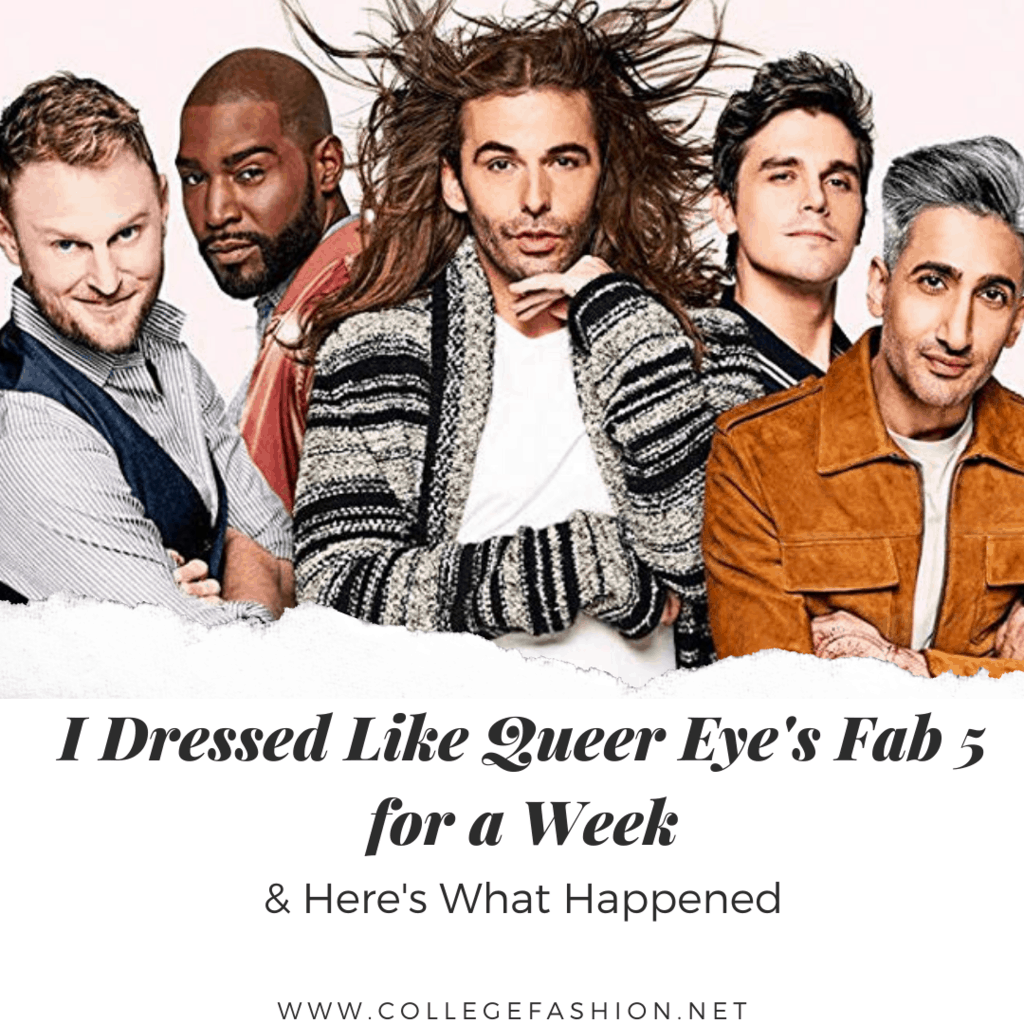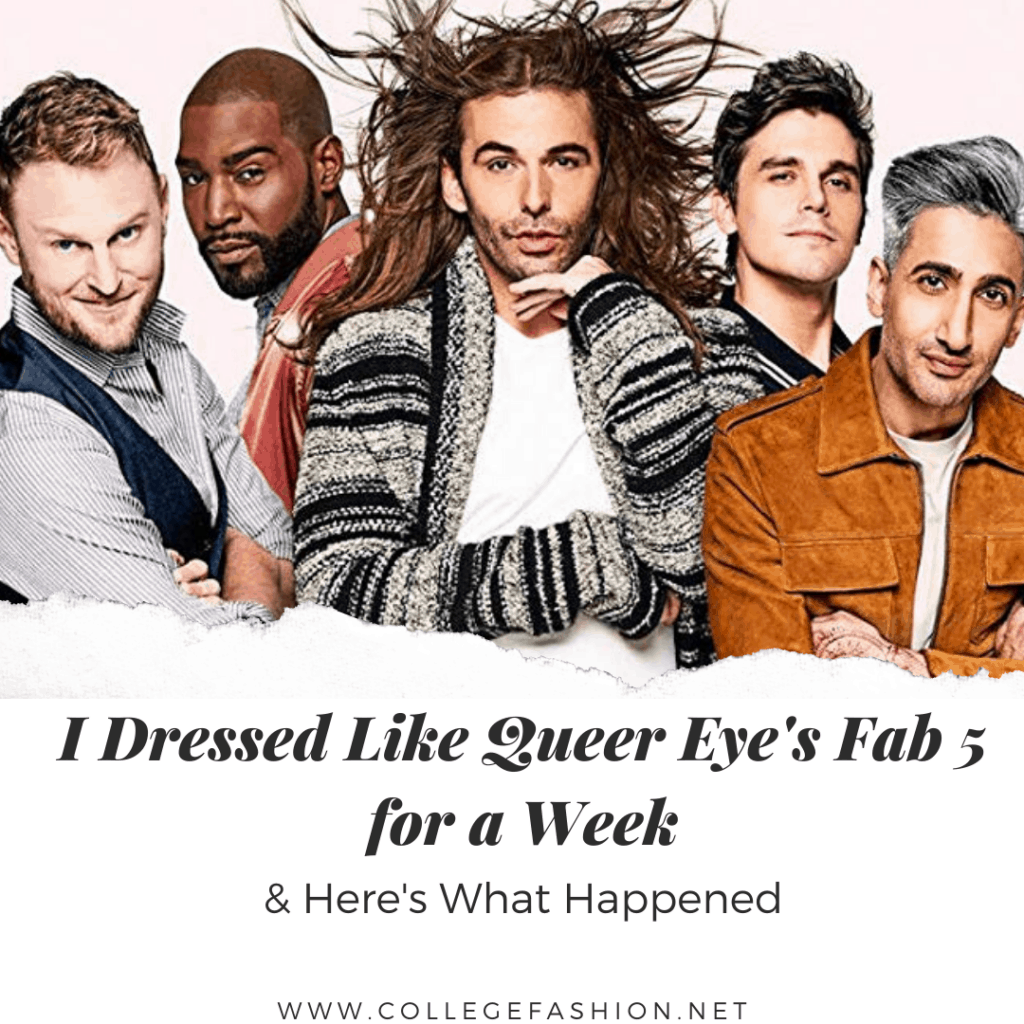 We've all looked to celebrity style for fashion inspiration at some point in our lives. But it's one thing to say "I love her outfit," and it's another to actually copy it in real life.
For this series, I'm going the extra mile and making it happen. Each week, I'm getting inspiration from a celebrity and copying five of her looks as closely as possible. Then, I'm reporting back to you: Did the outfits work in real life? Did I feel comfortable? Did people treat me differently? I'm sharing it all.
In past posts I've dressed like Zendaya, Gigi Hadid, Grace Kelly, Kendall Jenner, Vanessa Hudgens, Sophie Turner, Priyanka Chopra, Millie Bobby Brown, Hilary Duff, Lily Collins, Taylor Swift, Iconic Halloween Characters, Selena Gomez, Alexa Chung, Iconic Christmas Characters and Rachel Green. This week, I'm going to take on the style of the Fab 5 from Queer Eye for a week!
About Queer Eye (2018)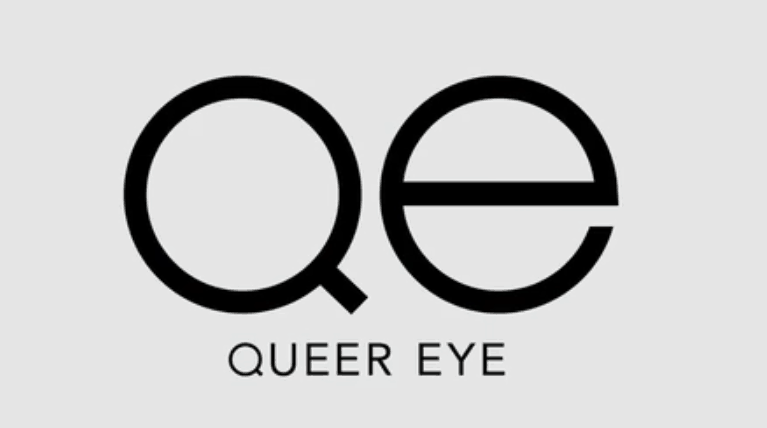 Queer Eye started out a 2003 reality show that became a surprise success. It was cancelled after five seasons, but was rebooted in 2018 under Netflix, with a new team.
The show's basic premise is that five LGBT+ men offer advice on fashion, grooming, interior design, food and wine, and culture to people who need it. The original version of the show provided advice to straight men, but the new version features people of all genders and sexual orientations.
In a week-long transformation, the Fab Five use their expertise to improve all aspects of their chosen person ("hero")'s life — not just their exterior. It's one of the most heartwarming shows out there right now.
I watch this show with my mom and my sister and we absolutely love it! This show gives us an excuse to make time to spend together. Each one of us has a favorite member of the Fab 5, but we love all of them.
About the Fab 5
The new Fab 5 team is comprised of Tan France (fashion), Bobby Berk (interior decorating), Antoni Porowski (food and wine), Jonathan Van Ness (hair and grooming), and Karamo Brown (culture).
The Fab Five's advice is meant to help the hero improve their lives, not just in terms of the way they look, but also in terms of their overall wellbeing and happiness. The five will get blunt when the situation demands, but they are never mean and they always try to meet the heroes halfway.
Each member of the Fab Five has their own strong sense of style and key pieces that they tend to reach for again and again. This week, I will recreate each of their styles, NOT specific outfits, as closely as possible and tell you how it went!
Monday: Karamo Brown
Karamo Brown is the Fab Five member that's most likely to make you cry — in a good way. His job, as far as I can tell, is to make the heroes open up and ready them for change and improvement. He has deep, meaningful conversations with them and helps them face their fears and identify the areas of their personal and inner life that need improvement.
Karamo's style is casual. He tends to wear jeans, t-shirts, a baseball cap or hat, sneakers and his signature bomber jackets.
The jackets are where Karamo really shines through. He has them in every color and texture you can think of, from sequins to plaid to florals, in neutral colors or bright neons. Karamo loves, loves, loves his jackets.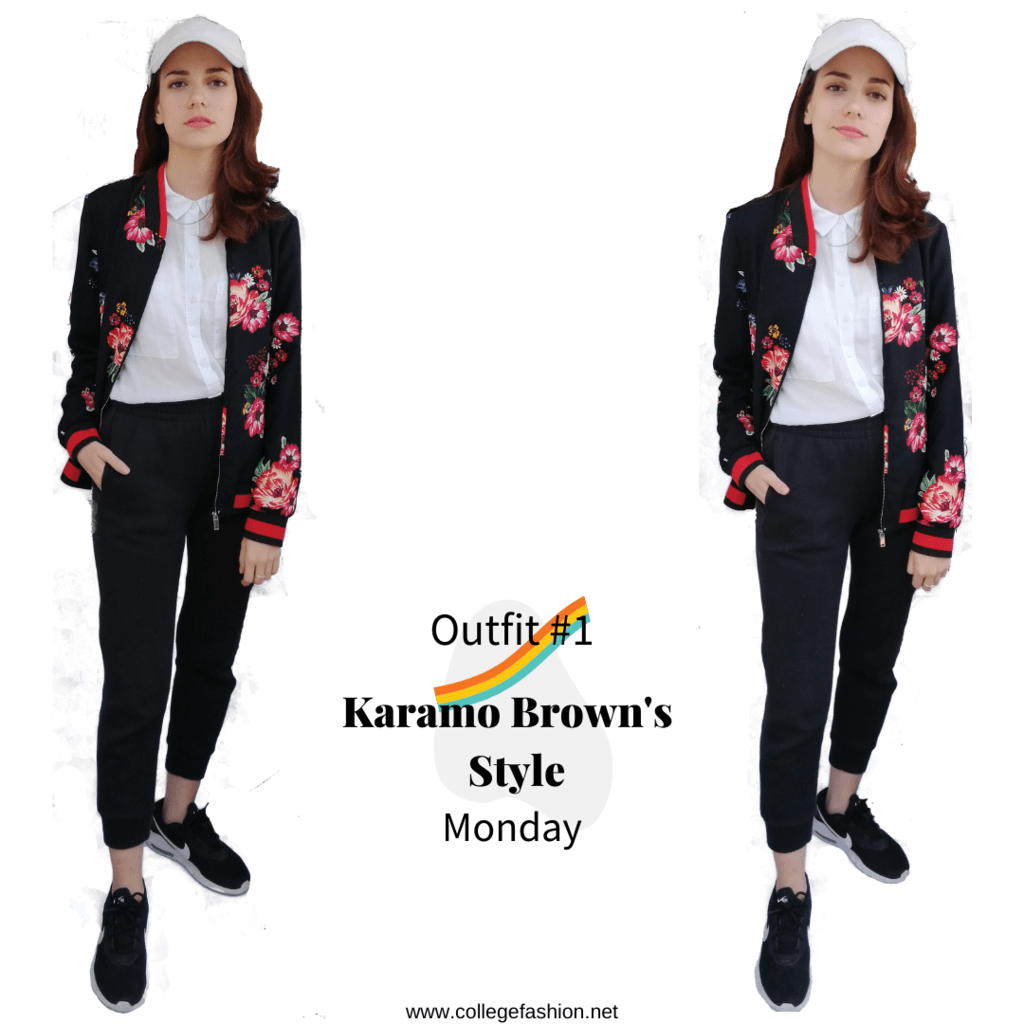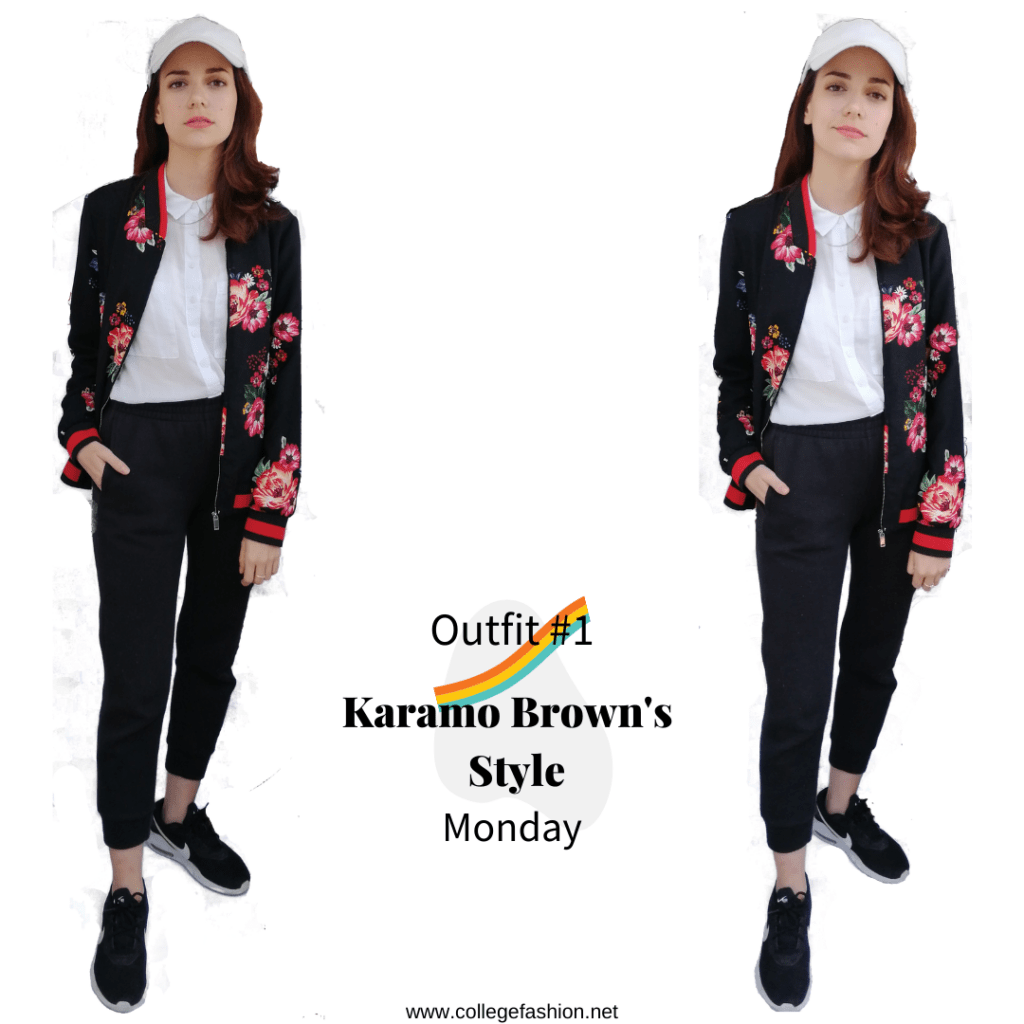 Similar items: Jacket – Gilt, Joggers – Nordstrom, Sneakers – Nike, Shirt – Brooks Brothers, Baseball cap – Backcountry
For my version of a Karamo outfit, I wore a white Oxford shirt and tucked it into a pair of black joggers. For shoes, I grabbed a pair of black Nike sneakers. The final touches were the floral bomber jacket and a white baseball cap.
I'm still on vacation, so this was a good look for a Monday without work or school.
I adore this jacket! I bought it about three years ago and it has been a staple in my closet since then. Usually, I like to dress this item up, instead of going the athleisure route. But this week my favorite part was the mix of athletic and preppy between the shirt and the rest of the items.
Tuesday: Bobby Berk
Bobby Berk is in charge of the home/office/room makeover of the show and he truly works miracles. Bobby improves the physical space the heroes use or need the most. He has a great sense of what people need and how he can help them get there.
As such, Bobby has been a part of some of the most heart wrenching and beautiful moments of the show. He is also my mom's favorite of the Fab 5, so I really have a soft spot for him.
Bobby tends to go for a classic style. He wears short-sleeved Oxford shirts, polo shirts, shorts, slacks, simple sneakers, boots or loafers, and blazers. Generally, he goes for classically cut items. But Bobby also wears more bright, pastel colors, floral patterns, and colorful or monochromatic looks than any other member of the Fab 5.
For Bobby's day, I chose a monochromatic look with a bunch of cozy and classic items. In the photo above, he's wearing a coat, a sweater, pants and a pair of sneakers. This is the most specific outfit I did this week — I copied this one pretty closely.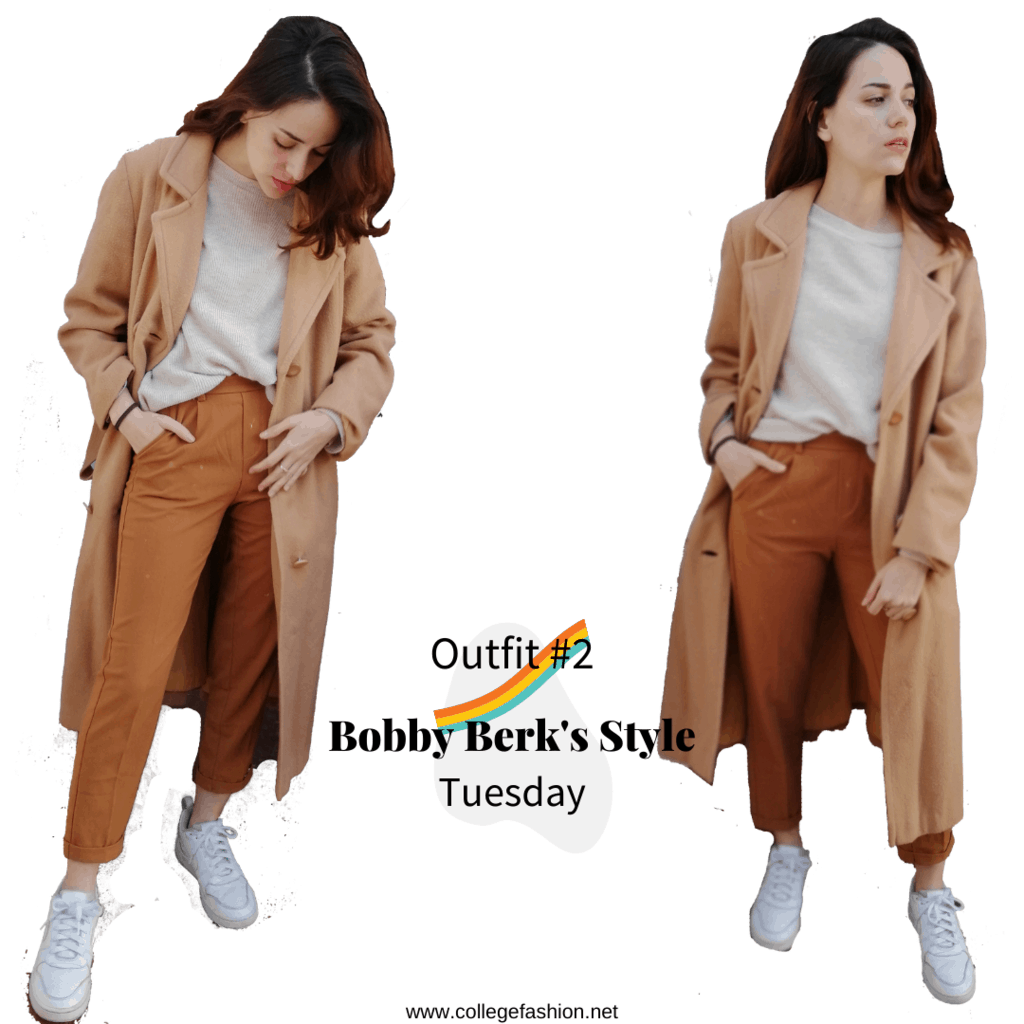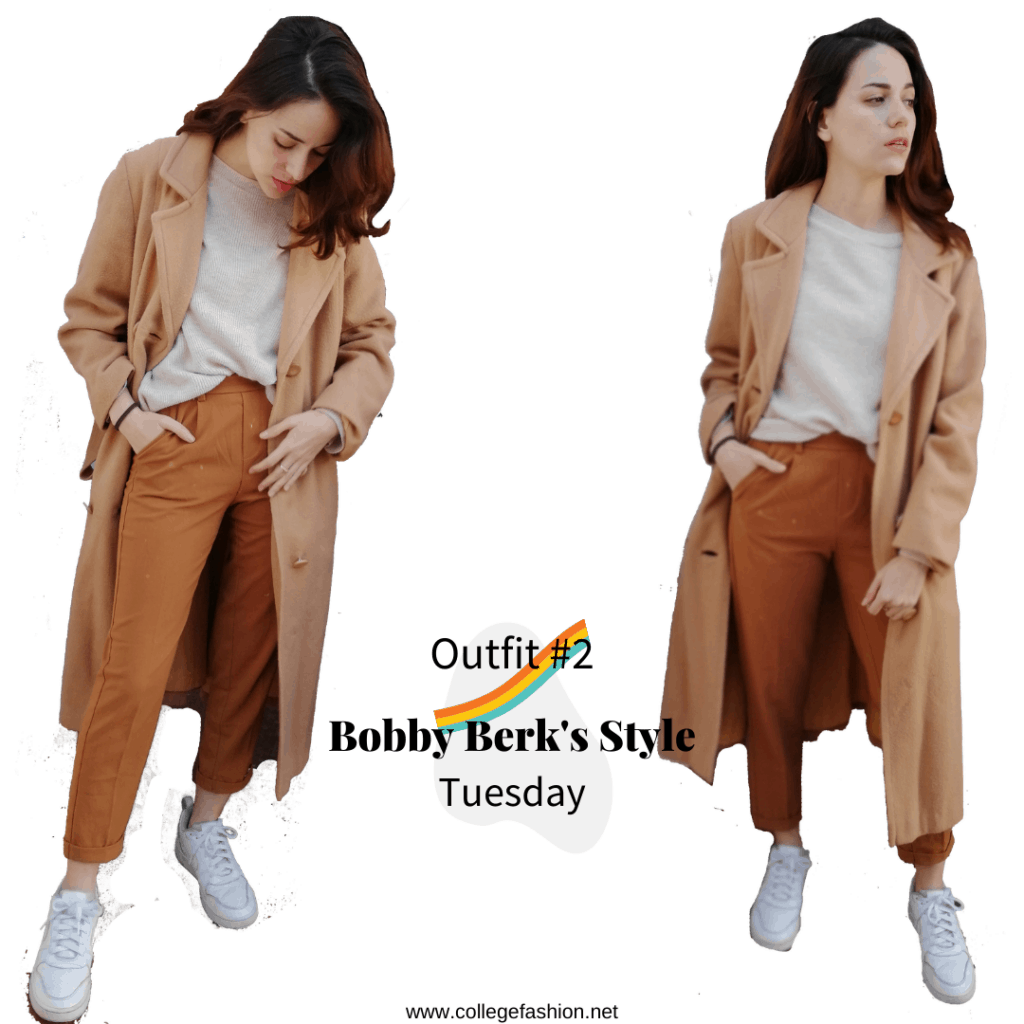 Similar items: Sweater – Topshop, Pants – Francesca's, Coat – Shoptiques, Sneakers – Nike
For this outfit, I used a beige sweater and cognac slacks as a base. Then I threw on a heavy beige coat and wore a pair of white sneakers.
Hands down, this was the best outfit I wore this week. I love the monochrome theme and I absolutely love how it turned out! I wore it through an uneventful day and then I went to have dinner with some friends and I got a lot of compliments on it.
If I do a monochromatic look, I usually do an all-black or colorful outfit, but this is definitely going to be added to my rotation.
Wednesday: Antoni Porowski
Antoni Porowski is the one who takes charge of what the heroes eat or cook and, believe me, they desperately need his assistance.
He usually teaches simple, healthy dishes to replace the pre-packaged or unhealthy ones the heroes usually eat. Other times, he will help them approach their own heritage or family through signature foods, ingredients and dishes from their cultures.
My sister loves to cook and it's sort of therapeutic for her, so it will surprise no one to know that Antoni is her favorite.
Antoni has a very rock and roll, punkish sense of style. He usually wears a band tee, jeans, booties or sneakers, and a leather or denim jacket. Color-wise, he almost always leans towards neutrals. That doesn't mean he doesn't experiment with color, textures, or styles, though. He also wears bandanas and ascots as accessories a lot.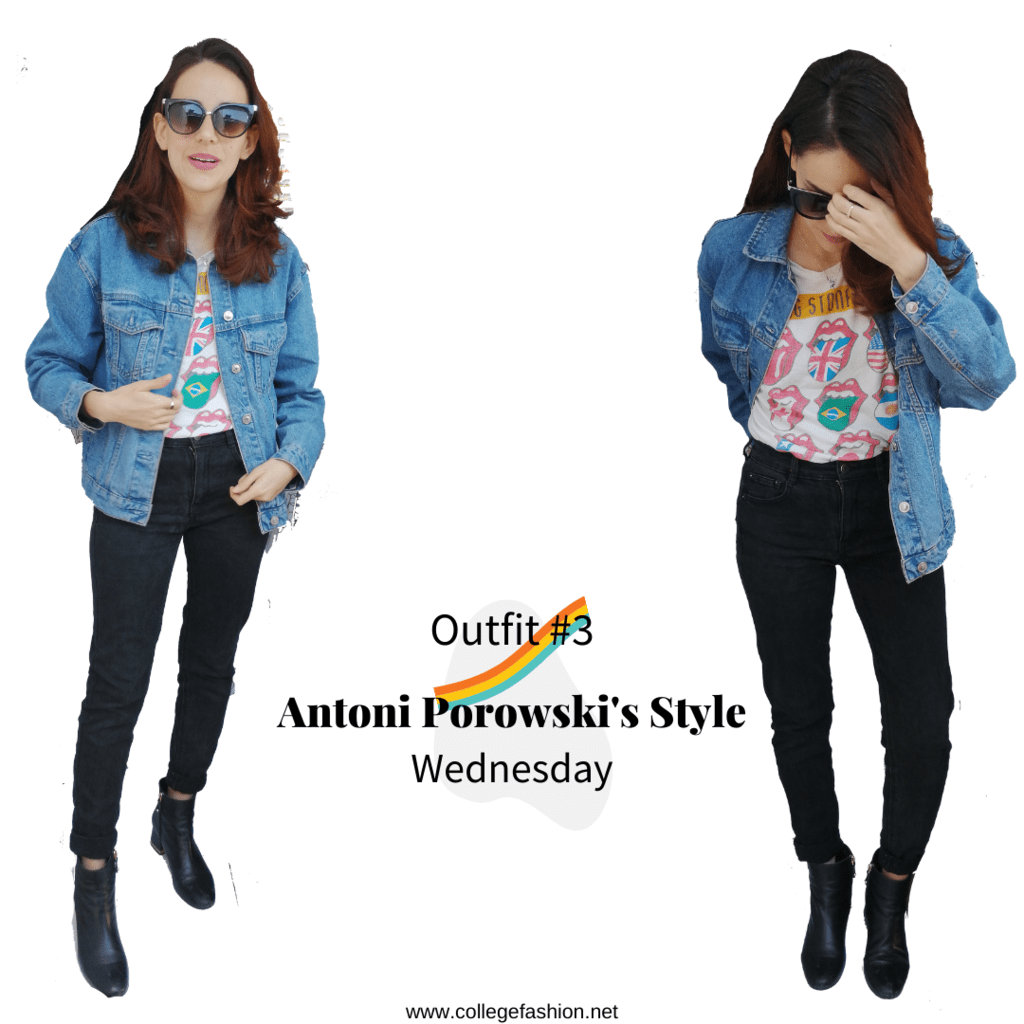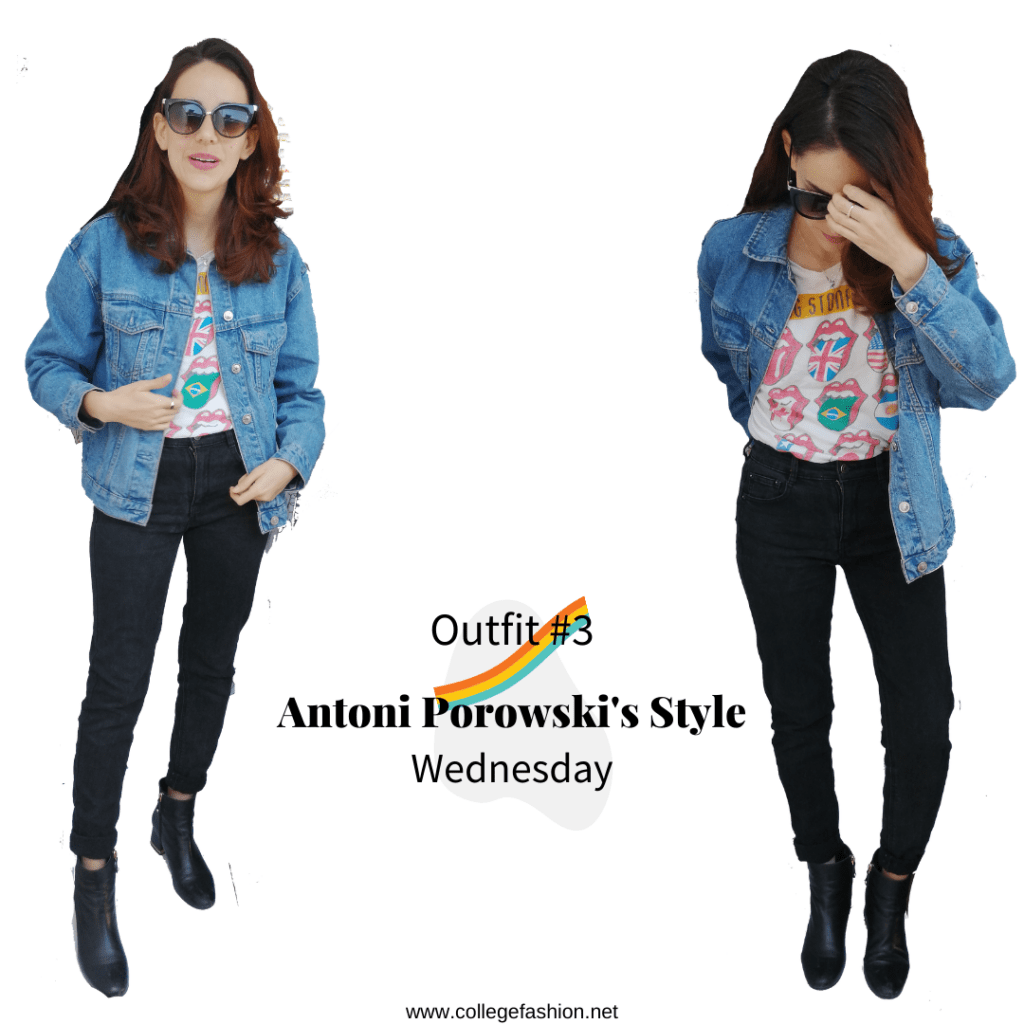 Similar items: T-shirt – Free People, Jeans – Levi's, Jacket – Topshop, Booties – Amazon
For my version of Antoni's style, I decided to wear a white band T-shirt, like Antoni usually does. For pants, I wore a pair of black jeans and used black booties for shoes. Finally, I threw on an oversized denim jacket and a pair of black sunglasses.
This is a normal outfit in my closet rotation, especially in the winter-spring transition point of the year. Unfortunately, we're not there yet and I was cold in this through the day. If the band T-shirt wasn't as important for Antoni's style as it is, I would have 100% worn a sweater or sweatshirt to add more layers. But, as a whole, the look is very comfortable and cool, just maybe not for the weather that I chose to wear it in.
Thursday: Tan France
Tan France is in charge of the heroes' wardrobe and he absolutely kills it every time. And unlike most fashion gurus on makeover shows, you will never hear Tan say things like "You can't wear that because of your weight".
Tan doesn't tell the heroes what they "can" or "can't" wear per se; he teaches the heroes to elevate their personal style and helps them break through their fashion fears by helping them try on the things they believe they cannot wear. He finds ways for the heroes to express themselves and feel good through their clothing.
Naturally, Tan is my favorite Fab 5 member by far.
Tan is a very put together guy. Tailored suits, coats, sweaters, jeans, boots and sneakers seem like a pretty basic list of items, but Tan wears them all in the exact right fit and color and everything seems made just for him.
He tends to wear neutral colors when it comes to his casual outfits, and bright or jewel toned colors when it comes to his suits and red carpet looks. He is also not afraid to experiment with eye-catching pieces like chunky sneakers, cow print boots, graphic sweaters or shirts, and heavily patterned items.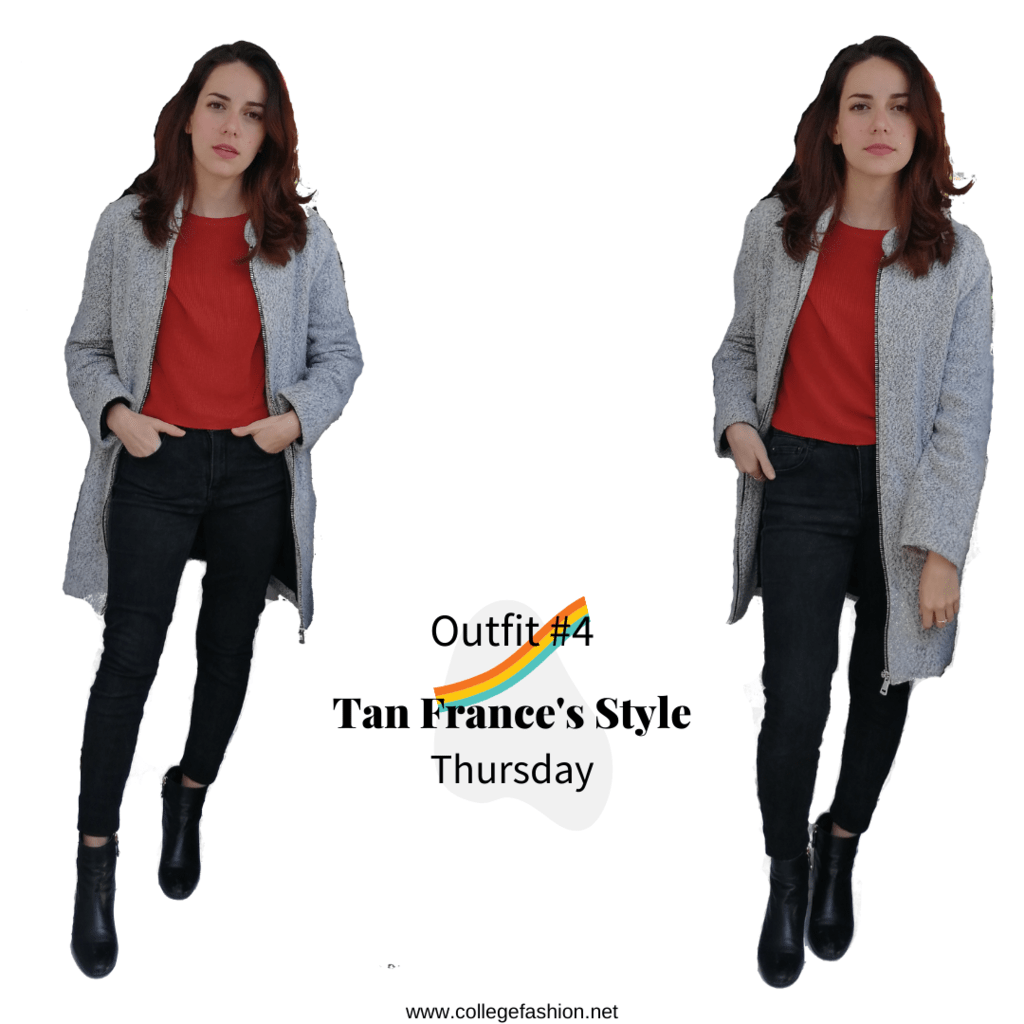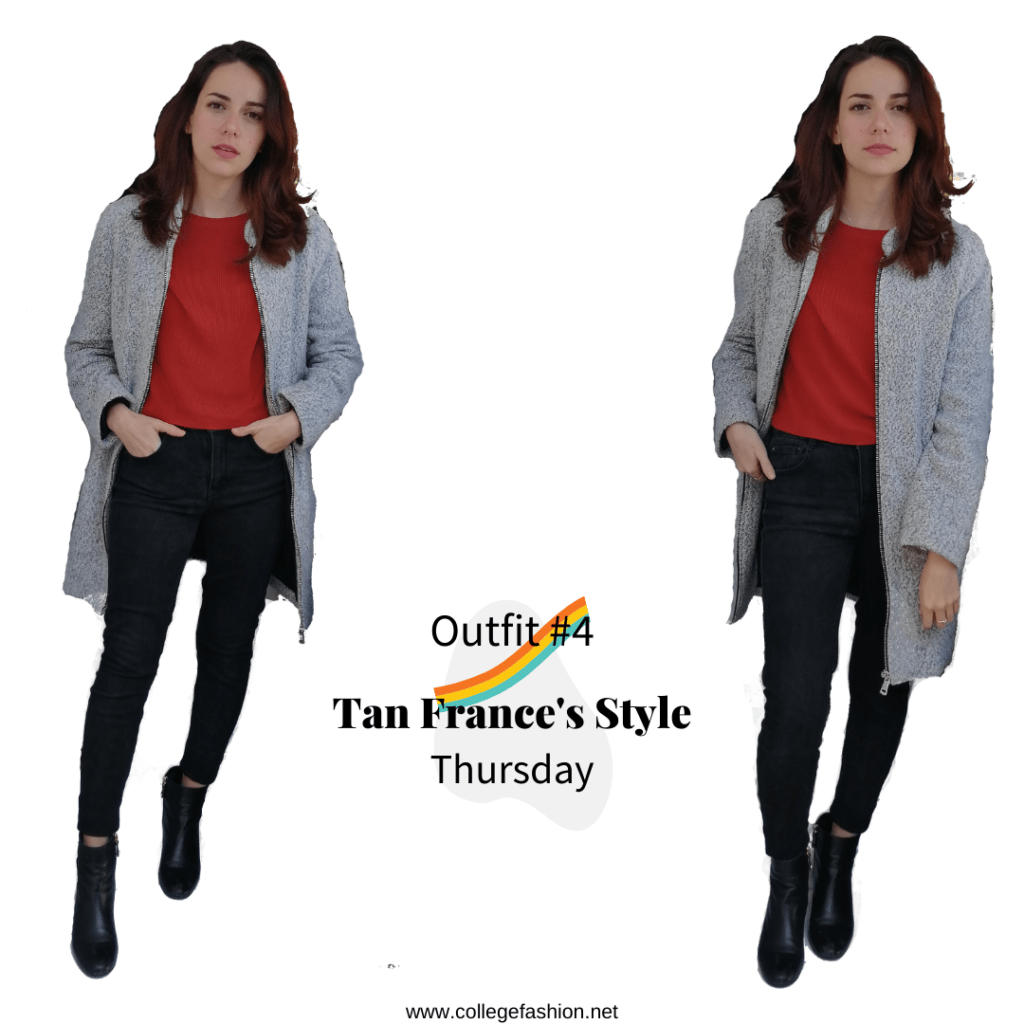 Similar items: Jeans – Levi's, Booties – Macy's, Sweater – Singer 22, Coat – Old Navy
For my Tan-inspired look, I used a terra-cotta sweater and black jeans. Over top, I wore a light grey coat. For my shoes, I chose a classic pair of black booties. I tried to adjust my jeans perfectly to the length of my ankle boots and to keep the sleeves of my sweater from peeking out from the coat — Tan is all about the details, after all.
This was a perfect outfit! It was comfortable, but it gave me a lot of confidence and it made me feel so put-together. I didn't have to adjust anything through the day, because I made the effort to make everything work while I was getting dressed. I will definitely be wearing this look again!
Friday: Jonathan Van Ness
Jonathan Van Ness is the hair, grooming and self-care guy on the show. JVN teaches the heroes how to take care of their skin and personal grooming, why it is important to do so, and why self-care is not just 'a woman thing'.
Aside from his beauty skills, Jonathan is also the heart of the show. If there is one extremely positive, bright light on the show, it's Jonathan. He steals the spotlight with funny one-liners and heartwarming assertions we all need in our daily lives.
When it comes to Jonathan's style, I think it's safe to say anything goes. He is as fearless with his clothes as he is in every other aspect of his life. Dresses, skirts, pants, shorts, jackets, coats, t-shirts, heels, sneakers and boots, in bright, neon or neutral colors, with sequins and even feathers… Jonathan wears it all.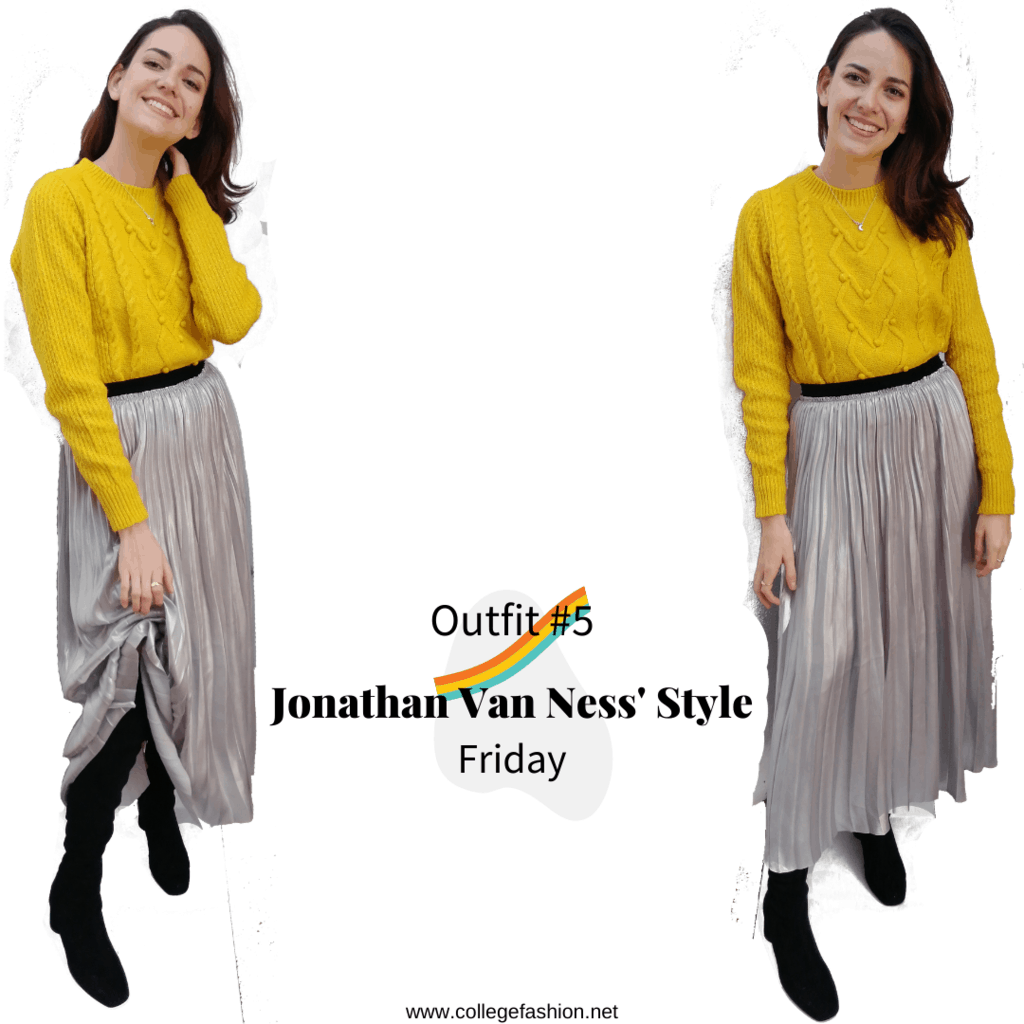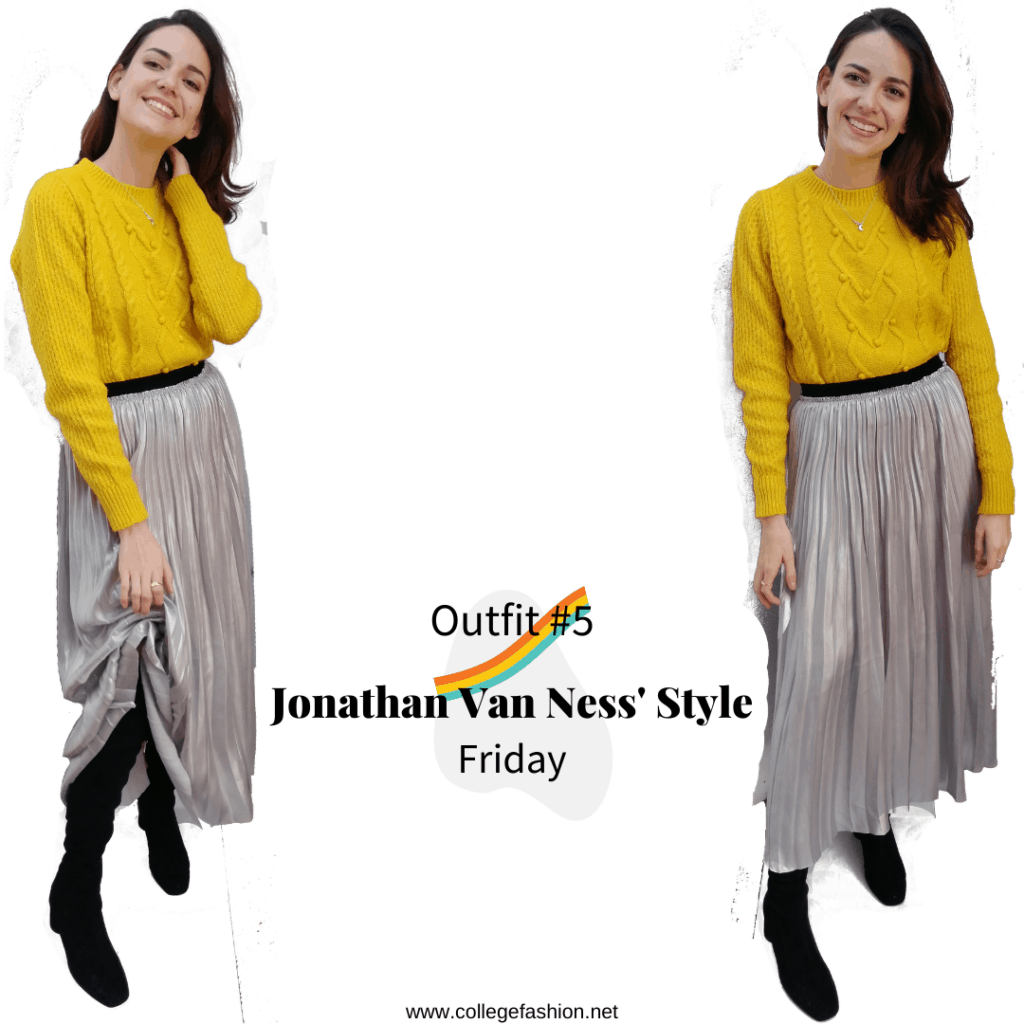 Similar items: Skirt – Michael Kors, Sweater – Old Navy, Boots – Steve Madden
For my JVN outfit, I wore a mustard yellow sweater and my silver pleated midi skirt, that you're probably very familiar with by now if you keep up with my articles. For the shoes, I was hesitant on what to wear. I considered sneakers, booties and even heels, but then I remembered Jonathan's love for a good over the knee boot. So, I wore a pair of black OTK boots.
In spite of the fact that I said that Bobby's was the best look I did this week, this was my favorite outfit overall. It was comfortable, cute and something I wouldn't have dared to wear in a million years if not for JVN's inspiration. I wore it to a family event that ran through the afternoon and most of the night. I thought I would be cold, but the sweater was very thick and the length of the boots acted like tights and kept me warm. I loved this outfit so much!
Final Thoughts
This is my first 'I Dressed Like' post of the year and the start of a new year is practically synonymous with self-improvement. It seemed fitting, then, to start off with people who dedicate themselves to improving the lives of others.
Queer Eye is a show I can't recommend highly enough: it is funny, heartwarming, and it shines a bit of hope into the hearts of even the most cynical people.
Like I said, two of the outfits stood out for me: Bobby's and Jonathan's. Both tested my confidence the most, but also made me look and feel differently than I normally would. They're very different outfits: one is a neutral, monochromatic classic look and the other is a bright, shiny, colorful feminine outfit. Usually, my style stays somewhere between Tan's and Antoni's looks, but now I'm excited to branch out into these other styles.
Doing one outfit for each Fab Five member is not nearly enough to show every aspect of their styles, but I loved this week! Not only did I copy the style of five different celebrities but also the style of five men.
Honestly, I thought I would have to make changes in order to make the outfits wearable for young women, but that wasn't the case. The Fab Five's outfits are androgynous enough to be worn by both men and women without making significant item changes. So they're a perfect source of fashion inspo for just about everyone!
What do you think?
Have you seen Queer Eye? Which outfit would you wear? Which Fab 5 member is your favorite? Whose style do you prefer? Who do you think should be the subject of the next post? Let us know in the comments below!