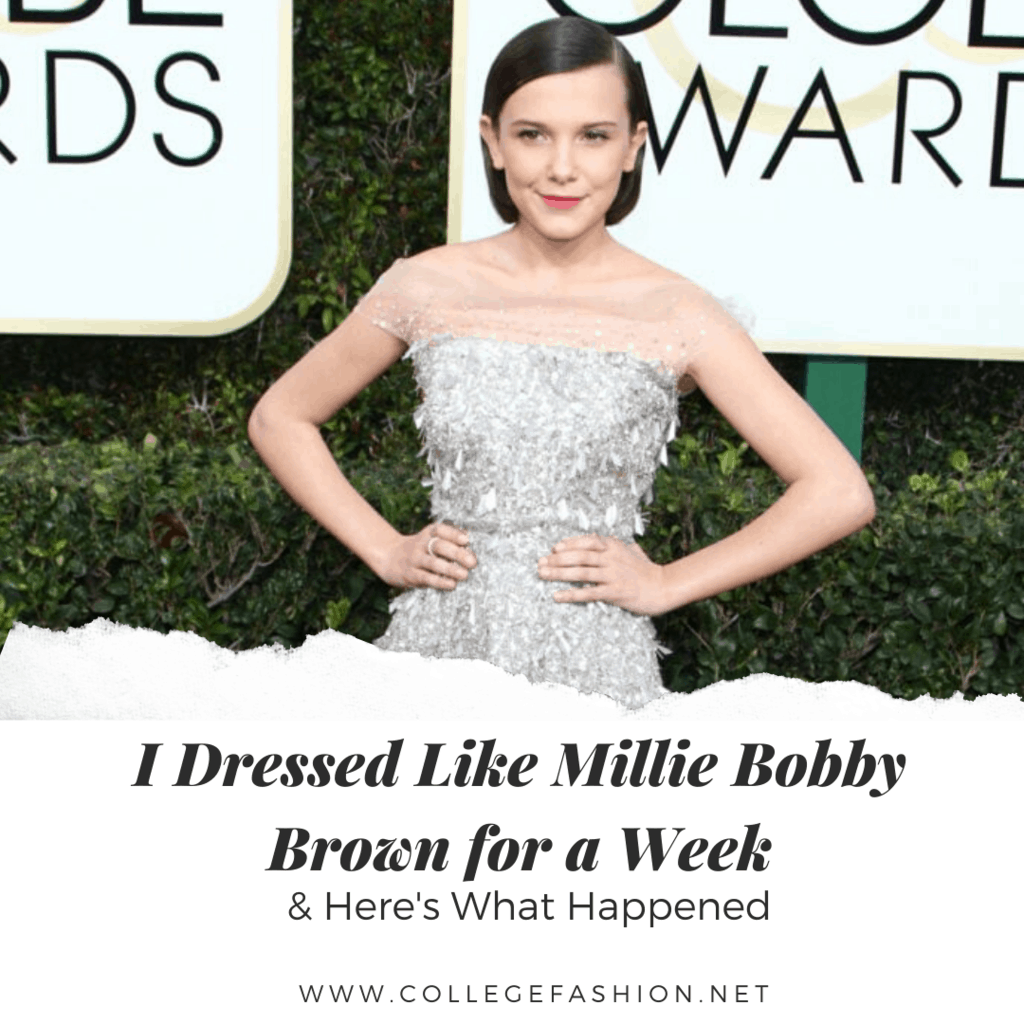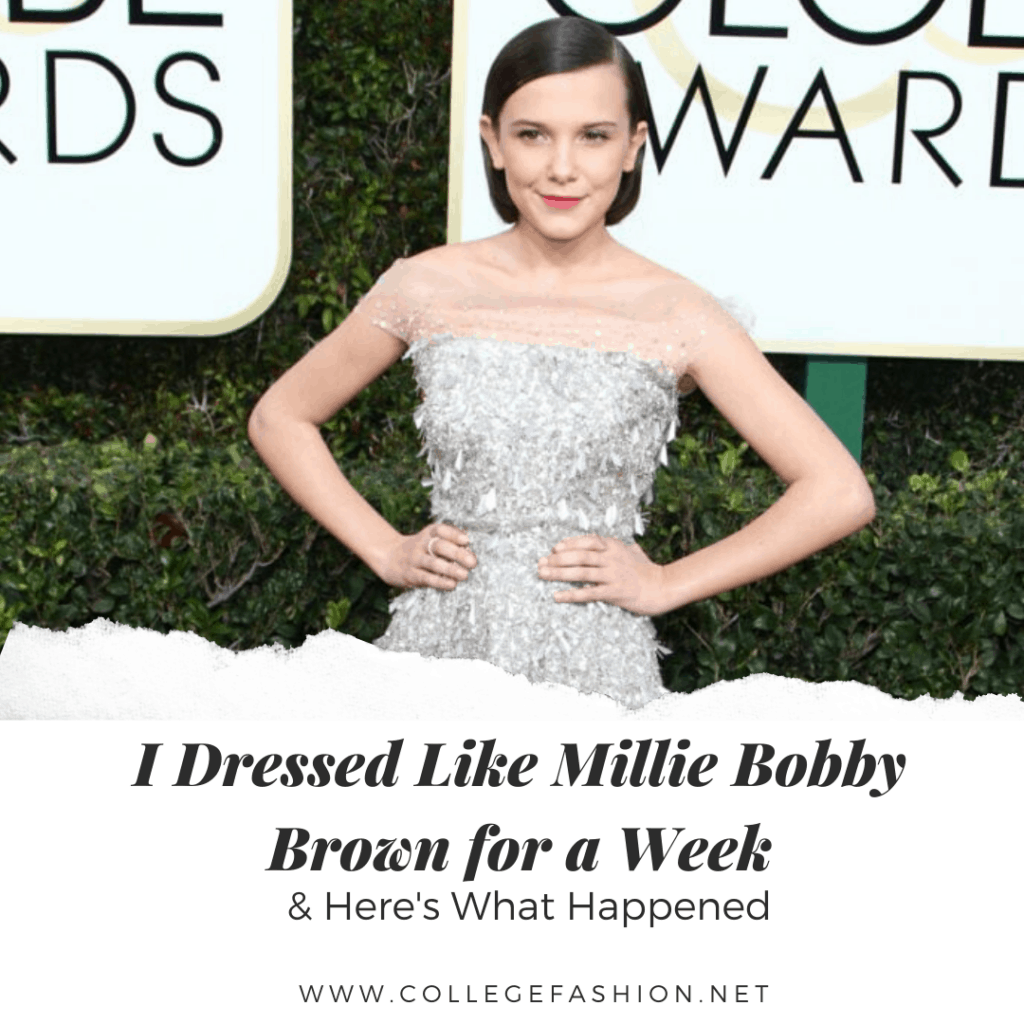 We've all looked to celebrity style for fashion inspiration at some point in our lives. But it's one thing to say "I love her outfit," and it's another to actually copy it in real life.
For this series, I'm going the extra mile and making it happen. Each week, I'm getting inspiration from a celebrity and copying five of her looks as closely as possible. Then, I'm reporting back to you: Did the outfits work in real life? Did I feel comfortable? Did people treat me differently? I'm sharing it all.
In past posts I've dressed like Zendaya, Gigi Hadid, Grace Kelly, Kendall Jenner, Vanessa Hudgens, Sophie Turner and Priyanka Chopra.
Since I am currently obsessed with the third season of Stranger Things, this week, I'm taking on the style of young fashionista Millie Bobby Brown, who plays Eleven on the show.
Millie Bobby Brown's Style
Millie is young but she has become a fashion icon in the past years. She has experimented with a great variety of styles, without losing her youthful vibe. She has worn edgy and preppy outfits, but usually leans towards ultra-feminine or athleisure inspired outfits: sneakers (especially Converse), flowy dresses, baggy sweatshirts, overalls and blazers are staples in her closet.
Millie's Style – Outfit #1: Monday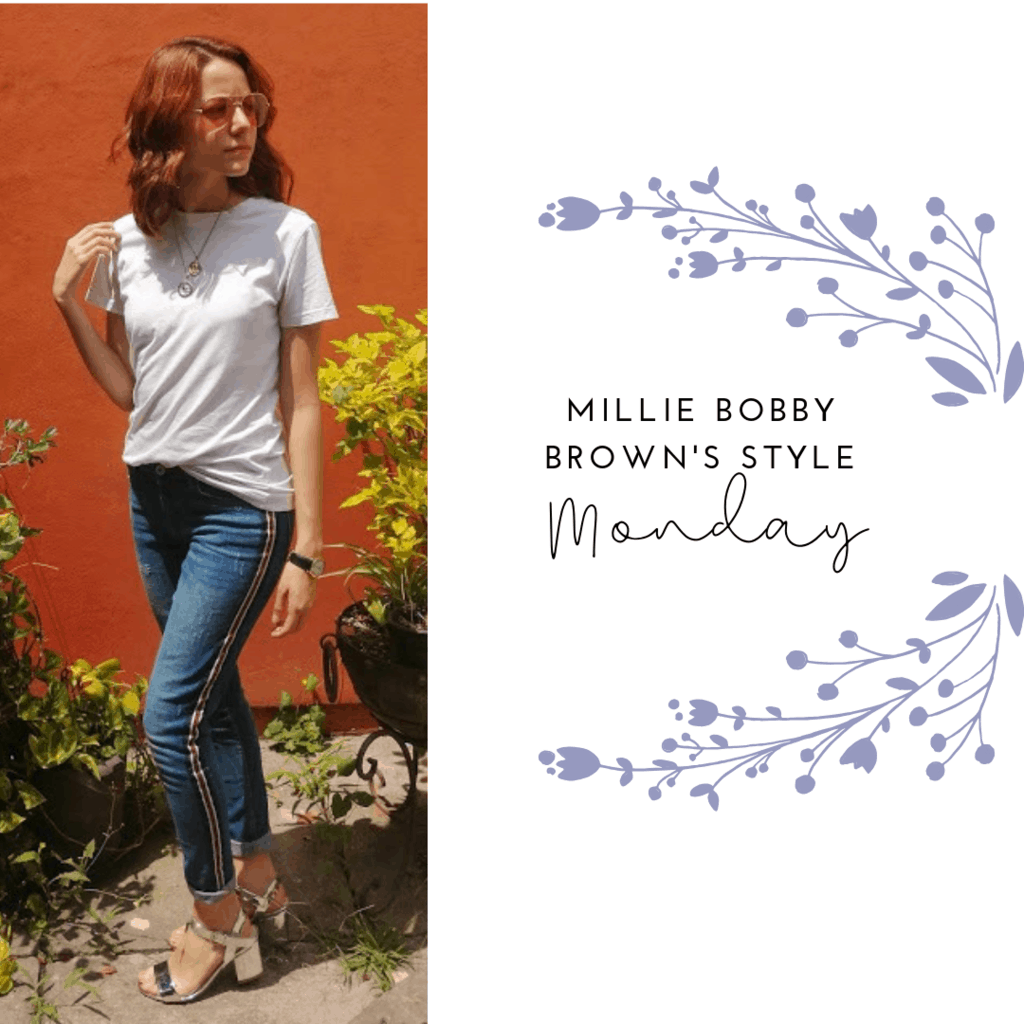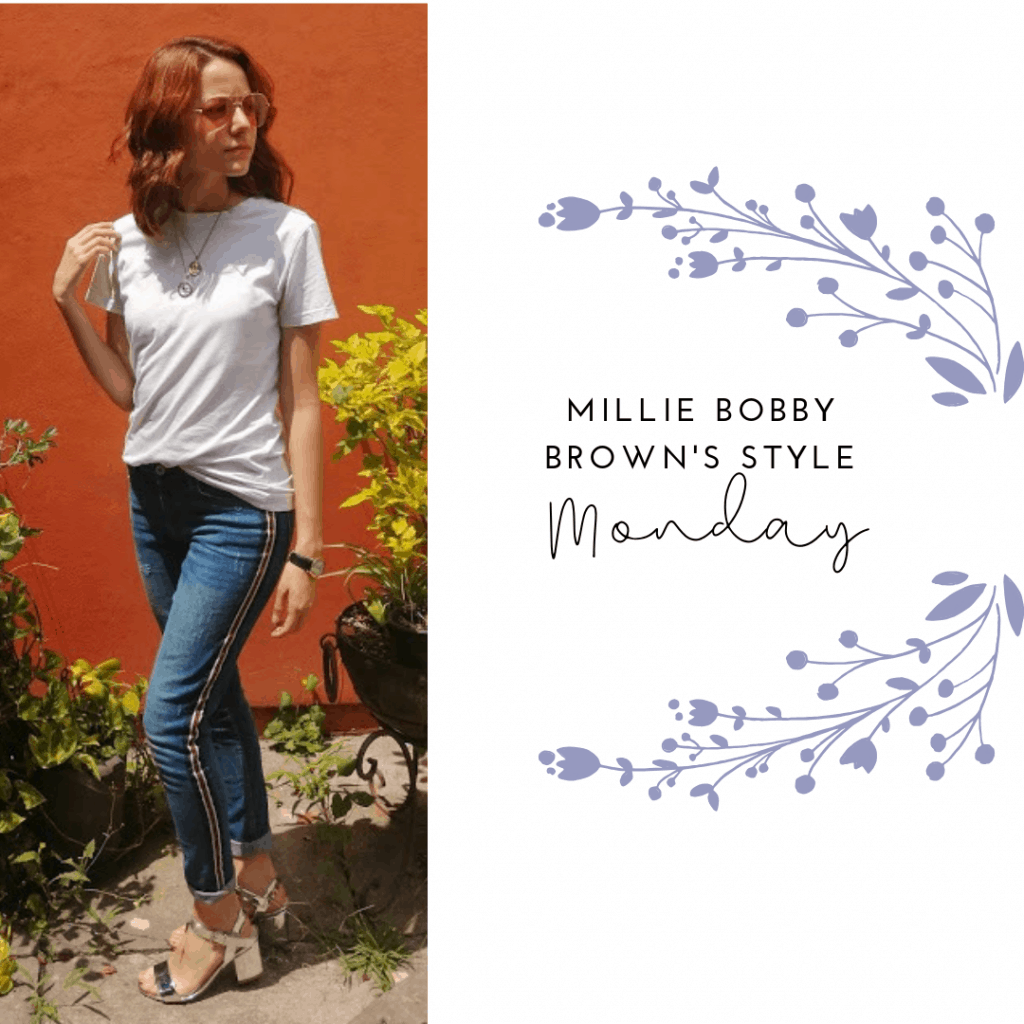 It was Monday and I decided to use this casual-yet-polished outfit. Above, Millie's wearing a white t-shirt, blue jeans, red and pink sandal heels and gold jewelry.
I had all the items to recreate this outfit without shopping, but with a few differences in color. I wore a white t-shirt, blue jeans with red stripes on the side, and silver sandal heels. I decided that accessories were important this week, so I went for it and bought a pair of pink sunglasses and wore gold jewelry.
I have worn this jeans and t-shirt together a billion times, usually to the office, never with heels. I felt put together and ready for anything. It was a slow day for me and, honestly? I wasn't feeling great with myself that day, but the outfit helped a lot with boosting my confidence. As simple as the "t-shirt & jeans" combo is, the heels and accessories made the outfit feel incredibly different.
Millie's Style – Outfit #2: Tuesday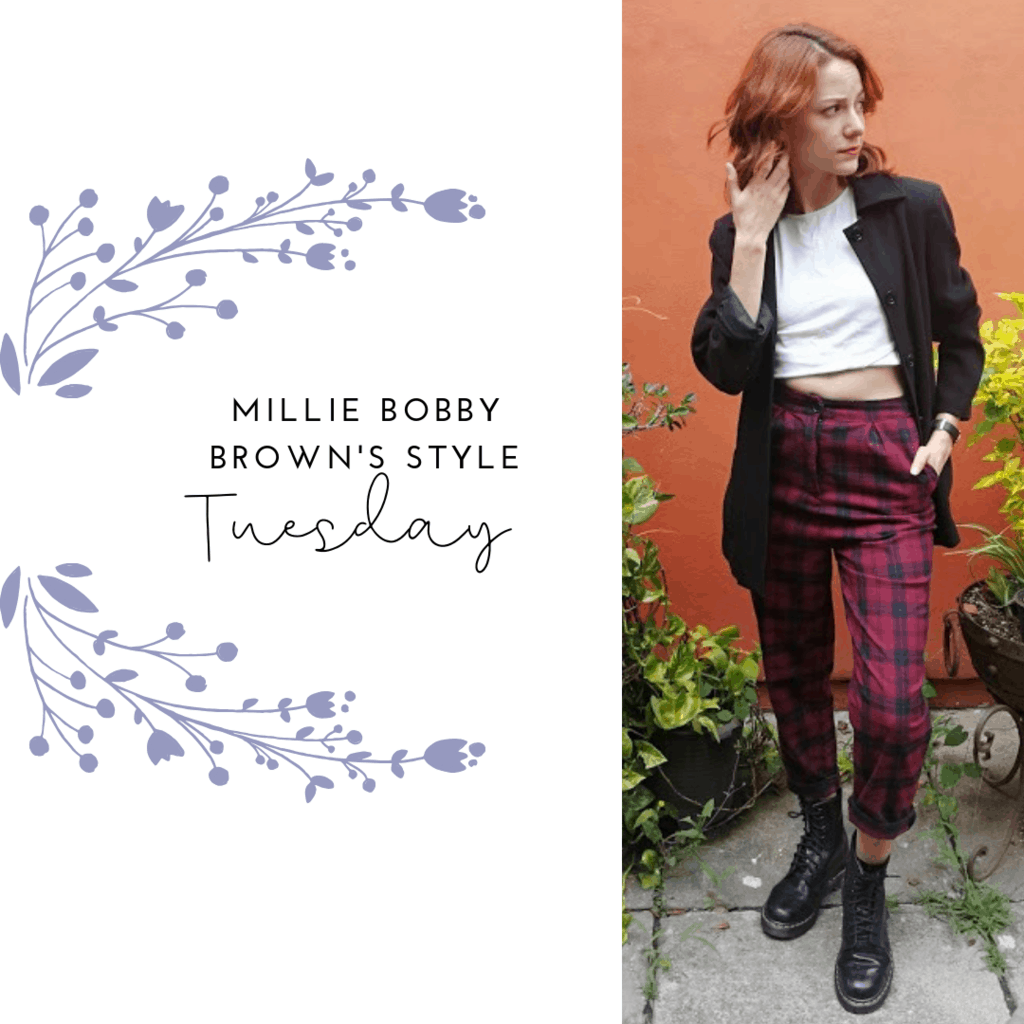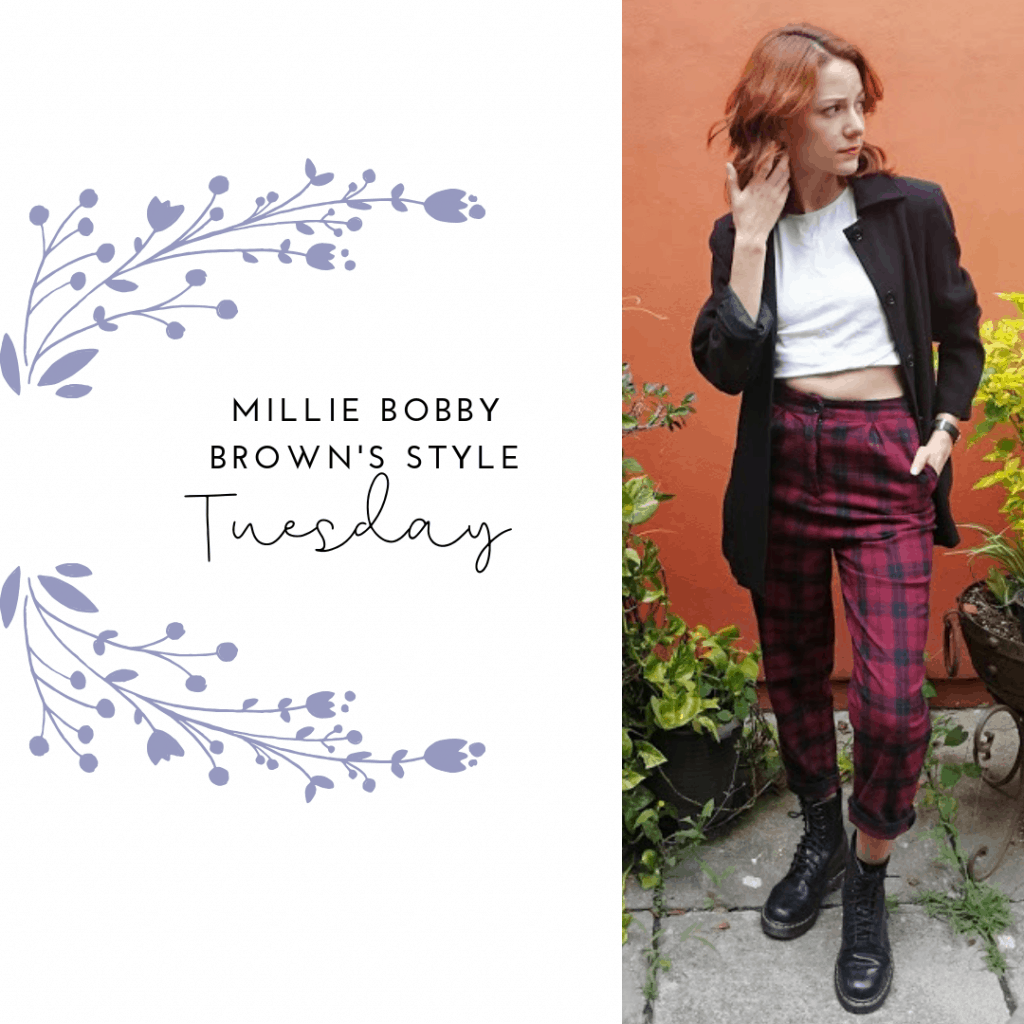 For the second day I wore this edgy outfit. In the picture, Millie's wearing plaid pants, a white t-shirt, a black blazer, and black boots.
Out of all the outfits this week, this one is the closest to my personal style which is why I had all the items already. I wore a pair of burgundy plaid pants, a white cropped t-shirt, a black blazer, and a pair of black Doc Martens. I accessorized with a pair of hoop earrings.
A great way to feel confident on a bad week for me? Wear my Doc Martens. They're like a safety blanket. I absolutely loved this outfit: it was a comfortable combination, with enough edge to make me feel badass that day.
Millie's Style – Outfit #3: Wednesday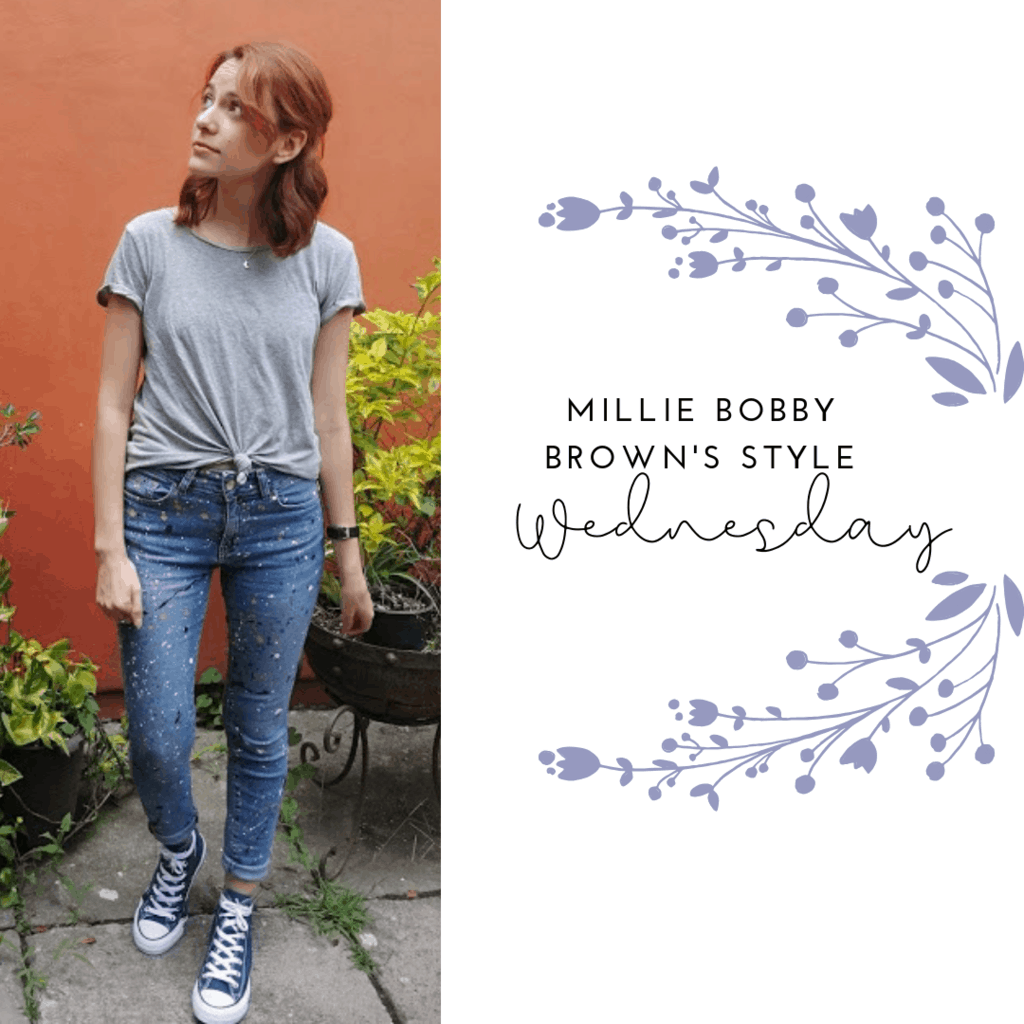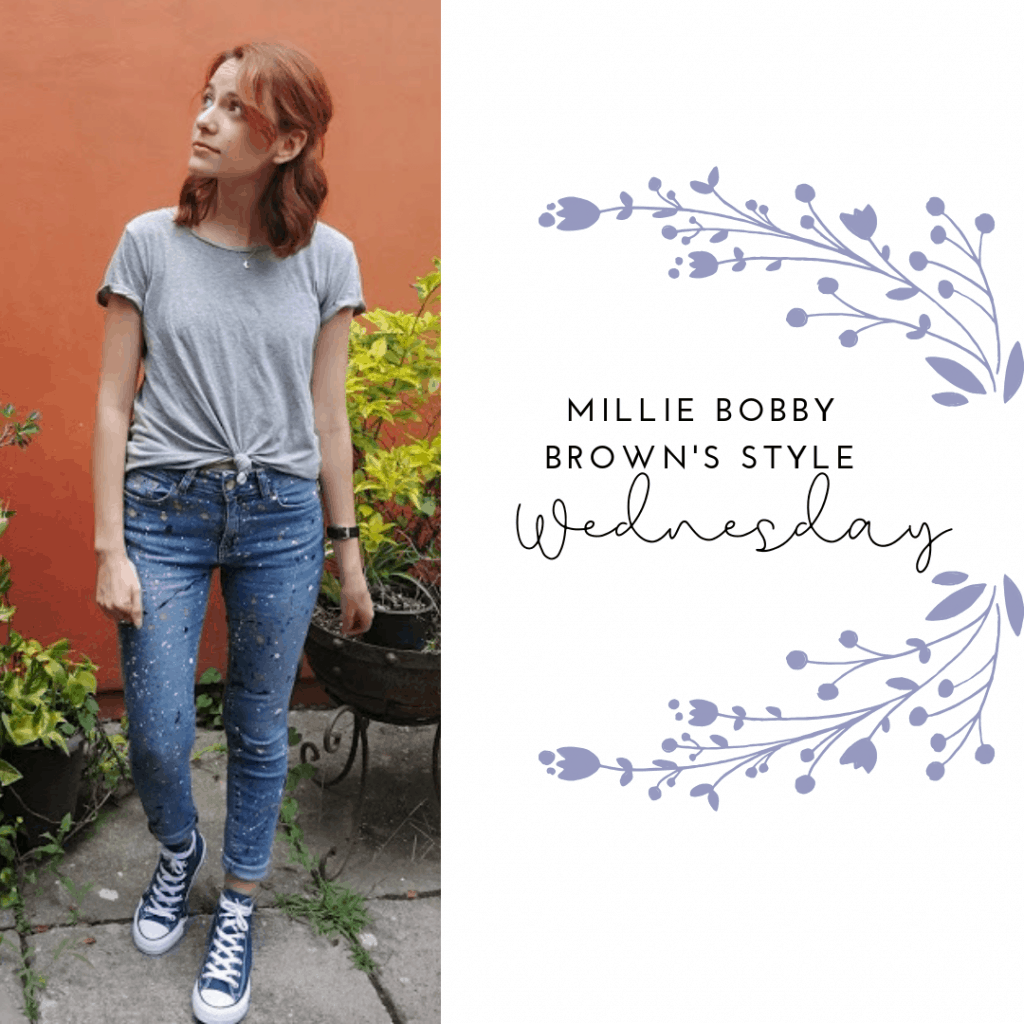 Wednesday is a chill day and I chose this ultra-casual look, consisting of a grey t-shirt, paint-stained jeans, and sneakers.
I had all the items, but this outfit was kind of a DIY project because of the jeans. I had a pair of old jeans that I didn't wear anymore and decided that I could stain those jeans and give them new life. I wore a grey t-shirt, my newly stained jeans, and sneakers. I wore minimal makeup because I wanted to keep the outfit from looking too frumpy.
I don't go to the office on Wednesday, but I went out with a friend that day and I didn't feel under dressed in any way. Instead, I felt really cool. Since it was such a simple outfit, I didn't think I would feel any different from usual, but I really did. Maybe it was the jeans or the fact that I had "made" them or maybe being comfortable helped, I don't know. It is an outfit I will wear again, pretty soon. And, those jeans have a new life in my closet.
Millie's Style – Outfit #4: Thursday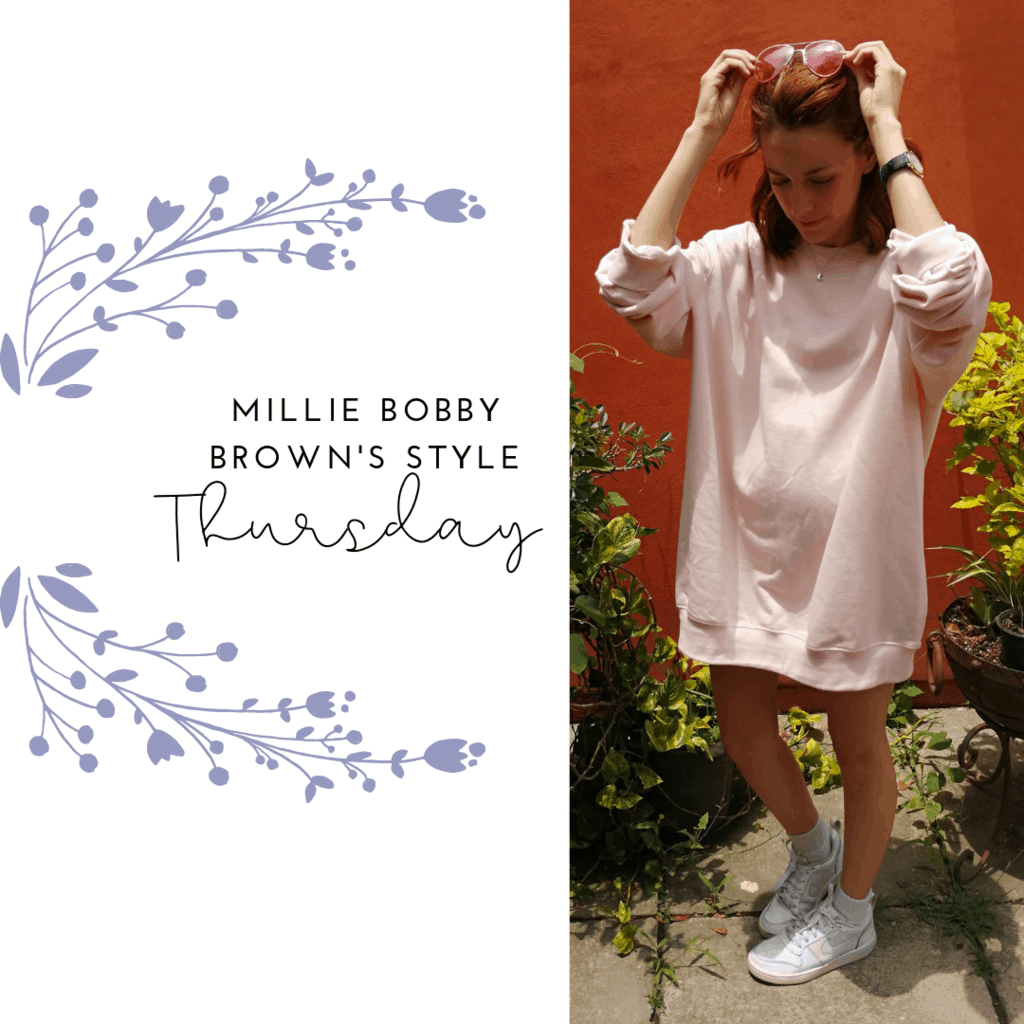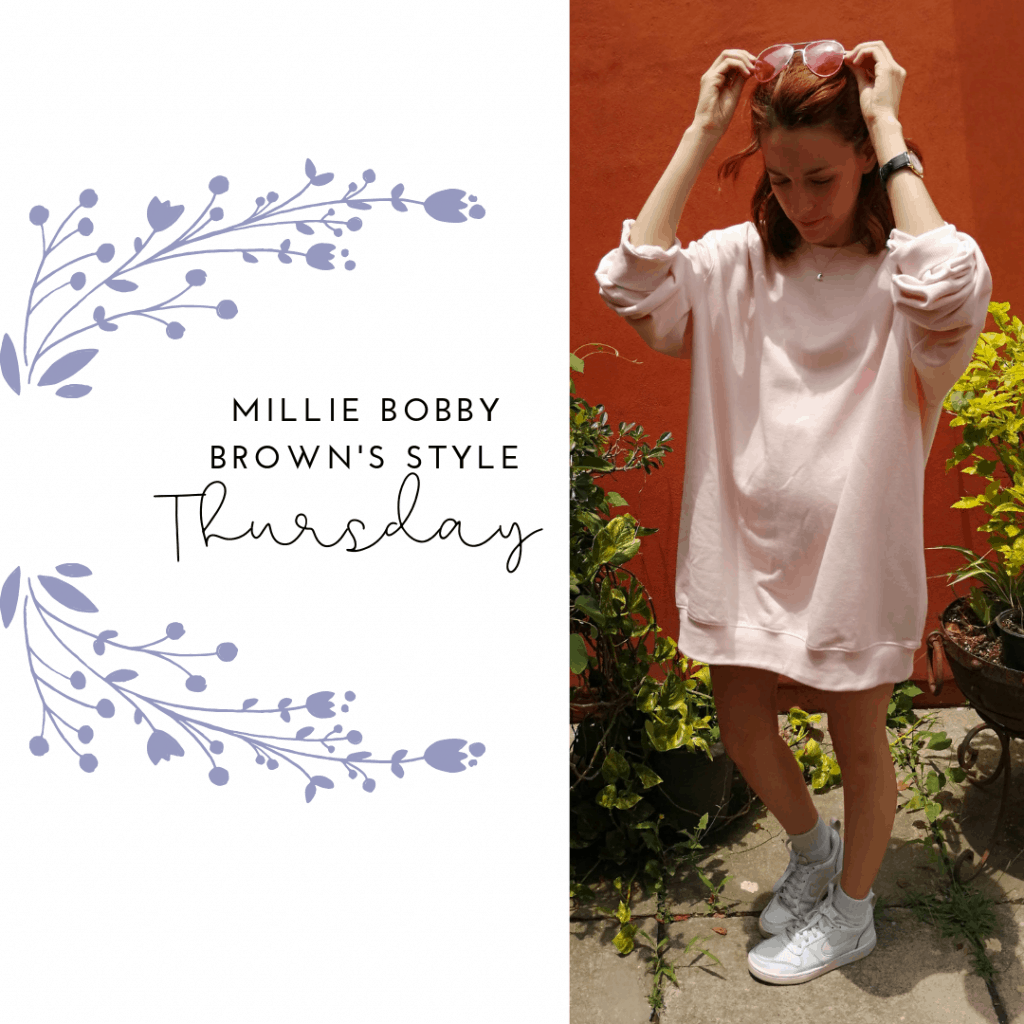 For the fourth day, I wanted something comfortable but stylish. I chose this all-pink ensemble. Above, Millie's wearing a hot pink sweatshirt dress and white sneakers.
For my interpretation of the outfit, I'm wearing a pastel pink sweatshirt dress and white sneakers. I accessorized with the pink sunglasses from Monday to give the outfit a monochromatic look.
I was so proud because this week I hadn't bought anything aside from the sunglasses… and then I came to this outfit. I didn't have a hot pink sweatshirt dress or even a pink sweatshirt that could pass as a dress. While looking for a sweatshirt dress, I did find a hot pink one to match Millie's, but I opted for the more pastel one that I'm wearing because of how it could blend into my own style and closet afterwards.
For years, I didn't like pink. At all. But over the last couple of years, I've been wearing it again. This sweatshirt dress was a perfect step outside of my comfort zone, and this outfit was incredibly comfortable and cute. It was raining outside, but the sweatshirt and sneakers combo was cozy enough for a stormy summer day.
Millie's Style – Outfit #5: Friday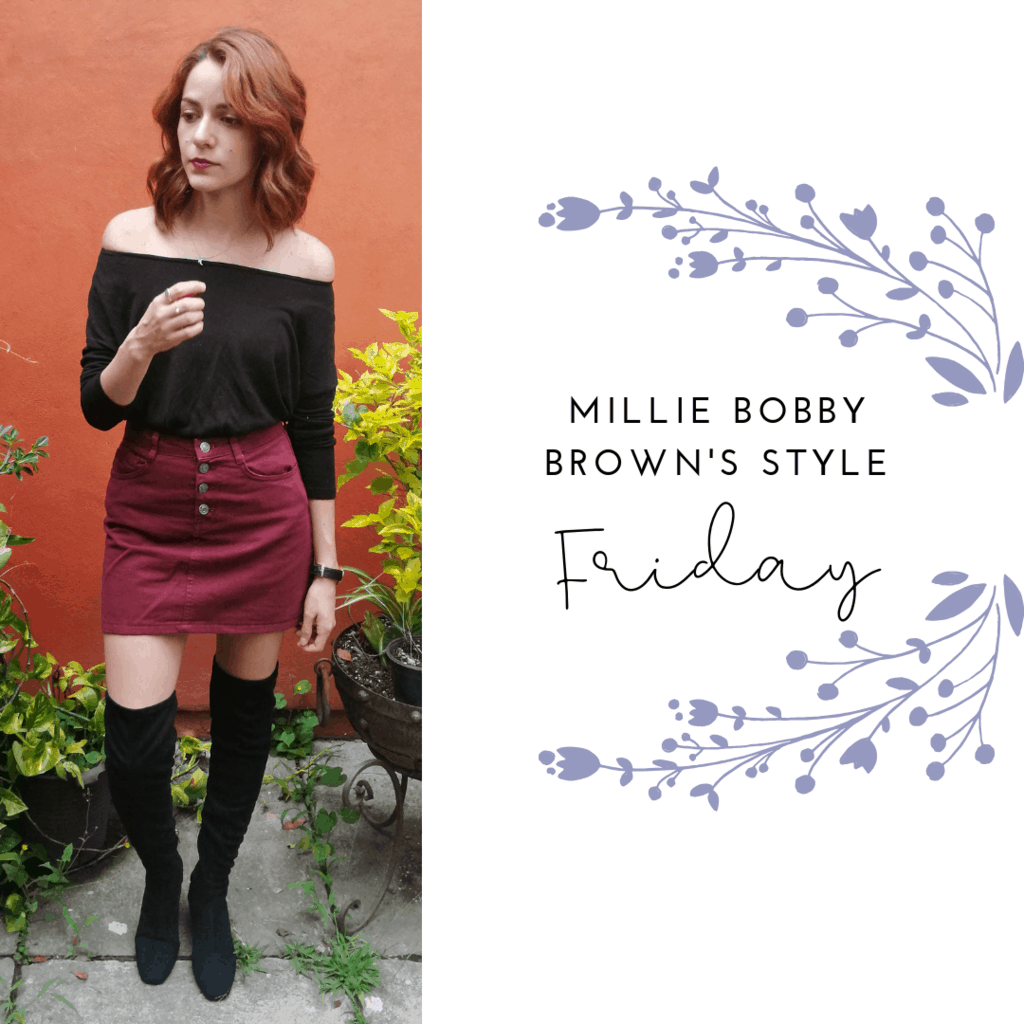 Finally, Friday arrived and this was the outfit I recreated, consisting of a black shirt, a burgundy skirt, and black boots.
Fortunately, I already had every item for this. I used a black sweater tucked into a denim burgundy skirt and added my black over-the-knee boots. This wasn't such a challenge for me, because it's really close to my personal style.
The outfit in general looks a lot less comfortable than it actually is. The heels on my boots aren't that high, so I can wear them all day without getting tired. It was also a great going out outfit. I loved this outfit, especially because it was perfect for the weather: rainy and warm during the day, but a little chilly at night.
Final Thoughts
To be honest, I was a bit hesitant to copy Millie Bobby Brown's style because she's so young. I'm almost ten years older than her and I feared I would look crazy trying to dress like a 15-year-old. But then I scrolled through some pictures and realized her outfits were actually kind of perfect for college students: versatile, fresh and comfortable for long days of work, school and going out.
My favorite outfit this week? Wednesday's! It was both a project and a challenge: I loved how comfortable and cool it looked without much effort. I loved the jeans as a focus and I'm excited that those old jeans now have a new space in my day-to-day rotation. It also was a perfect outfit for going out for drinks with a friend, but I had to add a jacket at night because it started raining. In a surprising second place, the pink sweatshirt dress from Thursday is definitely one of my new favorite items. I guess pink is back on my closet for good.
I set myself another goal for myself this week: don't shop. Obviously, I failed. But buying only two items isn't that bad, right? Like I mentioned before, I'm trying to get back to wearing pink and I had thought of buying a pink item for a while and this sweatshirt was the perfect compromise between this post and my closet. It was also on sale so it wasn't a splurge.
Overall, the verdict: Go ahead and try copying Millie's style for a day, at least. It is the perfect balance of trendy, cool, and comfortable for a college student. Her looks aren't complicated to put together and I promise you will probably have most of the items in your closet already.
What do you think?
Have you watched Stranger Things? What did you think of the last season? Do you like Millie's Style? Which outfit was your favorite? Who do you think I should copy next? Let us know in the comments below!