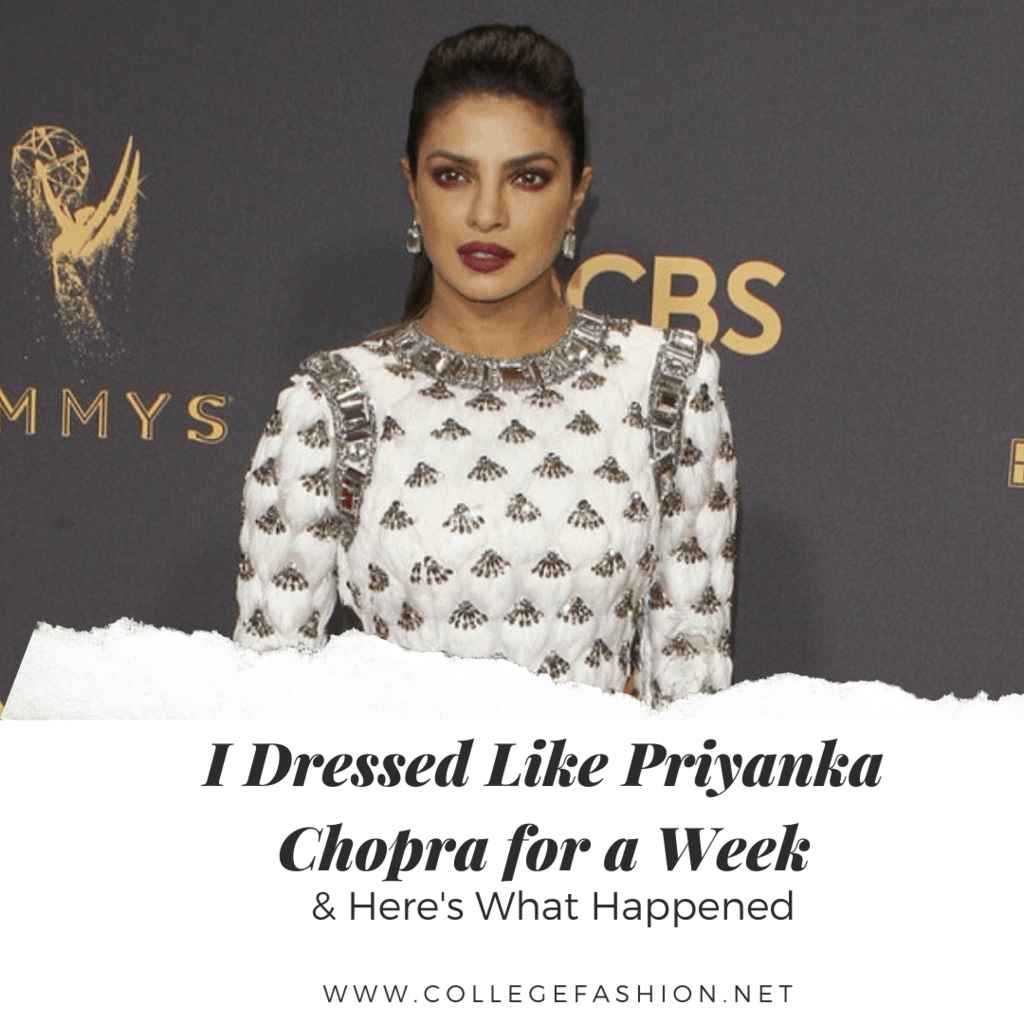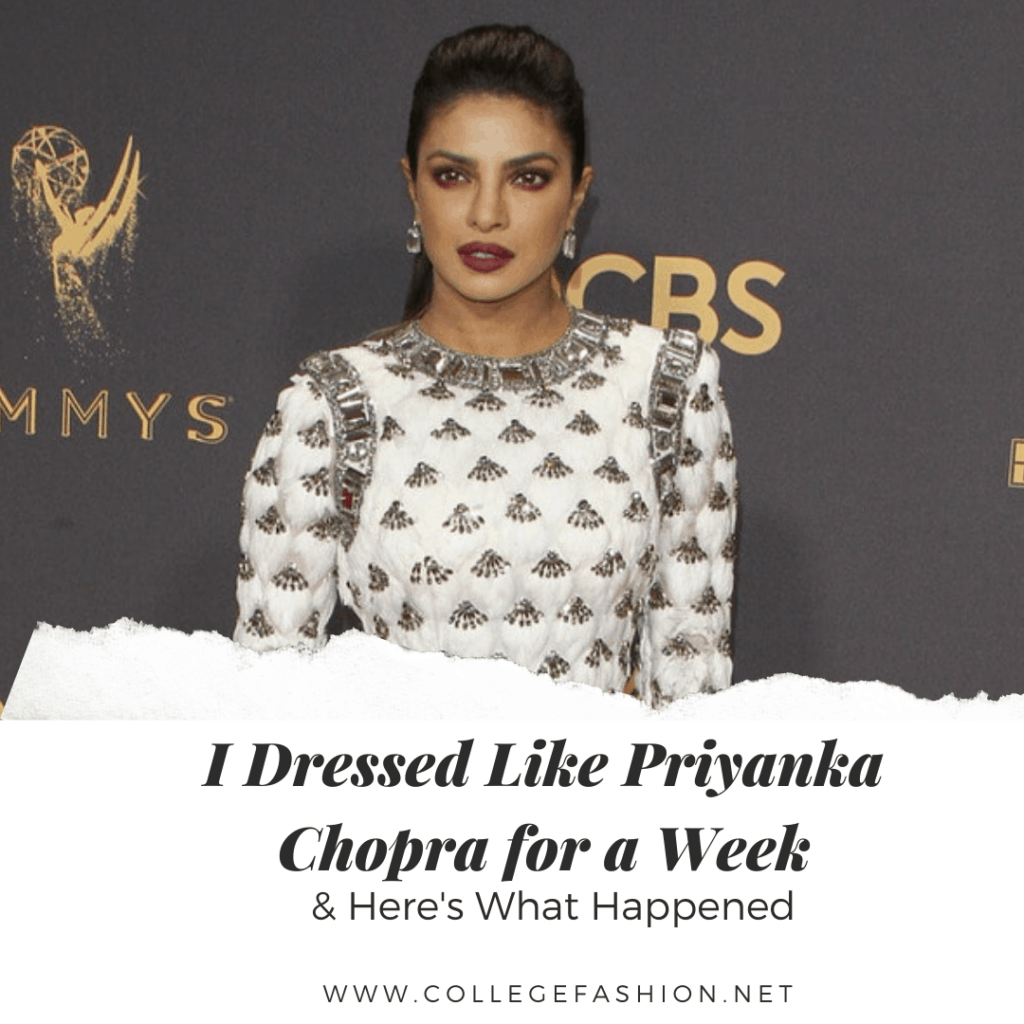 We've all looked to celebrity style for fashion inspiration at some point in our lives. But it's one thing to say "I love her outfit," and it's another to actually copy it in real life.
For this series, I'm going the extra mile and making it happen. Each week, I'm getting inspiration from a celebrity and copying five of her looks as closely as possible. Then, I'm reporting back to you: Did the outfits work in real life? Did I feel comfortable? Did people treat me differently? I'm sharing it all.
In past posts I've dressed like Zendaya, Gigi Hadid, Grace Kelly, Kendall Jenner, Vanessa Hudgens and Sophie Turner. This week, I'm recreating Priyanka Chopra's incredibly posh style.
Priyanka Chopra's Style
Priyanka's style is put together, modern and she always looks red-carpet ready. She doesn't use one particular color scheme and she balances out vibrant and neutral colors effortlessly.
One thing is obvious: Priyanka is a girly-girl. Skirts, dresses and heels are abundant in her street style looks.
Priyanka Chopra's Style: Outfit #1 – Monday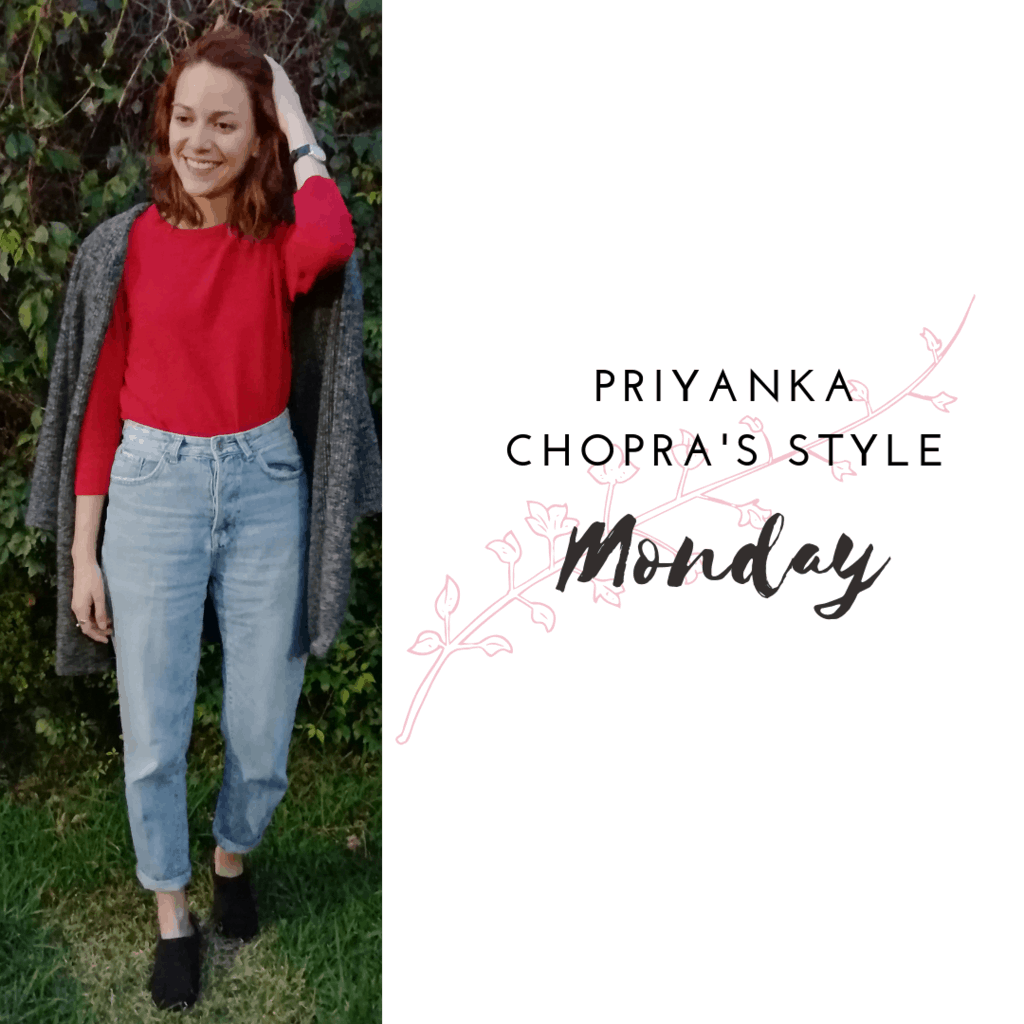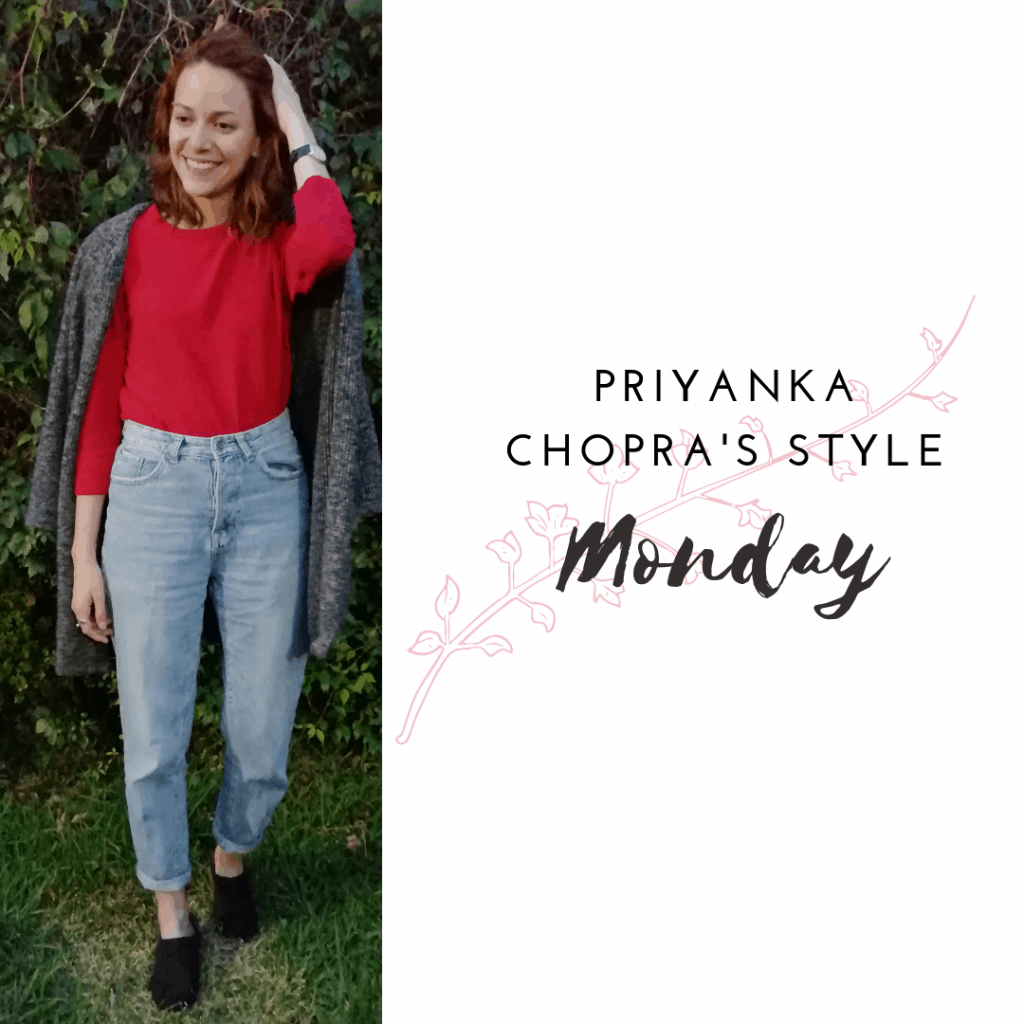 For Monday, I chose this simple and classic outfit. Above, Priyanka is wearing a red sweater, blue jeans, a black coat, and loafers.
To recreate this outfit, I wore a red sweater, high-waisted jeans, and a pair of black loafers. My coat isn't black, it's a dark grey color, but it has a similar length to Priyanka's.
I liked that I didn't have to buy anything for this look; I already had all the items in my closet. I actually wear the sweater and jeans together a lot, but never with loafers and especially not with a coat unless the weather calls for it.
On Mondays I go to the office and, since the AC is always on there, I decided to take the coat with me even though it's summer.
Overall, I felt a bit more put together than I usually do when I wear these items. I think it is a perfect example of how little changes can make or break an outfit.
Priyanka Chopra's Style: Outfit #2 – Tuesday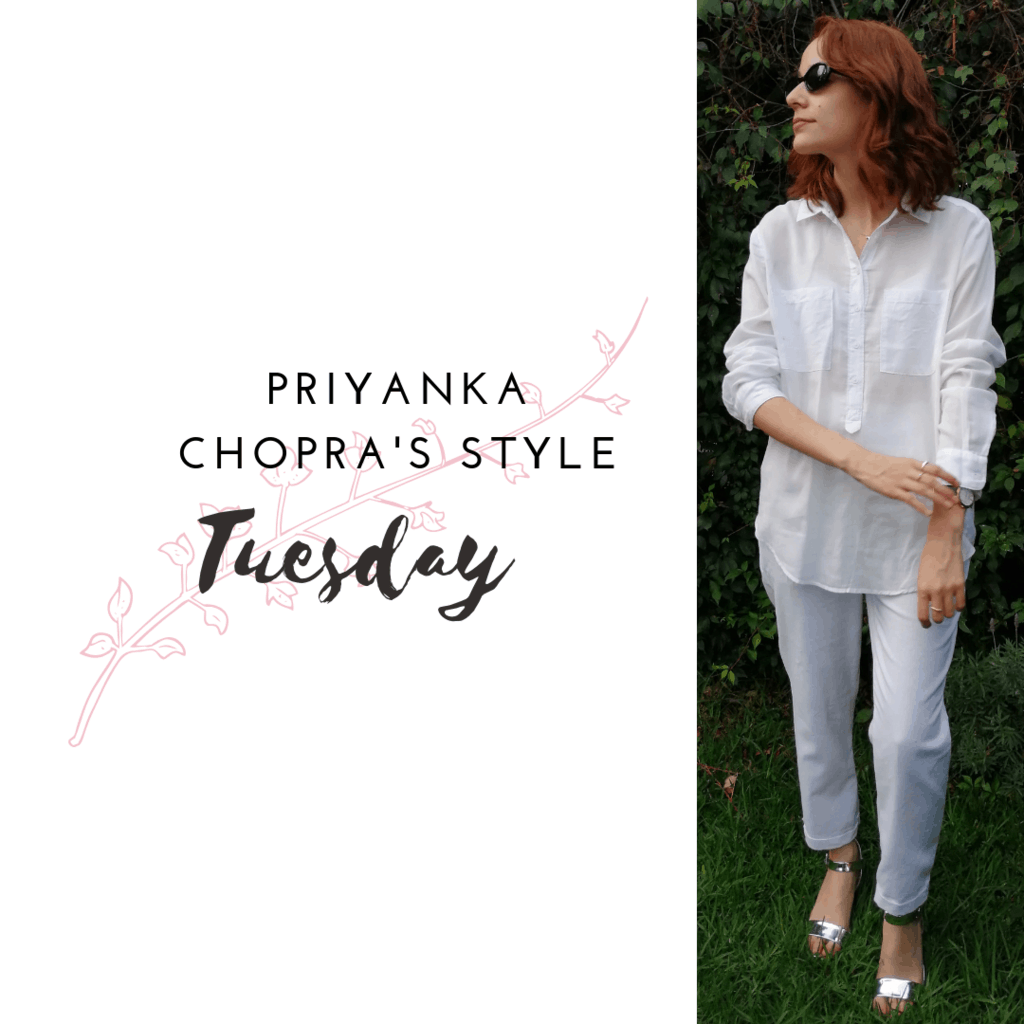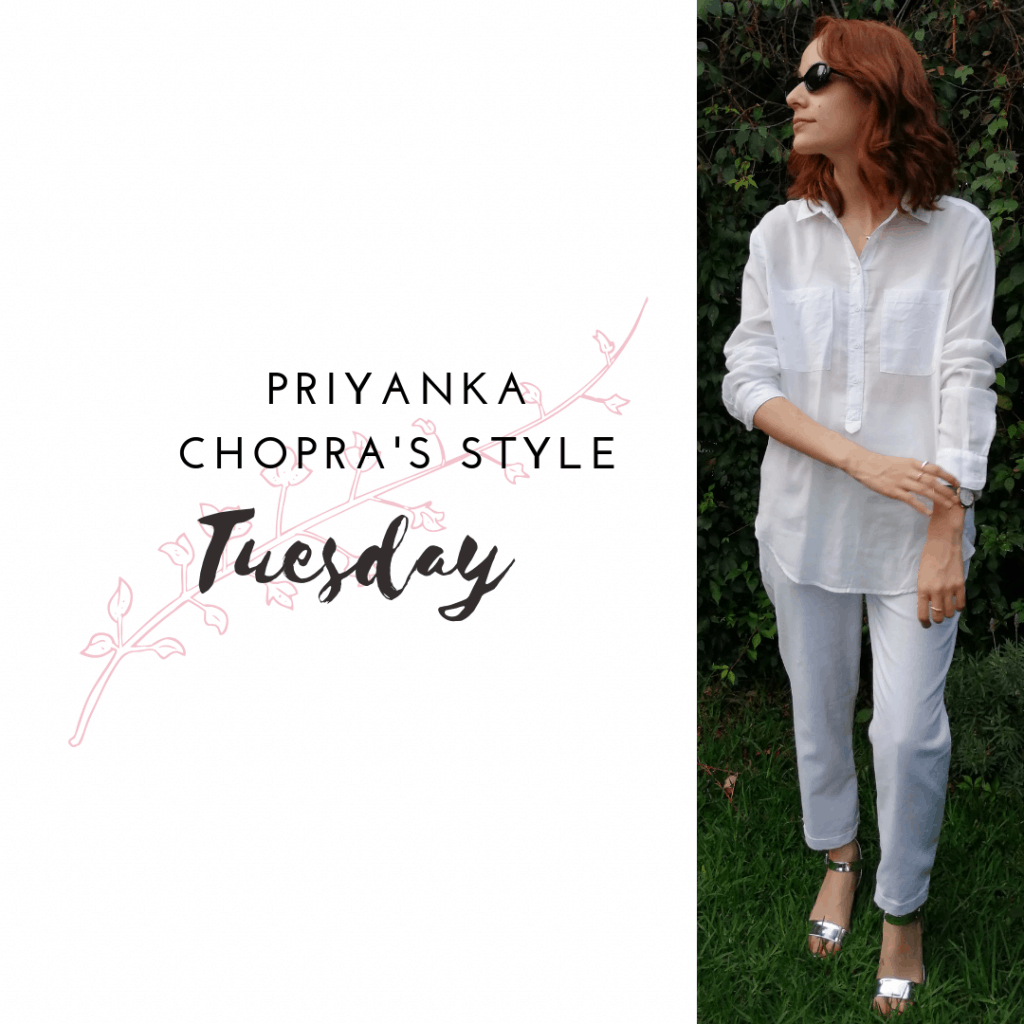 The second day, I went for this monochromatic look. In this picture, Priyanka is wearing a white shirt and pants with golden heels and '90s style sunglasses.
I already had all the items except for a pair of golden heels, but I found a pair that were similar to hers in silver. I thought that silver was a good compromise since it had the short heel and it was still metallic. Accessory-wise, I went out and bought a pair of sunglasses that looked like Priyanka's. I've been wanting a similar pair, so this was a good excuse to buy them.
Like I've mentioned in past posts, I don't have a good relationship with white. So this whole outfit represents me trying to push my boundaries a bit more. Overall, this look was comfortable and fresh, with a bit of a classic vibe to it. I felt very confident and put together with this the whole day, but it rained that day so this look clashed a bit with the weather.
Priyanka Chopra's Style: Outfit #3 – Wednesday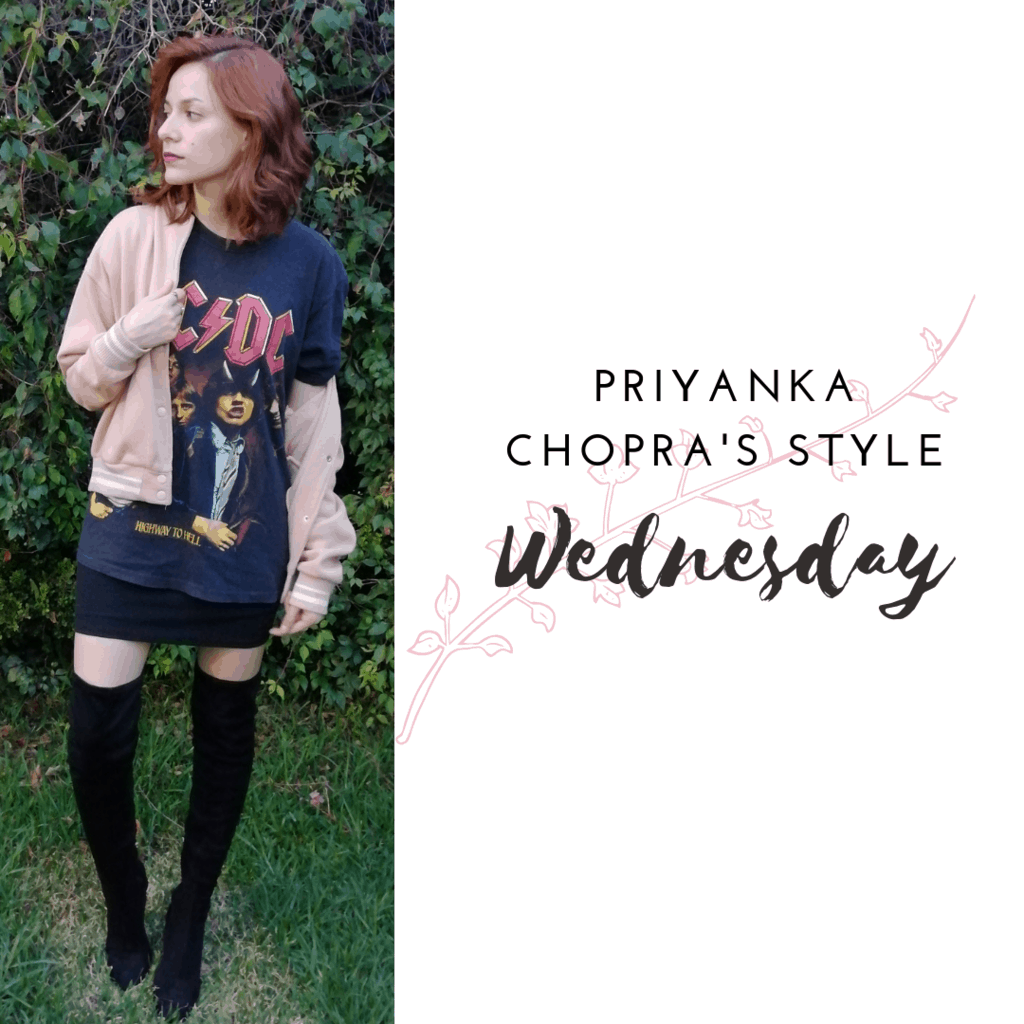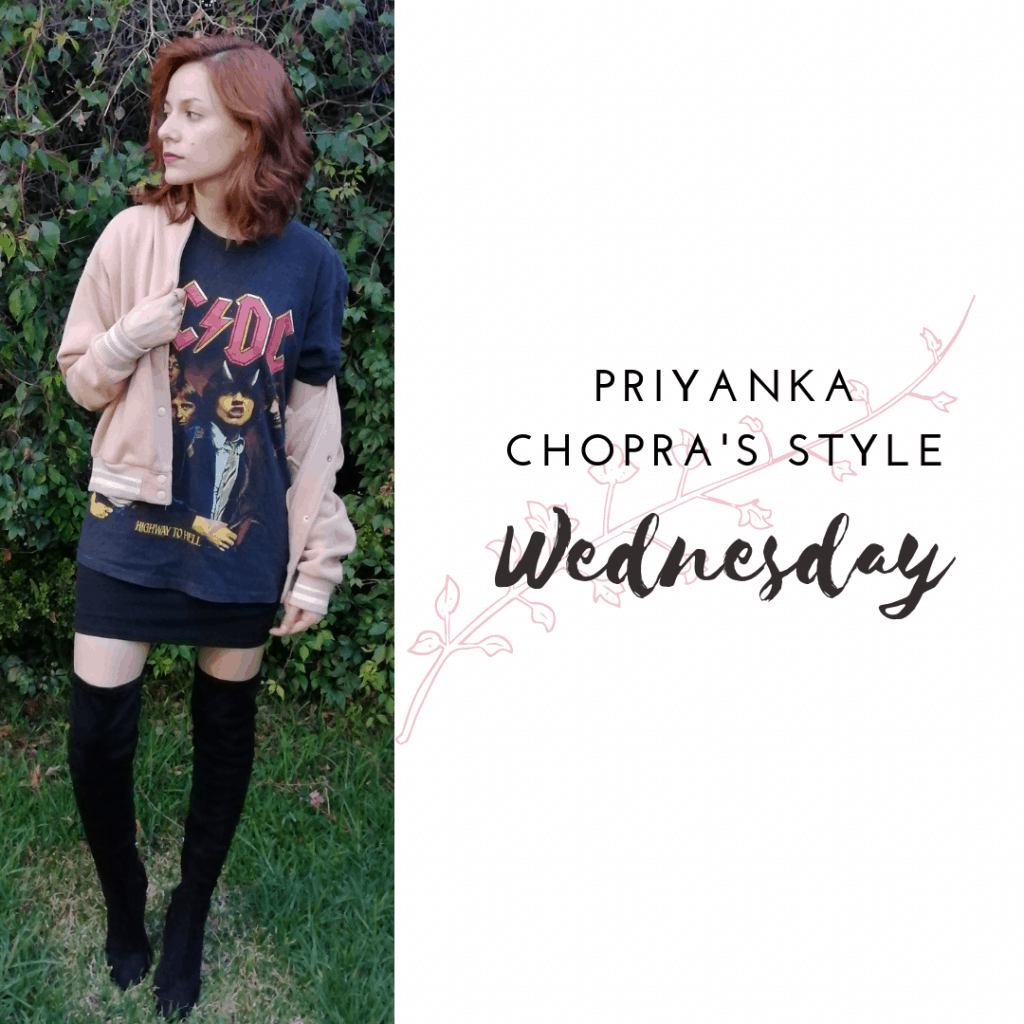 On Wednesday, I chose this edgy-cool outfit. Above, Priyanka is wearing a graphic t-shirt dress, over the knee boots, and a pink bomber jacket.
Again, I had every item, but with slight changes in material and cut. For my interpretation of the outfit, I wore a black graphic t-shirt, a black skirt, a mauvey pink bomber jacket, and black over-the-knee boots. I had to cheat and use the skirt because my t-shirt with the busiest print wasn't long enough to wear as dress.
I decided to wear the items I already had because A) spending money on something I already had didn't make sense to me and B) it was going to be difficult to find a jacket and boots like hers at this time of year.
I felt BAD-ASS in this outfit. Honestly, I loved how edgy this was. I usually don't do anything on Wednesdays, but with this outfit I had to be seen, so I went out with my friends. I got lots of compliments on this outfit and it felt like my style, like something I would 100% wear, which is funny because I had never thought of wearing all of these items together.
Priyanka Chopra's Style: Outfit #4 – Thursday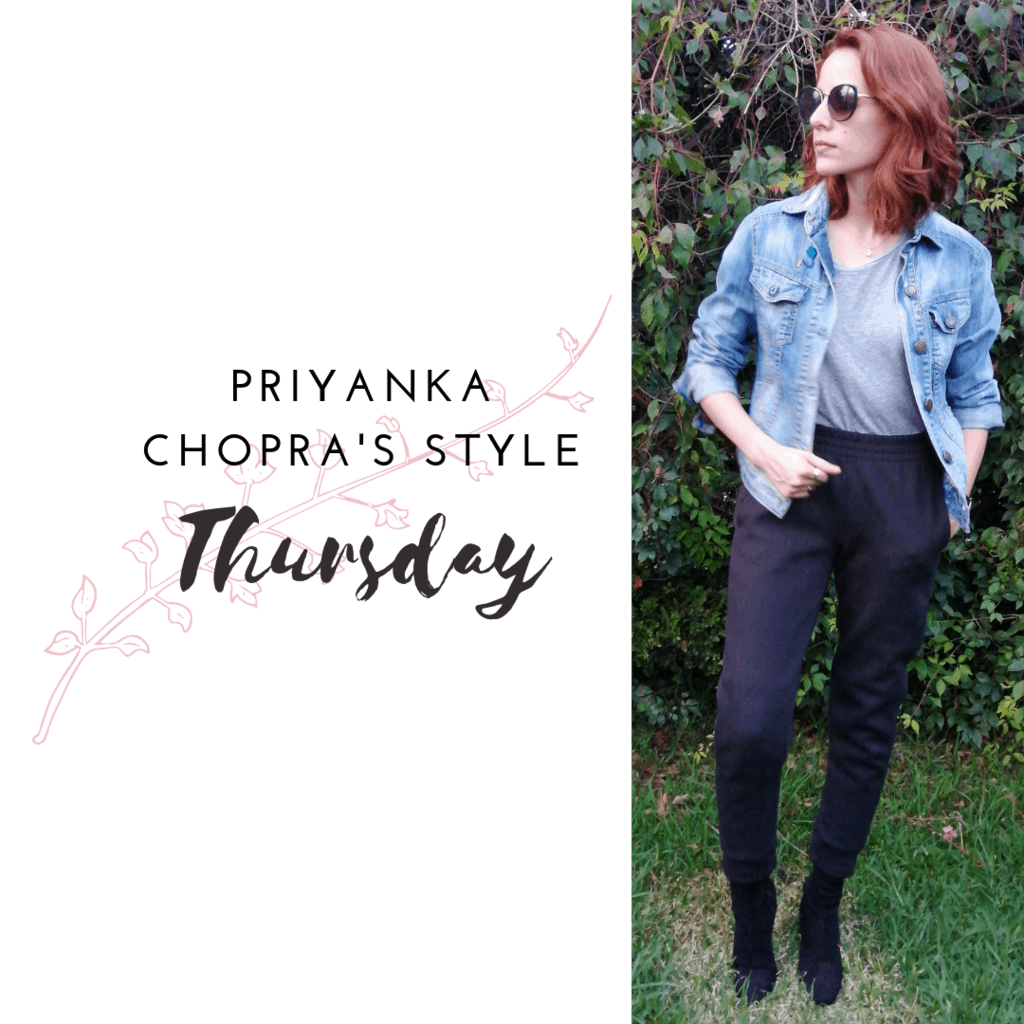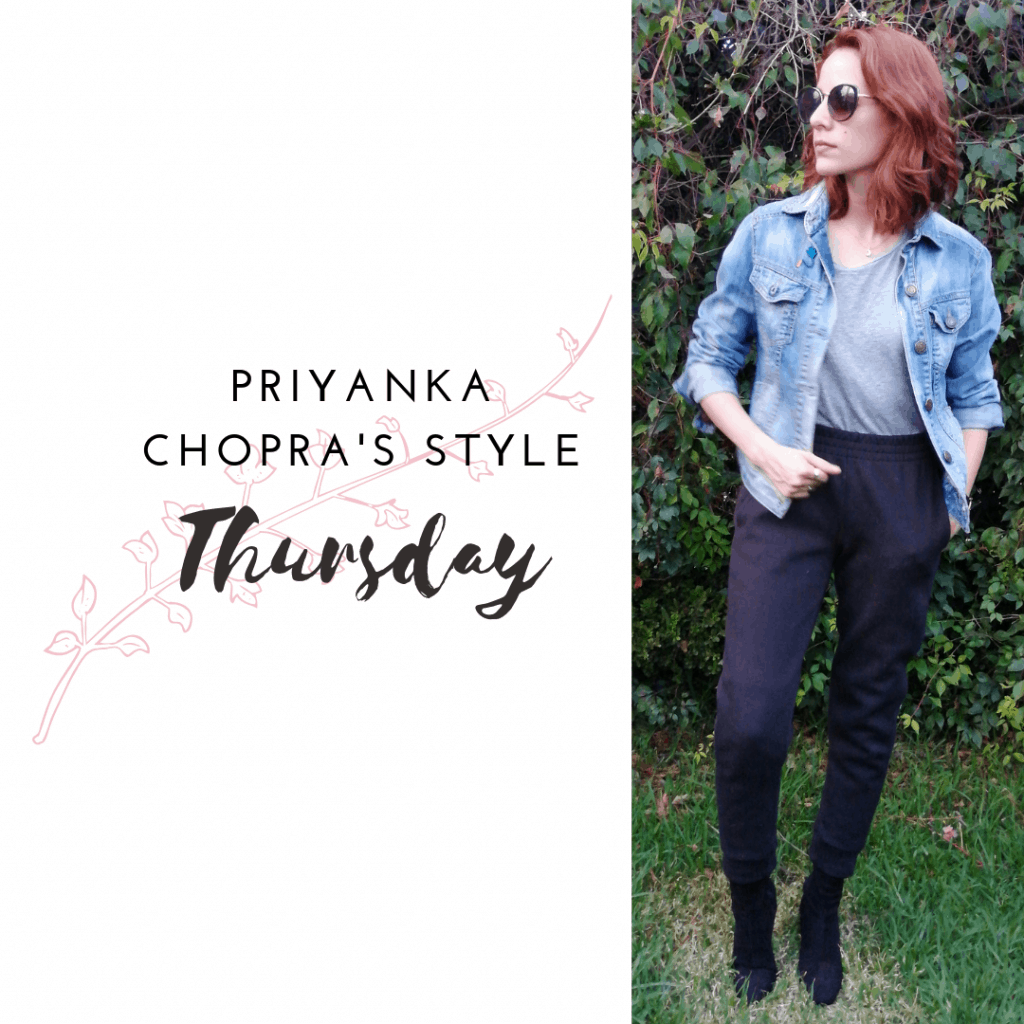 Thursday was a chill-out day, so I chose this outfit. Here, Priyanka is wearing grey sweatpants, sock booties, a black top, a denim jacket, and oversized glasses.
I had almost every item, but in different colors. I had black pants and boots, so I decided to switch up the colors and use a grey t-shirt and black bottoms instead of going on to find grey pants and grey booties. It's a sort of weird outfit, but I actually liked it. It was comfortable yet put together enough for the office in the morning and chilling out in the afternoon.
It was a great outfit for me to try, especially because I usually stay away from the sweatpants-booties combo. I liked the comfort of it, but what I liked the most was that with just the booties the whole outfit went from "chill" to "posh".
Priyanka Chopra's Style: Outfit #5 – Friday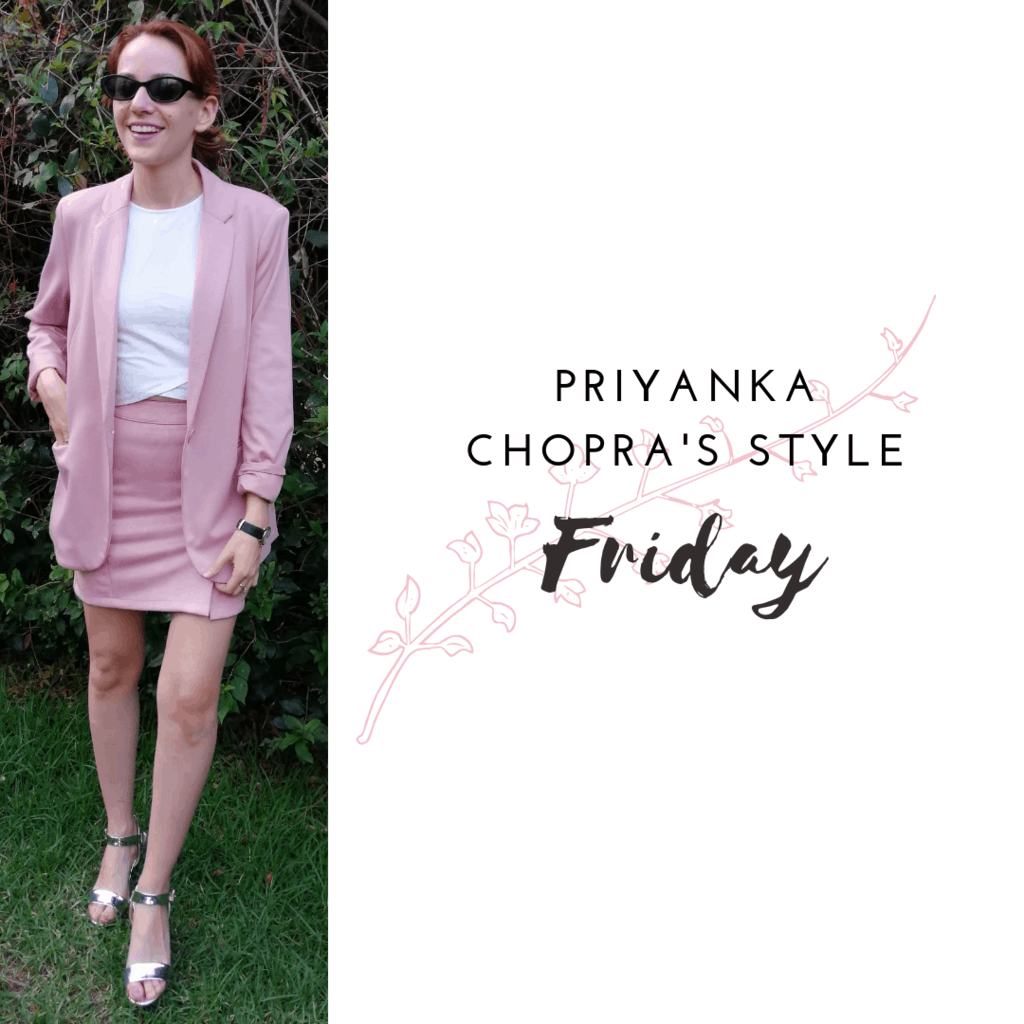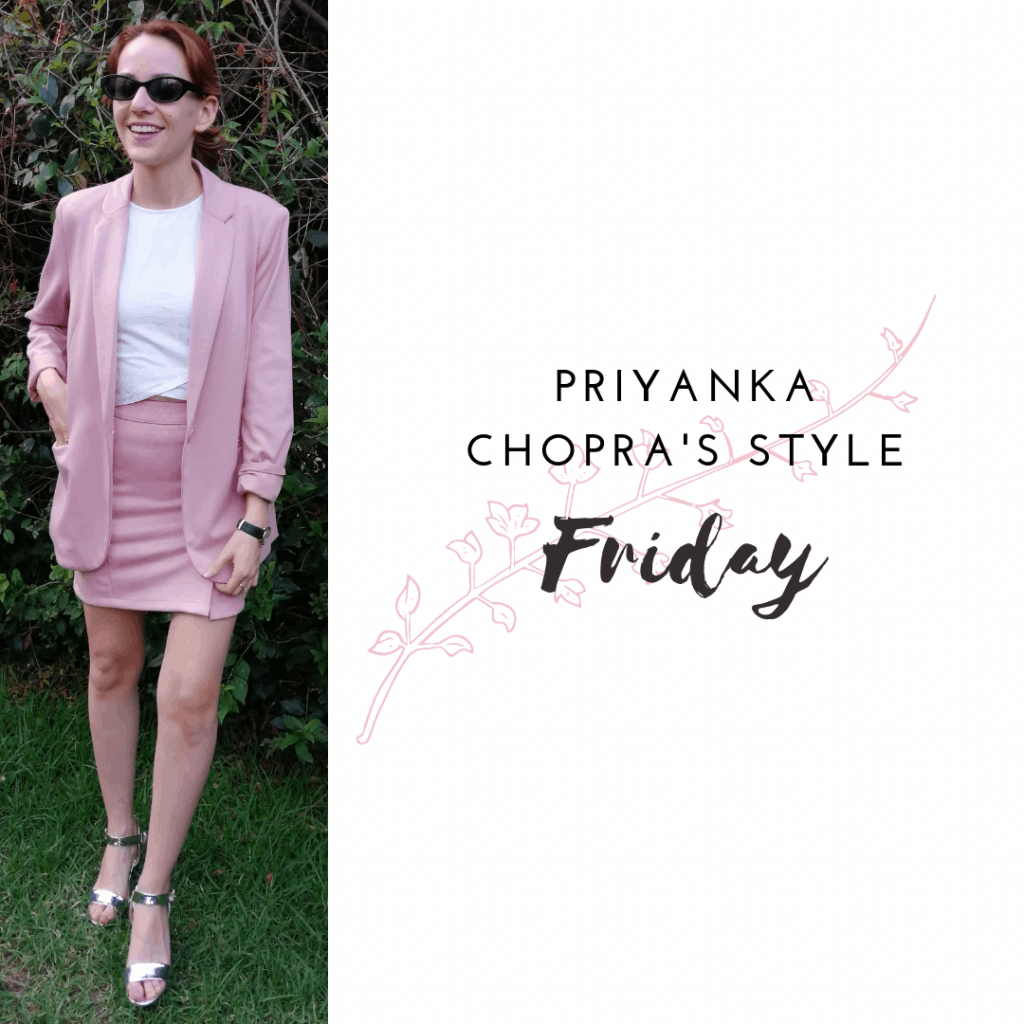 I saved girliest of the outfits for Friday. In this image, Priyanka is wearing a matching pink blazer and skirt with a white top, see-through heels, and '90s style sunglasses.
Out of all the outfits I've recreated for this series, this one was the most difficult to recreate with the items I had on hand. In fact, I only owned the top. The blazer is my sister's and I had to buy the heels and the skirt. I used the same silver heels I wore on Tuesday, since I couldn't find see-through heels. I also wore the same sunglasses from Tuesday.
I'm proud to say I survived spending a day in this girly outfit. It sounds dramatic, but I was way outside of my comfort zone. That said, I felt strangely empowered while wearing this. Maybe it was the blazer or the heels, but I ended up loving this outfit and it's actually my favorite from the week!
Final Thoughts
I have a lot of mixed feelings about this week. On one hand, I found outfits and items that I loved and would wear again, but on the other hand, I had to do too much shopping for my taste.
To pull this week off, I had to really go back to the roots of why I started this series. The point was to work with what I have, rather than to be a style copycat and try to shop everything to match the celebrity 100%.
Take the see-through heels, for example. I was going crazy trying to find ones that looked like Priyanka's, but I had to sit myself down and think: Am I going to wear them again? Ever? Are they an investment or are they just an item for that one outfit and that's it? The same happened with the grey pants and booties. I had them, but in a different color, so what was the point of buying them again?
So, if you try to recreate someone's style yourself, I advise you to really think: which items are you willing to purchase? Of those items, which ones are you SURE you will wear again and again?
Overall, I would totally take inspiration from Priyanka again, but I wouldn't recreate her style in its entirety. It's just not my taste. (But if her style is like yours, you should totally go for it! She has some amazing outfits!)
Priyanka's style is attainable for college students. You might not have everything already in your closet, but with a little imagination you can totally pull it off. Her style is so cool that if you like it, I highly recommend you use it as inspiration.
What do you think?
Do you like Priyanka's style? Which outfit would you wear? Which one was your favorite? Whose style do you think I should do next? Let us know in the comments!