This post may contain affiliate links, which means we may receive a commission if you purchase through our links. Please
read our full disclosure here
.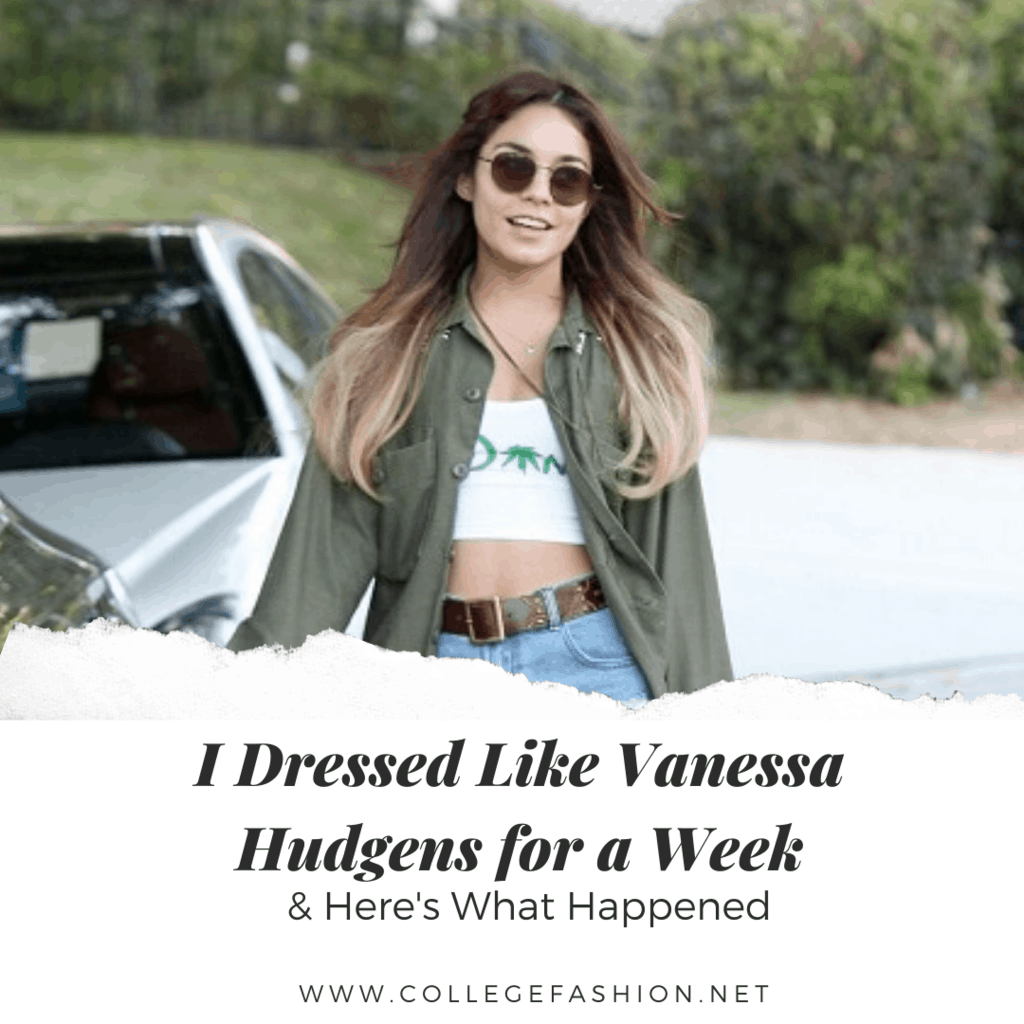 We've all looked to celebrity style for fashion inspiration at some point in our lives. But it's one thing to say "I love her outfit," and it's another to actually copy it in real life.
For this series, I'm going the extra mile and making it happen. Each week, I'm getting inspiration from a celebrity and copying five of her looks as closely as possible. Then, I'm reporting back to you: Did the outfits work in real life? Did I feel comfortable? Did people treat me differently? I'm sharing it all.
Over the past few weeks, I've stepped out of my comfort zone and dressed like Zendaya, Gigi Hadid, Grace Kelly, and Kendall Jenner. Today, I'm featuring someone with a completely different vibe from any of the women I've copied so far.
This week, I'm throwing it back to middle school and dressing like one of my OG celebrity inspirations, Vanessa Hudgens.
Vanessa Hudgens' Style
Although Gabriella wasn't the most stylish character on High School Musical (we all wanted Sharpay's clothes, let's be honest), Vanessa Hudgens is another story entirely.
Vanessa is the celebrity queen of boho chic, and she pretty much always dresses to impress. Despite her daring approach to fashion, her staples are accessible: Think jeans, skirts or dresses paired with flats, heels, sneakers, and espadrilles. Vanessa wears neutral and bright colors and she always seems comfortable and put together.
Now let's see how I copied her looks for a week in my life.
Vanessa Hudgens' Style: Outfit #1 – Monday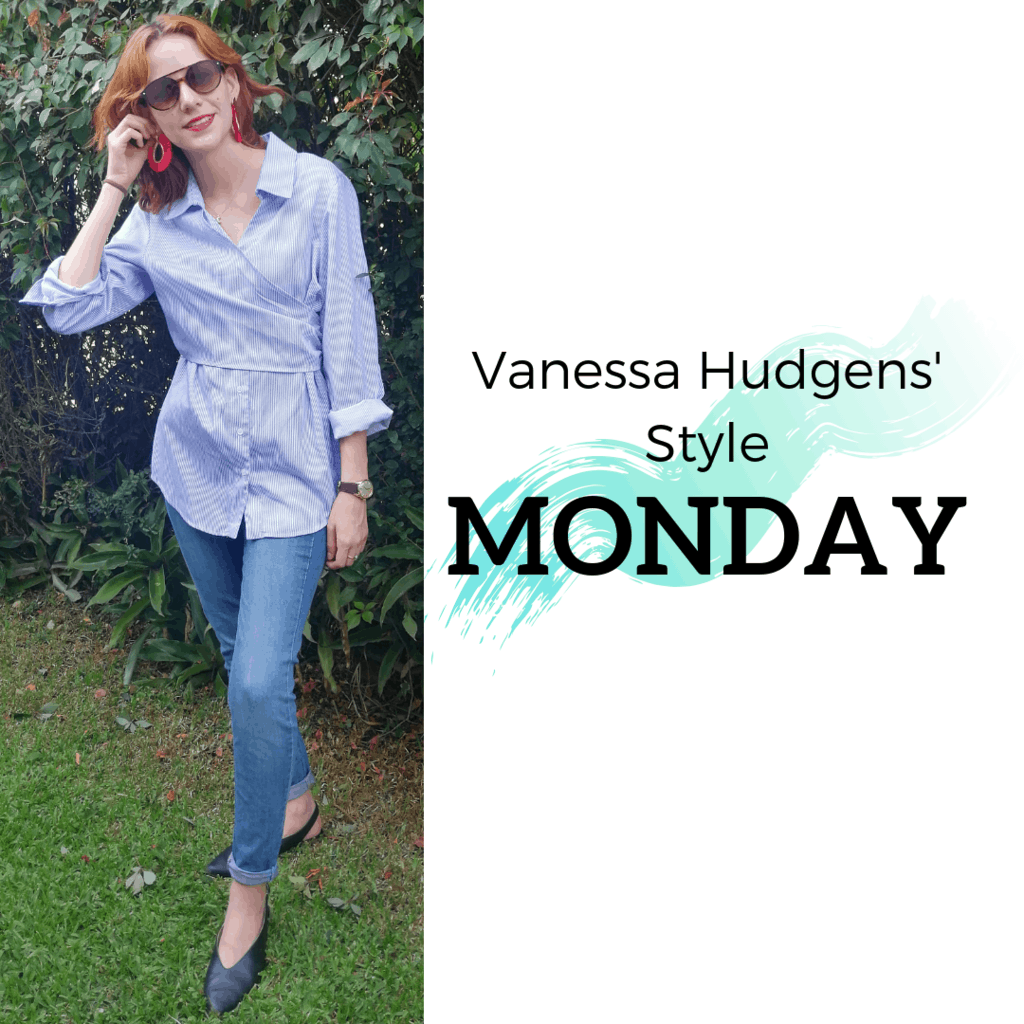 For the first day I chose this simple and girly outfit. In the photo, Vanessa is wearing a wrap shirt, blue jeans, black shoes, and statement earrings.
To get her look, I used a white and blue wrap shirt, blue jeans, and black flat shoes.
I was sure to focus on accessorizing this week, since Vanessa's style relies heavily on accessories. Here, I used a pair of red, long earrings.
I had all of these items already, aside from the shirt, which I borrowed from my mom. It has a different style than Vanessa's, but it is a wrap shirt in the same color scheme so it gives off a similar feel.
I wore this outfit to the office and it was perfectly comfortable and appropriate. I felt like the earrings really made this look. I almost never accessorize and if I do, it's with very simple jewelry and neutral colors. I had fun with these bold earrings, and they added a necessary pop to the outfit.
Vanessa Hudgens' Style: Outfit #2 – Tuesday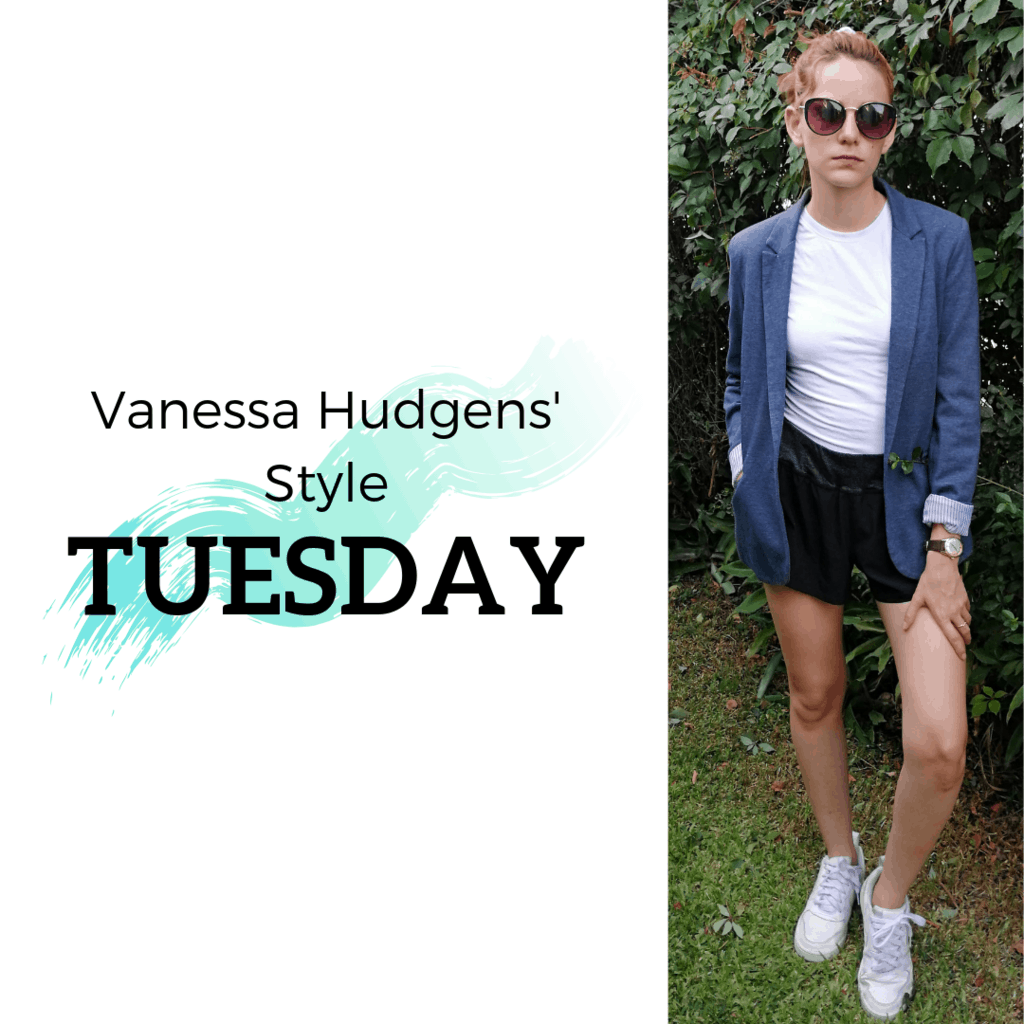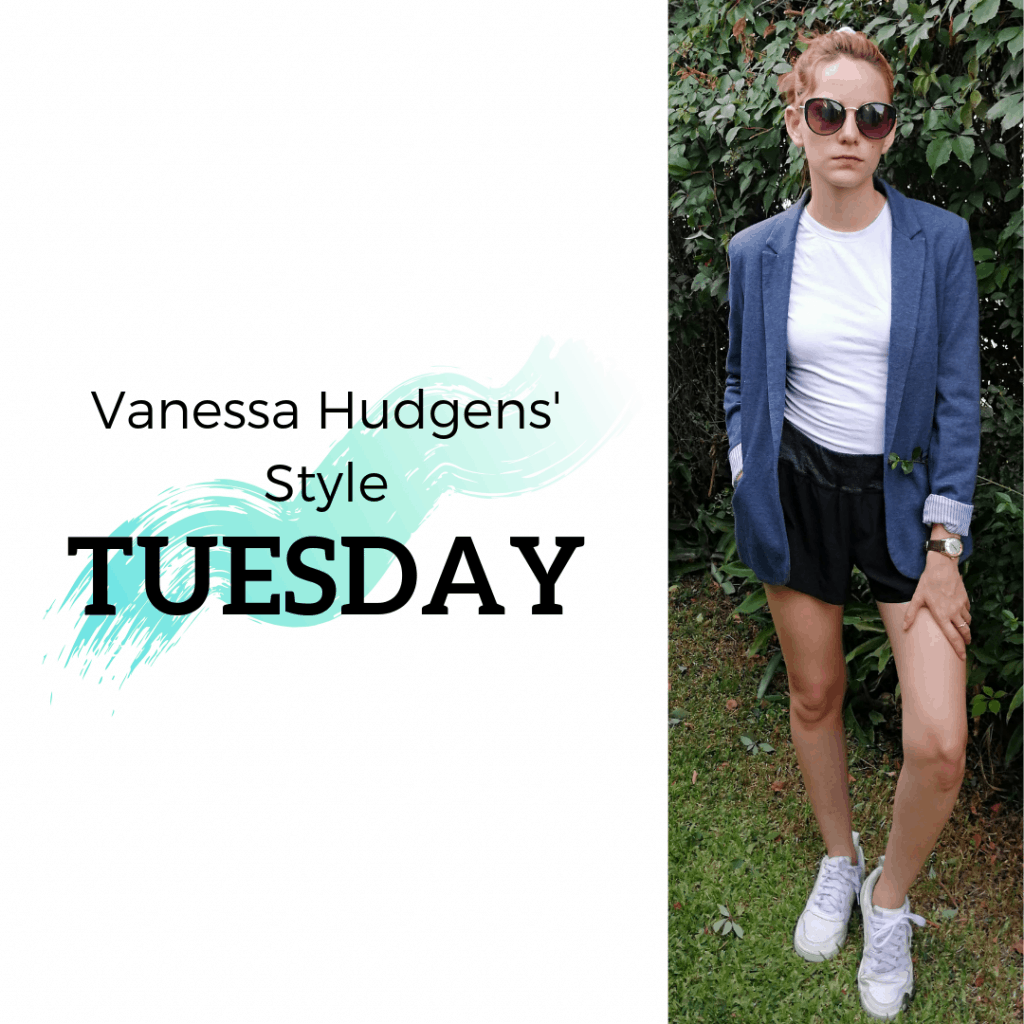 On Tuesday, I went for this athleisure-inspired outfit. In the picture above, Vanessa is wearing a blue blazer, a white t-shirt, white sneakers, and black gym shorts. She's also wearing her hair in a ponytail, tied up with a trendy scrunchie.
I wore the same items, but my blazer is in a lighter color than hers. And I also put my hair up in ponytail with a blue scrunchie and accessorized with big sunglasses. I wore this outfit for a normal day at the office and to run errands in the afternoon.
Overall, the outfit was incredibly comfortable, except for one thing: I keep going for outfits with blazers even though I know the weather where I live is not blazer-friendly. And without the blazer, the outfit is just a gym type of outfit. Sigh.
Vanessa Hudgens' Style: Outfit #3 – Wednesday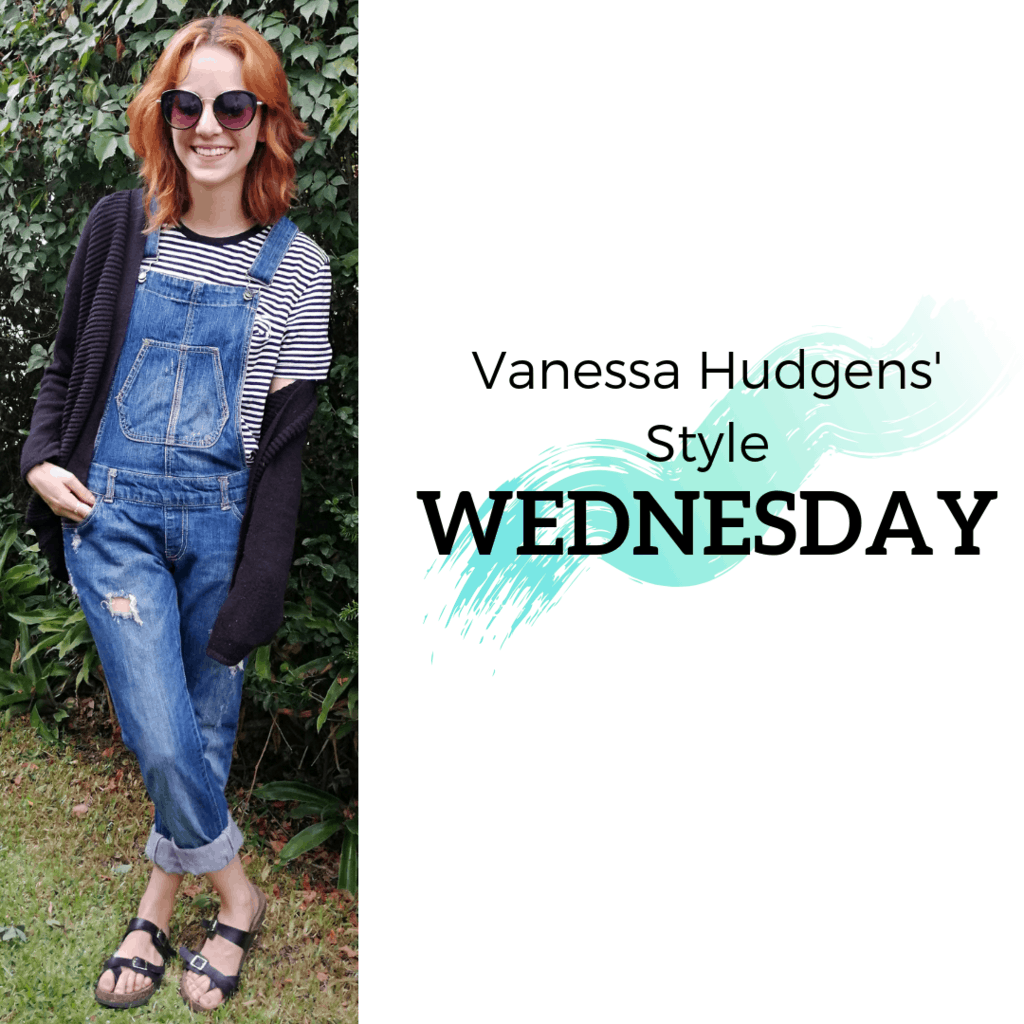 For the third day, I went for this comfy, casual outfit. Above, Vanessa can be seen in boyfriend overalls, a striped t-shirt, a black sweater, and Birkenstocks.
For this look, I borrowed the overalls and Birkenstocks from my sister. I had everything else already, and the sunglasses were my only accessory. I chose this outfit for Wednesday because it was an off day for me: no office, no school.
This was the perfect outfit for lounging all day, except for the fact that this is not my style at all. I do wear overalls, but I don't wear Birkenstocks or any open shoe, really. I have never felt comfortable in any type of sandal or flip flop, of any kind.
The outfit has certain items that I do wear, but not all together and not like this. For example, what I'd wear with these overalls would be a tighter shirt and a pair of booties. In general, it was a comfortable outfit, but it wasn't something that I loved. And again, I keep choosing outfits with sweaters and blazers even though we're in summer weather.
Vanessa Hudgens' Style: Outfit #4 – Thursday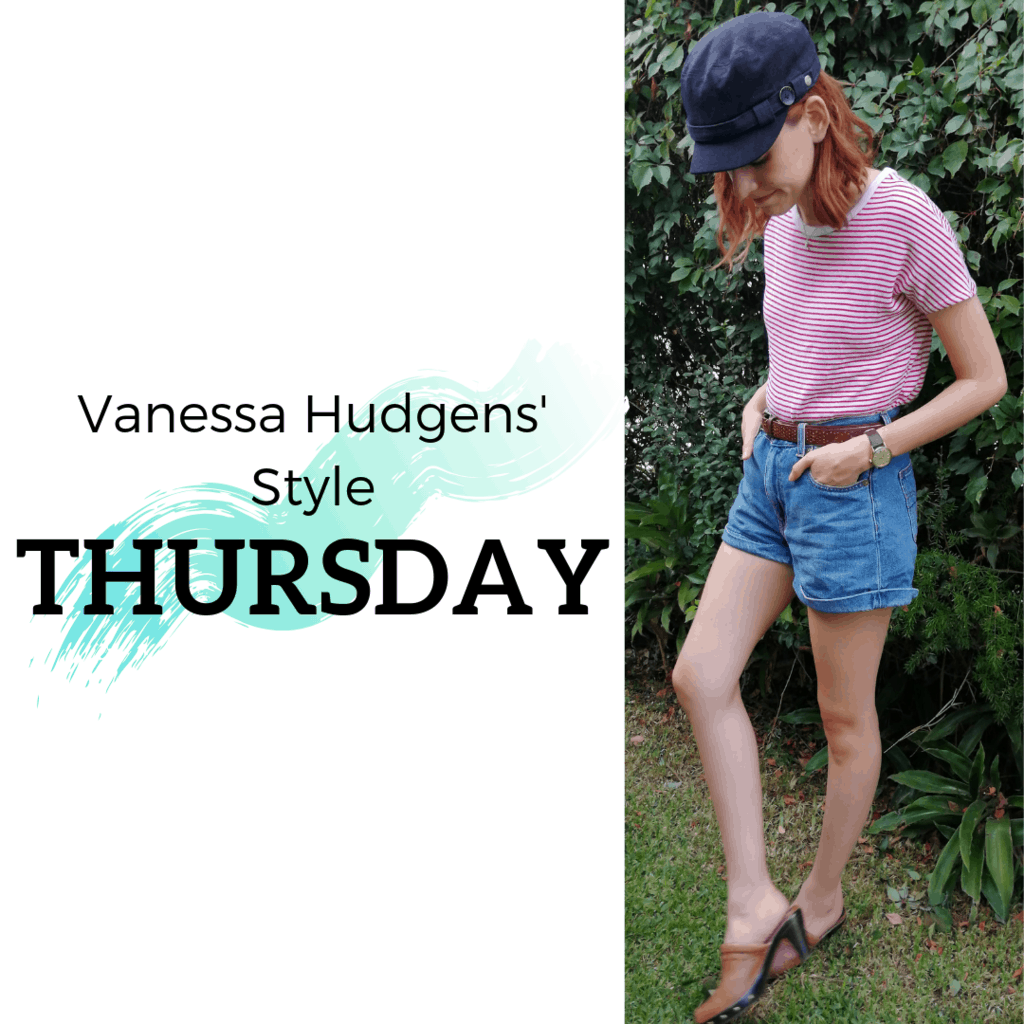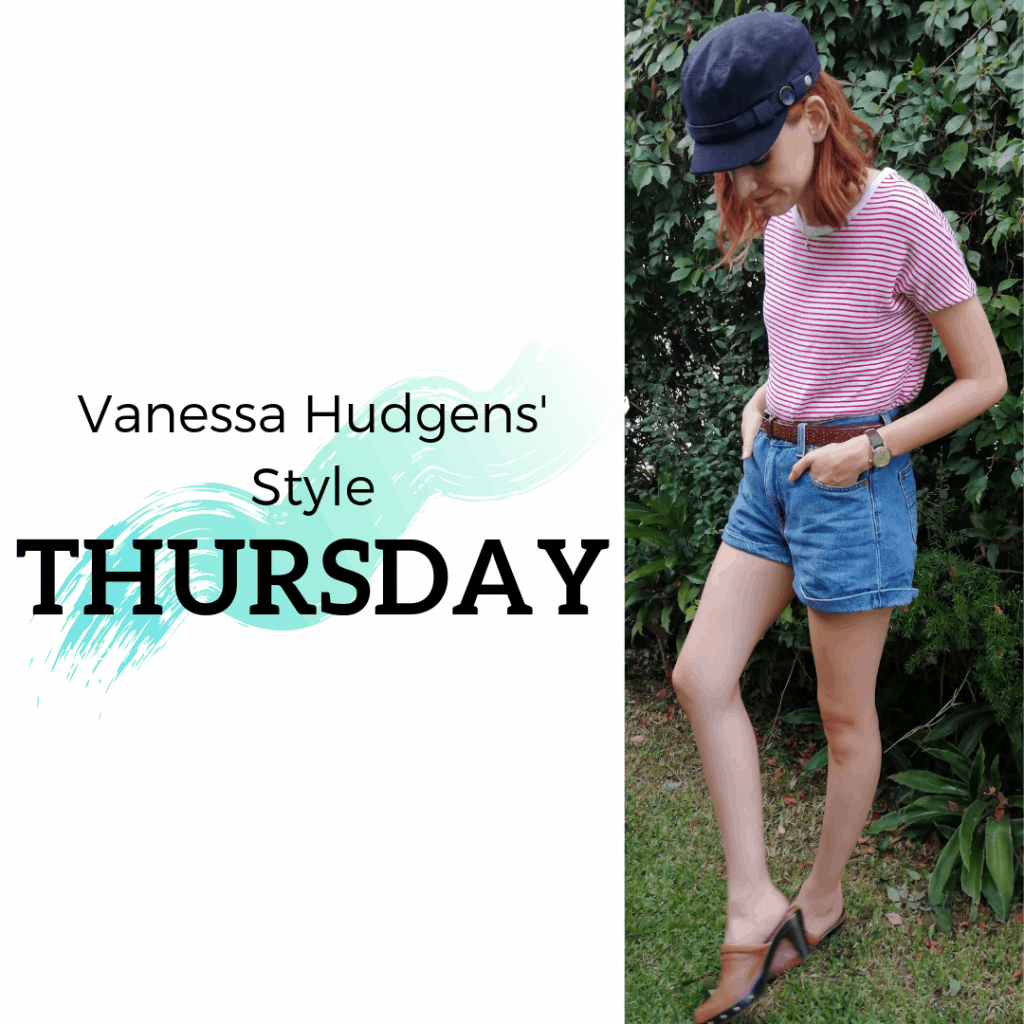 For Thursday, I chose a boho, street style-inspired outfit. For this look, Vanessa is wearing a striped t-shirt, denim shorts, clogs, a belt, and a baker boy hat.
I had almost all of the items for this outfit except the hat and the clogs, which I borrowed from my mom. My t-shirt has different colors and stripes, but it still has the red and I thought it was a decent enough dupe.
I went to the office on this day and I had never worn denim shorts to the office before. My office does not have a strict dress code, so denim shorts are fine, but I've never considered wearing them there. Overall, it was a comfortable and cool outfit. My only criticism is that the clogs weren't as comfortable as I thought they would be.
Vanessa Hudgens' Style: Outfit #5 – Friday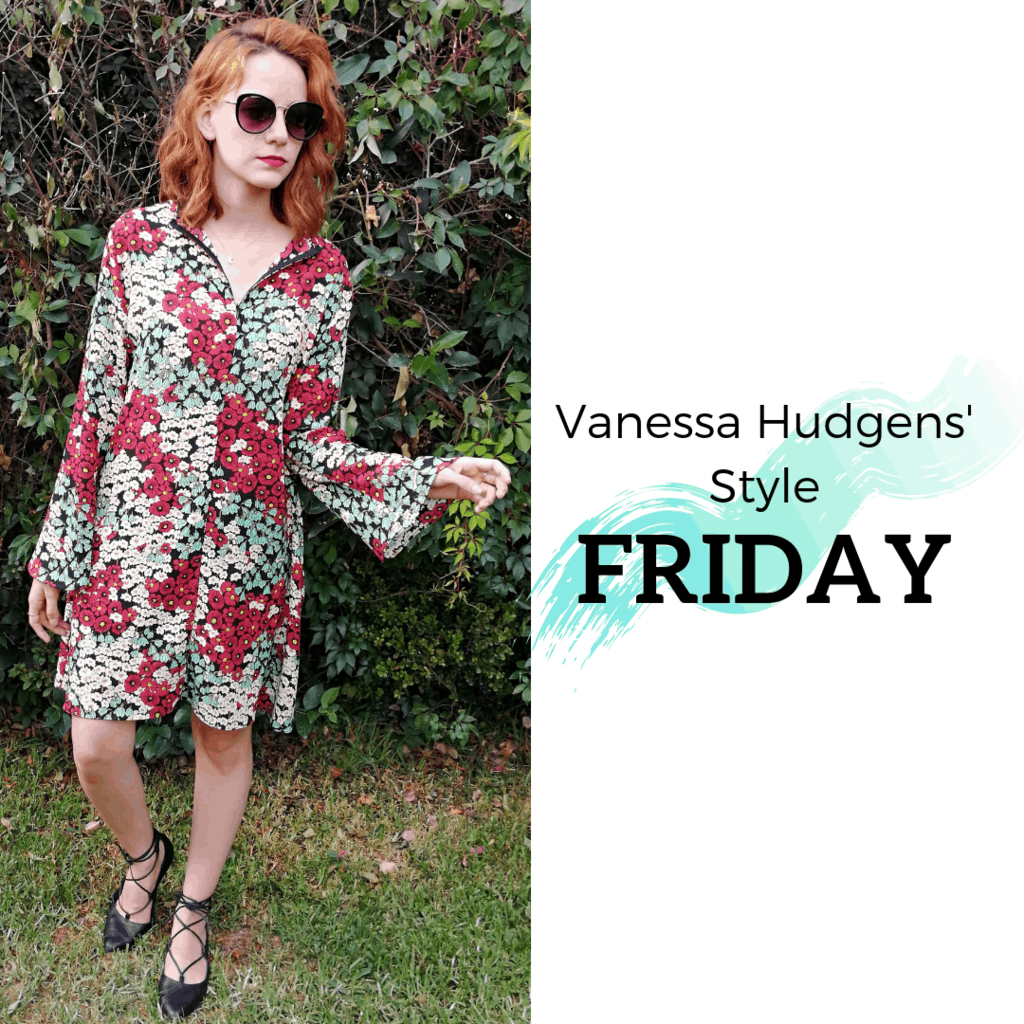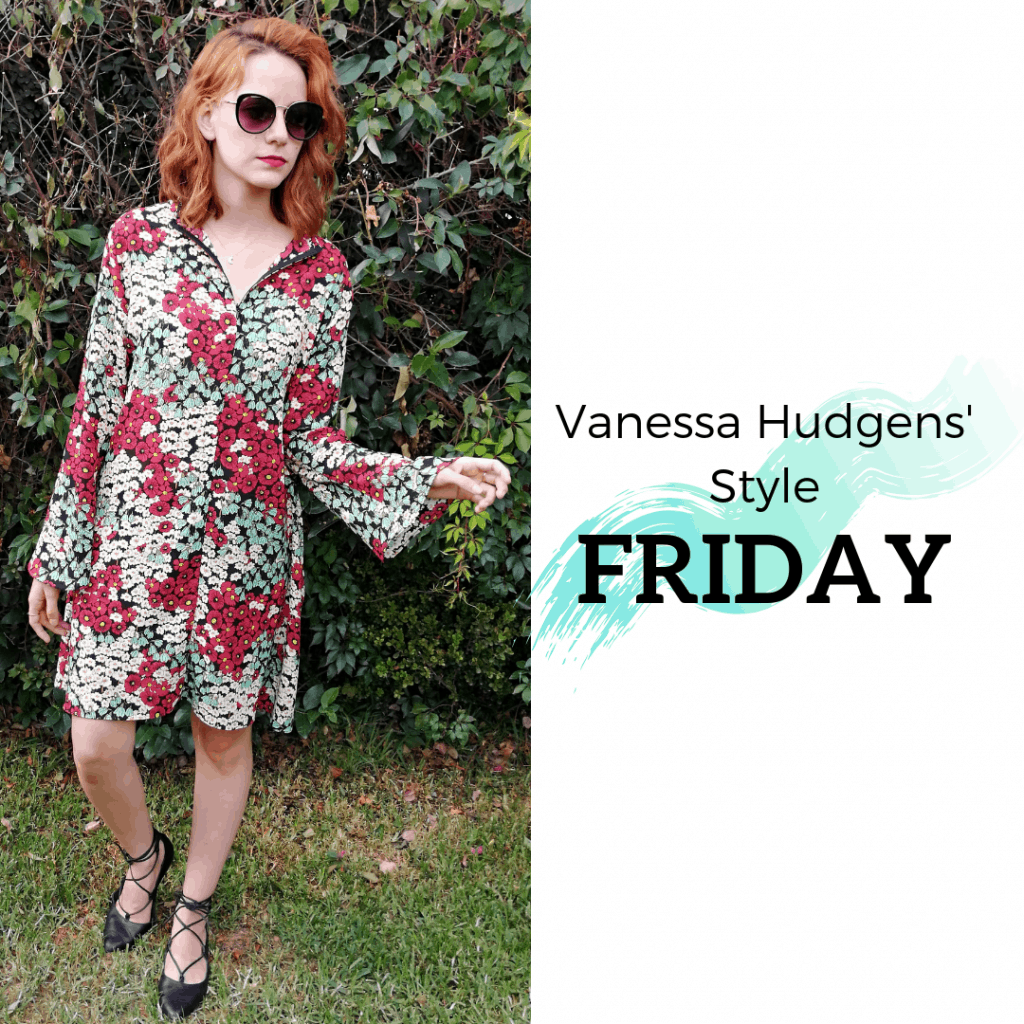 The last Vanessa outfit I went for is a loose fitting dress with bell sleeves and black ankle tie heels.
For my interpretation of the outfit, I wore a dress with the same cut as Vanessa's, but in a different pattern and with a pair of black ankle tie flats. Since I already had a dress that could work, I didn't feel it necessary to go ahead and buy another one, even though the pattern is different.
I loved this outfit. It is not my style, at all, but it was something I really came to love after wearing it all day. It was girly, put together, and cool. It was perfect for the weather and for a day of work and going out with friends.
Final thoughts
I decided to not use any of Vanessa's famous Coachella outfits, because even though I don't have a dress code in the office or anywhere else, I don't think my boss or any one there would let it slide if I showed up in a Coachella outfit at work.
In general, Vanessa Hudgens' style is very, very far from my personal style. She's boho chic and incredibly girly. Some of the outfits, like Tuesday's and Friday's, I completely loved and gave me a bit more to do with my closet. But Wednesday's outfit wasn't my favorite, even though it was the most comfortable out of the five.
If you are a boho chic kind of girl then go for it and if you're looking to experiment a bit with your style, I bet you have most of the items you'll need to emulate Vanessa Hudgens' looks. You'll have to adjust some things or look for different outfits if you have a strict dress code, but if you don't have one, you can absolutely get inspiration from any outfit she wears.
What do you think?
Do you like Vanessa Hudgens' style? Which was your favorite outfit? Would you wear any of this? Who do you think I should get inspiration from for next week?