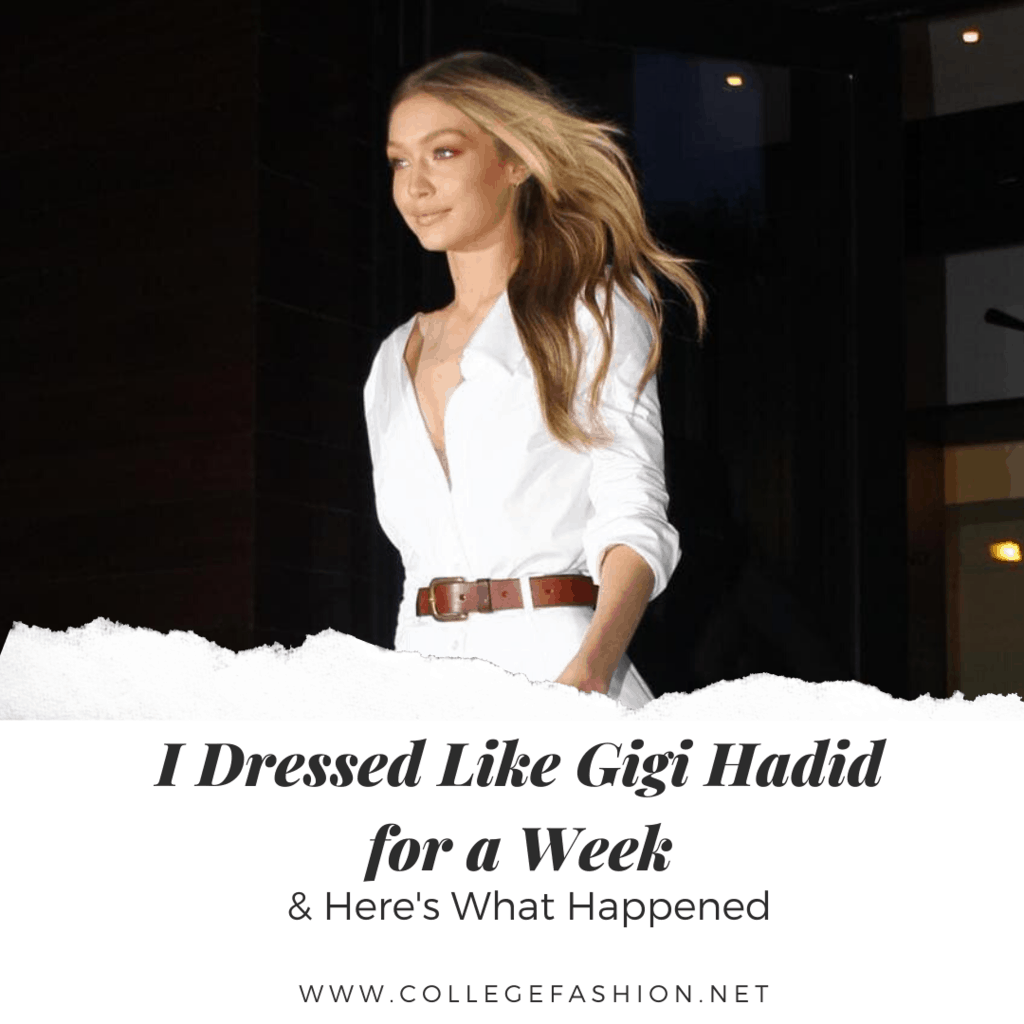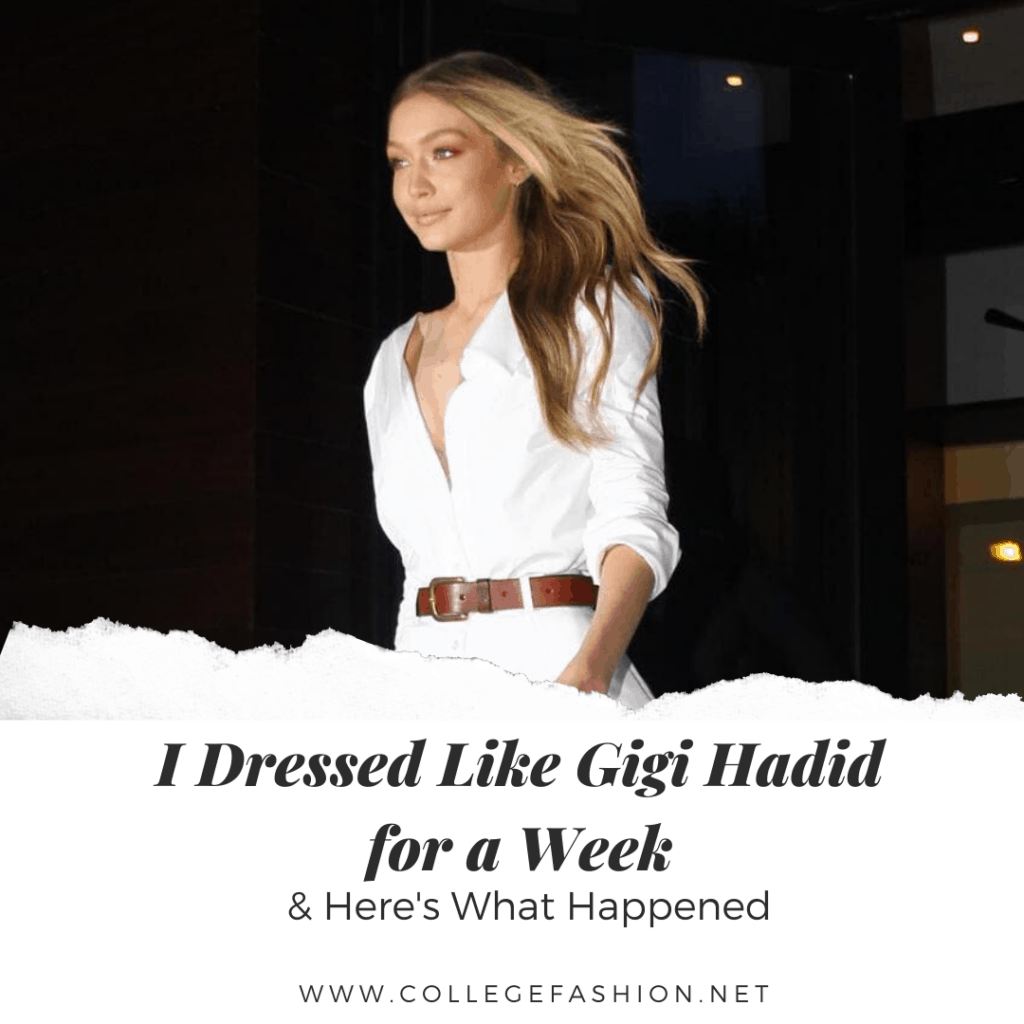 When we have no idea of what to wear, most of us look for inspiration in our favorite celebrities, but often times, we don't go for it or really try the looks we love so much. Taking risks in fashion is incredibly scary, especially when you don't know how (and if) a look can be achieved with what you've got.
For this new series, I'm taking one for the team every week and I'll be copying a celebrity's style for five days. By the end of it, I'll let you know how I achieved the look, how I felt with it, and if the looks are wearable on a daily basis. Last week, I took inspiration from Zendaya.
This week, I dressed like supermodel Gigi Hadid.
Gigi Hadid's Style
Gigi Hadid is the epitome of the "model-off-duty" style. Still, she doesn't fit into one particular aesthetic: athleisure, feminine, tomboy, glam or casual, she has done it all. Gigi can wear the most basic outfit in the world and she will look super cool doing so.
She gravitates towards trendier pieces and she usually elevates a basic outfit with those items.
Gigi Hadid's Style: Outfit #1 – Monday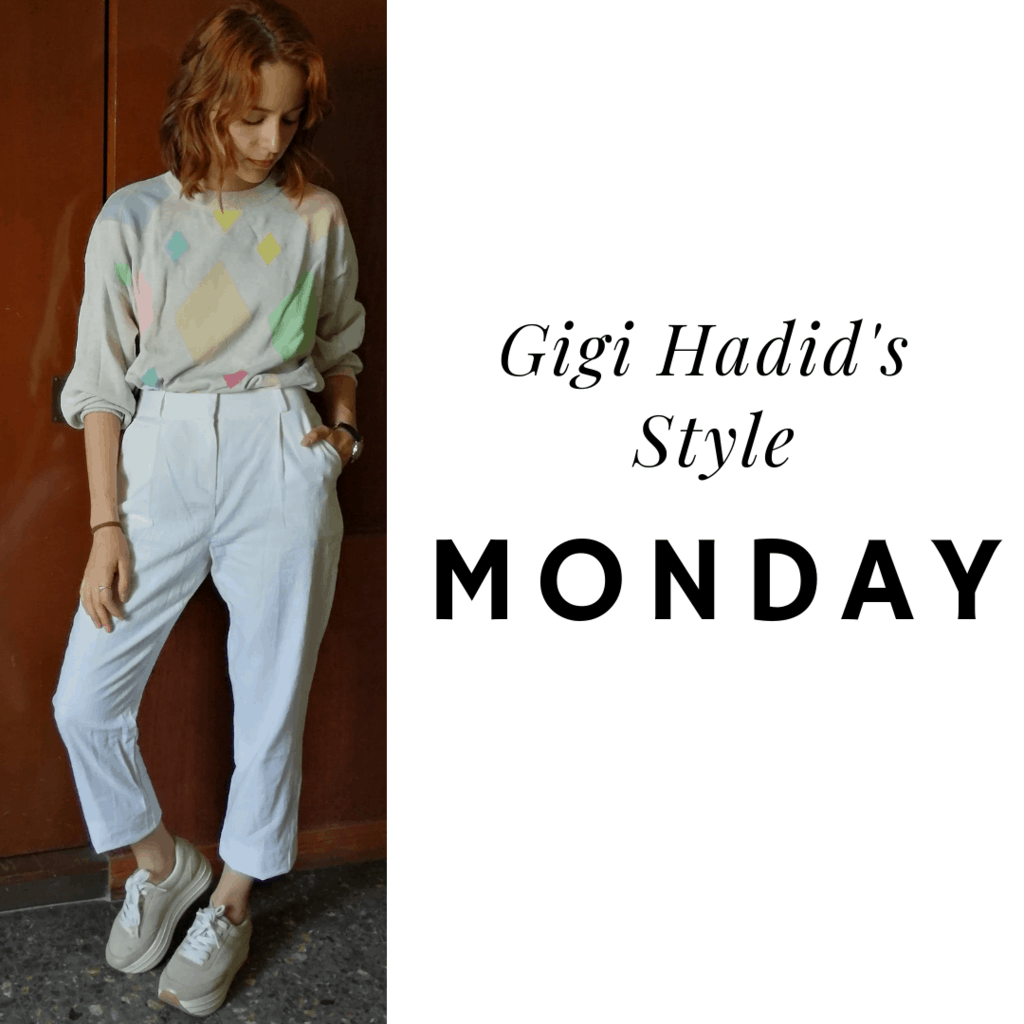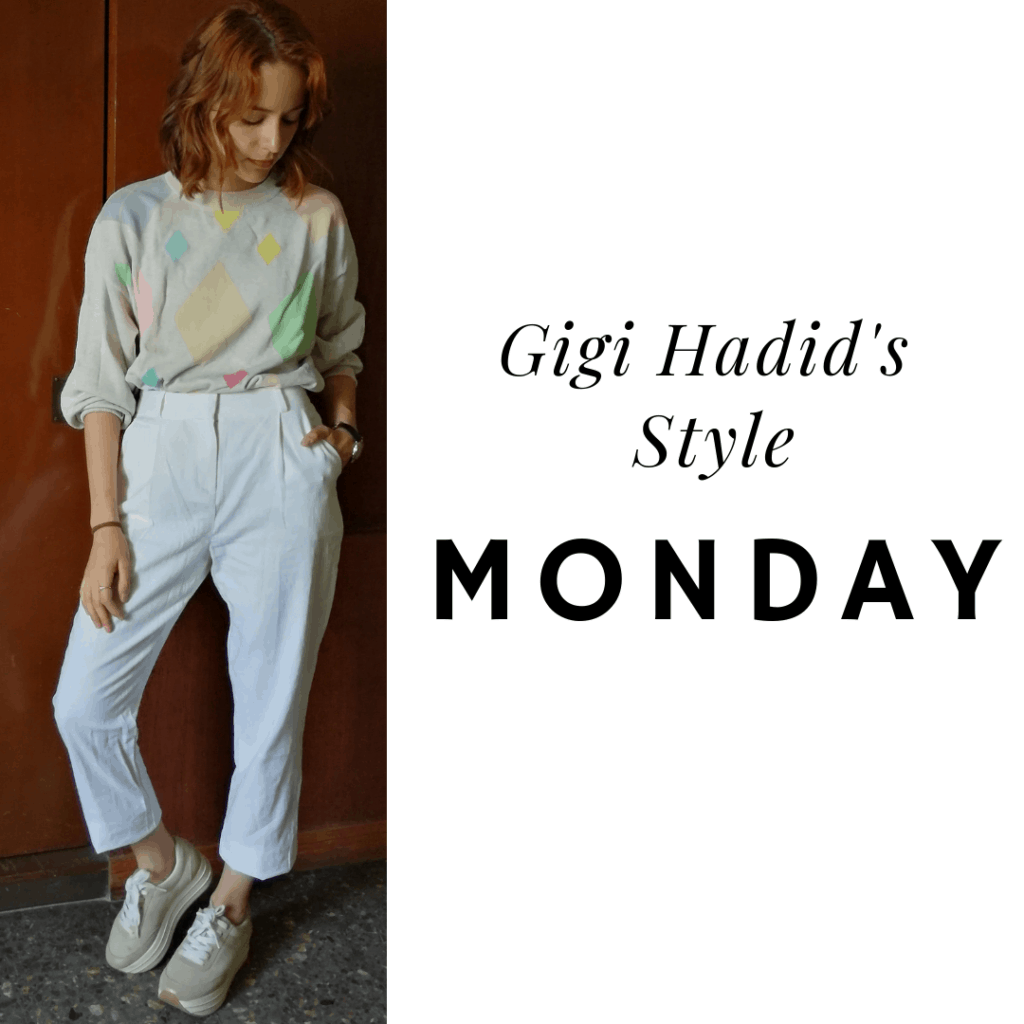 The first Gigi outfit I decided to copy was this effortlessly cool and fresh ensemble. She's wearing white cropped pants, platform sneakers, and an oversized sweater with a vintage vibe.
To copy this look, I used an argyle sweater with different pastel colors, a pair of linen white pants, and platform beige sneakers. I chose my sweater because it had the style and vibe that Gigi's sweater has, but it's also in a thin fabric, which keeps the whole outfit fresh for warm weather. I had to buy the pants, because I didn't own white pants of any kind, but the rest of the outfit I already had.
The outfit was incredibly comfortable and, surprisingly, fresh. I wore it to the office and to run errands and I felt incredibly cool. I'm not used to wearing white clothes (except for t-shirts), so I was hyper-aware of where I sat and what I ate, trying to be extra careful not to stain the pants. Reactions to me didn't change much, but what people close to me did say was "I don't think I've ever seen you in white" and that I should wear it more often.
I never cared to buy white pants because I've always felt that white makes me look even paler than I am. But after wearing this outfit, which is mostly in pastels and white, I realize I was wrong. I liked how I looked with this color palette and I'm going to keep wearing these pants, especially in the summer.
Gigi Hadid's Style: Outfit #2 – Tuesday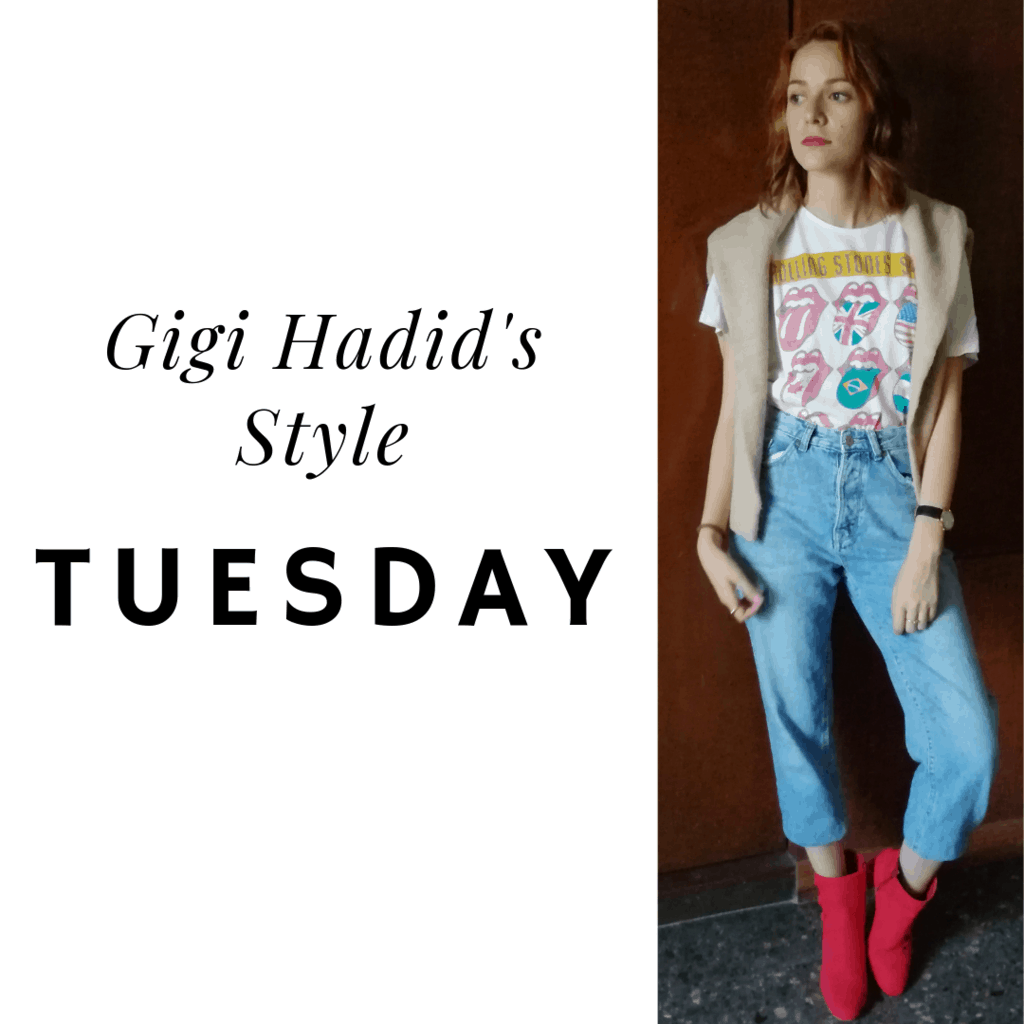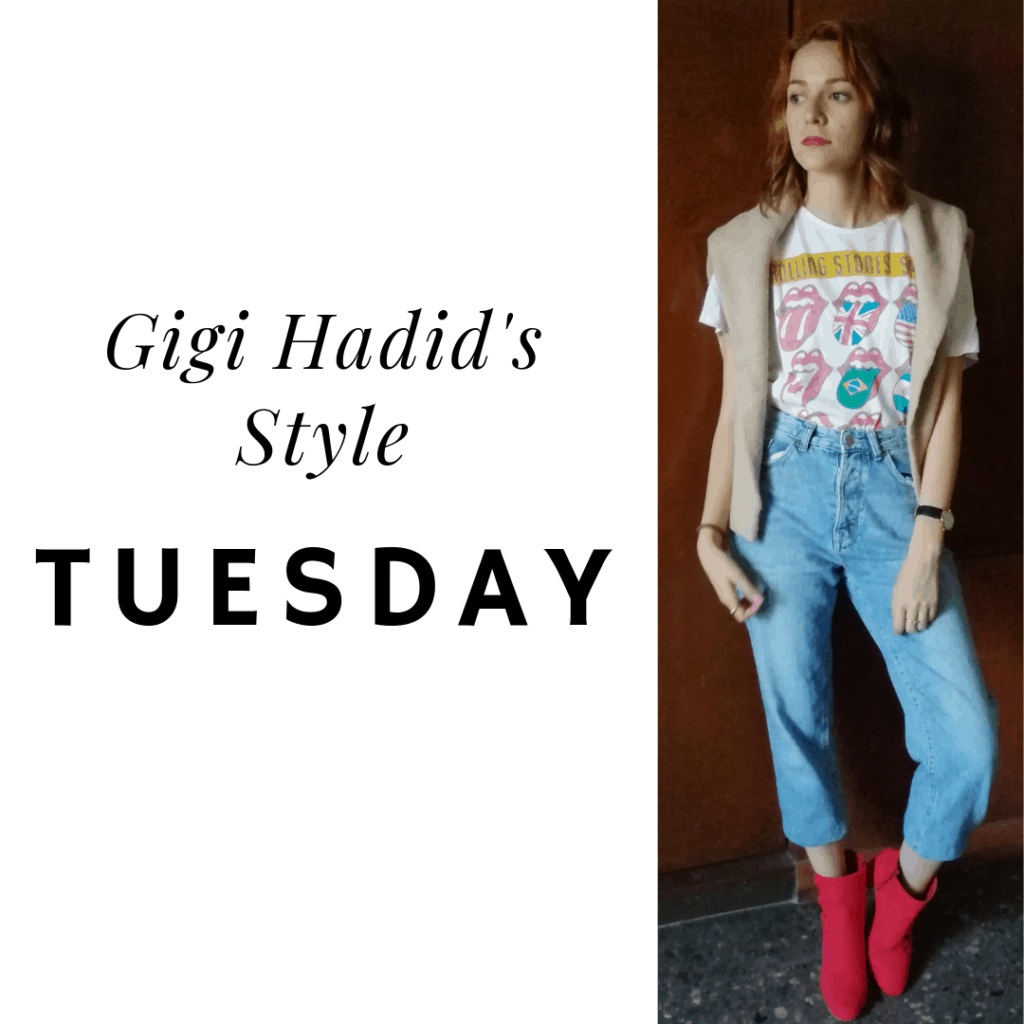 For Tuesday, I chose a casual, cool outfit from Gigi. Here she's wearing a graphic t-shirt, high-waisted jeans, red booties, and a brown sweater over her shoulders. I chose this one specifically for the boots, because I own a pair and don't wear them a lot because I don't know how to create a casual, everyday look around them.
I wore my mom jeans that have the same denim wash as Gigi's and cuffed them inside to make them look like hers. For the t-shirt, I wanted a graphic tee that had red on it to tie everything together, but I didn't own one with red accents. So I wore one of my brother's t-shirts. I threw a brown sweater over my shoulders and I had my outfit.
I wore this for a day full of work where I had a lot of meetings to attend. I liked this look a lot. It's comfortable and edgy, with a bold vibe to it thanks to the red accents. At first I thought the brown sweater was just going to be an accessory, but with the AC in my office being extremely cold, I actually wore it and it didn't bring the outfit down.
One of the things that has always been a huge no-no for me, has been pairing mom jeans and ankle boots, because I think it will make me look even shorter than I am. But with this outfit I didn't feel like that at all: I loved how I looked and didn't feel like it affected how my height was perceived.
Also, Gigi's tomboy streak allows me to expand my options beyond my closet or my sister's and I love that. I learned there are items you can borrow from your brother, boyfriend and even your dad to create a new look and they can look as good as something that's yours.
Gigi Hadid's Style: Outfit #3 – Wednesday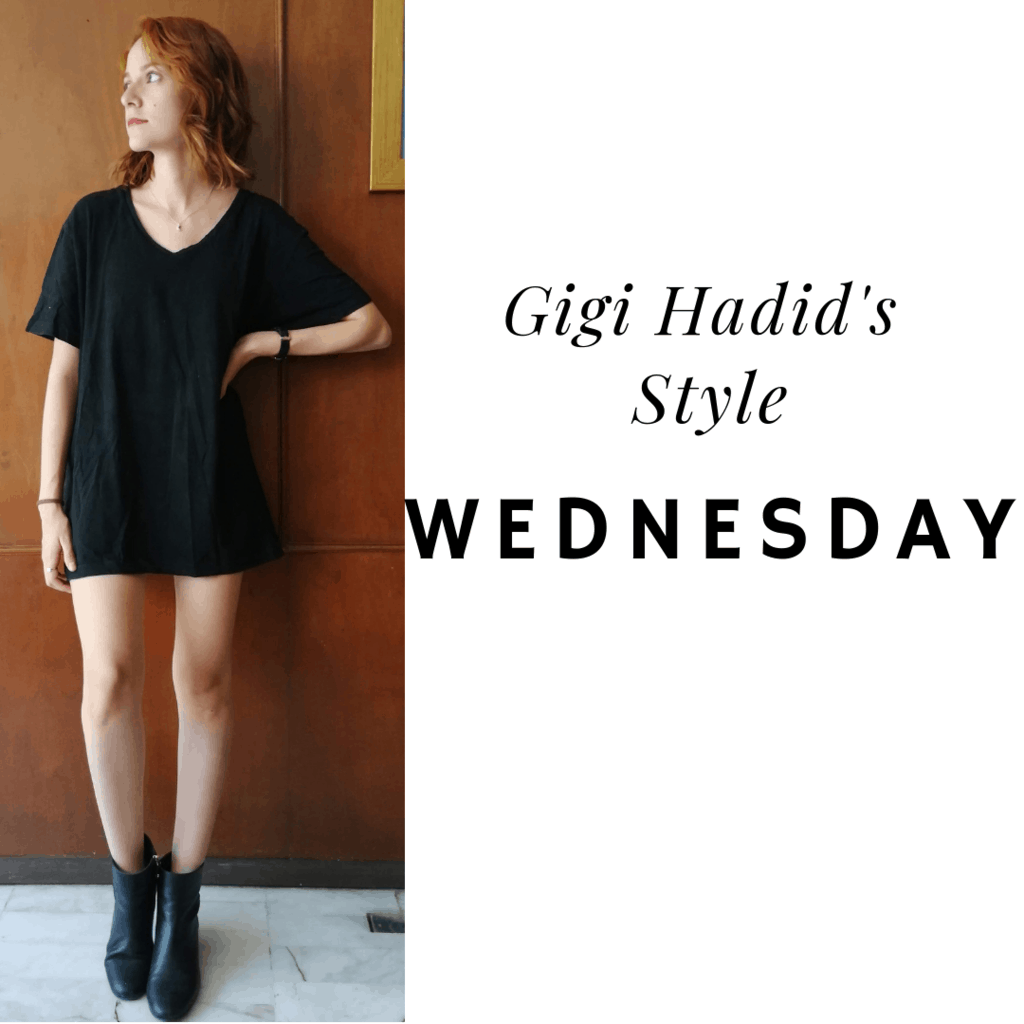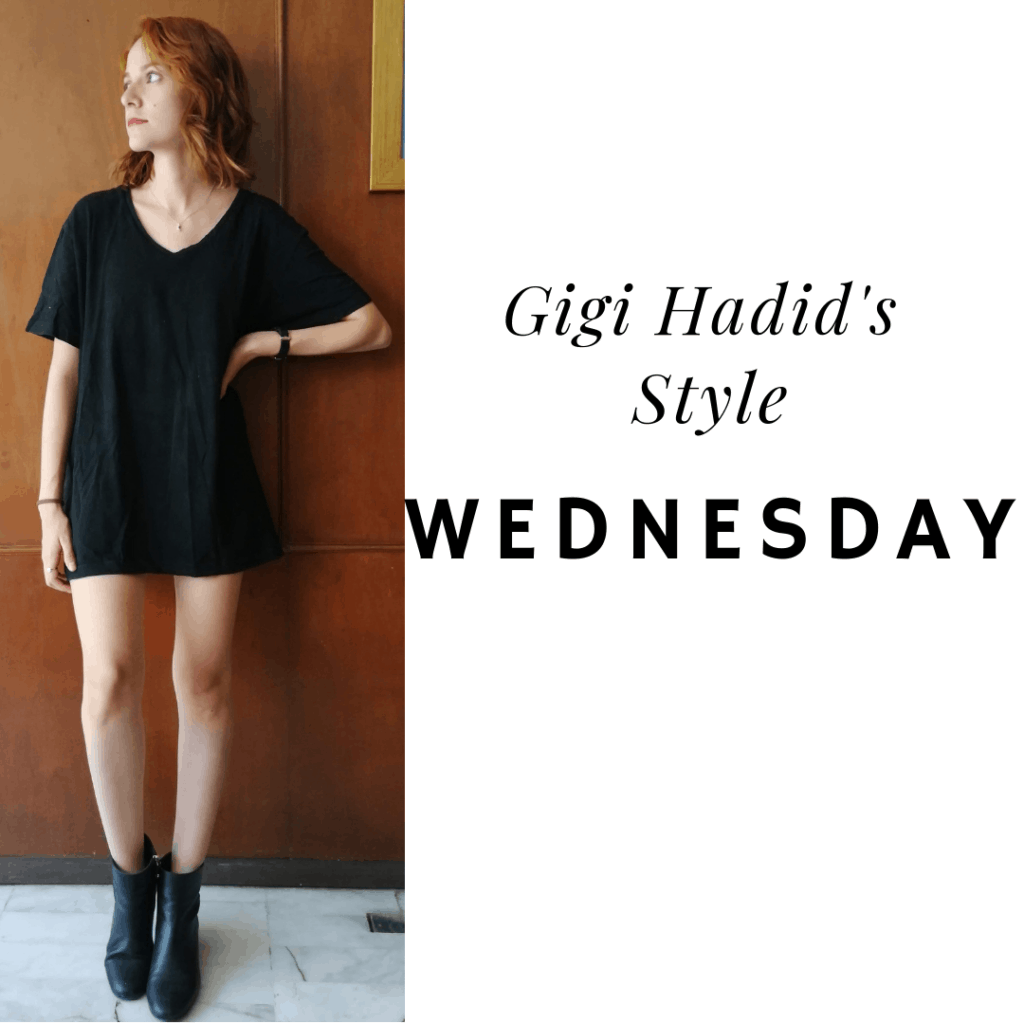 For the third outfit, I decided to take the tiniest of risks and wear this Gigi Hadid outfit. She's wearing a t-shirt dress and black booties.
I do have oversized t-shirts, but none that could actually fit like a t-shirt dress. So I borrowed one from my dad that was perfect for this challenge. I tried to find a pair of black sock booties, but I was unable to find ones that fit my ankle, so I used my normal black boots.
I was on spring break during this week, so I didn't have my usual early class on Wednesday. But I wore this look to run errands and went for dinner at night. I have to say, I was feeling my outfit. It was cool and edgy and it was exactly my style: I wear a lot of black and boots are my thing. People loved this outfit: I was complimented a lot.
Wearing a dress and booties is one of my favorite outfit combos, because it's comfortable and easy to pull off, but I had never worn a t-shirt dress this short. In spite of that, I loved, loved this outfit. I obviously do not look like Gigi in it, but I felt incredibly confident with this look.
Gigi Hadid's Style: Outfit #4 – Thursday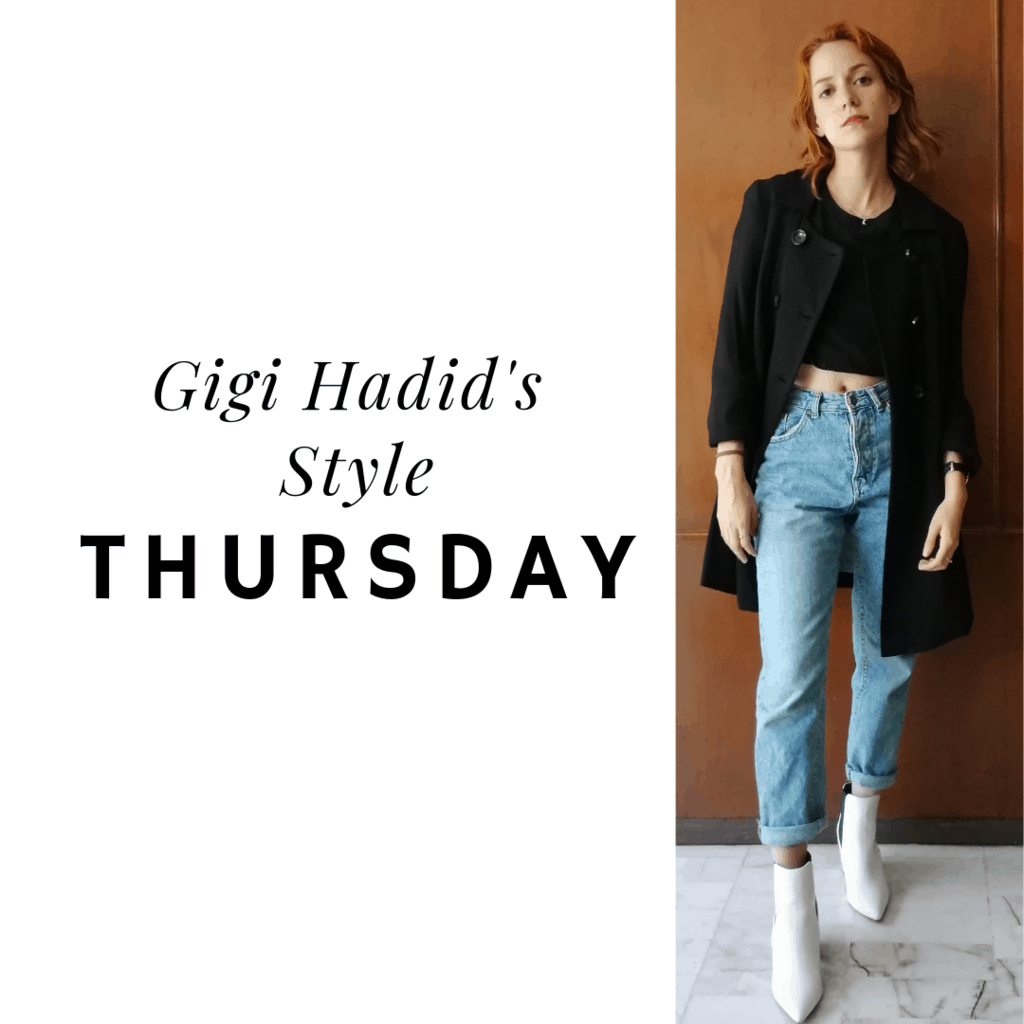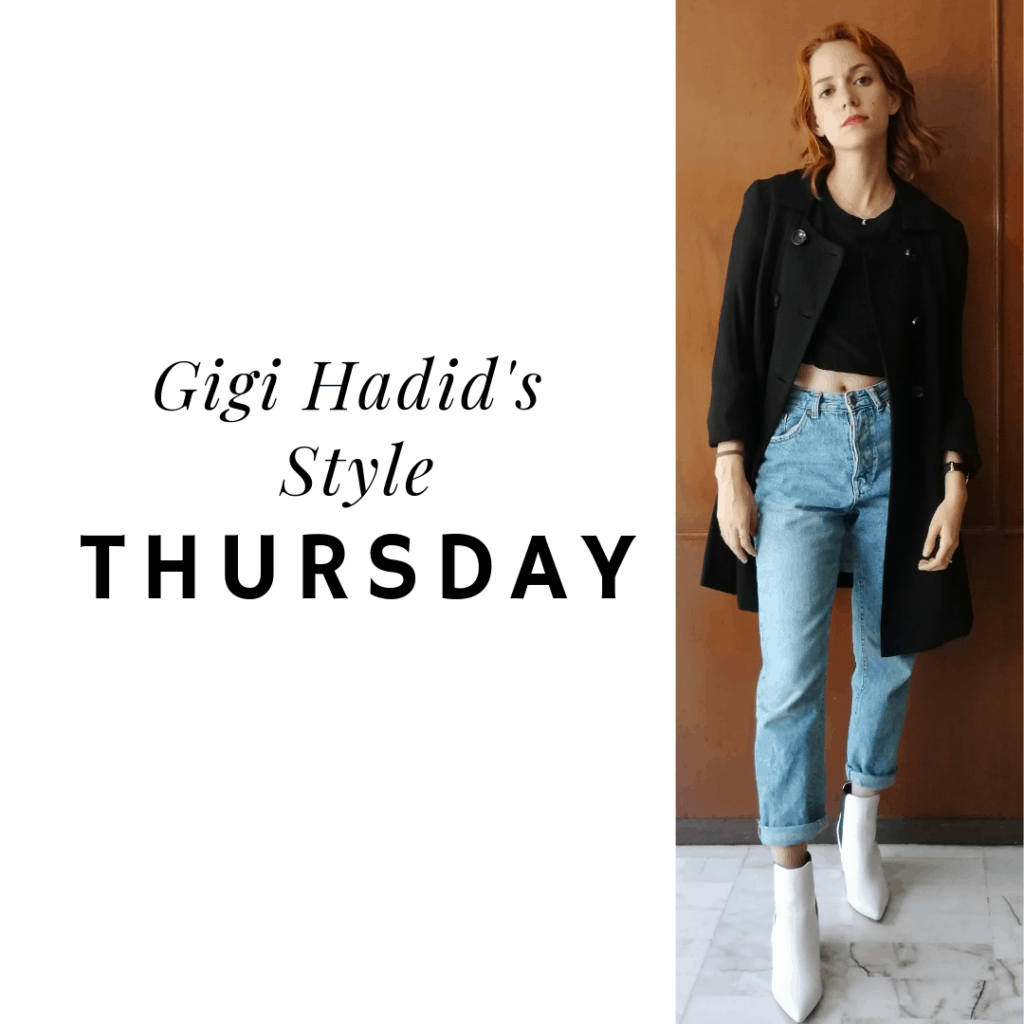 For Thursday, I chose this neutral, tomboyish look from Gigi. She's wearing a black crop top, boyfriend jeans, white booties and a long black coat. Again, I chose this because I have a pair of white booties and don't wear them that often.
I used the same mom jeans from Tuesday's outfit, but I cuffed them the other way to make them look like Gigi's. I didn't have a black crop top, but I folded my black t-shirt to make it into one. I tried to find an ankle length, black coat, but we're in spring-summer season and there aren't long coats on the racks. So I used a shorter coat that I already owned.
This is definitely a cool outfit. It is one of my favorite looks from the week and I have already used it again for a couple of events. It is a basic combination, jeans and a crop top, but I think the boots and the coat take it to the next level without much effort. The only thing that I couldn't get over was the heat: as I've mentioned before, where I live it's already summer weather. So I ditched the coat halfway through the day.
Gigi Hadid's Style: Outfit #5 – Friday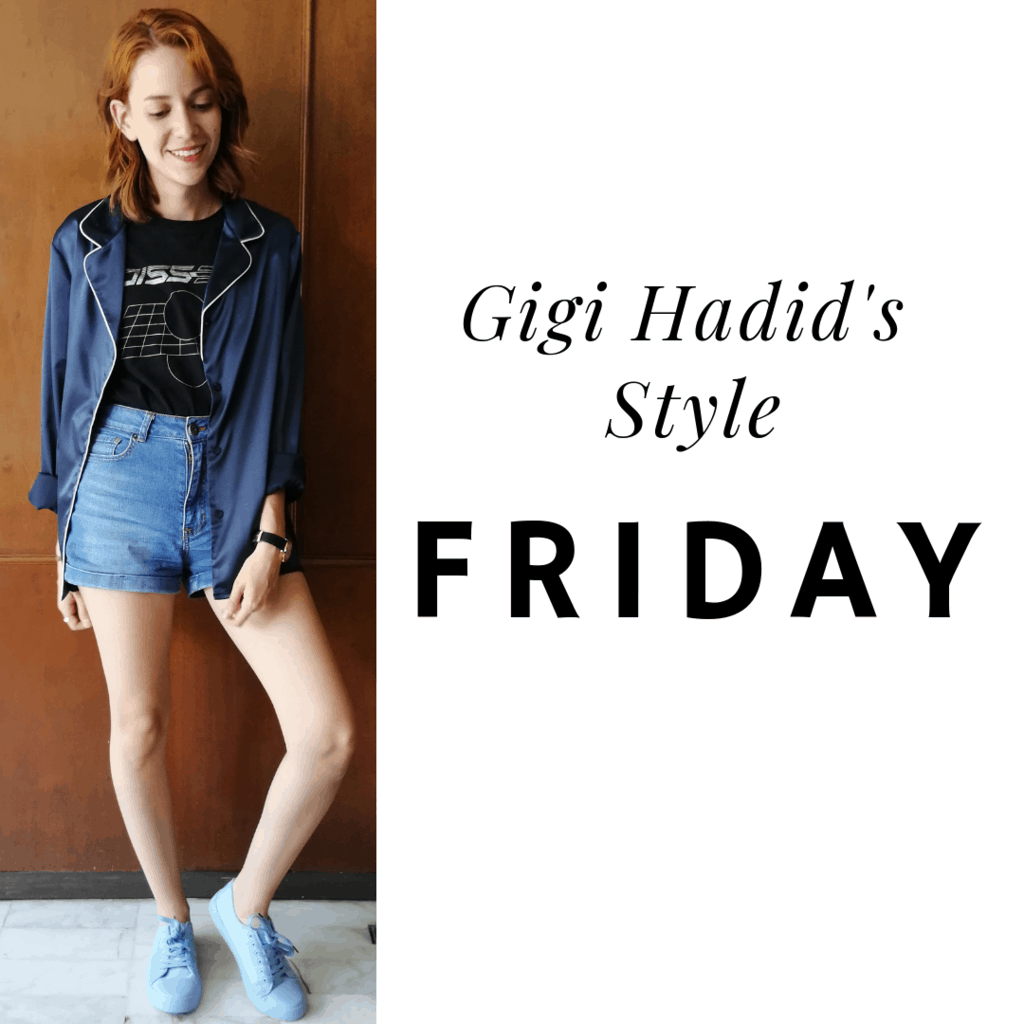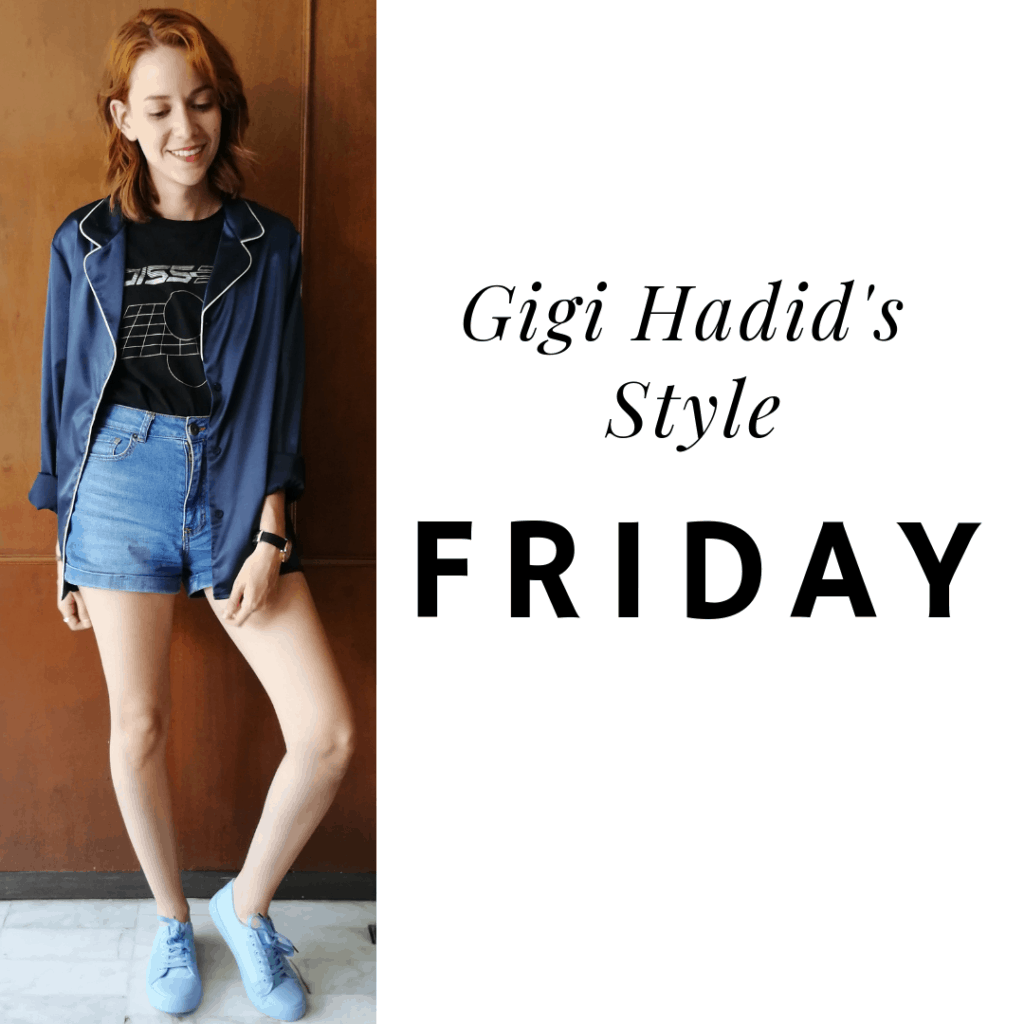 For the last day of my challenge, I went for this eclectic, summery look of Gigi's. She's wearing denim shorts, a black graphic tee, a navy silk blazer and light blue high top sneakers.
I already owned the base of the outfit: a black graphic tee and denim shorts. Finding the silk blazer was impossible, but I found this silk shirt that I used as a blazer. I also bought the blue sneakers, since I didn't have anything on that color or style.
Honestly, this was my favorite outfit. I would never, never have thought to pair any of these items with each other. Yet, the combo looked great. It was casual, but the silk shirt gave it a cool, fashionable vibe that I loved. It was comfortable to wear, but when I went out that night I did change my sneakers for a pair of booties just to give it a little bit more of an edge.
Final thoughts
Honestly, Gigi's style has always fascinated and frightened me. This is because she always seems super cool and effortlessly fashionable… and I have never felt I could pull off the things she wears. I used the same excuses I've always used: my height (5'2"), I'm too pale, I don't have that body, etc.
This week, Gigi's style pushed me to stop using those excuses: I wore white and light colors, I paired ankle booties and mom jeans in spite of "my height" and I used items from my closet that I love but never thought I could pull off on a daily basis. And I loved it.
Gigi's style is so varied that you can find an outfit for inspiration for any occasion you can think of. She will inspire you to use items you already own in different ways or invest in pieces you were never sure you could pull off.
Give her style a try and thank me later!
What do you think?
Did you like the outfits? What do you think of Gigi Hadid's style? Who do you think I should use as inspiration next?