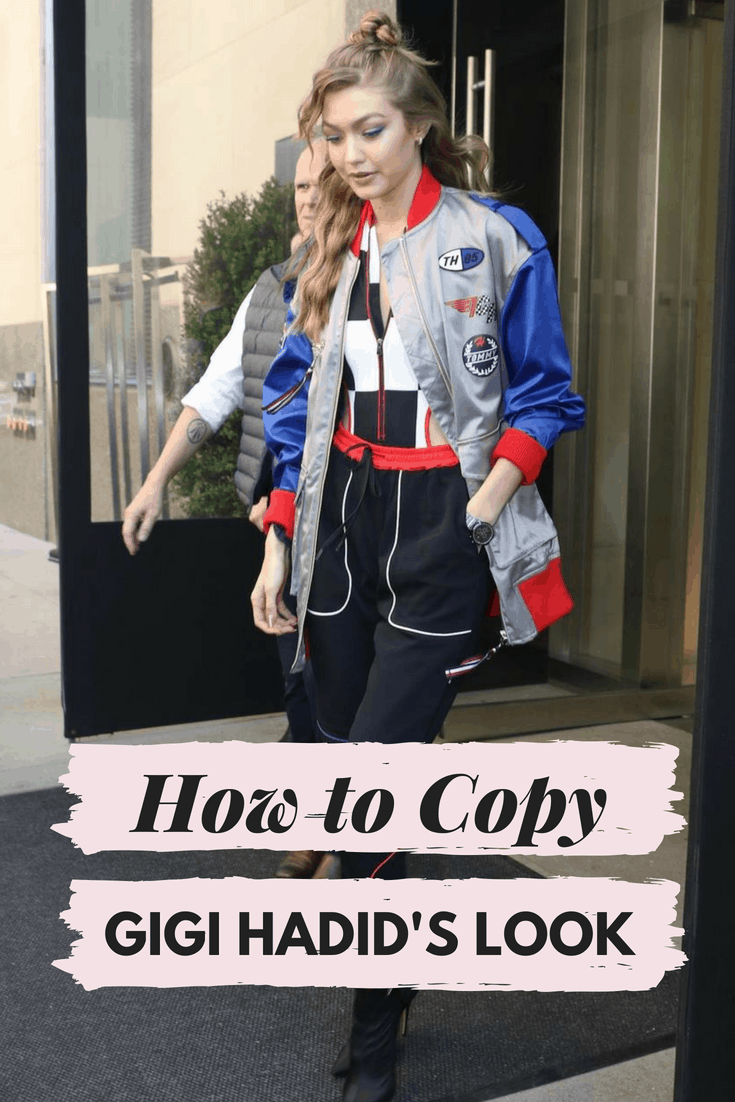 A while back, we listed our favorite celebrity fashion icons, and over the next few months, we'll be breaking down each celebrity's style in depth and showing you how to get her style for yourself.
Today, it's all about Gigi Hadid, the international supermodel who has an air of quiet confidence that is displayed in her demeanor and outfits.
There truly isn't much that Gigi hasn't done (or worn). Likewise, there isn't one specific style or category that Hadid fits in, other than trendy, with a slightly tomboy-ish vibe. Whatever she wears becomes an instant style hit, and the international supermodel is known for wearing the latest pieces straight off the runway.
Early Life
Jelena Noura Hadid (playfully nicknamed Gigi by her mother), was born and raised in Los Angeles. With a Real Housewives of Beverly Hills mother–a former model herself–Gigi grew up into the affluent lifestyle from the age of two, when she began her own modeling career. Posing as a child for brands such as Guess, Gigi took a break from modeling to focus on sports in her childhood and early life, turning to competitive horseback riding and volleyball in Malibu.
After graduating high school, Gigi moved to New York in hopes of studying criminal psychology, but her professional modeling career soon took over.
Gigi has since appeared on the runway, on the covers of magazines, and modeled for many brands, including Tom Ford, Maybelline, Tommy Hilfiger, Versace, Marc Jacobs, and Chanel… just to name a few.
Undefined
Gigi and boyfriend Zayn Malik were featured in the August 2017 issue of Vogue adorned in gender neutralizing outfits. Olivier Rousteining, a creative director who spoke up on the trend, said:
"They don't want to be defined. You see boys wearing makeup, girls buying menswear—they are not afraid to be who they are. This category or that category—who cares? They want to define themselves."
With many designers and brands blending men's and women's collections together in an androgynous style, a similar pattern of fabrics, embellishments, and silhouettes are being combined.
This movement is radical, and marks a distinct shift in the gender roles of society, especially coming from such influential figures and couples such as Gigi and Zayn. This idea of masculine and feminine fluidity in the media and fashion world is granting freedom of expression, and isn't that what's most important about fashion?
Gigi Hadid is revolutionary in many ways, and her often iconic, and subtly bold looks create a distinctive era of style that revolves around the supermodel. Let's take a peek at just a few of her best looks–although there are truly hundreds to choose from!
Sporty and Sultry
In this iconic look, Gigi's natural beauty (and love of color) shines through. Wearing a matching set of what could be seen as gym clothes, Gigi makes the rather routine style into something fabulous with her dark shades and gray lipstick (which matches her nails).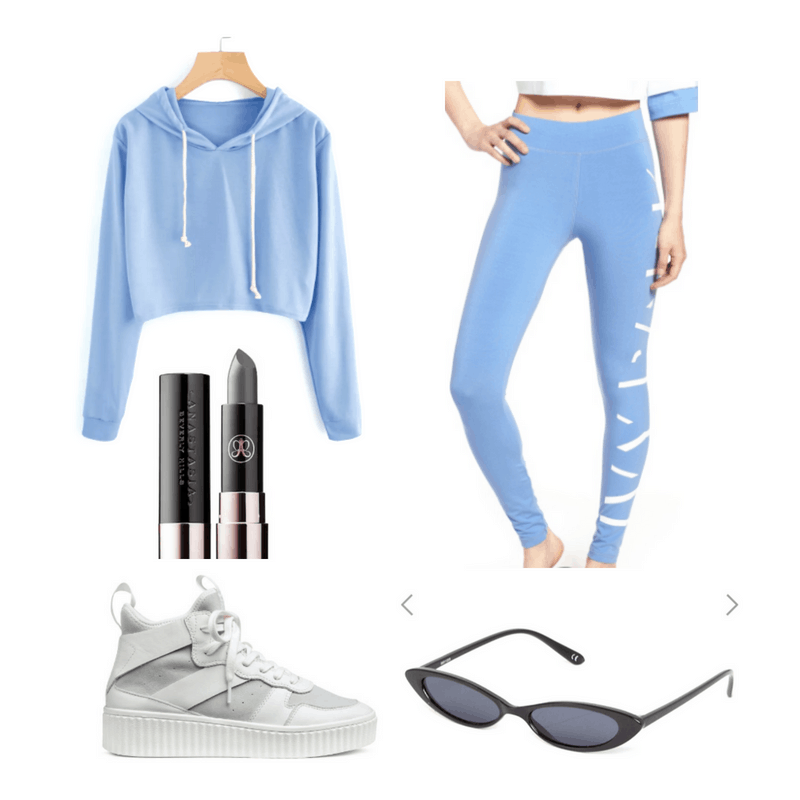 Products: Shoes- (H&M), Sunglasses- (Asos), Lipstick- (Sephora), Leggings- (Nordstrom), Hoodie- (Romwe)
Gigi pulls this look off well, and you can too! Find similarly colored sweatpants and leggings (any primary color will work; it doesn't have to be blue), throw on your pearly athletic trainers, and complete the set with gray or dark lipstick to match the classic cat-eye shades.
Bold & Denim
Here, Gigi smiles softly as she walks through the city in a one-of-a-kind outfit, featuring classic pops of red. Wearing another matching set, in the form of high-waisted jeans and a cropped denim jacket, Gigi adds her own flair with a cropped spaghetti-strap tank as well as bright red boots and lipstick. By pulling her hair back and wearing minimal jewelry, she brings all focus to the outfit itself.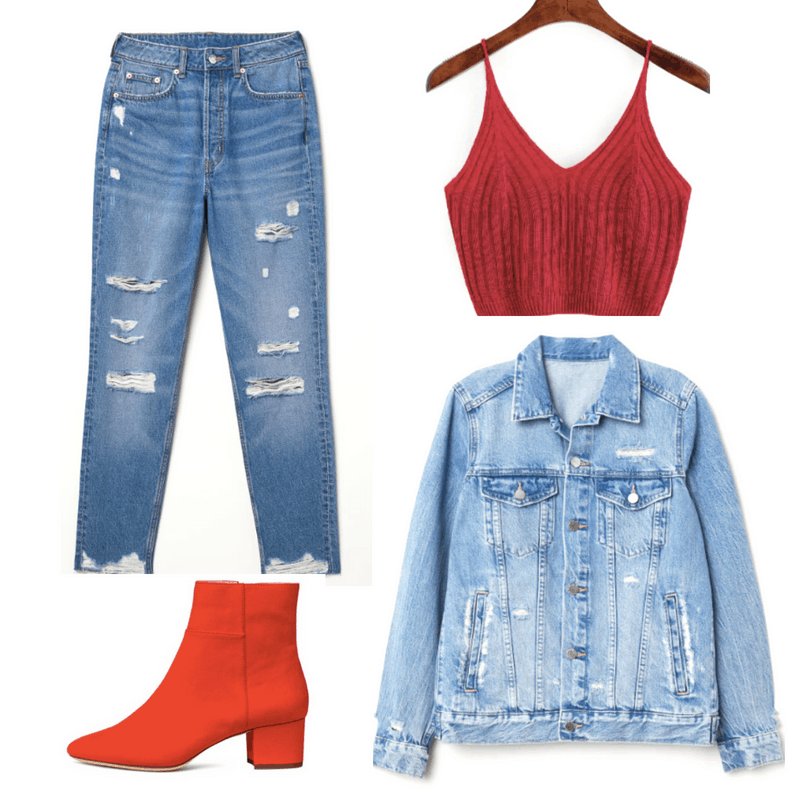 Products: Boots- (H&M), Jacket- (H&M), Jeans- (H&M), Top- (Romwe)
Want to rock this look? Pull out your go-to pair of ripped jeans, find a knitted or ribbed red crop top, and cover it with a loose-fitted opened (or buttoned if you prefer) jean jacket. Top the look off with a unique pair of boots (these booties from H&M pack a powerful punch!)
Beach in the City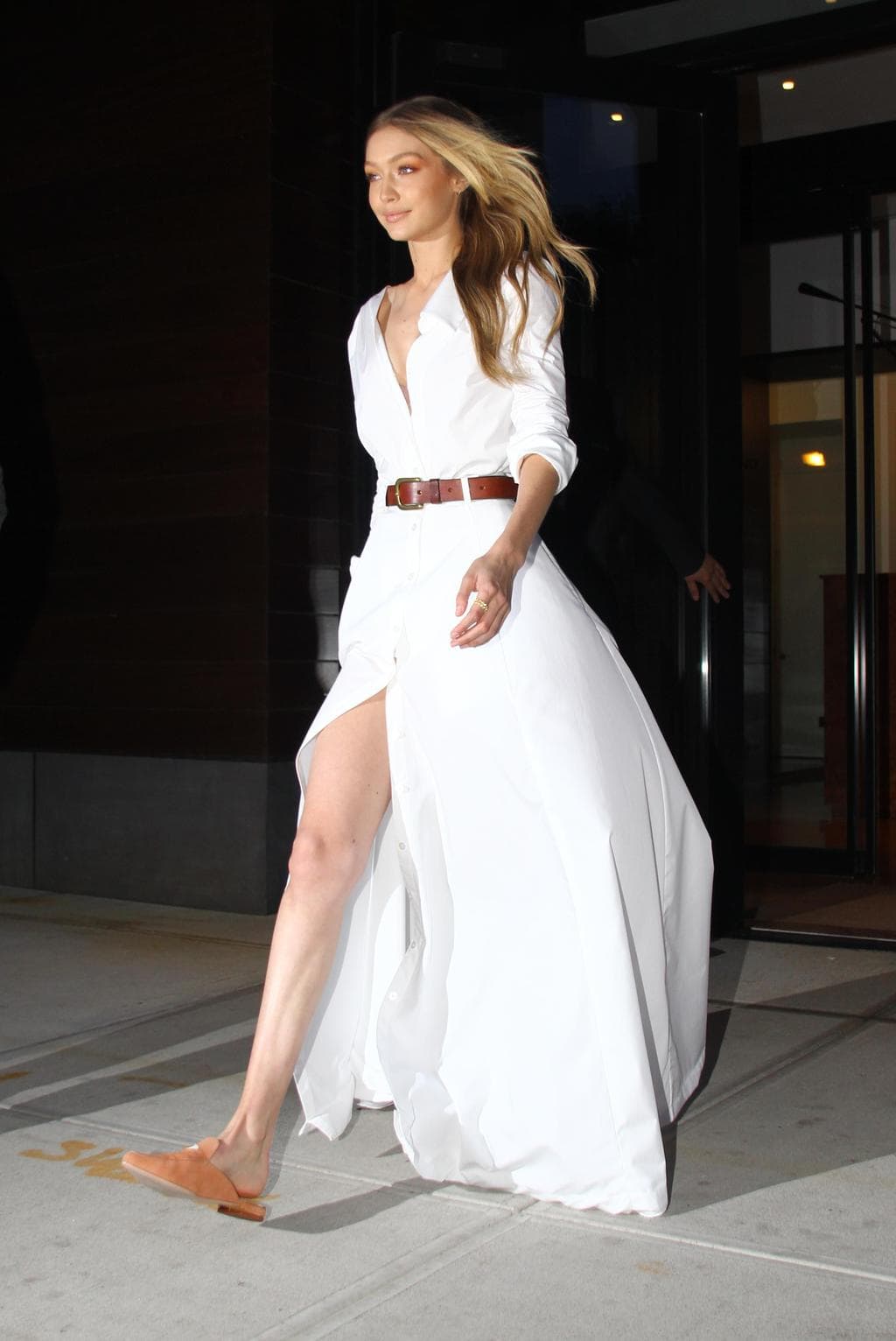 This look is so flawless yet so simple, and Gigi Hadid appears to be walking on a runway rather than simply leaving her apartment! Wearing a unique full-length white dress with a deep neckline and long leg slit, she works with her natural beauty and only adds a tan belt and flats.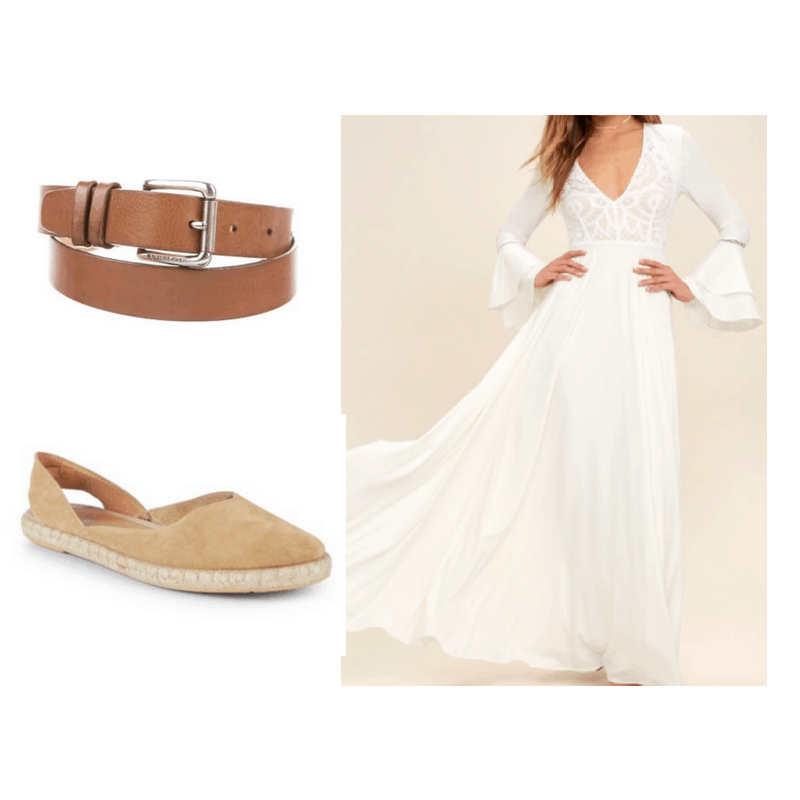 Products: Belt- (Michael Kors), Shoes- (Renvy), Dress- (Lulus)
To get this look, a chic, flowy white or cream dress is essential. Look for something with a V-neckline, and rolled sleeves. The lighter the better for this beachy summer look. Add a pair of classic flats and a plain belt, and you're ready to go!
The Casual Rebel
In this bold look, Gigi rocks a pair of red shades, a classic go-to of hers, with confidence. She also plays up the burst of color with a head-to-toe, all-black ensemble… with the exception of a red cardigan tied around her shoulders, of course. This style is casual thanks to the simplicity of the black t-shirt and simple bottoms, yet the pop of red and sassy sunglasses add a rebellious feel.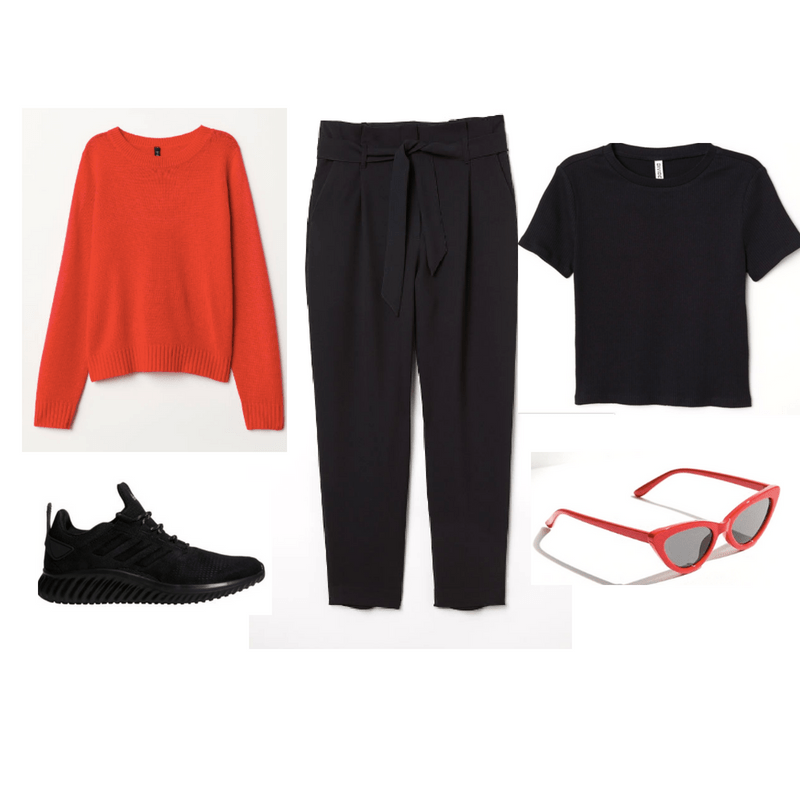 Products: Shoes- (Adidas), Pants- (H&M), Sunglasses- (Urban Outfitters), Top- (H&M), Sweater- (H&M)
To get this look, find a cropped black tee or tank, throw on some high-waisted and also cropped (or rolled) dark jeans, and pure black trainer shoes. Most importantly, to complete this look it's essential to find colored sunglasses and a matching sweater or cardigan. Try wearing the sweater, or even stringing it around your waist for a personalized twist.
Chic Geek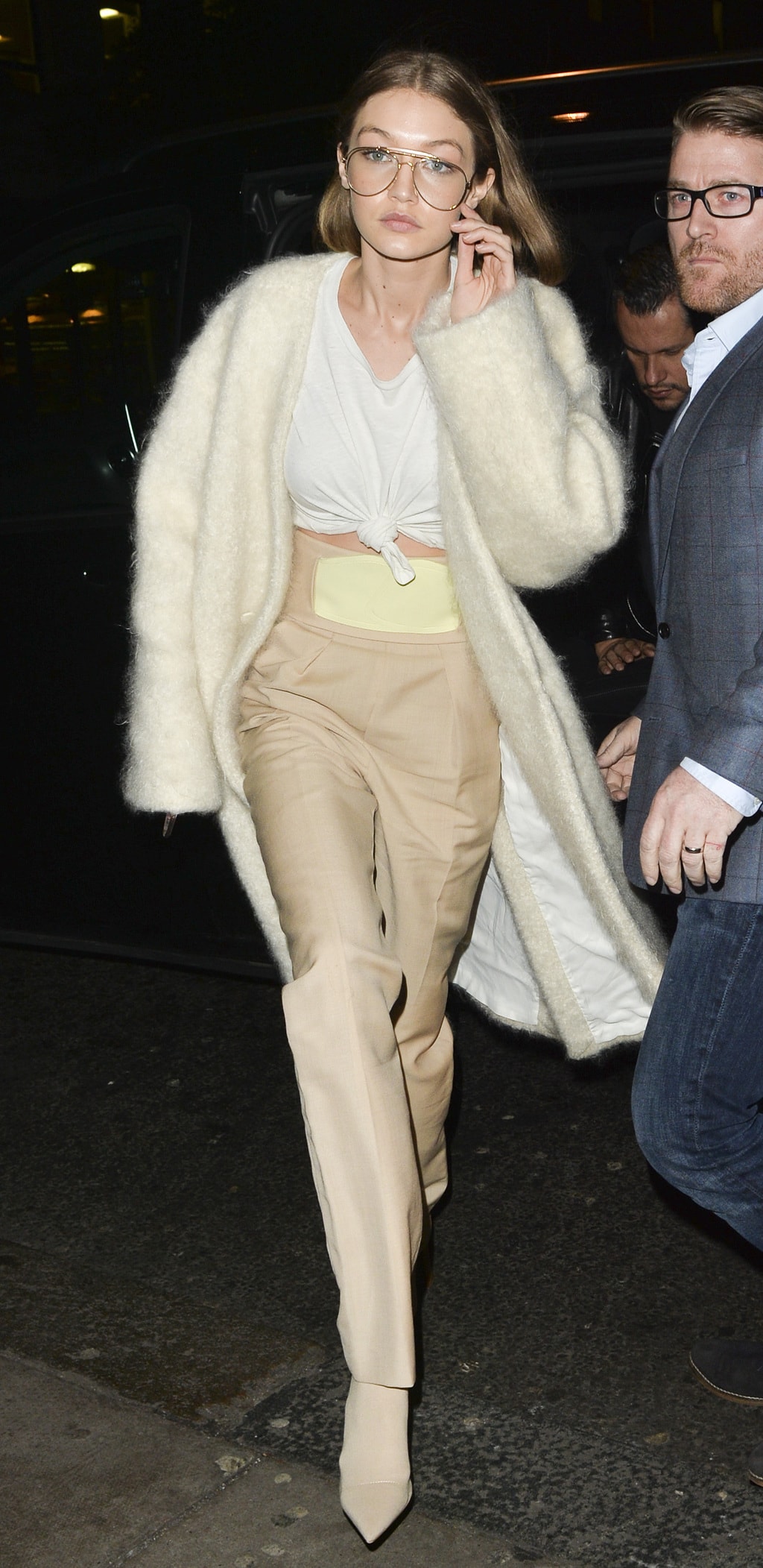 In this pristine outfit, Gigi adds a twist to smartly styled sets. Starting from the bottom up, her pointed nude boots combine seamlessly with her business pants and thick belt. Gigi makes a statement with a full-length coat, styled with a simple twisted t-shirt underneath. To complete the look, she wears a large pair of glasses.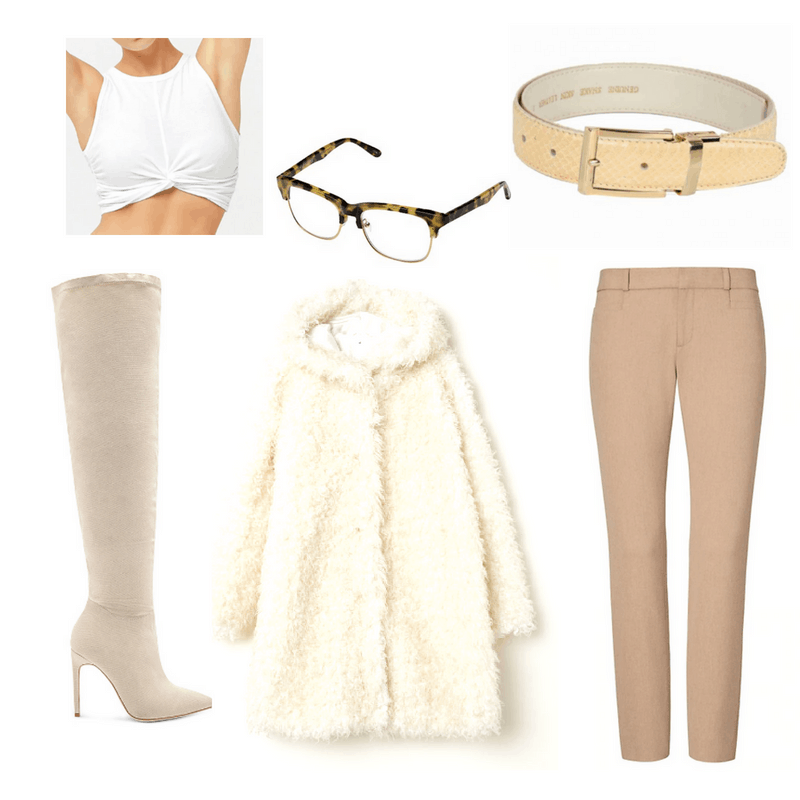 Products: Boots- (Raye), Coat- (H&M), Pants- (Banana Republic), Belt- (BYT), Top- (H&M), Glasses- (Zappos)
To get this look, style pointy-toe heeled boots with neutral pants and a clean-looking belt. Find a classic white cropped top, then cover up with a long and furry jacket. Finally, a pair of statement glasses provide the perfect amount of class to pair with the chic.
What do you think?
What's your favorite Gigi look? While she flawlessly pulls off so many styles, which would you like to try yourself? Leave a comment below!