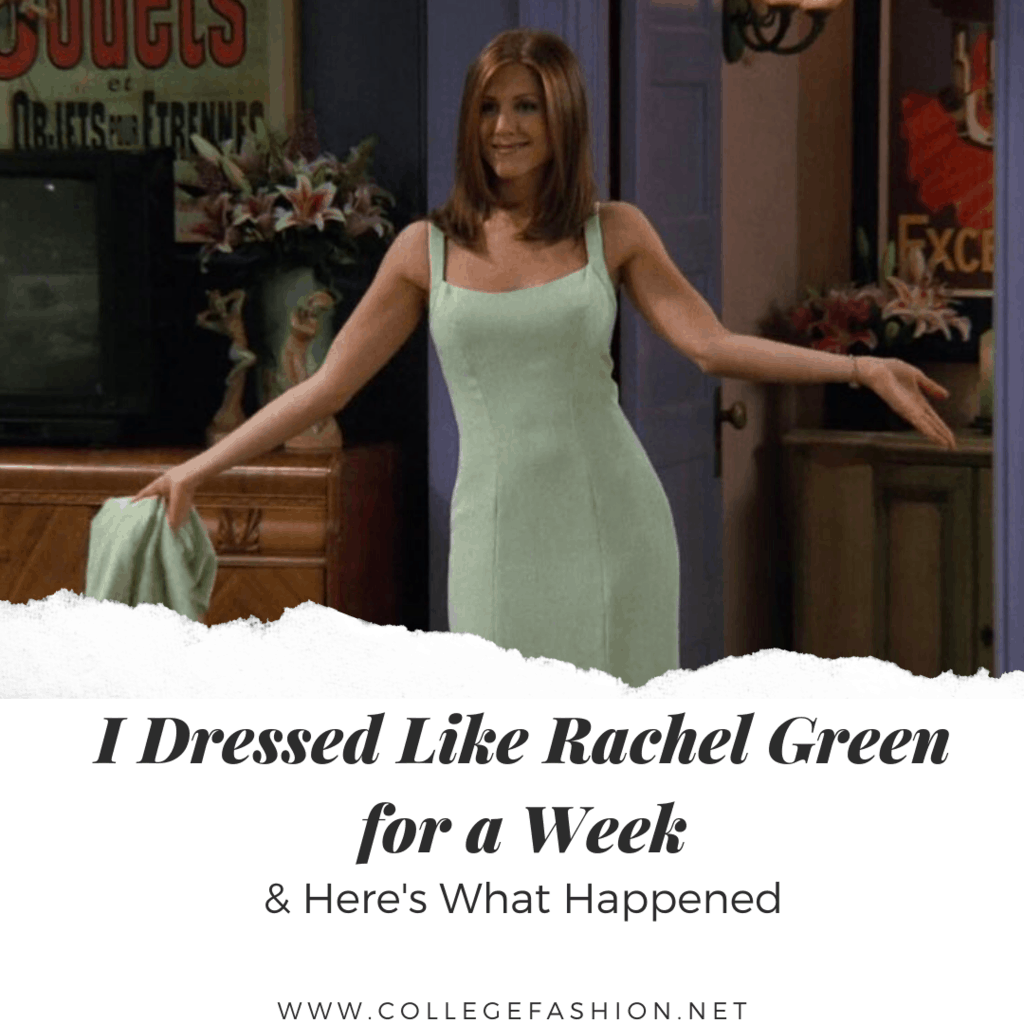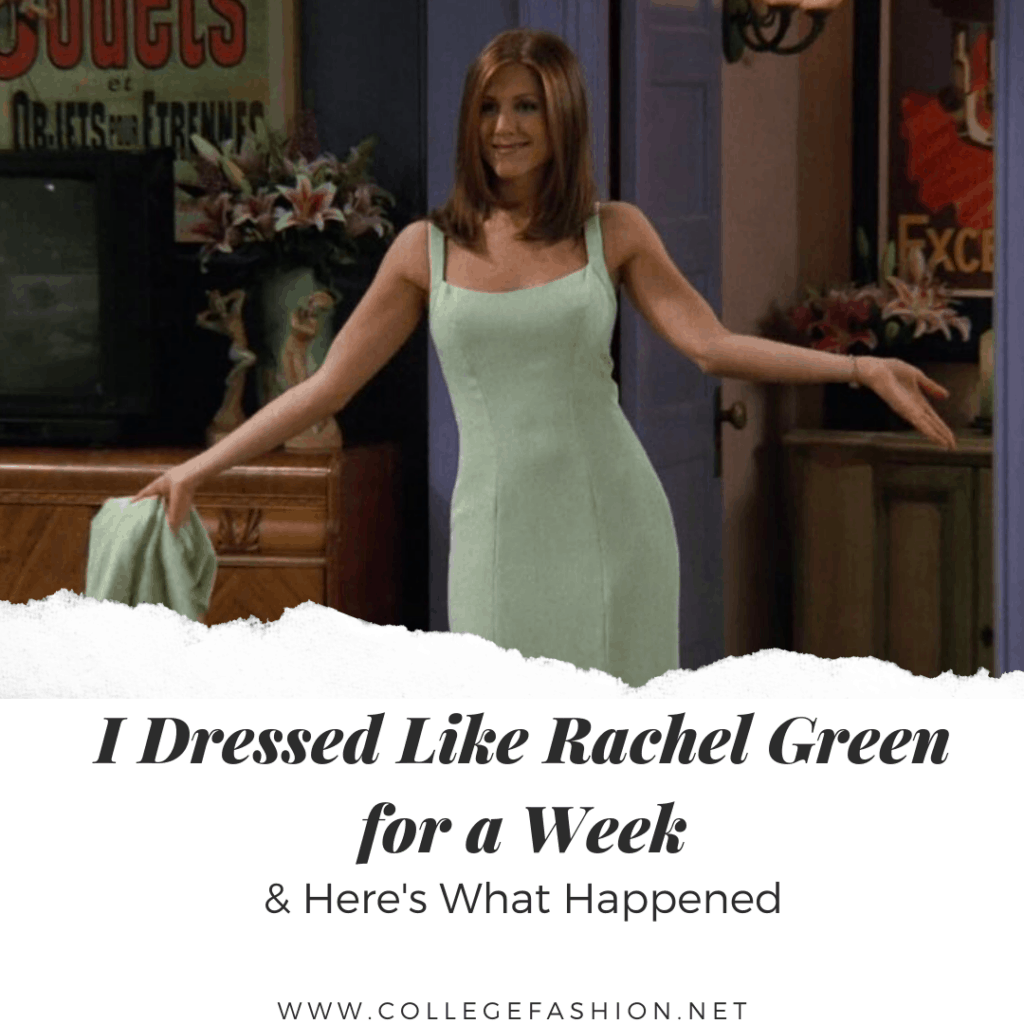 We've all looked to celebrity style for fashion inspiration at some point in our lives. But it's one thing to say "I love her outfit," and it's another to actually copy it in real life.
For this series, I'm going the extra mile and making it happen. Each week, I'm getting inspiration from a celebrity and copying five of her looks as closely as possible. Then, I'm reporting back to you: Did the outfits work in real life? Did I feel comfortable? Did people treat me differently? I'm sharing it all.
In past posts I've dressed like Zendaya, Gigi Hadid, Grace Kelly, Kendall Jenner, Vanessa Hudgens, Sophie Turner, Priyanka Chopra, Millie Bobby Brown, Hilary Duff, Lily Collins, Taylor Swift, Iconic Halloween Characters, Selena Gomez, Alexa Chung and Iconic Christmas Characters.
This week, I'm recreating the style of the most fashionable friend there is: Rachel Green.
Update: I did a part two of this series on Rachel's style from the later seasons of Friends, check that out if you'd like to see her later outfits.
Rachel Green's Outfits
I know, she's a fictional character, we are all fans of Rachel Green's style. And honestly, she's one of my favorite fictional characters of all time.
Rachel Green had the most development of any of the characters throughout the run of Friends, making her a fascinating, watchable, and relatable character.
Fashion-wise, Rachel's style evolved as she did.
During the first few seasons, Rachel dressed like a chill but fashionable 20-year-old. Overalls, t-shirts, oversized sweaters, mom jeans, sneakers and clogs were her go-to pieces.
During the later seasons, Rachel dressed to reflect her work and personal life: she adopted a more professional look since she started working at Ralph Lauren and her casual outfits started to look more put together and grown-up.
Before we start, I just want to explain that I started this week's recreations on a Saturday. This is because I had some errands and events that had specific dress codes later in the week, and I wanted to include them for an extra challenge. That being said, let's get started!
Rachel Green's Outfits – Look #1, Saturday
For the first day, I chose this season 1 casual plaid ensemble. During the episode, Rachel is wearing a pair of plaid pants, a t-shirt, a grey cardigan and sneakers.
To recreate this look, I wore a pair of burgundy plaid pants and a white graphic t-shirt. I threw a grey cardigan on and finished the look with a pair of white sneakers.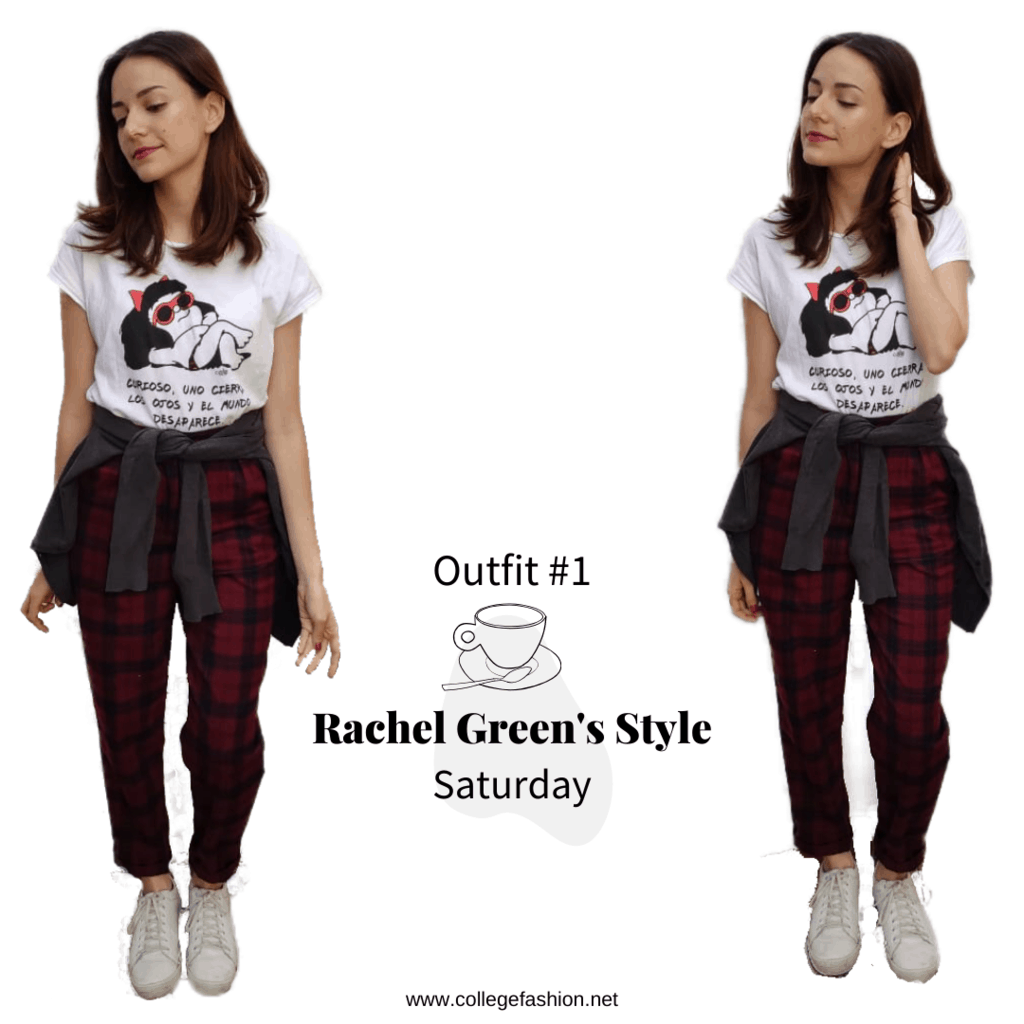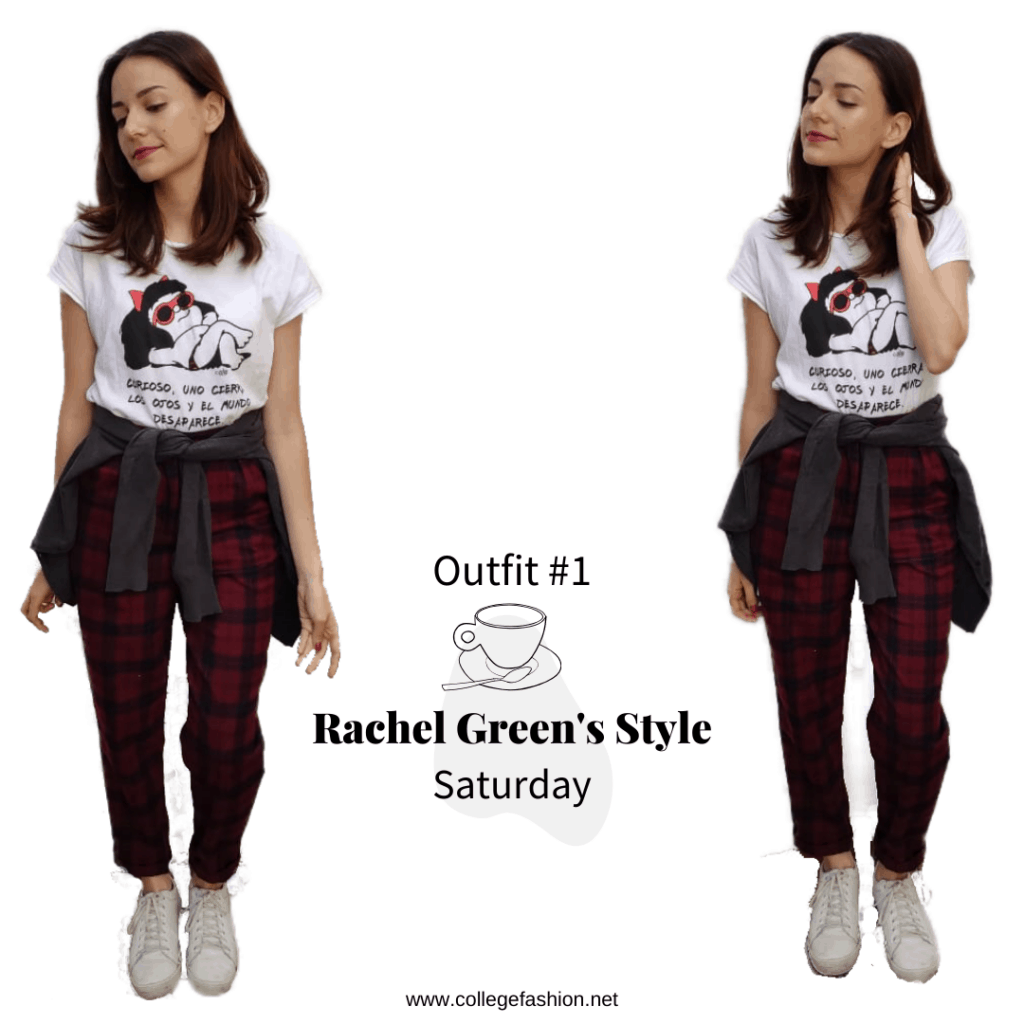 I really, really liked this outfit. It was so pretty, comfortable, and different from my usual style.
Saturday was my day to run errands, so this was a good look to just be on the go, getting last minute presents and the last things I needed for Christmas. This outfit was cute enough for me to feel confident throughout the day, yet comfy enough that I could get everything done with ease.
Also Read: How to Wear Plaid Pants: Outfit Ideas
Rachel Green's Outfits – Look #2, Sunday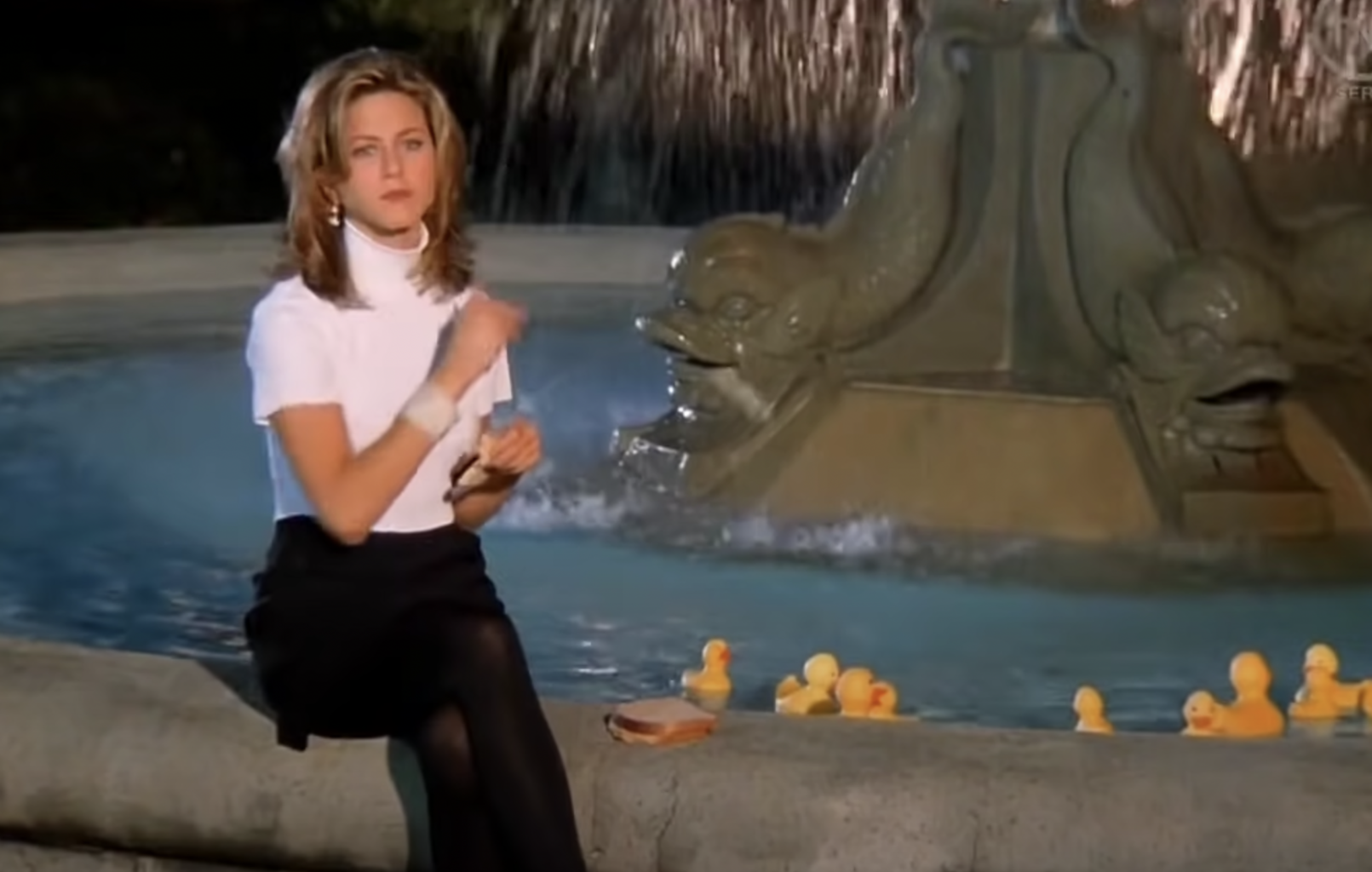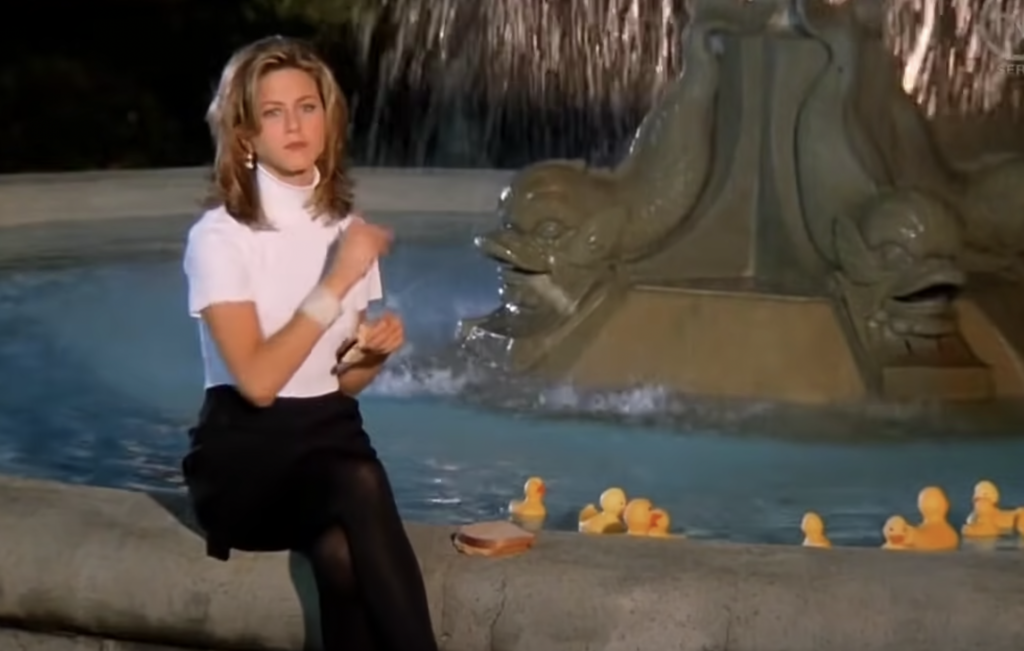 For Sunday, I decided to copy this classic black and white look from the show's intro. In it, Rachel is wearing a black skirt, a white shirt, and black tights and shoes.
To copy this look, I wore a black body con skirt and a light grey mock neck t-shirt. I wore a different color shirt than Rachel's, but since it is the same shape and the color is so light, I didn't feel it necessary to purchase a white one.
For the tights, I wore a pair of black tights that are a bit different from Rachel's: mine are sheer and have polka dots, but they work perfectly for the look. Finally, for the shoes, I just wore a pair of black booties.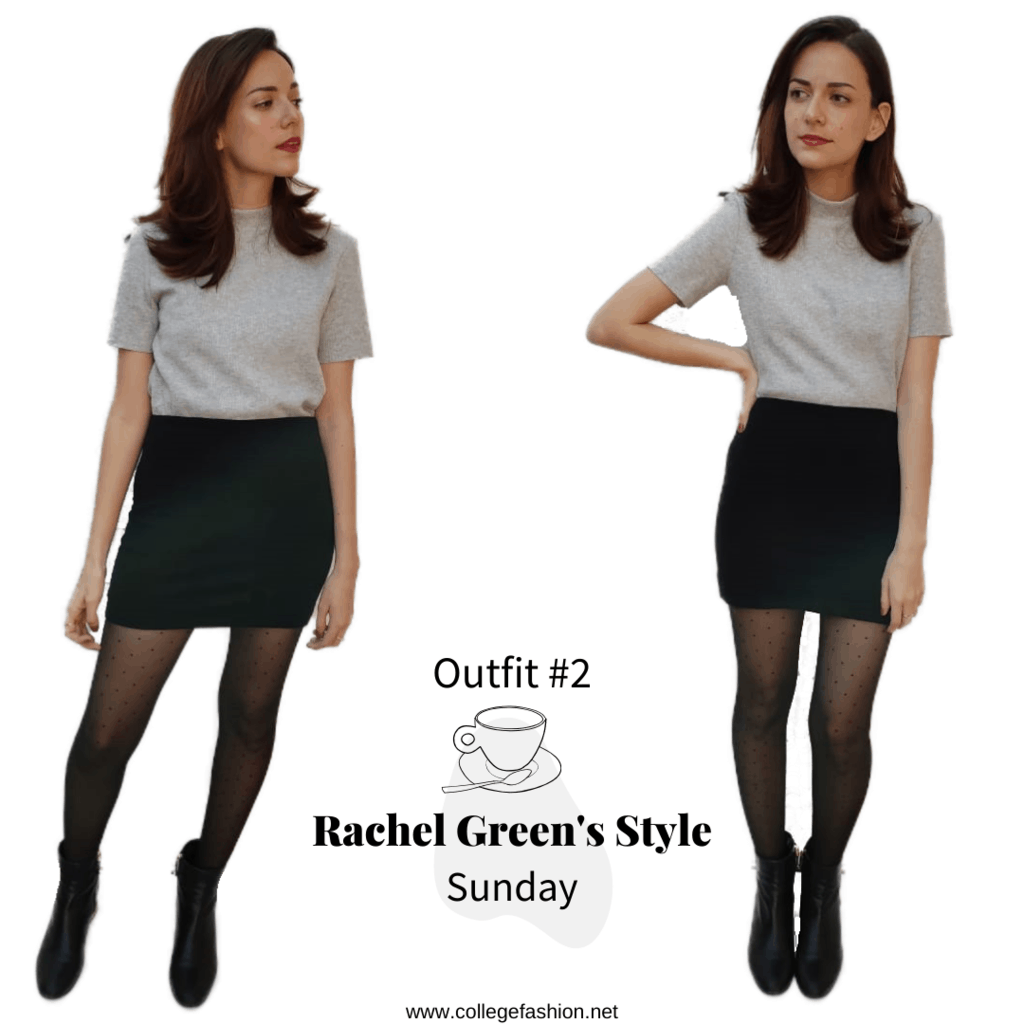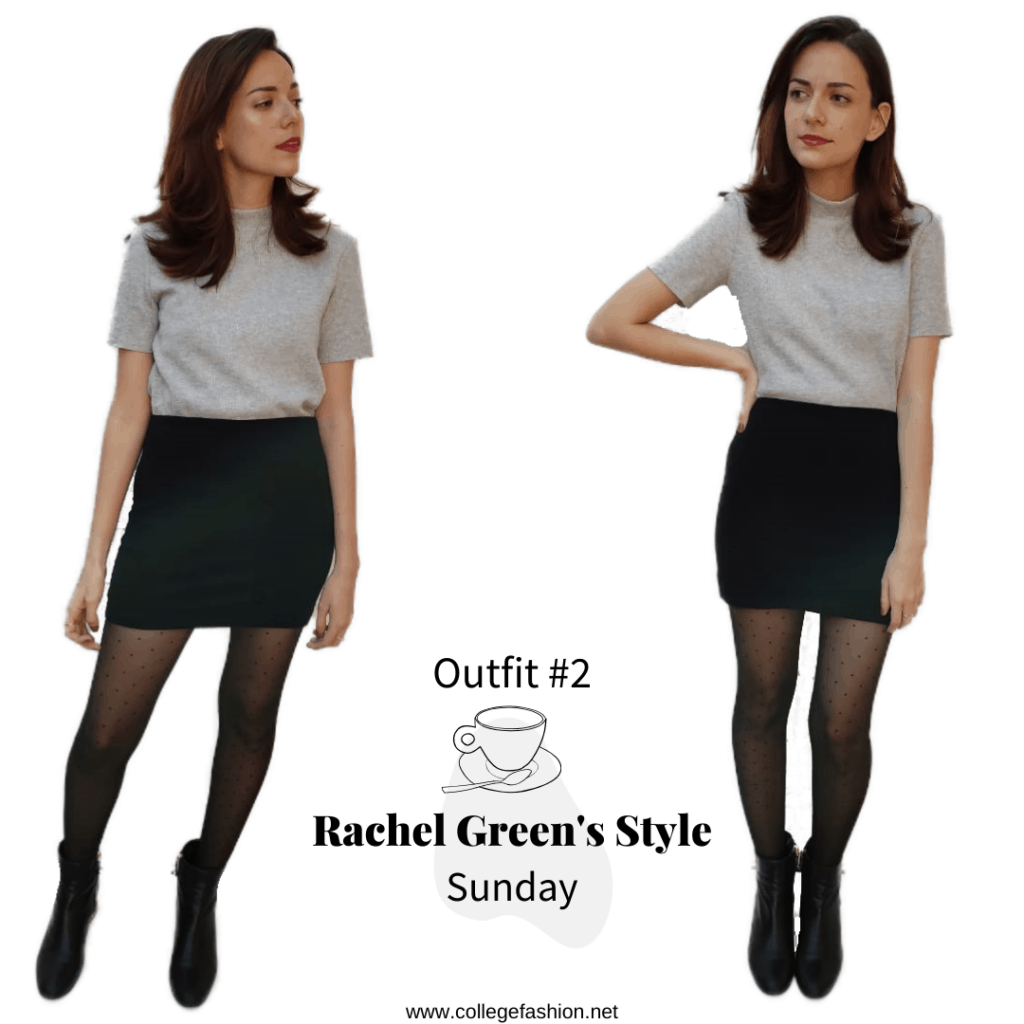 On Sunday, I mostly stayed at home and only went out to have coffee with a friend — this wasn't on purpose, but I wish it had been!
This was a much more elevated and preppy look than I would have normally worn on a day like this, but I liked the look a lot. I think I would add a black coat or sweater if I wore it at night, but overall it was an amazing outfit.
Rachel Green's Outfits – Look #3, Monday
For the third day, I went for this amazing look from season two. Here, Rachel is wearing a black skirt, a black shirt, a suede coat, tights, and booties.
This was a tricky look, but I managed to recreate it with a few tweaks.
I wore the same black body con skirt from Friday and a simple black shirt. Sadly, I don't own a brown suede coat, but I do have one in black, and it's the right texture and length.
Finally, I wore a pair of black tights and some black OTK boots.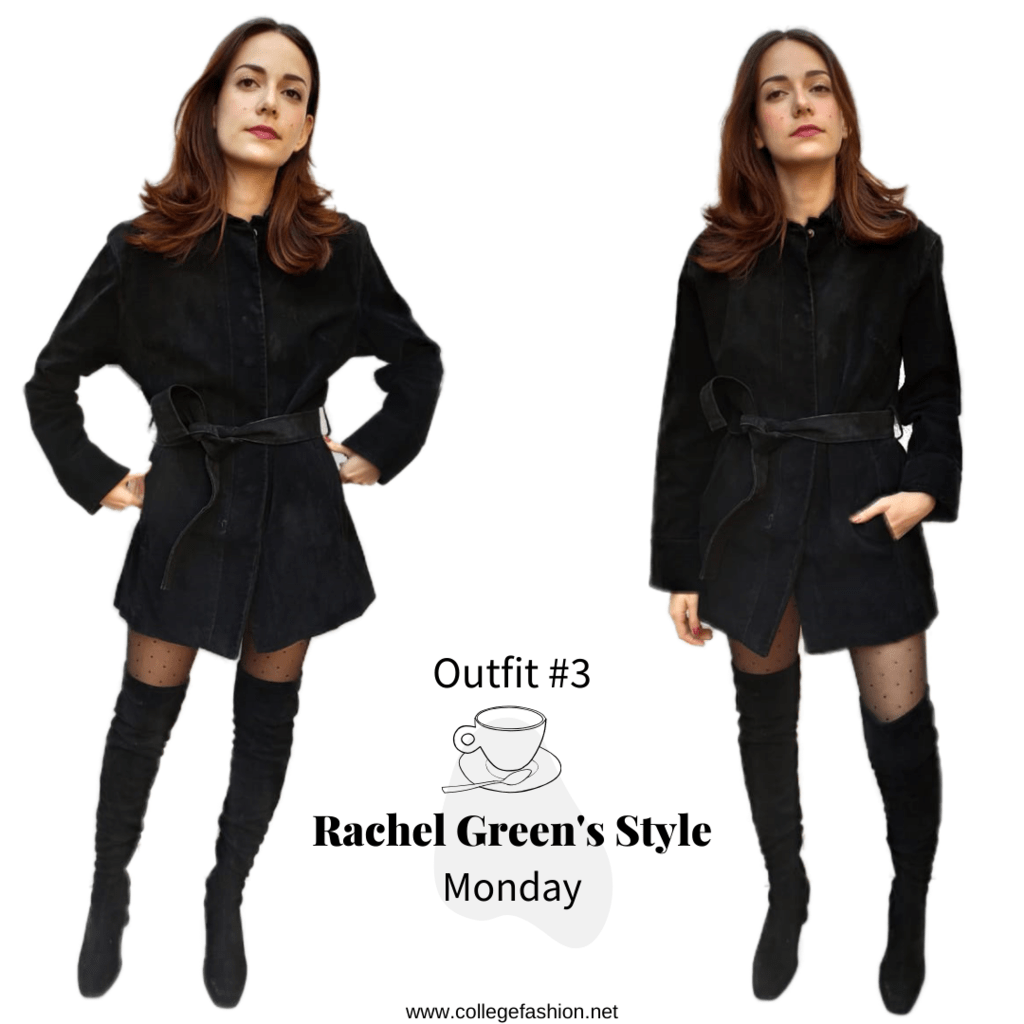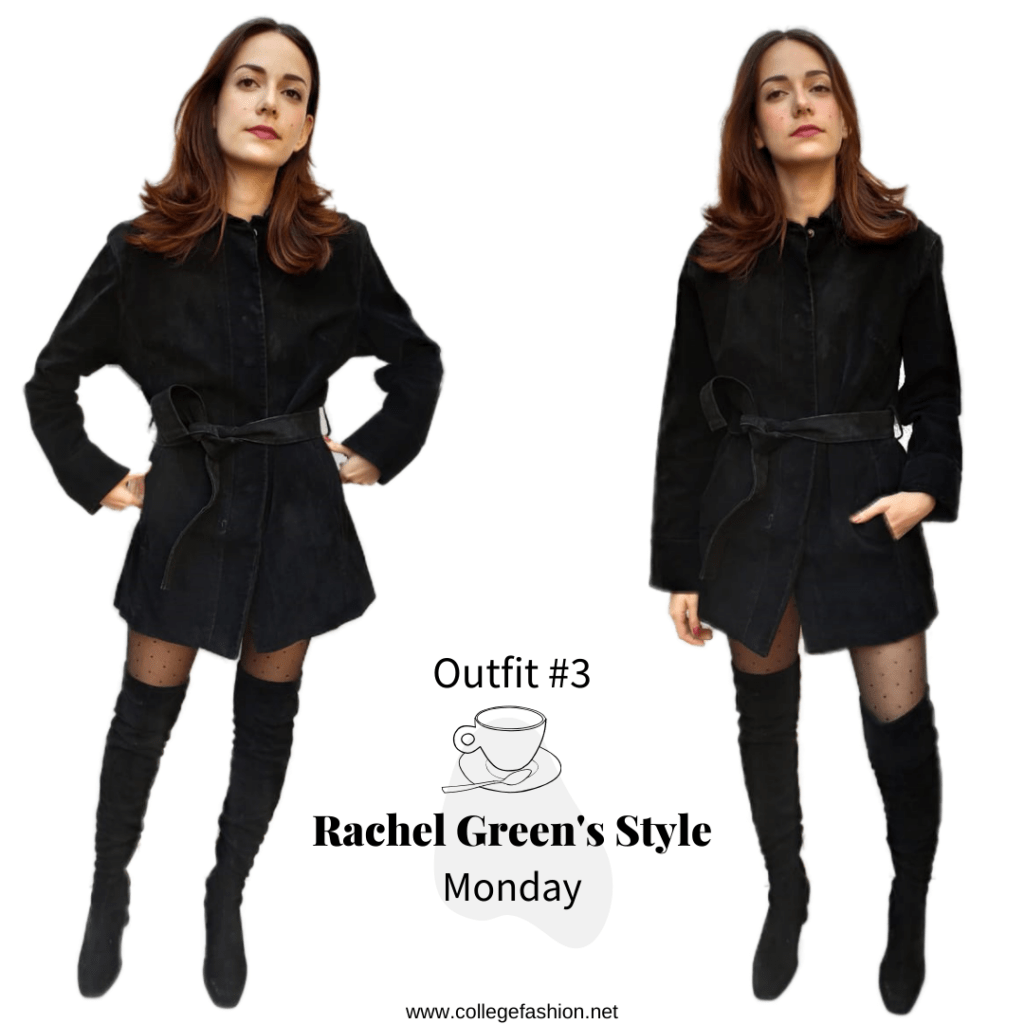 This was a great outfit! It was very classic, and I felt really comfortable and cute in it.
I think the fact that it was all black made it look less casual than Rachel's, but I remembered I have seen her wear similar combinations with black in other episodes and seasons.
I went out to dinner with some friends in this outfit and it was perfect for a chill night out!
Rachel Green's Outfits – Look #4 & #5, Tuesday
Okay, so this week was kind of different from my usual weeks. Tuesday was Christmas Eve, so I did two outfits: a very casual one, to help and prepare everything for our family dinner, and a more put together look for the actual dinner.
Tuesday's Outfit #4: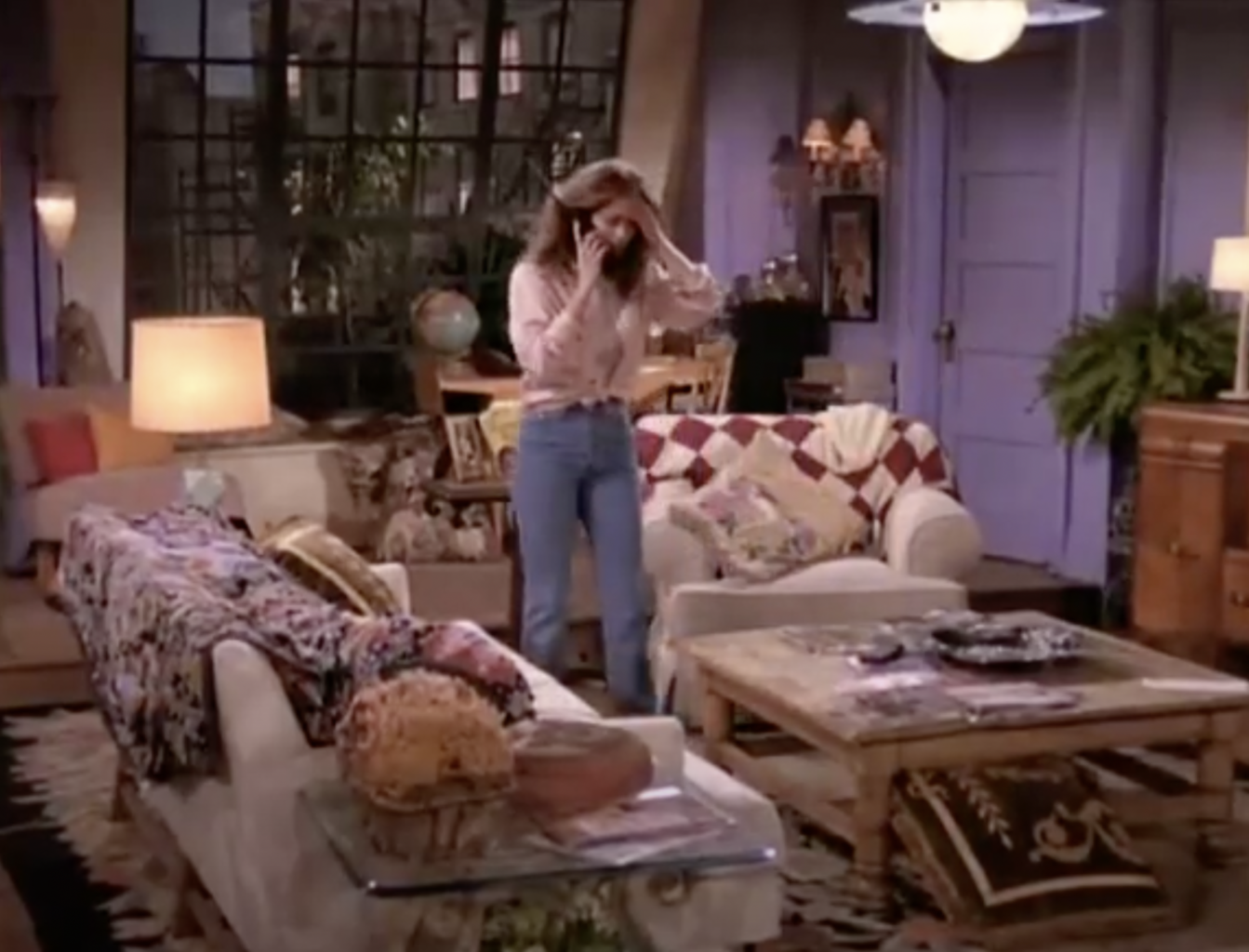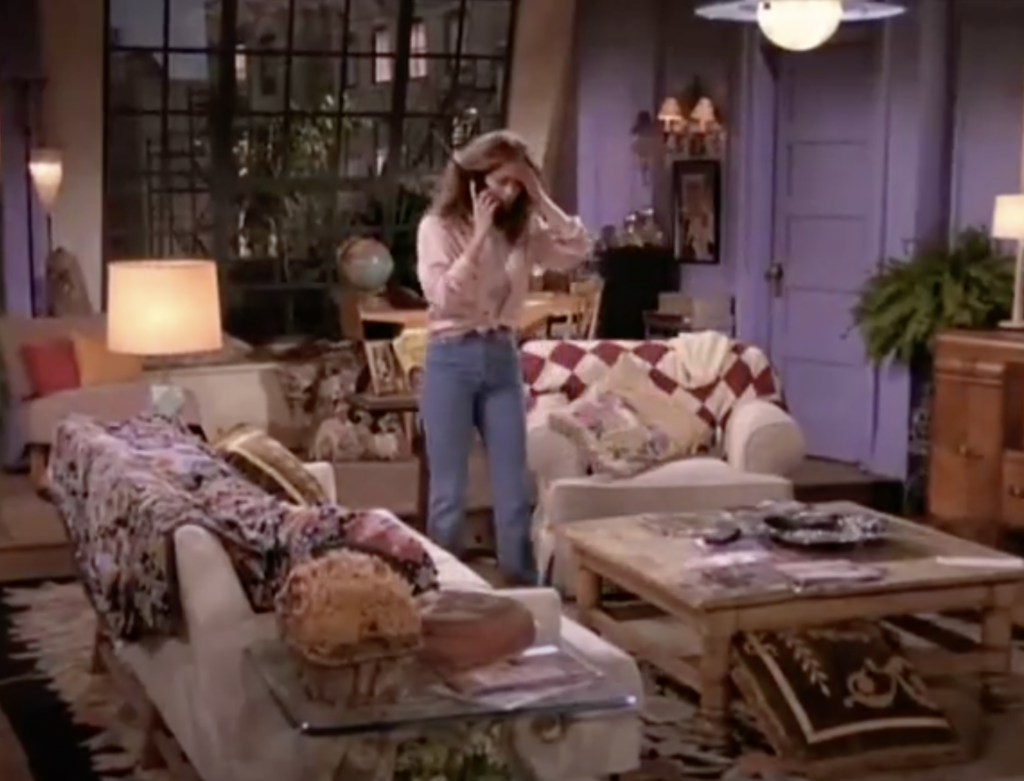 For the first Christmas Eve outfit, I chose this chill look. Here, Rachel is wearing jeans, a white t-shirt, and a pink shirt. For shoes, I watched the episode and it was hard to tell, but I think she was wearing sneakers.
For my recreation of the outfit, I wore a pair of mom jeans. Up top, I tucked in a white t-shirt. As a cover, I borrowed a pink shirt from my mom, left it open, and tied it at the ends. For shoes, I wore a pair of white sneakers.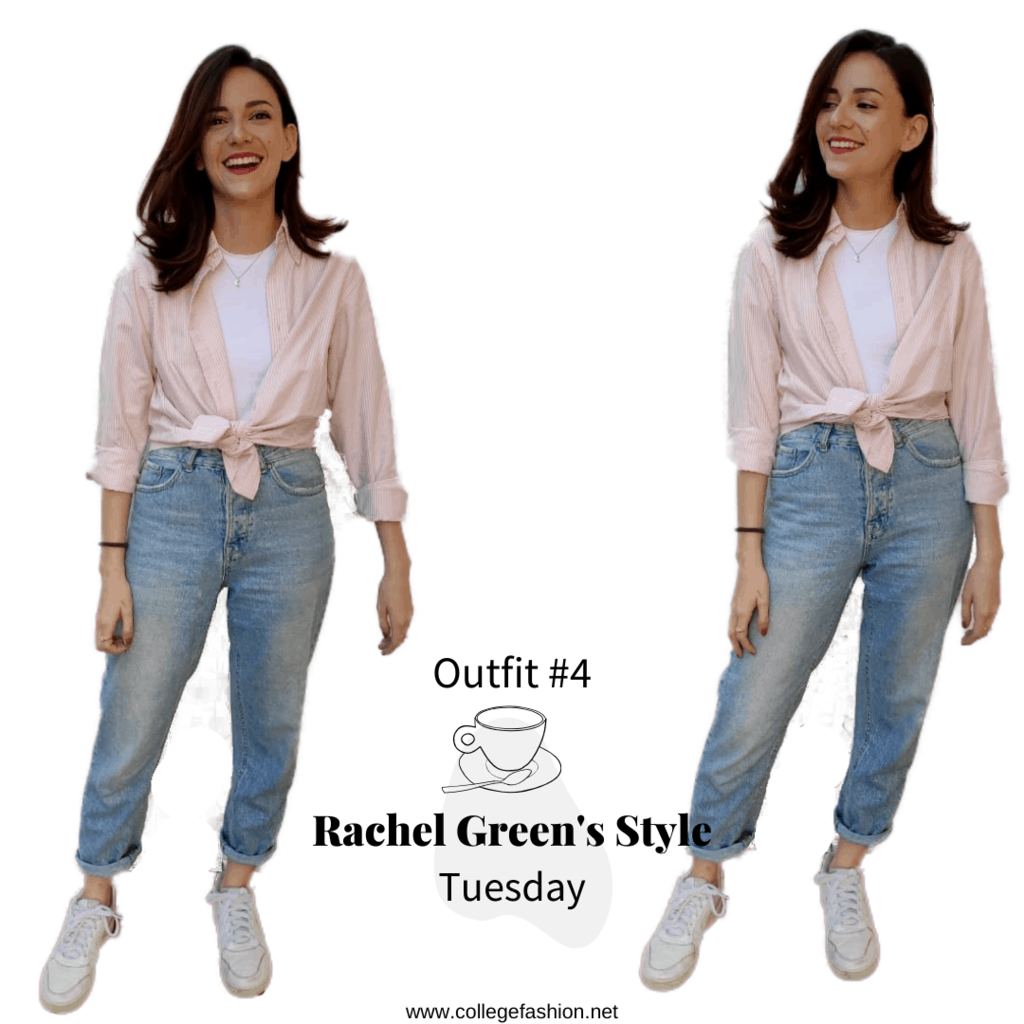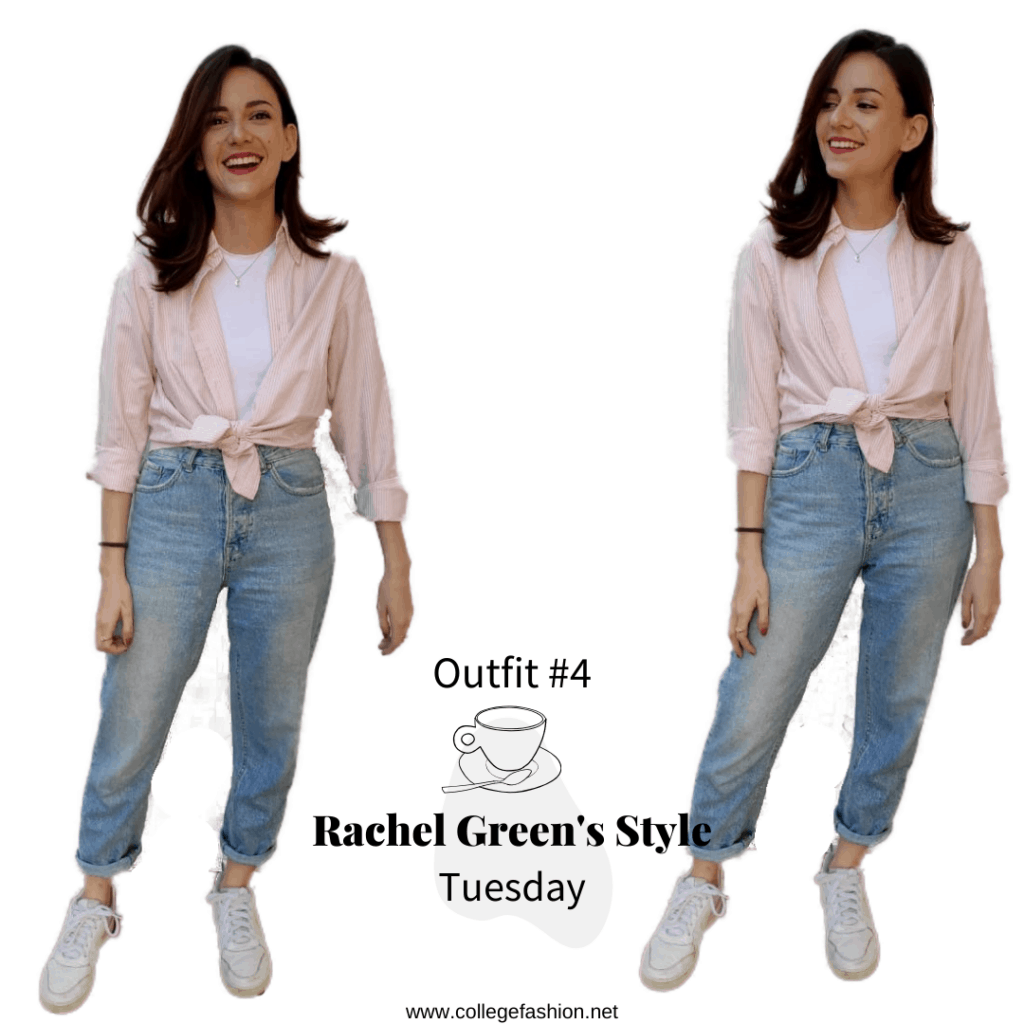 It was a very good idea to wear this look on this day, since I was ready to go and do some last-minute errands, then help around in the kitchen and the house. I would have liked to wear something a bit warmer than just the pink shirt, but since I was mostly inside, it wasn't such a big deal.
Tuesday's Outfit #5:
For the second outfit on Christmas Eve, I went for a more festive look. This iconic Rachel Green outfit consists of a plaid mini skirt, a white sweater, white socks and black shoes.
To create this look, I wore a red plaid skirt and tucked in a white sweater. I ran into a bit of a problem with the white socks, so I actually borrowed a pair from my dad, and they worked perfectly! Finally, I wore a pair of black suede loafers.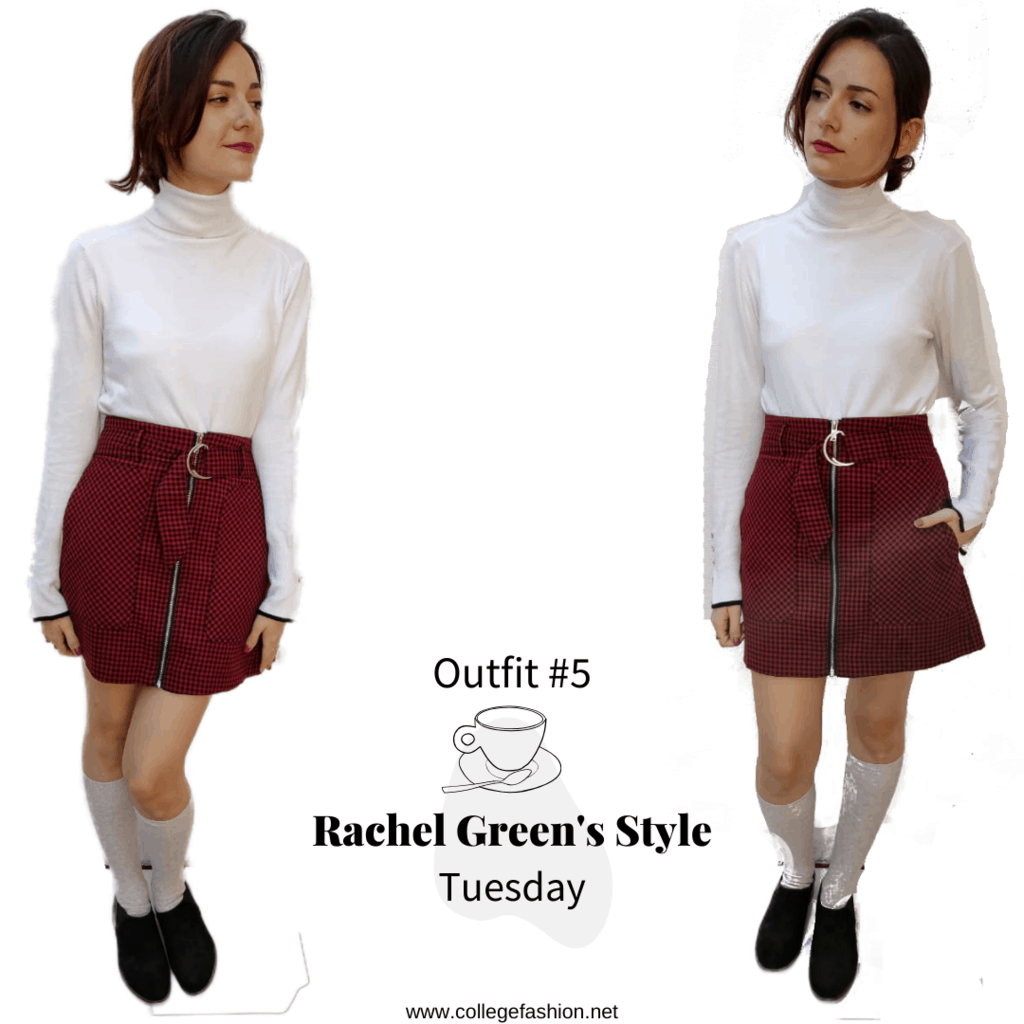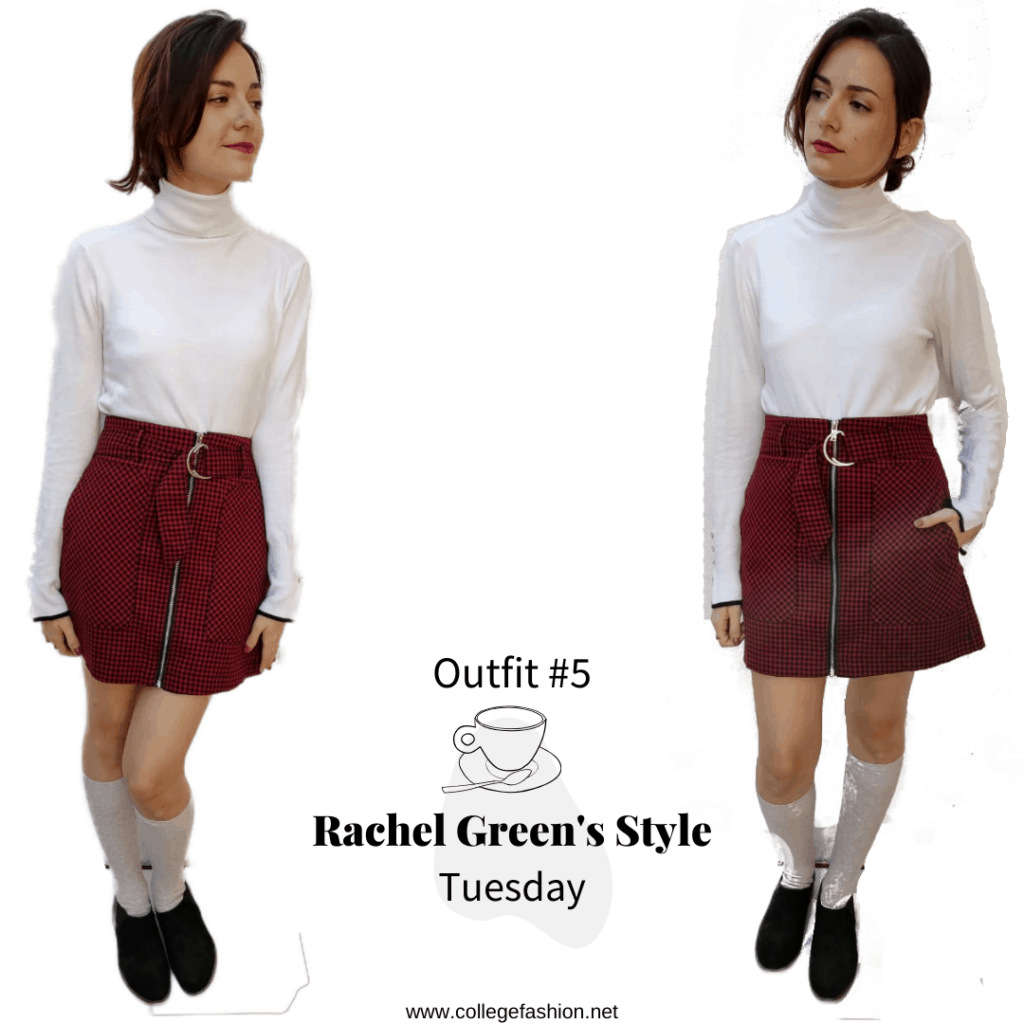 I really liked the outfit, but the socks and shoes weren't really my cup of tea. Overall it was a cute outfit and a great look for our Christmas dinner — plus it looked amazing in the pictures we took that day. I just wasn't a fan of the legwear.
Since this was an outfit for this specific dinner, I only wore it for a couple of hours and didn't really get many comments. Therefore, I am going to try and wear it another day, just to see how it would work on a normal day outside of my house.
Rachel Green's Outfits – Look #6, Wednesday
It was Christmas! And so I went for a very chill, casual outfit. In this episode, Rachel wears black pants, a green shirt, a baseball cap, and white sneakers.
To get this look, I wore a pair of black joggers, a green long-sleeved shirt and a pair of white sneakers. To accessorize, I added a baseball cap. I also did my hair like Rachel, with pigtails, to keep with the vibe of her outfit as much as possible.
I did make some adjustments to the outfit, but I think the overall look Is pretty close to what she wore.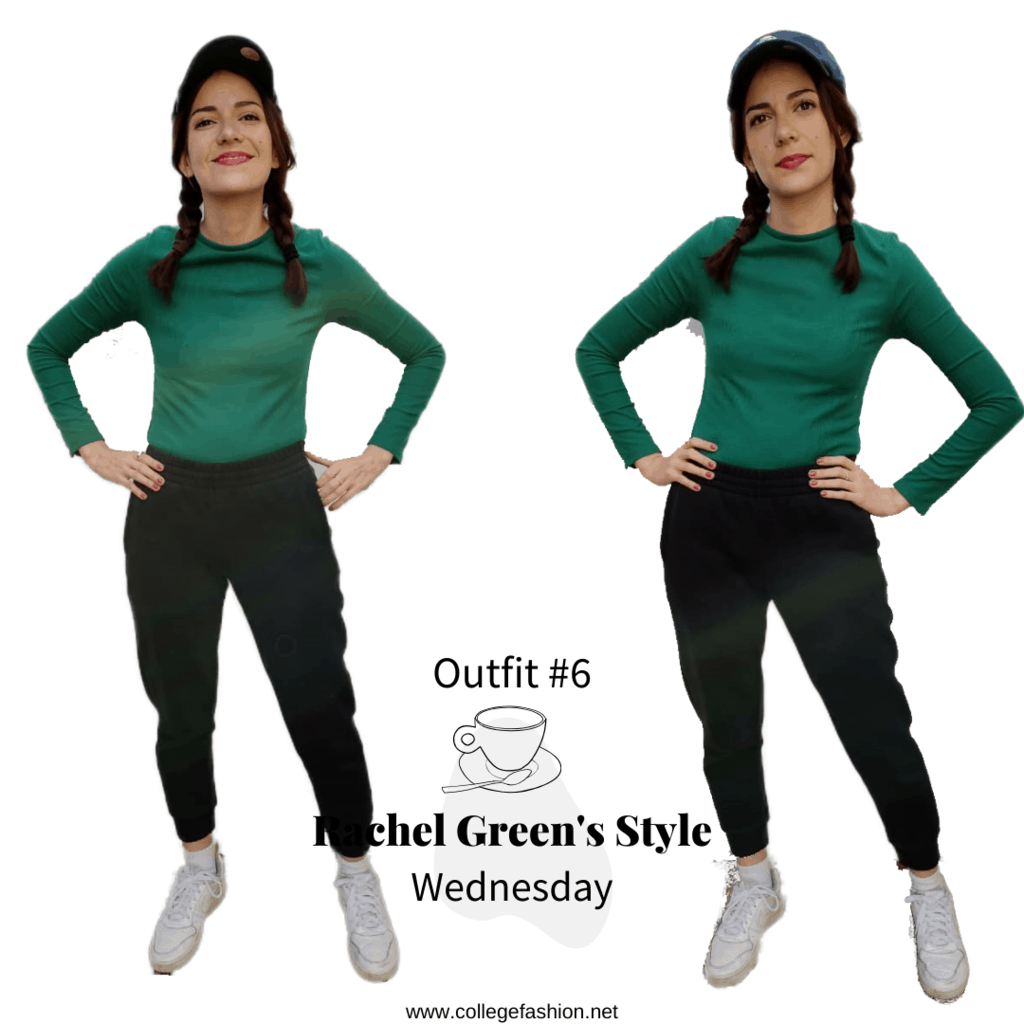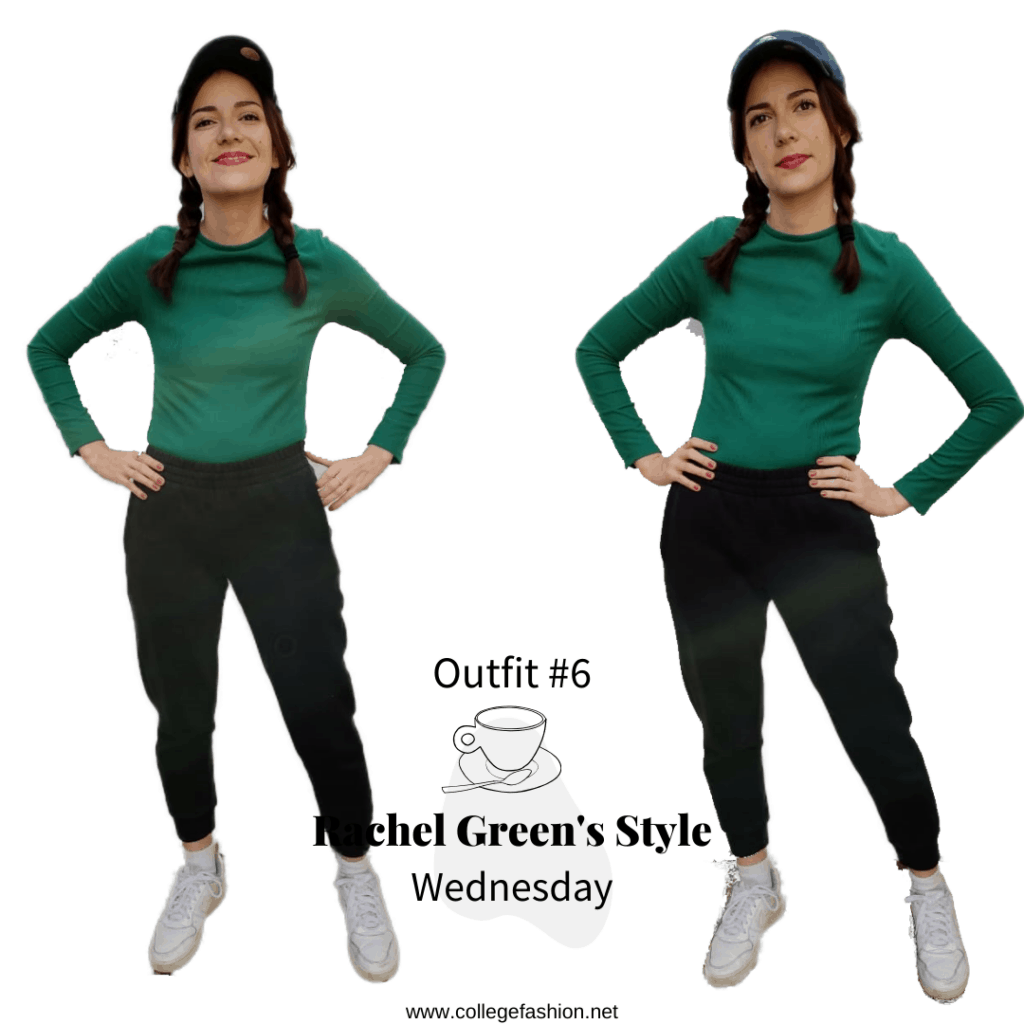 Christmas Day, for us, is a very chill kind of day — we just hang out, eat leftovers, and watch Christmas movies all day. So when I decided what I would wear this week, this outfit seemed absolutely perfect for this day.
Overall, this was a comfortable and cute outfit. It was perfect for a day of staying at home with my family and not doing much of anything.
Also Read: Easy Outfit Formulas: Joggers + Cropped Tee
Rachel Green's Outfits – Look #7, Thursday
For the final day, I chose a very fall-winter look. Through the episode, Rachel can be seen wearing a plaid skirt and an off-white sweater.
To recreate the outfit, I wore a plaid midi skirt and a cropped off-white sweater. I watched the episode and searched everywhere, but I couldn't figure out which shoes she was wearing, so I used a pair of black booties to keep with the wintery-vibe.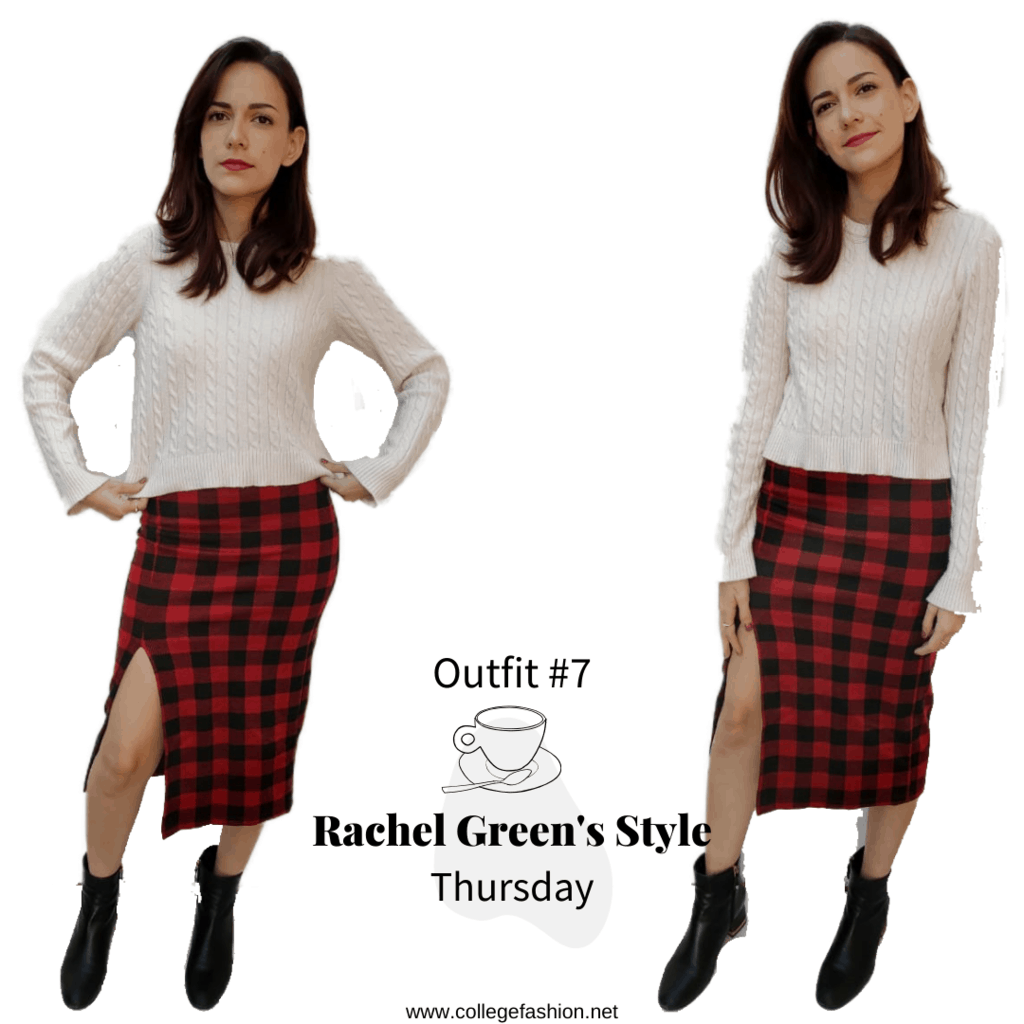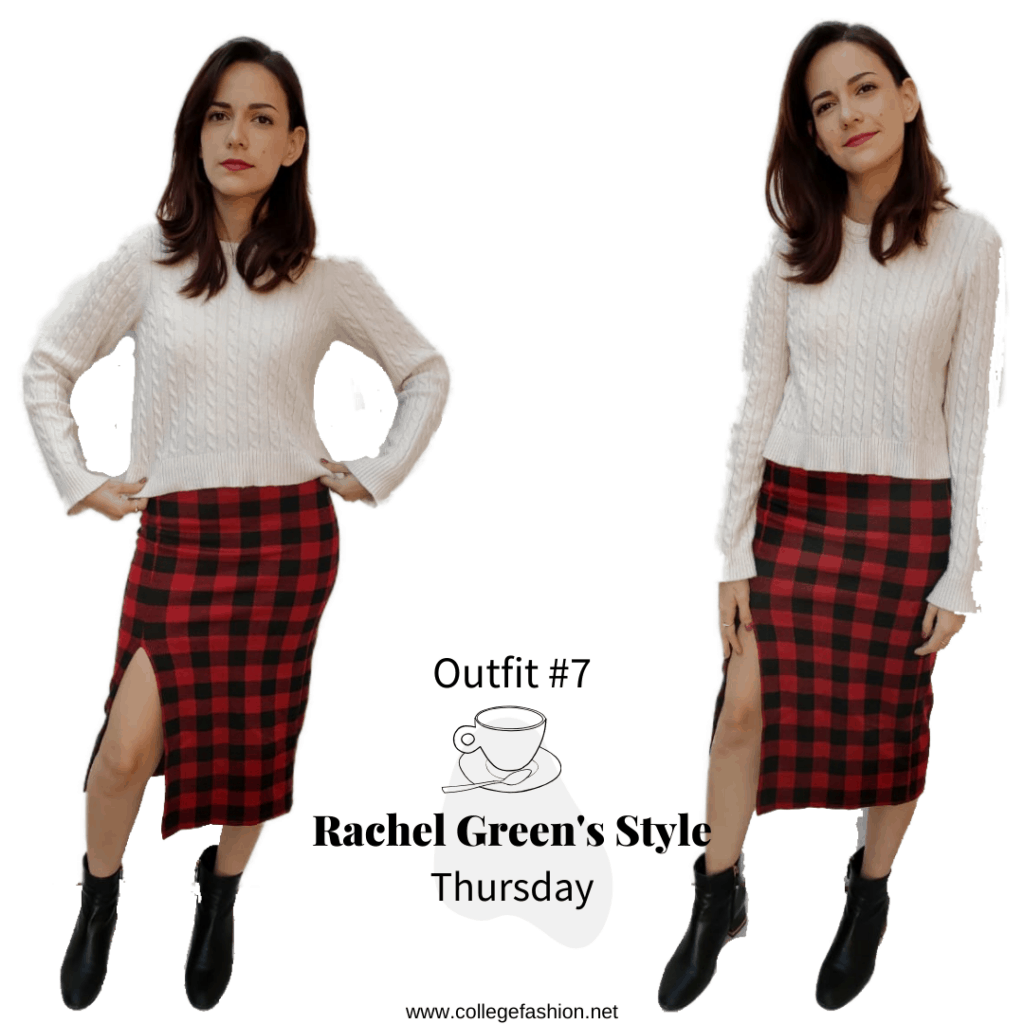 This skirt was one of my favorite purchases this year. I bought it about a month ago and I haven't stopped thinking of new ways to wear it. This outfit was incredibly cute, cozy, and all-around perfect. Although I didn't do much, it was still a very comfortable look to lounge for a while and go out with my sister to just hang out.
Final Thoughts on My Rachel Green Outfit Challenge
After taking the pictures of the outfits and editing them, I realized how many plaid-centric outfits I had picked out for this week. I don't know if it was the weather or what, but I definitely gravitated toward this particular print when choosing my looks.
While I was scrolling and binge-watching Friends (again!) to get inspired for this post, I found myself most interested in Rachel's earlier style, namely the very 90's-cute outfits. Her overalls, mom jeans, plaid items, and crop tops from the early seasons are very much my style and I loved the opportunity to actually style these items like she did.
Rachel's style in the last seasons was incredibly cute and put together, but it involved a lot of pantsuits, high heels and very office-like outfits. Unfortunately, I wasn't able to wear them because this challenge coincided with my days off, so I couldn't justify shelling out for an actual pantsuit to recreate those upscale outfits.
Overall, I had fun this week. Rachel has been a fashion icon for over two decades and it would have been a sin not to do a post like this before the year ended. I loved most of the outfits and I will wear them again, without a doubt, before the winter time is over.
If you like Rachel's style too, you should definitely try to copy some of her outfits, especially since so many of the '90s pieces have made a comeback over the last couple of years. You won't have a problem finding any items — in fact, you probably have them already!
What do you think?
Which Rachel Green outfit would you wear? Are you a Rachel Green fan? Which character is your favorite? Would you like to see a recreation of the other Friends' style? Let us know in the comments below!
If you liked this article about Rachel Green outfits, consider checking out these other articles below —