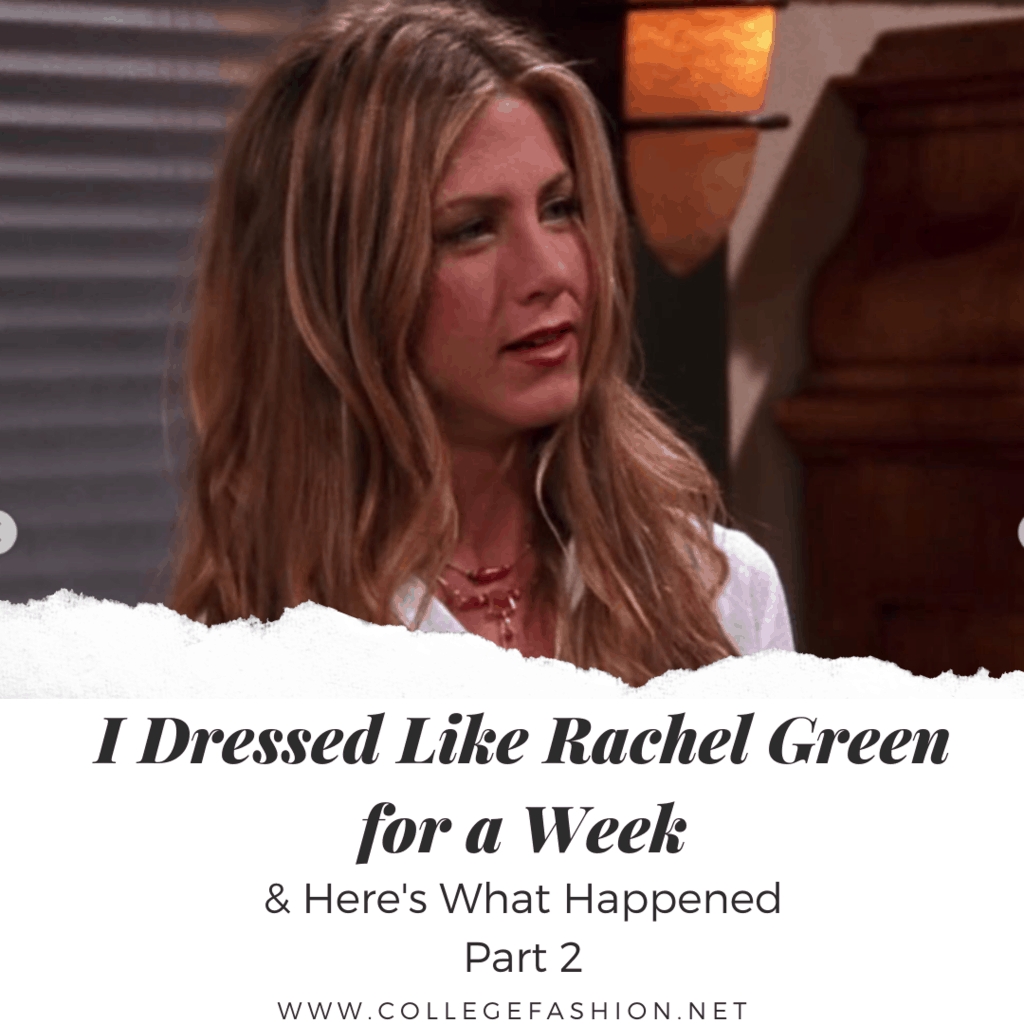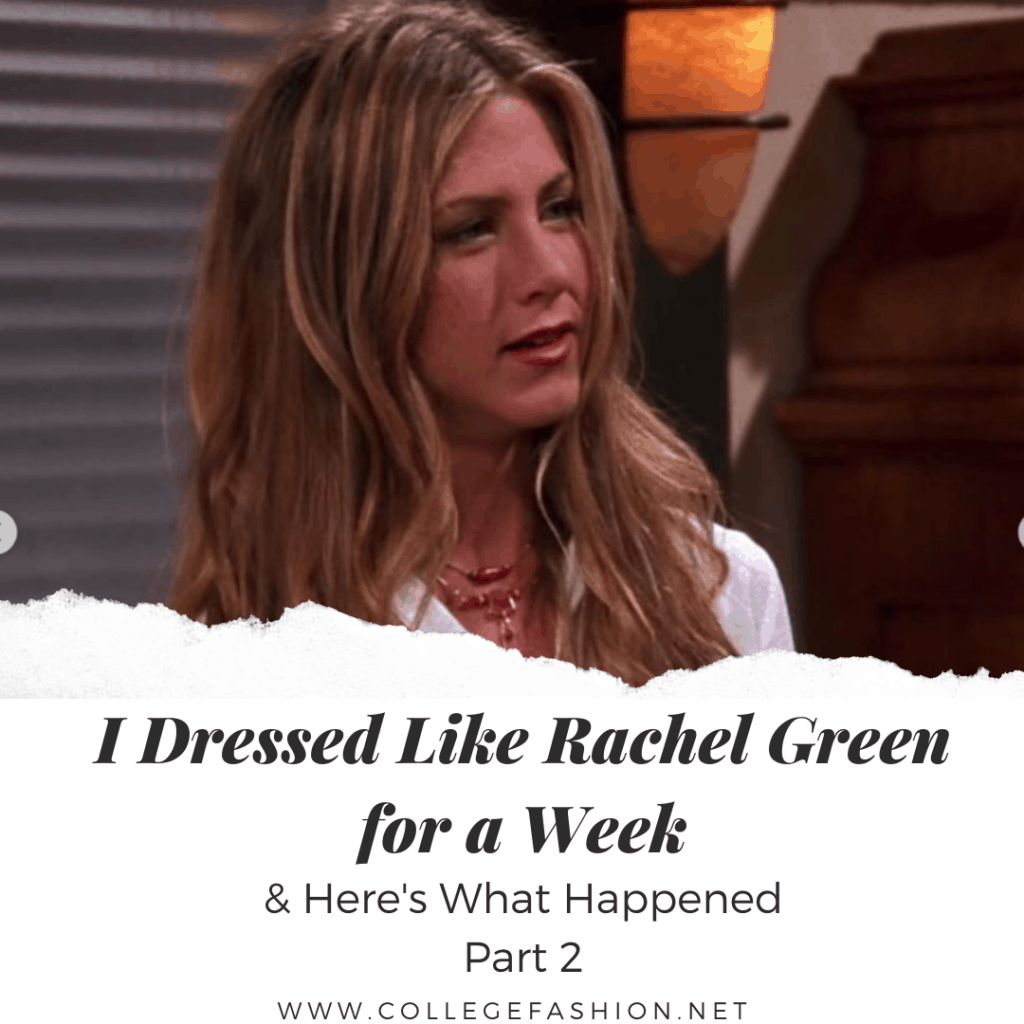 We've all looked to celebrity style for fashion inspiration at some point in our lives. But it's one thing to say "I love her outfit," and it's another to actually copy it in real life.
For this series, I'm going the extra mile and making it happen. Each week, I'm getting inspiration from a celebrity and copying five of her looks as closely as possible. Then, I'm reporting back to you: Did the outfits work in real life? Did I feel comfortable? Did people treat me differently? I'm sharing it all.
In past posts I've dressed like Zendaya, Gigi Hadid, Grace Kelly, Kendall Jenner, Vanessa Hudgens, Sophie Turner, Priyanka Chopra, Millie Bobby Brown, Hilary Duff, Lily Collins, Taylor Swift, Iconic Halloween Characters, Selena Gomez, Alexa Chung, Iconic Christmas Characters, Rachel Green, Queer Eye's Fab 5 and Monica Geller.
This week, I'm doing a second take on Rachel Green's style from Friends!
Quick Summary of Part 1 and Rachel's Professional Style
For my first post on Rachel Green's style, I focused on her aesthetic through the first few seasons. That means that I wore a lot of plaid, cozy sweaters and comfy clothes. I described this vibe as a chill-but-fashionable 20 something.
It was an awesome week! I loved her outfits, they were comfortable, cute and appropriate for each day. But like I mentioned, they are almost all plaid-centric and casual looks.
So for Part 2 of my Rachel Green style guide, I'm focusing on Rachel's style through the later seasons of Friends.
Her style through the later episodes is a change from her cutesy 20-something vibe: As she becomes a mother and embarks upon a career at Ralph Lauren, Rachel's style becomes more put-together, professional, and sophisticated.
Smart suits, blazers, blouses, Oxford shirts, comfortable heels, boots and coats are her later season fashion staples. Color-wise, she stays along the neutral side of things, relying heavily on black, grey, and brown.
Rachel's Style – Outfit #1, Monday
For the first day, I chose this grey suit look from Season 5. Rachel is wearing a grey pantsuit, a mock neck shirt, and pair of black loafers.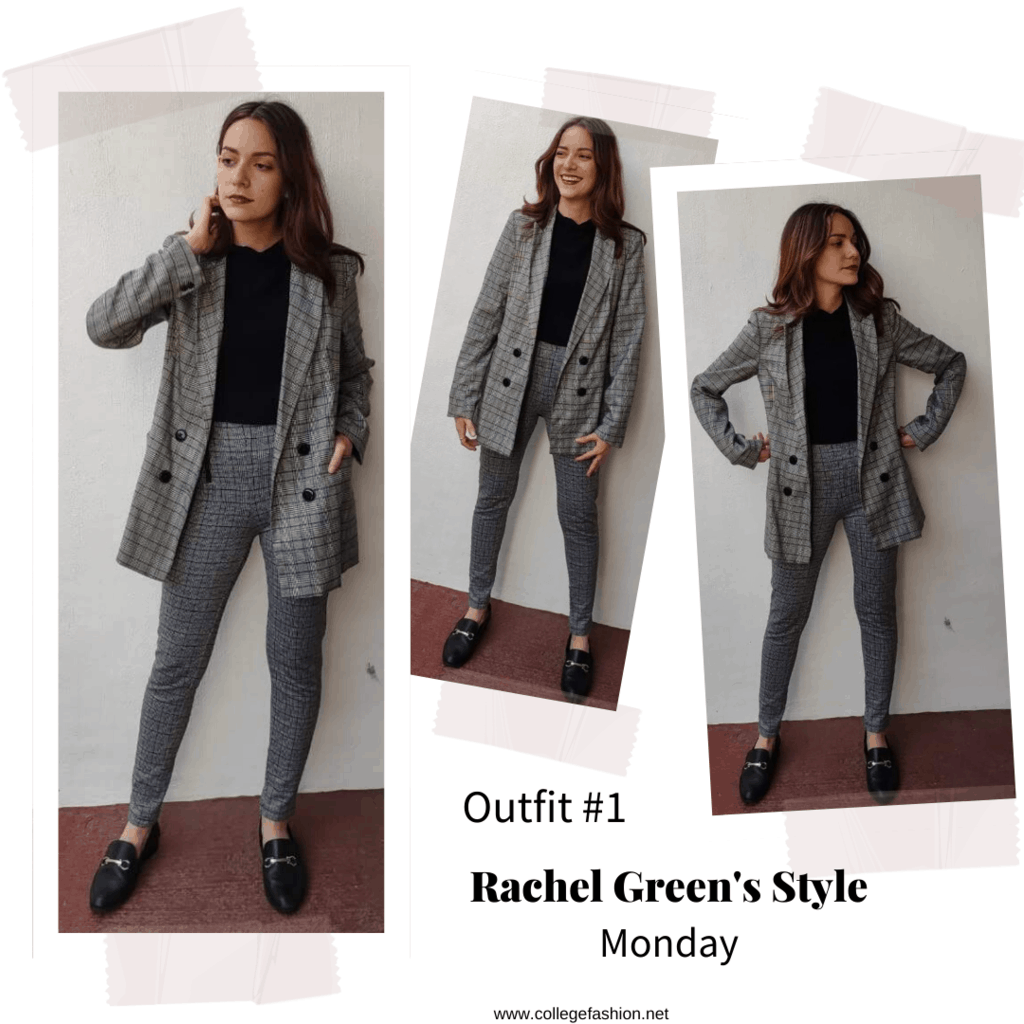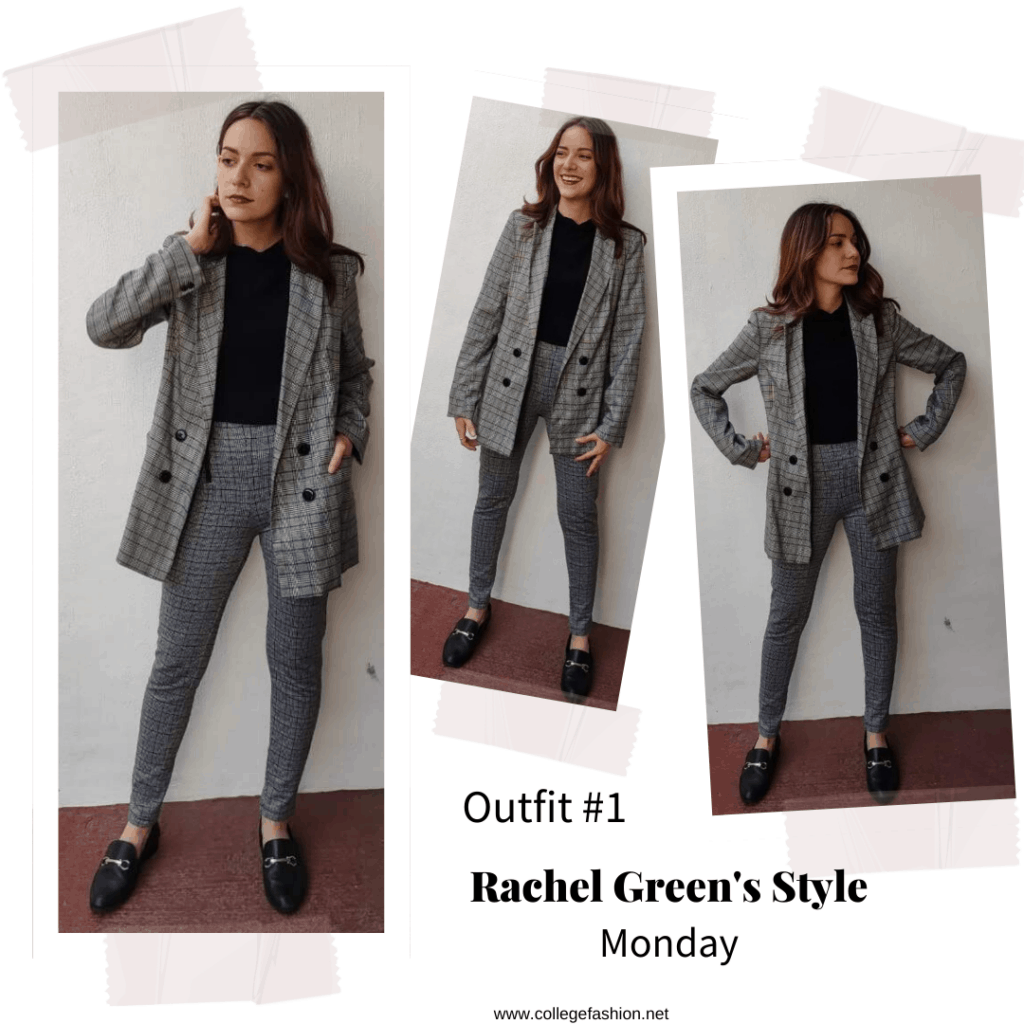 Similar items: Leggings – H&M, Blazer – H&M, Shirt – Revolve, Shoes – DSW, Lipstick – MAC
For my version of this Rachel Green outfit from Season 5, I wore a pair of grey skinny leggings and a blazer, both with a similar print. As a top, I chose a black mock neck shirt that is similar in cut to the one Rachel is wearing. Finally, for shoes I used a pair of black loafers.
Before I continue with how this day went, I do have to note that I only own one proper suit and it is bright pink. I do own blazers and slacks that kind of match, but not a proper two-piece set. So, when I was recreating this look I did have to sacrifice some things, hence why I wore leggings instead of slacks.
I was scared that my leggings and blazer combo would look off or that I would look weird, but, honestly? I actually loved how it turned out and how it looked.
Granted, this look wasn't as comfortable as just wearing jeans and a sweater, but it was practical and it did give me a boost of confidence while working and meeting with clients. (Again, keep in mind that my workplace is casual!) Overall, I think I got the vibe of the outfit right.
Rachel's Style – Outfit #2, Tuesday
For Tuesday, I decided I'd try this Rachel Green outfit from Season 6. Here, Rachel is wearing black pants, a white shirt, a brown coat, and a pair of boots.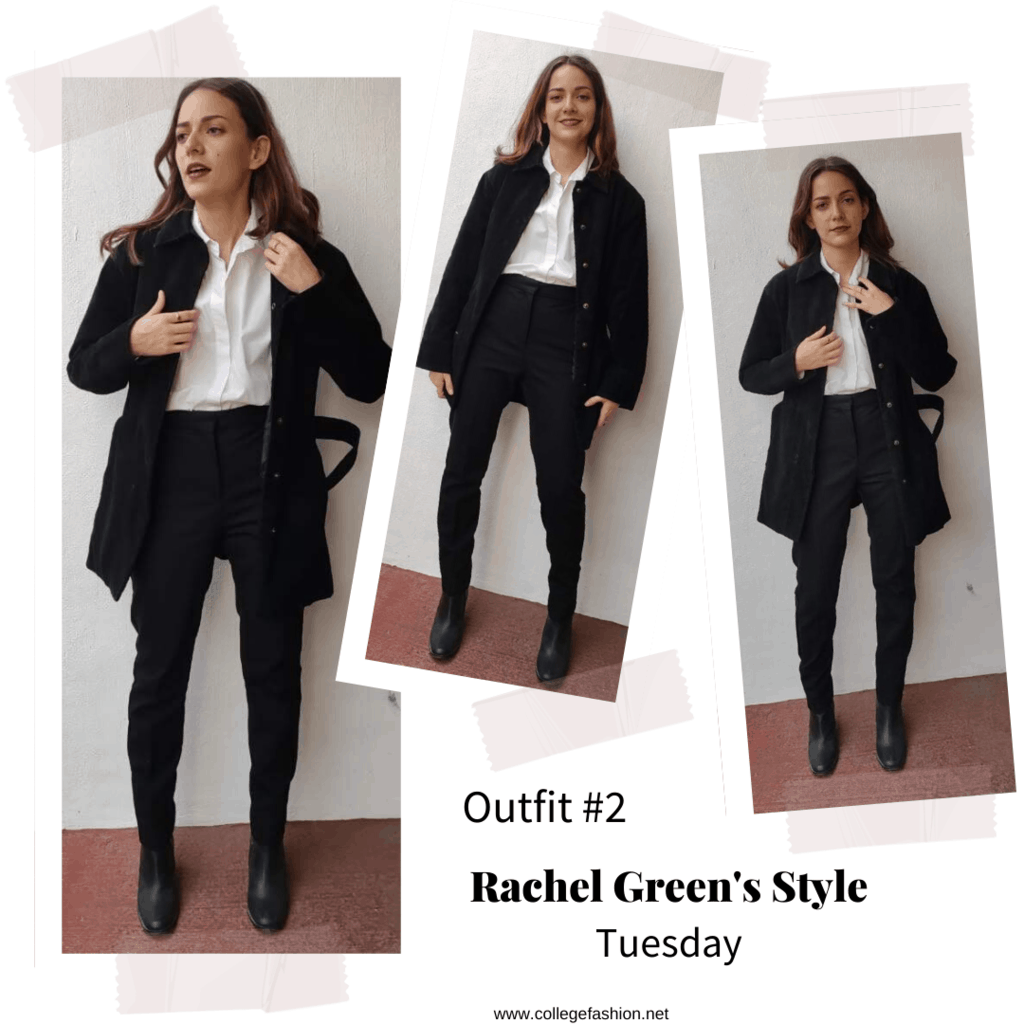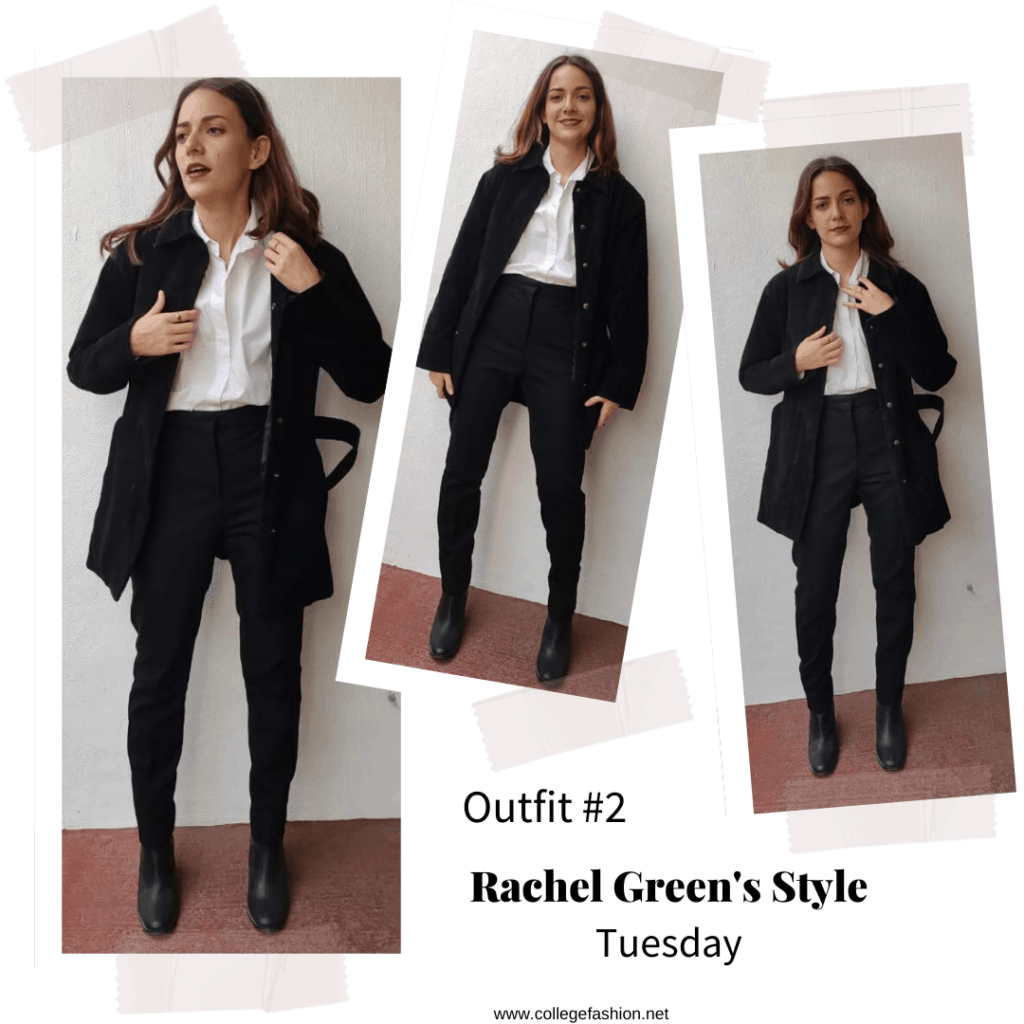 Similar items: Pants – H&M, Shirt – Brooks Brothers, Boots – Lori Goldstein, Coat – Shoptiques, Lipstick – MAC
To do a version of this outfit, I wore a white Oxford shirt tucked into a pair of black pants. I borrowed a pair of black heel boots from my mom. For the coat I went for a suede, black one that has the same length and cut that her coat has.
To recreate this look, again, I had to do some compromises. I have a brown leather jacket and I have brown coats, but I don't have a brown leather coat and I couldn't find one that had the cut, style or color I was looking for. So, I decided that I had to compromise with the color and the fabric, and wear the coat I already had.
It was a different look. It was comfortable but appropriate, but it was professional in a different way than the first outfit was that I feel is way more wearable day-today. That being said, when I looked at myself in the mirror, it reminded me of my mom picking me up at elementary school wearing something similar to this. I don't mind it at all, it was just a very specific memory that was triggered by this combination of items. And then it hit me: Rachel is way closer to my mom, both in age and style, than she ever was to me. So the entire day, I was more focused on that than the outfit itself.
Rachel's Style – Outfit #3, Wednesday
On Wednesday, I wanted to go for something more dressed up. This Rachel outfit from Season 5 consists of a body-con dress, tights, heels, and a coat.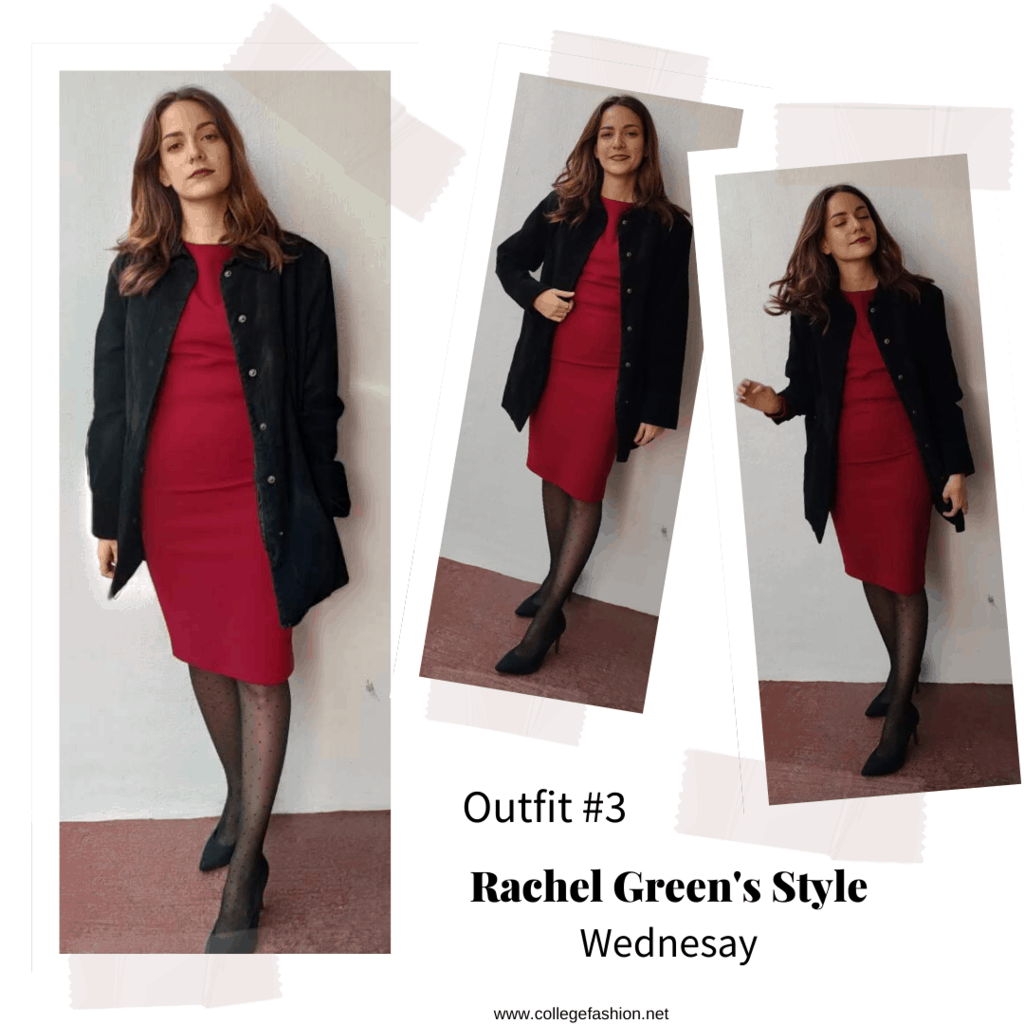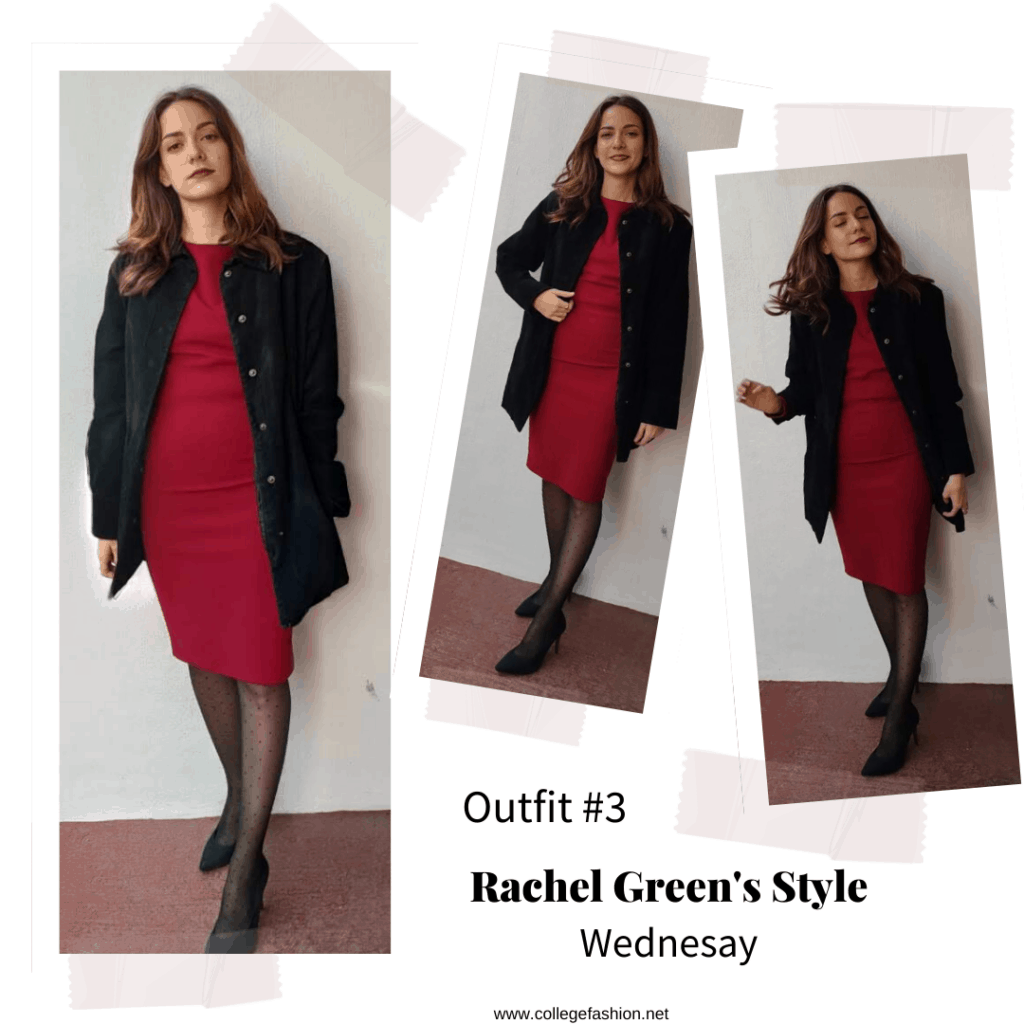 Similar items: Dress – Missguided, Coat – Shoptiques, Tights – Nordstrom, Heels – JCPenney, Lipstick – MAC
To do a variation on this outfit, I wore a dark red body-con dress that I borrowed from my sister and used the same black suede coat from the previous day. Then, I wore a pair of black tights and black stiletto heels.
I think this one was my easiest recreation of the week, which was great for a busy Wednesday.
I loved everything about this look except the heels. If it had been any other type of heels, I might have loved the look entirely. But stiletto heels, and pointed stiletto heels at that, aren't the comfiest. This is coupled with the fact that I rarely wear heels unless I have to for an event.
I looked great, if I say so myself, and I felt very cute, but I'll be real with you guys — I ditched the heels the absolute second I got home.
Rachel's Style – Outfit #4, Thursday
For Thursday's look, I chose another dress outfit, this time from Season 6. Here, Rachel is wearing a black dress, black boots, and a leather coat.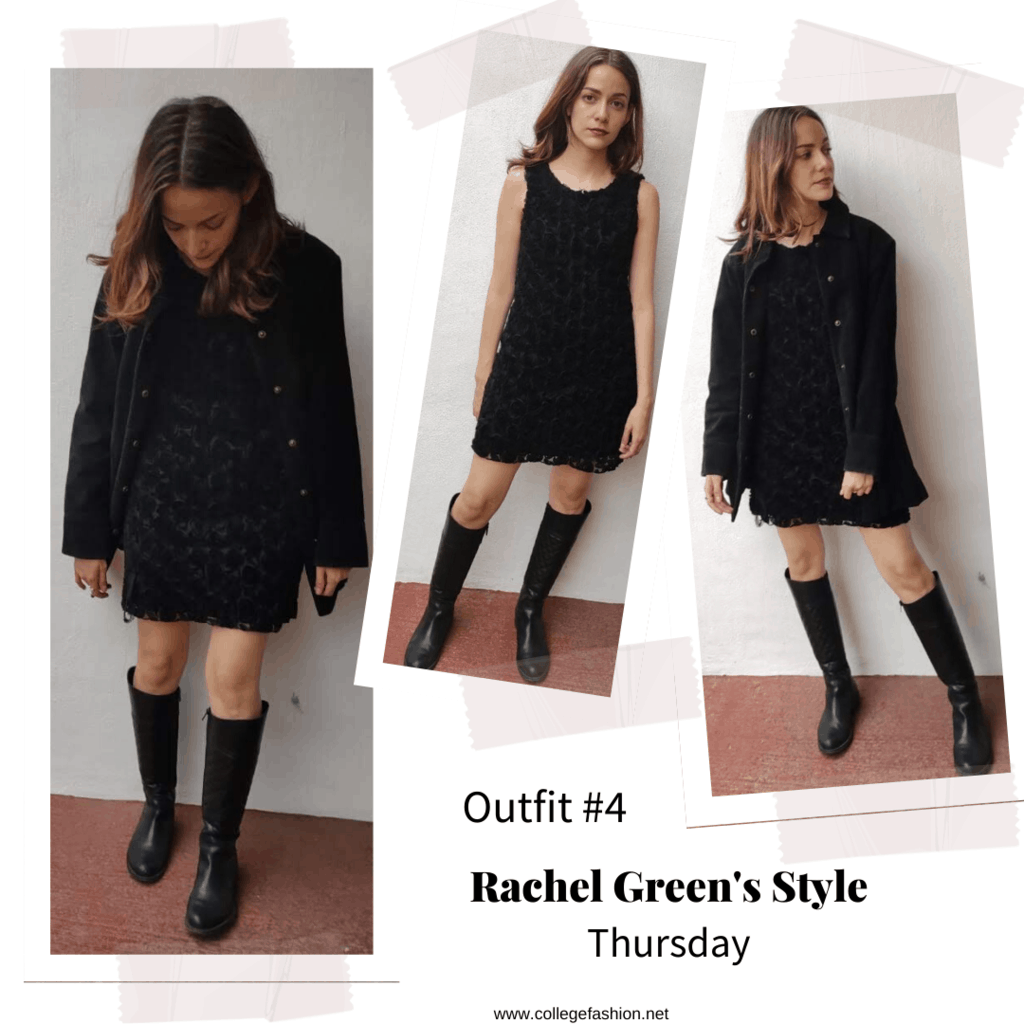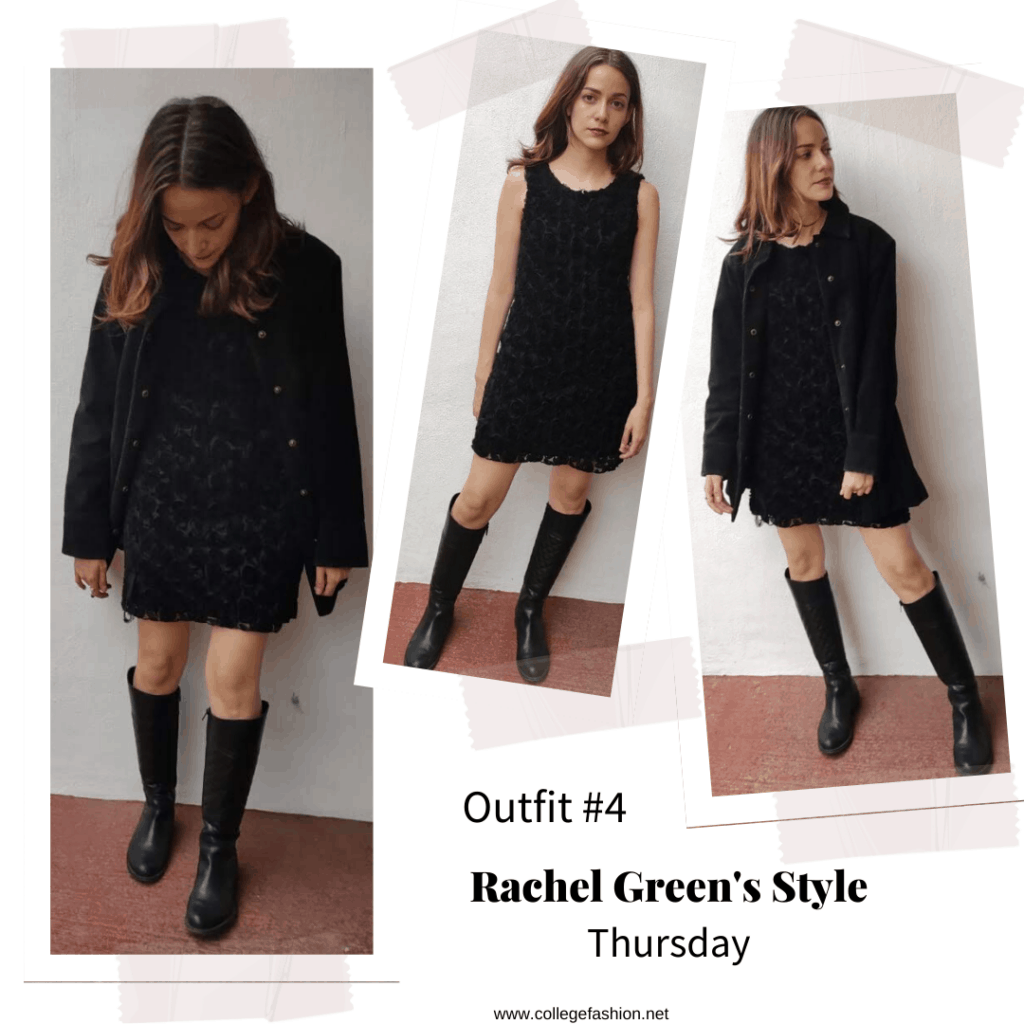 Similar items: Coat – Shoptiques, Dress – Nordstrom Rack, Boots – DSW, Lipstick – MAC
To recreate this look, I wore a black dress and paired it with black riding boots.
My look was similar though not exact. Rachel's boots have a heel, but these flat boots were the closest dupes I had. My dress does have a pattern and texture to it, but it has the same shape and length that Rachel's dress has.
Since the coat for this look is either similar or the same one as Rachel's Tuesday look, I wore the same black suede coat from my Tuesday outfit.
I liked this look. It looked put together and made me feel really in charge. That being said, I was very cold, all day. Even with the coat on, I wish I could've worn tights or a sweater over the dress.
After wearing this all day, I couldn't wait to get home. As soon as I stepped inside, I changed into cozy clothes and wrapped myself in every sweater, sock, and jacket I could find.
Rachel's Style – Outfit #5, Friday
Finally, it was the last day and for Friday I went for this really cute outfit. I cheated a bit because this is actually an early season episode (Season 3), but I do feel it captures Rachel's preppy style from the later seasons.
During this episode, Rachel is wearing a white shirt, a black skirt, black tights, black heels, and a blazer.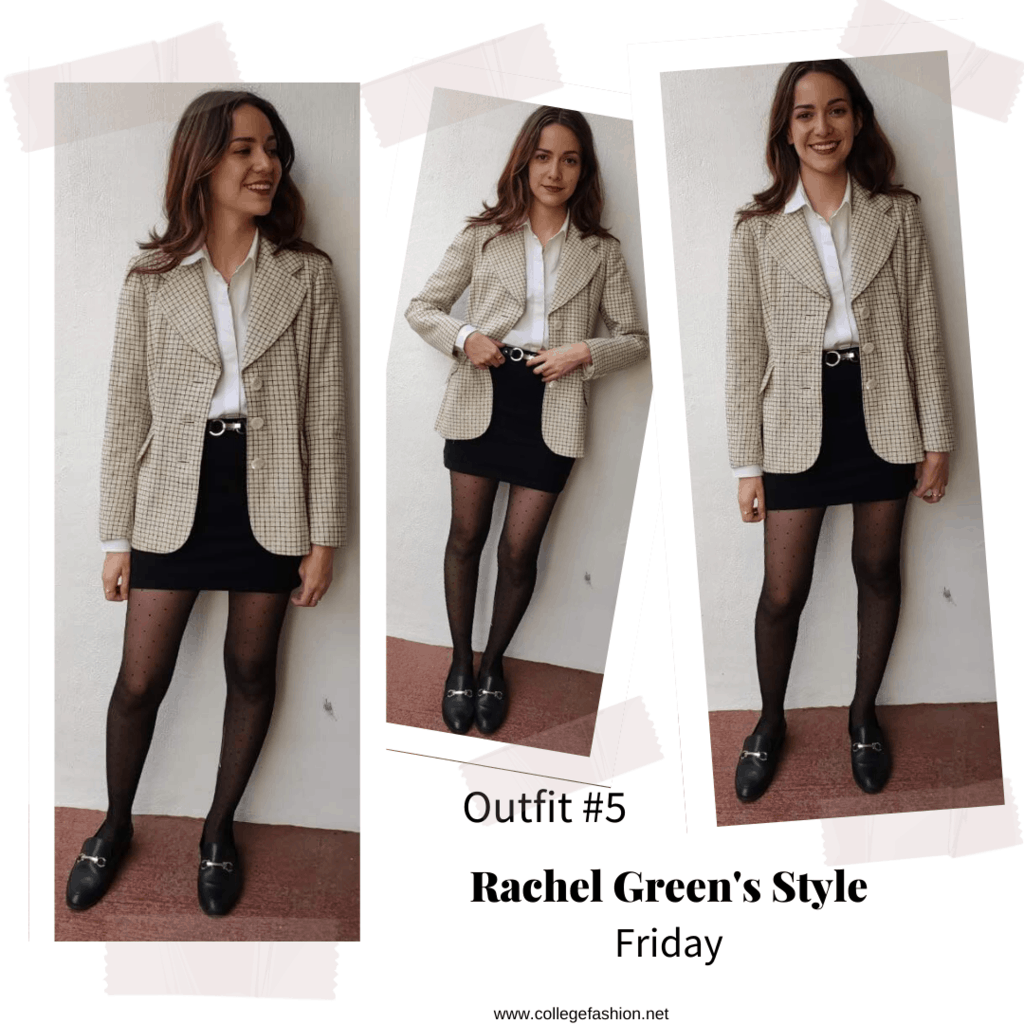 Similar Items: Skirt – Revolve, Shirt – Brooks Brothers, Blazer – H&M, Tights – Nordstrom, Heels – JC Penney, Lipstick – MAC
I recreated this look with a white Oxford shirt tucked into a tight black mini skirt. I wore a pair of black tights and black loafers. For the blazer, I didn't have one in the right color, but I used one from my mom that was a bit lighter in color, but was the right fit and cut.
This was my favorite look of the week. While I was a bit cold, the shirt and the tights allowed me to wear layers underneath without altering the actual look of the outfit. It was comfortable and kind of posh.
I felt really pretty in this and it gave an immense boost of confidence, even more than the rest of the looks of the week. I saw a couple of friends that day and I got a lot of compliments on this look, but most of them were surprised to see me look so professional.
Final Thoughts
There is one little detail that I want to mention, before I get into how I felt this week. Every day I wore the same lipstick, and it's the exact shade Rachel wears!
After watching and re-watching the series, I looked up Rachel's lip color and found that it's a MAC lipstick that it's still available, specifically the Satin lipstick in "Paramount." My dad gave it to me for Christmas and I haven't stopped wearing it since! If you guys want it, you can click right here to buy it.
Now, on to my thoughts on this week's outfits.
Rachel's professional style has many more looks to offer than what I featured here, but the good news is, her later season looks are pretty much all variations of these same outfit combos. (So if you can nail a few, you pretty much have her style down.)
That's not to say Rachel's style is boring, though. She does wear a lot of pantsuits and blazers, but I like that she also wears coats and dresses with interesting textures. She also mixes and matches different prints and colors to add a different dimension to a normal office outfit (a la Friday's look).
After covering both sides of Rachel's style, I can say it is a never ending source of inspiration. I highly recommend you try her office looks for work: they're comfortable, practical, cute, and appropriate for most offices. You will have to do a deep dive in your closet, get creative with the items you've got or invest in some new ones, but it is definitely an achievable style.
What do you think?
What do you think? Do you like Rachel's office style? Which look was your favorite? Would you try to recreate one of these outfits? Let us know in the comments below!