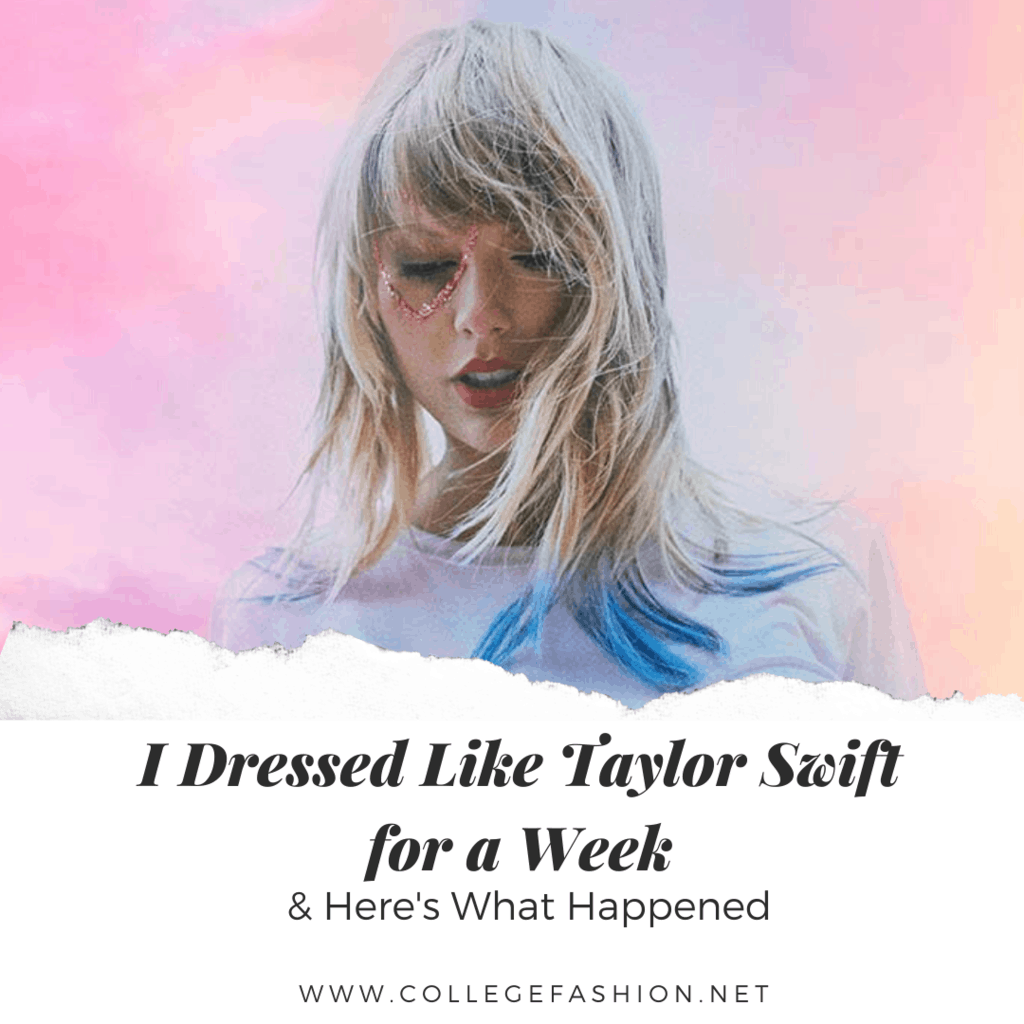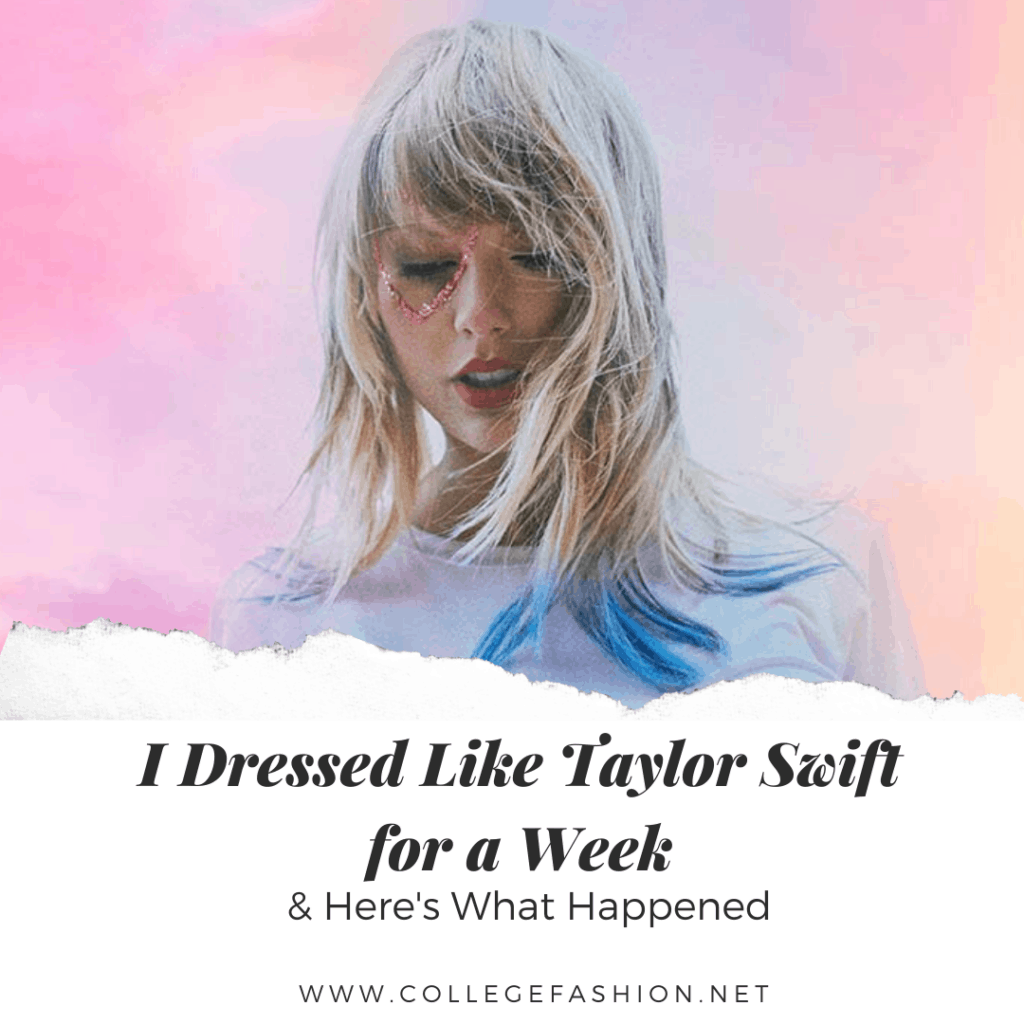 We've all looked to celebrity style for fashion inspiration at some point in our lives. But it's one thing to say "I love her outfit," and it's another to actually copy it in real life.
For this series, I'm going the extra mile and making it happen. Each week, I'm getting inspiration from a celebrity and copying five of her looks as closely as possible. Then, I'm reporting back to you: Did the outfits work in real life? Did I feel comfortable? Did people treat me differently? I'm sharing it all.
In past posts I've dressed like Zendaya, Gigi Hadid, Grace Kelly, Kendall Jenner, Vanessa Hudgens, Sophie Turner, Priyanka Chopra, Millie Bobby Brown, Hilary Duff and Lily Collins.
This week, I'm switching things up a bit from the typical format and getting inspired by a celebrity's style evolution over time. And I'm not talking about just any celebrity; this celeb has a big reputation to live up to.
That's right, today I'm creating some Taylor Swift outfits inspired by her different style eras. Be prepared, this is a long post!
UPDATE 2023: With the release of folklore and evermore, we have a new TS era to get inspired by — see my folklore fashion guide here, and my evermore fashion guide here. AND, here's my updated 2022 version of this post, where I redid my own work to celebrate the release of Fearless (Taylor's Version). And here are some Eras tour outfits if you're going to the concert! Finally, here's my guide to copying Taylor's 2023 street style looks.
Taylor Swift's Style Evolution
Since Taylor's songs and albums are, as she says, like reading her diary, it's no surprise that Taylor's personal style reflects the album's aesthetic during that period of time.
In order to create Taylor Swift outfits from all these different eras, I launched myself into a Taylor spiral: I listened to every single album again, watched all of her videos, and went through the press she did for each album. In the case of 'reputation', I watched her Netflix concert documentary.
I really dove into each Taylor swift era, and I hope it shows in the outfits below.
For each outfit recreation, I'll go into depth on Taylor's style during that album era, and will explain why I chose certain items and which videos I used as inspiration the most.
Quick disclaimer: Before I get into the outfits and style breakdown, I should reiterate that this post is different from my past posts. These are not recreations of specific outfits. Due to the availability of certain styles, cuts and items she wore in her past eras (especially her first three albums), I had to take a different route with this one. This is a homage to Taylor rather than an exact recreation of her looks.
Now onto the outfits!
Related reading: I Copied Taylor Swift's Street Style for a Week & Here's What Happened
Taylor Swift Outfit #1: Monday ("Taylor Swift" Era)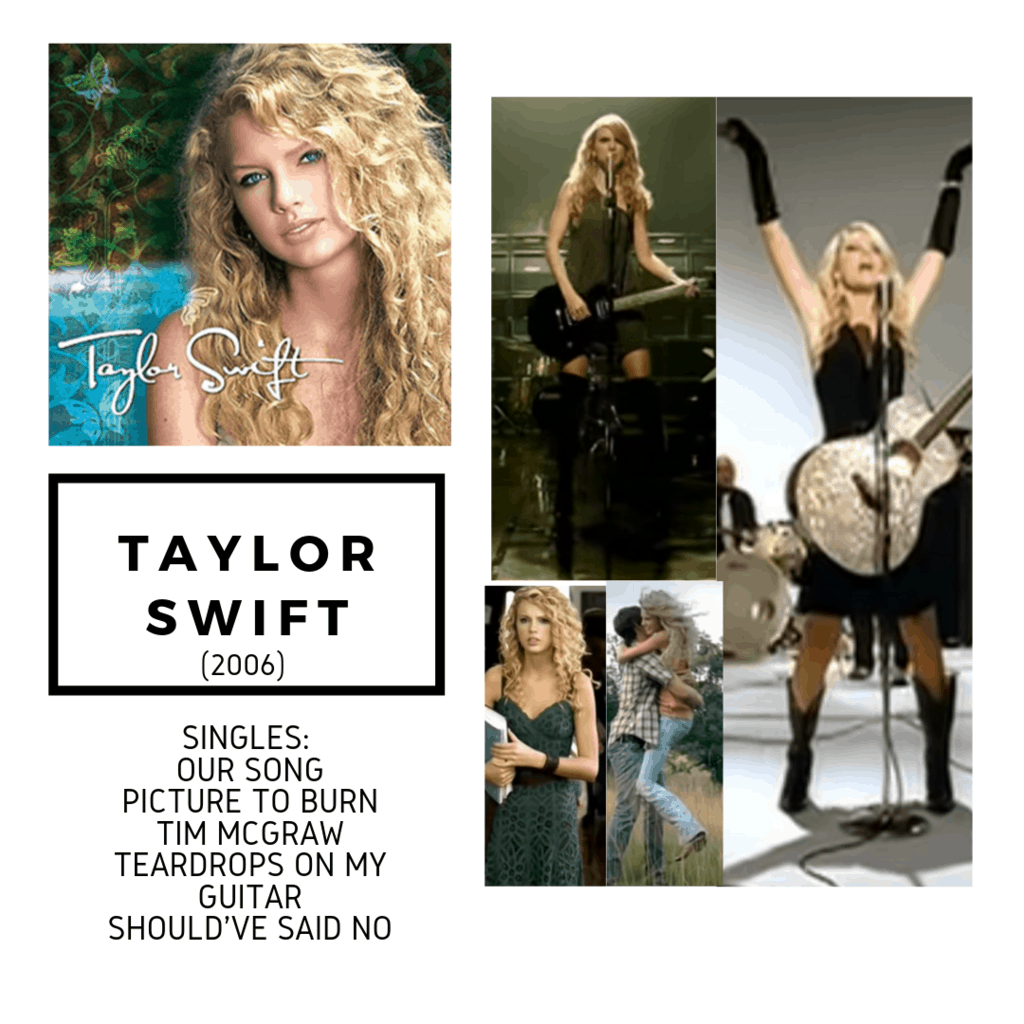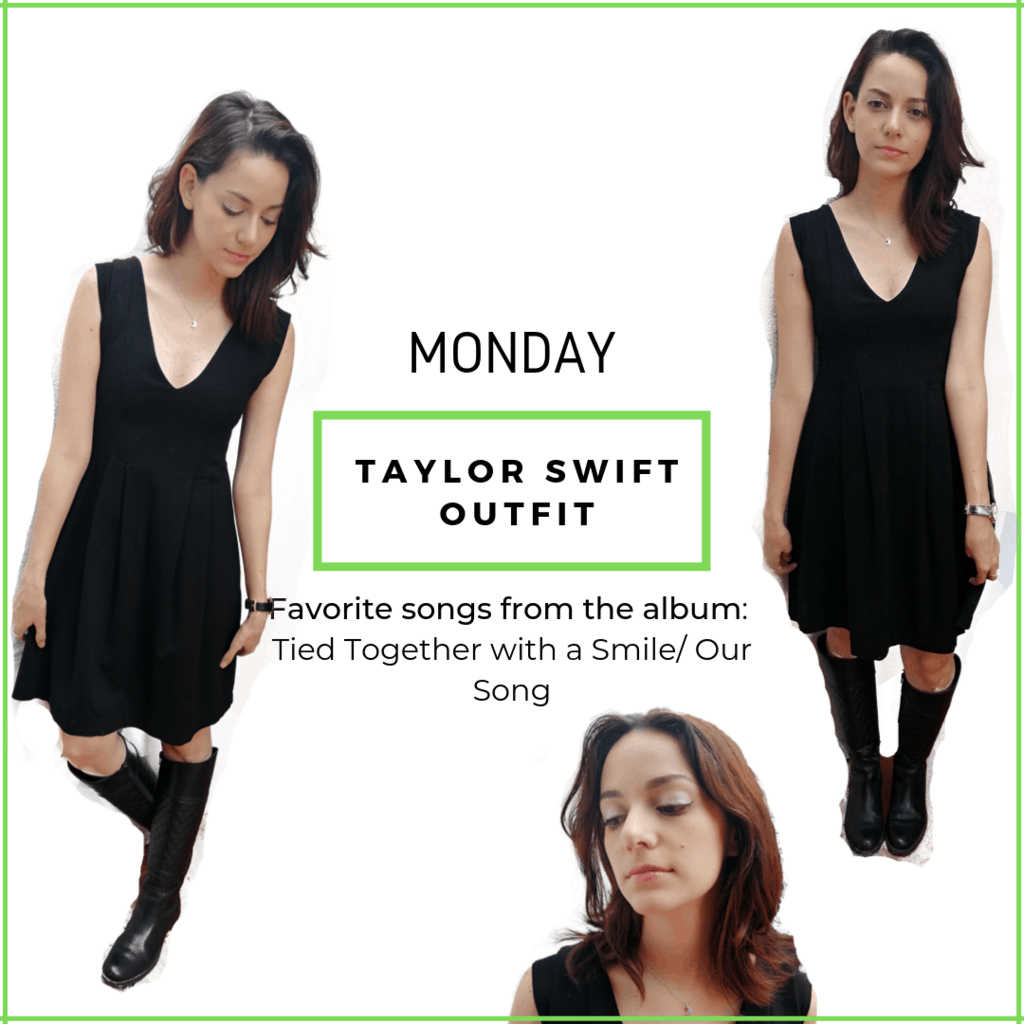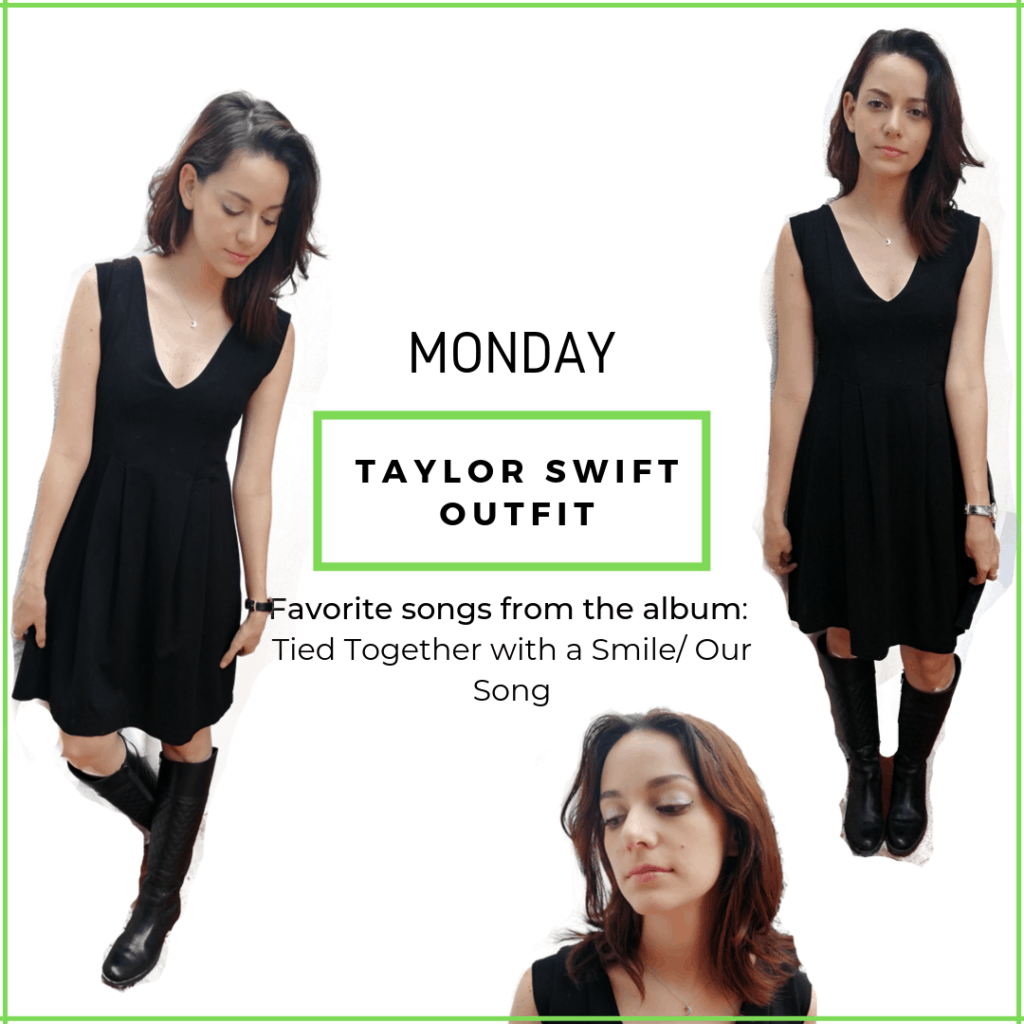 During her self-titled album era, Taylor was 100% a country sweetheart.
I drew inspiration from the videos of her singles (except Should've Said No, that has no video).
Throughout this era, Taylor had her iconic big curly hair, cowboy boots and the first glimpses of her fairytale princess aesthetic that she'd have for the next albums. She mostly wore dark, flowy dresses or big colorful gowns, either with her boots or barefoot. Her makeup was '00s classic, with shimmering eyeshadow and glossy lips.
At first I thought this would be the hardest aesthetic to recreate, since it's the oldest one, but it wasn't too difficult to do.
For my outfit, I wore a black A-line dress with a v-neckline, similar to the one Taylor wears in her "Our Song" video. I thought about buying cowboy boots for this one, but I knew I would never wear the again after this week, so I used a pair of black riding boots I already had instead.
This time, I did recreate Taylor's makeup and I wore shimmer eye shadow, with a slight cat eye and clear lip-gloss.
Where I live, it's been raining a lot lately, so the boots balanced the dress out and were perfect for the weather. As a bonus, the outfit was comfortable too. That being said, this wasn't really my vibe and I just felt a bit out of place wearing this. And people knew that it wasn't my style at all and kept asking how I was feeling.
Also Read: How to Wear Cowboy Boots
Taylor Swift Outfit #2: Tuesday ("Fearless" Era)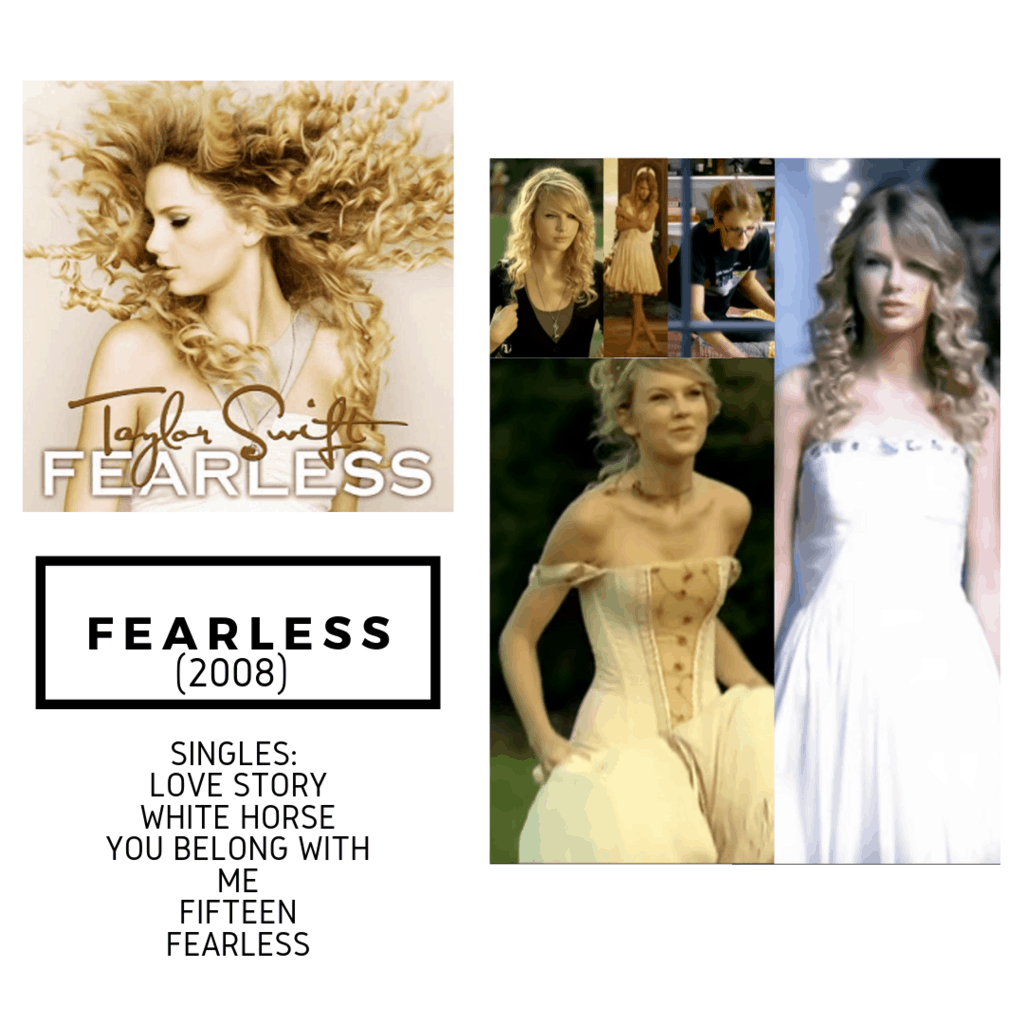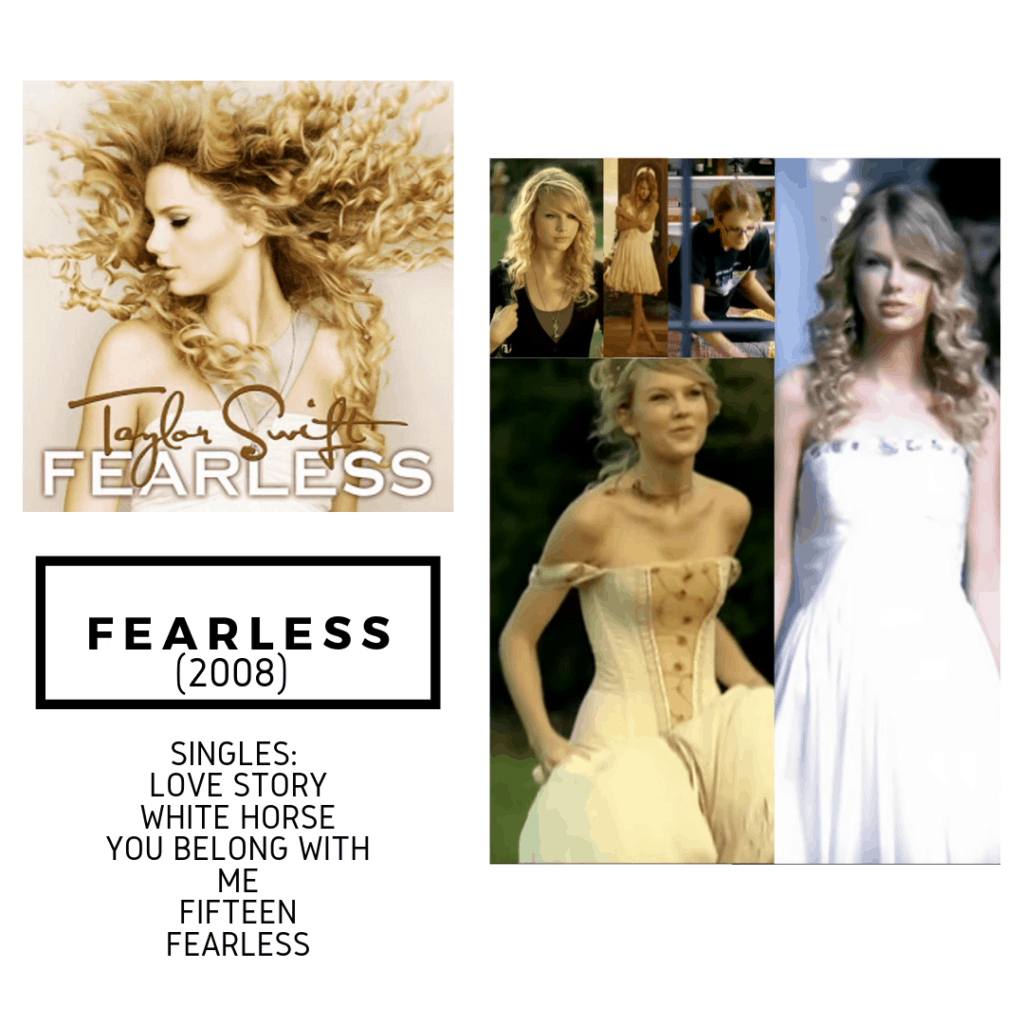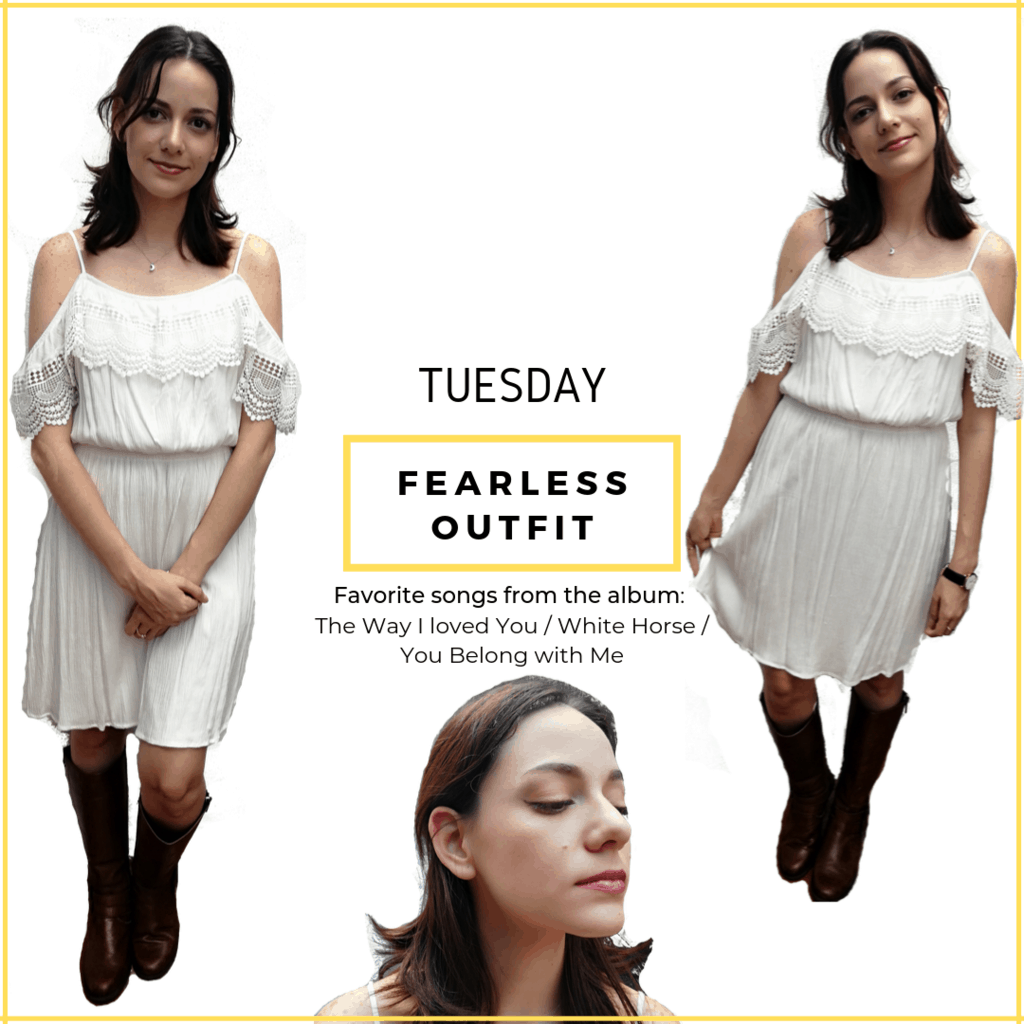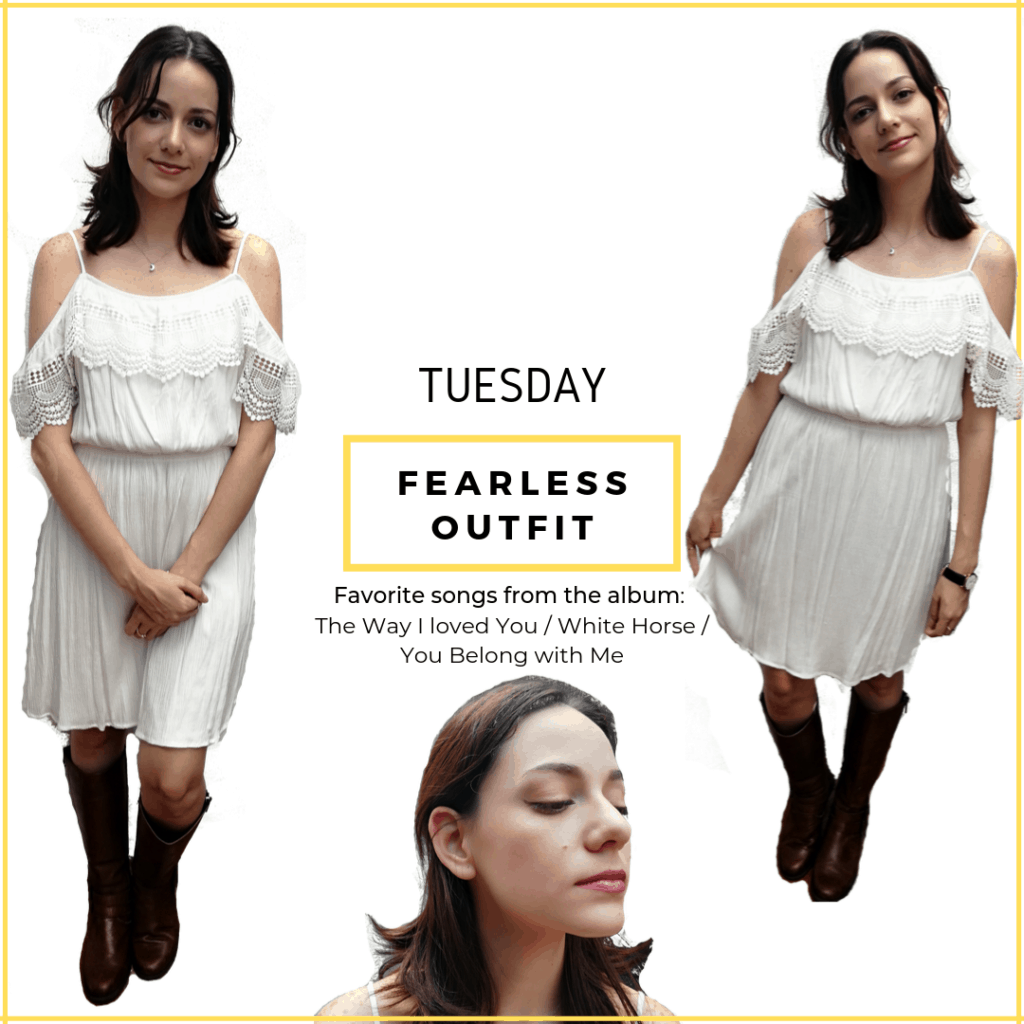 Fearless has a fairytale feeling to it that shines through the videos and tour costumes.
During her Fearless era, Taylor still had the big curly hair and sweet, ingénue look, but with a more feminine and light colored palette. White dresses in flowy shapes and less defined curls in her hair, gave her a more angelic look than she had during her last album era. Her makeup was toned down; I'd describe it as minimal and natural.
For my Fearless-inspired outfit I wore a loose white dress with embroidered detailing, which I borrowed from my sister. For shoes, I wore cognac riding boots that I've had for ages. Makeup-wise, I did a natural makeup look and used pink lip-gloss.
I loved this outfit. It has a similar vibe to the last outfit, but the whole look felt a bit more put together and cohesive for me. It was still way out of my comfort zone, but I think that the makeup was more "me" than the shimmer look from Monday. Since it was still raining, I threw on a denim jacket in the evening, just to keep myself cozy.
Also Read: 16 of the Best White Dresses for Spring 2022
Taylor Swift Outfit #3: Wednesday ("Speak Now" Era)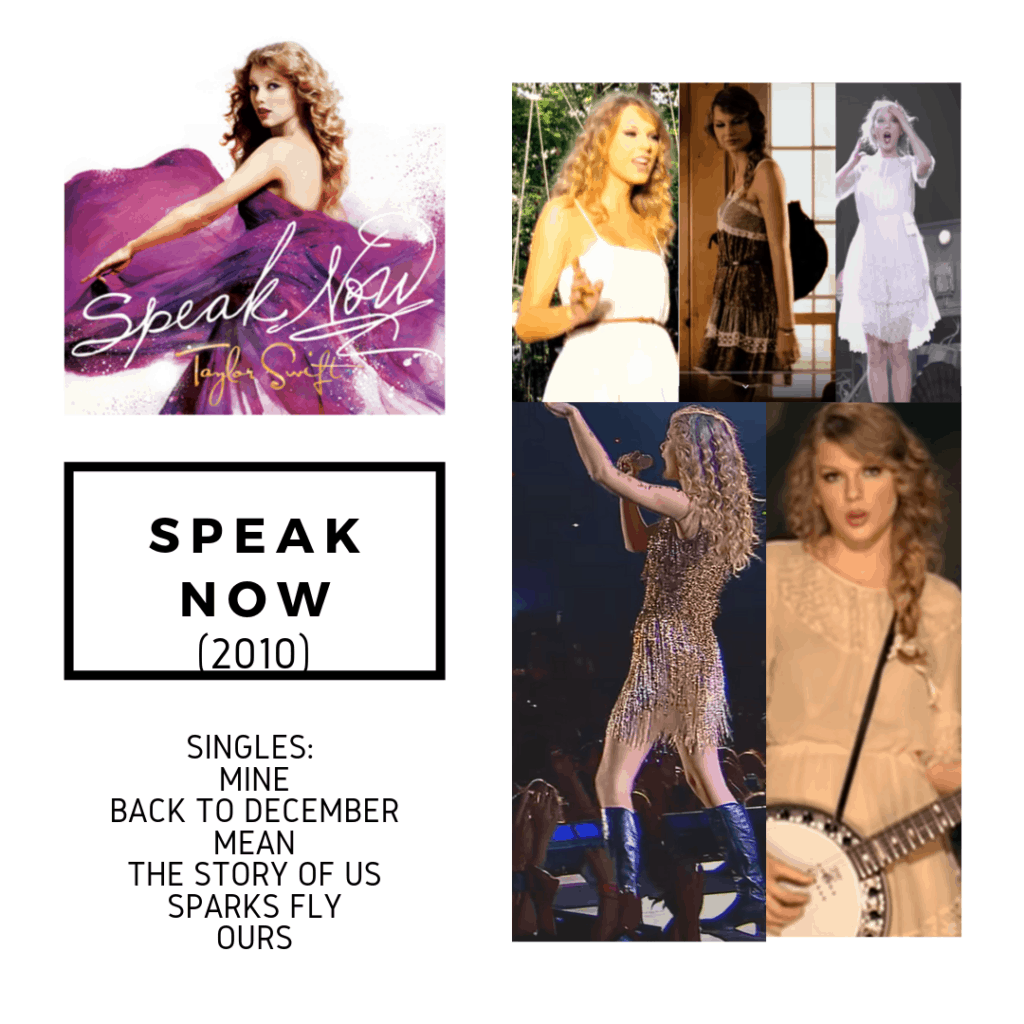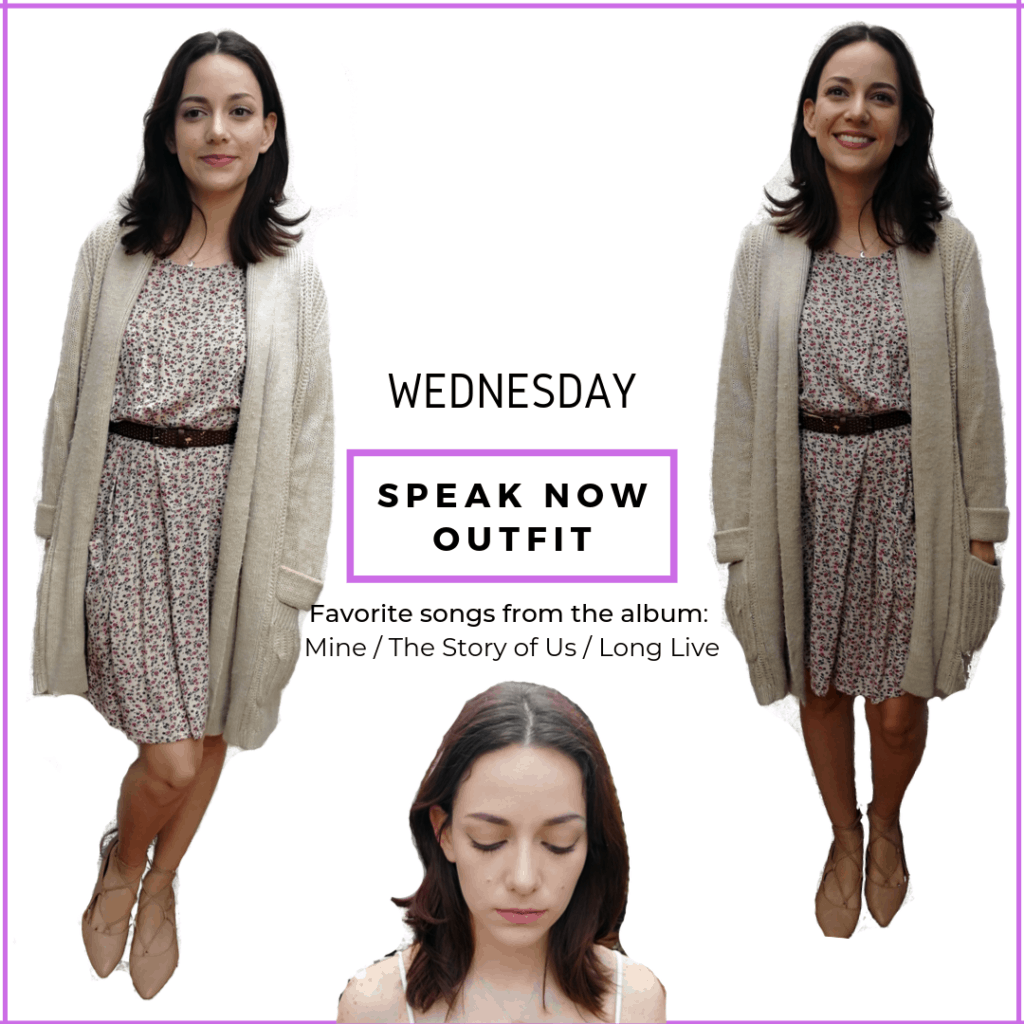 Speak Now is full-on fantasy country magic.
During her Speak Now era, Taylor started wearing more form-fitting, fairytale-esque dresses but without losing the flowy skirts and country vibe she had before. Her curls became less defined and her hair was less voluminous. She still wore her cowboy boots, but they became less of a focal point in her looks.
Speak Now was the hardest era for me to recreate. I used a floral light pink dress (inspired by the video Mine), a long beige cardigan (took it from Back to December's video) and a pair of nude pointy flat shoes, to emulate her barefoot appearances in all of her videos. For makeup, I kept it natural in the eyes and changed the lip glosses for a mauve-y pink lip.
This look was cute, comfortable, and perfect for the transitional weather. But I really felt like I was playing a part, which hasn't happened since I started doing this series. I borrowed everything from my sister, except the lipstick. And I think that sums up everything I feel for this outfit. While this was the first Taylor album I fell in love with, style-wise, it isn't my cup of tea.
Taylor Swift Outfit #4: Thursday ("Red" Era)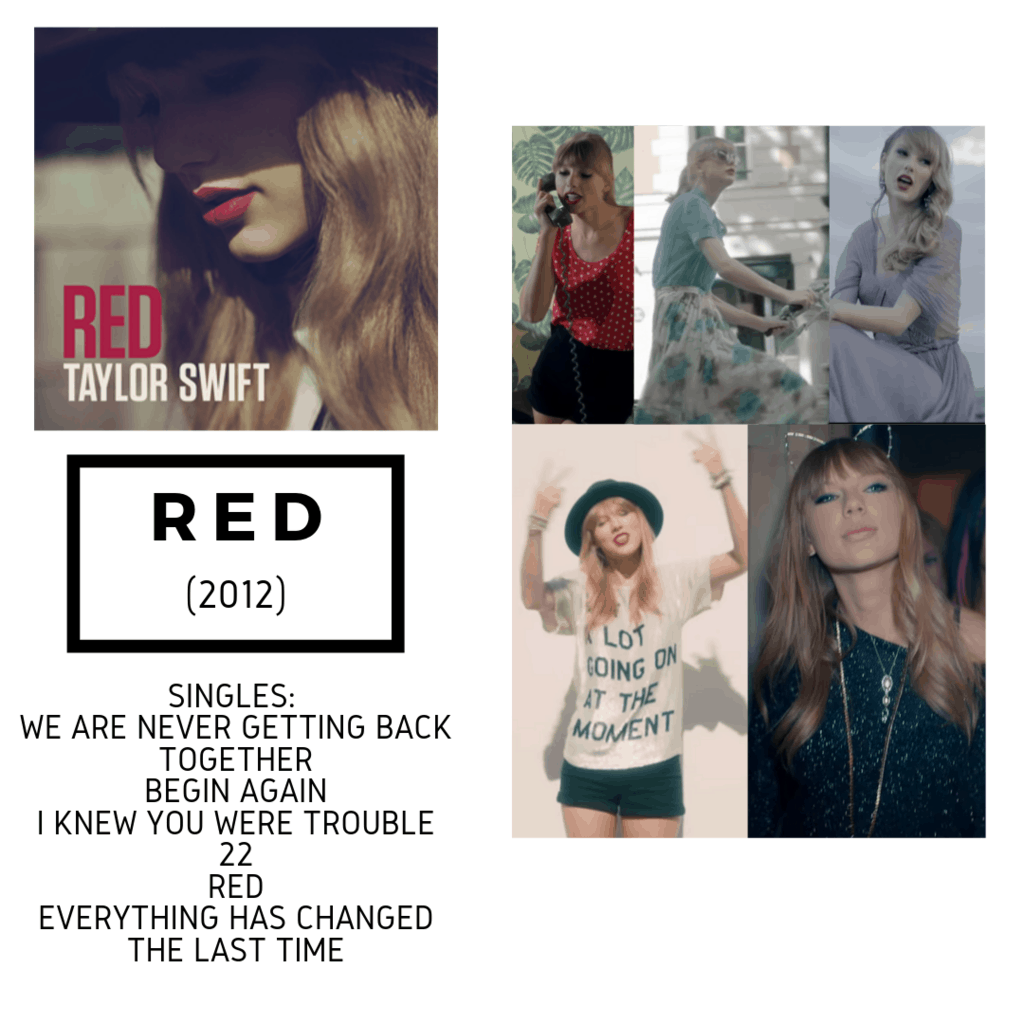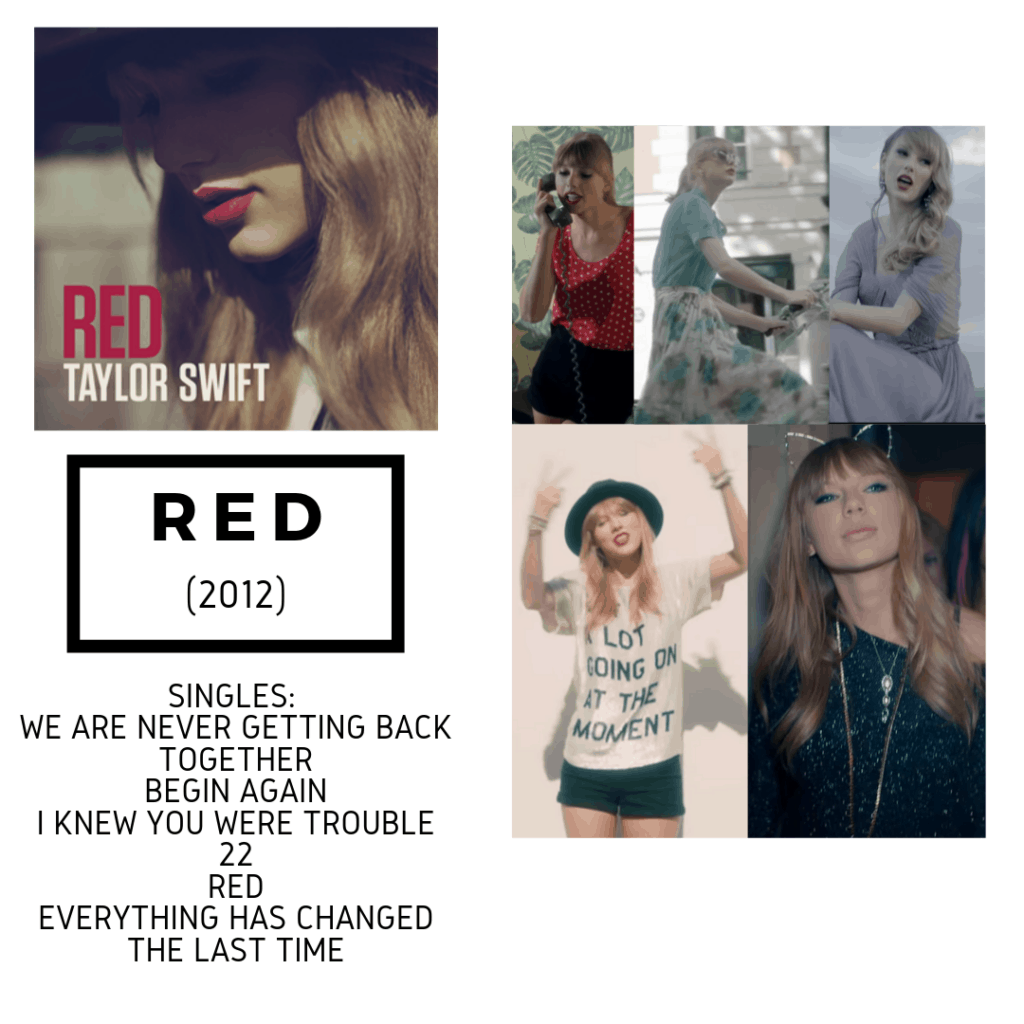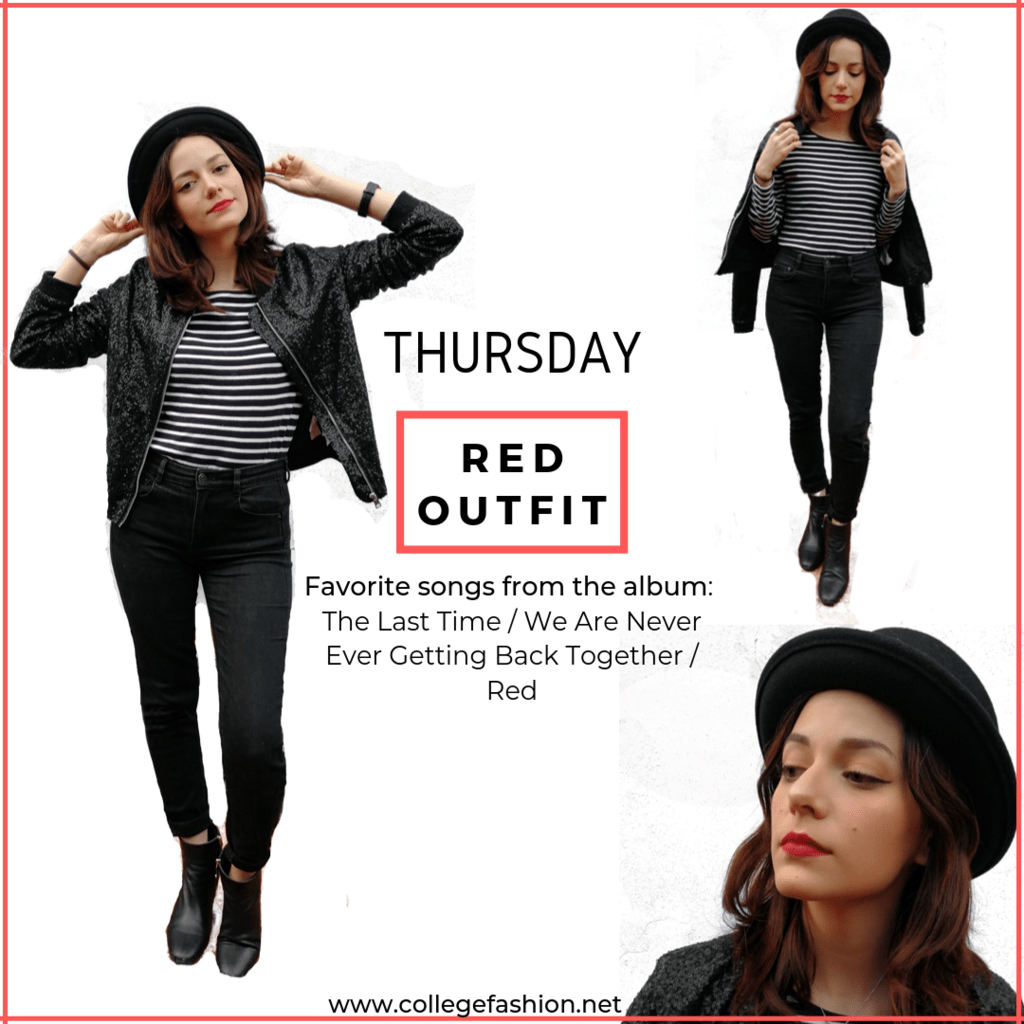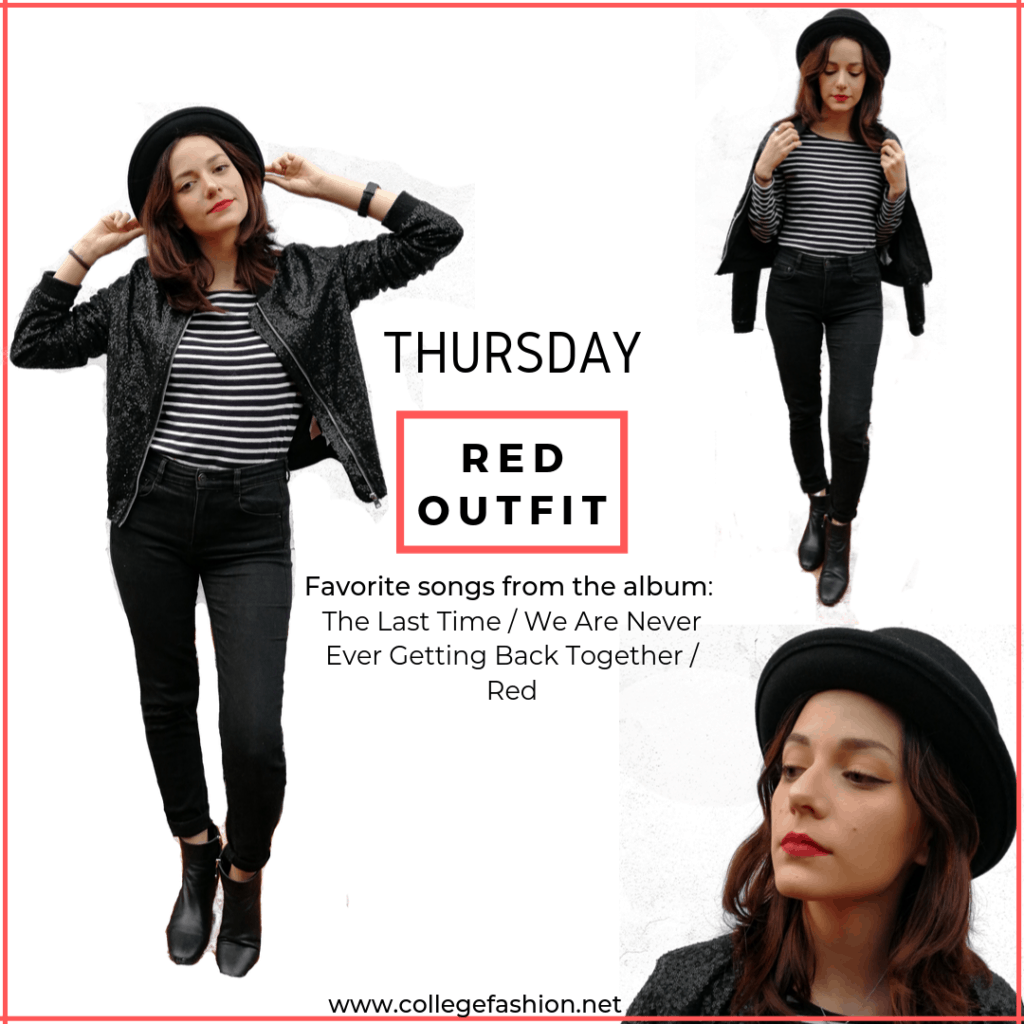 Red was a turning point for Taylor's style. She gave herself a massive makeover during this era, which catapulted her to fashion icon status.
Taylor's now-signature red lip is one of the most noticeable changes she went through with Red, her curly hair was trimmed and straightened, and she got bangs.
Taylor's style became more modern with vintage pieces and/or vintage inspiration. Black booties, wide-brim hats, A-line skirts and dresses and heels became part of her rotation. Edgy Taylor made its first appearance in "I Knew You Were Trouble". She didn't lose her fairytale gown moments though; they were just modernized, as seen in "Begin Again". While black, white and red were prominent in the album, Taylor wore color in her clothes all through press and tour, especially in muted shades.
Red's era outfit was a blast to put together. I wore a pair of black jeans, a striped long sleeve shirt, and black booties. I grabbed a black sequined bomber jacket (an homage to all the shiny things she wore on the tour) and accessorized with a black hat, that I borrowed from my sister in law. For the makeup look I did Taylor's now-signature cat eye and red lip combo.
I loved this outfit. While it was a bit weird for the office, I just felt so confident I didn't care and at school I got a lot of compliments. I truly think the hat and the red lip were the key items that made the outfit look great instead of just okay.
Taylor Swift Outfit #5: Friday ("1989" Era)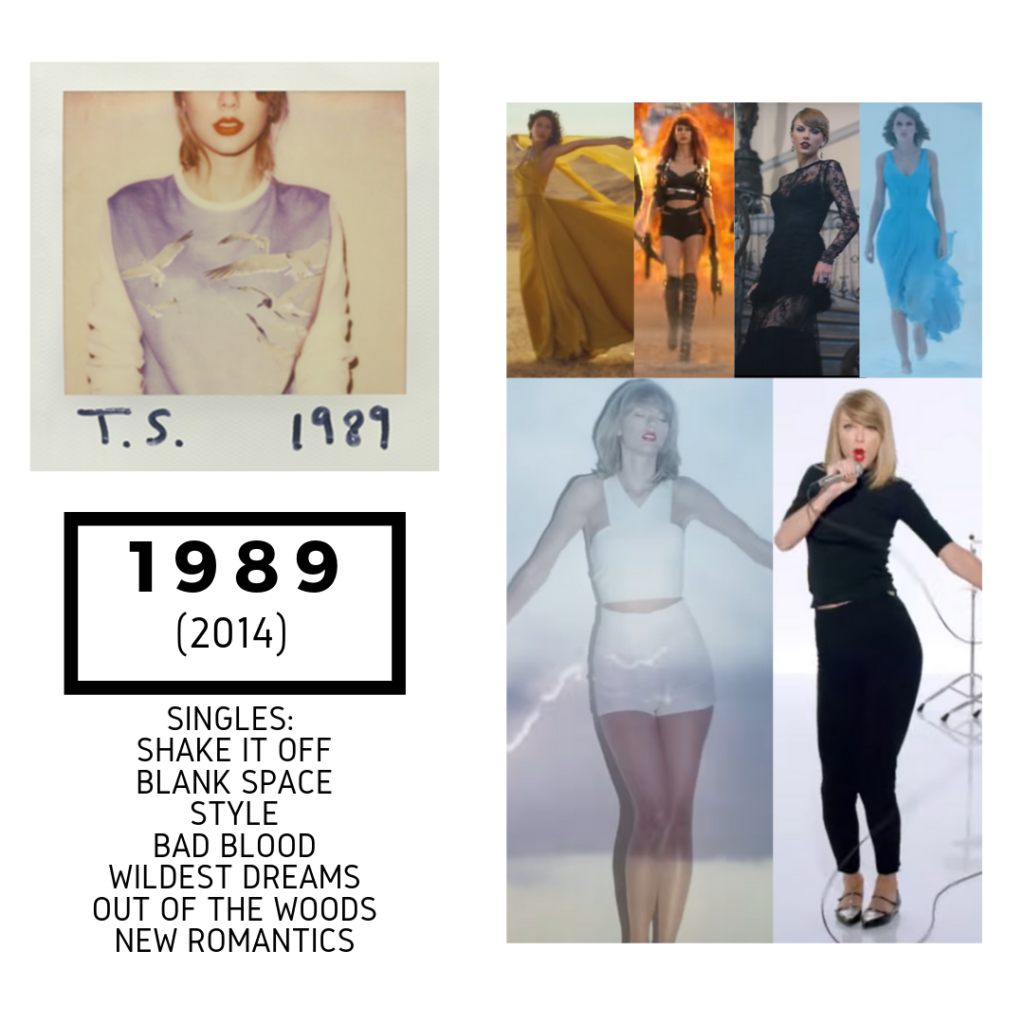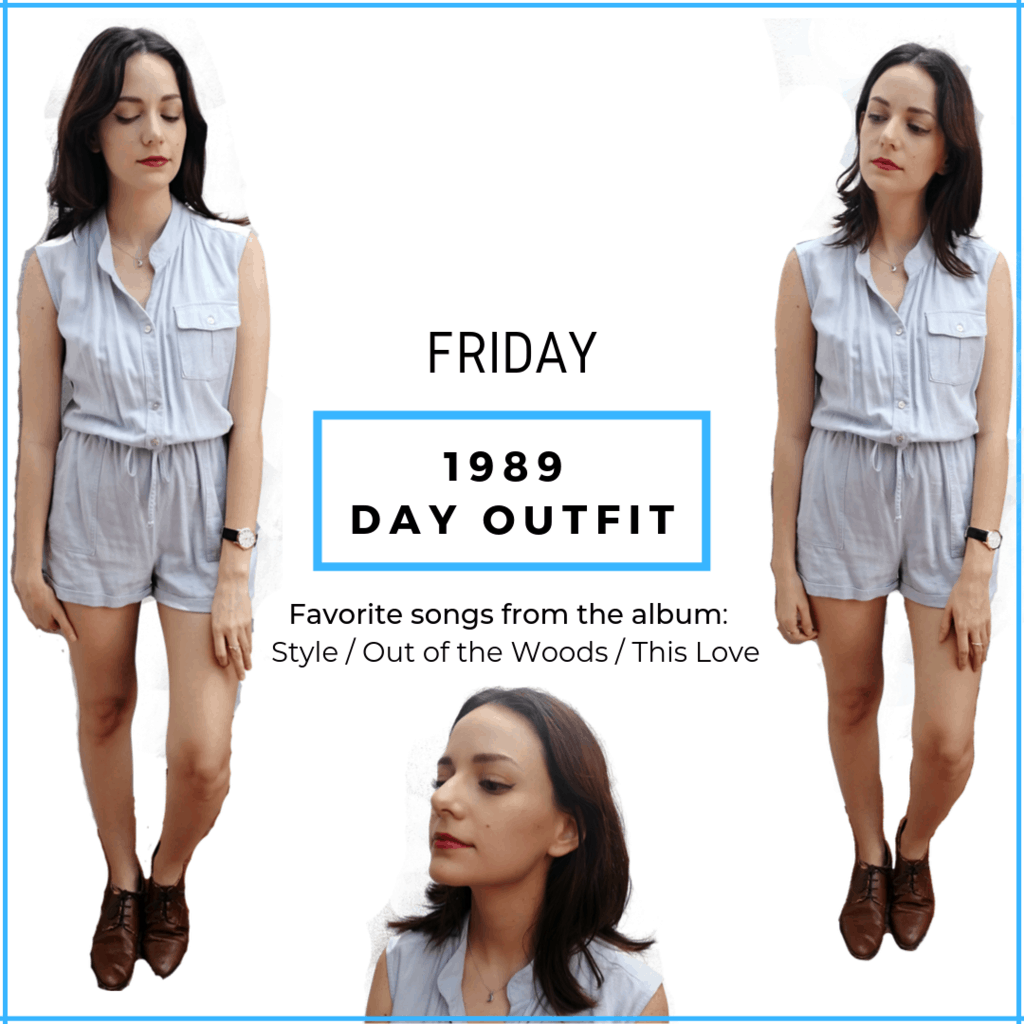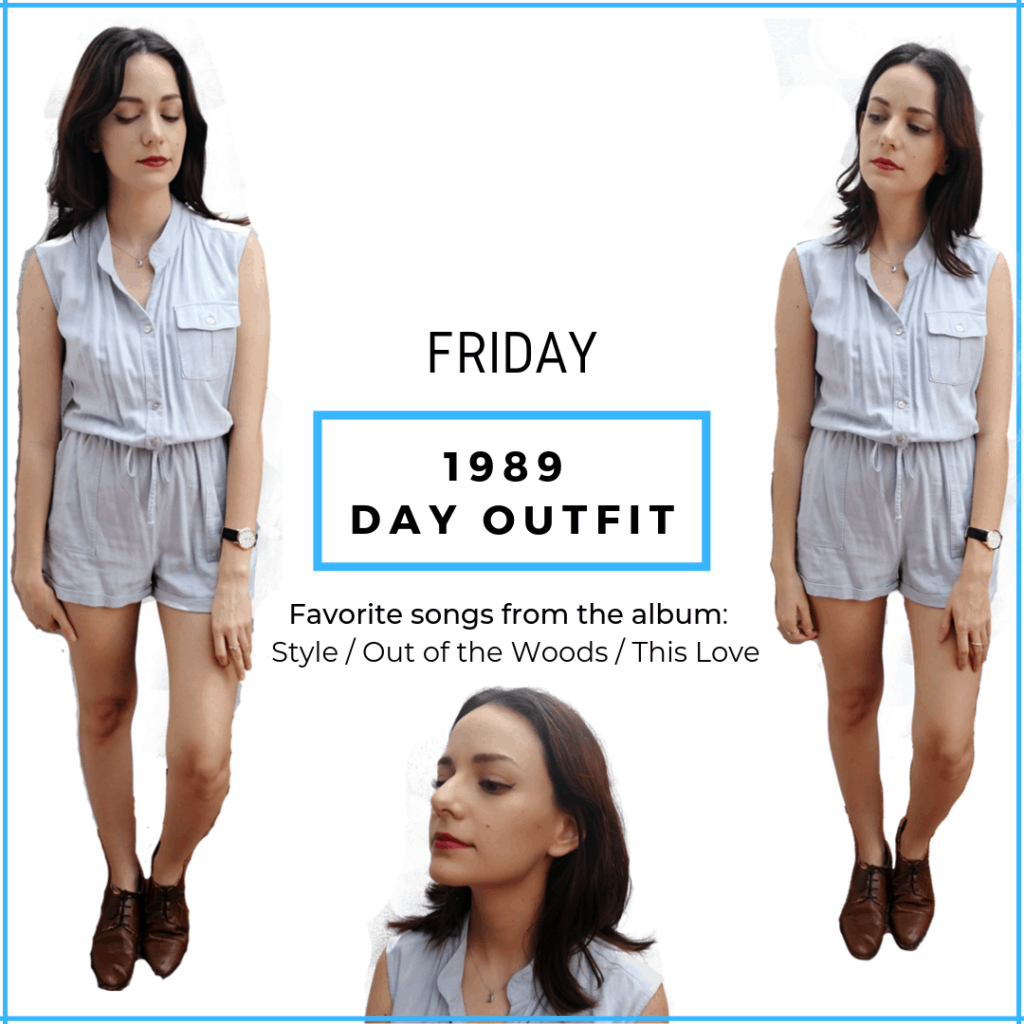 1989 was the biggest genre shift for Taylor and also cemented her makeover from country sweetheart to pop superstar.
Incredibly form-fitting clothes, high-waisted shorts or skirts, and flowy, dramatic dresses were fashion staples in her videos. The blue dress she wore in "Out of The Woods" is one of the most iconic fashion moments in this era. She continued rocking her red lip and it even got a lyrical mention in "Style". But we also got the first glimpse of Reputation-era Taylor with leather-clad moments in "Bad Blood" and lacy and sexy ensembles in "Blank Space".
Since 1989 had a lot of different fashion moments worth appreciating, I created two different looks. For the day look, I wore a pale blue romper inspired by the "Out of The Woods" dress and a pair of brown Oxford shoes to emulate her vintage vibe from this album.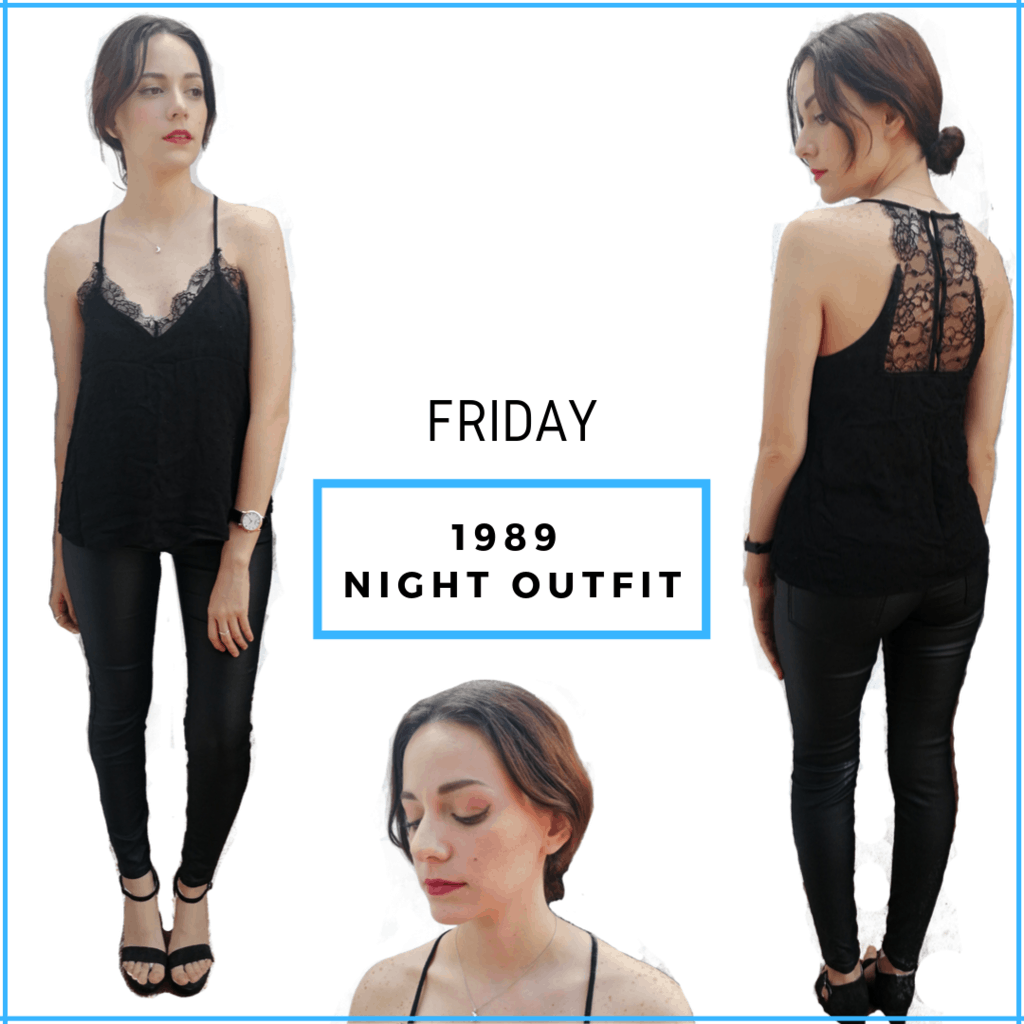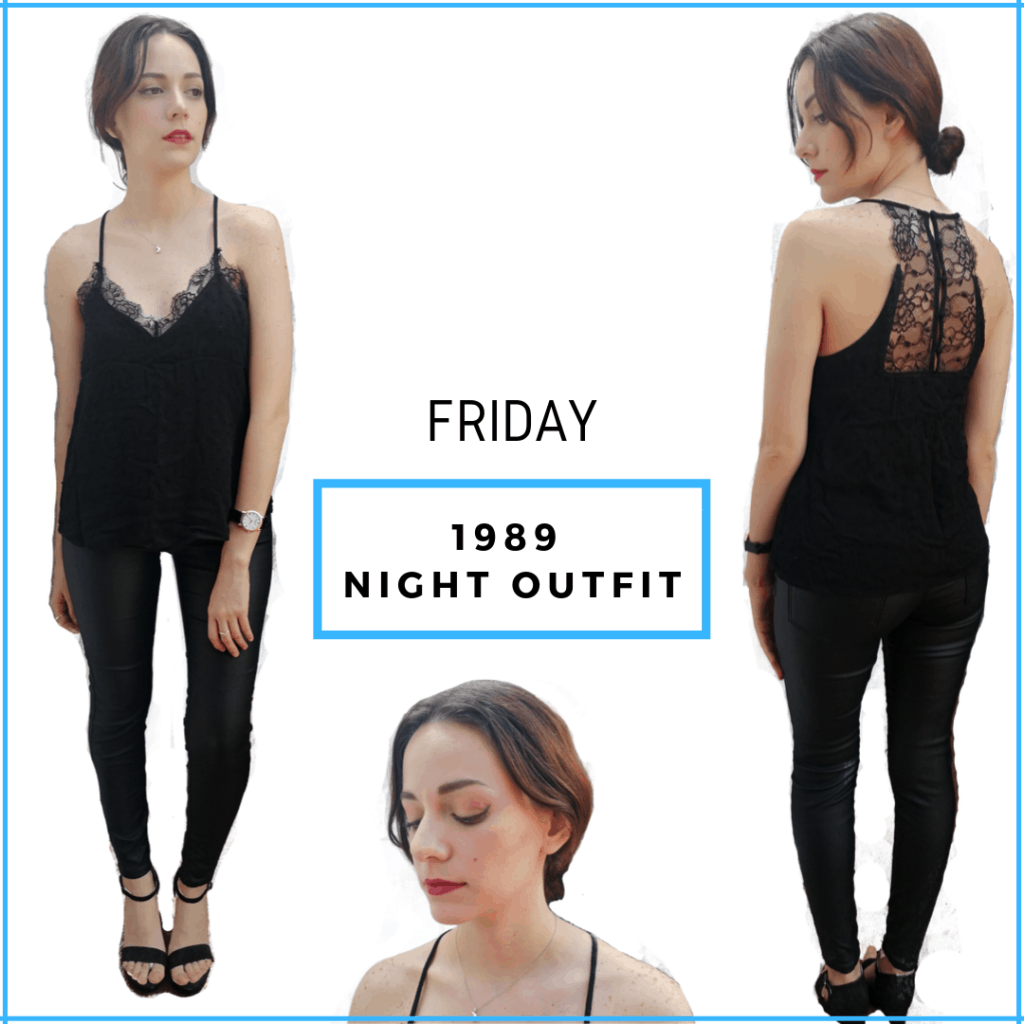 The second look of the day was a mix between the leather outfit from "Bad Blood" and her lace ensemble from "Blank Space". I wore black coated jeans (Bad Blood) and a black camisole with lace details (Blank Space). For shoes, I wore black heels, to carry on the Blank Space vibes.
For makeup, I did the same thing I did on Thursday: a cat eye and a red lip, but I added some eyeshadow for the evening look.
If I'm being 100% honest, I had a hard time trying to figure out what I wanted to do and how to do it. The day look was a lot more preppy than I'm used to, but it was still really cute and comfy. I hadn't worn those shoes in a very long time so it was a nice way to take them out for a spin again.
The night look was my favorite of the two: it was sexy, comfortable and perfect for a night out.
Also Read: Accessories 101: High-Waisted Shorts & Tank
Taylor Swift Outfit #6: Saturday ("Reputation" Era)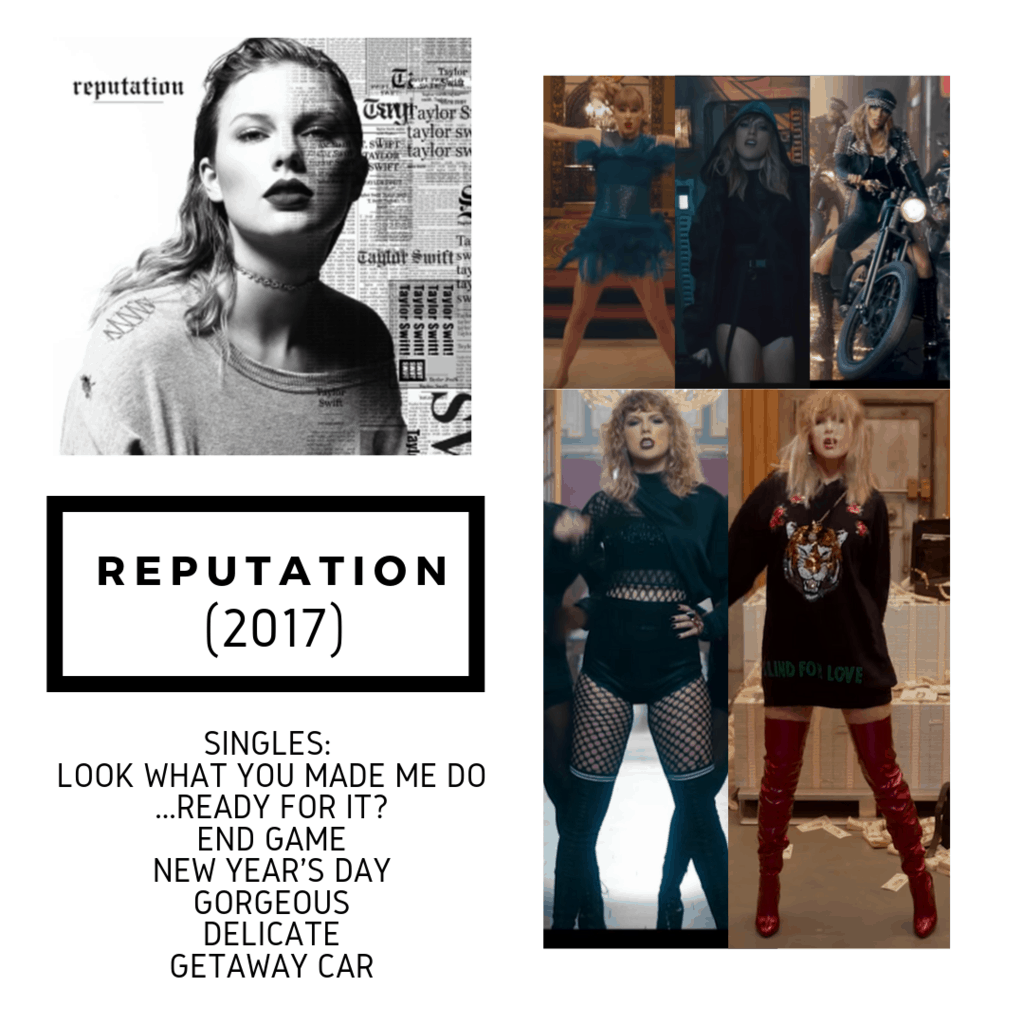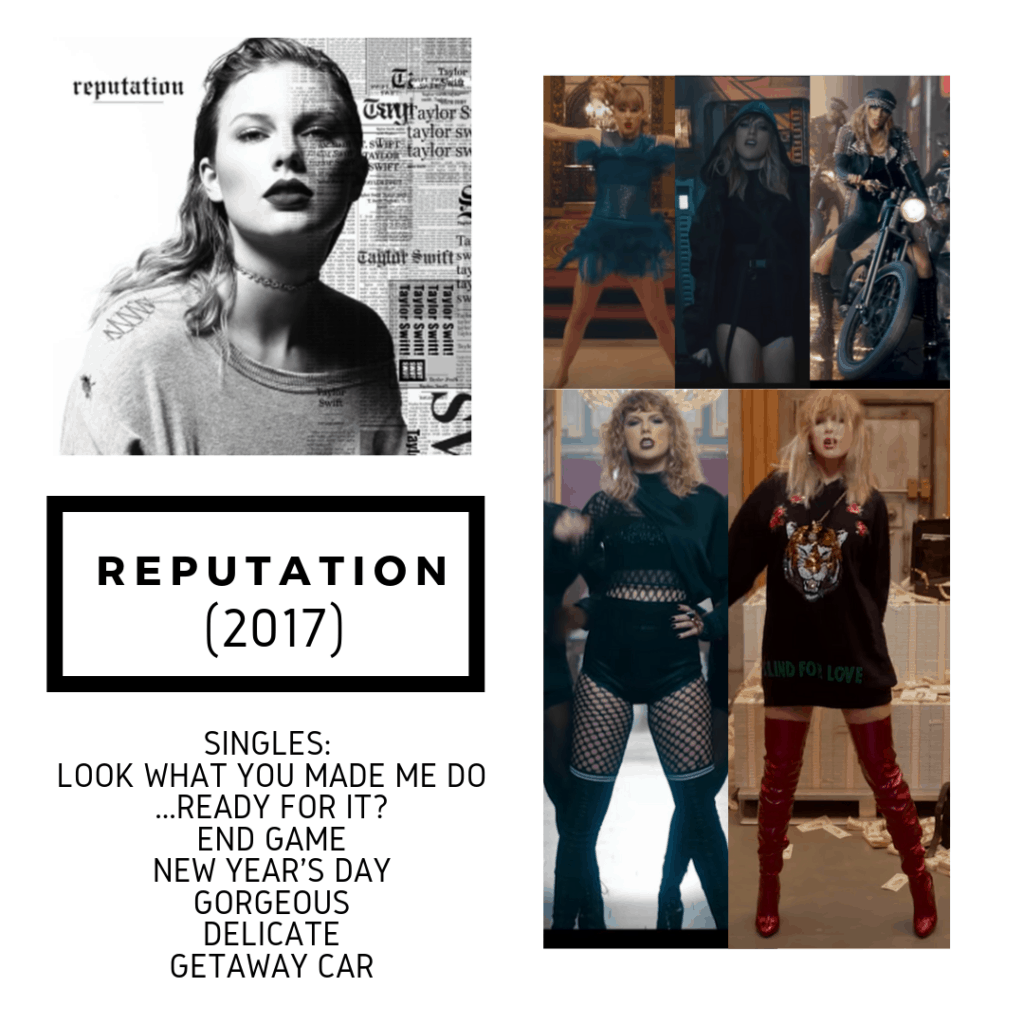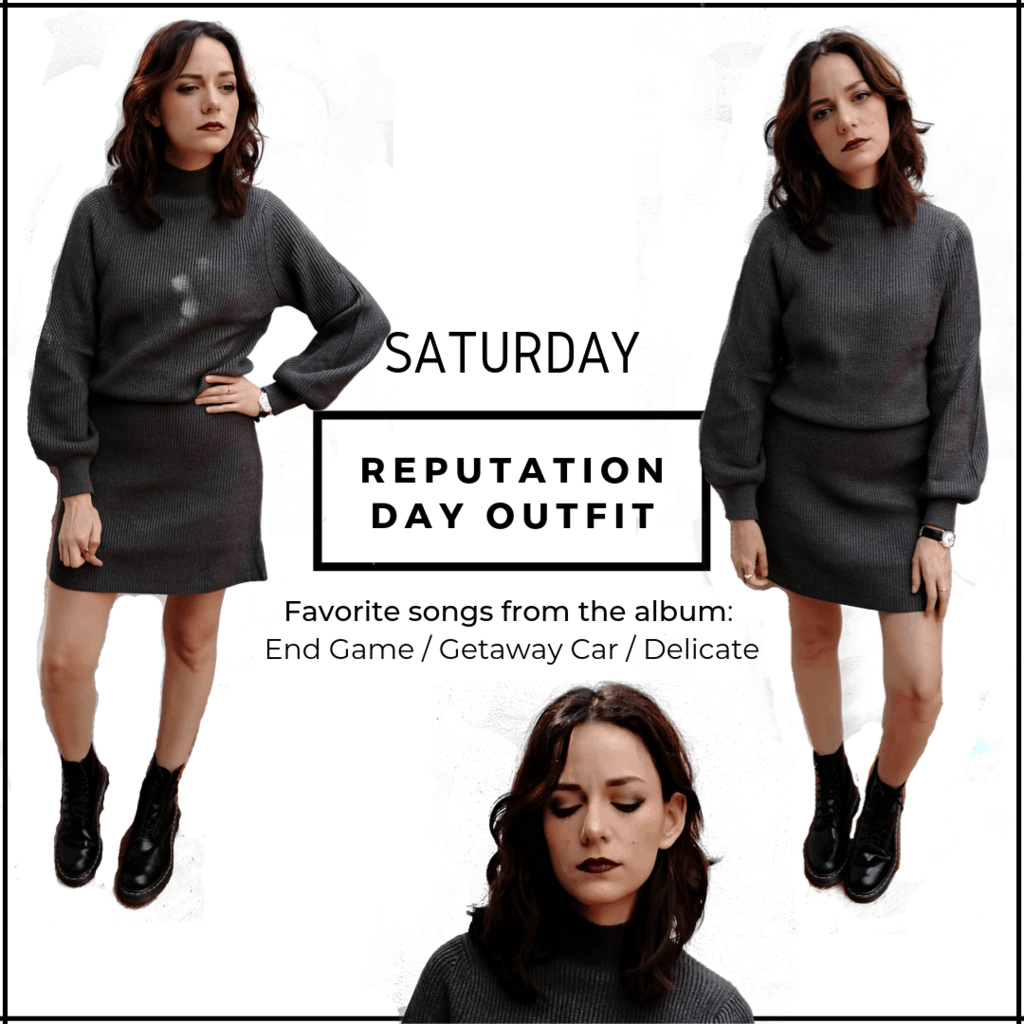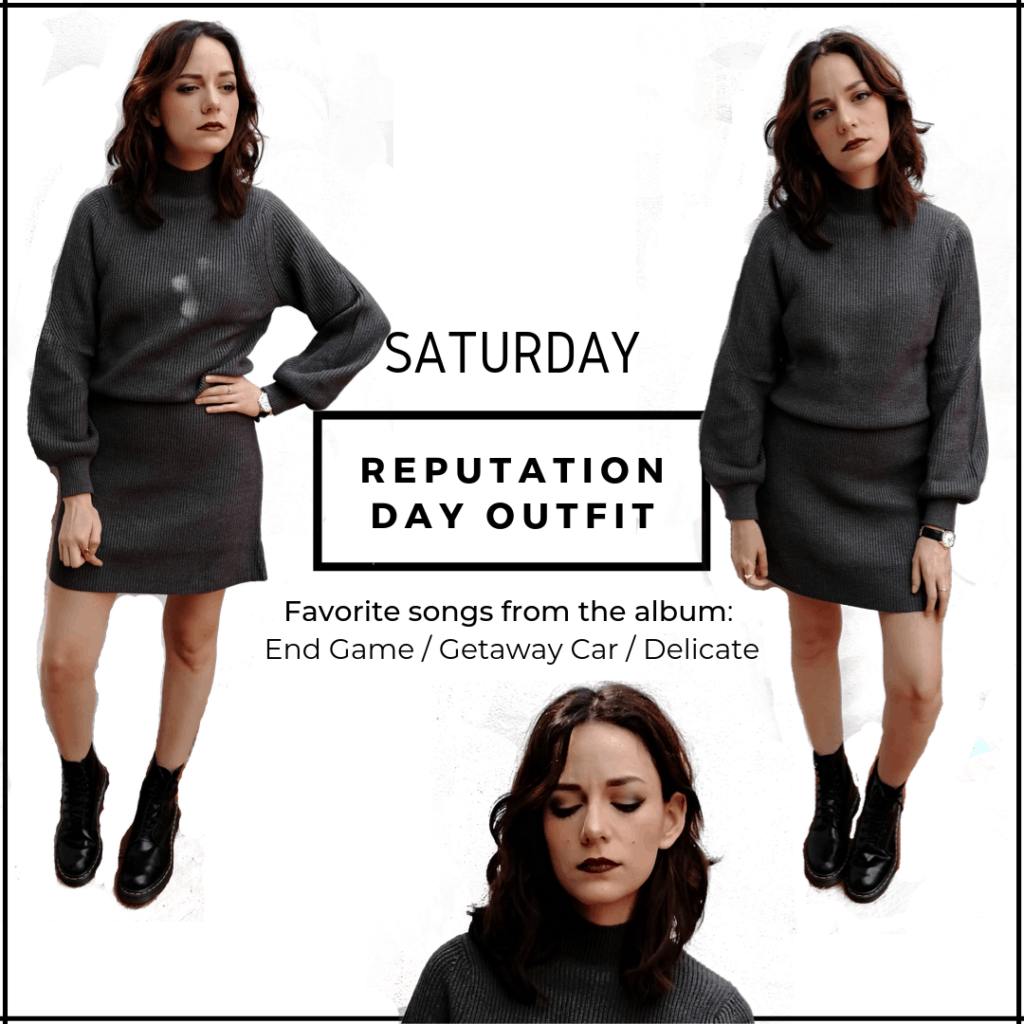 Reputation was a drastic change for Taylor, both musically and stylistically.
During this era, Taylor's natural curly hair made a comeback, but in a shorter and messier way. Dark lips, over the knee boots, fishnets and dark, muted colors were style staples of this album era. Taylor looked both comfortable, with sweatshirts and oversized sweaters, and sexy, with over the knee boots and leather items.
Since Taylor stayed away from the press during this period, I mostly got inspiration from her videos (especially LWYMMD, …Ready For It? and End Game) and from her tour documentary.
Considering this was Taylor's most extreme style era and makeover, this was the easiest outfit to create and coincidentally the closest to my personal style. So, I had two outfits for Saturday: for the day look I wore a dark grey set of a sweater and skirt. For shoes, I chose a pair of Doc Martens.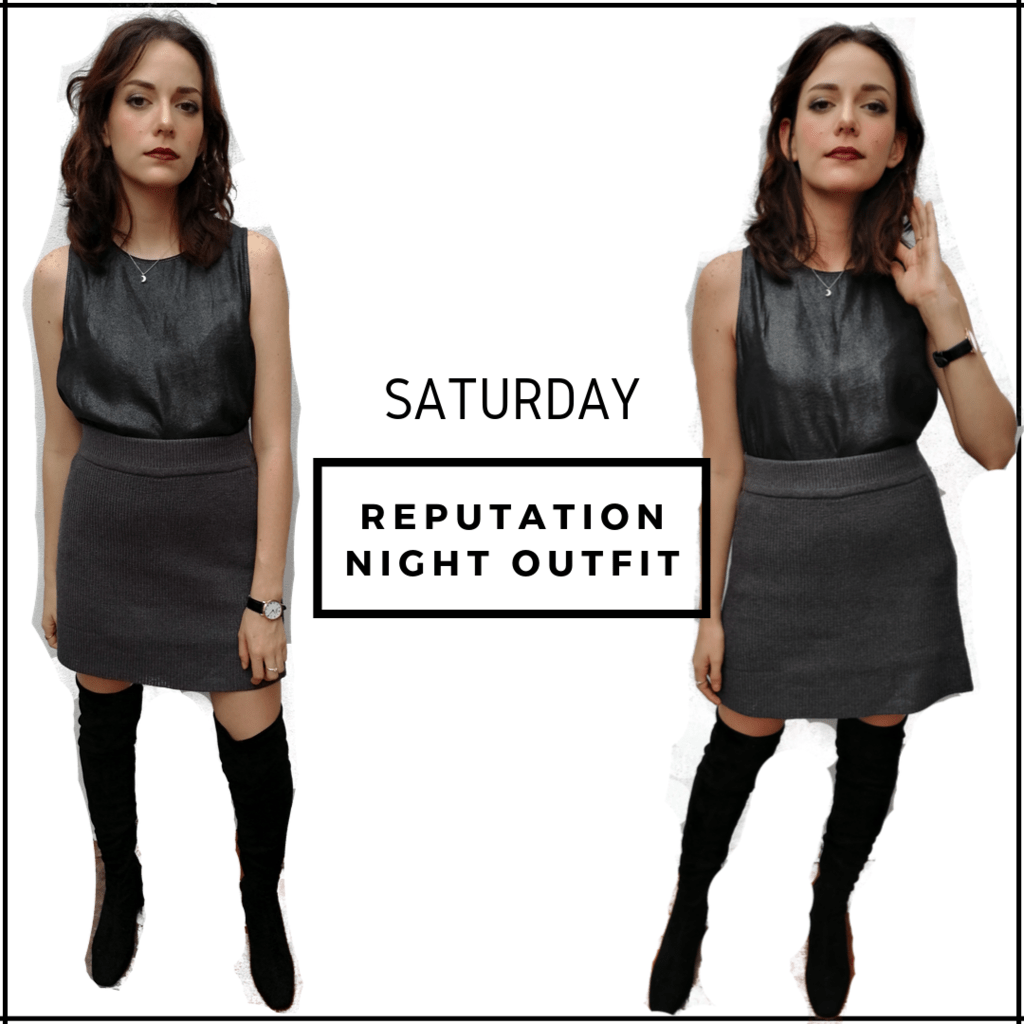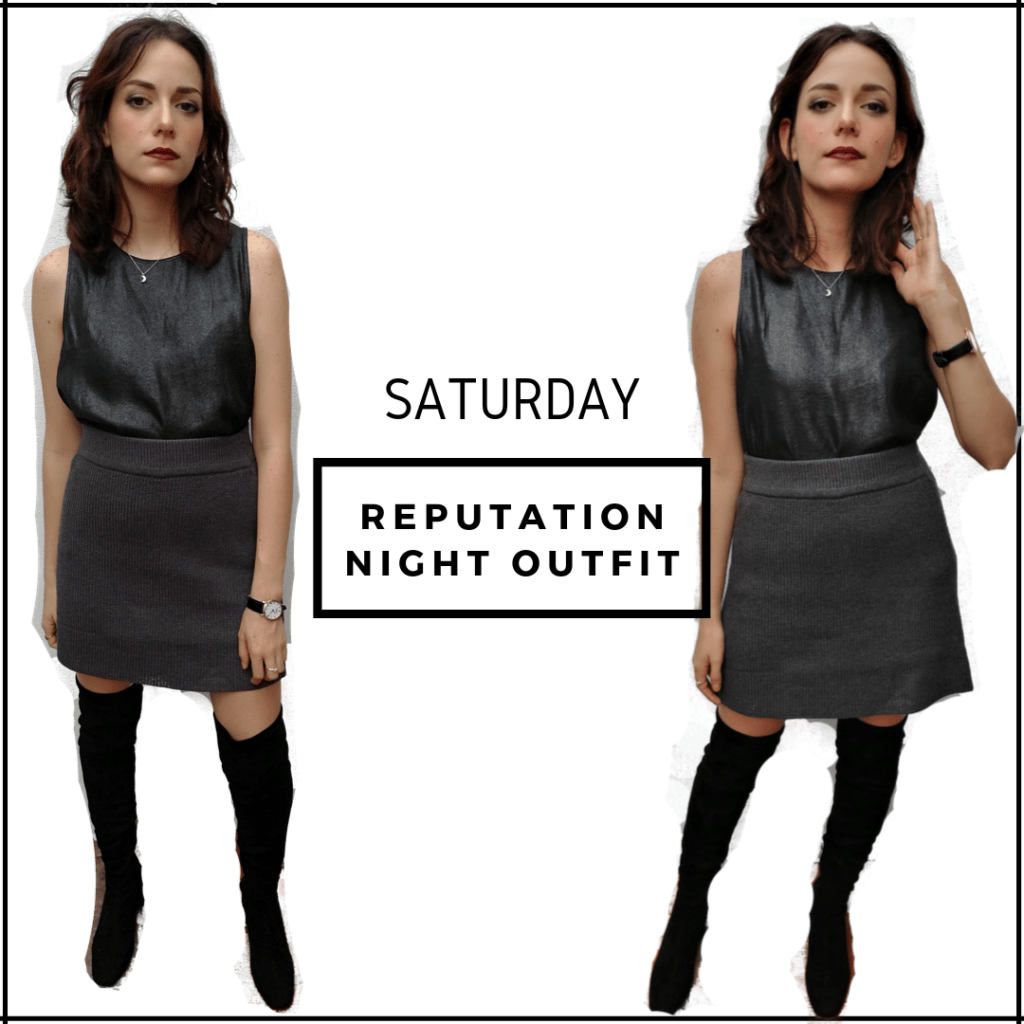 For the night look, I changed the sweater for a dark grey metallic camisole, and switched the Doc Martens for over the knee boots.
For the makeup, I did a dark smoky eye to complement the cat eye and instead of the bright red lip, I used an almost burgundy shade of red. For the evening look, I darkened the eye shadow a bit more.
Since it was Saturday, I didn't wear either of these to go to school or the office, but for a normal Saturday they were amazing outfits to play with.
To be honest? I would wear the day look for school and the office any day. The night look was fun and I might try it again. Both outfits were a cooler version of outfits I had worn before and I felt really, really badass.
Also Read: 8 Universal Styling Tips for All Types of Curly Hair
Taylor Swift Outfit #7: Sunday ("Lover" Era)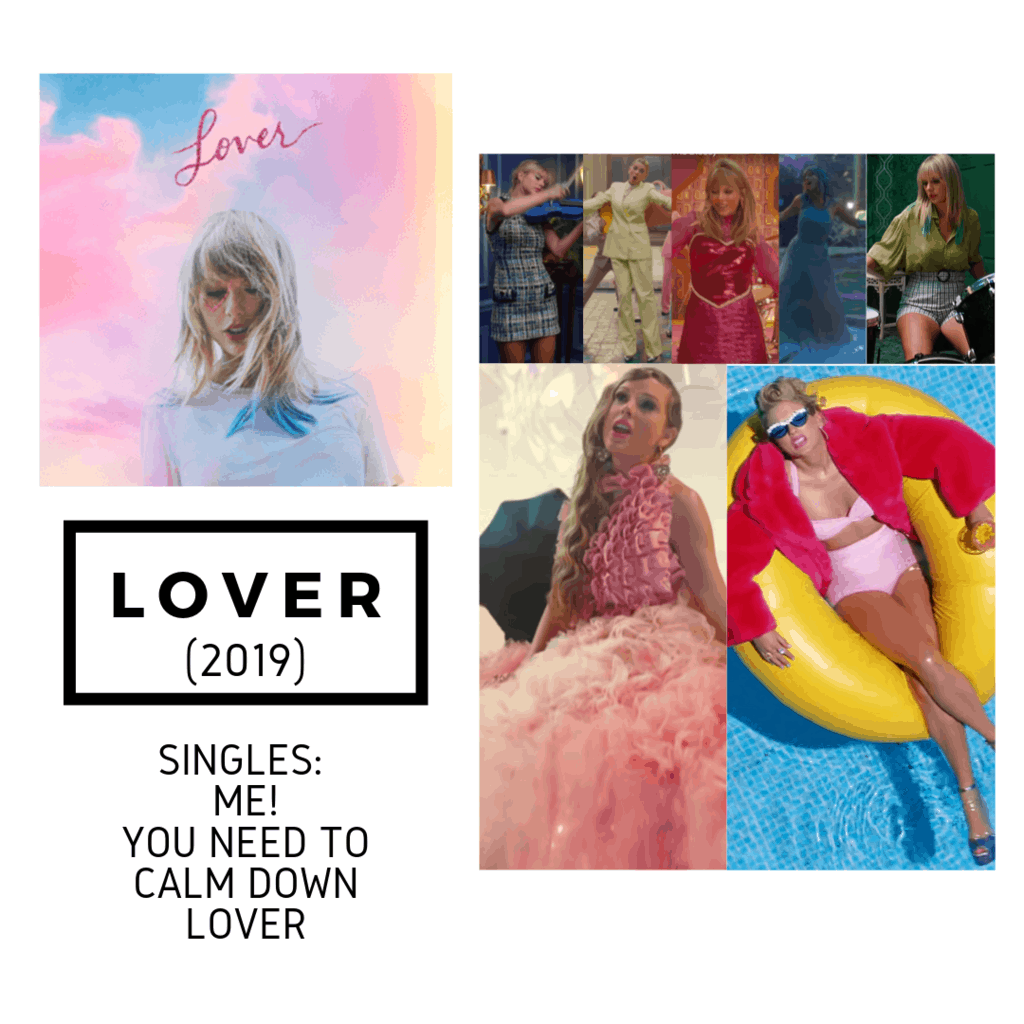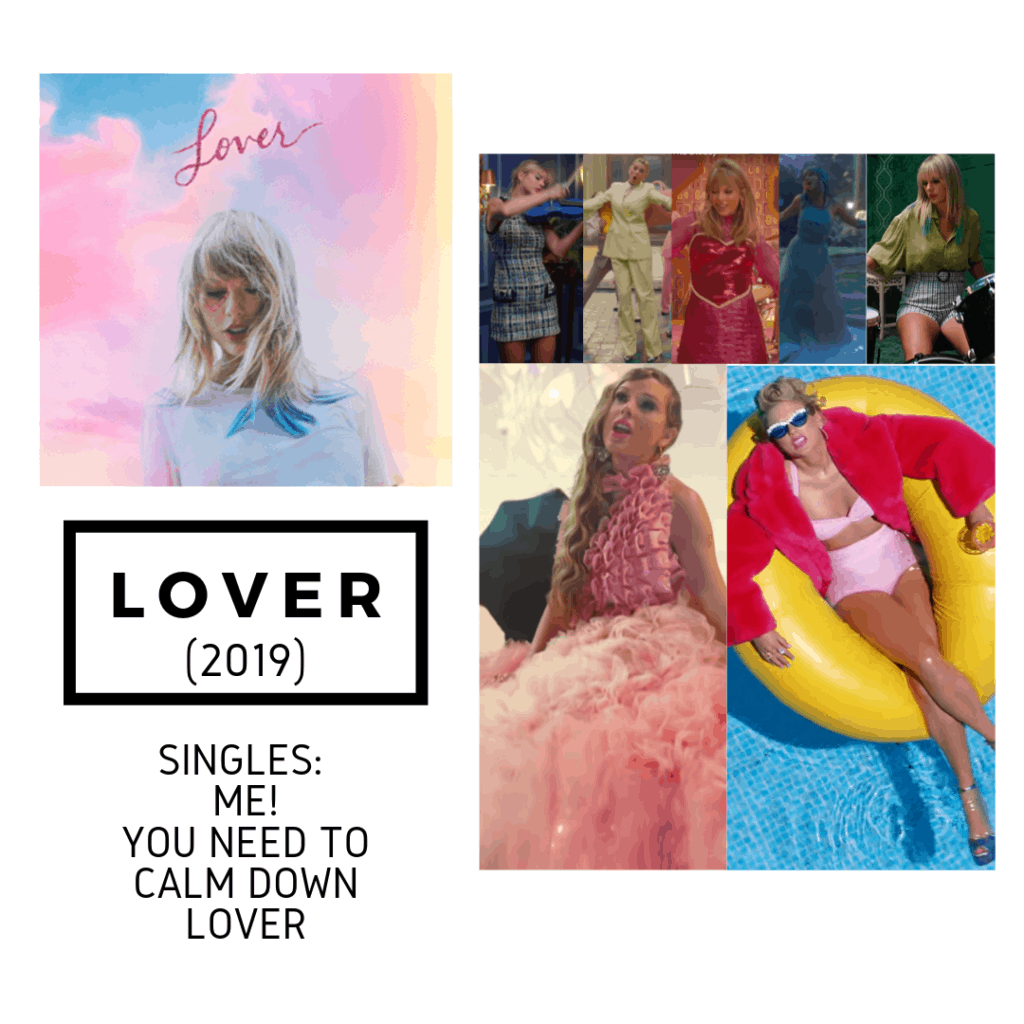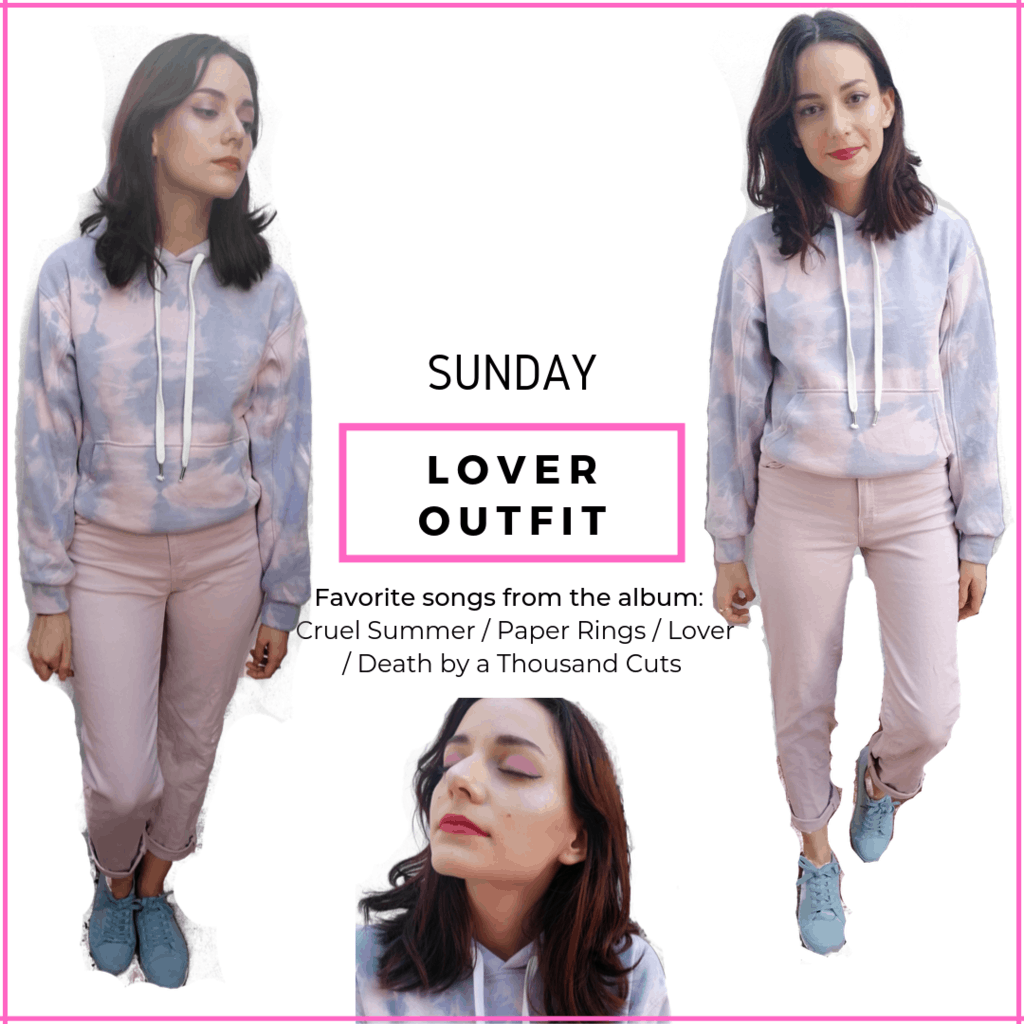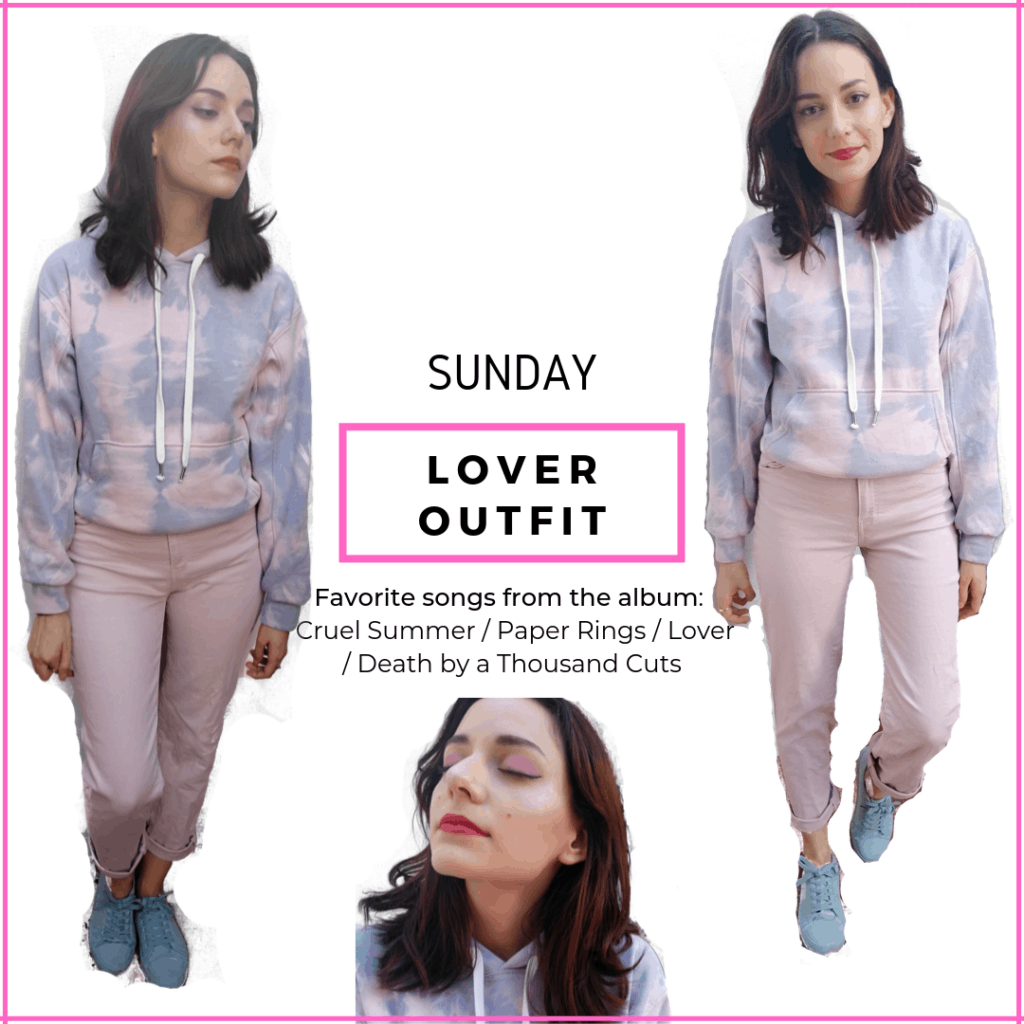 I am obsessed with Lover and everything surrounding it.
Taylor's style for this album is full of color and incorporates different shapes and styles. Taylor references her past eras in her Lover styles: she has been incorporating fairytale-esque dresses, vintage pieces, and edgy items in all her videos and press appearances. But the elements that stand out the most are tie-dye pieces, pastel colors (especially blue, pink and lavender), and suits or oversized blazers.
Beauty-wise, Taylor's hair is wavy, instead of curly, and her makeup is both natural and glittery (still rocking the red lip, though).
For the 'Lover' day, I wanted to keep my outfit as pastel as I could. I wore a tie-dye sweatshirt I already had, mixing it with a pair of light pink mom jeans and baby blue sneakers. For the makeup, I went back to the simple cat eye and red lip, but added pink and purple shimmering eye shadows (lightly) and a purple-esque highlight.
As you can guess, pastel colors are not what I usually go for, fashion-wise. That said, for a Sunday family breakfast and a chill afternoon, this was a cooler, more put-together outfit than what I would normally wear. I ended up loving this cozy look!
Also Read: Pastel Outfits: How Celebrities Are Wearing Pastels Right Now
Final thoughts
If I'm being 100% honest, I've always liked Taylor Swift but it took me a while to really acknowledge that I was a fan of hers. I kept saying "I just like a song or two" when in reality I knew almost every song on her albums.
I wasn't inspired by Taylor's style in her early years, because it was completely different from what I liked back then, but when Reputation came out, that changed. I loved the dark colors and edgy aesthetic she had, because I was going through my all-black, edgy phase as well.
When I write these posts, I get to change my style from week to week, but it doesn't vary much with each day. This week, everything changed and it was a lot of fun: I loved playing with very different styles from day to day. I went from ultra-feminine, to edgy, and ended with a pastel explosion, with varying styles in between.
This week's outfit challenge helped me see just how many styles I can pull off (and actually enjoy wearing) if I have a sense of adventure on any given day.
It isn't hard to see why Taylor Swift's music resonates with so many people and why she is so beloved by her fans. Her true interest in her fans sets her aside from almost every other artist. I mean: how many artists invite their fans to their house to get a secret session of the new album before it drops? Or responds constantly on social media to their questions, jokes and comments? With her music, Taylor speaks about feelings, emotions, and situations that her fans can relate to, especially since most of her fans have grown up alongside her.
Taylor's style, too, is just like ours: constantly evolving and changing, because that's what we're doing. My style is not the same it was when I was 15 or 18 or even 22 (I'm about to turn 24 right now). My personal style has changed drastically in almost two years, because I changed drastically in that time. Clothes are an important tool to show who we are and even what we are going through in a certain periods of our lives.
For that reason, if you want to experiment with your style, get inspiration from Taylor Swift. I recommend you try any Taylor era that appeals to you — you can't go wrong! You will definitely get a boost in confidence and a fresh new take on your own style. Give it a shot!
What do you think?
How did I do? Do you like Taylor's new album, 'Lover'? Which Taylor Swift era is your favorite? What outfit would you wear? Who do you think I should do next? Let us know in the comments below!