If you've been keeping up with our Accessories 101 articles, you'll notice that we've focused on achieving different looks by switching up our basic accessories. We've gone from hipster to edgy to glam to preppy in just one outfit! Ah, the beauty of accessories.
This week, however, we're going to talk about color as an accessory. Yes, that's right – we're not focusing on bags, jewelry, or shoes. Instead, pay attention to the different color combinations and consider how much an outfit can be transformed by just a simple change of hue.
Look #1: Favorite Neutrals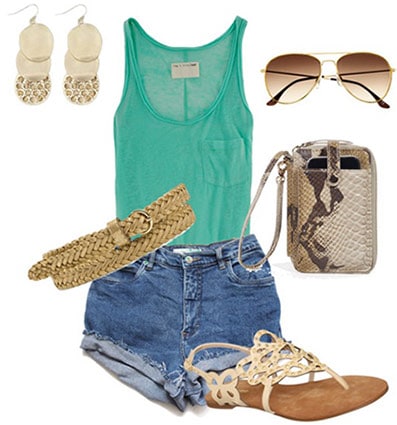 Product Information: Tank, Shorts, Earrings, Belt, Wristlet, Sunglasses, Sandals
I'll admit it; I am a neutral-fanatic. The majority of my wardrobe is cream, white, black, and grey. Neutrals go with everything and are so, so easy to throw on in the morning when the creative juices just aren't flowing.
However, neutrals aren't just boring and practical; they can be incredibly striking when paired with one bold color. In this case, we have a simple teal tank top acting as our attention-getter. By using carefully coordinated neutrals to complement (rather than distract from) the outfit, it's easy to appreciate the teal hue at its best. My neutrals of choice are gold and cream (yes, metallics are neutrals); however, feel free to try out your favorite neutral combinations (black / silver / white / brown) as well!
Look #2: Color Crazed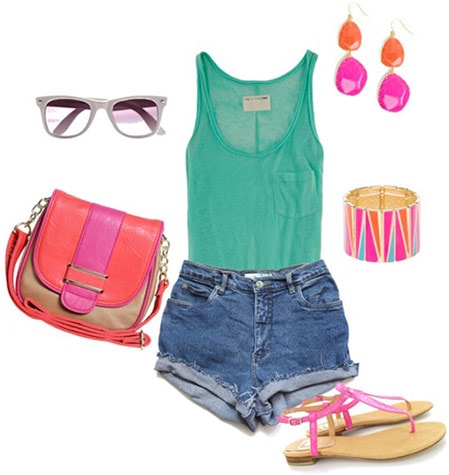 Product Information: Sunglasses, Purse, Earrings, Bracelet, Sandals
Summer is the time for color! Spring lines introduce pastels to ease us into a bright, vibrant, and neon-based wardrobe for the warmer months. To avoid looking clownish, narrow your colors down to around three. I find that color mixing works best when you begin with two complementary colors; finish by adding an additional color that is in the same family as your original two. For example, in this outfit orange and teal provide an awesome contradiction while the hot pink (similar in hue to orange) pulls it all together.
There are great tutorials out there on finding the perfect palette or color combination. Don't forget to read up on color blocking as well!
Look #3: Mixed Metals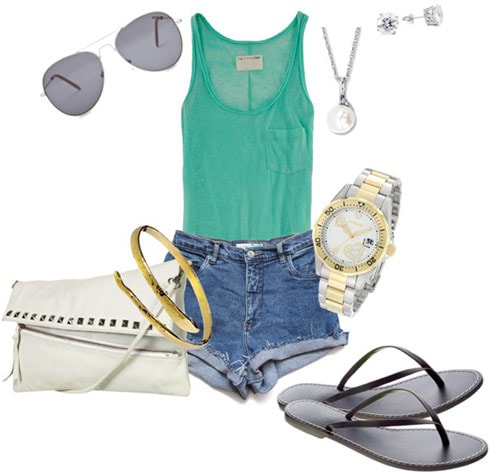 Product Information: Sunglasses, Purse, Bracelet, Watch, Necklace, Earrings, Sandals
It's easy to forget that gold, silver, and bronze are colors, too. That's why you'll find so many people with strong opinions about mixing metals. Some women swear that silver should only be worn with silver and gold should stay with gold. To them, wearing both at one time is fashion blasphemy! Others claim that mixing metals is daring, fashion-forward, and practical. (Here at CF, we're firmly in the latter camp!)
In order to successfully mix metals, make sure that your proportions are right and that the metals are separated in a coordinating manner. In this outfit, our gold and silver watch is the basic mixed metal that pulls it all together. A gold bangle on the opposite wrist complements the gold while a simple silver necklace works with the silver. These metals area easy to wear, since they are evenly spaced out on the body. Diamond studs and rhinestones are always great to wear when mixing metals; because they are neither silver nor gold, they'll match both and help to create balance.
Your turn!
The more that I think about putting together an outfit, the more I realize that accessories are not limited to earrings, bracelets, bags, and shoes. Color, whether referring to the particular hues involved or the absence or presence of it, is a very powerful accessory.
Now as always, we want to hear from you. Do you think that color can be considered an accessory? If so, how do you use it in your everyday style? What about color blocking? Metal mixing? What are your thoughts on these trends? Make sure to leave your thoughts below!