This post may contain affiliate links, which means we may receive a commission if you purchase through our links. Please
read our full disclosure here
.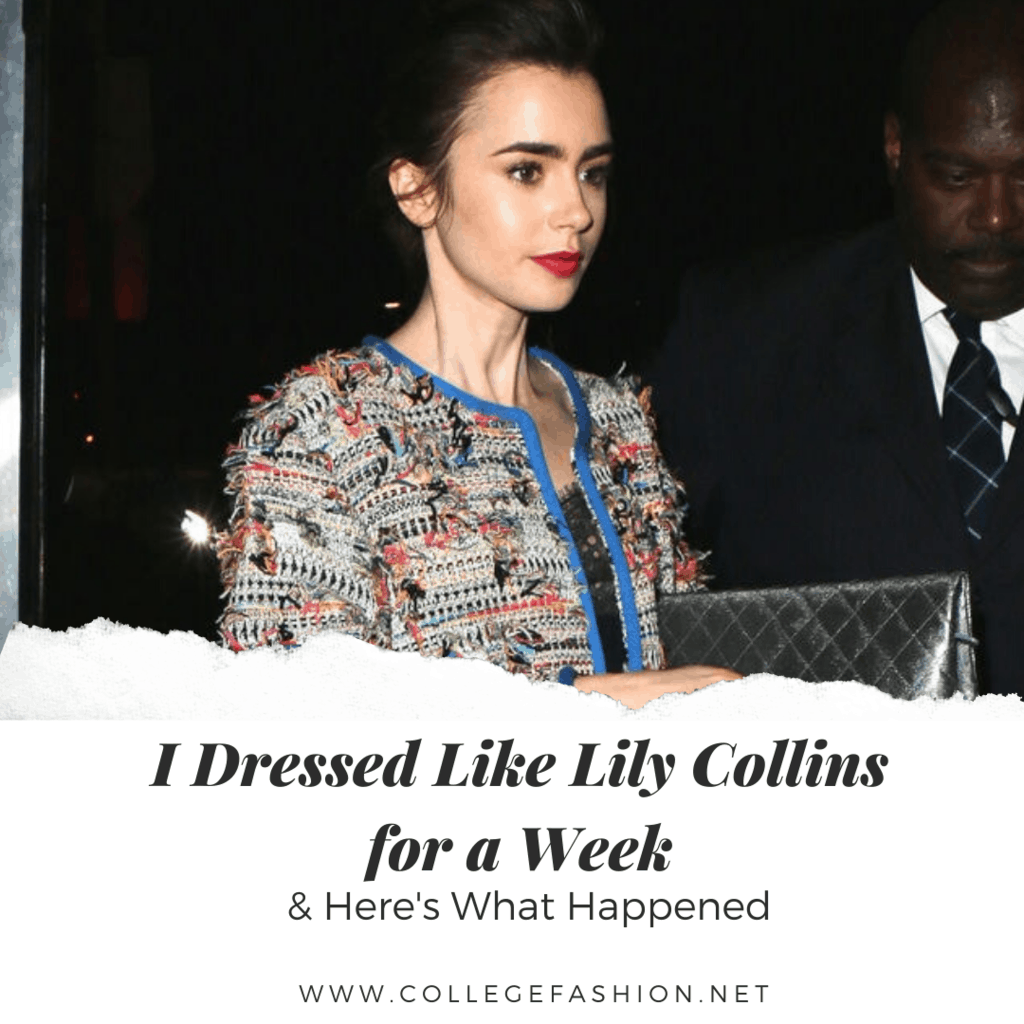 We've all looked to celebrity style for fashion inspiration at some point in our lives. But it's one thing to say "I love her outfit," and it's another to actually copy it in real life.
For this series, I'm going the extra mile and making it happen. Each week, I'm getting inspiration from a celebrity and copying five of her looks as closely as possible. Then, I'm reporting back to you: Did the outfits work in real life? Did I feel comfortable? Did people treat me differently? I'm sharing it all.
In past posts I've dressed like Zendaya, Gigi Hadid, Grace Kelly, Kendall Jenner, Vanessa Hudgens, Sophie Turner, Priyanka Chopra, Millie Bobby Brown and Hilary Duff. This week, I'm recreating Lily Collins' outfits, since I've been a fan of her style since the City of Bones days.
Lily Collins' Outfits & Fashion Vibe
Feminine, classic and put together, Lily Collins' style can be described as classic with a modern twist. She is not a trend queen, but she is a stylish one.
Jeans, t-shirts, oversized shirts, flowy dresses and skirts and classic trench coats and jackets are favorites in Lily's closet. She uses neutral colors or classic silhouettes as a base and gives each outfit a twist with modern and/or colorful accessories.
Lily Collins' Outfits, #1 – Monday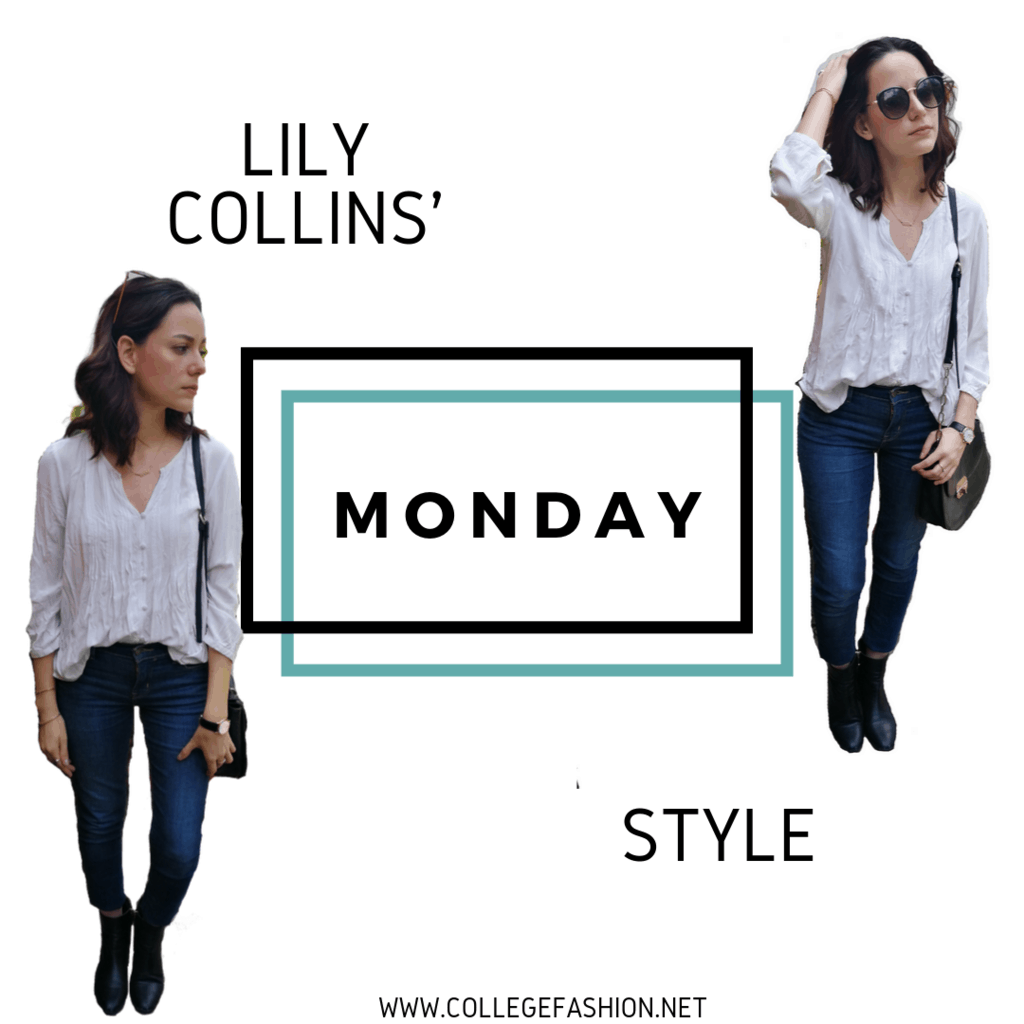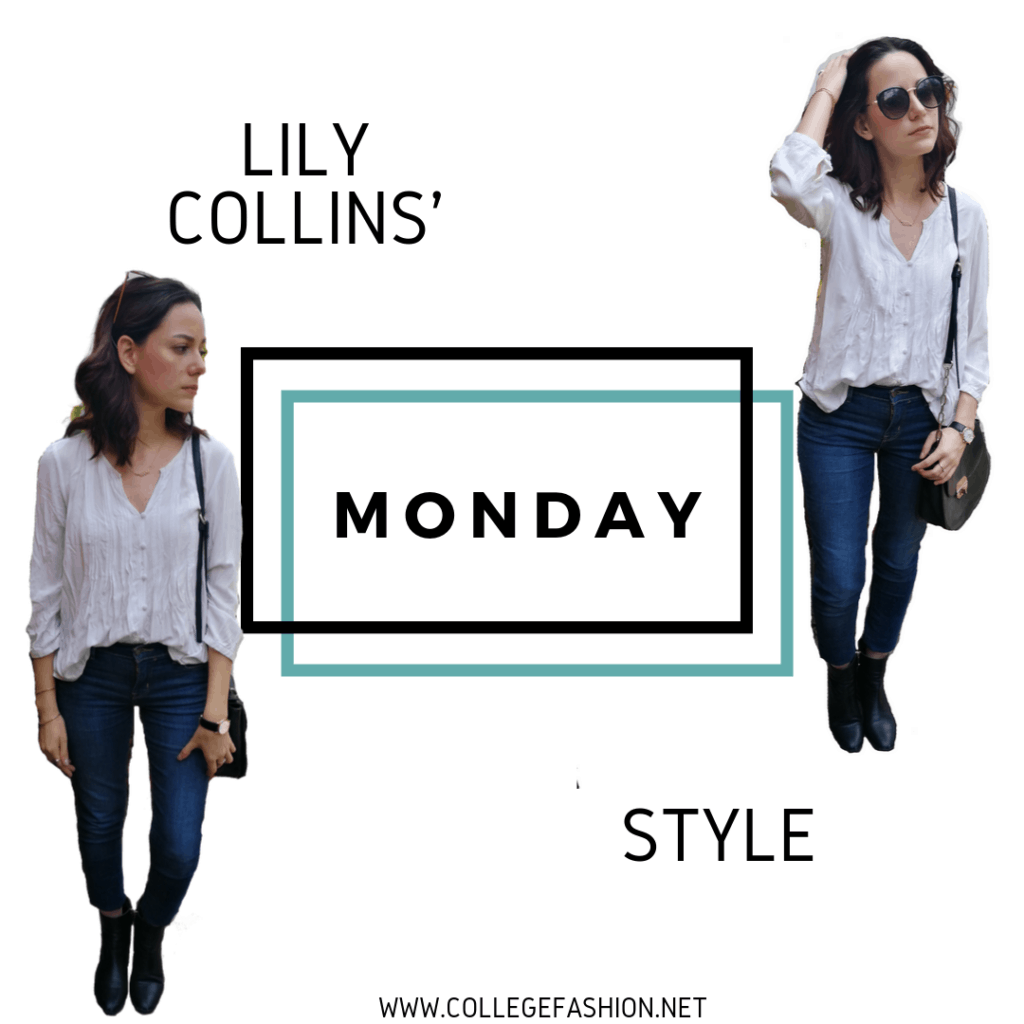 For Monday, I chose this basic outfit for an easy start to the week. Above, Lily is wearing a white shirt with black dots, blue jeans, and black booties.
To get her outfit for myself, I wore a white flowy shirt with ribbon detail on the neck. I paired it with some blue jeans and black ankle boots. I then accessorized with golden jewelry and oversized sunglasses. I added a black bag to finish the look.
Monday is not my favorite day and it's when I have the most difficulty putting an outfit (and myself) together. This outfit was perfect for a day that I wasn't feeling great about, both physically and emotionally. It was a great outfit, because it made me feel and look great, and it also gave me one less thing to think about.
Lily Collins' Outfits, #2 – Tuesday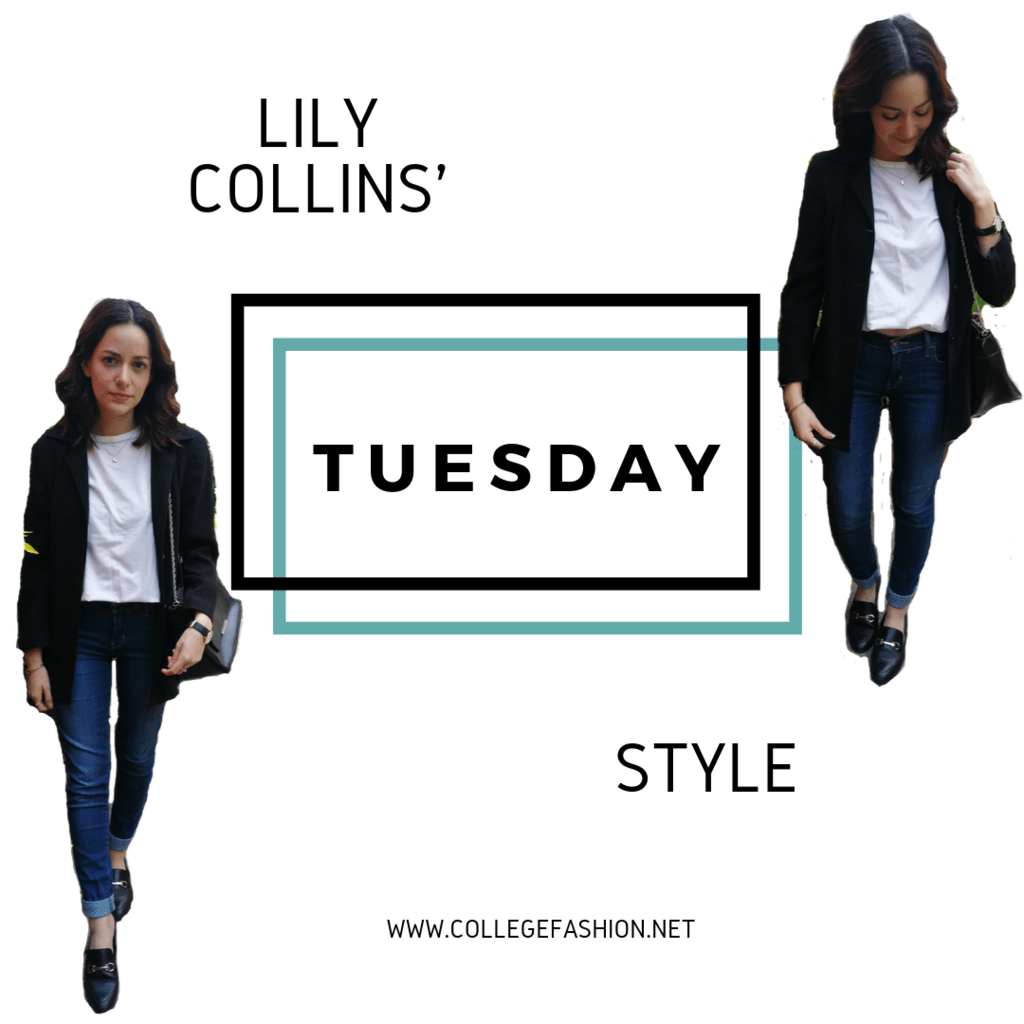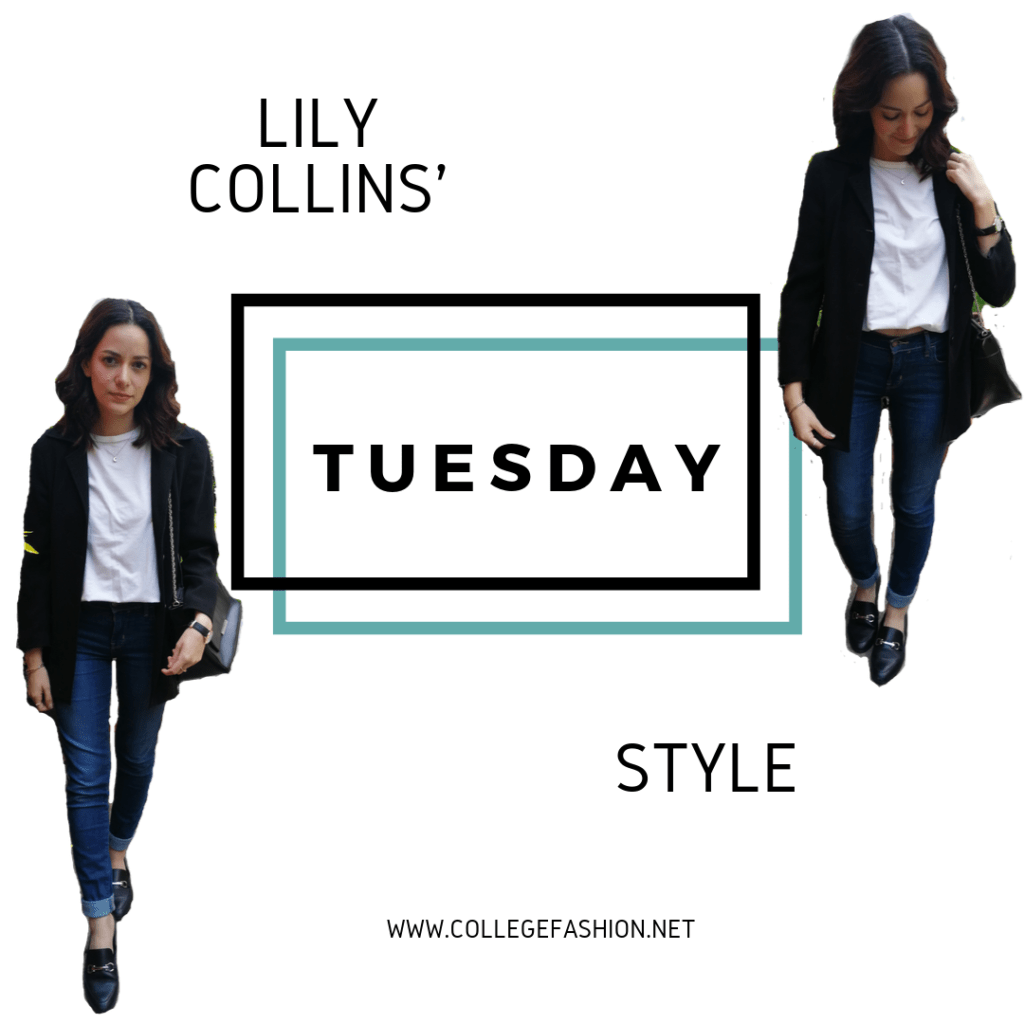 It was Tuesday and I was feeling better. I wanted something simple and put together and I chose this. In the pic, Lily is wearing jeans and a white t-shirt with a black coat and loafers.
For my recreation of this outfit, I wore a white t-shirt that was a bit cropped, blue jeans in a medium wash, and a black coat. I borrowed the black loafers from my sister. For accessories, I chose a black structured bag and dainty gold jewelry.
I chose so many cool outfits for this week, but it felt a bit weird to let some of them go to "waste" by wearing them just to go to the office. That said, this was a great casual office look.
I would 100% wear this outfit again. It's simple, but it's different enough from to make me feel upgraded. I love when celebrity outfits can inspire me to put a new spin on my old favorites!
Lily Collins' Outfits, #3 -Wednesday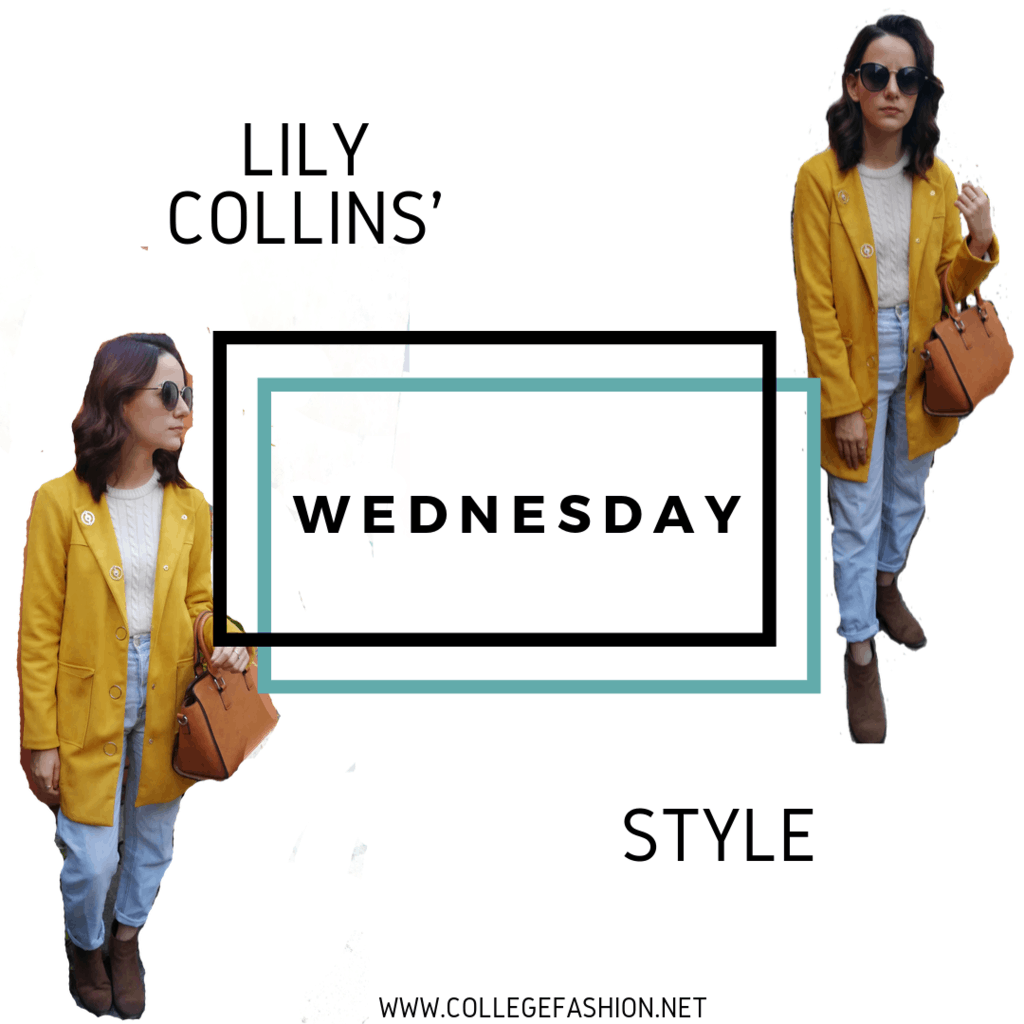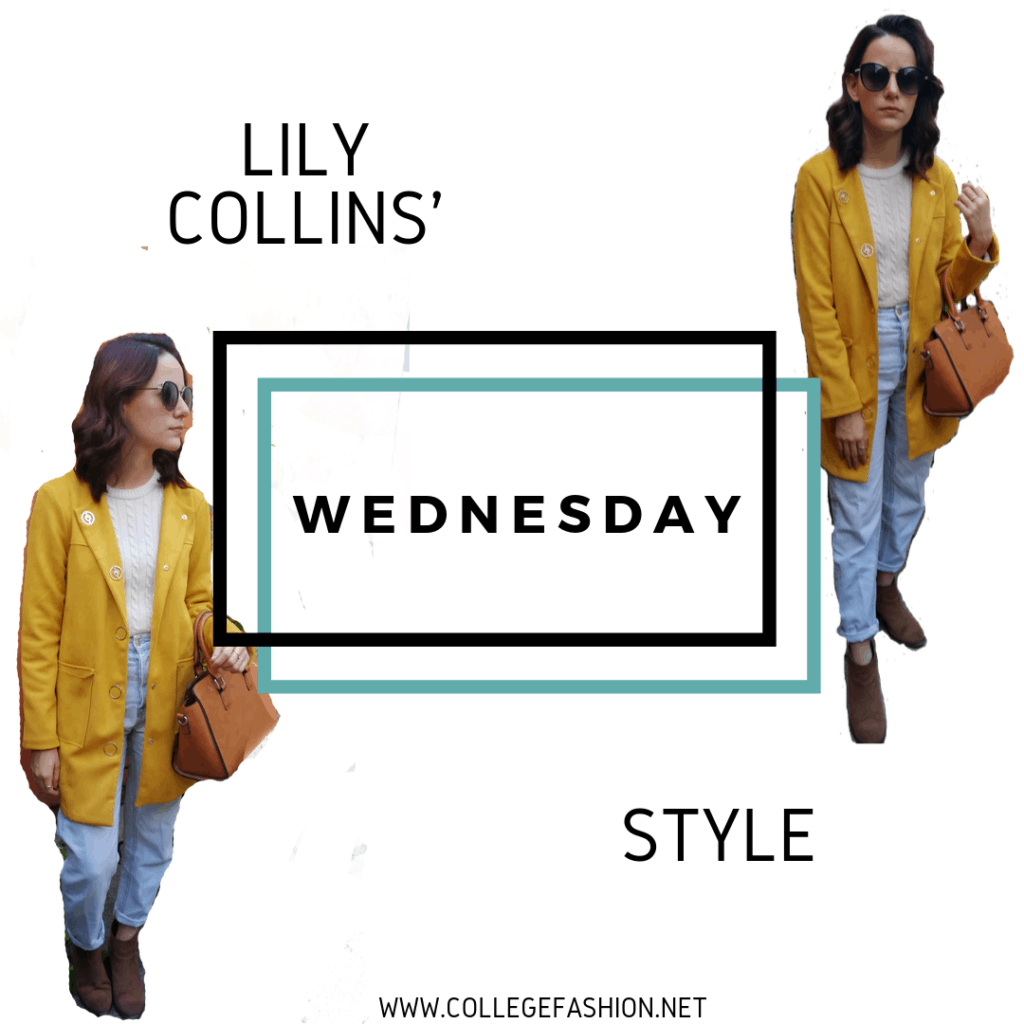 For Wednesday, I chose this neutral-yet-colorful ensemble. Above, Lily is wearing jeans, a white sweater, a yellow coat, and brown booties.
To copy this Lily Collins outfit, I chose a cream knit sweater and light-wash jeans, paired with brown booties. I borrowed the sweater and booties from my sister. I finished it up with a gorgeous yellow coat (that I had to buy) and a tan-colored structured bag.
I adored this outfit. I am in love with the whole look, but am obsessed with the coat in particular. I usually wear black with yellow, because I've always felt yellow looks weird or pasty with white. I was so wrong. I felt beautiful, cool and like I was carrying a bit of summer into fall with me. I will be wearing white and yellow together from now on.
Lily Collins' Outfits, #4 – Thursday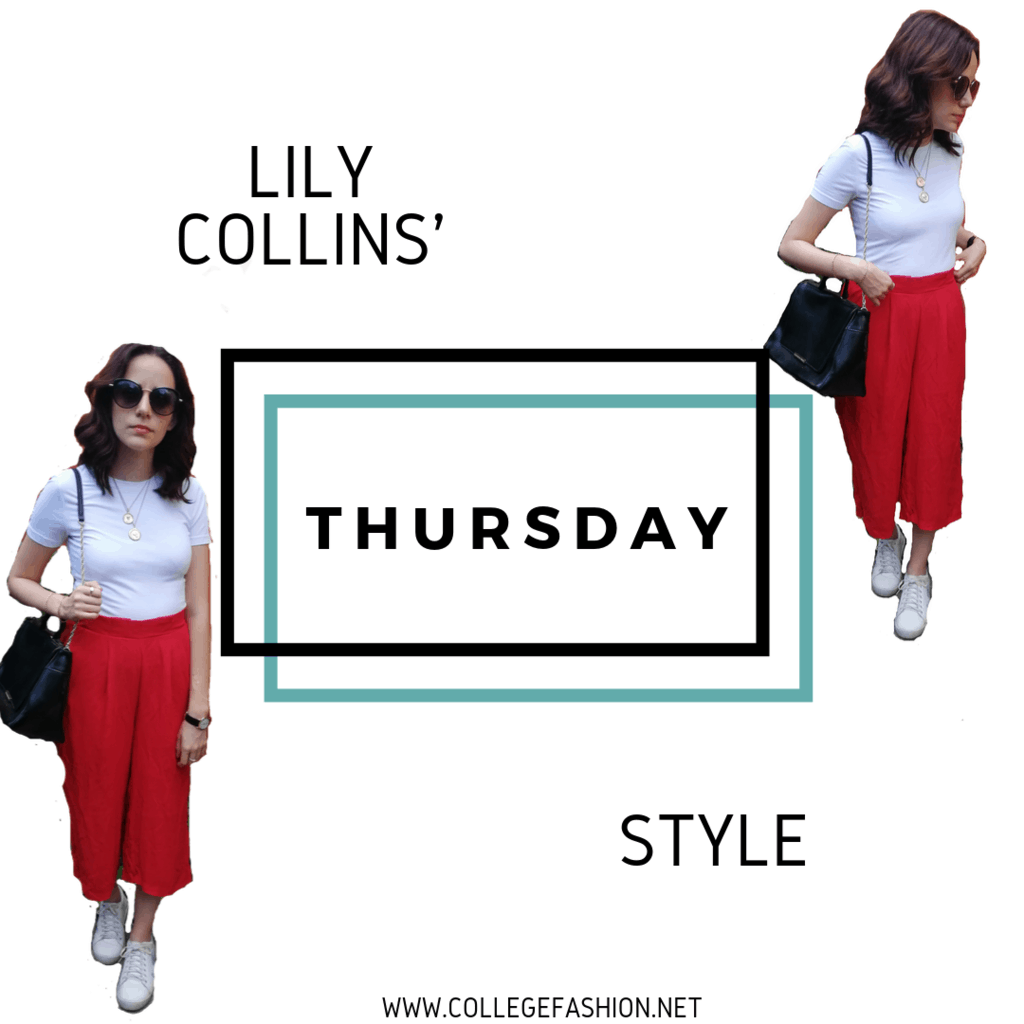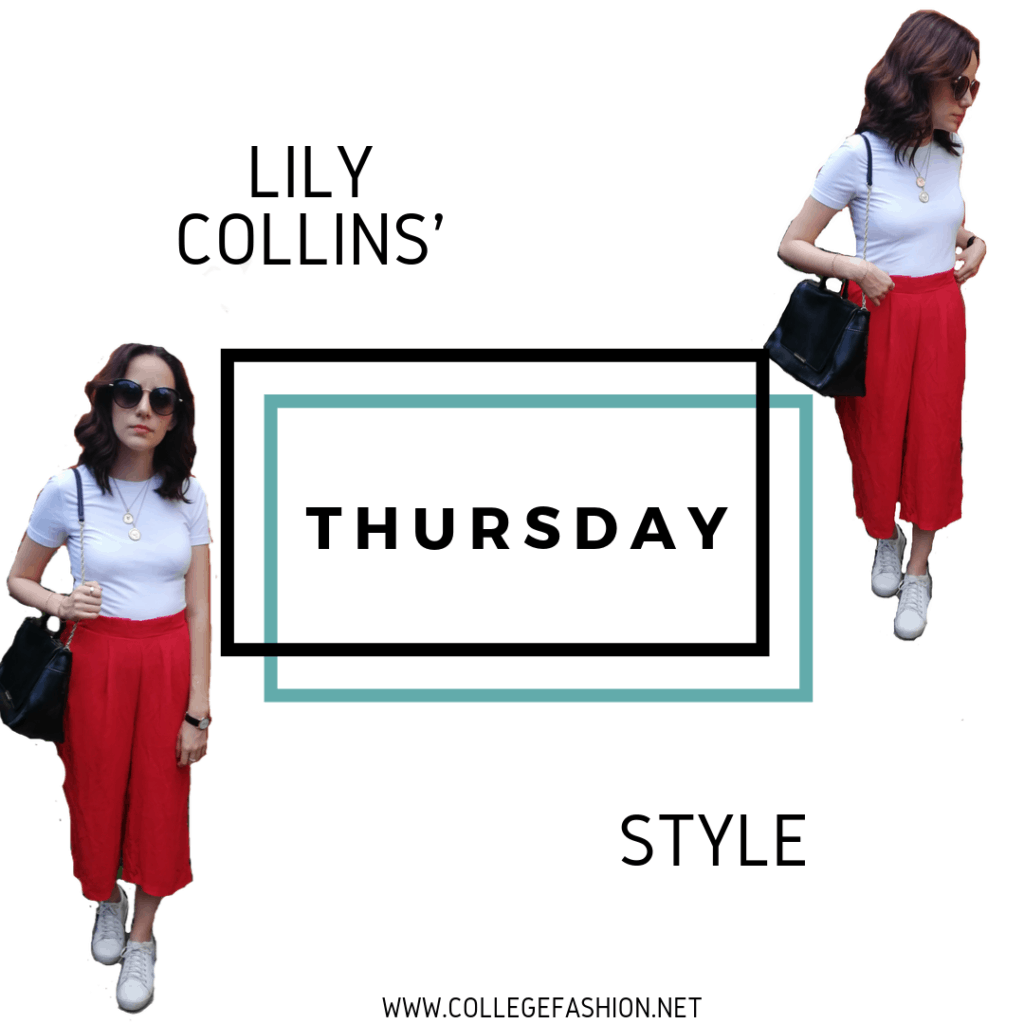 For Thursday, I went for this classic, edgy Lily Collins outfit. In the pic, Lily is wearing red pants, a white tee, and white sneakers.
I already had all the items I needed to recreate this look, with minor changes in cut and style. I had these red culottes, so I didn't need to buy another pair of red pants. I used a plain white tee to get the look of Lily's graphic tee. Finally, I accessorized with oversized sunglasses, a golden coin necklace and the black structured bag I wore on Tuesday.
In the morning it was a bit chilly, so I threw on a black leather jacket before I went to the office. Aside from that, the whole outfit was cool and really comfortable. I don't wear this pants that often, so it was nice to have another way to wear them for an everyday look.
Lily Collins' Outfits, #5 – Friday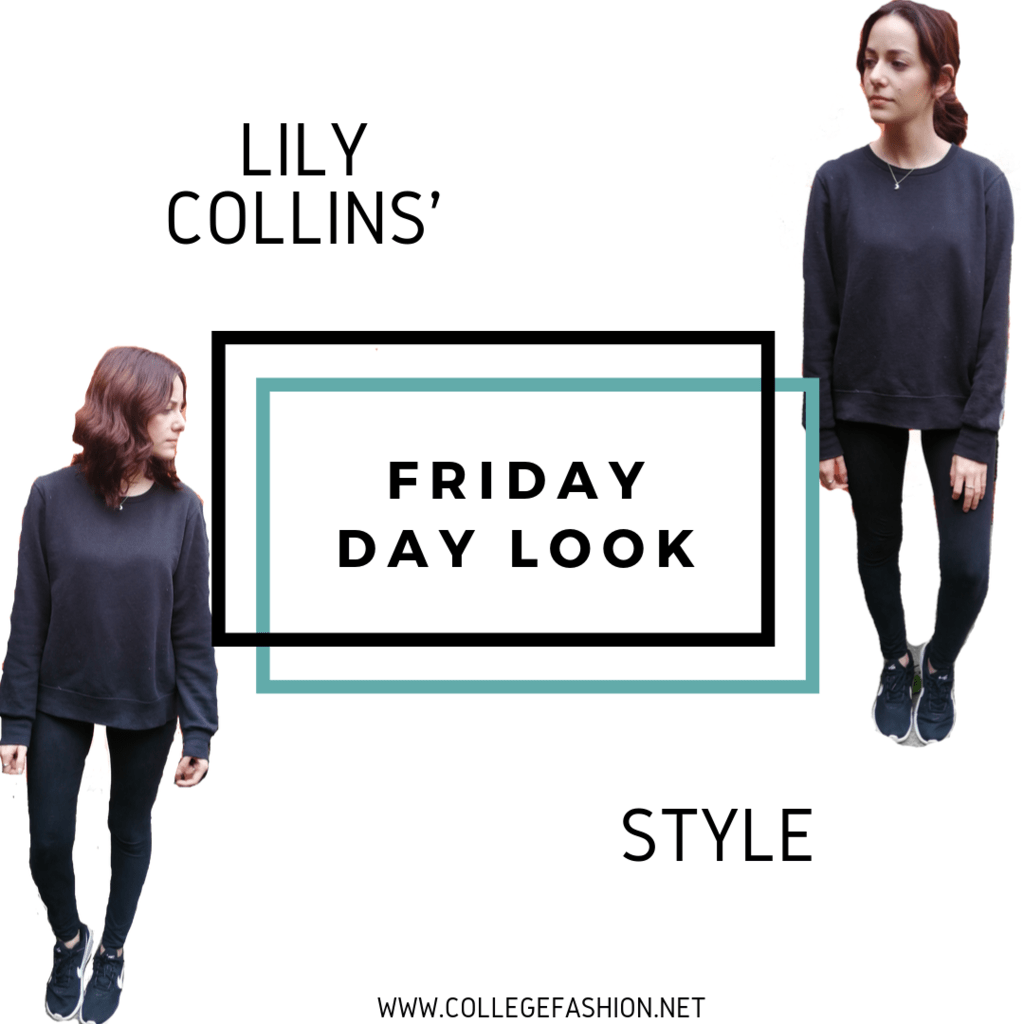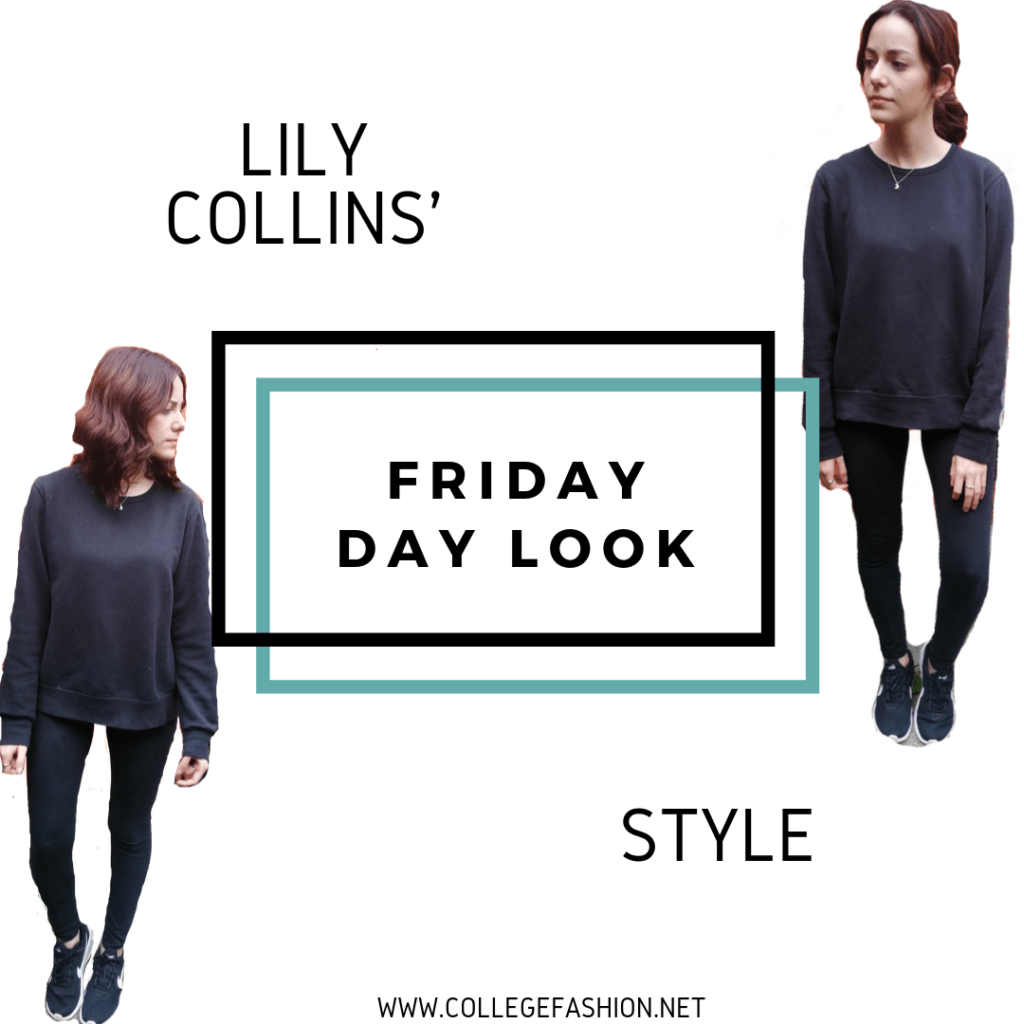 Friday was here and I cheated. I found two outfits that I couldn't leave behind if I was going to recreate Lily's style and on that day I had very different activities. So I did a day look and a night look.
For the day look, Lily has an all-black outfit, pairing a sweatshirt and leggings. While I was browsing to find the outfits for this week, I found thousands of pictures of Lily wearing variations of this outfit combo — it's one of her staples, so I had to recreate it.
For this first look, I had all the items. I wore a black sweatshirt and black leggings with a pair of black running sneakers. I accessorized with a black bag, sunglasses, and a scrunchie. I wore minimal makeup to keep myself looking put together.
When I'm wearing leggings, I try to rock an oversized top, whether that's a sweatshirt, a tee, or a sweater. I usually add ankle booties and I never accessorize. This outfit was the perfect balance between trying something new and doing what I usually do. It was comfortable for going to school in the rain, which is what I did that day.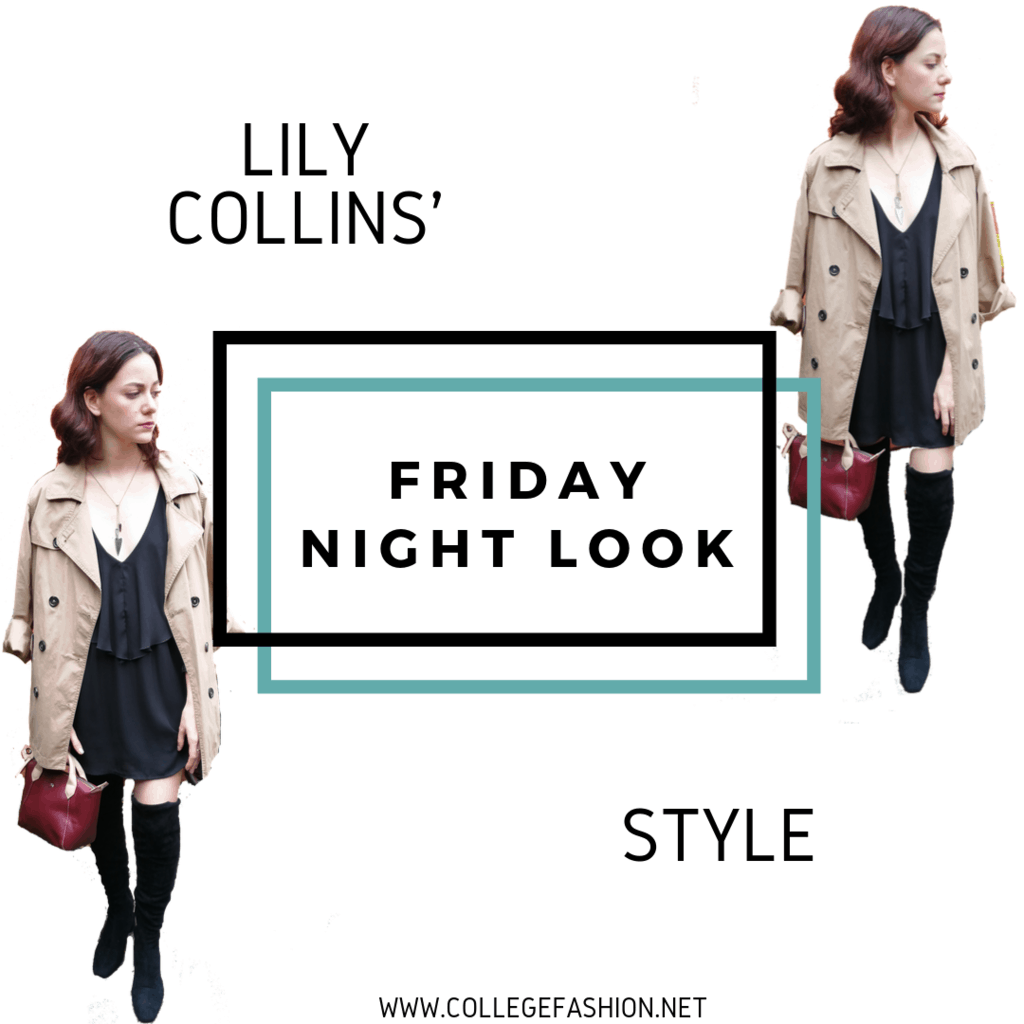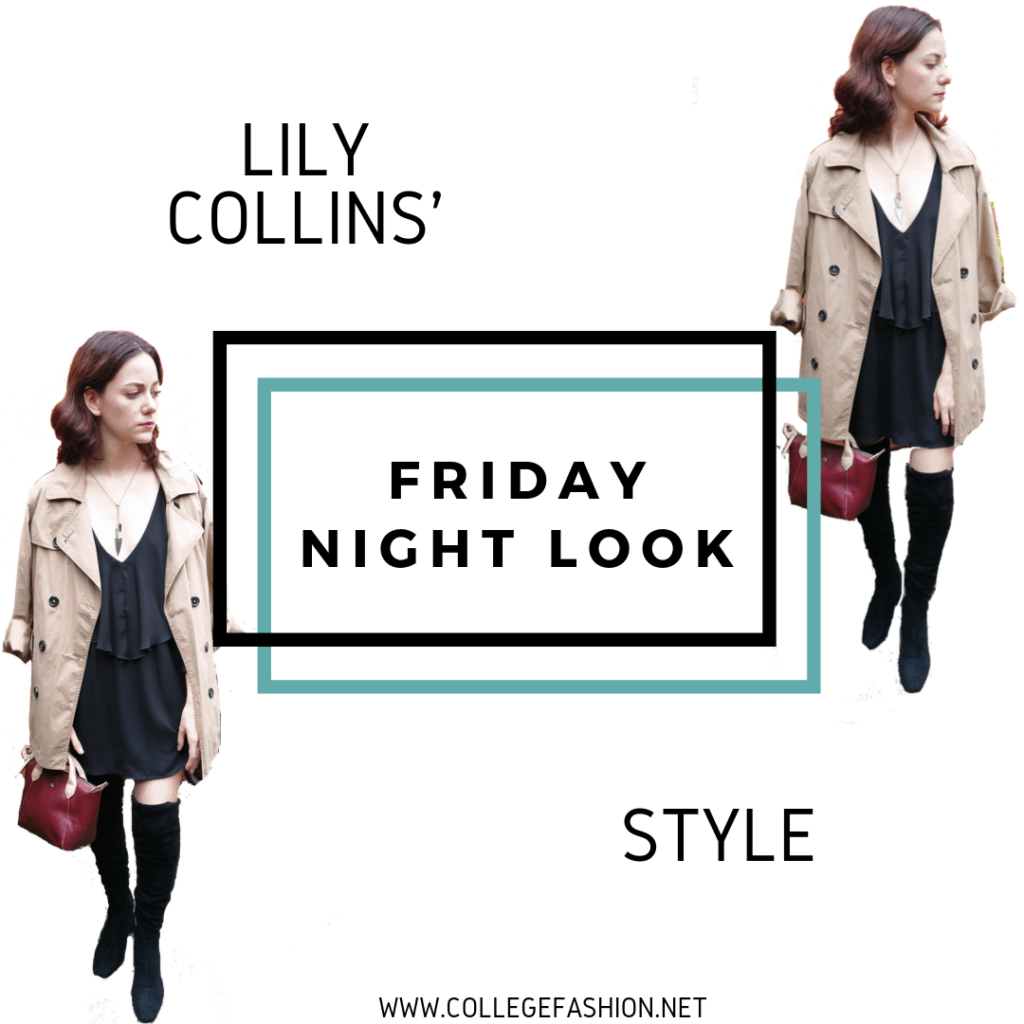 For the night look, Lily is wearing a black dress, a tan coat, and over-the-knee boots.
To copy this outfit, I wore a black dress with a deep neckline. I paired it with a tan coat and black over-the-knee boots. I accessorized with a structured bag and a long necklace. I had all these items already, with slight variations in color and form. The purse I chose wasn't white or light pink, but it worked with the vibe of the outfit.
I had a friend's birthday that night, so this was a perfect outfit for a rainy night out.
To be honest? I felt like I looked hot in this look, which is not a feeling I'm used to. I am a very petite, non-curvy, flat-chested girl so a lot of how I see myself and think I'm perceived as is usually "sweet" or "cute." Never hot. But this outfit took my confidence to another level. I would definitely wear this again!
Final Thoughts
This post saved my life — it made things much easier during an incredibly stressful time.
I'm not exaggerating when I say everything happened this week: my schedule at work changed and I had to be in the office an hour earlier than usual, I started a new semester and there was a problem with my classes, and I was feeling very insecure about my job. I was overwhelmed and my fashion creativity was nowhere to be found.
I schedule these posts a week or two in advance in order to have time to recreate the outfits, but I never account for how I am feeling or anything other than my activities. So initially, the stress of this week made me sad, since I had been excited about this particular style recreation.
In the end, though, doing this Lily Collins outfits challenge helped me feel better, because I loved how I looked every day. Since Lily's style is so down to earth and I didn't have to worry about finding a lot of the items, creating the outfits wasn't stressful and instead it was kind of therapeutic.
We usually think that clothes, makeup and hair as "superficial" things to care about. But the reality is that they're a tool we can use anytime we want for a confidence boost. This is something that became 1000 times clearer to me this week. Even though this week was hard on a personal level, creating these outfits made me look forward to the next day, because I was excited to wear the next outfit.
So take it from me: If you're feeling down or having a difficult week, plan to wear outfits you know you look and feel good in, this process will help you change your mood.
Two outfits stood out as my favorites: Wednesday's outfit and Friday's night look. Wednesday's white and yellow ensemble made me smile all throughout the day and Friday's black dress changed the way I perceived myself.
So, should you copy Lily Collins' outfits? If you have a busy week or you're just a Lily Collins fan, I say go for it! They're comfortable and achievable, and you will look stylish, feminine, and put-together. I guarantee you will find new ways to wear basic or simple outfits you have already worn.
What do you think?
Do you like Lily's style? Which outfit would you wear? Which outfit was your favorite? What do you wear when you're feeling down? Let us know in the comments below!