In honor of the premiere of the third season, I'm showing you how to copy the style of the characters in Emily in Paris.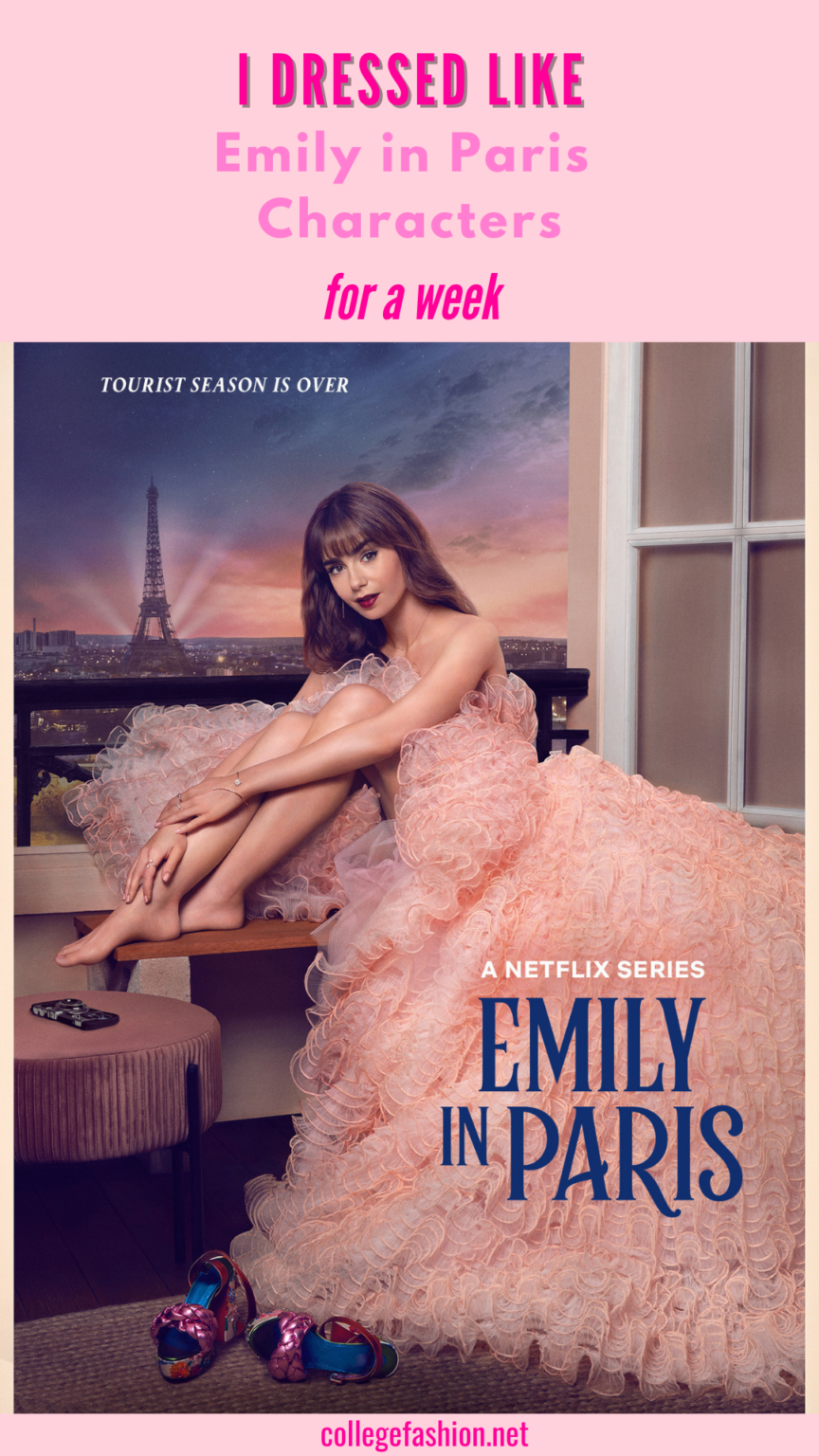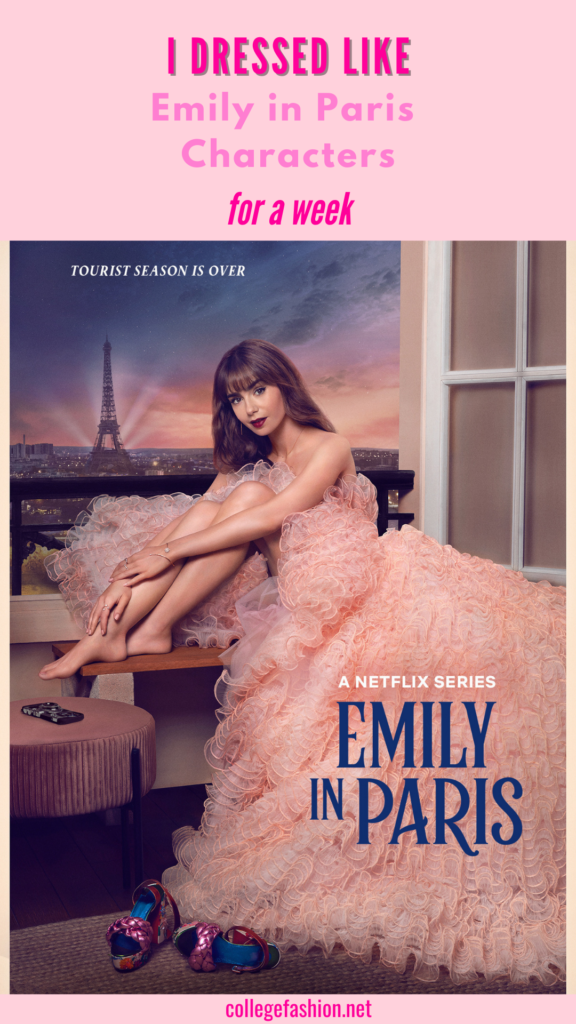 We've all looked to celebrity style for fashion inspiration at some point in our lives. But it's one thing to say "I love her outfit," and it's another to actually copy it in real life.
For this series, I'm going the extra mile and making it happen. Each week, I'm getting inspiration from a celebrity and copying five of her looks as closely as possible. Then, I'm reporting back to you: Did the outfits work in real life? Did I feel comfortable? Did people treat me differently? I'm sharing it all.
This week, in honor of the third season premiere, I dressed like characters from Netflix's Emily in Paris.
Related reading: Emily in Paris Fashion: How to Dress Like Emily, Camille, and Mindy
About Emily in Paris
Emily in Paris is a Netflix TV show created by Darren Star, the creator of iconic shows like Beverly Hills: 90210 and Sex and The City. It was released on October 2, 2020.
We cannot talk about this show without addressing some of the controversies it has faced. While the reviews in the US ranged from mixed to positive, the show was heavily criticized in France due to the show's negative stereotyping of the French in general and Parisians in particular.
As a Mexican whose country is relentlessly and negatively stereotyped by US productions, I empathize and understand the French's anger at the show. At times, it feels very mean-spirited, and the fact that it is a romantic comedy does not excuse the lack of research done nor the act of disrespecting an entire country for entertainment. And unfortunately, the show doubled down on its negative portrayals of other countries with frankly nasty take on an Ukrainian character in season 2.
Emily as a character was also criticized by a lot of critics. They felt she was bland and incredibly unrelatable during the first season. A lot of people found her selfish, lazy, and a little too reliant on the whole "The US knows best" motto that rubbed everyone the wrong way. During the second season, there was a clear effort to make Emily better and more likable. How successful that effort was, I leave it up to you to decide.
Regardless, it's a fun, colorful show. The fashion on the show might not be everyone's cup of tea and is completely unrealistic in some aspects, but the wardrobe is really interesting, and I enjoy it very much. I think it is experimental, which kind of works for some characters, and classic, which works for others. I also think it is slowly getting better in quality, and I am excited to finish the third season and see where Emily goes next.
Emily in Paris: A Synopsis
Emily Cooper (Lily Collins) is a young and ambitious Chicago ad exec who is sent to Paris to be the American connection in Savoir, a French ad agency specializing in luxury brands acquired by her company. But when she gets there, she finds her attitude and views clash with the locals on almost everything.
Emily in Paris – Fashion Guide
Monday – Emily, Outfit #1
So, let's start with the woman of the hour: Emily Cooper. Played by the lovely Lily Collins, Emily is a 29-year-old social media strategist who moves from Chicago to Paris to work at Savoir.
Her style is a mix of preppy and eclectic. She wears mostly bold patterns and bright colors. Emily takes classic pieces, like tweed jackets, and gives them a modern twist. Mixing patterns, mini-skirts, matching sets, colorful booties, and a variation of hats and berets, are some of her signature items.
She also has an unbelievable collection of limited-edition designer bags, which is probably the most unrealistic aspect of her character.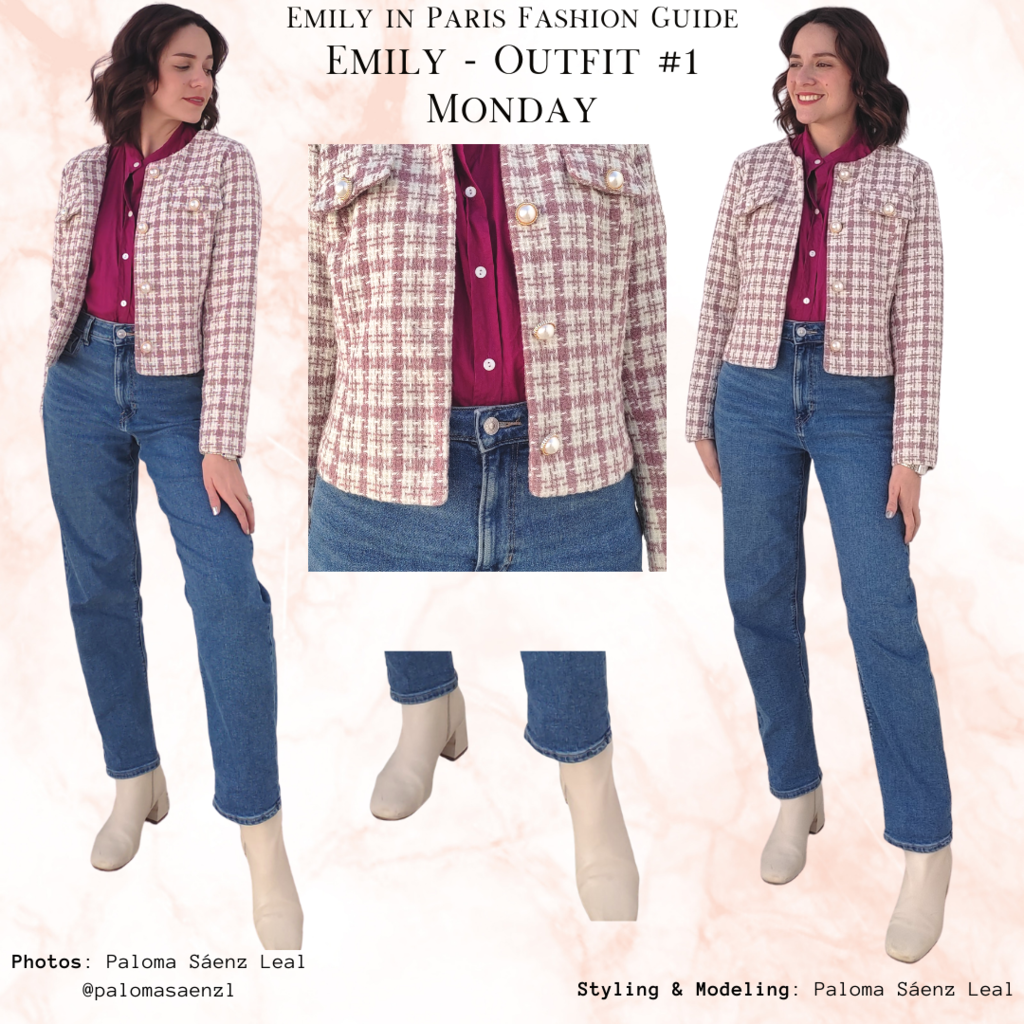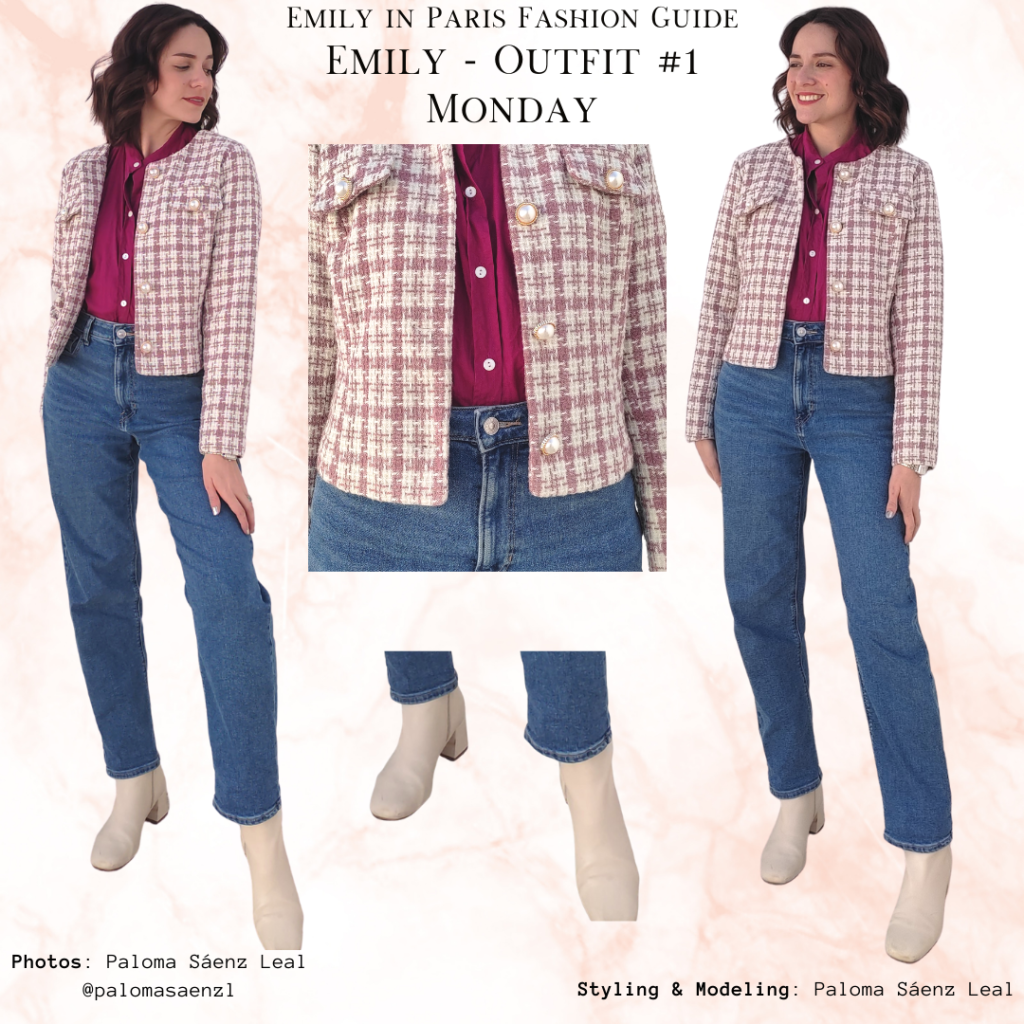 For my first Emily look, I went for one of her preppy-with-a-twist looks.
For the base of the look, I wore a plum Oxford shirt and a pair of straight-fit, blue denim jeans. Then, I hid the shirt's collar to make it work better with the jacket I chose. For the jacket, I decided to wear this classic houndstooth jacket. The jacket has pearl buttons and is a beautiful pink-y mauve. For shoes, I went with an Emily classic: booties. Mine are a pair of square-toed, cream-colored booties to match the off-white in the jacket.
Not going to lie, I like this look, but I don't love it. When wearing it, I felt like something was off, and I couldn't shake that feeling. Halfway through the day, I was thinking maybe a different pair of jeans would've made it work better. Instead of straight-fit jeans, maybe a wide-leg type to make it more modern. But, overall, it was a cute look and perfect for a chilly, not cold, winter day.
Tuesday – Camille, Outfit #2
For the second day, I decided to base a look on Camille's style. Camille (played by Camille Razat) is Emily's new friend and Gabriel's girlfriend (at first). She has, in my opinion, the best wardrobe and style in the show.
Her style is quintessential French girl chic. Camille wears a lot of neutrals with a pop of color, usually with red lipstick. Menswear-inspired pieces, basic items, but everything with just the right amount of sexiness and edginess. Camille is haute couture; she wears the minimum amount of trendy pieces and goes for timeless items.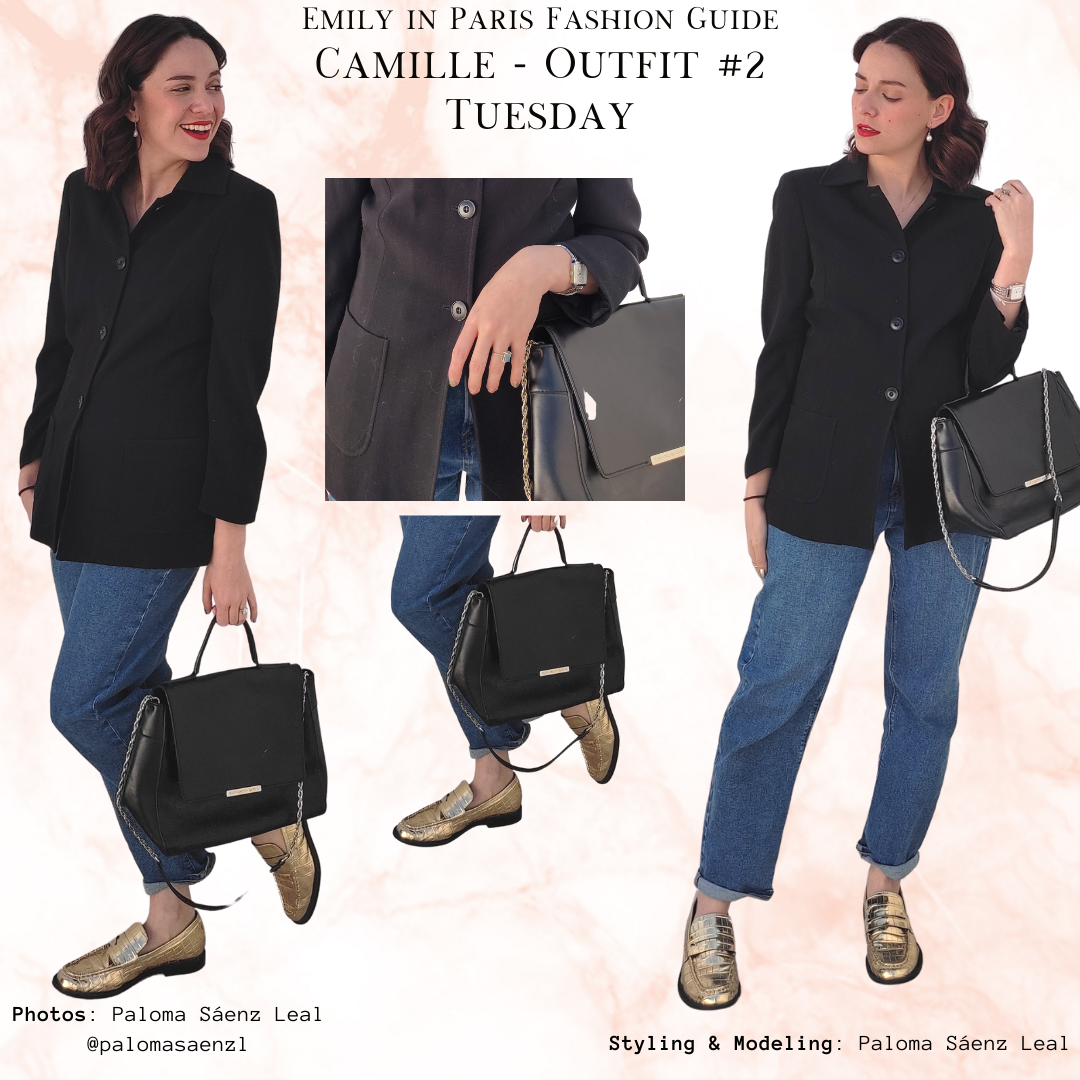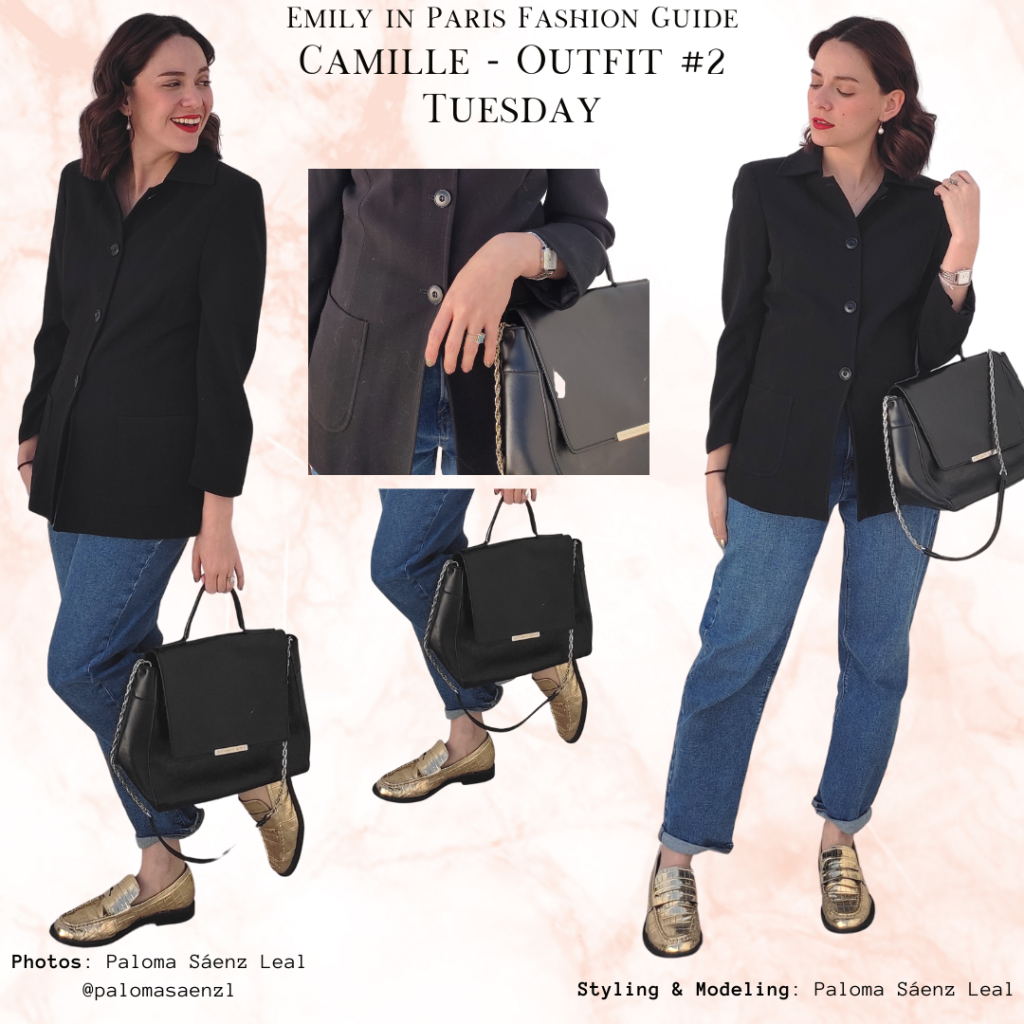 For my Camille look, I wanted to wear all her signature colors in one look: black, blue, gold, and red. To create this look, I wore the same blue denim jeans from Emily's look and cuffed the ankles just a bit. Then, I threw on a black blazer and buttoned it up, wearing it as a top. For shoes, I used my favorite pair at the moment: gold loafers. Finally, I accessorized with a structured black purse and wore red lipstick.
I loved this one! I felt chic and comfortable. It would probably work better on a warm fall day because it is quite cold for me right now. And I could've used more layers. But this outfit is cool, and I felt like it the whole day.
Wednesday – Sylvie, Outfit #3
I usually reserve my most polished look for Wednesday. And who could be more polished than Sylvie? The amazing Philippine Leroy-Beaulieu plays Sylvie, Emily's tough boss at Savoir in Paris.
If Camille is quintessential French girl chic, she learned her style tricks from someone like Sylvie. Two words describe Sylvie's style: effortless and sexy. Her hair always looks like she just rolled out of bed, but not in a messy, lazy way. Simple lines, rich colors, and classic items characterize Sylvie's most-worn staples. Her night-out looks are always stunning, with figure-hugging silhouettes and high slits.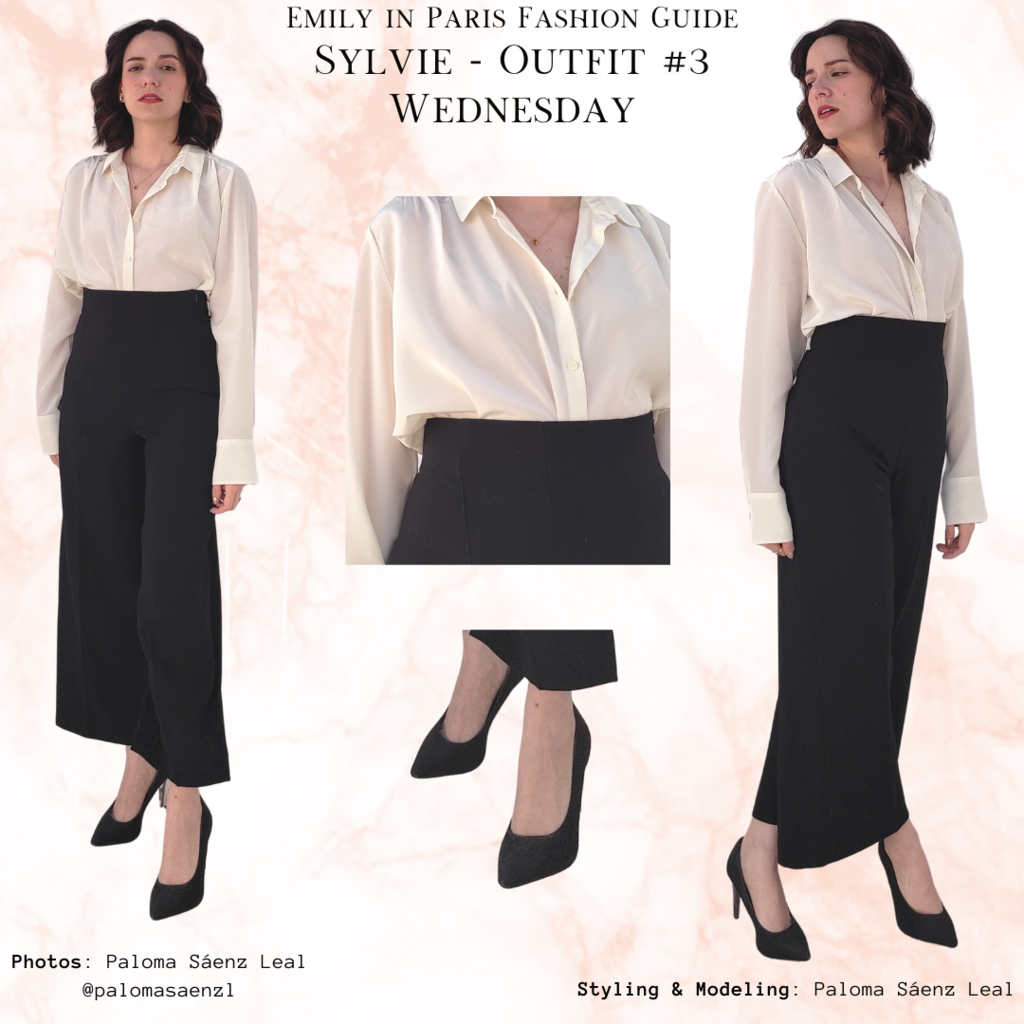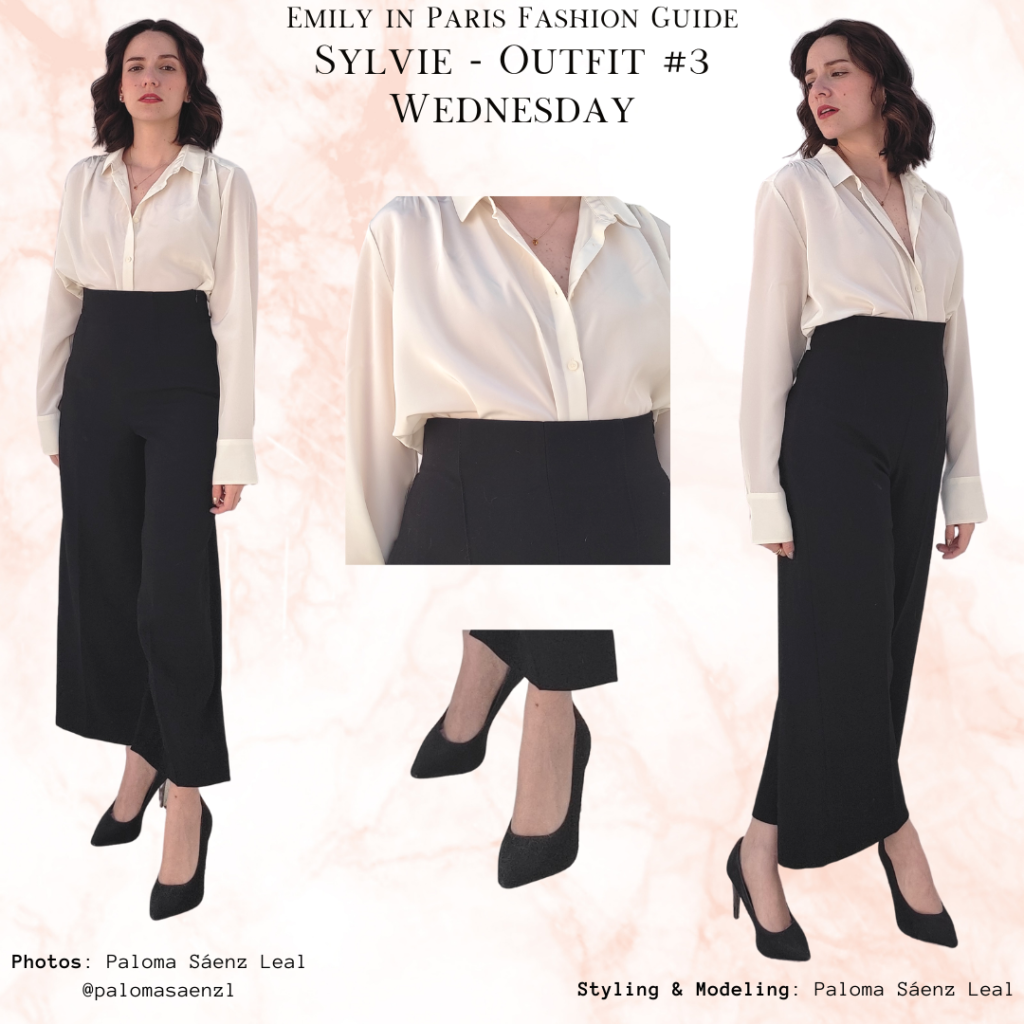 For my Sylvie look, I went with a version of her office "casual" looks. To start, I wore a silk button-down shirt. When it comes to Sylvie, I knew that just a cotton shirt wouldn't do, so I chose the silk shirt to bring some of her understated luxury to the look. Then, I put on a pair of wide-leg, black dress pants.
For shoes, a pair of black suede stilettos were the most natural choice. I don't usually do much with my jewelry, but for this look, I changed my earrings for a pair of diamond and pearl studs and removed my bracelets.
This might not be the comfiest outfit of the week, but it is the coolest. This look is really hot and yet so simple. I adore Sylvie's style: she wears the most understated items, but she's always the most elegant and sophisticated woman in the room. I love this look because it shows that sometimes what we think are basics are our most powerful allies in making a statement.
Thursday – Mindy, Outfit #4
Now, let's get to Emily's BFF, Mindy Chen. Mindy, played by the multitalented Ashley Park, is an aspiring singer (former nanny) who is Emily's first friend in Paris.
I love Mindy and Ashley Park; she pulls off some wild looks on the show. But, in my opinion, Mindy's looks are not the best, and I don't think they fit her actress very well. Maybe the producers don't want Mindy to overshadow Emily, since her backstory is already richer and has more depth.
Mindy's style is eclectic and loud — it demands attention. Big, bold patterns, over-the-knee boots, mini-skirts, off-the-shoulder tops, and corsets are some of her signature pieces. Mindy also has a thing for deconstructed menswear.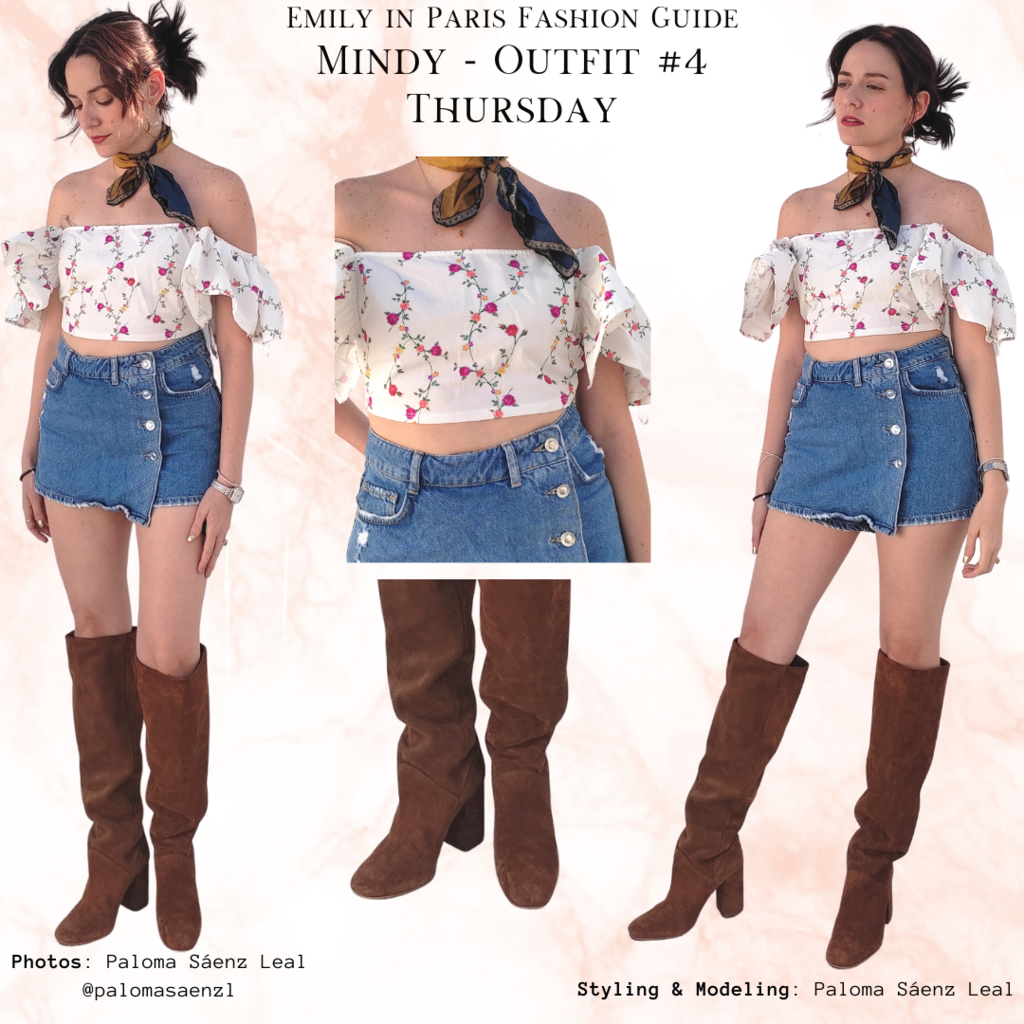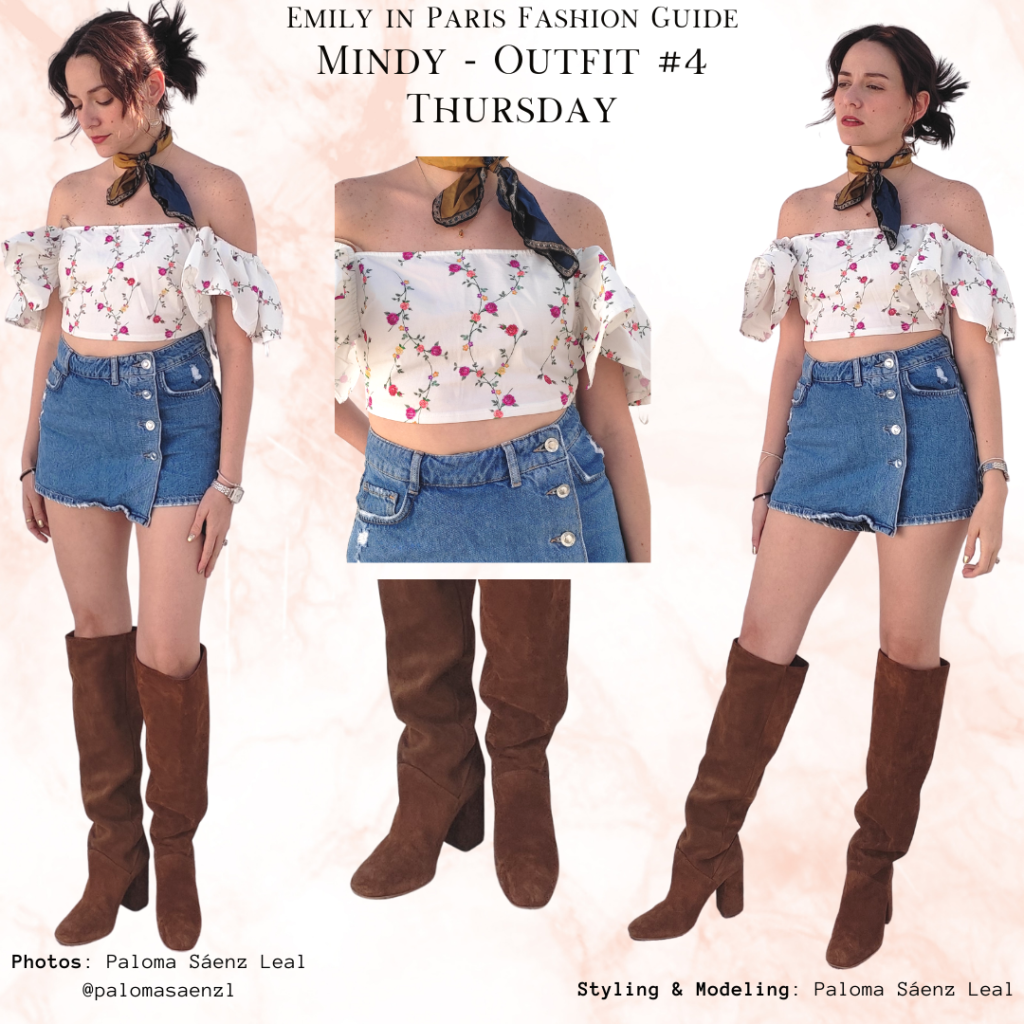 Since Mindy's looks almost always match head-to-toe, I created a look using various elements without the coordinated aspect of it. I just didn't have enough similar bold patterns to create an exact Mindy look.
For this look, I wore a white off-the-shoulder top with a cute floral print. Then, I put on a denim skort as the mini-skirt stand-in. Mindy's big on over-the-knee boots, so I wore a pair of slouchy, cognac-colored suede boots. As a final touch, I tied an ascot as an accessory and wore my hair in a messy ponytail.
I liked this look, but not to wear on a winter day. I was freezing the entire time I couldn't even enjoy the outfit that much. This one, and probably most of Mindy's outfits for that matter, is best suited for warm spring days or chilly summer nights. Despite freezing, I think I looked really cute. To me, the outfit works together in a weird way.
Friday – Emily, Outfit #5
For the final day, I thought I'd do another take on Emily's style. This time, using the matching sets and colorful colors she has become known for.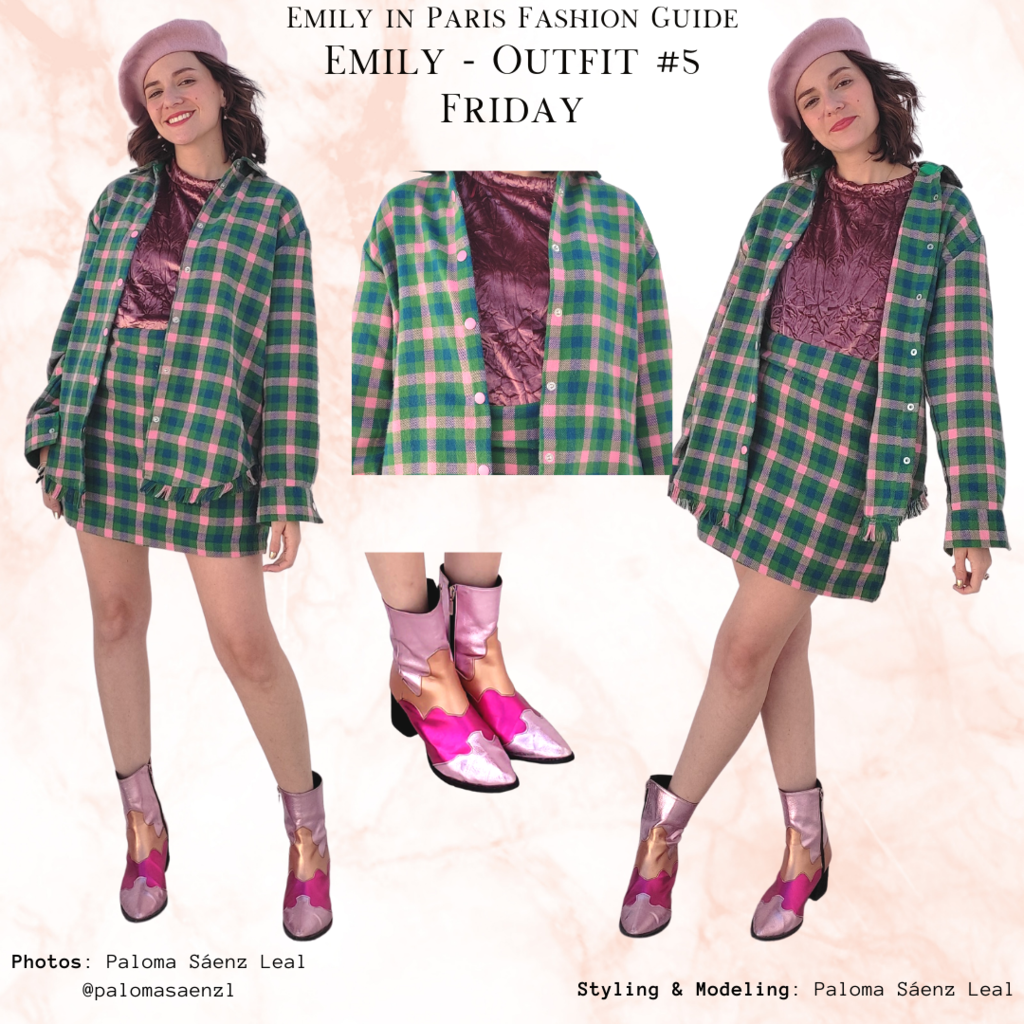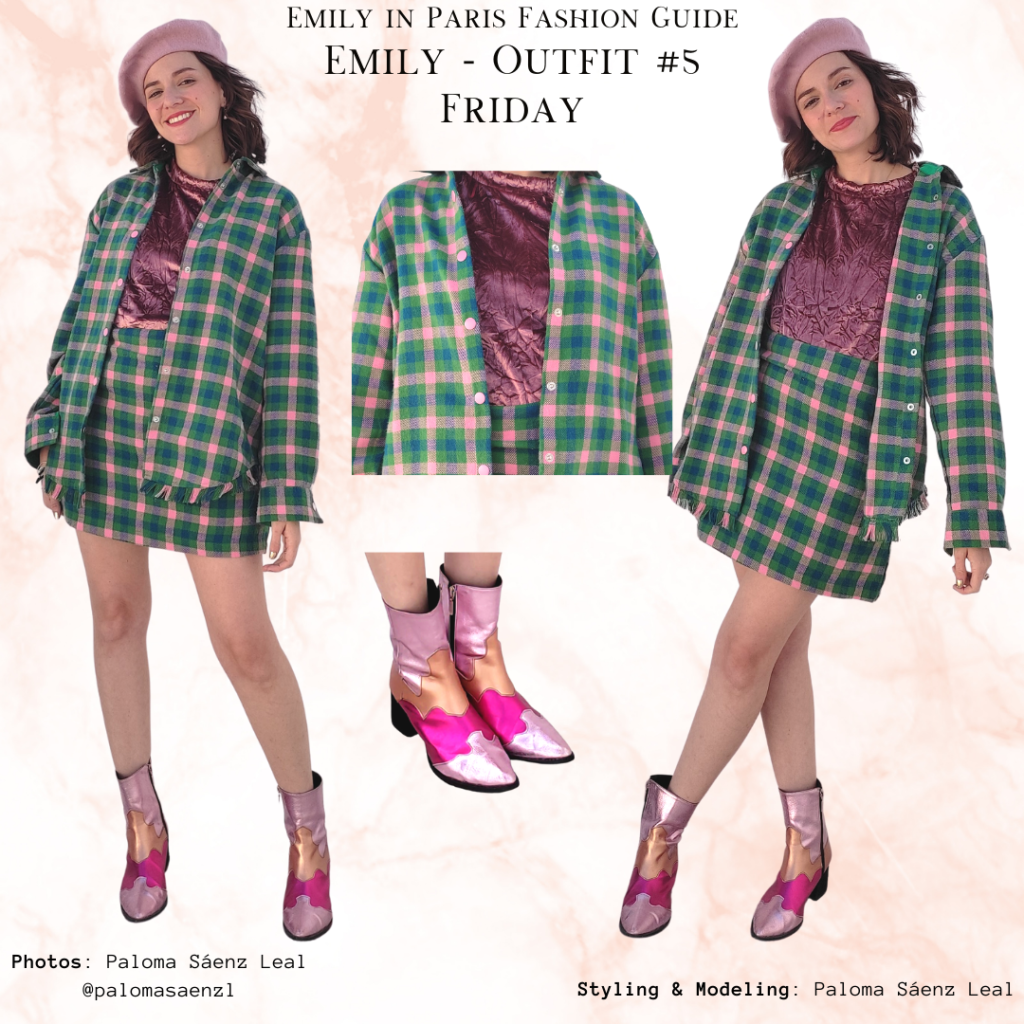 To create this look, I wore a pink velvet dress as a shirt. The neckline is a simple mock neck that works perfectly with layers. Then, I put on a plaid mini-skirt in green and pink and layered it with the matching oversized shirt. The 'Emily' twist comes with the accessories and shoes. For shoes, I used my favorite ones: the metallic cowboy boots in pink and orange. I thought the cowboy boots were a little homage to Emily's US roots. To finish everything, I wore a pink beret that matches the pink of the shirt.
This one was my favorite outfit by far. I like the colors, the textures, everything. Emily's style is controversial, but I like her colorful take on fashion because it resonates with my own. In the future, I would wear tights and probably another layer to wear this again during the winter. But if you don't get cold as much as I do or live in a warmer place, this look could work as is.
Final Thoughts
Oh, Emily. Say what you want about the show, but it isn't going away anytime soon. I love shows that bring fashion forward and create backstories and hint at the characters' life using their wardrobes. That's something that I do enjoy about the show, and despite the show's problems, I do see they're trying to fix *something* each season. It's a one-step-forward, two-steps-back kind of situation, but I hope it gets better in subsequent seasons.
I enjoyed this week! Everyone's style is so different, and every day it was a very distinct outfit with a very different personality. My favorite looks were Camille's French girl look, Sylvie's effortless elegance, and Emily's colorful matching set.
Emily in Paris is not, at least not from my perspective, good for item-by-item type of inspiration. It's a show you see to get the creative juices flowing and then do something with your own closet and style. It's so out there and very designer centric; it can be frustrating to try to replicate that. With this one: watch Emily in Paris, see what catches your eye and what you want to experiment with, and run with it in your closet.
What Do You Think?
Do you like the show? Whose style is your favorite? Which outfit would you wear? Let us know in the comments below!