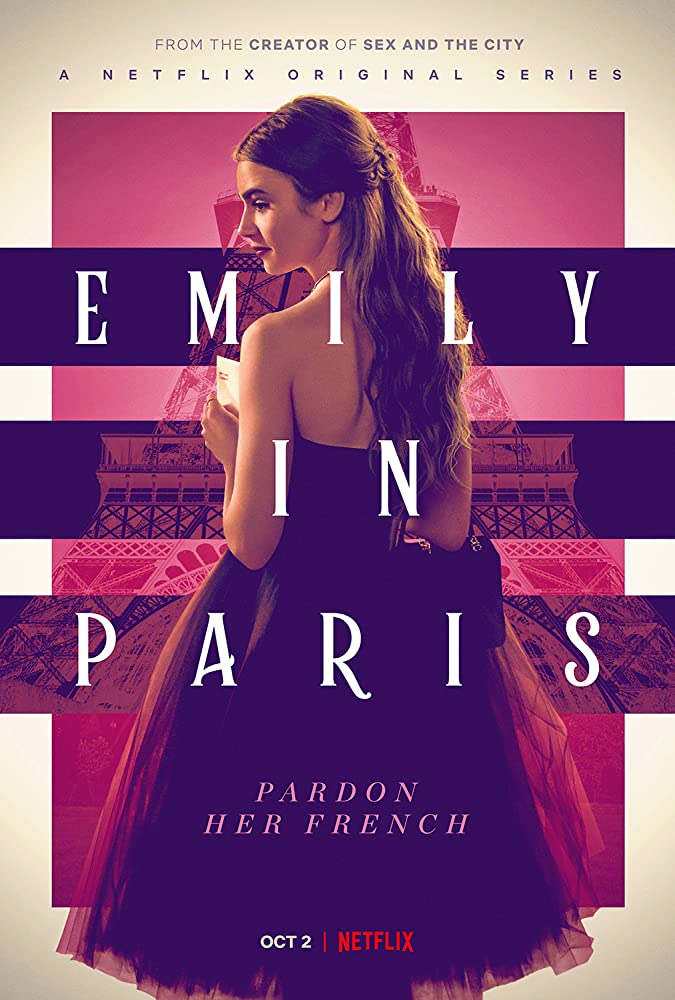 This post rounds up our favorite Emily in Paris outfits and shows you how to dress like Emily in Paris for less.
Paris, fashion, cute boys, quotable moments: Emily in Paris has the formula to be the next Gossip Girl.
I, for one, am on board. I binged this show in the ten hours I had between my two midterms and I have already googled to find out when the second season comes out (late 2021 at the earliest, if you're wondering).
The show is everyone's much-needed escape to a fantasy destination. Never mind that Paris is probably not the ideal travel destination with all that's going on right now — we can still dream, and this glorious show lets us do that.
Of course, you've probably also heard the criticism the show has received for being full of stereotypes of French people, absurdly expensive clothes there is no way Emily could afford, and some questionable fashion choices. But to be fair, even the queen of fashion television Ms. Blair Waldorf had her fair share of fashion police-worthy moments.
So, Emily in Paris may not be the best show on Netflix, but also, it's not the worst. And honestly I can't wait for a second season, even though no one really knows when they'll be able to finish that.
In the meantime, we can channel our inner adventurer by taking some fashion advice from Emily. Be warned, it is by no means Parisian style, and instead is very much Upper East Side takes Paris style, á-la Blair Waldorf in Paris in season 4 of Gossip Girl.
Here is some fashion inspired by Emily in Paris' best outfits.
Emily in Paris Outfits: Head-to-Toe Fuchsia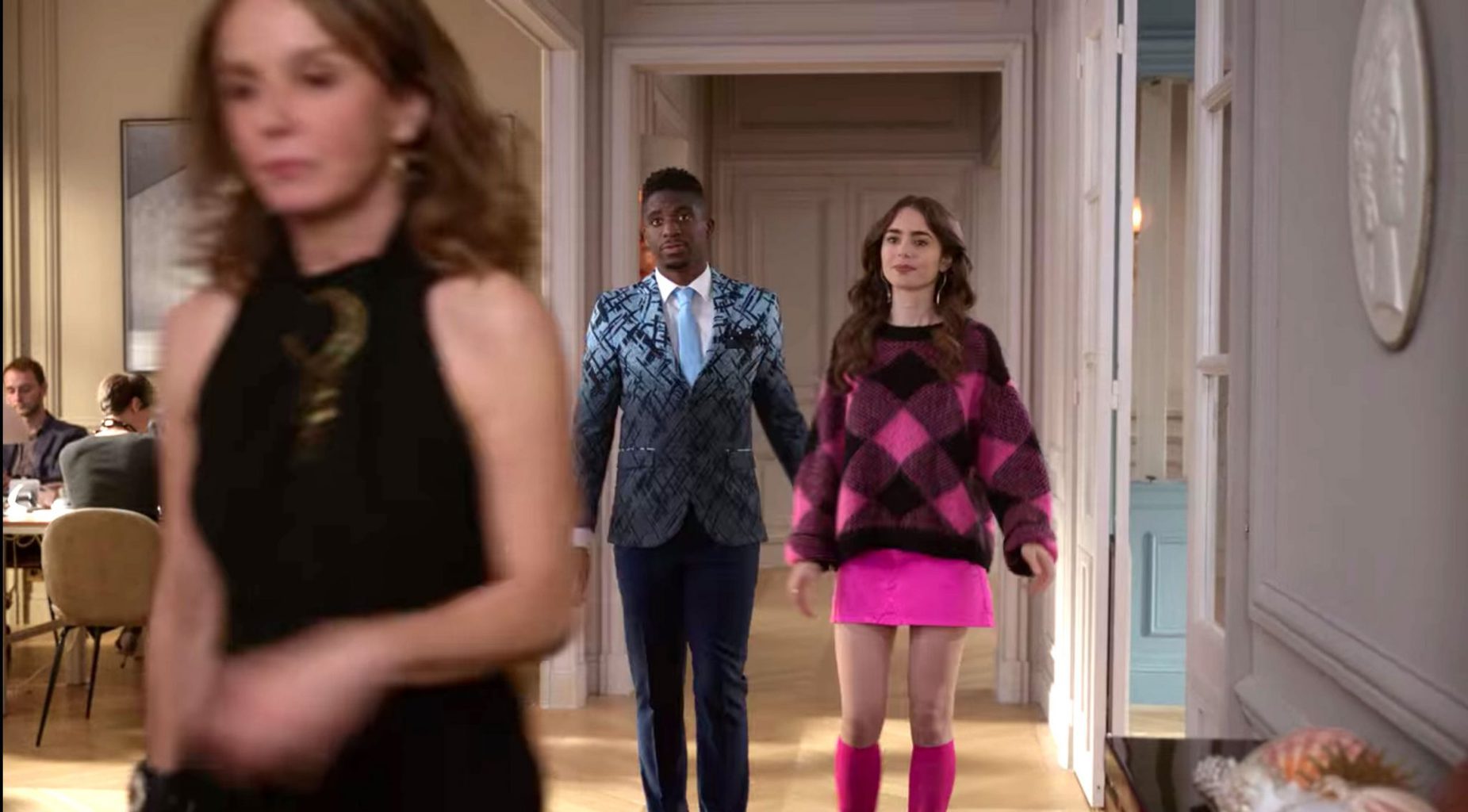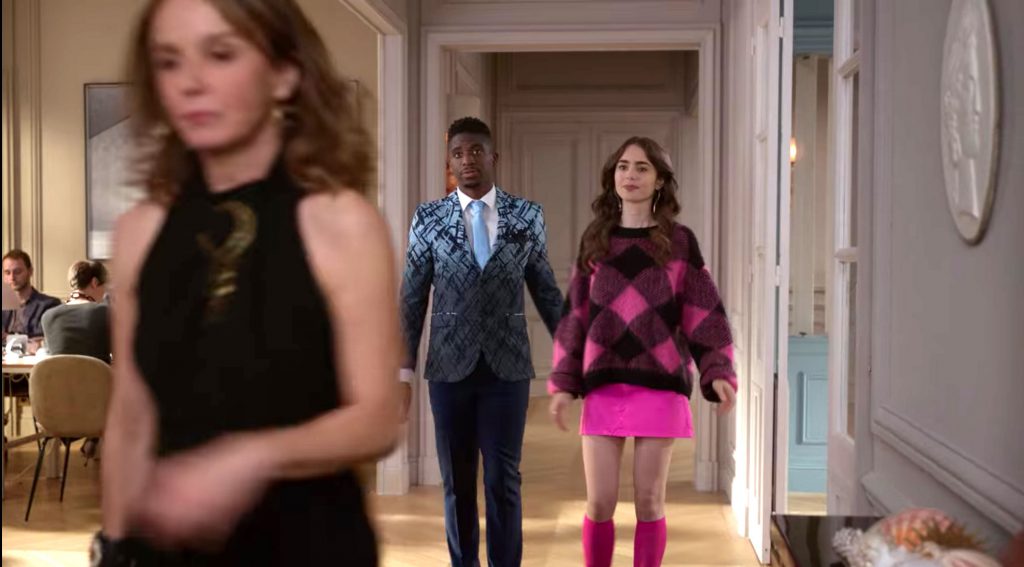 Recreate this outfit: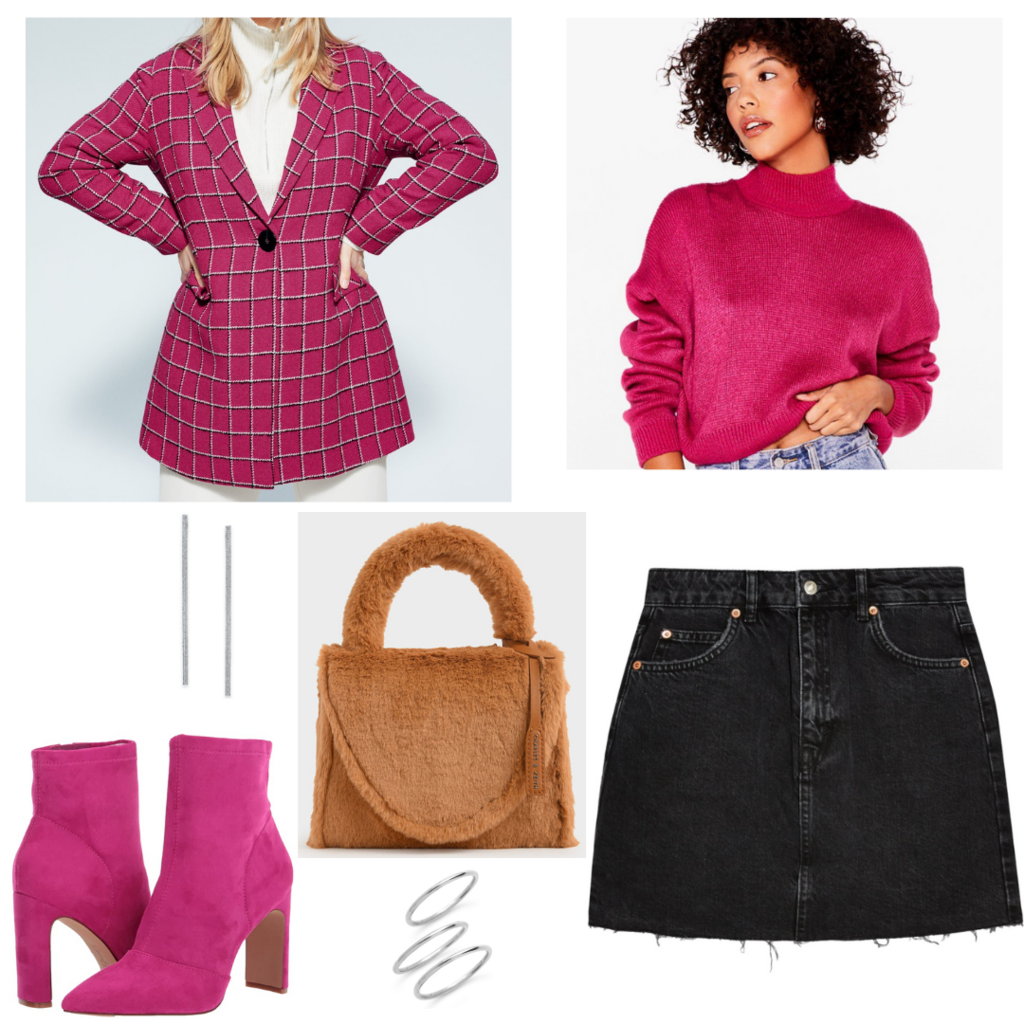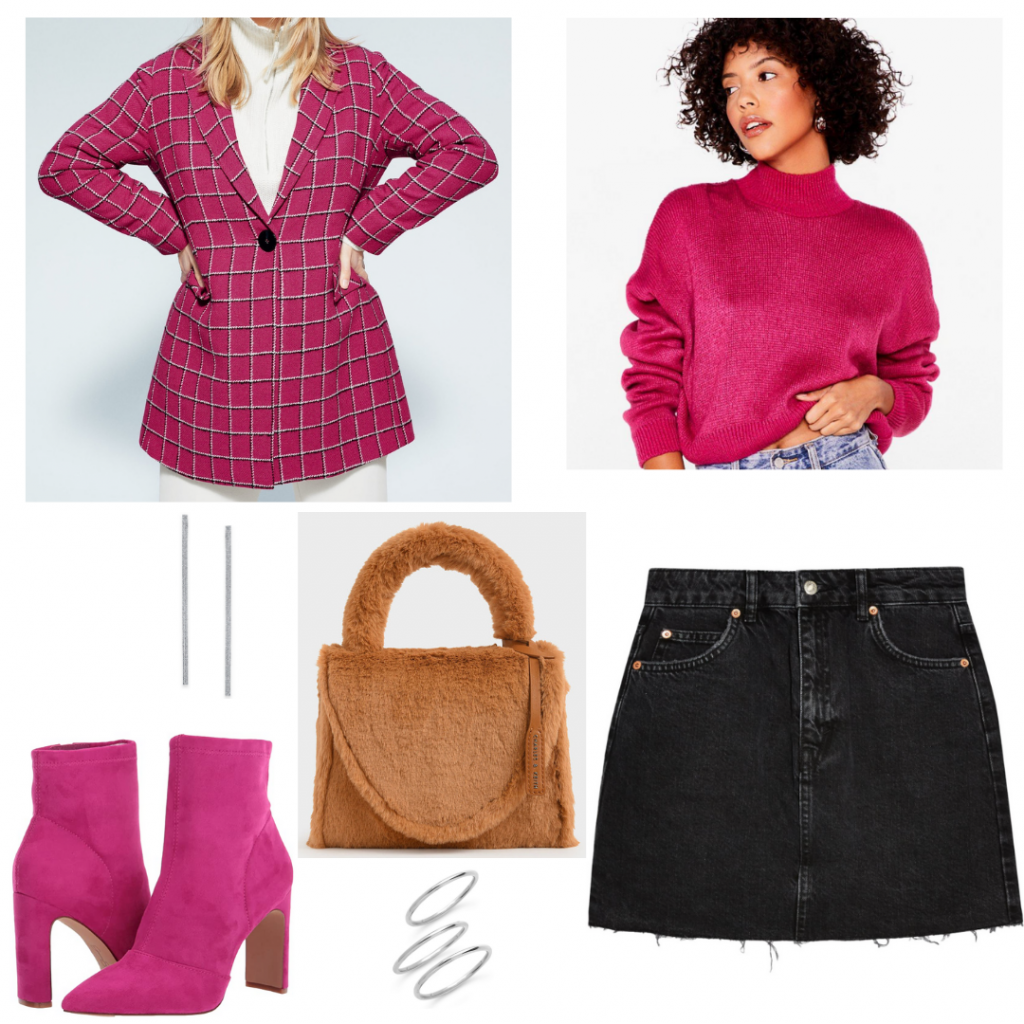 Products: Coat, Sweater, Earrings, Bag, Skirt, Boots, Rings
Emily loves fuchsia so much I actually had to learn how to spell the word. She loves the color coordinating look even more, and so should you. Color coordinating instantly gives the illusion of having a put together fashionable outfit.
And don't forget the fuzzy brown bag Emily was wearing (not pictured). The trend is going to be huge this winter as everyone wants the comfiest accessories, and what's comfier than a bag that also serves as a pillow? Invest in this one and thank me later.
Little Black Dress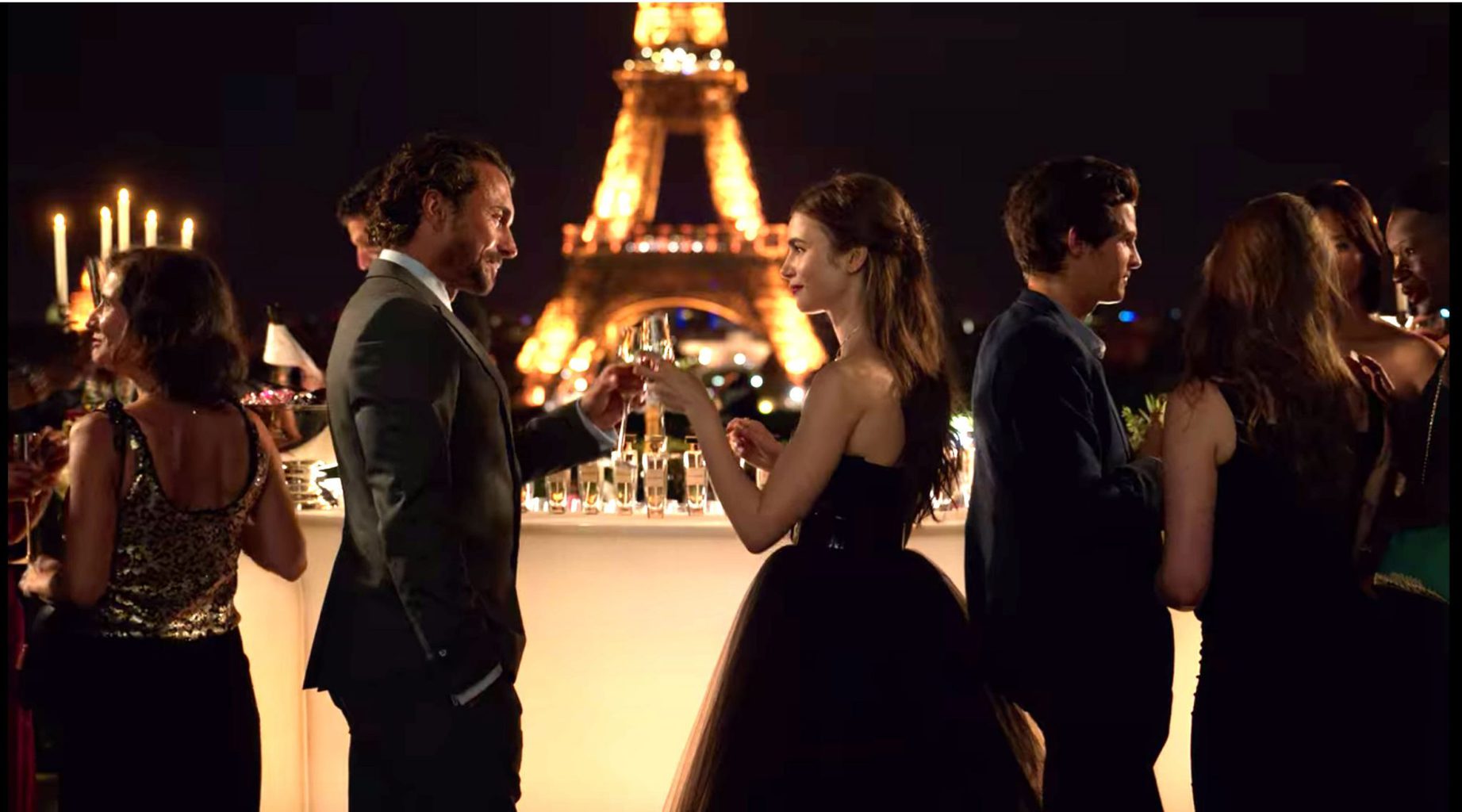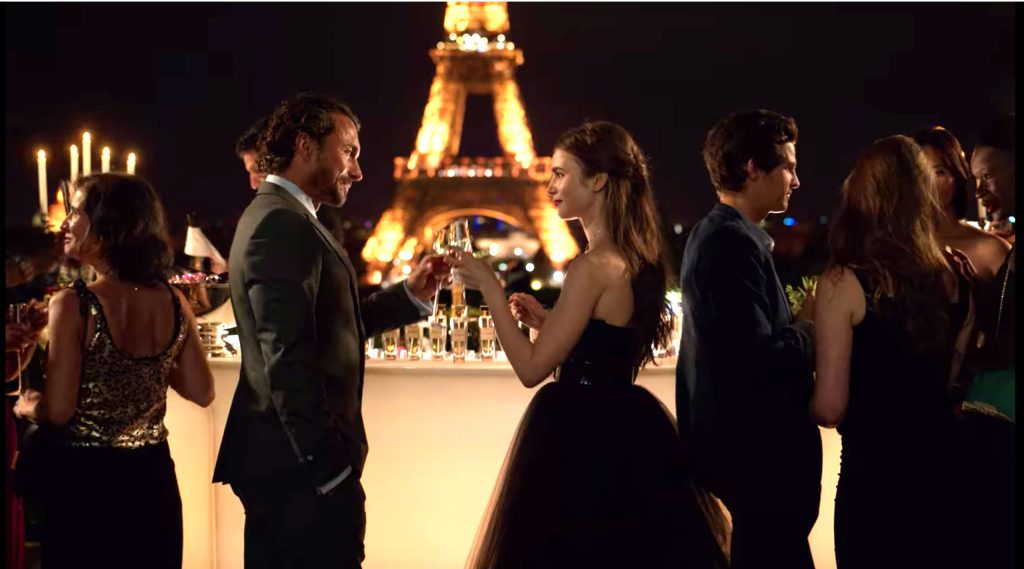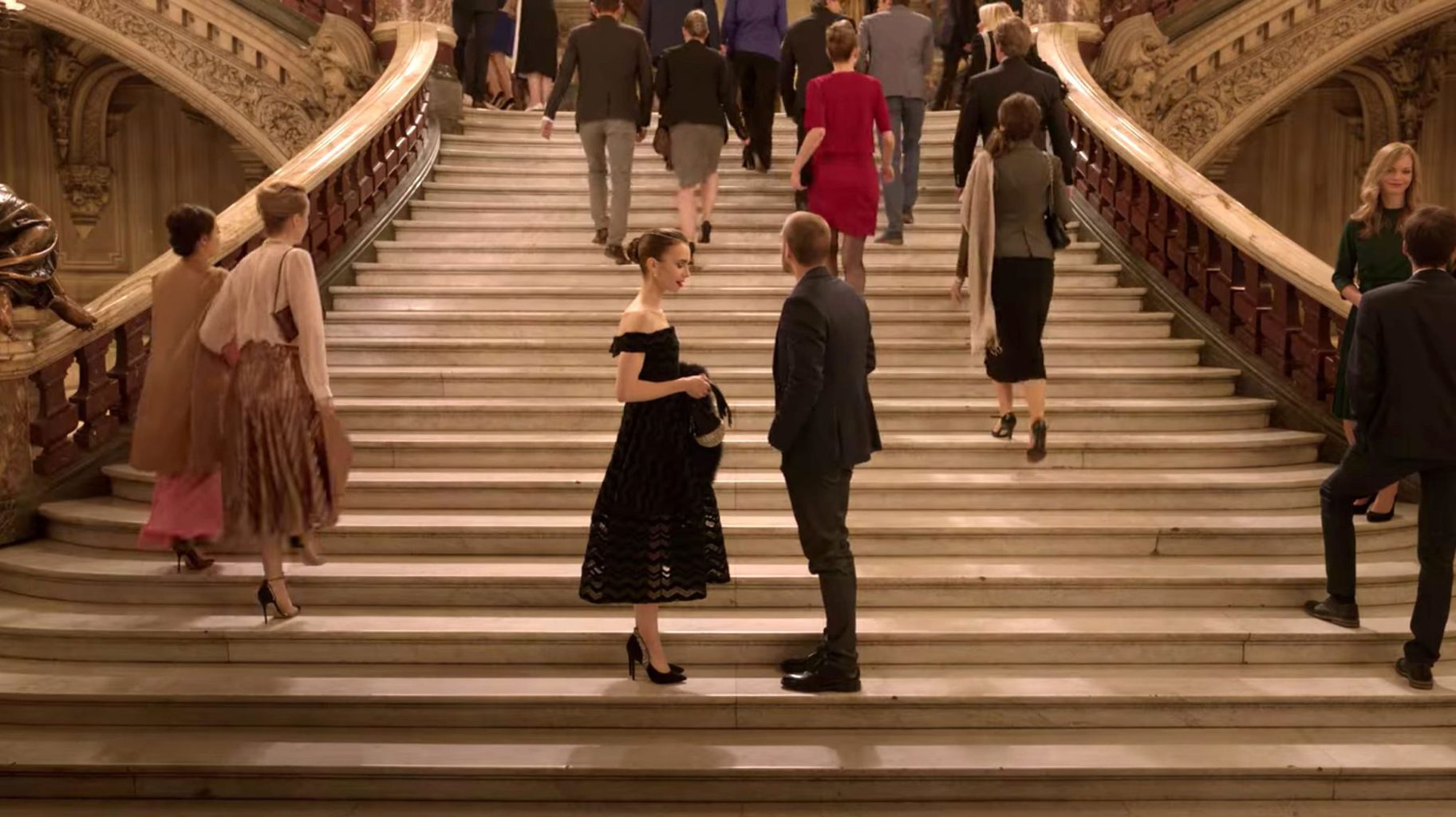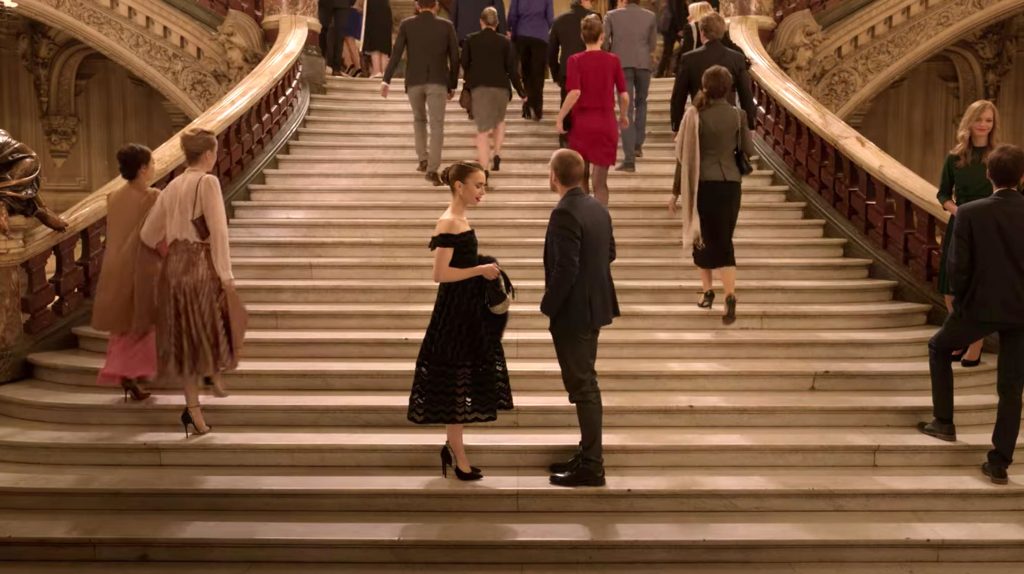 Recreate these outfits: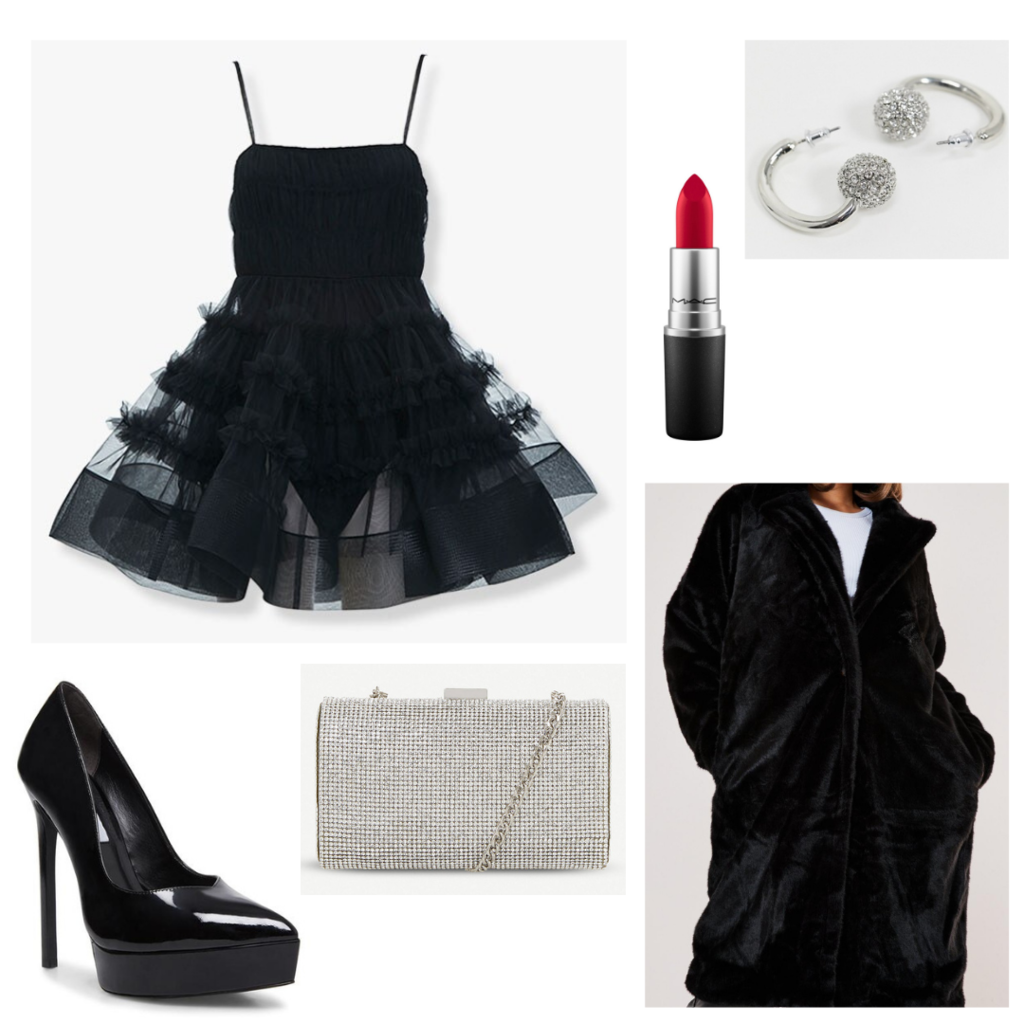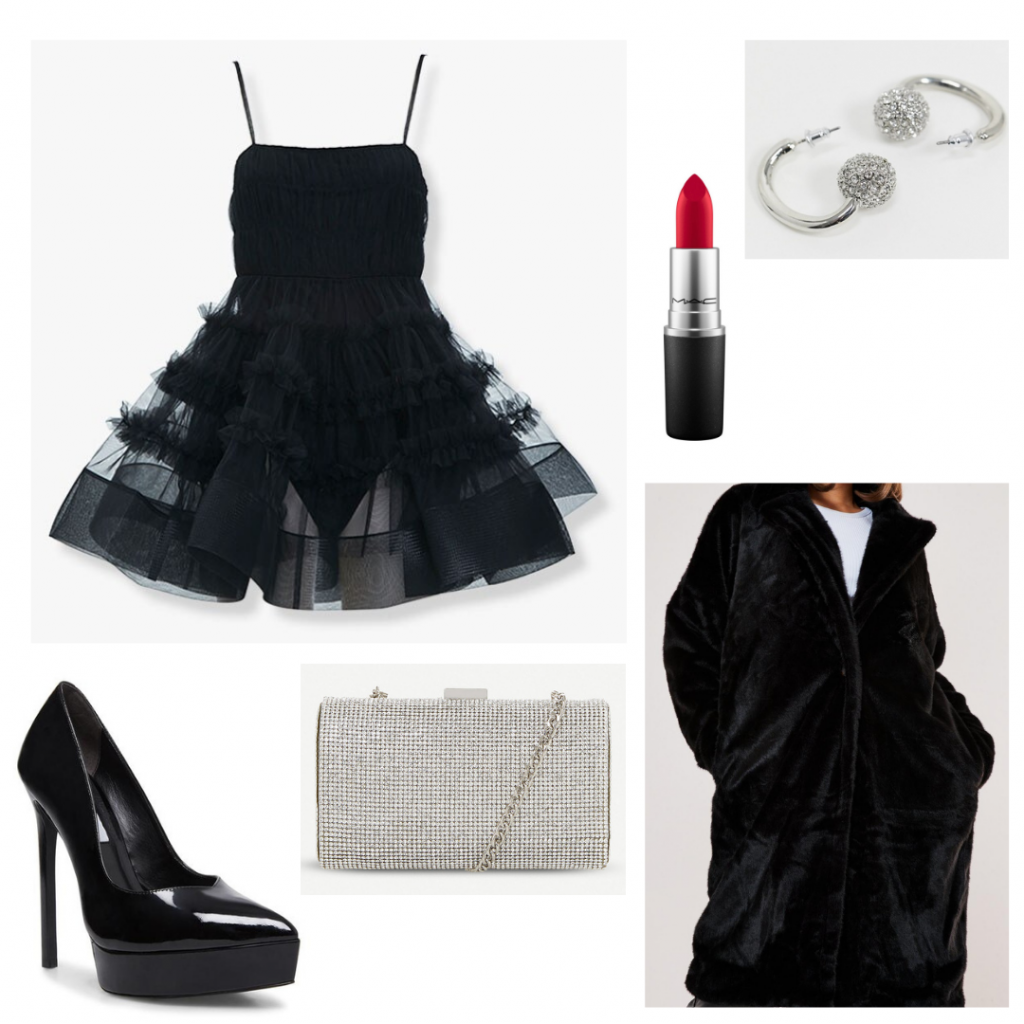 Products: Dress, Lipstick, Earrings, Heels, Bag, Coat
There are two iconic black dress fashion moments in the series. The first is when Emily attends a party where she drinks champagne in front of the Eiffel tower. The second is when she attends the ballet in hopes of redeeming herself with designer Pierre Cadault.
When it comes to special occasions, Emily pulls a 180 on her usual ringarde style and goes for classic, elegant looks featuring lots of black. These were honestly my favorite fashion moments in the series — and they were a nod to the fashion greats.
For instance, her moment going to the ballet was a dead ringer ode to Audrey Hepburn (whom Blair Waldorf was famously a fan of, hmmm), tea-length gown and all.
When picking your next LBD, make like Emily and go for a tulle princess skirt in deep, classic black and pair it with crystal accessories and, of course, a red lip.
Green and Plaid
Recreate this outfit: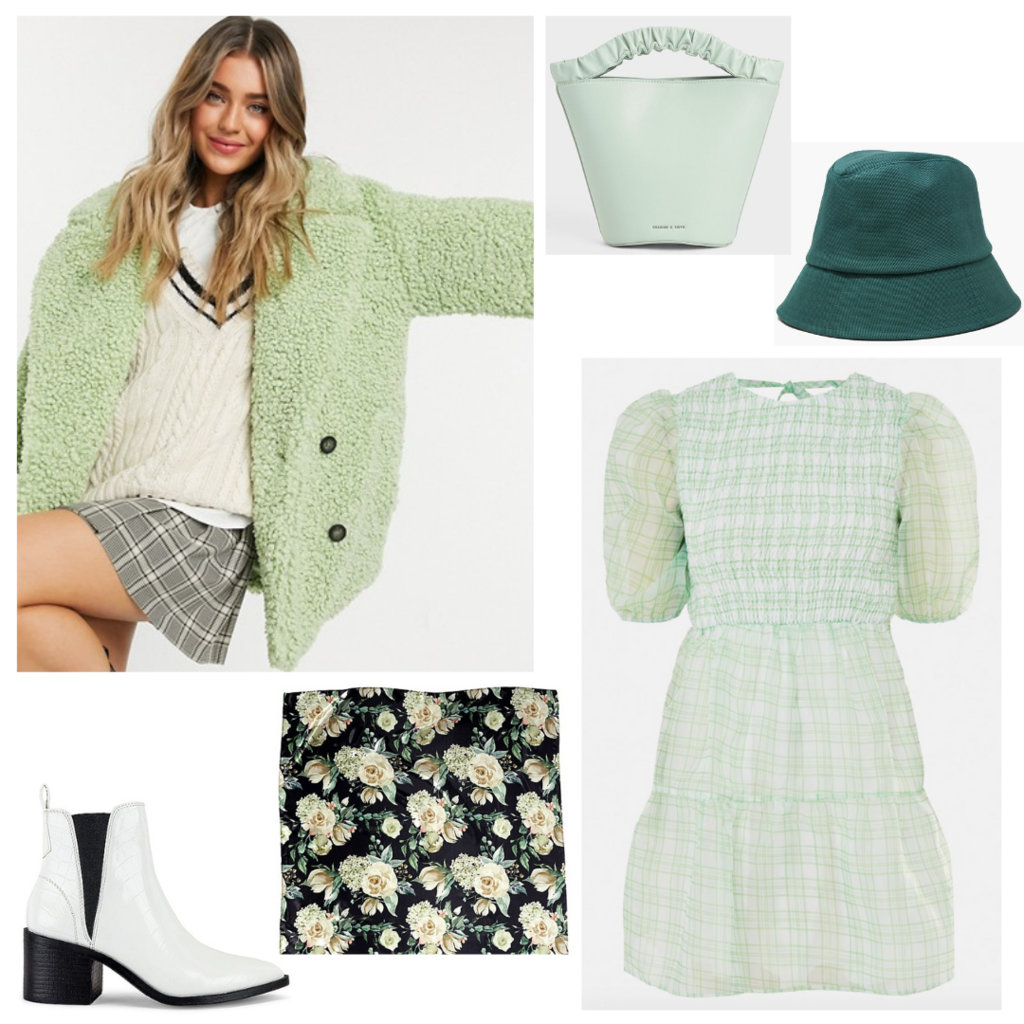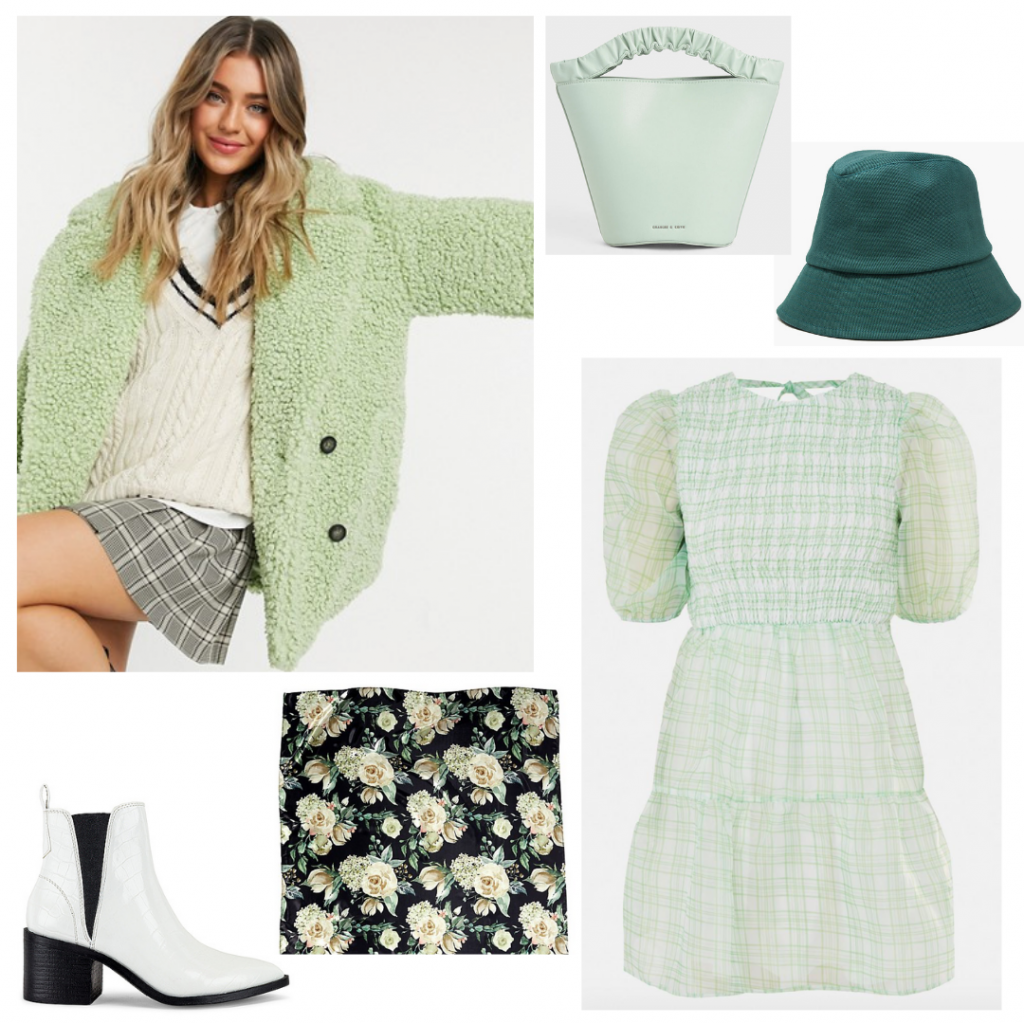 Products: Coat, Bag, Hat, Boots, Scarf, Dress
Emily doesn't go an episode without a little bit of plaid, and for this reason (along with her love of bright colors), her style could definitely be defined as preppy. (She really is the reincarnation of Blair Waldorf!) True to her love for color coordination, her green plaid outfit was a highlight.
I mean, what would we expect? Of course this outfit had to be amazing, Emily was going to an influencer event after all!
Mix and match different tones and patterns of green to achieve her Insta worthy look for yourself.
Don't forget your 2000s throwback bucket hat, it's a must, she wears so many of them that a certain character even refers to her as "bucket hat."
Indoor Raincoat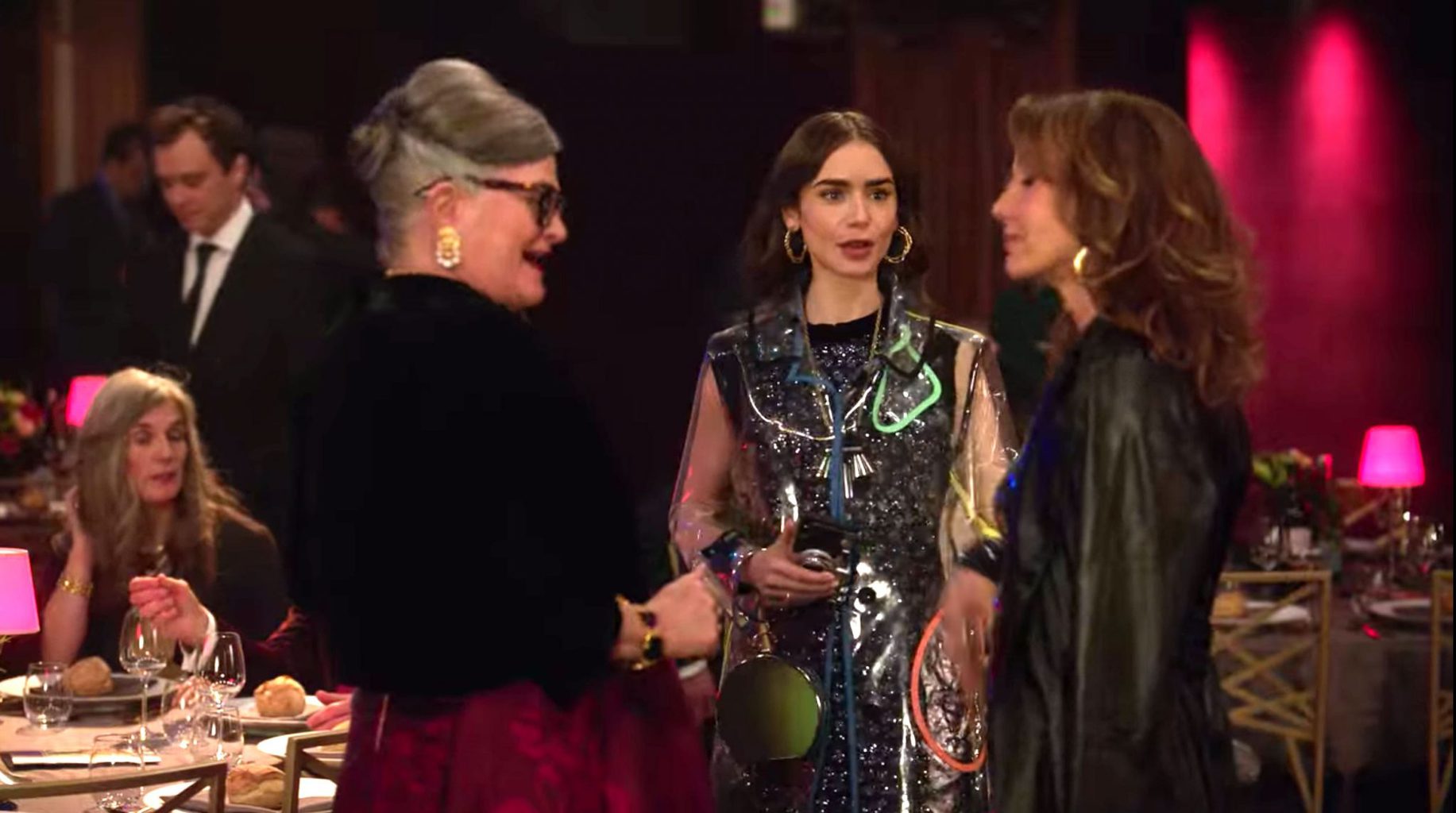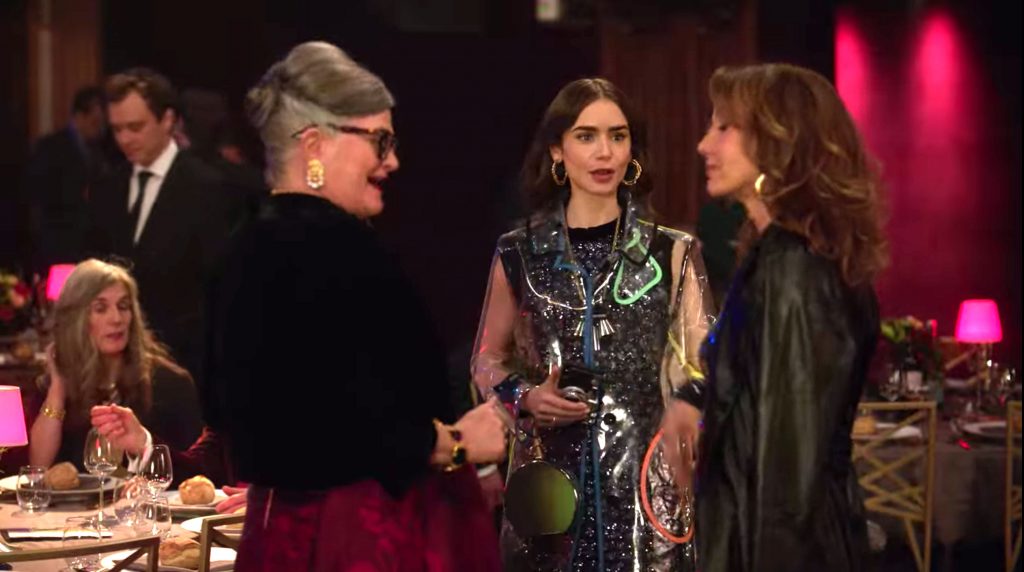 Recreate this outfit: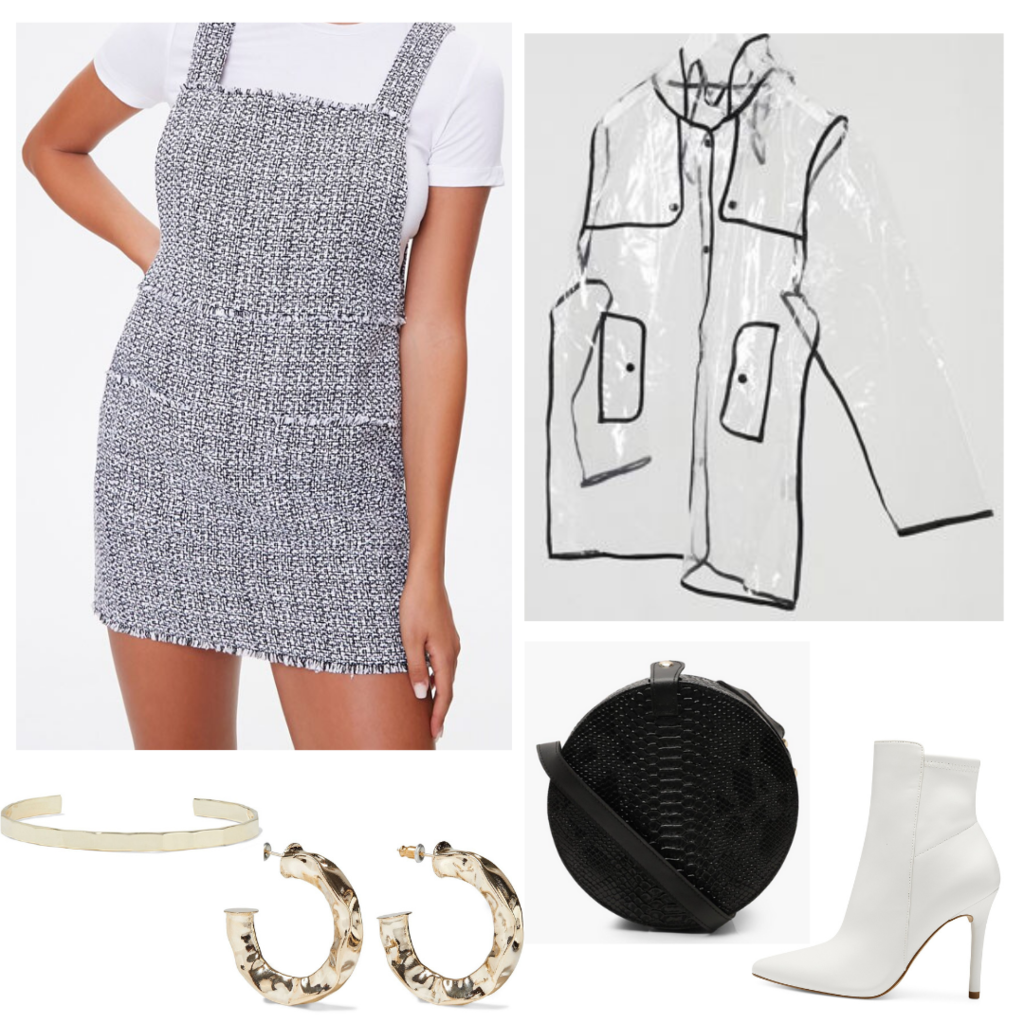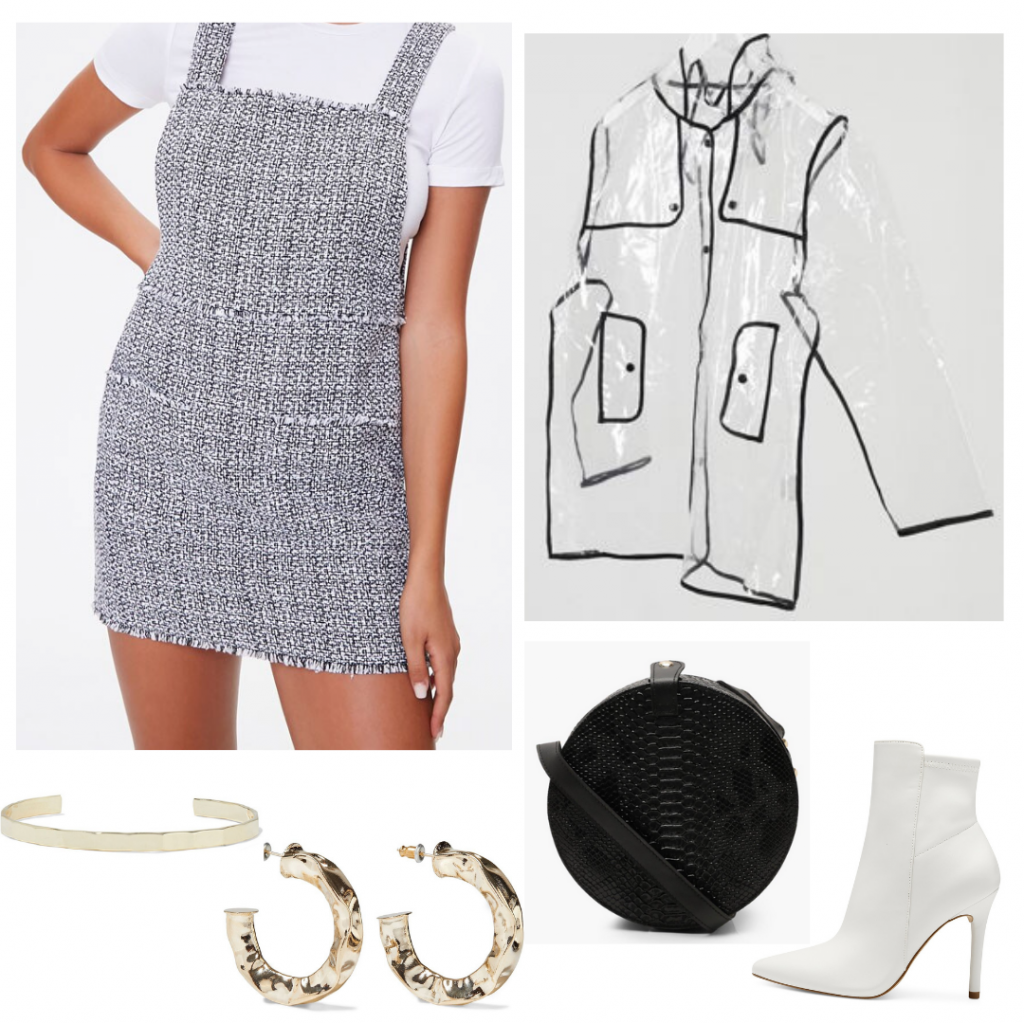 Products: Dress, Raincoat, Bracelet, Earrings, Bag, Boots
Even at a club, Emily looks posh and preppy in this cool look. While I wouldn't have thought of wearing tweed on a night out at a club, the contrasting vinyl raincoat really makes the look edgy and fun.
Think your raincoat is exclusively for being worn outdoors? Well we just found a new use for it. Rock it over your favorite LBD for a cool look that will turn heads and win you fashion girl points.
And if you still haven't bought into the white boots trend, this is your sign! White boots instantly add a flair of fashionable contrast that black boots can't. (Emily is wearing similar white ankle boots with this outfit.)
Sweater Weather
Recreate this outfit: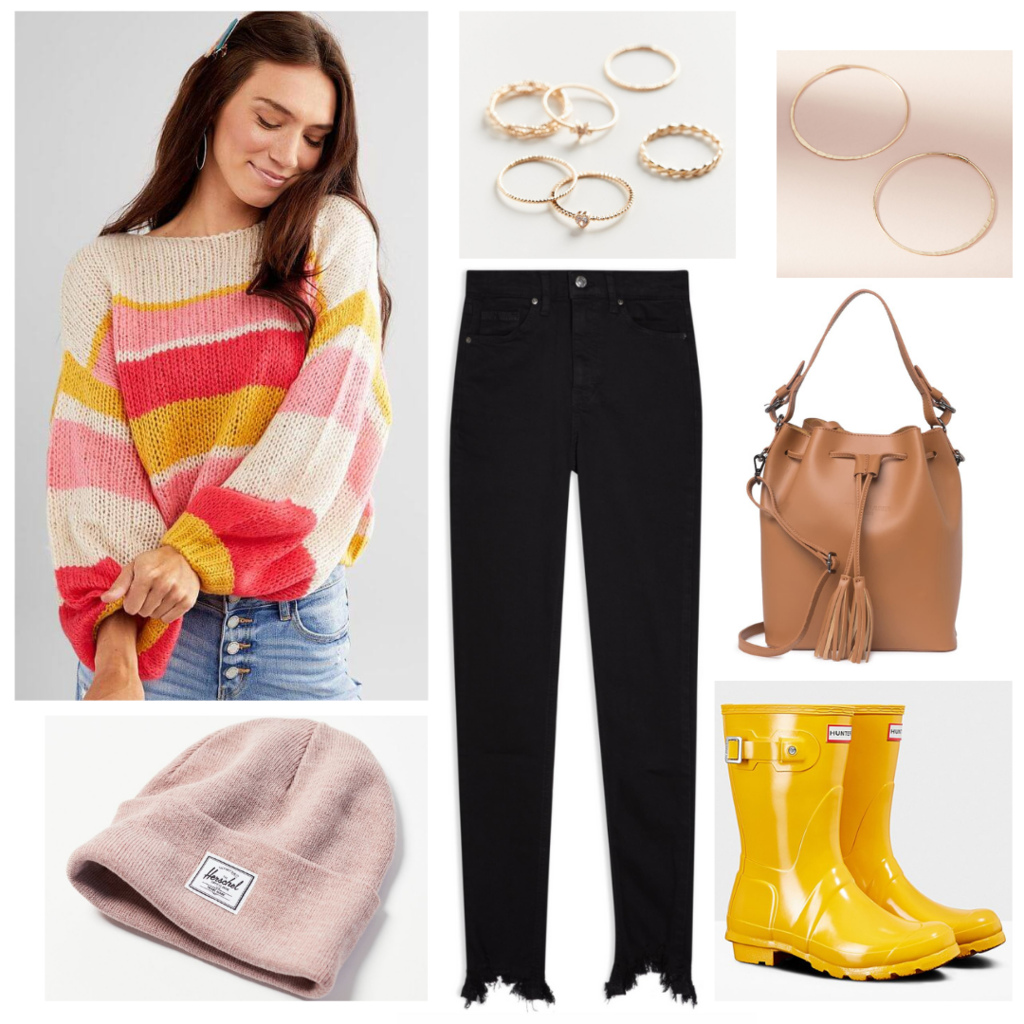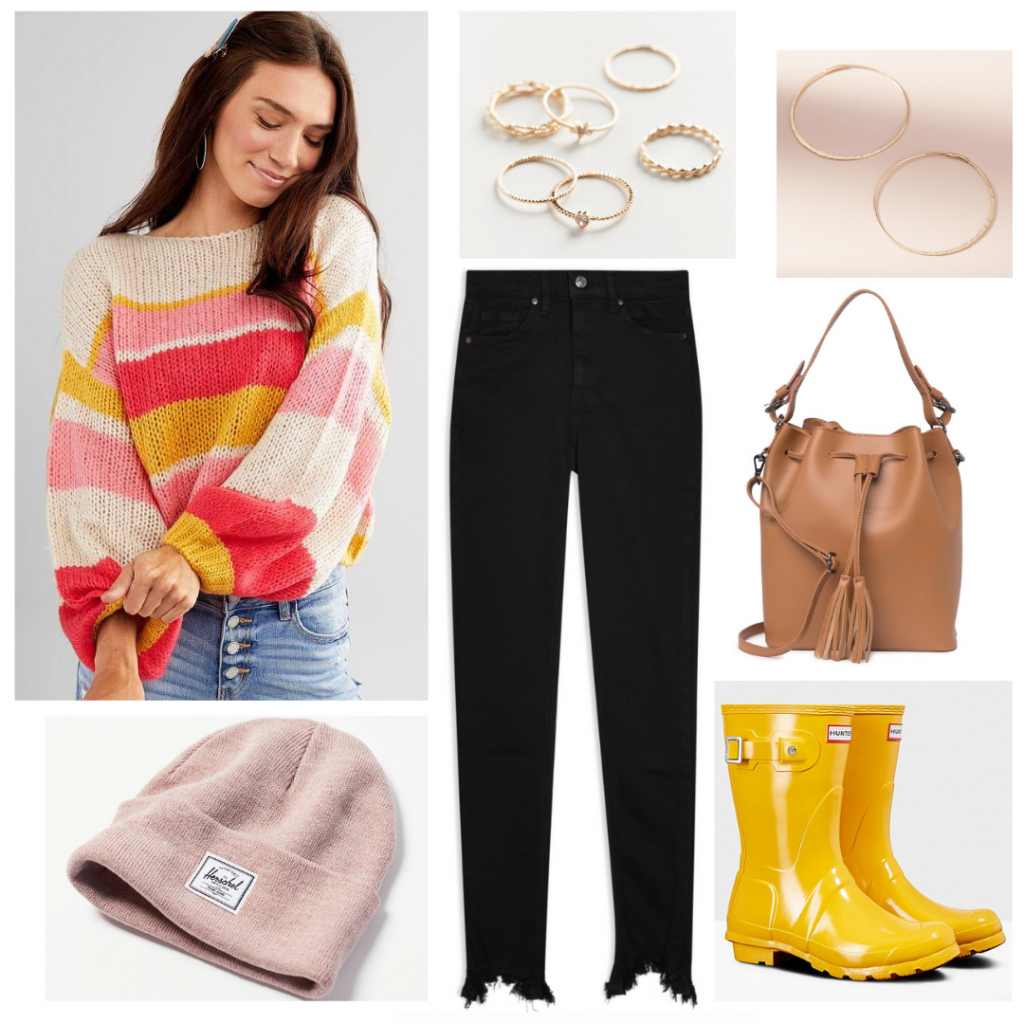 Products: Sweater, Rings, Earrings, Jeans, Bag, Beanie, Boots
I was surprised that for a visit to the region of CHAMPAGNE, Emily opted for such a casual look. But seeing as rainy season is a upon me, I soon realized I needed the outfit inspiration.
For this Emily in Paris outfit, bring back your skinny black jeans and pair them with a colorful sweater that matches your rain boots. Of course, add just the right amount of delicate jewelry, another bucket bag, and a light pink beanie for a cozy look.
What's your favorite Emily in Paris outfit?
As a European, I have to say that yes, there were some questionable moments in the show. But have you seen Gabriel? I mean he's enough reason to watch that show like 4 times, which I obviously did not do. And Lily Collins is every bit the breath of fresh air we needed as Emily — it's impossible not to like her by the end of the series.
Finally, Emily's fashion looks are exactly what has been missing from my life since Gossip Girl ended. And I expect even more fashion inspo in Season 2!
Did you love the fashion on Emily in Paris as much as I did? What was your least favorite look? What would you like to see her wear?Did you like the show? Let us know!