This post may contain affiliate links, which means we may receive a commission if you purchase through our links. Please
read our full disclosure here
.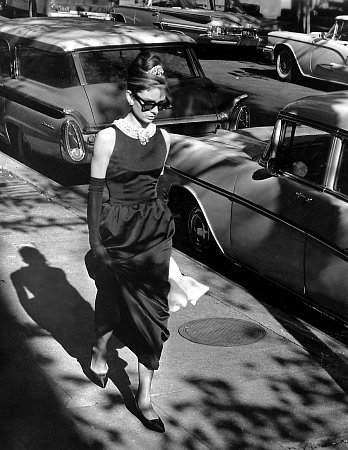 Maybe it was my exposure to Cher Horowitz at any early age or the Mean Girls-style pressure of high school, but for years I actually thought it was unacceptable to wear things more than once. Pretty silly, right? Luckily, I came to my senses and grew out of that phase, and with the epiphany that my friends would still love me if I wore my "Jesus is my Homeboy" shirt twice (well, maybe not that shirt), came a world of new wardrobe possibilities.
Clothes are so versatile, particularly classics like your favorite little black dress. Once you let go of self-inflicted limits, you learn to get creative with your styling, and the result is exponential growth in the number of cute outfits in your closet.
Did I mention this is a major money saver? Invest in one great LBD that can be dressed up for dates or down for class, and you've struck wardrobe gold on the cheap.
Here are four budget-friendly and style-savvy ways to rock a little black dress:
The Versatile (Winter-Appropriate!) Dress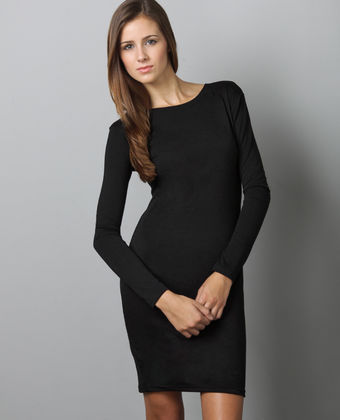 Product Info:Dress, $25
Outfit #1: Campus Casual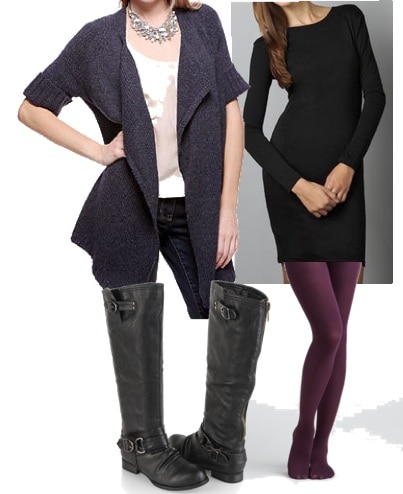 Product Info:Cardigan, Boots, Tights
Paired up with a cozy over-sized cardi and tough-looking flat boots, this mini dress becomes just as ready for a study session at the campus coffee shop as it is for hitting the town after dark. Plum-colored opaque tights shield your legs from the cold and add a much-needed pop of color.
Outfit #2: Date Night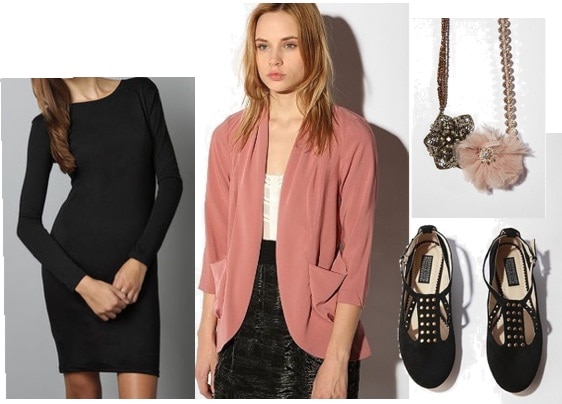 Product Info:Cardigan Jacket, Necklace, Flats
The muted rose hue and easy shape of this cardigan jacket, plus the romantic flair of the necklace, add a soft touch to the basic little black dress; it becomes a comfortable yet chic choice for a movie date, lunch with the girls or even a day of classes. The studded flats balance function and fashion, and they add a bit of edge to the feminine look.
Outfit #3: Working Girl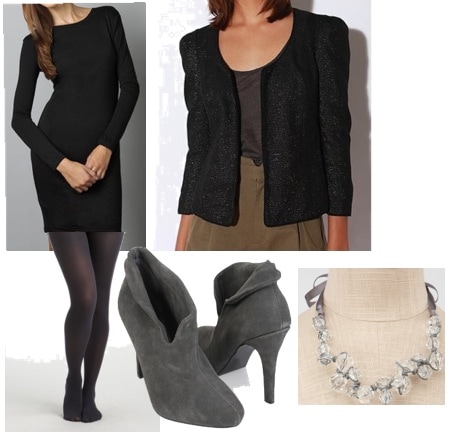 Product Info:Tights, Jacket, Booties, Necklace
Get down to business in your LBD with the addition of a sophisticated jacket in a classic shape, opaque tights, booties and a necklace that balances trendy and elegant. By maintaining a neutral dark color palette, the ensemble remains understated, chic and professional.
Outfit #4: Girls Night Out — Under $50!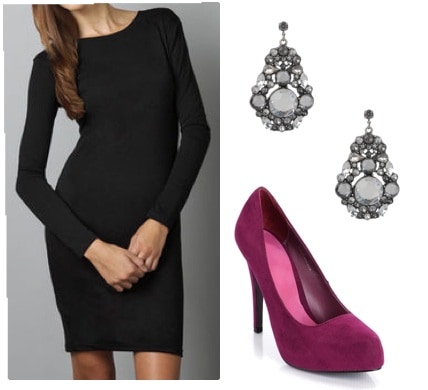 And naturally, this dress was built for a night on the town all on its own. All you need to indulge in a fabulous outing with your girls is a pair of pumps in a look-at-me shade and big earrings that draw attention to your gorgeous face. And if you're on a budget, rejoice: This look is less than $50!
What do you think?
Do you have any articles of clothing that you love to dress up and down for a variety of occasions? How often do you wear the items in your closet? How would you style this dress? Do you like these looks? Please leave a comment!