This post may contain affiliate links, which means we may receive a commission if you purchase through our links. Please
read our full disclosure here
.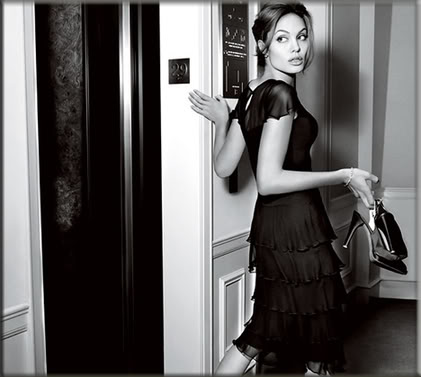 Angelina rocks the LBD in her campaign for St. John!
Why Buy?
When it comes to essentials, the little black dress is an undeniable must for every college girl. Depending on the style you choose, the classic LBD can get you through any number of scenarios–it's an obvious choice for any dressy occasions, a great option for parties, and a chic choice to throw on when you haven't done laundry in a while and just need something to wear to class. The LBD is a classic wardrobe standby.
Tips for Buying a Little Black Dress
If it's in your budget, invest in more than one dress! Since I go to school in the midwest, I have three LBDs–one for each season I'm on campus. My "fall" dress has cap sleeves, shorter hemline, and a tight knit, while my winter dress is drapey, has long sleeves and falls to my knee. My spring dress is a classic tent dress that looks cute on top of bright t-shirts, or paired with a belt. Having all of these options guarantees that I'll have one black dress to get me through just about any situation.
Because black is so classic, chic, and wearable (and because you're so adorable and fashion savvy) it's easy to disguise a cheap dress with more expensive accessories! Don't discriminate just because a dress is inexpensive. Feel free to play with high and low pieces here to create a one of a kind, celebrity-inspired look. If you love an expensive black dress though, realize that you will most definitely get your money's worth. In fact, it will probably cost you less than $.50 per wear over its lifetime!
Tips for Wearing a Little Black Dress
Dress one up or down. LBDs are incredibly versatile and can be worn for a variety of occasions, depending on your accessories. Inspiration? Imagine how different a dress would look with chandelier earrings, a bib necklace, and heels than how it would look with cowboy boots and a chunky turquoise necklace. The best LBDs will take you in either direction without missing a beat.
Feeling bland? Play up those accessories! When the core of your outfit is black, you can experiment with animal print shoes, a brightly colored bag, or a neon t-shirt layered under your dress if the style will allow. Your LBD is also the perfect showcase for your wildest jewelry–the bigger the better!
Wear with confidence! Your LBD will take you everywhere. In any situation where you're concerned about showing up under or overdressed, you can't go wrong with the little black dress. This is a staple that you'll have in your closet forever. Want proof? Check out your Mom's wardrobe for inspiration!
Get Your Own!
…Last week, some of you asked for pricing information on each individual piece…In general, I try to make sure that the Save options are under $65, and the Spend options are anywhere from $50-$150+. There are so many great options at every price point for these looks, you just have to shop around!
Splurge: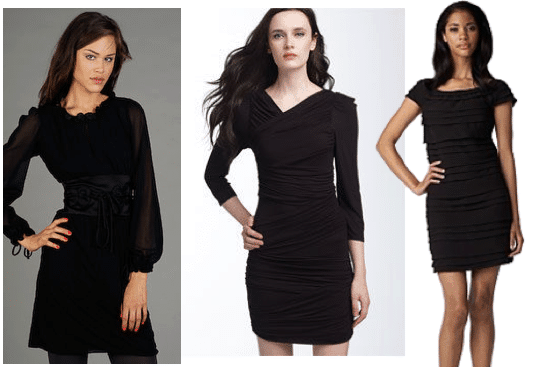 Vivienne Tam Ruffled Sheer Black Dress with Tie Waist, edressme.com. Leifsottier Bandage Knit Dress, Nordstrom. French Connection "Penny's" Party Dress, Bloomingdales.
Save: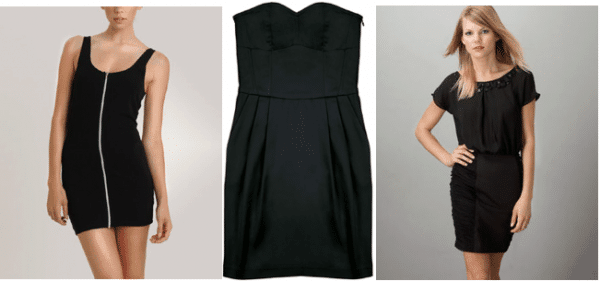 Zipper Placket Tank Dress, Forever 21. Sweetheart Bustier Dress, Fred Flare. Movable Feast Dress, Lulus.com.
Your Thoughts?
Do you already own and love a little black dress? Where do you find it? What do you pair it with? If you don't yet have an LBD, are you going to save or splurge?! Let everyone know with your comments!