This post will show you how to dress classy, with classy outfits for women for school, work, and casual events.
Blair Waldorf, Veronica Lodge, Audrey Hope, Emily Cooper… what do these characters have in common? Their shared classy sense of style is distinctive to their characters… and provides plenty of outfit inspo for us viewers.
Whether on TV or in real life, a classy sense of style means dressing in a way that is refined and elegant, usually by opting for timeless clothing items rather than ultra-trendy ones.
If you're looking to elevate your own style with classy looks and polished clothing pieces, read on for our guide on how to dress classy yourself.
In this post, you'll find tips, outfit ideas, and a list of key clothing items to add to your wardrobe in order to dress classy without breaking the bank.
How to Dress Classy & Elegant
If you want to give your style a classy upgrade, here are some tips to consider when putting together your outfits:
Think timeless, not trendy
Outfits with a classy vibe tend to feature clothing items that withstand the short-lived trend cycle. Look for clothes that you can see yourself wearing for years to come, independent of fashion trends that come and go. (This also means you'll be making a wiser wardrobe investment!)
Sleek silhouettes are ideal
Clothing that looks classy tends to fit just right, meaning not too tight or short and not too loose or oversized (the exception being an oversized button-down shirt). Strive to find clothing that has a natural fit, and classic cut and that flatters your physique.
Neutrals are a reliable choice.
Wearing neutral-colored clothing generally always looks refined and can help you achieve a classy outfit with less thought –– it's a lot easier to match neutrals together rather than bright colors. This doesn't mean you can't dress colorfully and classy at the same time, though. Just look at Emily Cooper from Emily in Paris. Her outfits almost always feature bright, bold colors, but thanks to their smart silhouettes and high-quality fabrics, they still look classy. This leads me to my next point…
Opt for quality fabrics
While fast fashion can be tempting, consider investing in clothing with a higher-quality of fabric. This doesn't mean you have to break the bank, though; you can find pieces made with linen, cotton, wool, and even cashmere at discount stores like Nordstrom Rack or score them during sales. When shopping online, always be sure to check the fabric content before making a purchase!
Classy doesn't have to equal boring
When you hear "classy," you may think of clothing that seems ultra-basic or buttoned-up, but that isn't always the case. Details like rhinestones, pearls, bows, and textured fabrics can add flair and femininity to classy clothing.
With that being said, don't forget the accessories… but don't overdo them, either. A few classic pieces can instantly elevate an outfit and give it a classy touch, but too many will take away from the refined look. Go for items like pearl stud earrings or a sleek watch that will not overpower your outfits but enhance them.
Classy School Outfit Ideas
Forget the sweats –– why not dress classy for class? If you want to elevate your classroom look, try these polished school outfit ideas.
Classy School Outfit #1
You may not go to Constance Billard, but that doesn't mean you still can't dress like you're in Gossip Girl (old or new version) with a cool, classy school outfit.
Tweed lends a luxe vibe to clothing items like this shift mini dress, which looks adorable when worn over a simple black turtleneck (this lightweight one is perfect for layering) or a basic white t-shirt. Plus, layering this wide-strap dress over a top makes it more school dress code-appropriate and gives it a more casual feel.
Loafers are a major trend this season and have a classy vibe, making them the perfect shoe for this outfit. This particular pair of loafers is chunky without being too chunky, and they feature a gold metallic chain which adds to their chic look.
Give the ensemble a girly touch with a sweet satin hair bow barrette and some cute letter stud earrings that you buy individually, allowing you to pick the initials of your choice.
And while you can totally carry a backpack, this black faux leather quilted tote bag is an elevated school bag option to consider instead.
Classy School Outfit #2
For a more laid-back yet still classy school outfit, try some stylish trousers pants with a straight-leg fit. Though these trousers look polished, their relaxed fit makes them almost as comfortable as sweatpants (keyword: almost), and you can totally pair them with some neutral-colored lifestyle sneakers for a day spent walking around campus.
This combination goes with button-down shirts, fitted basic t-shirts, and sweaters, making it a go-to look for the school year. Since polo tops and black and white striped sweaters are both majorly in style this fall, wearing this classy striped knit polo top will have you looking right on-trend.
Keep the rest of the ensemble simple and chic with a dainty gold pendant necklace and a sleek backpack, along with some blue light glasses.
Classy Work Outfit Ideas
In need of some work outfit inspo that looks classy and chic? Look no further. These elegant work outfit ideas are perfect for the office.
Classy Work Outfit #1
If there's one piece that will instantly make you look chic and put-together, it's a beige belted longline coat or trench coat. This elegant item can be worn with so many different looks and is especially perfect for the workplace, thanks to its refined silhouette.
For an upscale office look, pair a black pencil midi skirt –– this one looks streamlined and features a stretchy cotton material that is just the right amount of dressy –– with a satin button-down shirt or blouse. The shiny satin fabric adds a luxe touch that can be accentuated with some pearl stud earrings and a mixed metal watch.
Bring the look together with some classic black suede pumps with a pointy toe, which are super versatile (you're sure to wear them outside of the office, too).
Classy Work Outfit #2
Is your office more laid-back, but do you still want to dress classy? Try this outfit combination. A pair of pleated beige wide-leg trousers can be worn dressed up or down, but always look polished. Style them with some black faux leather loafers and a notch-neck sweater. The sweater's polo collar gives it a classy look while also being very on-trend this season.
A pair of small gold hoop earrings add just the right amount of shine to the outfit, while a black faux leather work tote (complete with a dedicated laptop compartment!) is functional yet stylish.
Classy Casual Outfit Ideas
Want to give your casual looks a classy upgrade? Try these casual, classy outfits for women that are perfect for your downtime, whether you're grabbing coffee with your friends or brunching with your fam.
Classy Casual Outfit #1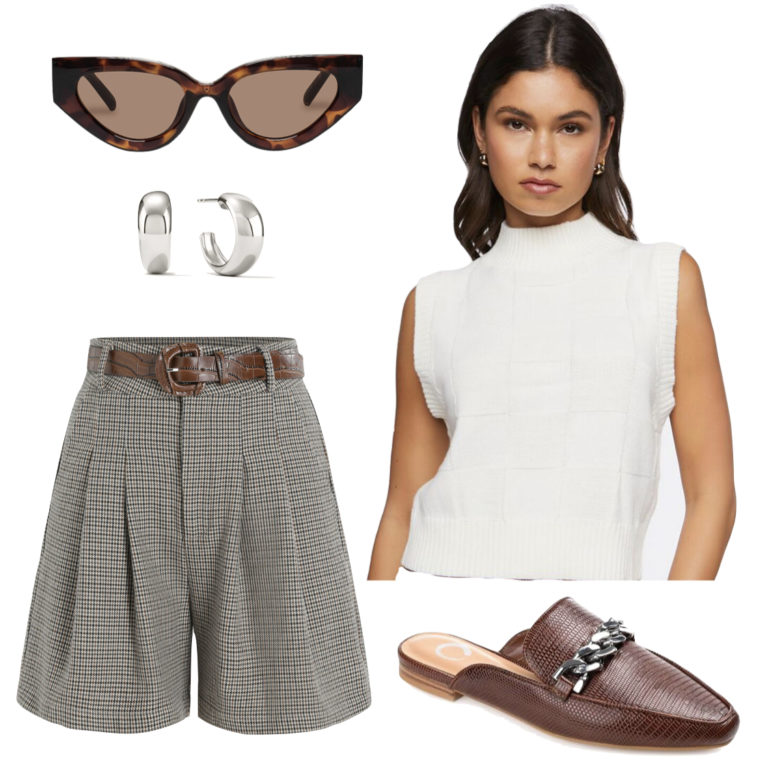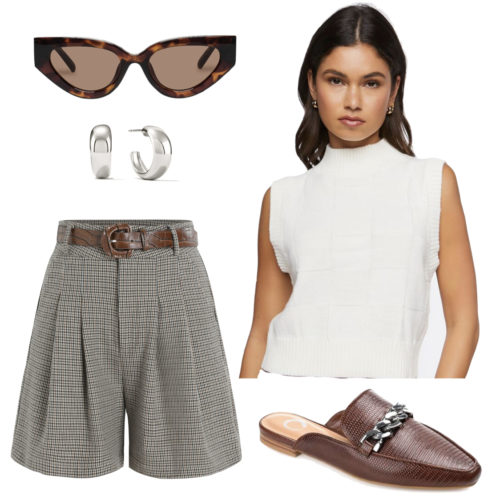 Products:
Wondering if shorts can be classy? Yes, they absolutely can be! These houndstooth print shorts with a brown crocodile embossed belt have a refined look while still being casual.
Wear them with a white mock neck sweater vest and some chic tortoise cat-eye sunglasses, along with a small pair of silver hoop earrings.
This pair of brown faux lizard print mules that feature a silver chain link match the shorts' belt perfectly and tie the whole look together.
Classy Casual Outfit #2
You simply can never go wrong with a white button-down shirt. This crisp, classic, wardrobe essential is going to elevate any outfit, even a casual one with denim. Tuck the shirt into your jeans, and cinch your waist with a black belt.
Speaking of jeans, consider a pair with a darker wash and classic cut, like these high-waisted ankle-length jeans. They are flattering and their ankle length works well with flats including a polished pair of ballet flats (another major trend this fall).
Complete the look with understated yet refined jewelry like a square face watch and some small gold hoop earrings.
Classy Clothing Items to Add to Your Wardrobe
These classy clothing items will have you looking polished, and make for timeless additions to your wardrobe. Investing in these elegant pieces is a surefire way to upgrade your style.
Tailored Pants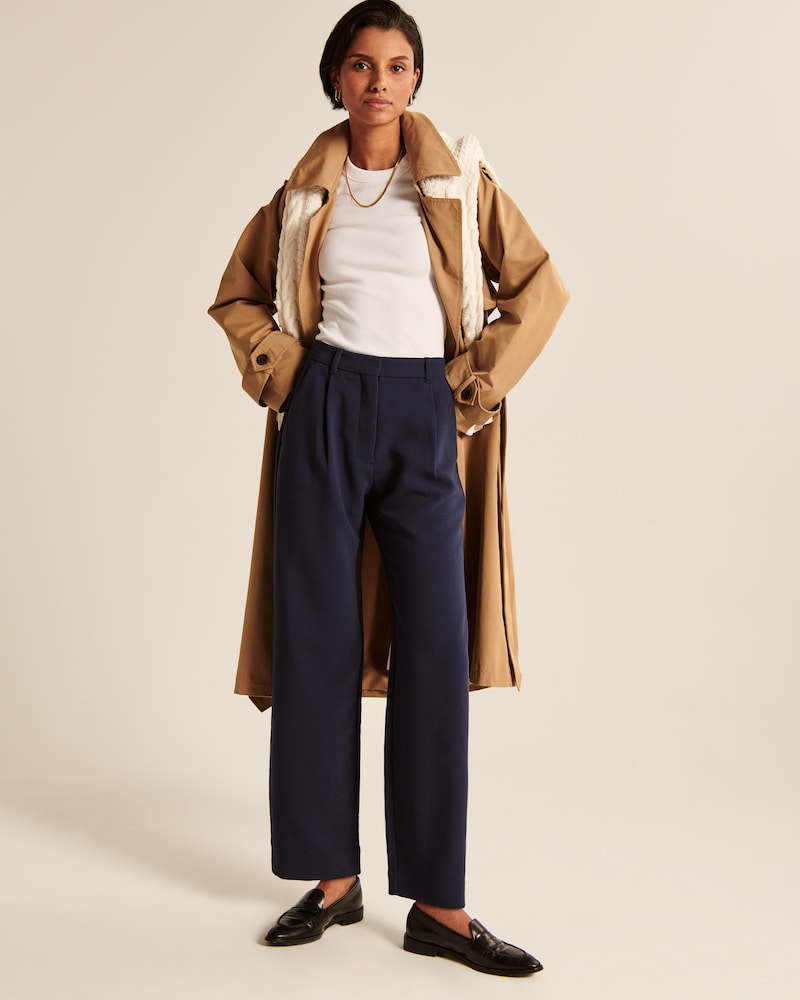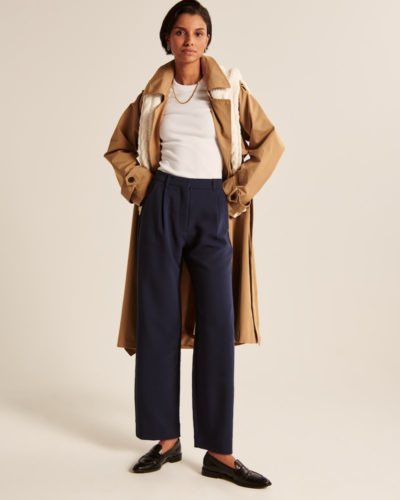 Tailored pants and trousers are one of the classiest bottoms you can wear, besides skirts and dresses. They have a dressier look than denim, and their tailoring makes them timeless.
Tailored pants are also very versatile: you can wear them with a t-shirt and sneakers for a laid-back look, or wear them with a crisp button-down shirt for a more elevated look.
Trench Coat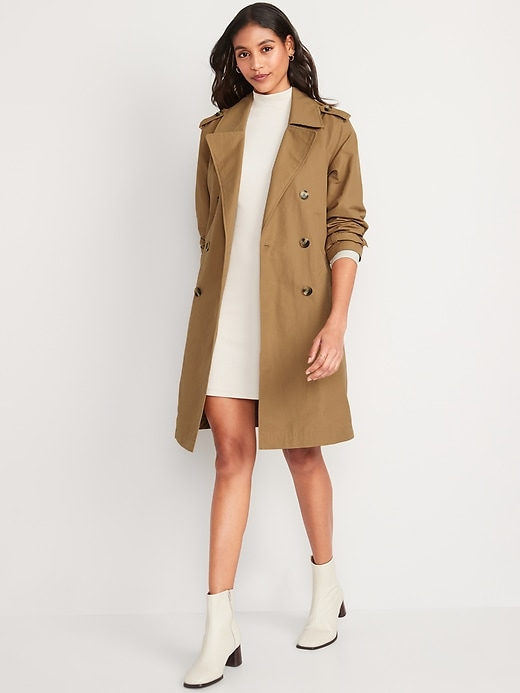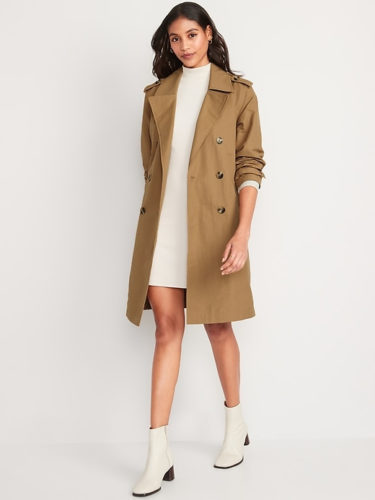 A trench coat is as classic as it gets, especially in a beige or tan color. This outerwear staple automatically elevates any outfit (seriously, you can even wear it over a sweat set or leggings and you will still look put-together).
BTW –– if you're going to invest in a trench coat, consider buying one that is actually water-resistant, like this tie-belt trench that comes in tan, light beige/gray, and black.
Blazer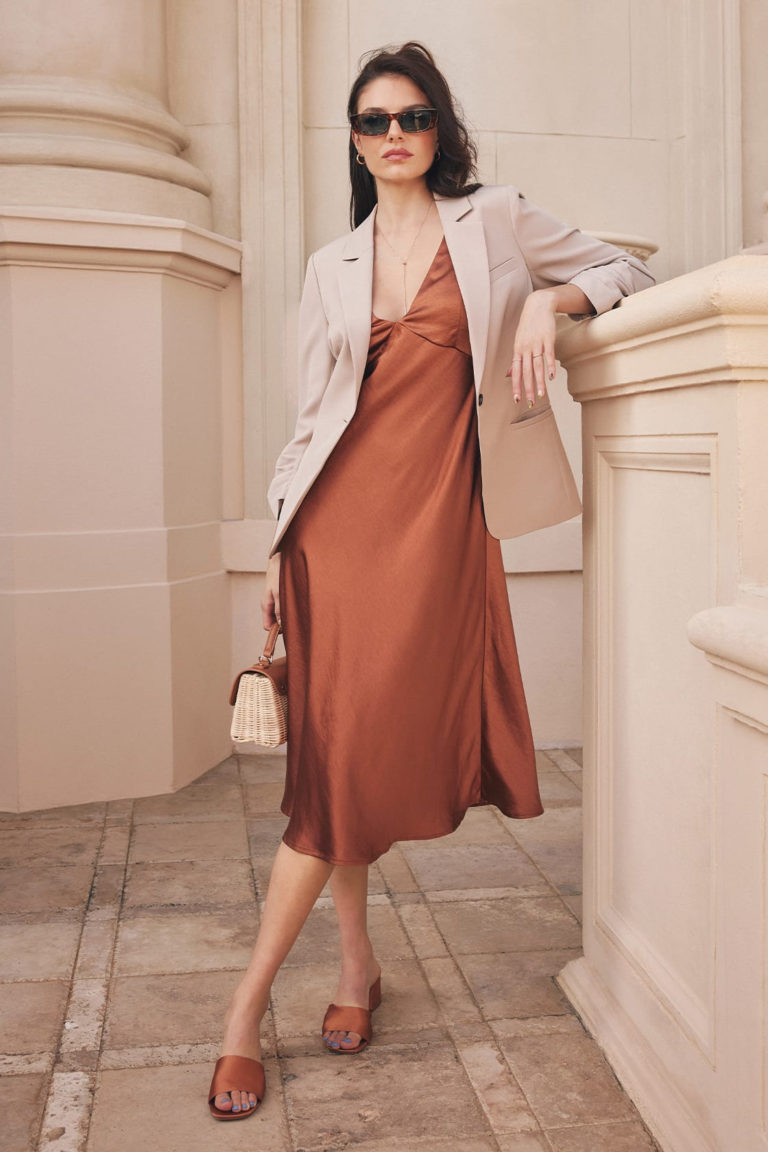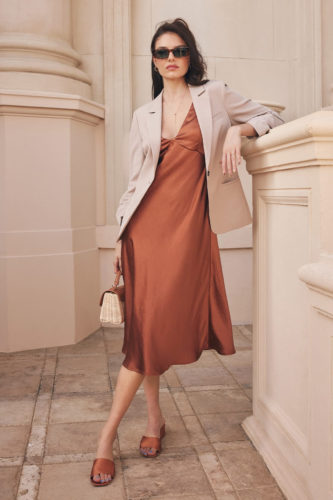 A blazer, particularly in black, tan, or a plaid print, is a classy wardrobe essential that makes every outfit look chic, including casual outfits.
I love the look of a blazer worn over a feminine dress, like in the classy styling example above. Plus, blazers never go out of style, so you can feel confident about investing in a blazer (or two), as you'll be able to wear it for years to come.
Midi Skirt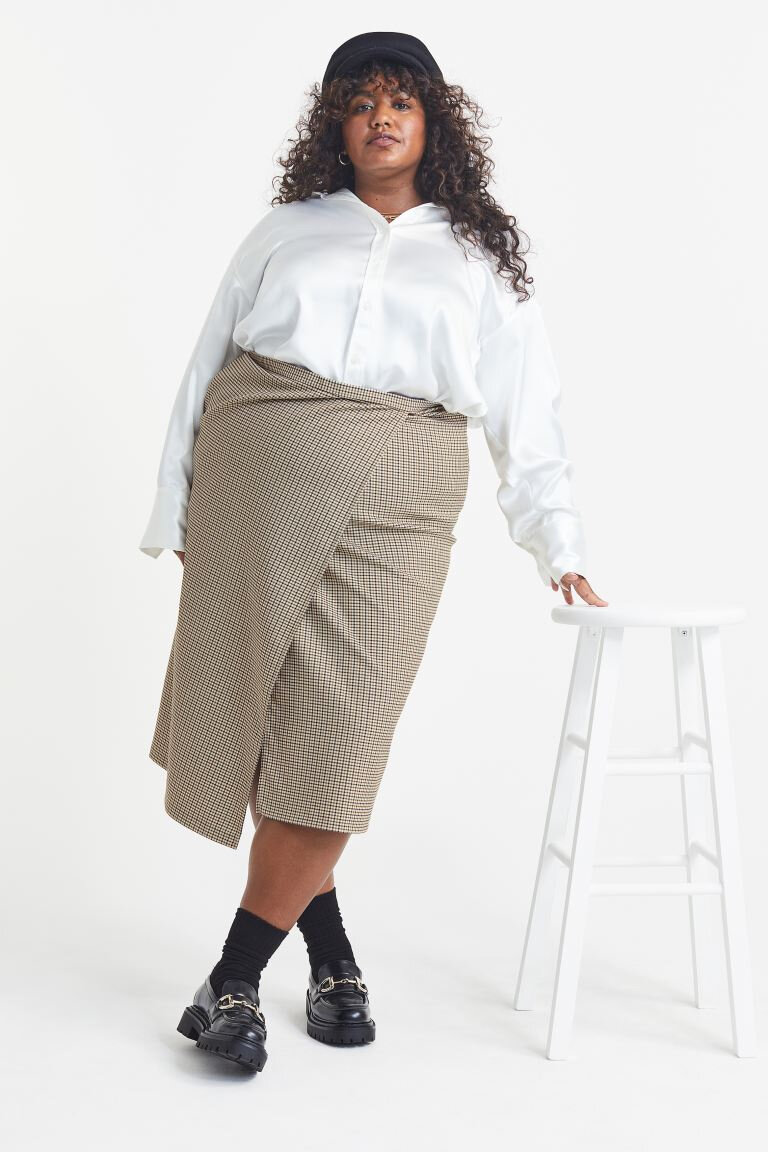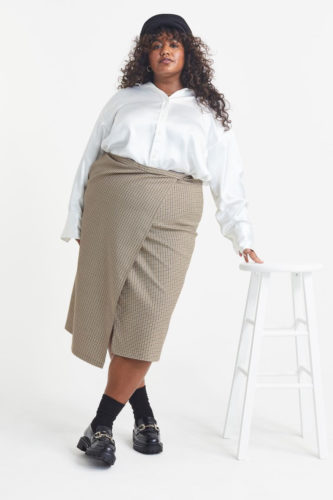 While mini skirts and maxi skirts can certainly look classy, there's something about midi skirts that just always hits the mark. A midi skirt is appropriate for almost any occasion and has a fit that flatters every physique.
This wrap-over midi skirt with a subtle beige checked print is a polished piece that will look elegant with button-down shirts, blouses, turtlenecks, and more.
Button-Down Shirt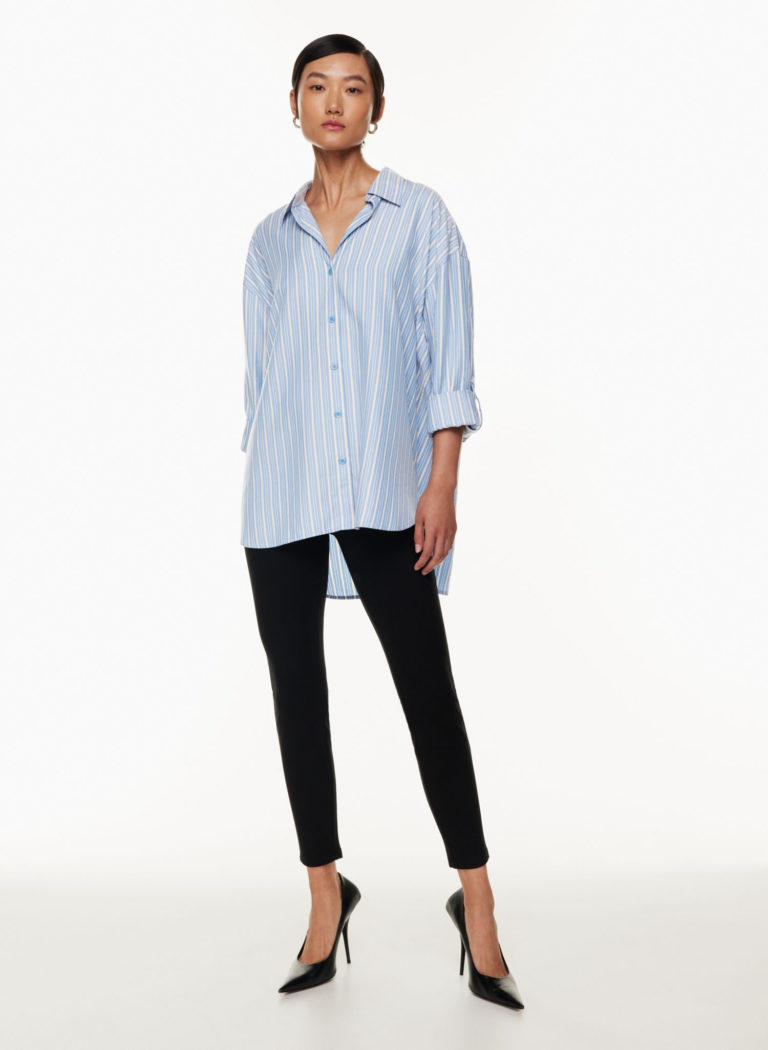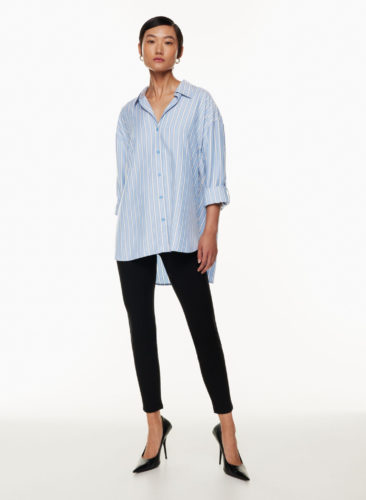 A button-down shirt is one of the classy clothing items that you can wear oversized and still look polished. Whether you opt for an oversized fit or a regular fit is up to you, but a button-down shirt is a wardrobe essential that every girl should have in her closet!
It doesn't get more classic than a simple white button-down or a blue striped button-down. Both of these options will give you a smart look that is ageless and can be styled in countless different ways.
Collared Top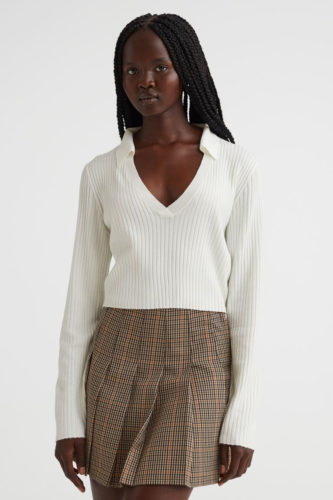 Collars = classy. Also known as polo tops, tops that feature a collar have a more polished look than tops that don't. A collar just creates a dressier vibe for some reason, which means you'll want to stock up on collared tops for a classy wardrobe. Plus, polo tops happen to be trending this fall, giving you more options than ever.
Turtleneck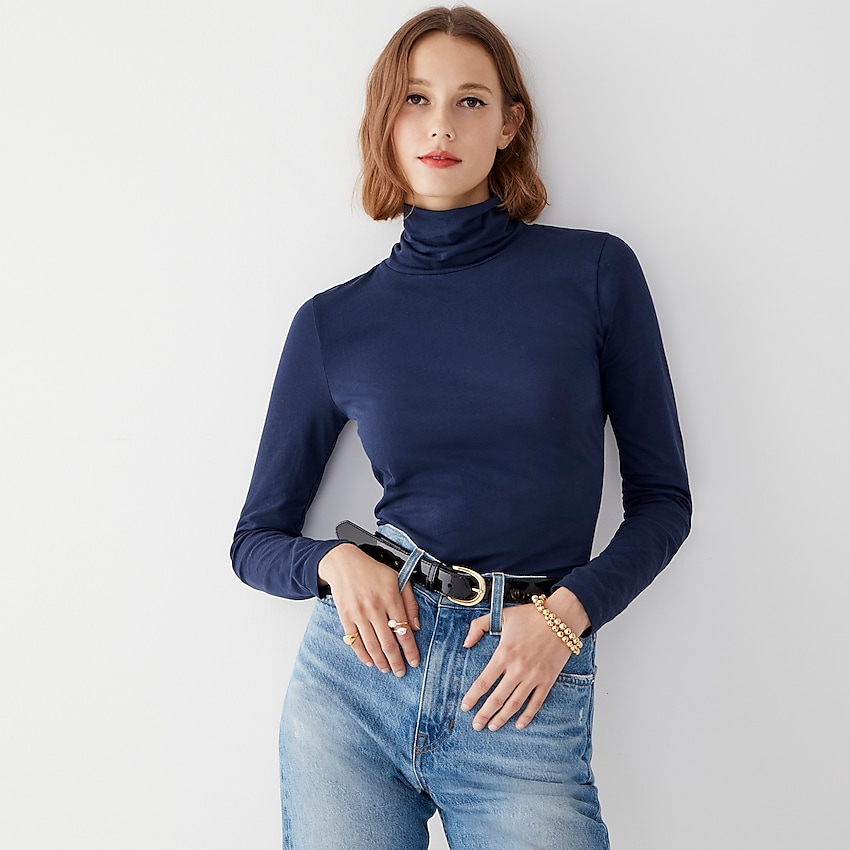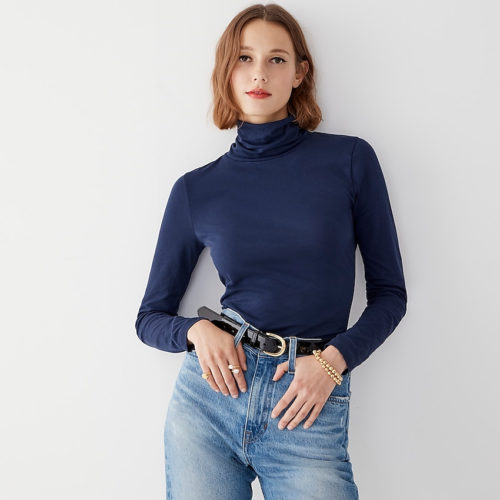 In addition to collars, turtlenecks and mock necks are classy must-haves. Not only do these elegant styles keep you warm(er) when it's cold outside, but they make you look refined.
Anything Tweed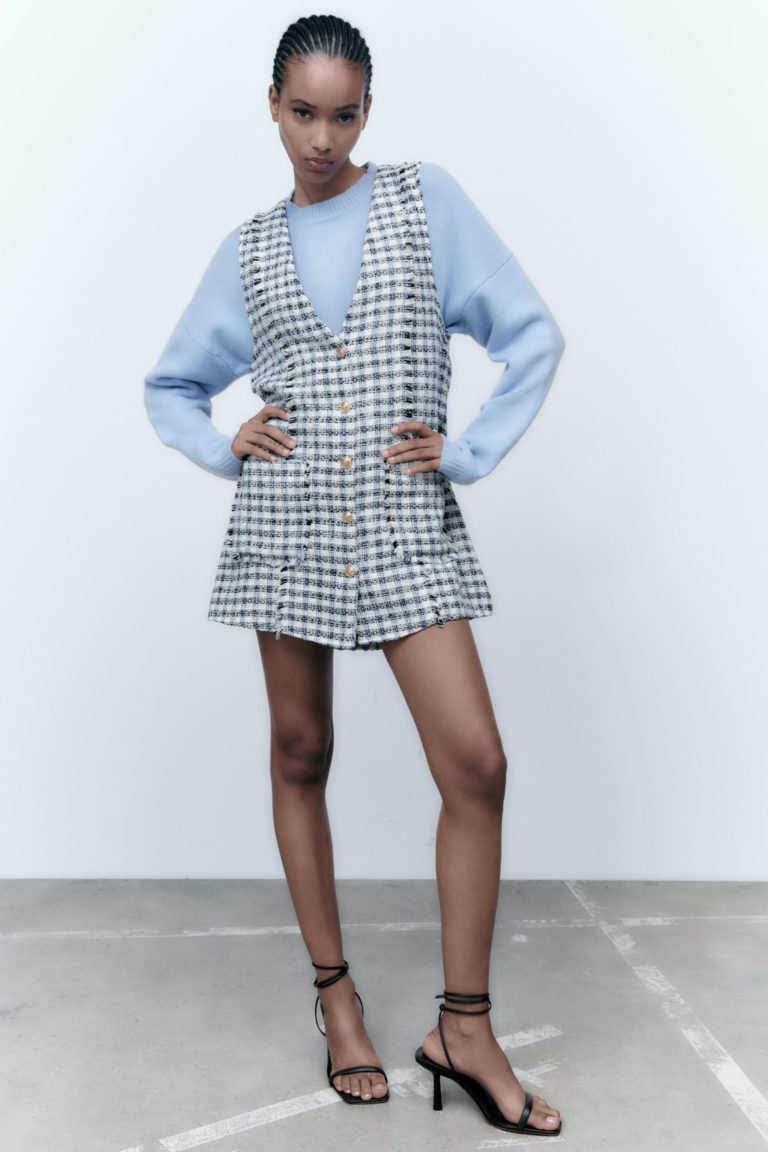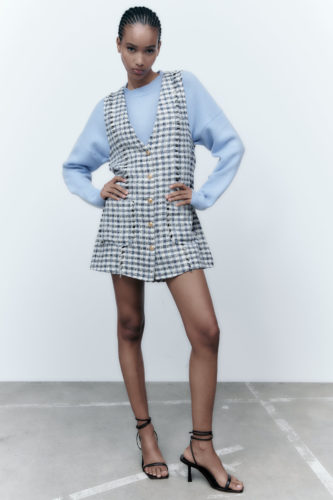 Tweed is arguably one of the classiest materials you can wear. It evokes the classic Chanel aesthetic that is the epitome of class and elegance.
Try a tweed dress or skirt for a posh look –– and get bonus style points if it features oversized gold buttons, like this cute sleeveless dress.
What do you think of our classy outfits for women?
Would you wear these outfits? Which look is your favorite? Leave a comment and let us know!
Love these fashion tips on creating classy outfits for women? Find more of our favorite fashion tips below —