This post will show you how to wear white sneakers for every season, with tips for picking the perfect white sneakers and how to style them.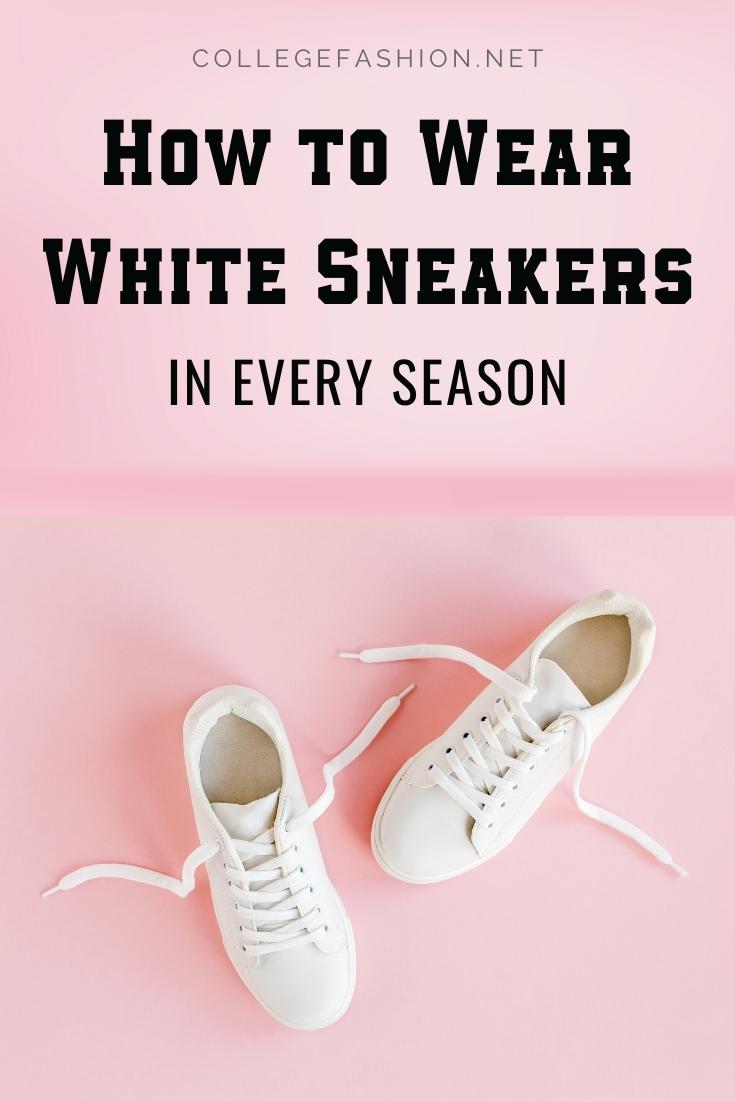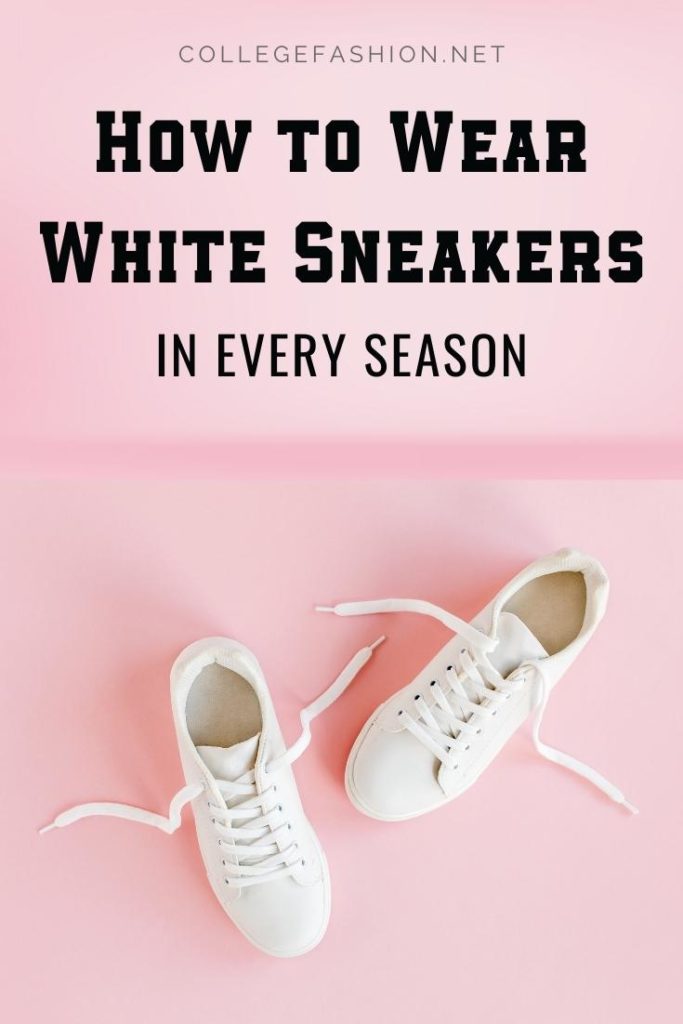 If I could only own one pair of shoes, it would be a pair of white sneakers. They are the ultimate staple that everyone needs in their closet!
In this post, I'm breaking down how to wear white sneakers in every season, plus how to style them with different pieces already in your wardrobe.
If you're looking for tips on picking the perfect pair or wondering if you even really need a pair of white sneakers to begin with… read on!
Why do you need a pair of white sneakers?
Because white sneakers are arguably the most versatile footwear option you could own, being that you can wear them all year round and with just about everything in your wardrobe!
White sneakers combine functionality, comfort, and style all into one shoe.
They seriously go with everything, from dressy items like skirts and dresses to casual items like jeans and leggings. Gone are the days when sneakers were reserved for athletic looks only. Now you can give even your most fashion-forward pieces a casual, comfortable vibe. Plus, white sneakers generally have a low-profile design, so their sleek simplicity never goes out of style and allows them to complement all sorts of aesthetics.
White is also inherently a neutral color, which adds to the sneakers' versatility; they'll easily match any other color.
And at the end of the day, who doesn't want to be comfortable? Heels, sandals, and booties look great, but it's rare to find a shoe that is more comfortable than a sneaker!
What kind of white sneakers are best for you?
Of course, there are so many types of white sneakers out there to choose from. Here are a couple of things to consider when getting a pair for yourself:
The material. Usually, most white sneakers are either leather, faux leather, or canvas. Canvas is preferable in the summertime as it is more lightweight, however, it can become more easily marked or stained. Leather sneakers tend to "hold up" the longest, but FYI: they may need some breaking in before they get comfy.
The price point. As with anything, you can either choose to invest in a "nicer" pair of sneakers (for example, designers like Gucci and Saint Laurent make white sneakers) or opt for a budget-friendly alternative. If you're planning on wearing your sneakers outdoors a lot, like walking to class and attending tailgates, you may want to stick with an inexpensive pair that you won't have to worry about dirtying and can replace at a later date. If you're ready to purchase some white sneakers that you'll wear to work or an internship, then you might consider investing in a nicer pair.
High top or low top? Both high-top and low-top white sneakers are classics, so this is simply a matter of preference. Personally, I find that low-top white sneakers are the most versatile option, though, since they are easier to wear with various pant lengths.
Once you decide on which kind of white sneaker is best for you, it's time to style them!
How to Wear White Sneakers in the Summer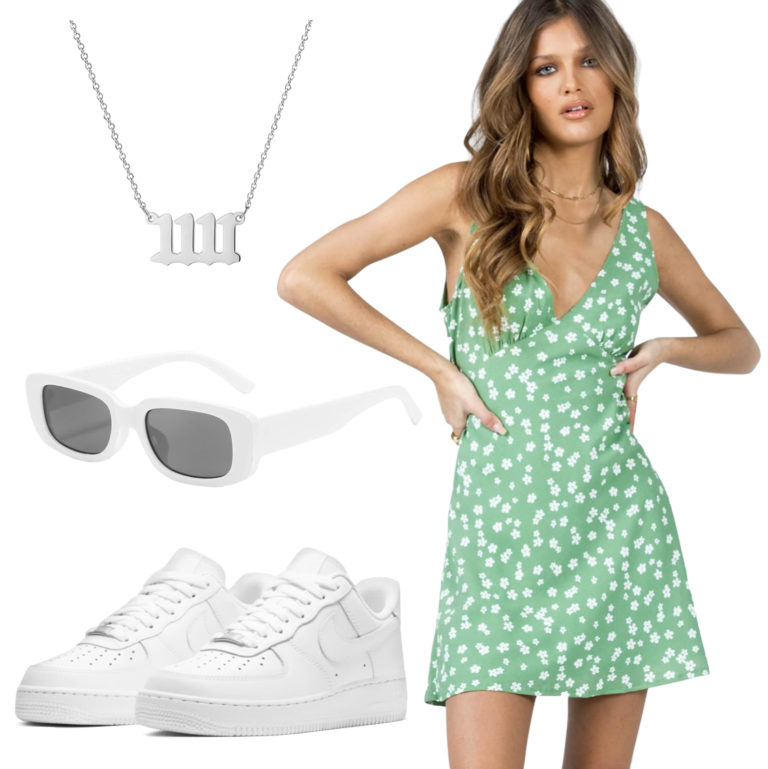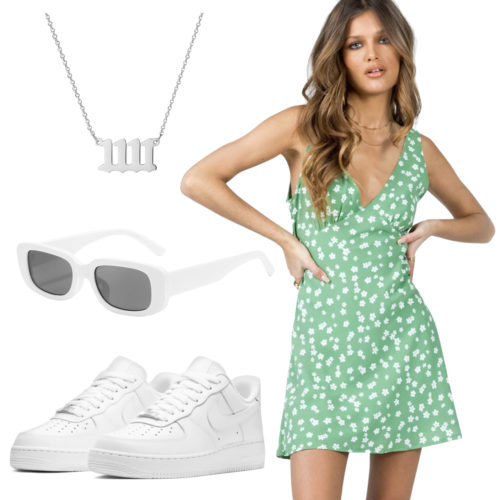 Products: Dress, Necklace, Sunglasses, Sneakers
I love wearing sandals in the summertime, but sometimes you want to feel extra comfy and supported, especially on days when you'll be doing a lot of walking. Whether you're sightseeing on vacation or just walking around your own city, white low-top sneakers are the answer!
These fashion staples look great even with the girliest of dresses, like this adorable green floral print mini dress. The white floral print helps tie in the white Nike Air Force 1 sneakers, which are a classic choice. Their low-profile design makes them versatile while being a street style staple.
Accessorize this outfit with some retro white sunglasses and a trendy pendant necklace, like this silver angel number necklace.
How to Wear White Sneakers in the Spring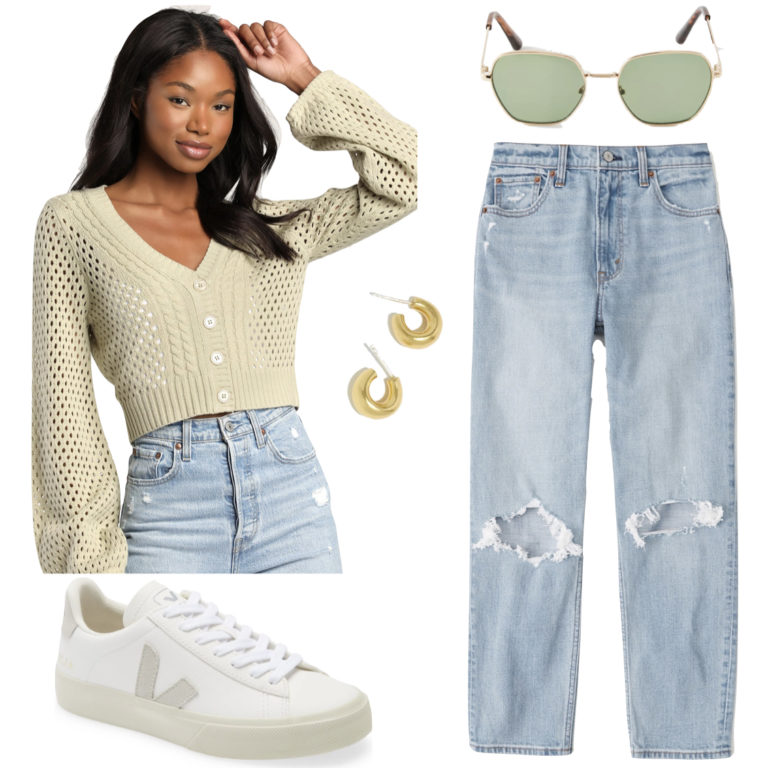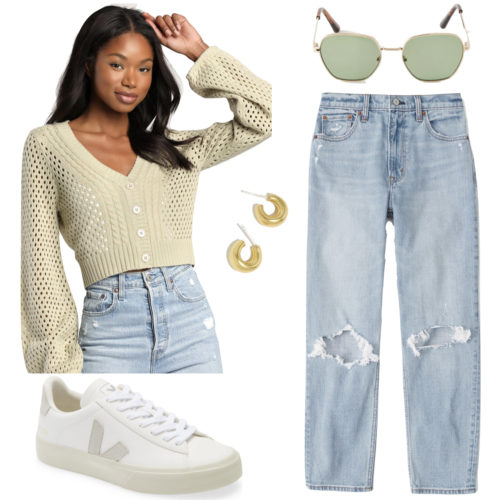 Products: Cardigan Sweater, Jeans, Sunglasses, Earrings, Sneakers
In the spring, you can't go wrong wearing denim and a cute sweater with your white sneakers.
A loose-knit cardigan in a light color like sage green has a springtime feel, and its cropped length looks cute with some high-rise mom jeans in a light wash.
White low-top sneakers like Veja's Campo sneaker are versatile and make this outfit a great choice for long days on campus, running errands, or hanging out with friends.
Don't forget sweet accessories like gold huggie hoop earrings and metal sunnies with tinted green lenses.
How to Wear White Sneakers in the Fall
Autumn is the season to start pulling out heavier fabrics and textures like flannel and faux leather. Try a trendy fall look by wearing a black faux leather blazer with high-rise straight-leg jeans and white sneakers.
These white Vans Ward Lo sneakers will give you a boost with their flat platform heel that you can wear day or night.
As for accessories, go for some chunky silver hoop earrings and add a pop of print with a zebra print shoulder bag with a chain strap.
This fall outfit would be fabulous for brunch, happy hour with friends, or exploring the city.
Related reading: How to Wear Vans & the Cutest Vans Outfit Ideas
How to Wear White Sneakers in the Winter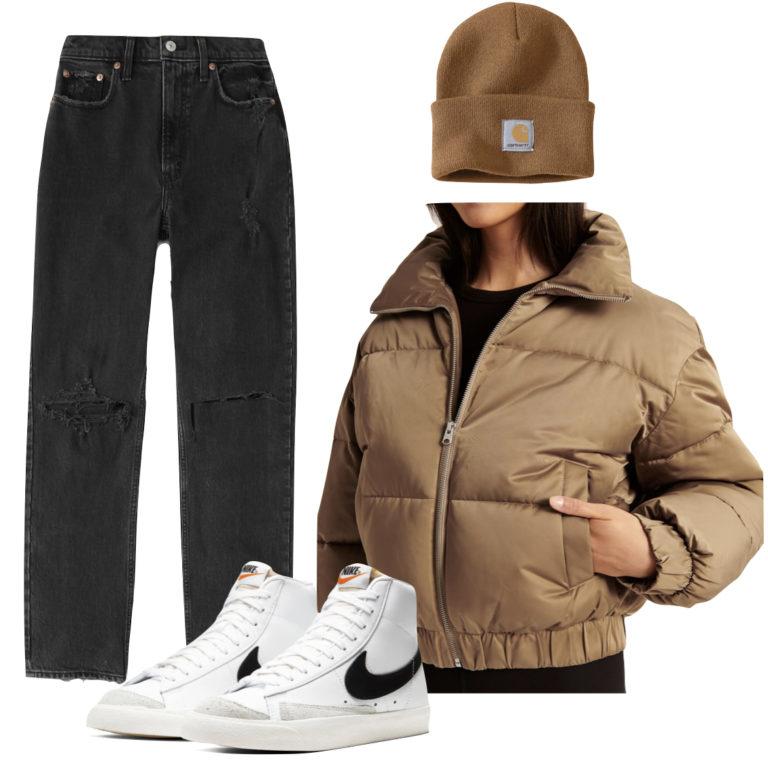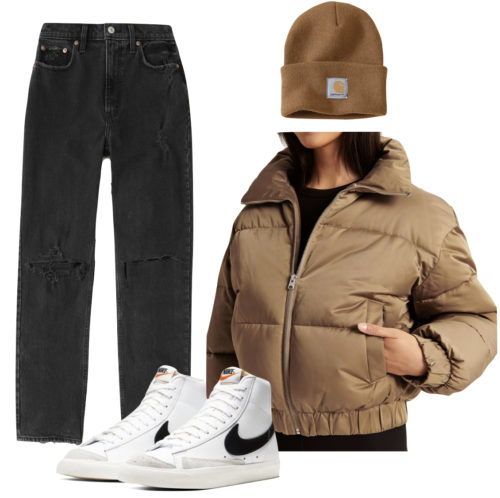 Products: Jeans, Puffer Jacket, Beanie Hat, Sneakers
In the wintertime, I'd suggest opting for high-top white sneakers, since they'll keep you warmer than low-top sneakers (don't want to get frostbite on your ankles!). The Nike Blazer Mid '77 high-tops are a great option with a streamlined design.
Pair them with some black high-rise straight-leg jeans, a sweater, and a puffer jacket to stay warm. This beige satin nylon puffer has a flattering, short length and is both wind and water-resistant, making it a must-have for the dreary winter weather.
Don't forget a beanie hat; this knit Carhartt beanie matches the puffer perfectly.
More White Sneaker Outfit Ideas:
Need more outfit inspo? Here are more ideas for how to style your white sneakers with different items in your wardrobe.
White Sneakers with a Long Dress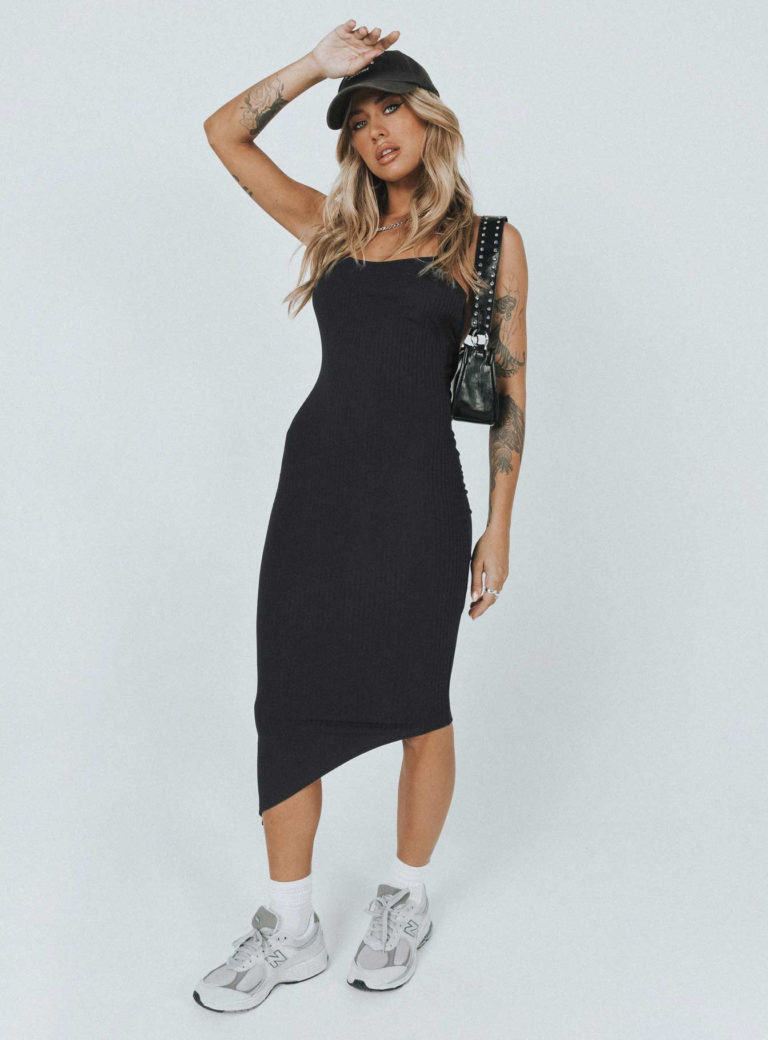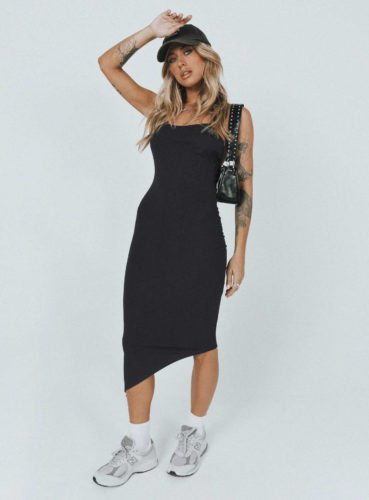 If you haven't been able to tell by now, white sneakers aren't just for athletic looks! Wear them with a long dress for a comfy, laid-back vibe that is still feminine.
You can go for a body-conscious dress like the one above, or opt for a flowy dress depending on your preference; either way, white sneakers are a great way to make just about any dress a bit more casual and "everyday."
White Sneakers with a Skirt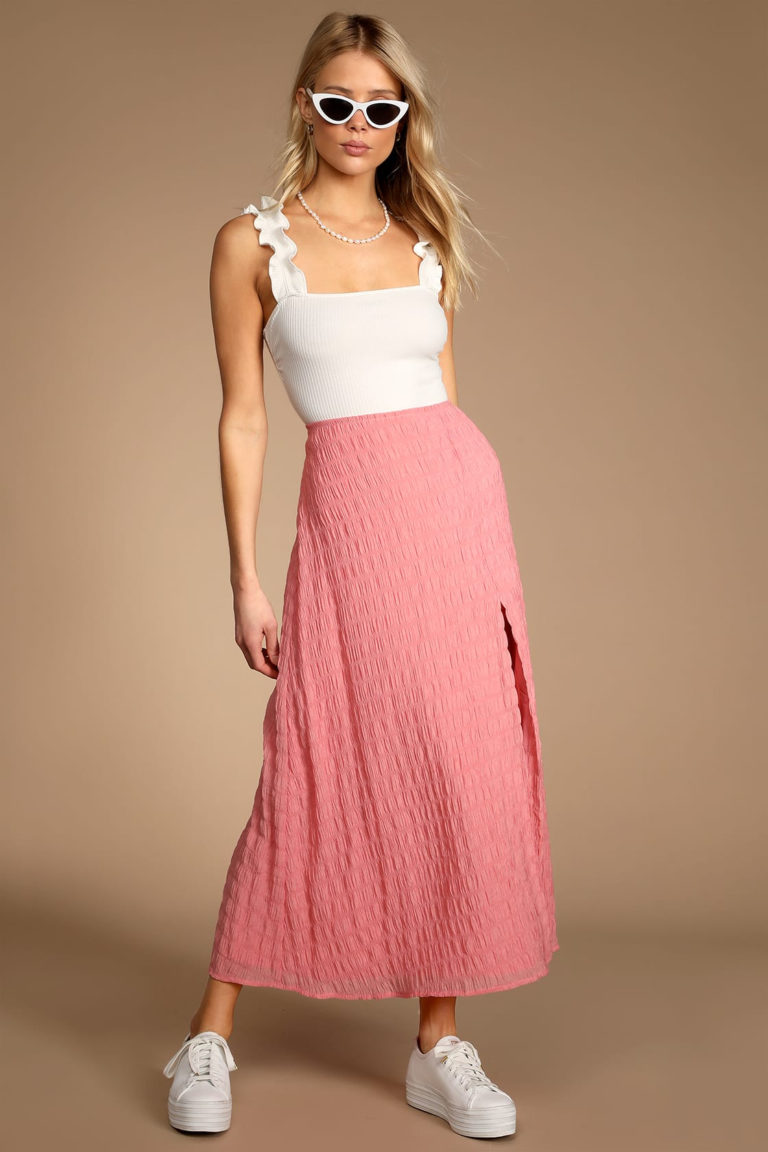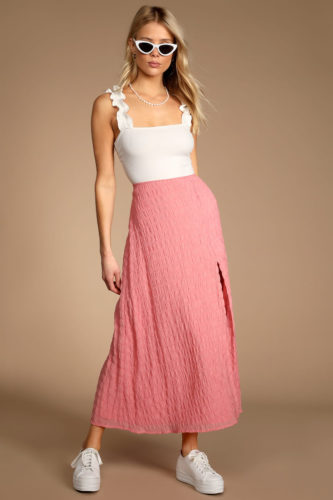 Wearing a skirt with white sneakers is the best way to keep your outfit casual yet chic. The length of your skirt doesn't matter: mini skirts, midi skirts, and maxi skirts all look great with white sneakers.
If you're like me, you may not wear skirts that much compared to other items in your wardrobe (leggings, I'm looking at you), but white sneakers are the perfect way to make your skirts more wearable on the daily.
You can style your skirt and sneakers with a bodysuit, fun sunglasses, and a denim jacket if it gets chilly. I love this look for brunching with friends, a farmer's market, or a day spent at a winery.
White Sneakers with Trouser Pants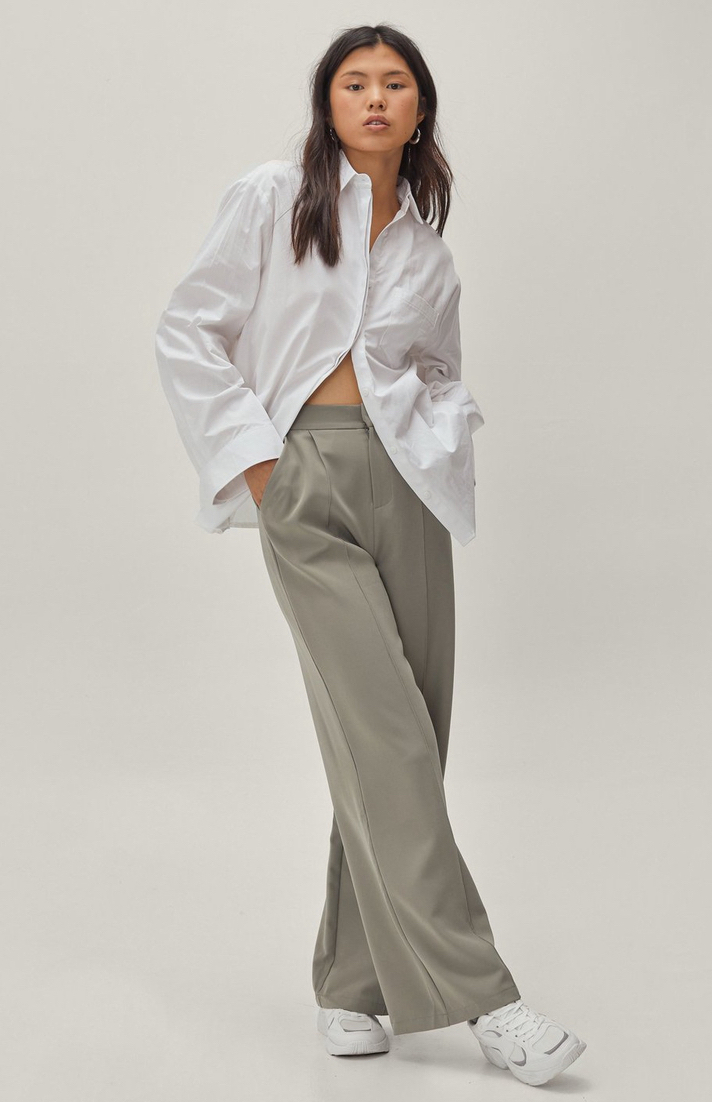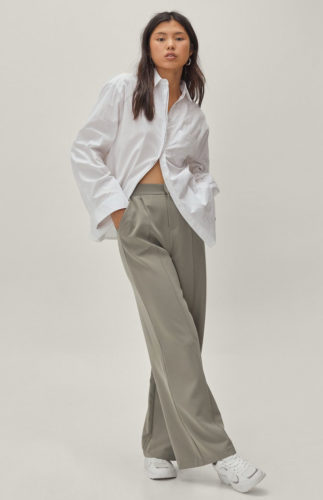 One of my favorite fashion trends that came about in recent years has been pairing white sneakers with trousers or tailored pants.
White sneakers put a modern spin on the typical "office wear" look, making tailored clothing look more relaxed while still elevated. Plus, sneakers are way more comfortable to wear as opposed to high heels or dainty ballet flats, especially if you are using public transportation to commute to work or an internship (IYKYK).
White Sneakers with Leggings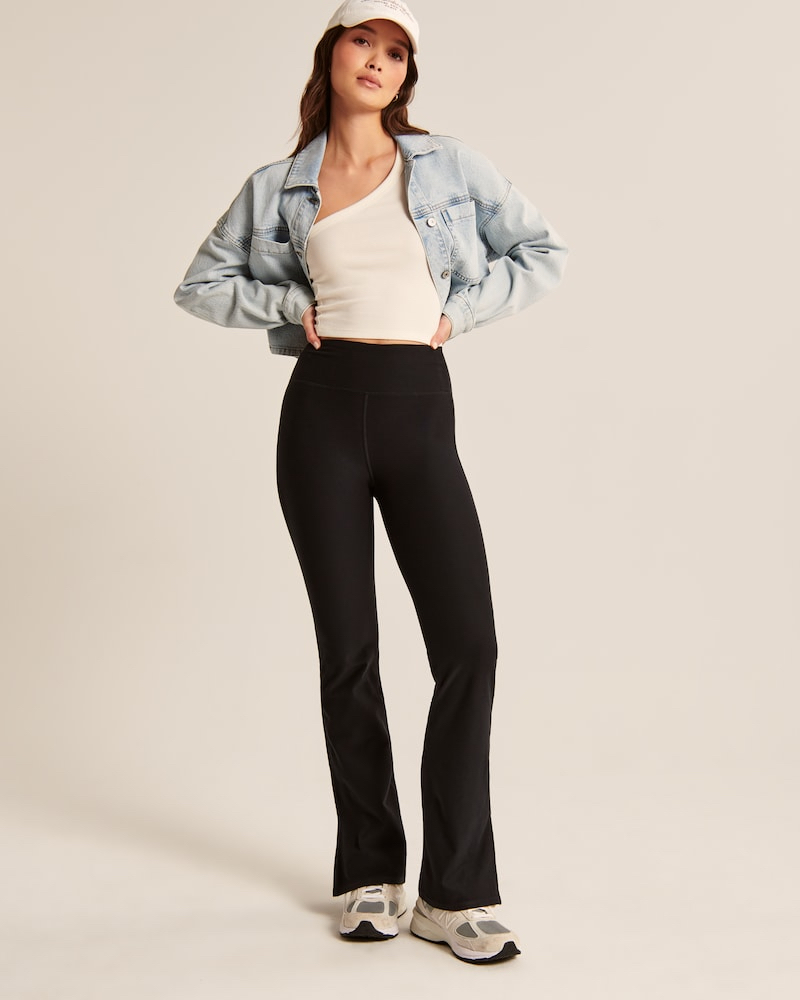 It doesn't get easier (or comfier) than wearing white sneakers with leggings. They practically go hand-in-hand!
For an updated look, try a pair of split-hem flared leggings with your kicks. Flared pants have been making their way back onto the fashion scene, and the flared fit makes the leggings appear a bit dressier.
Style these pieces with a denim jacket, baseball hat, and cute tank top for a day of errands, studying, or chilling with friends.
White Sneakers with Denim Shorts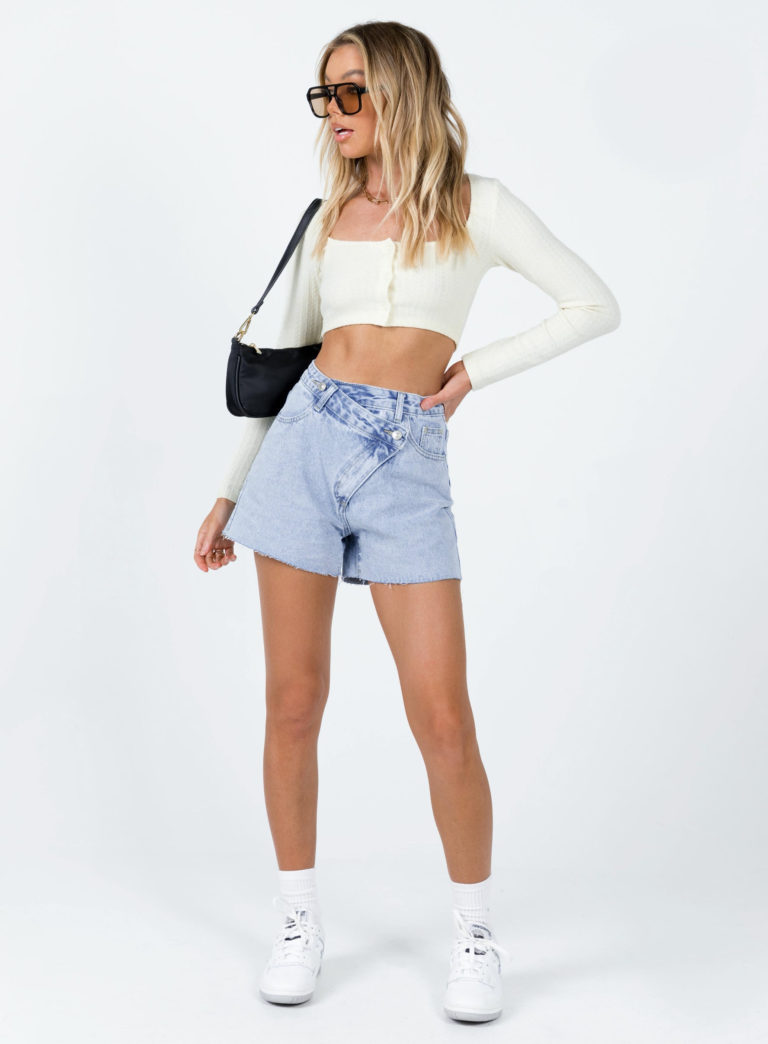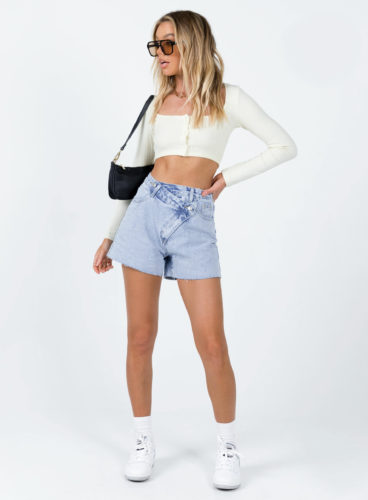 There are so many ways you can wear white sneakers with denim shorts – almost anything goes! Keep them ultra laid-back by just wearing a simple t-shirt, or go for a trendy look by styling them with a crop top, shoulder bag, and cool sunglasses.
White Sneakers with Bike Shorts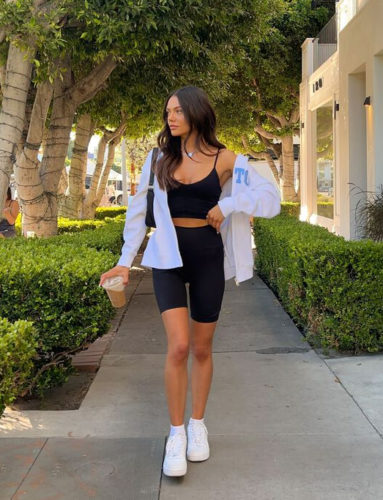 One look I'll be wearing all season long? Bike shorts with white sneakers. This outfit combo is sporty, comfy, and beats the heat! And no, this outfit isn't just reserved for working out; it's the "clean girl" uniform of the summer.
In addition to a sports bra or tank top, give this outfit a clean girl vibe by wearing a loose-fitting button-down shirt over top with dainty jewelry.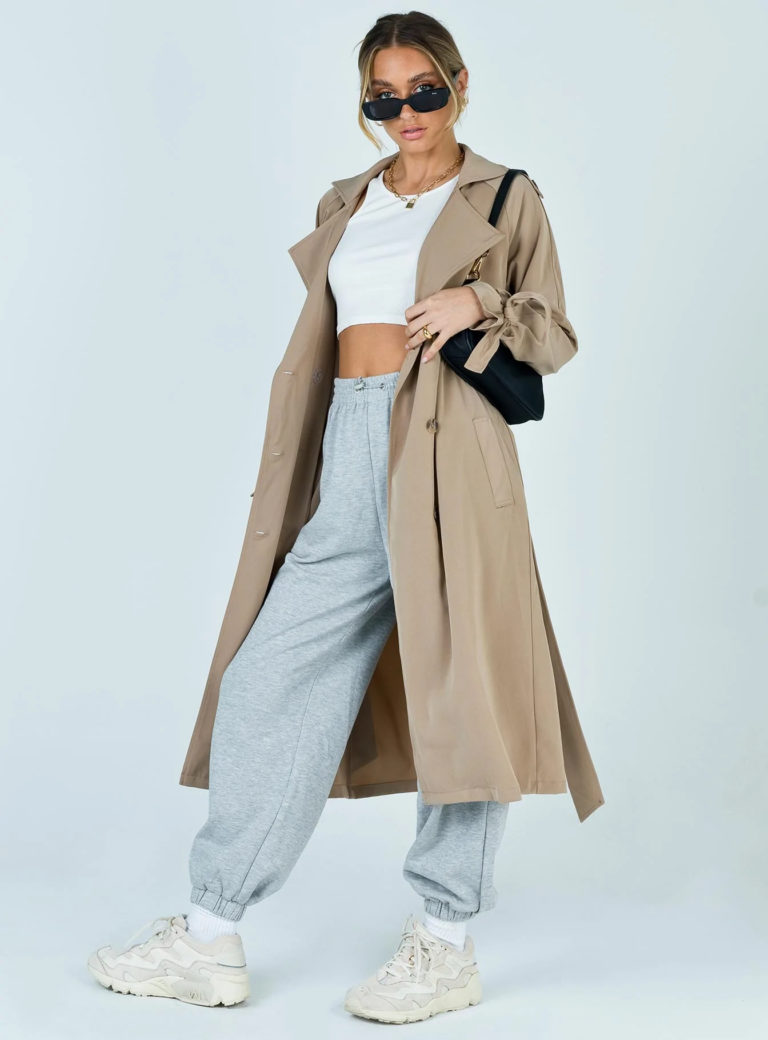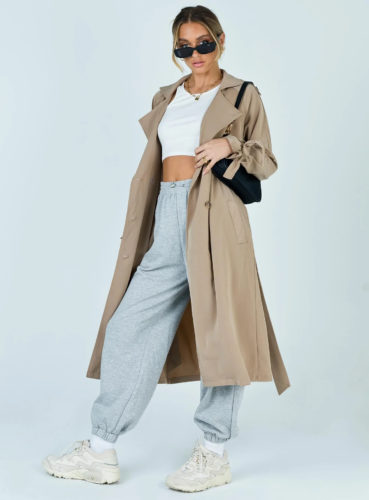 A trench coat is a timeless, ultra-chic item that every girl should consider investing in, along with classic white sneakers, of course.
This pairing looks fabulous with even the most basic clothing, like sweatpants, joggers, and other athleisure wear. The crisp white sneakers and elegant design of a trench elevate these relaxed items for a model-off-duty-inspired ensemble.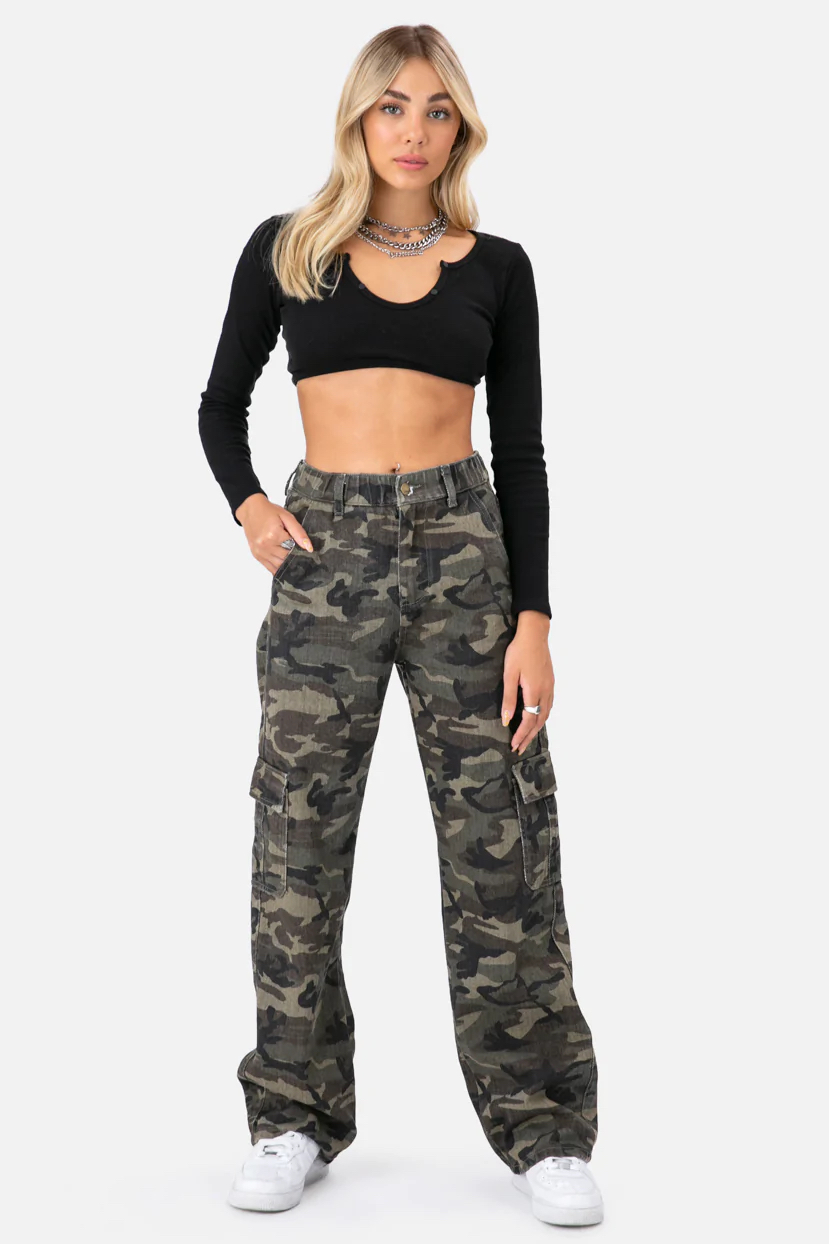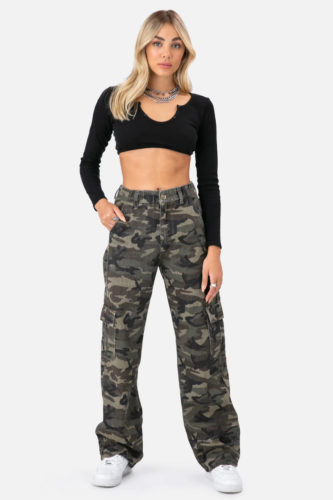 Cargo pants have been making a major comeback recently, and wearing them with white sneakers is the best way to keep these pants casual and modern.
Try to opt for a print like camouflage that will contrast against the stark white hue of the sneakers for a cool look. Wear this combo with a crop top, bodysuit, or t-shirt, and add a trucker hat for a final trendy touch.
What do you think of our guide to wearing white sneakers?
Would you wear these outfits? Which look is your favorite? Leave a comment and let us know!