This guide will show you what to wear in Las Vegas, with outfit ideas and clothing under $100.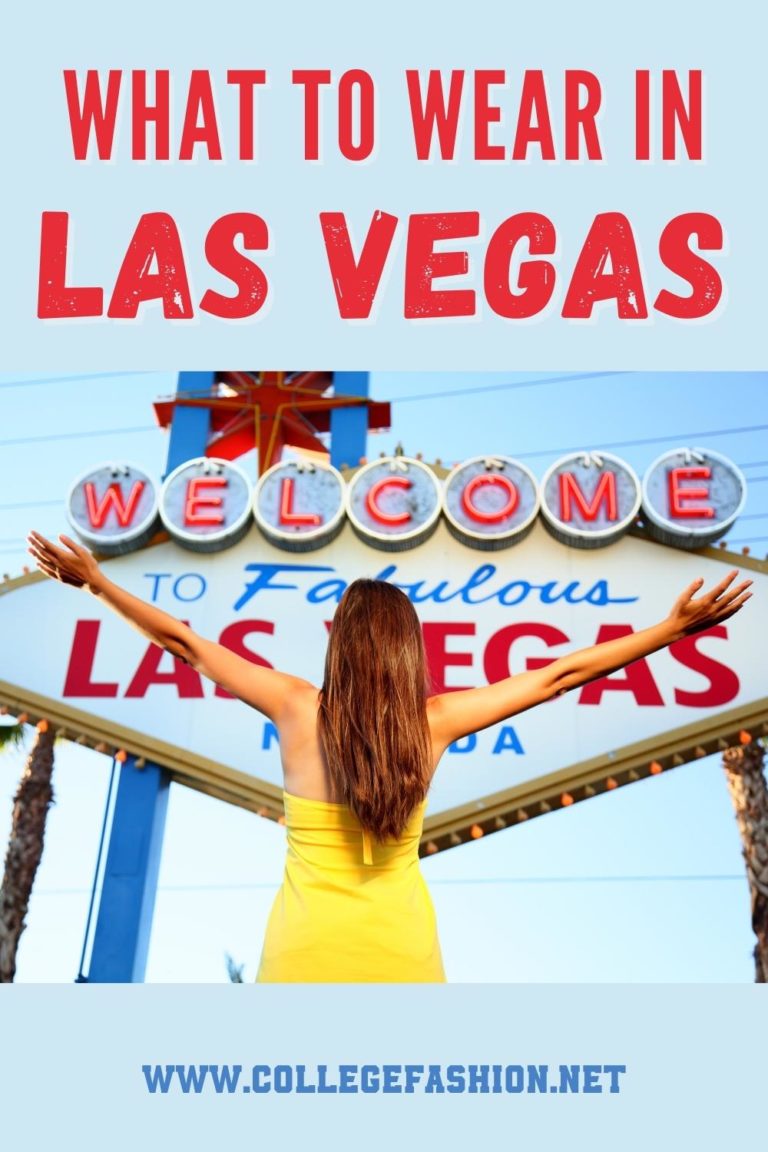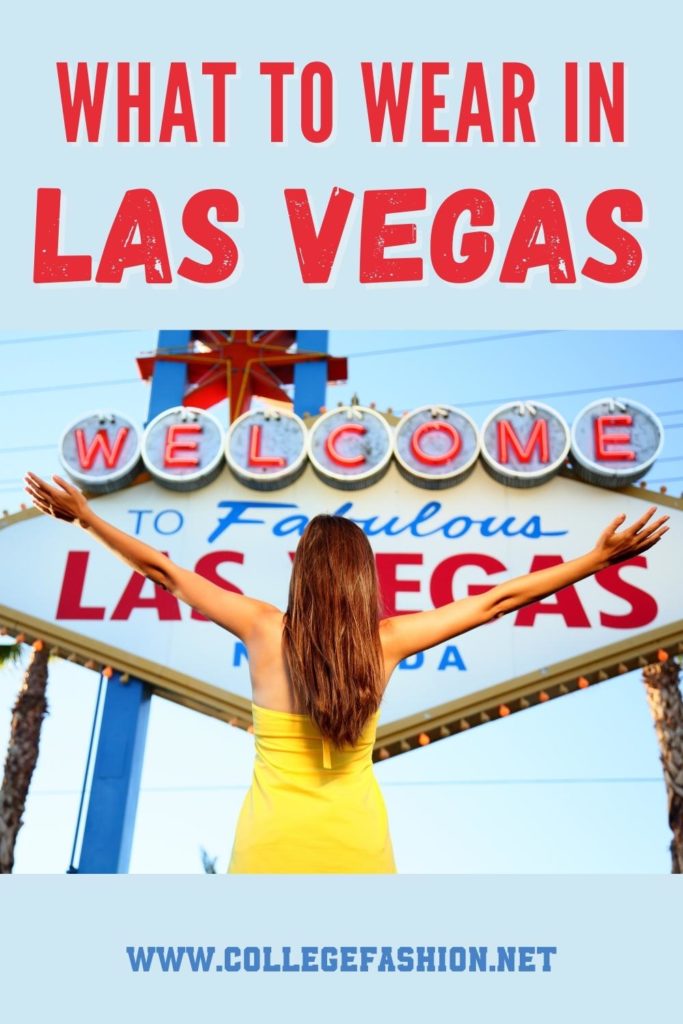 Viva Las Vegas!
If you are headed to Las Vegas, otherwise known as Sin City or the "shiniest place on Earth," you're in for a treat! Filled with world-class nightclubs, shows, restaurants, and attractions, Las Vegas is a sight to be seen.
A trip to Las Vegas is an opportunity to have fun with your outfits and wear things that you might not typically wear in your hometown. If you normally play it safe with your clothing, consider stepping outside of the box and spicing up your Vegas vacation look.
Anything goes in Las Vegas – in fact, the bolder, the better. Bright colors, fun prints, sequins, tight-fitting clothing, sky-high heels, flirty cut-outs, and other sultry details are encouraged, particularly at night.
In other words, don't be afraid to dress up and dress sexy!
If that's not your thing, that's totally fine –– but if you want to go all out, you can do that, too. You'll see a full spectrum of fashion while in Vegas.
Packing Tips for Las Vegas:
Prepare for the heat. Las Vegas can get HOT, especially during the summer months. When packing, opt for lightweight, airy clothing (especially for daytime wear), and don't forget your swimsuit(s).
Consider leaving your best jewelry or pricey sunglasses at home, or at least don't wear them to a Vegas pool party. If you plan on attending one, there's a chance your jewelry could slip off, or you accidentally set your sunnies down somewhere, never to be seen again! Avoid these mishaps by instead wearing costume jewelry and cheap sunglasses. (Amazon is a great place to score both.)
Bring walking shoes! There is so much to see and do in Vegas, and it all involves a lot of walking. Whether it's checking out the Las Vegas Strip or even just exploring your own resort, you won't want to be uncomfortable while doing so. Sneakers and comfortable sandals are your best bet.
Check dress codes ahead of time. If you know you'll be dining at a certain restaurant or have tickets to a particular show, be sure to check their websites for dress codes and pack accordingly. You wouldn't want to get turned away for failing to meet a dress code!
What to Wear in Vegas: Las Vegas Outfit Ideas
Now that we've covered the basics, let's get to the outfits! These outfit ideas will have you looking stylish from day to night in Las Vegas. Whether you're keeping it casual or dressing up for a night out in Sin City, these Las Vegas outfits are on-trend, practical, and budget-friendly.
Think of these looks as general Vegas outfit ideas rather than event-specific; though I've categorized them by activity, many of them are totally interchangeable (for example, you could wear the clubbing outfit to dinner, and vice versa).
Las Vegas Nightclub Outfit
If you're going to Vegas, chances are you've got plans to hit the clubs! With renowned nightclubs, the nightlife is often at the top of a Vegas bucket list.
I say go all out and embrace your sexy side with a bold cut-out mini dress. This sultry red mini dress has a bodycon fit with a waist cut-out, a single shoulder with a twin strap, and an asymmetrical hem with drawstring detail, making the length of the dress adjustable. It's stretchy, short, and red hot!
While stiletto heels would look equally as amazing with this dress, I'd opt for some platforms instead, which are a bit easier to walk (and dance) in. These strappy platform heels have a flared silhouette and a lace-up design for maximum impact.
Complete this sexy ensemble with gold jewelry and a sleek black baguette bag with a snakeskin-like texture.
Las Vegas Concert Outfit
While you're in Vegas, you'll want to see a show or concert, especially since this is where some of the biggest and best artists and DJs come to perform.
You'll be the life of the party in these edgy black flared pants with lace-up sides. They are a unique option compared to a mini dress, and super sexy with their unexpected flash of skin at the waist.
Wear them with a cropped corset top like this black satin one which features ruching and back-crossed spaghetti straps.
Bring the look together with silver accessories like some sparkly dangle drop earrings and silver platform mules with a retro vibe. A black and silver rhinestone-embellished bag with a chic knotted handle adds a final glam touch.
Lounging by the Pool Outfit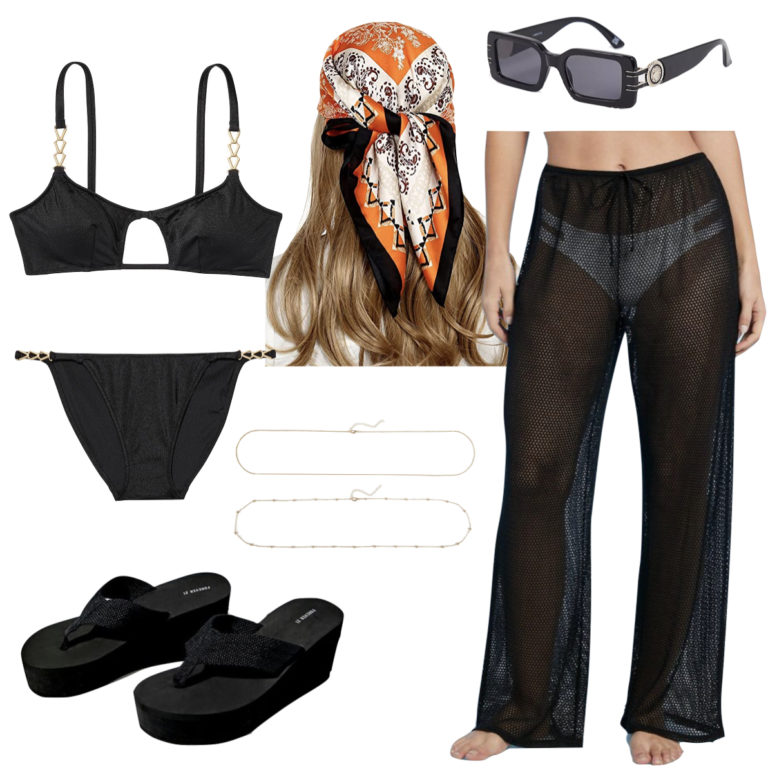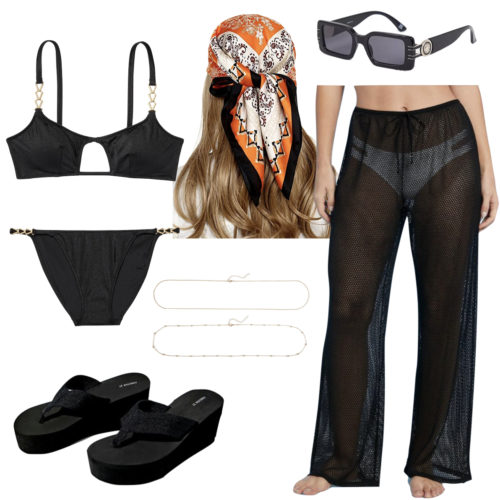 Products: Bikini Top, Bikini Bottom, Headscarf, Sunglasses, Pants, Belly Chains, Shoes
One of the best ways to beat the Las Vegas heat? Lounging by the pool! It's likely that your Vegas hotel is going to have a pool, or that you'll be attending a pool party while you're there. Either way, you should definitely plan some poolside looks.
This pool outfit works for both lounging and partying –– you'll look right on-trend regardless of your plans. Start with a striking bathing suit; don't be afraid of experimenting with flirty details like cut-outs or cheeky fits. This shiny black bikini is anything but basic with its center cut-out and straps embellished with gold chain links for a glam touch.
Wear some lightweight cover-up pants over top, like these sheer crochet-look lurex pants with a high waist. Add in trendy accessories like a satiny printed headscarf, vintage-inspired sunglasses with gold detailing, and gold body chains. If there were ever a place to wear body jewelry, it's definitely Vegas!
Rather than plain flip-flops, try a pair of platform thong sandals for a fun Y2K vibe.
Las Vegas Casino Outfit
Whether you're going to try your luck at the casino or hang out at a Vegas bar, you'll want to look and feel your best. Strike a balance between casual and dressy with this trendy, feminine outfit that features feathers and denim.
A pair of high-rise slim-fit jeans with split hems (and no rips) has a refined look but helps to "dress down" this fabulous pink bustier crop top with feather trim. Add to the girly aesthetic with pink mules that have flared heels and a plastic transparent strap.
For finishing touches, accessorize with rhinestone oval doorknocker earrings and a silver metallic mesh shoulder bag, because it's Vegas, after all!
Las Vegas Day Party Outfit
In Vegas, you're just as likely to dance the day away as you are the night! For a day party or pool party, have fun with your look by going for a colorful, trendy look.
This ombre tie-front sheer mesh crop top with its coordinating mini skirt makes for an eye-catching cover-up over your bikini. The flared sleeves, lettuce-edge trim, and bright color palette add to its appeal, while its lightweight mesh fabric won't weigh you down.
Play up the retro vibes by wearing some jelly slide sandals and rimless rectangle sunglasses. The orange square-toe sandals match the outfit perfectly, while a gold anklet set adds a bit of bling. Don't forget a cute handbag to hold your necessities in.
Las Vegas Dinner Outfit
Going out to dinner in Las Vegas is just as much of an occasion as any other attraction. This isn't the time to play it small with your fashion choices; get extra glam if you're hitting any of the Vegas hot spots for dinner or drinks!
This silky crop top and matching high-rise pants look luxe, especially thanks to their stunning blue hue. The strapless crop top features an open back with double ties, and the pants have slits at the hems. You could easily wear this look to a club or show after dinner, making it a great choice.
Accessorize with gold jewelry including a layered chain necklace and earrings, plus a white faux leather quilted shoulder bag with a gold chain strap.
Dress up the ensemble a bit more with a pair of white ankle wrap sandals with a chic sculptural heel.
Las Vegas Sightseeing/Shopping Outfit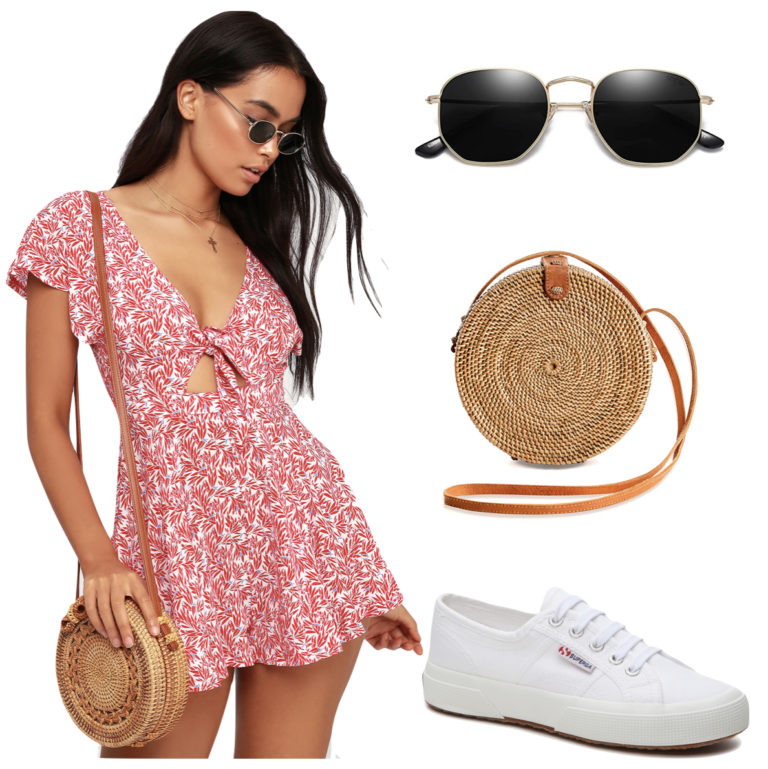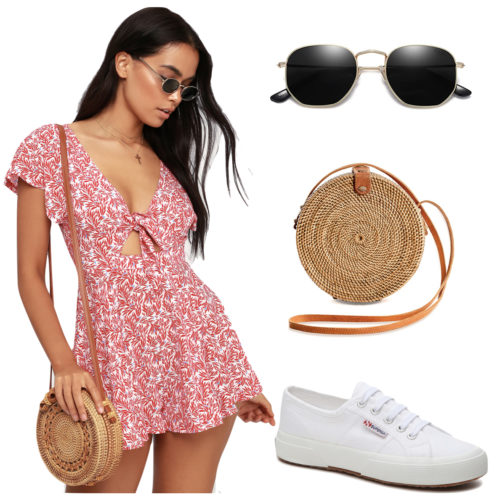 Products: Romper, Sunglasses, Bag, Sneakers
If you're going sightseeing or shopping around Las Vegas, you'll want to be comfortable and prepared to take on the high temps. This means sneakers (or extra comfy sandals) and lightweight fabrics!
You can still look cute while being dressed practically, though; for example, this darling red and white leaf print romper is made from a lightweight woven fabric that is ideal for beating the Vegas heat. Its wide short sleeves and relaxed, flowy shorts mean it won't stick to your body, and its tie-front detail adds a sweet touch.
Opt for some white canvas low-top sneakers which are versatile and breathable. A round rattan crossbody bag and metal sunglasses complete this cute, casual ensemble.
Walking the Las Vegas Strip Outfit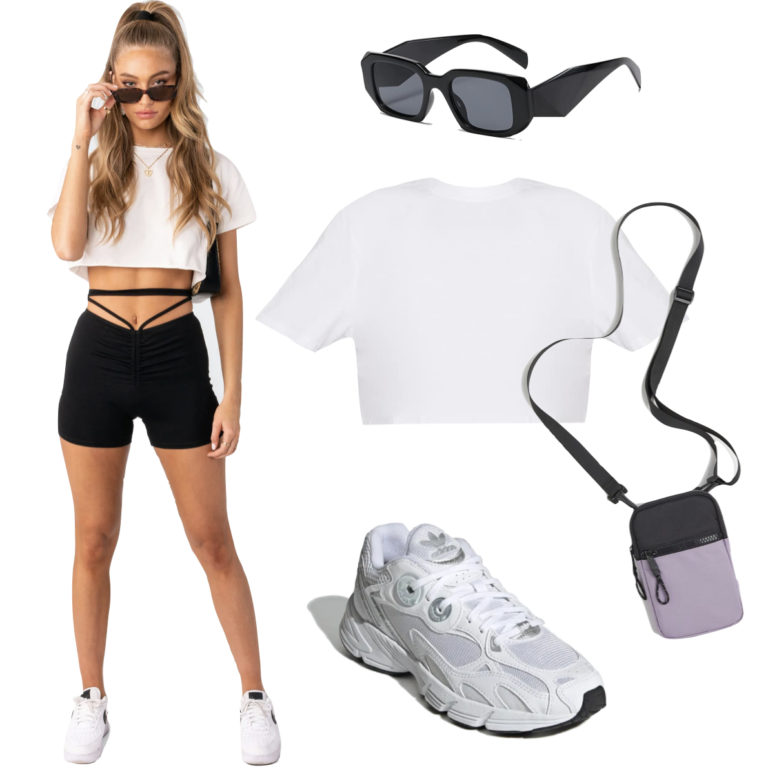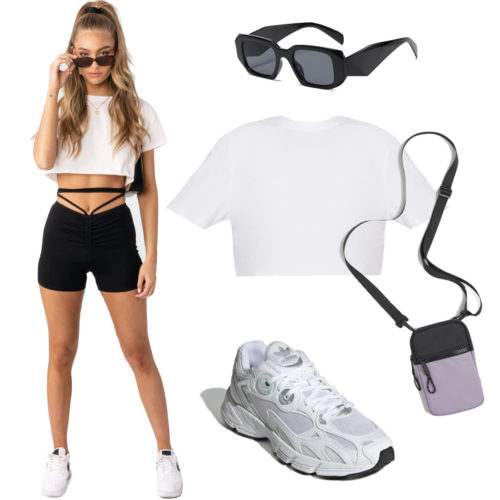 Products: Shorts, T-Shirt, Sunglasses, Bag, Sneakers
For a more laid-back look that's also great for sightseeing, physical activities, or walking the Las Vegas Strip, try an athletic-inspired outfit that is still trendy and showcases your sense of style.
We all know and love comfy bike shorts, but this pair features an extra cool detail: strings that wrap around your waist. Show this feature off by pairing the shorts with a cropped white cotton t-shirt. Wear a functional crossbody bag and some sleek white athletic sneakers that are ideal for lots of walking.
Don't forget a pair of stylish sunnies, and add a baseball cap if you're trying to stay shaded from the sun.
Winter Vegas Outfit
Heading to Vegas during the wintertime? While it doesn't get that cold there (coming from an East Coaster), you might want to swap out the mini dresses in favor of pants. Faux leather pants are the way to go, as they are more elevated compared to jeans, and have a sexy vibe.
Style the faux leather high-rise pants with a colorful crop top with long sleeves like this green ribbed crop top with trendy wired cups, and opt for black ankle booties with a pointed toe.
This green faux leather shoulder bag with a gold O-ring perfectly matches the crop top, along with the chunky gold chain necklace and gold hoop earrings for added bling. If it's really chilly, consider wearing an oversized blazer on top.
Clothing for Las Vegas Under $100:
In need of more ideas for what to wear in Las Vegas? Here are some more Vegas outfit options that are all under $100.
Abstract Print Cut-Out Dress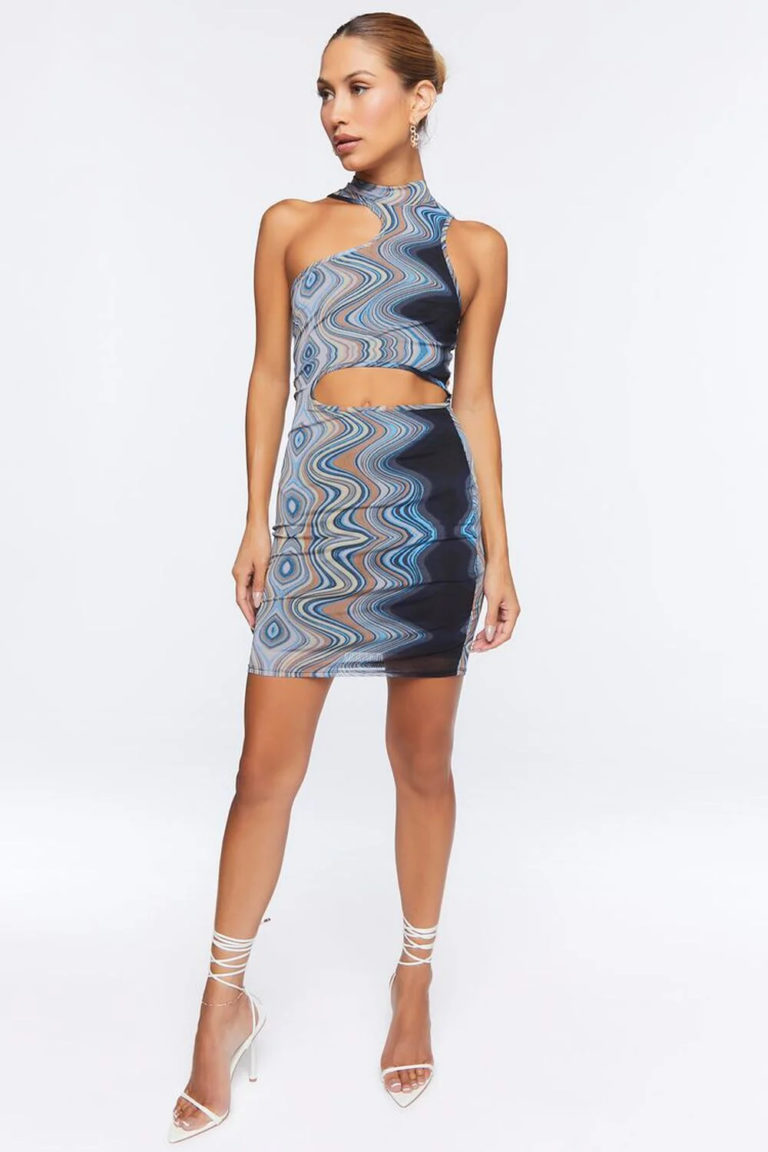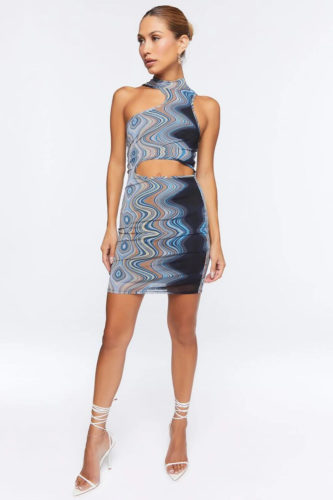 I'm obsessed with the abstract print on this bodycon mini dress, along with its bold waist cut-out for a flash of skin. It's made with a stretchy mesh material that is lightweight and will hug your curves.
Cut-Out Halter Mini Dress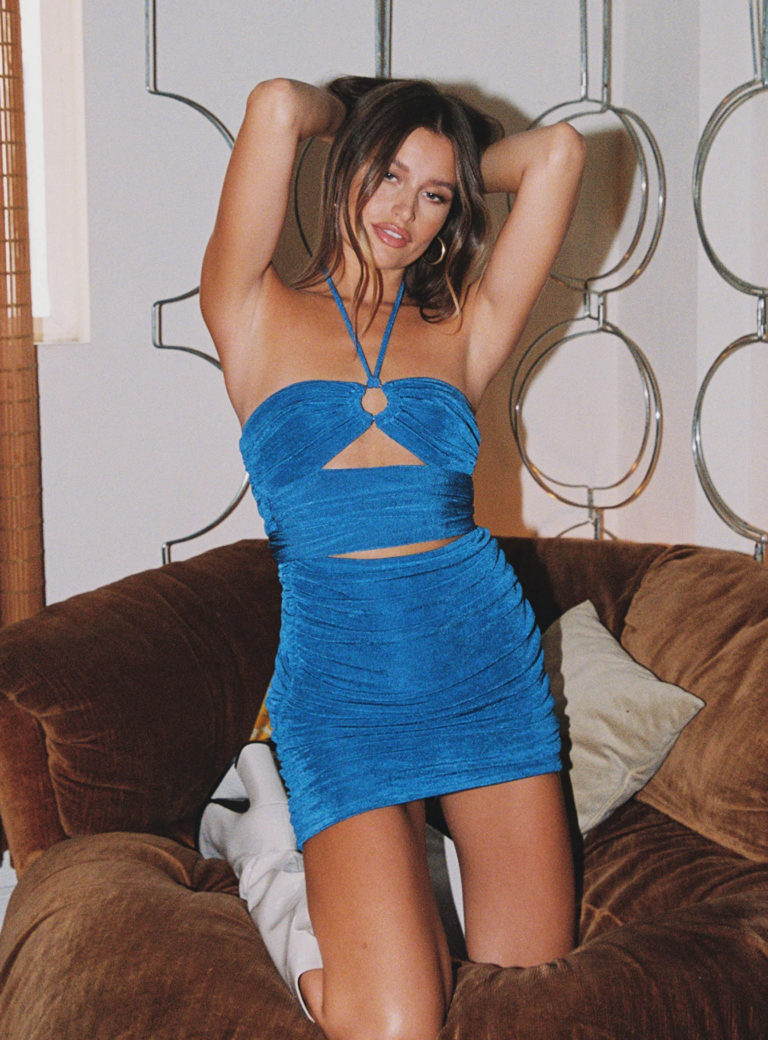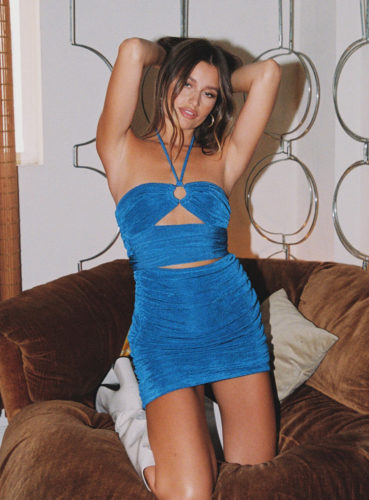 You'll want to add this brightly colored bodycon mini dress to your suitcase when packing for the Las Vegas party scene. It has a halter neckline with an O-ring, plus cut-out detailing for a sexy touch.
Glitter Plisse Flare Sleeve Romper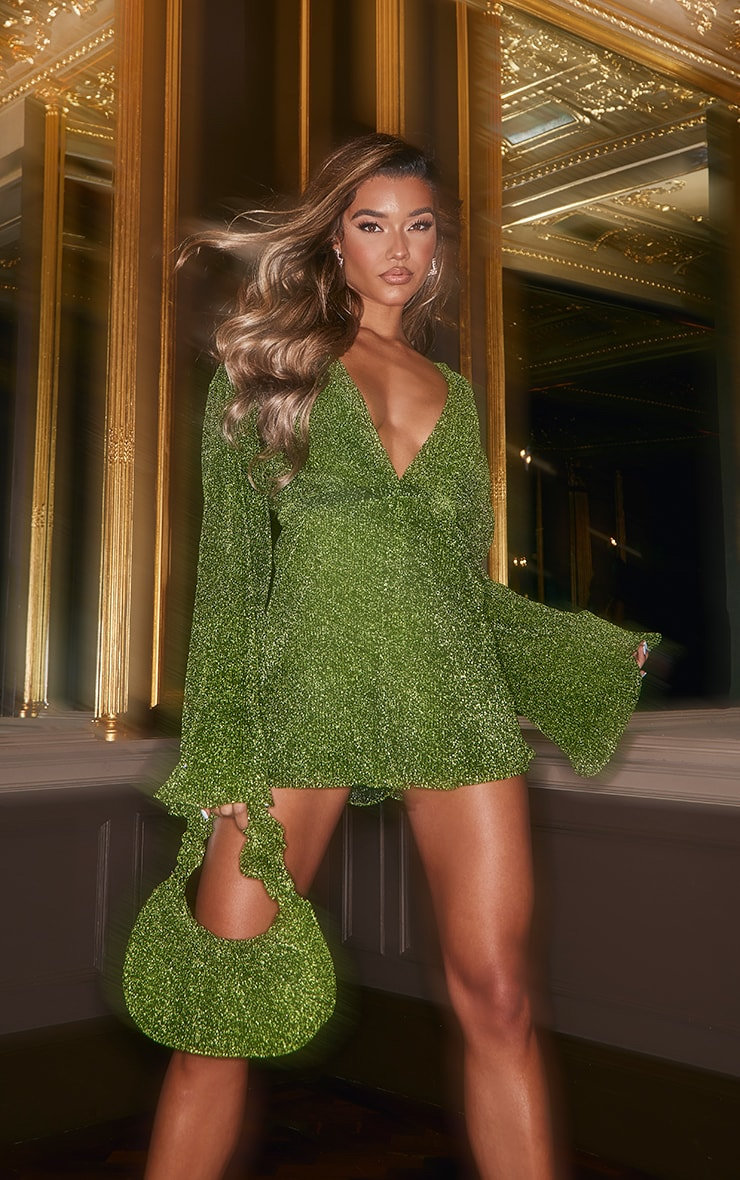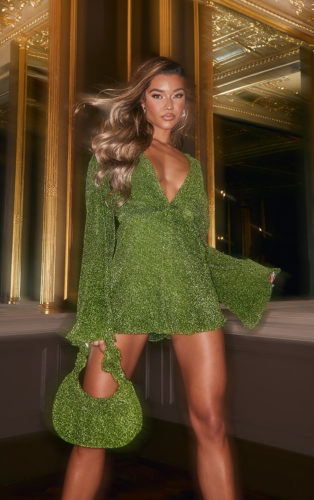 Play up the glitz and glamour of Las Vegas with a glitter romper! This green glitter romper features flared sleeves, a plunging neckline, and plisse fabric to make a major statement. It will give you a leggy look when paired with strappy heels during a night out on the Strip.
One-Shoulder Cut-Out Mini Dress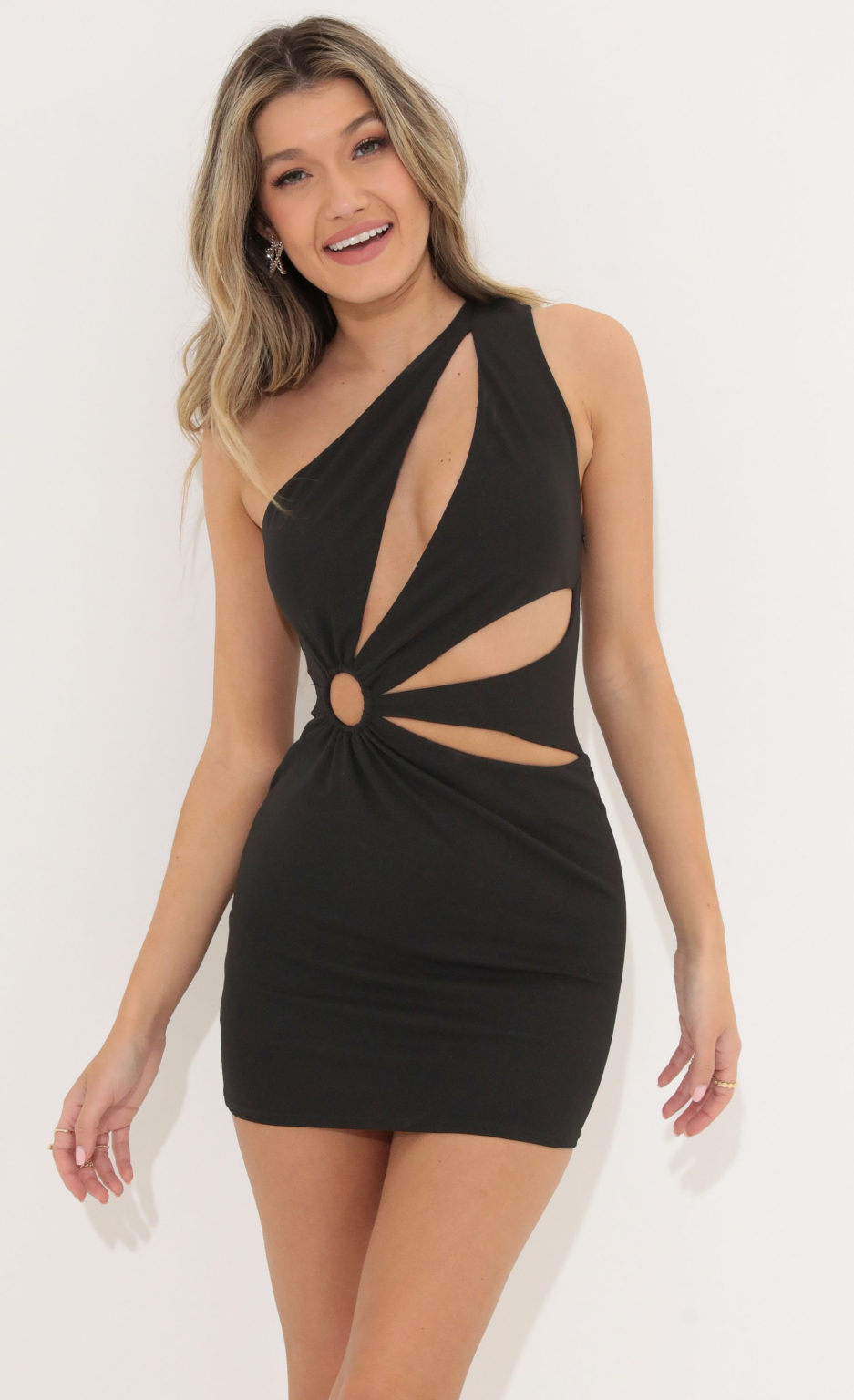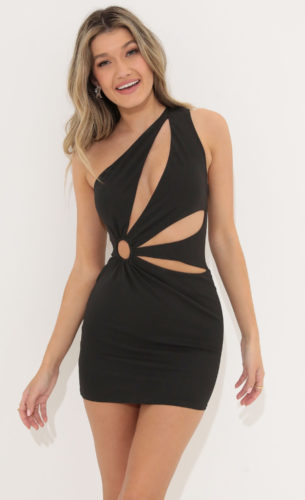 When heading to Vegas, you'll need a not-so-basic LBD. This little black dress has eye-catching cut-out details in the front and back for an ultra sexy look, plus a one-shoulder bodycon design.
Crop Top & High-Rise Pants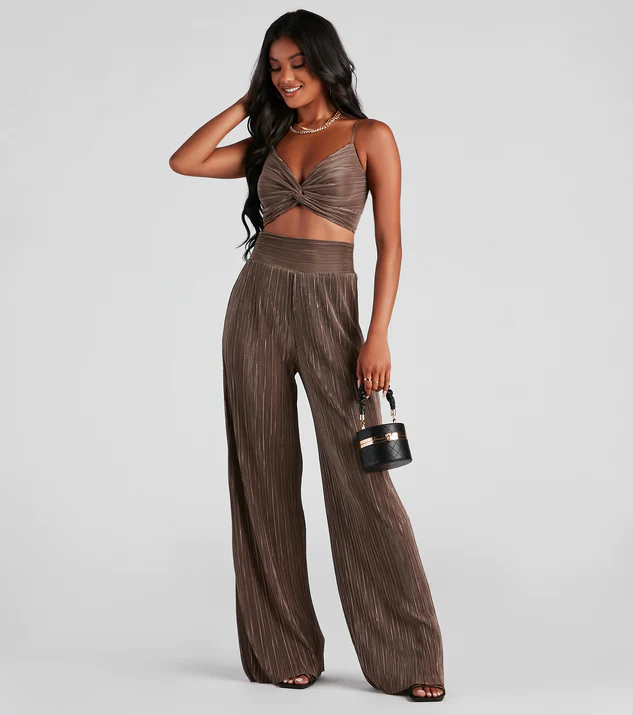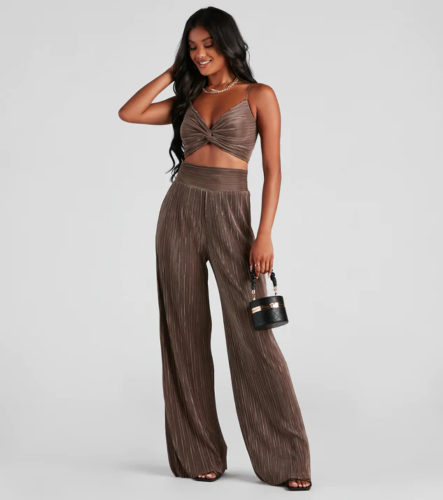 A coordinating crop top and pants in a luxe material make for a stylish alternative to a bodycon dress if you want a different look.
This brown twist-front crop top and high-rise pants are both made of pleated-lined fabric with a slight sheen which gives them an elevated vibe that would look fabulous at dinner and/or a show.
Satin Halter Top & Mini Skirt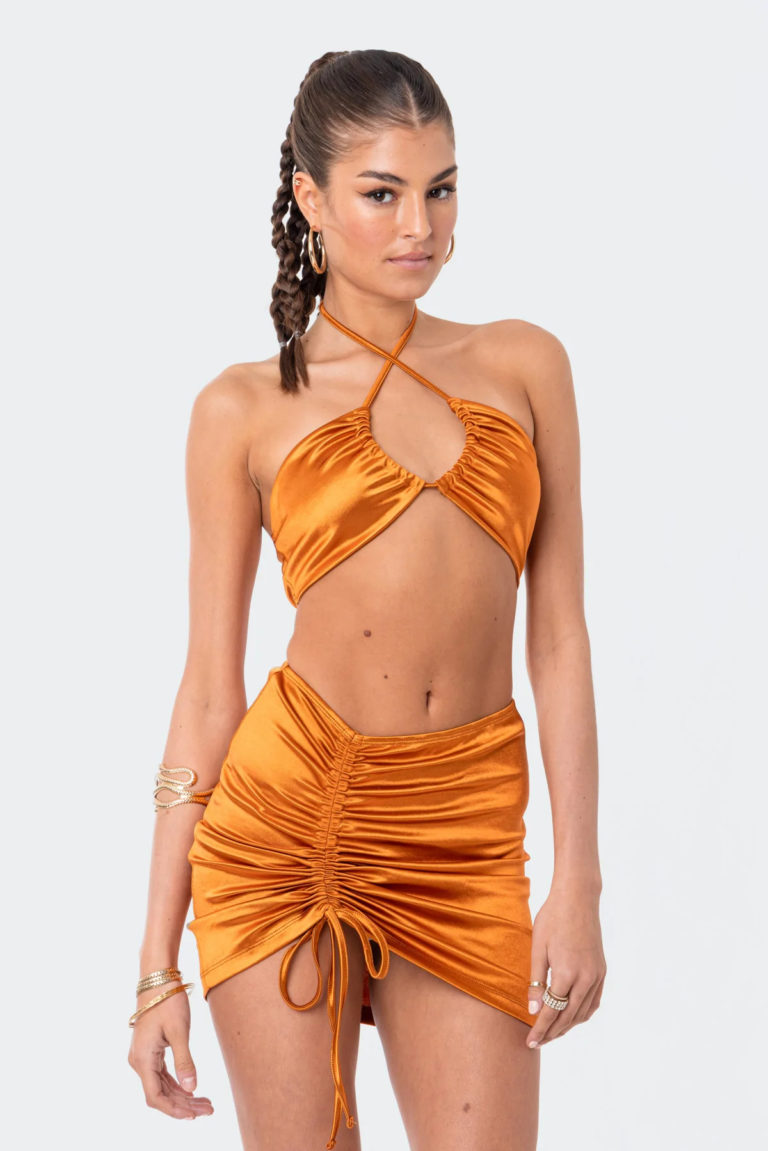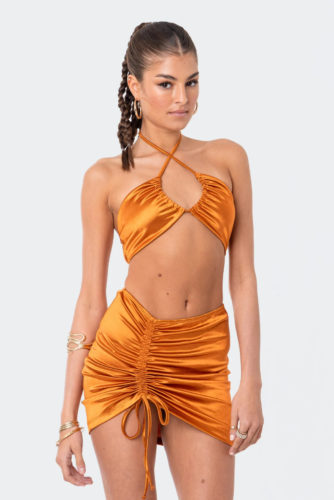 Hit the pool party circuit in this sexy set featuring a satin halter crop top and ruched drawstring mini skirt. The bronze satin fabric gives these pieces a glam look that you can wear with strappy sandals and gold jewelry for a day spent dancing next to a pool.
Sequin Mini Dress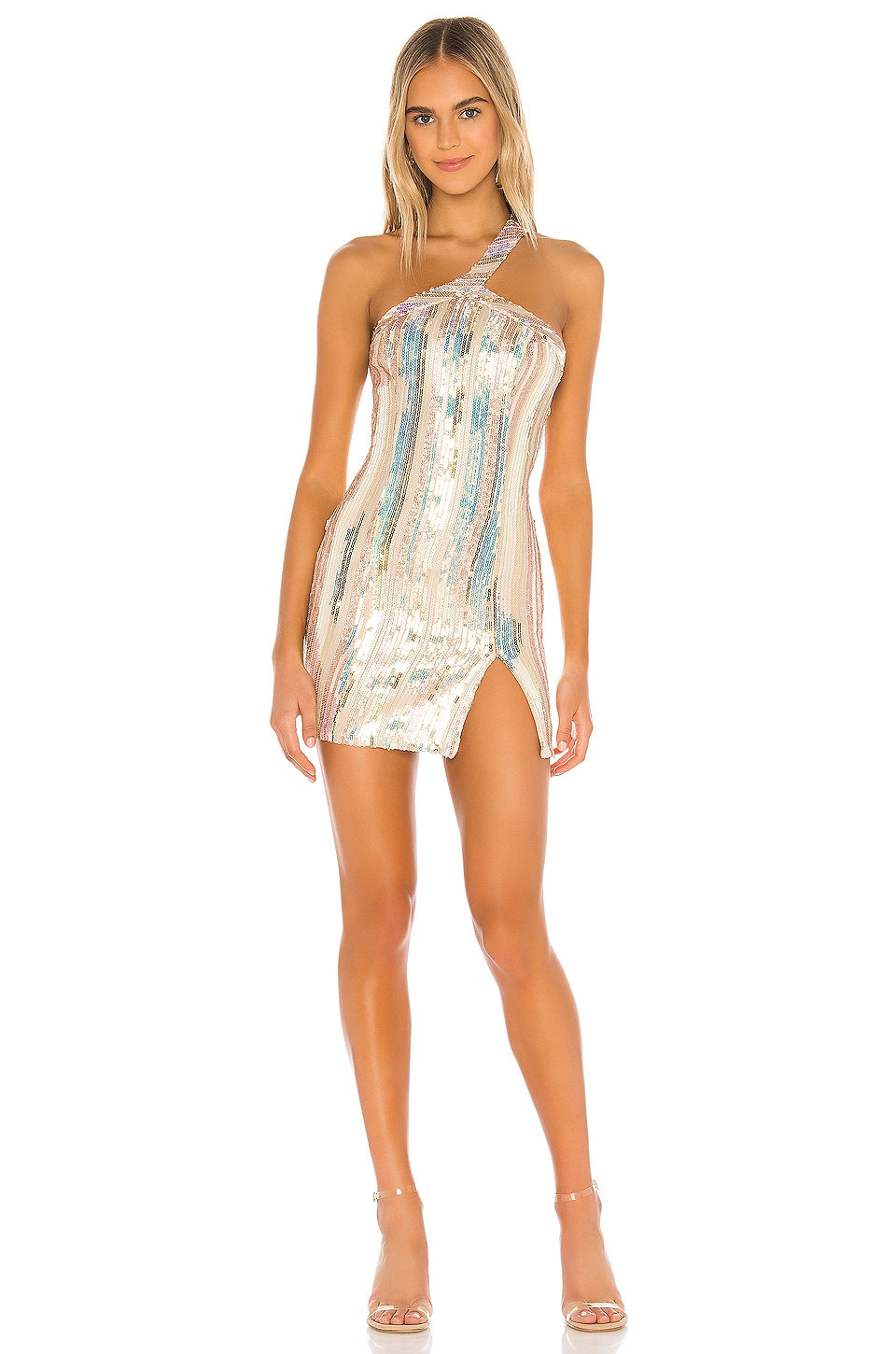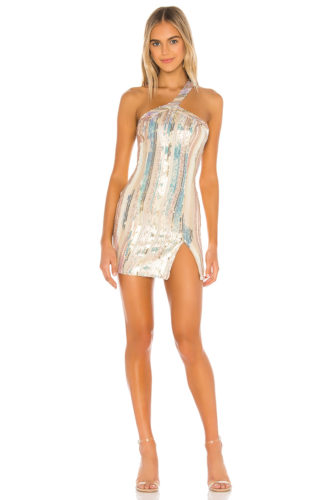 Vegas is known as the "shiniest place on Earth," so it's only right to break out the sequins while you're there.
This sequin mini dress (which also comes in black) has an asymmetrical one-shoulder design with a slit for a sultry, sparkly look.
Mesh Cut-Out Corset Top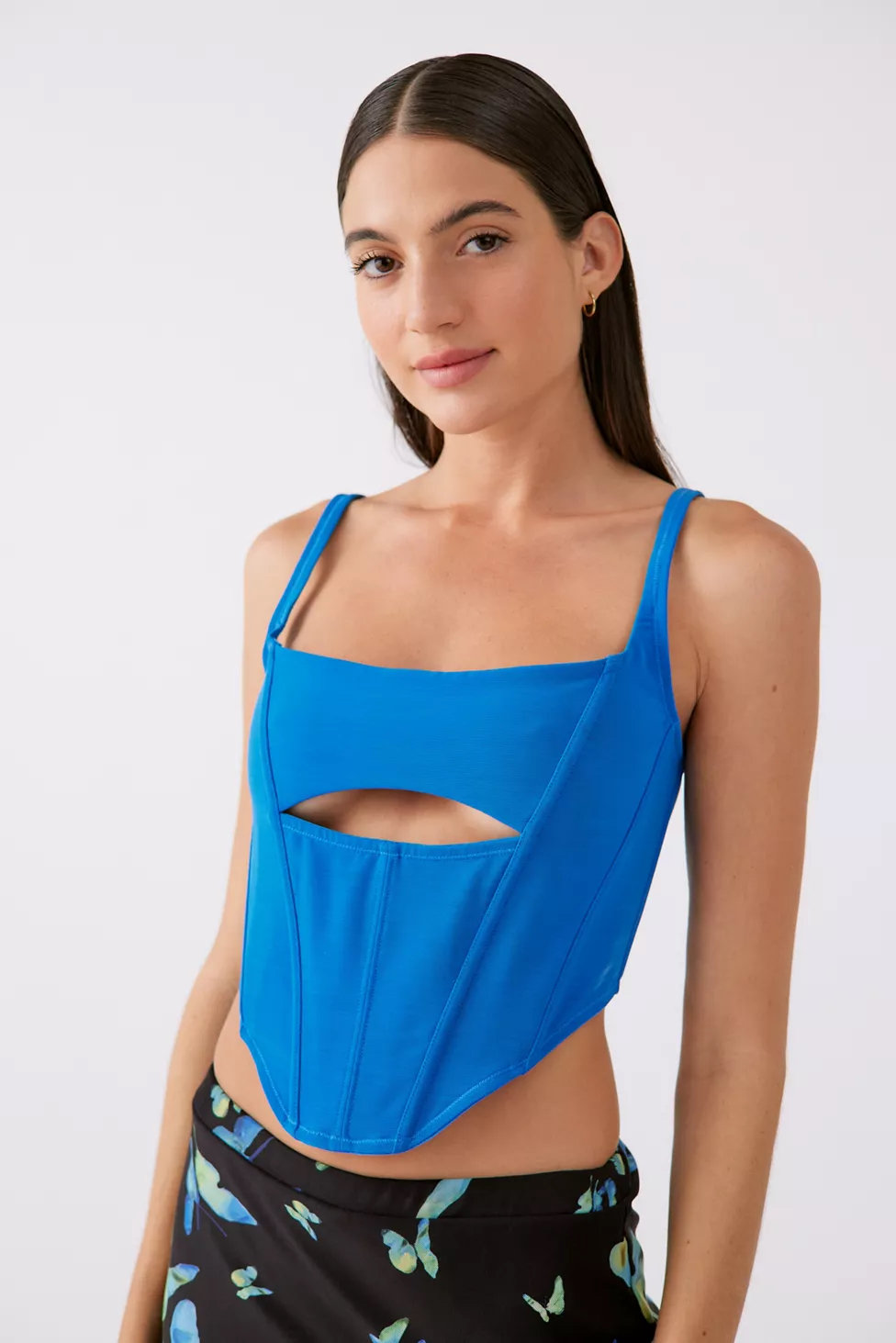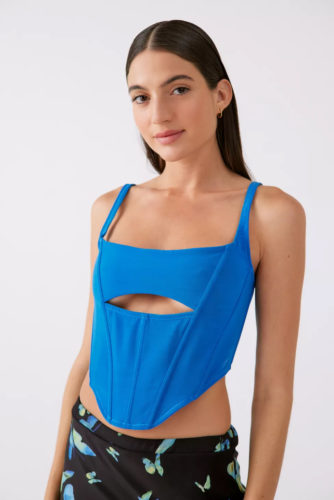 If you couldn't tell by now, cut-out details are not only super on-trend but totally appropriate for Vegas.
This trendy top has it all: it's a corset style with a peekaboo cut-out in the center and has a lattice tie-back closure. The bright sapphire blue hue will stand out in a Vegas crowd, too!
Glitter Strapless Mini Dress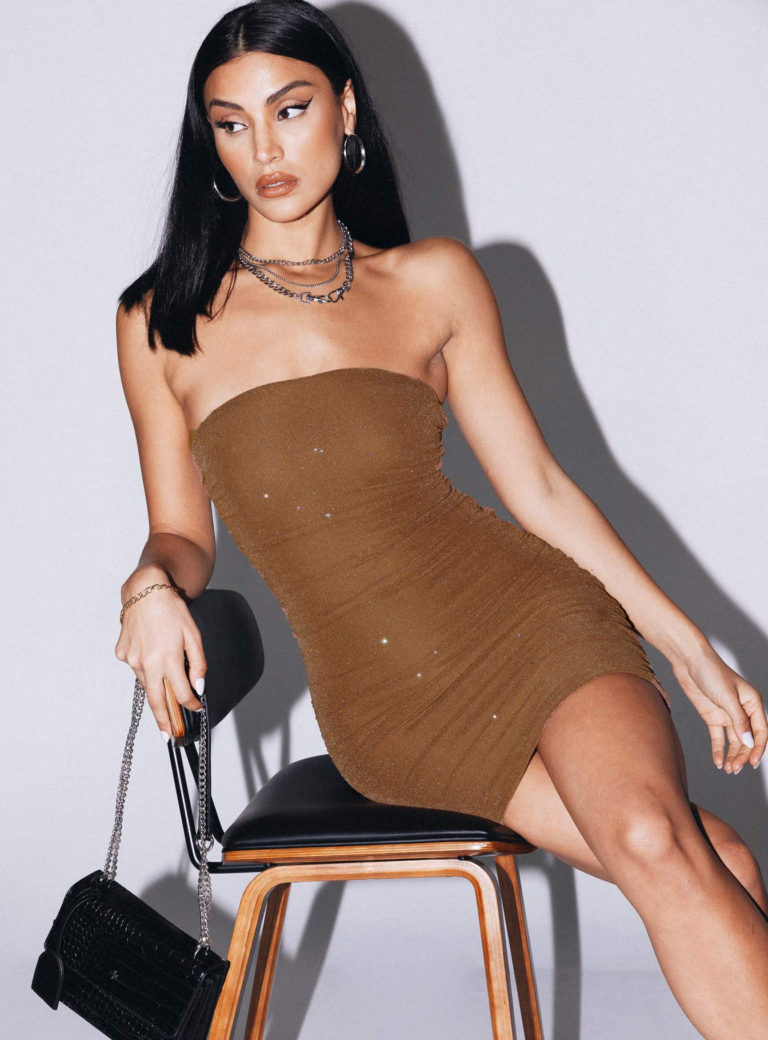 Brown is a color you don't see as much when going out in Vegas, which is why it's a cool, unexpected choice to wear!
This brown strapless mini bodycon dress has been given the Vegas treatment with an all-over glitter design on its mesh material. The subtle sparkle, along with its ruched sides, make this dress a winner.
Butterfly Crop Top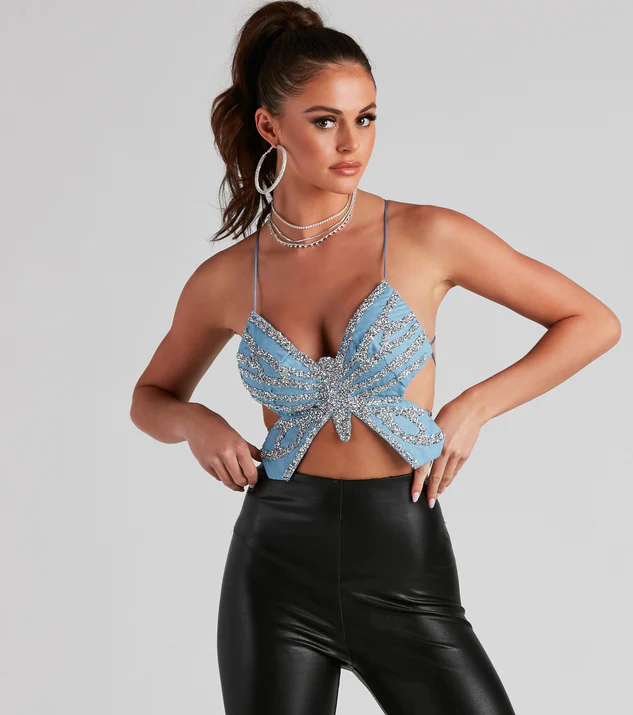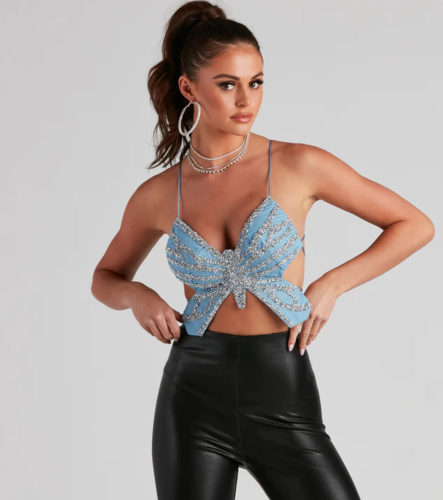 Channel your inner 2000's pop star with this denim butterfly crop top complete with rhinestone embellishments and an open back with cross-back lace-up straps.
This one-of-a-kind top will dazzle when you wear it with faux leather pants at a Vegas concert or show.
Rhinestone Strap Open-Back Dress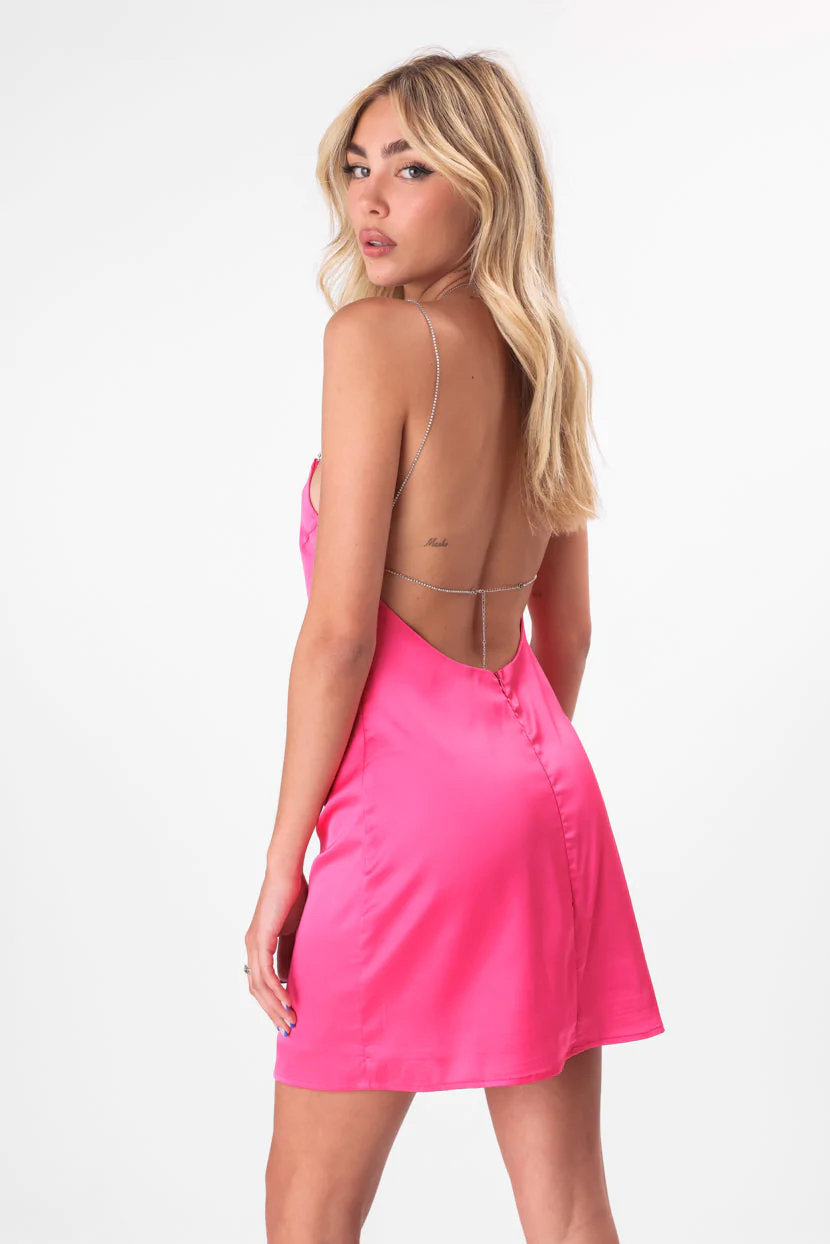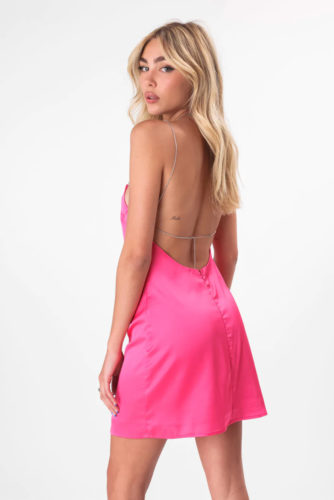 Dance the night away in this mini dress with rhinestone straps and an open back. The hot pink hue in a satin finish and sparkly rhinestone straps give this dress a glam, girly vibe.
Neon Crop Top & Mini Skirt Set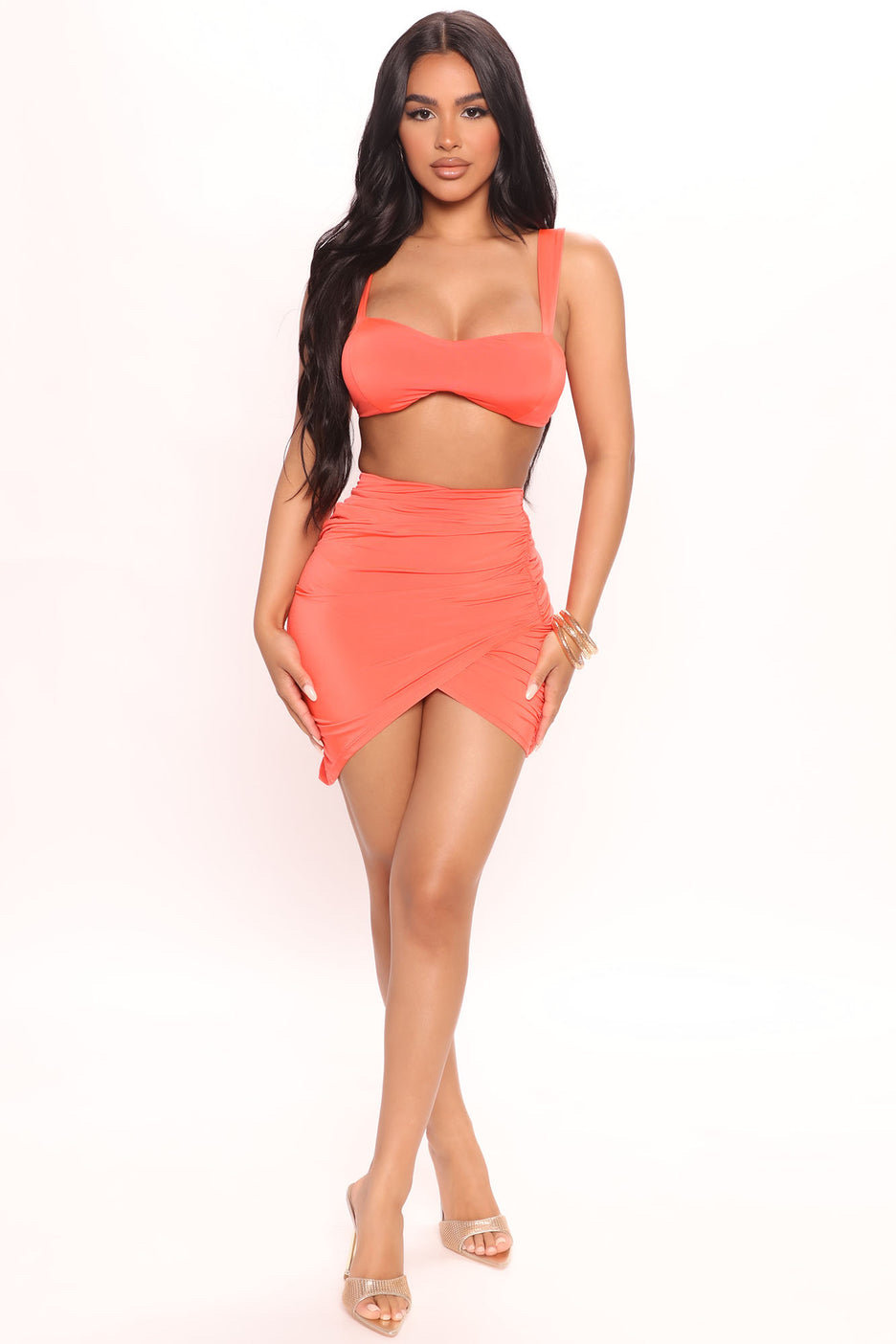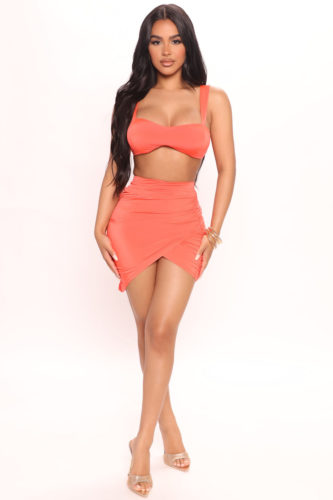 Neon clothing is practically a requirement in Las Vegas! A bright, neon-colored mini skirt and crop top set is just right for Sin City and will look sizzling with some lace-up heels.
P.S. –– the crop top has padded cups, so you won't even need to wear a bra with it.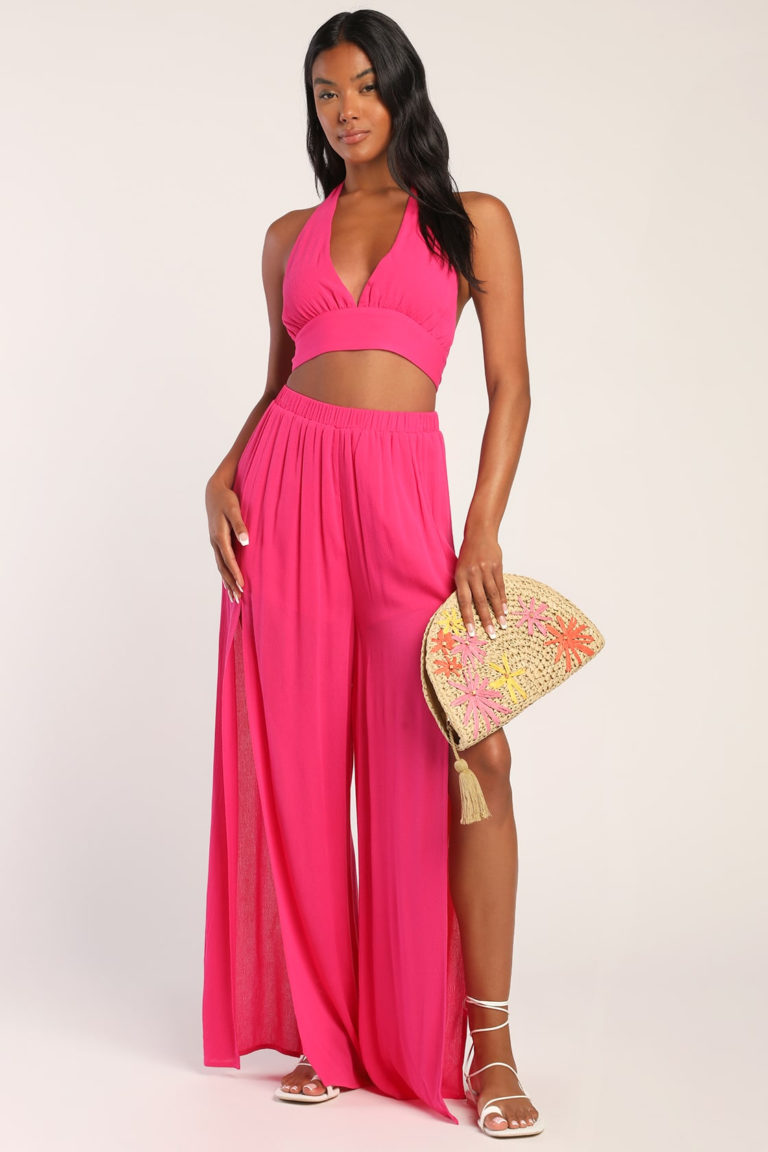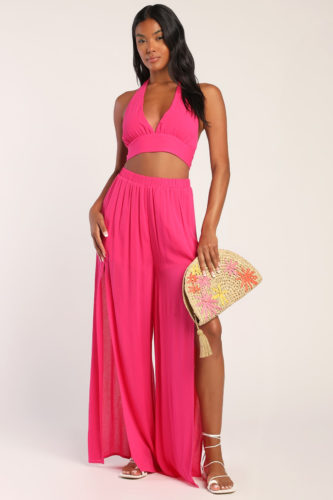 This two-piece jumpsuit is made from a lightweight gauzy material that will help you beat the Vegas heat.
With a halter neck crop top that ties in the back and matching wide-leg pants with thigh-high slits at the sides, this pink set (also available in black) is perfect for a pool party or roaming the Strip. You can wear it casually with flat sandals or dress it up with heels depending on the vibe.
Cut-Out Slinky Long Dress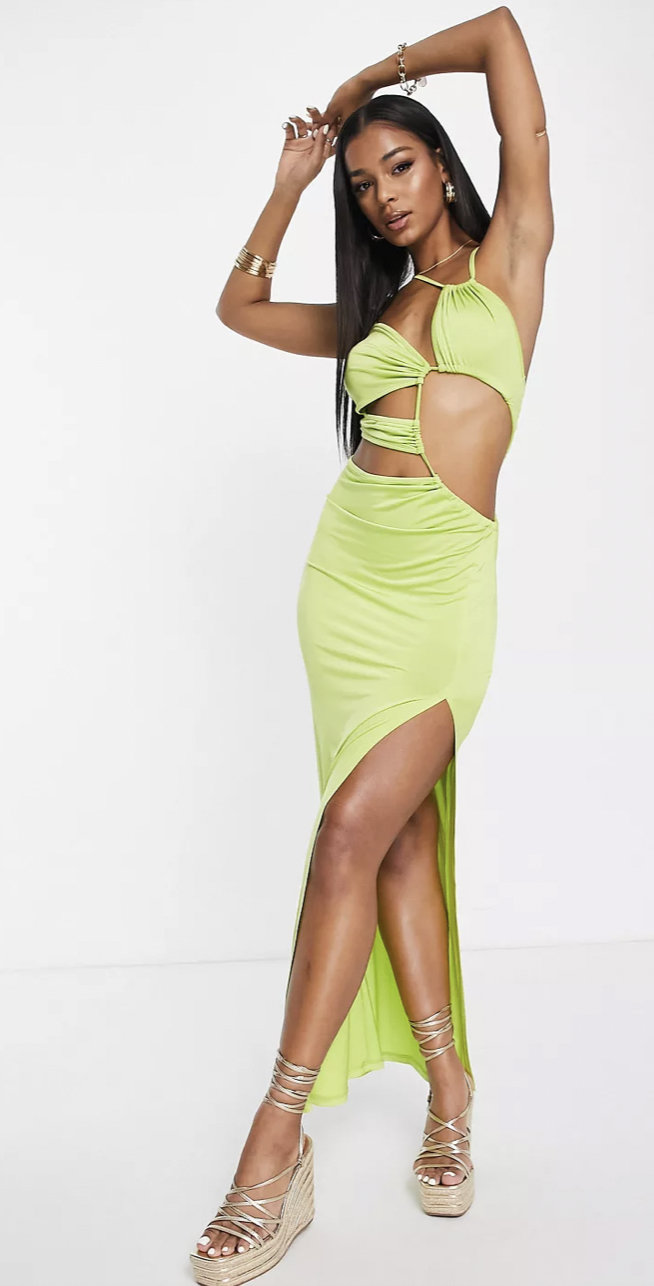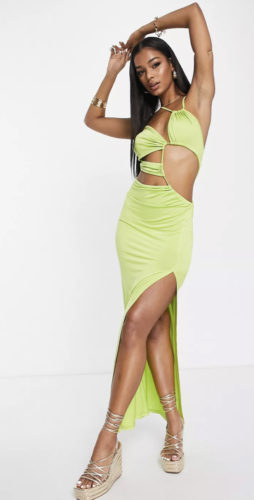 Switch it up and wear a long cut-out dress instead of a mini. This lime green dress is still plenty sexy with a one-shoulder design, cut-out detailing, thigh slit, and bodycon fit.
Satin Skirt and Top Set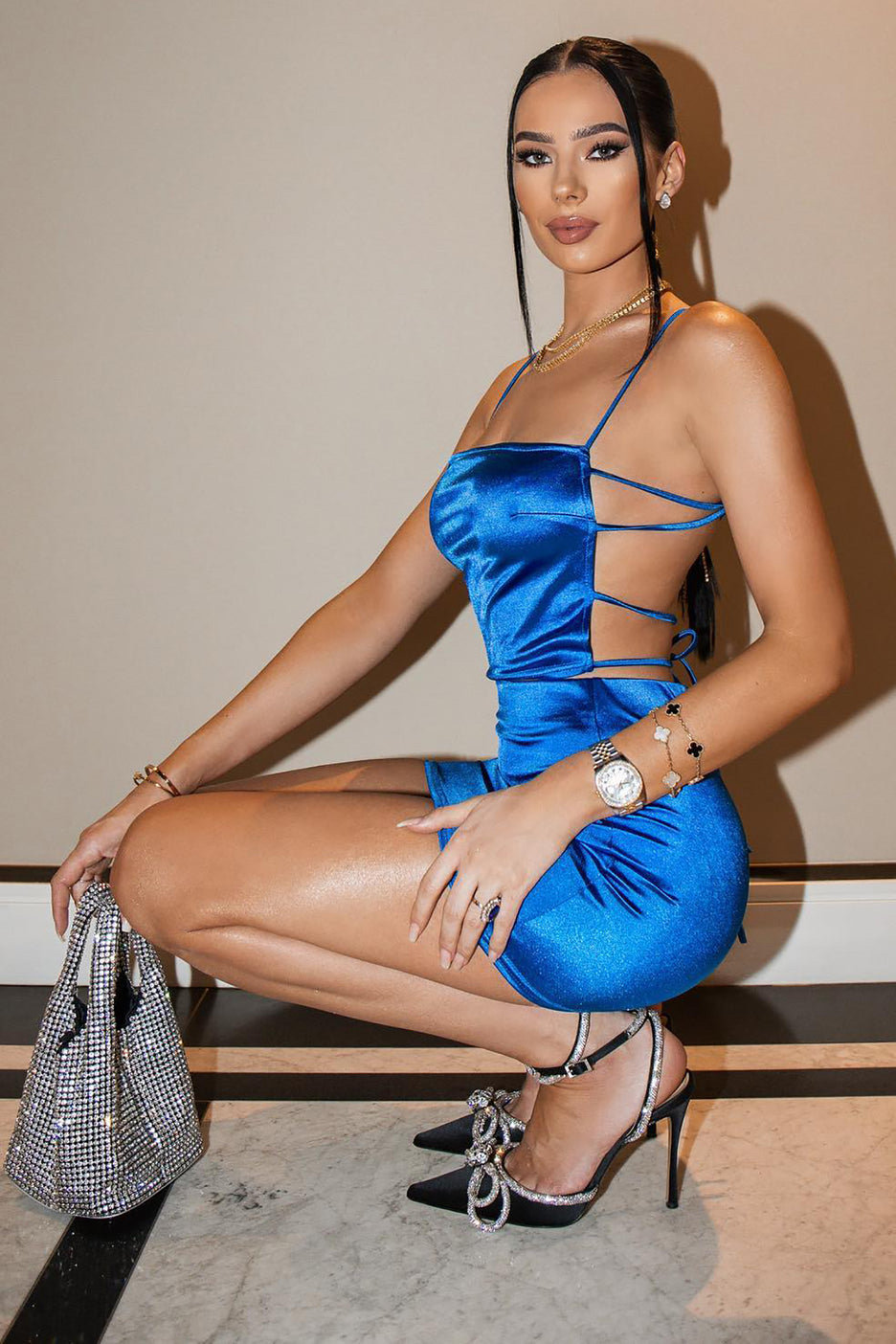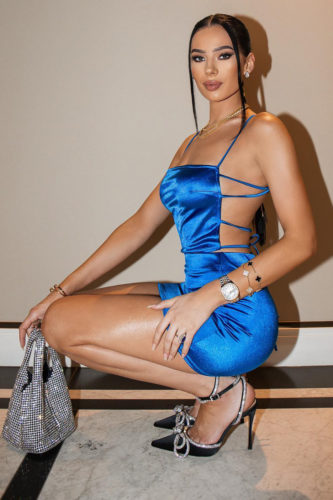 You can't go wrong with a satin mini skirt and top set for a night out on the town, especially in this striking royal blue hue. The top has a daring open back with a lace-up design in the same stretchy satin material as the mini skirt.
Multi-Way Crop Top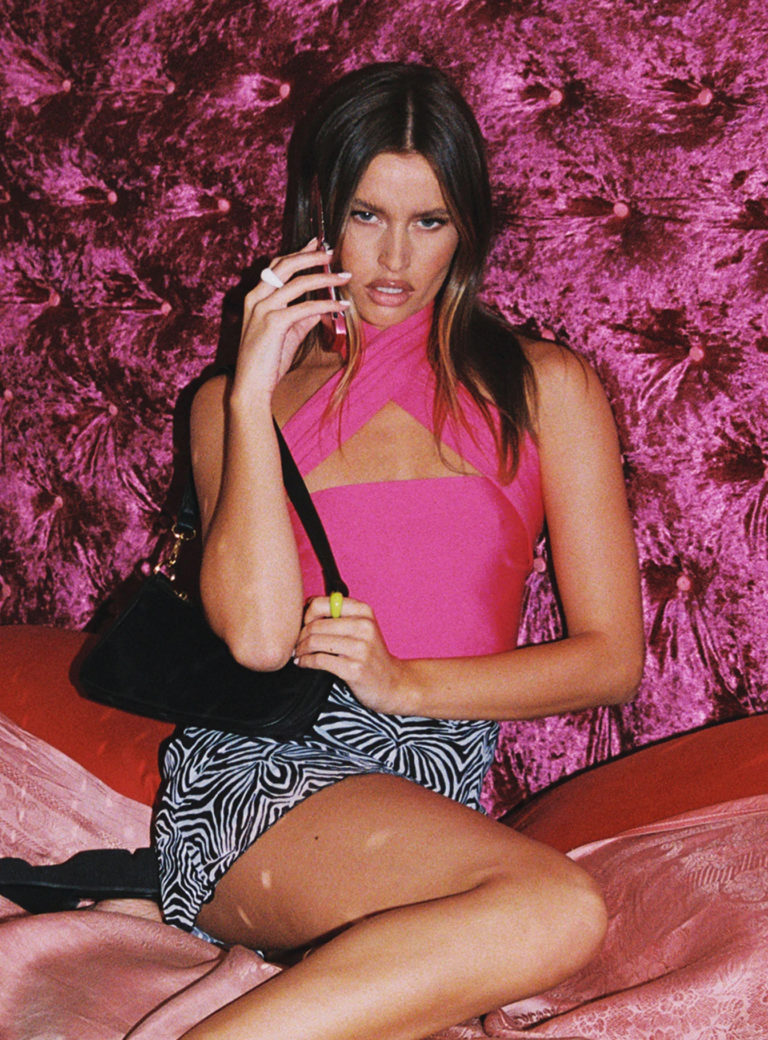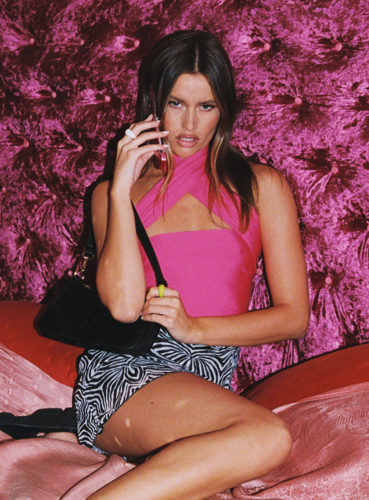 This crop top can be worn multiple ways, making it a must-have if you're going on vacation and trying not to overpack. You'll be able to tie this stretchy, scarf-style top differently to create a variety of looks you can wear with shorts, pants, and skirts.
Gold Metallic Lace-Up Back Dress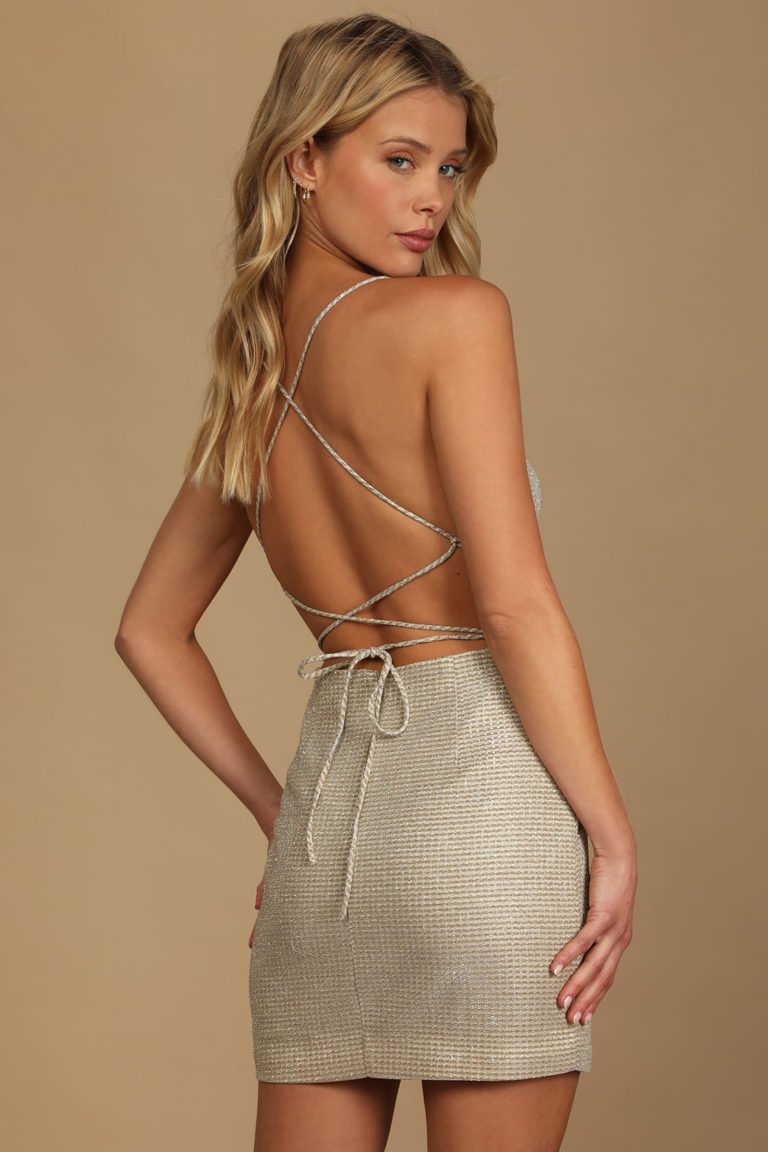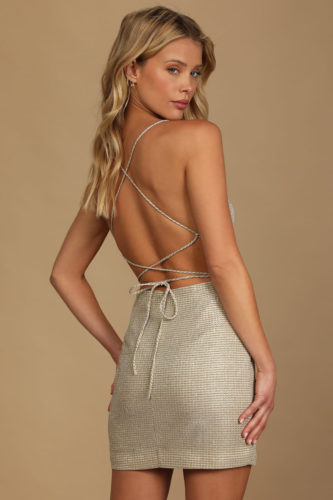 Turn up the shine with this gold metallic mini dress featuring an open lace-up back. Wear this shiny sheath dress with heels and gold jewelry when you take on Sin City.
What do you think of our Las Vegas outfit guide?
Would you wear these outfits? Which Las Vegas look is your favorite? Leave a comment and let us know!