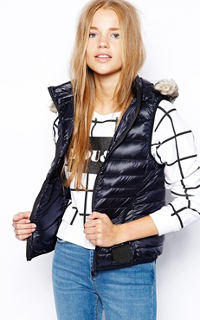 Product Info: 1. ASOS, 2. YesStyle, 3. American Eagle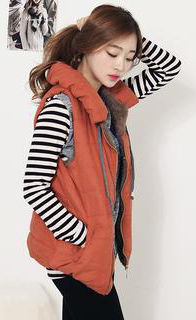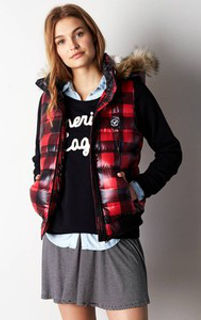 The practical puffer vest is a staple in many college girls' closets, but it may seem hard to incorporate this bulky piece of outerwear into a chic, stylish outfit. Sure, everyone loves the classically comfy look of a puffer vest with a flannel shirt, skinny jeans, and knee-high boots, but don't let yourself and your vest get stuck in a style rut!
Break out of your comfort zone and read on for three creative, fashionista-friendly ways to style a puffer vest:
1. With a Statement Necklace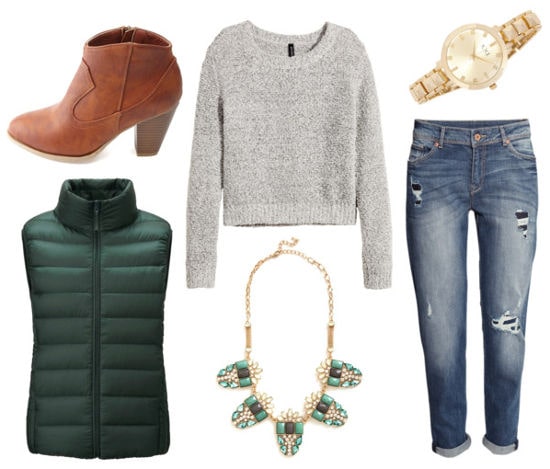 Products: Sweater – H&M, Vest – Uniqlo, Jeans – H&M, Necklace – Modcloth, Shoes – Charlotte Russe, Watch – Forever 21
This look pairs a dark green puffer vest with some other comfy and casual pieces, but dresses it up with glam accessories. Start with distressed boyfriend jeans and a gray sweater, then layer on your vest. Kick it up a notch with heeled ankle boots, a sleek gold watch, and a jeweled statement necklace. It's the perfect way to look polished while staying comfy and warm!
2. With a Maxi Skirt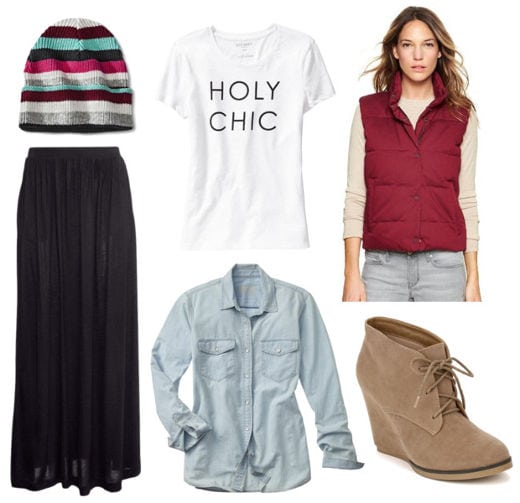 Product Info: Tee – Old Navy, Skirt – H&M, Vest – Gap, Shirt – Gap, Wedges – Amazon, Hat – Target
Think maxi skirts are only for warm weather? Prepare to be proven wrong! A maxi skirt looks great with layers – start with a black skirt, a simple graphic tee, and an open chambray shirt. Add on a burgundy red vest and taupe lace-up wedges. Complete this cold-weather outfit with a colorful knit beanie.
3. With Printed Pants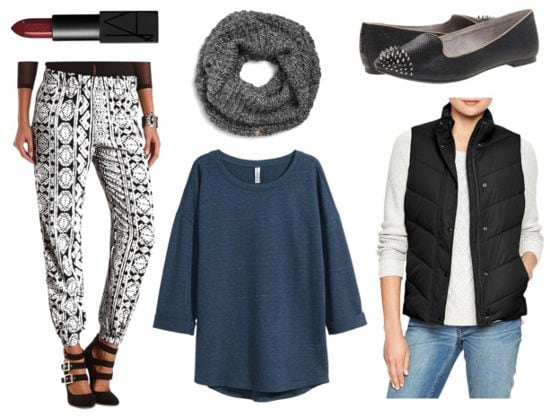 Product Info: Sweatshirt – H&M, Vest – Gap, Pants – Charlotte Russe, Shoes – 6pm, Scarf – Sperry Top Sider, Lipstick – NARS
This last look incorporates a puffer vest into a trendy and edgy outfit. Start with a pair of printed black-and-white pants and a teal sweatshirt with a black puffer vest layered on top. Warm it up with a chunky gray knit scarf. Slip on a pair of spiked black loafers for a comfy-cool vibe, and swipe on some berry lipstick for a trendy and autumnal touch.
Thoughts?
Is a puffer vest a staple in your closet? How do you style it? Which outfit would you try? Let us know in the comments!