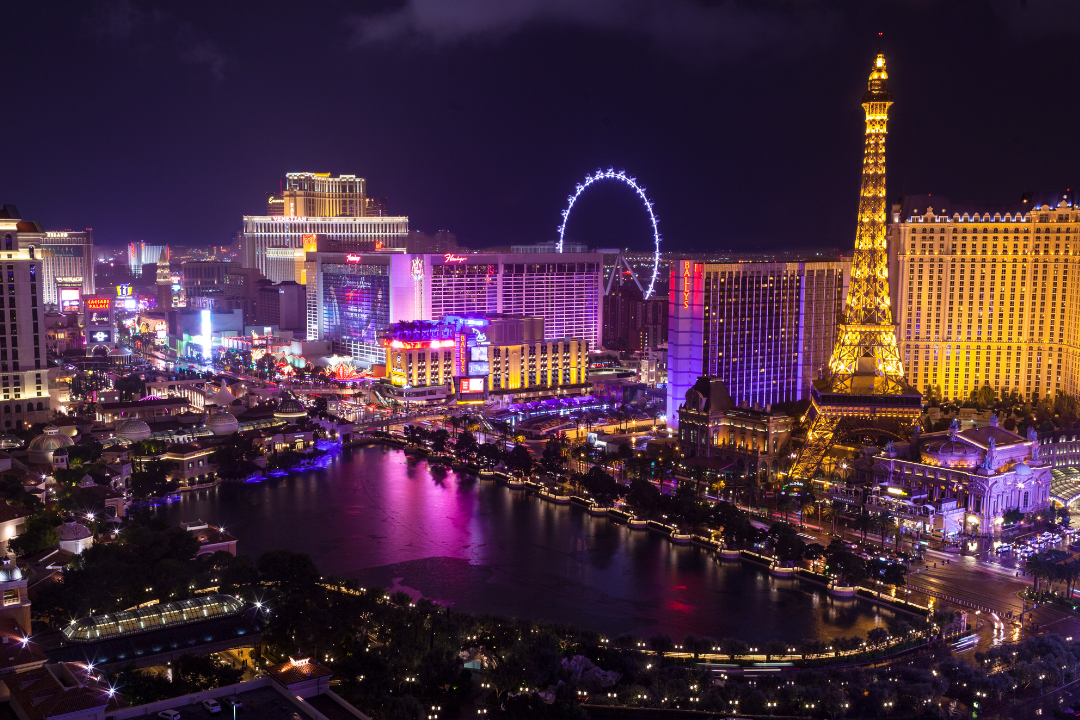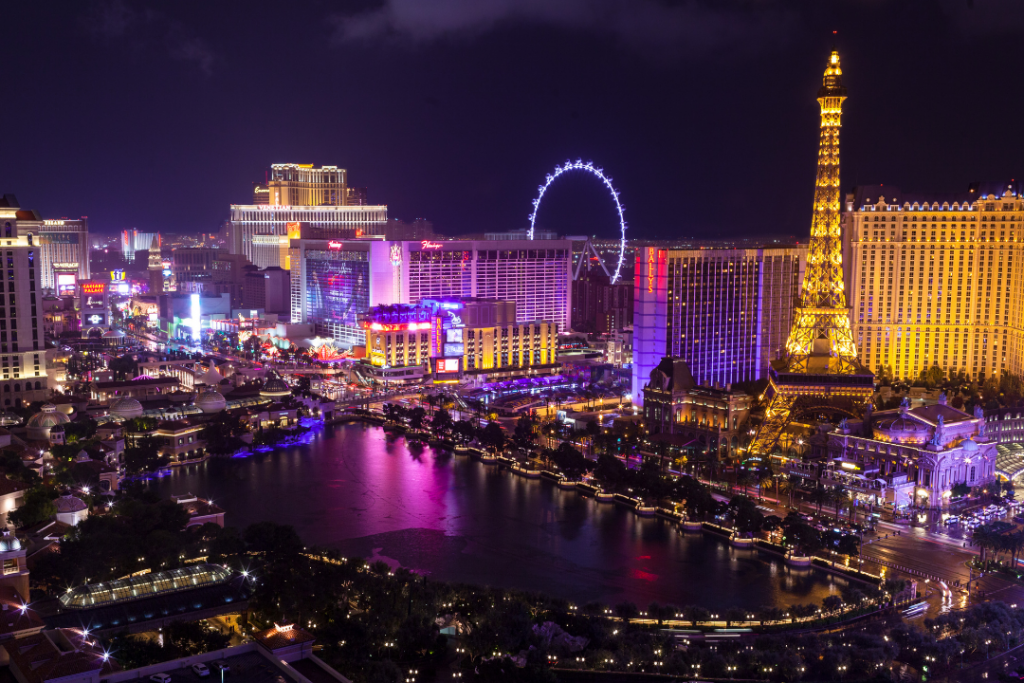 When I graduated college (not so long ago, might I add), I never in a million years dreamed my big kid job would call for me to travel as often as I do. While I sometimes miss my friends…and my apartment…and my super cozy bed, I also realize how lucky I am, too. Although I regularly travel to Atlanta, Dallas, Kansas City, LA, and Washington DC, the place other than my hometown that I spend the most time in is Las Vegas. I'm not joking around — last year alone, six full weeks of my life were spent in Sin City. (Insane, I know.)
{RELATED POST: What to Wear in Las Vegas (+ Outfit Ideas)}
Okay, so I'd love to tell you that my field of expertise involves lounging by the pool, happy hours at Tao with the Kardashians, late nights dancing to Deadmau5 at the Wynn, and shopping sprees at one of the only Topshops in the USA. I wish that's what my trips to Vegas looked like! Although I usually manage to sneak some fun in, the trade shows and conventions I attend require long hours and plenty of hard work.
Don't get me wrong, though — no matter how wiped I am at the end of the day, I always take time to walk the strip, people watch, check out high-fashion stores, and enjoy all of the free entertainment Sin City has to offer. Las Vegas is so fun, energetic, and unique – I can't get enough of it.
For this post, I thought it'd be fun to share some pro tips on how to save and spend money while you're in Vegas, plus tips for travelers on how real girls dress while out here. Let's dive right in!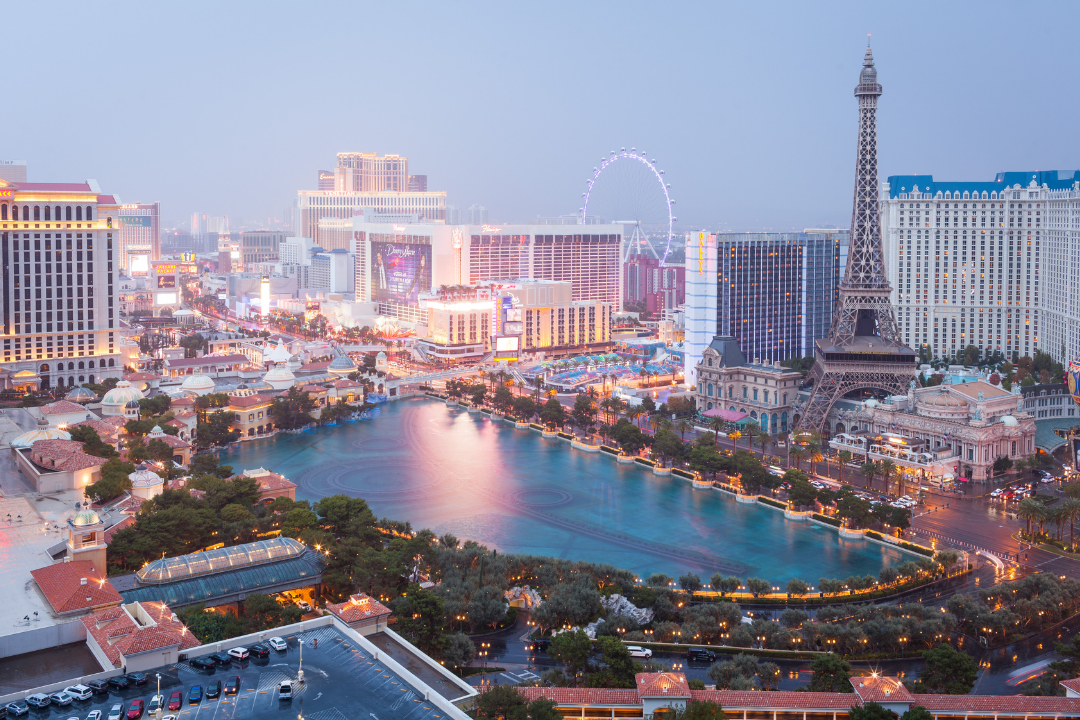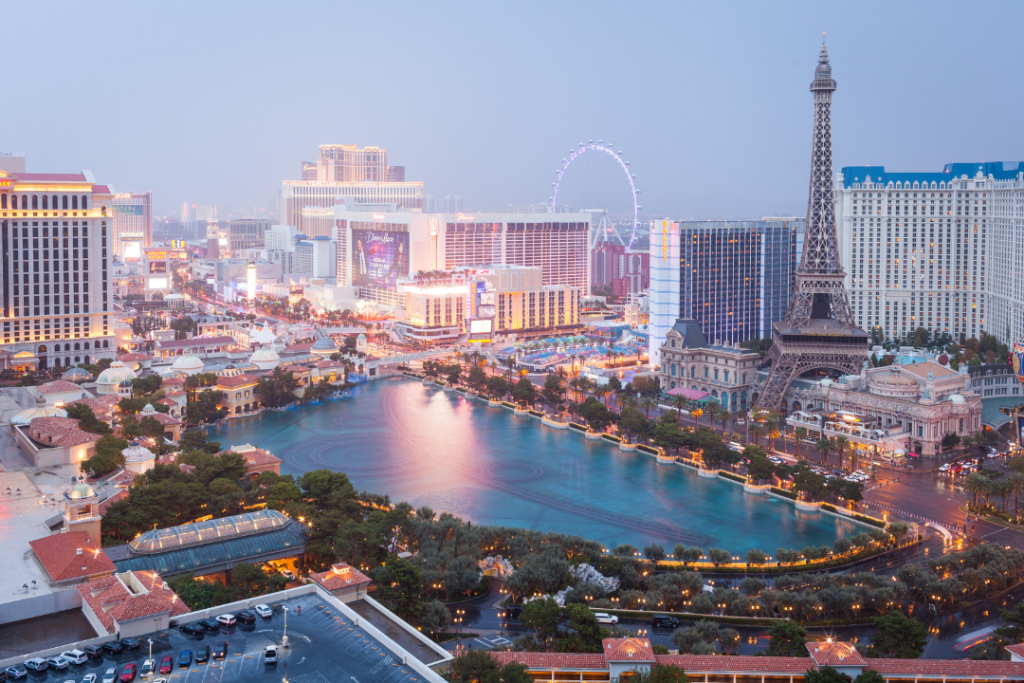 Tips & Tricks for Visiting Las Vegas
Ladies, prepare to walk — a TON. Although something might look like a short walk next door, in Vegas, the buildings are so huge that your perception of space gets kind of skewed. Be mentally prepared for it to take a long time to walk anywhere — but embrace it and fully enjoy those strolls! People watch, soak up the atmosphere, and think of all the calories you're burning!
Consider where you eat dinner. There's a food court in every hotel loaded with places like Chipotle, McDonald's, Panda Express, and more. This is great because you can fill up on inexpensive food and save your cash for shopping or entertainment. However, if you do want to splurge on a nice meal, consider where you're eating – most restaurants/nightclubs (like the oh-so popular Tao and Lavo) offer free VIP passes to their nightclub for whoever eats dinner there earlier that night.
Speaking of VIP Passes to nightclubs — being the gorgeous college girl that you are, be prepared to be stopped at least once an hour by promoters offering you wristbands, free drinks, or bottle service at various nightclubs. Although it might seem kind of strange, most clubs in Vegas hire promoters to fill their venue with fun and beautiful girls before 11 pm, when high rollers and packs of vacationing guys start to arrive. While I have, well, mixed feelings on the entire concept, to say the least, it's also true that one libation alone in Las Vegas will run you about $15. As long as you stick together with your group of girlfriends and use your head, it's good to take advantage of the free early bird drink specials or free admission to the hottest venues. Trust me — you'll appreciate saving money wherever you can.
Be smart about gambling. Those gigantic and luxurious casinos didn't build themselves! While I've been known to play blackjack and Texas Hold 'Em on occasion, during most trips to Vegas, I avoid gambling altogether. In the wise words of Carrie Bradshaw, "I like my money where I can see it…hanging in my closet!" Speaking of which…
Go shopping! Prepare to see the largest Forever 21s, and H&Ms you've ever visited in your life. And the high-end designer boutiques will absolutely take your breath away. Don't be shy about walking in and taking a look around — the Chanels and Herve Legers and Guccis and Louis Vuittons you see are just as much tourist attractions as they are stores.
Enjoy all the free entertainment. The fountain at the Bellagio. Your hotel's luxury swimming pool. The volcano at the Mirage, the canal at the Venetian, and the pirate show at Treasure Island. These are all free and amazing. Let the people gambling (and losing for that matter) pay your way for all of the gorgeous sights and amazing scenes you get to soak in for free. Be sure to take pictures with the statues at Caesar's Palace, check out the lions at the MGM, and lend an ear to the busking musicians on the strip. There is entertainment all around you!
Vegas Outfit 1: Walking the Strip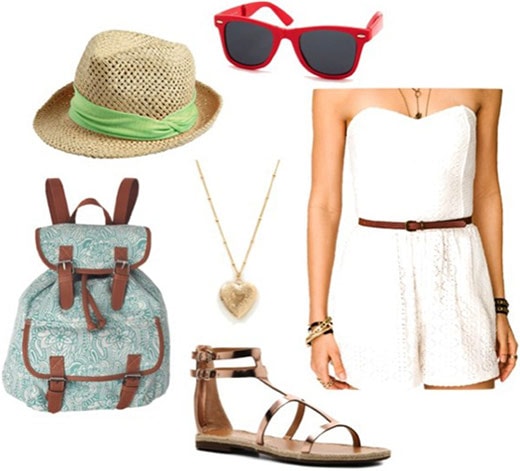 Romper, Fedora, Necklace, Sunglasses, Shoes, Backpack
As I mentioned before, each building is GIGANTIC and is never as close as it appears. Whether you're shopping, sightseeing, or just people-watching, you'll want to be sure to wear flat shoes comfy enough to walk (literally) miles in. You'll want to look cute, though, so a girly romper and a long necklace will provide you with plenty of comfort but still look great in the photos you'll definitely take. Carry your belongings in a secure backpack to keep your shoulders or arms from wearing out. Finish with a fedora and shades to protect you from the harsh sun.
Vegas Outfit 2: Lounging by the Pool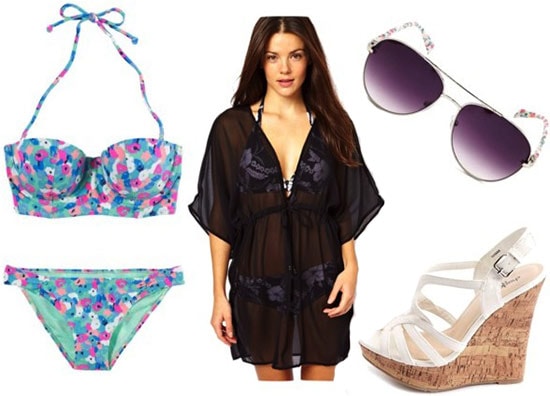 Swimsuit, Kaftan, Sunglasses, Shoes
Look glamorous at the pool with a chic, colorful swimsuit and classy kaftan cover-up. I know that wearing wedge heels might feel weird to the pool, but trust me– in Las Vegas, they'll fit right in! These are especially necessary at the "pool clubs" that many of the hotels on the strip have. Finish with cool aviator shades.
Vegas Outfit 3: Dinner and Drinks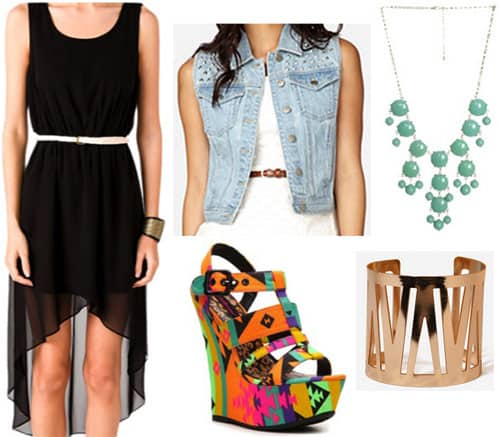 Dress, Vest, Shoes, Bracelet, Necklace
Nightlife in Vegas starts late and ends even later. To get a large group of girlfriends in one place, it's a good idea to eat dinner early (preferably on a patio somewhere) then take your time getting ready for the night ahead. You'll especially want to look on-trend if you happen to go to a dinner/nightclub hotspot! A black maxi dress, especially a high-low one as seen above, will look chic and photograph well. Add some style with a funky pair of wedges and a denim vest. Finish with a statement necklace and a cute cuff bracelet.
Vegas Outfit 4: A Night on the Town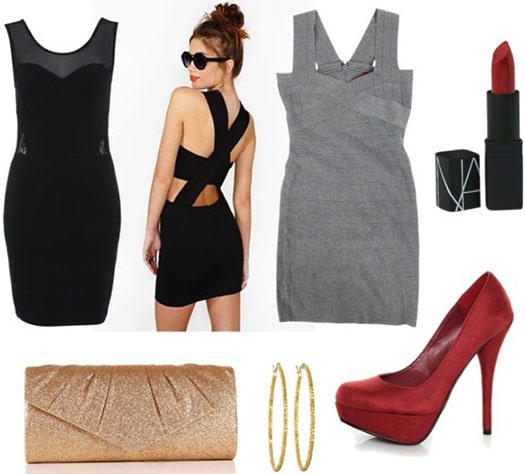 Dress 1, Dress 2, Dress 3, Lipstick, Earrings, Clutch, Shoes
Nightlife attire in Las Vegas is all about being over the top. If you have a skintight or glittery dress but felt funny wearing it in your hometown, Sin City is the place to rock it! Another important factor — be sure to wear heels that you think you can walk in for a long period of time! Even if you take a cab from your hotel to wherever you're going, NOTHING is as close as it looks. In fact, throwing a few aspirin and bandages (and maybe some of those roll-up emergency flats) in your clutch isn't a bad idea. Finish with glitzy earrings and bold lipstick.
Have You Ever Been To Vegas? What Are Your Tips?
We want you to share your experiences in what I think is the greatest city in the world! Have you been to Sin City before? What shows did you see? Where did you shop? What nightclubs did you check out? Do you have any money-saving tips? What sort of outfits did you wear? Leave a comment and join in on the conversation!