This post will show you what to wear on a boat, with tips and outfit ideas for women.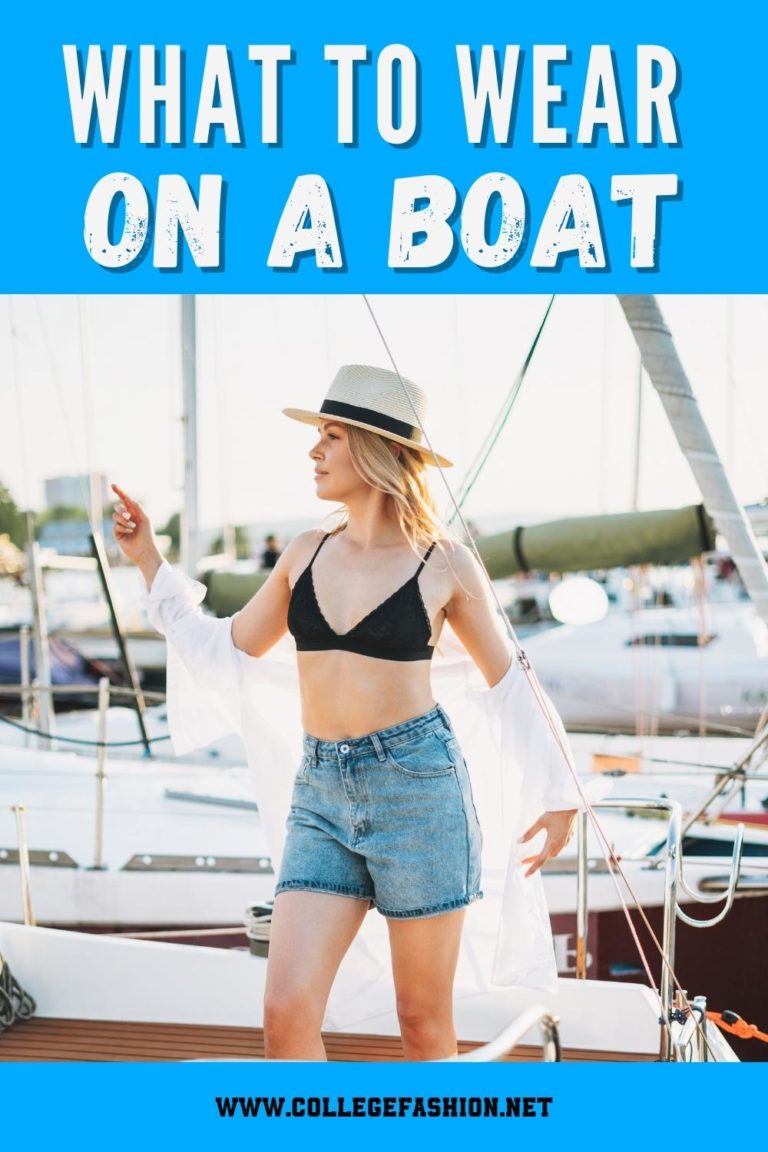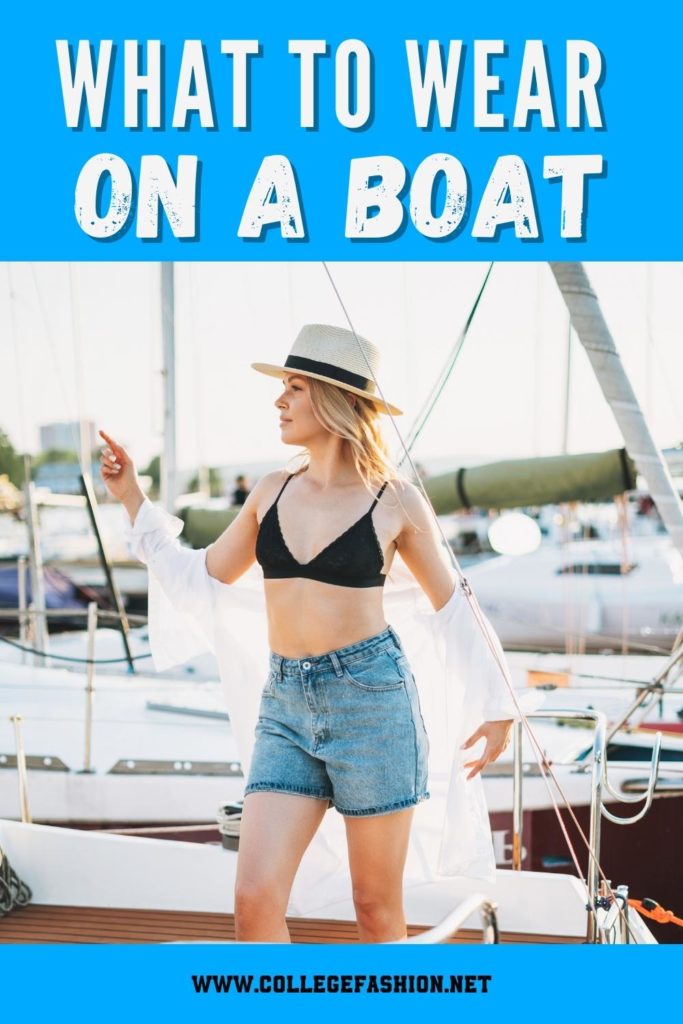 Summer is right around the corner, and with it comes all the fun activities like beach days, backyard BBQs, and hopefully… boat rides!
What's not to love about spending a day on the water? From sightseeing to sunbathing to chilling with friends, there are plenty of great reasons to go boating. If you have any upcoming boat days planned, this post is for you.
Here at CF, we like to be prepared with an outfit for every occasion. That's why we're breaking down what to wear on a boat, with tips and outfit ideas for every boat excursion you may take.
(FYI, these outfit ideas are certainly not limited to boat rides – check them out for general summer and vacation outfit inspo!)
From laid-back to glam, these boat outfit ideas will have you looking stylish while still being practical for a boat ride. Furthermore, dressing for a day on the water is a bit different than dressing for a day spent on land.
First off, let's start with some general tips for how to dress when you're heading on a boat:
Tips for What to Wear on a Boat
Keep it simple. While there's nothing wrong with dressing "extra," a boat is not the best place for an over-the-top look. This is because of the various elements you may encounter, like stronger winds and splashes (you are on the water, after all!). You don't want to be fussing with your outfit or feeling uncomfortable when you're trying to enjoy the ride.
Consider your footwear. Unless you're going to a dressy boat party, I recommend sticking with flat sandals – preferably non-slip, waterproof ones. You'll want to feel steady aboard the boat, even if the waters get choppy. Plus, if you're going to be taking a dip in the water. You won't want to ruin any leather or suede sandals by getting them wet. There are many fantastic flat rubber and jelly sandals you'll find throughout this post that are ideal for a boat day. Also, certain boats like yachts may require removing your shoes altogether.
If you'll be boating in the evening, bring a lightweight jacket, sweatshirt, or wrap because it can get quite chilly out on the water. It also tends to feel windier (compared to land), so having something to bundle up in is crucial.
If you are boating during the daytime, bring a hat and sunglasses. You won't be able to enjoy your boat ride if you have to squint in the sunlight. A hat will help protect your face from harmful UV rays. (Just avoid wide brim hats or anything that fits loosely, as the wind can catch these and blow them away.)
Don't forget to bring sunscreen! A sunburn can easily happen while you're out at sea. So protect your skin by slathering on the SPF, even if you won't be sunbathing.
Bringing a change of clothes (and a towel) might be a good idea. If you're going to be swimming during your boat excursion. There's nothing worse than being stuck in wet clothes!
Outfit Ideas for What to Wear on a Boat
Now that we've covered the basics, let's get to the outfits.
These outfit ideas range from ultra-casual to dressy. So that you're covered no matter what your boat day will look like. Read on for 10 outfit ideas you can wear the next time you're going on a boat, with everything under $100.
Time to hit the dock!
Related Post: The Cutest Swim Cover Ups Under $50 to Upgrade Your Beach Looks This Summer
1. Casual Boat Day Outfit
Let's start off with a casual boat outfit that is timeless, ultra-versatile, and strikes the perfect balance between fashion and function.
A white linen button-down shirt is a classic piece every girl should own. Its lightweight material is ideal for warm days. Wear it buttoned and tucked into high-waisted denim shorts, or leave it loose and open as an airy cover-up over your bikini top.
Opt for classic accessories like round metal sunglasses and a basket-woven straw crossbody bag, which you'll want to use all summer. Some durable slide sandals like this pair with a rubber sole and braided straps bring the ensemble together. You can kick them off at a moment's notice and get your feet wet!
2. Chill Boat Day Outfit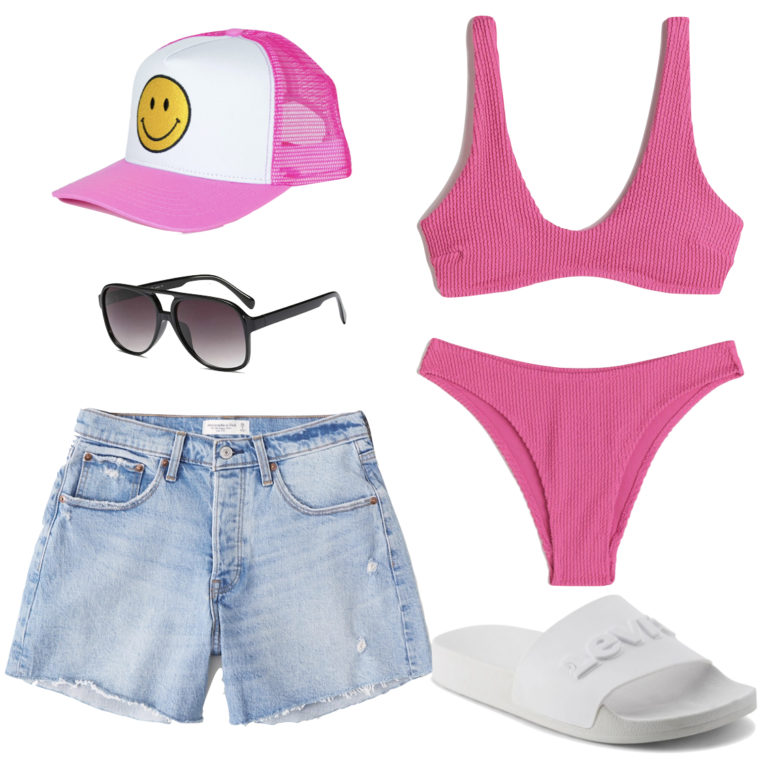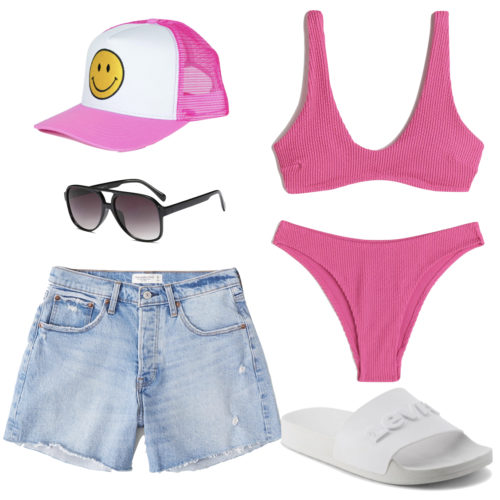 Products:
For a chill day on the water spent hanging out with friends or family, you can't go wrong with some ripped denim shorts. Adding over a brightly-colored bikini, along with rubber slide sandals and a hat.
Trucker hats are having a moment this season, and this pink one with a smiley face decal gives off good vibes. Plus, it matches the pink crinkled bikini for a cute, coordinated look.
You'll want to wear practical footwear like a comfy pair of waterproof slide sandals, especially if you're going to be getting in and out of the water.
Don't forget a pair of sunglasses, like these cool, retro-inspired aviators while you soak up the sun.
3. Effortless Boat Outfit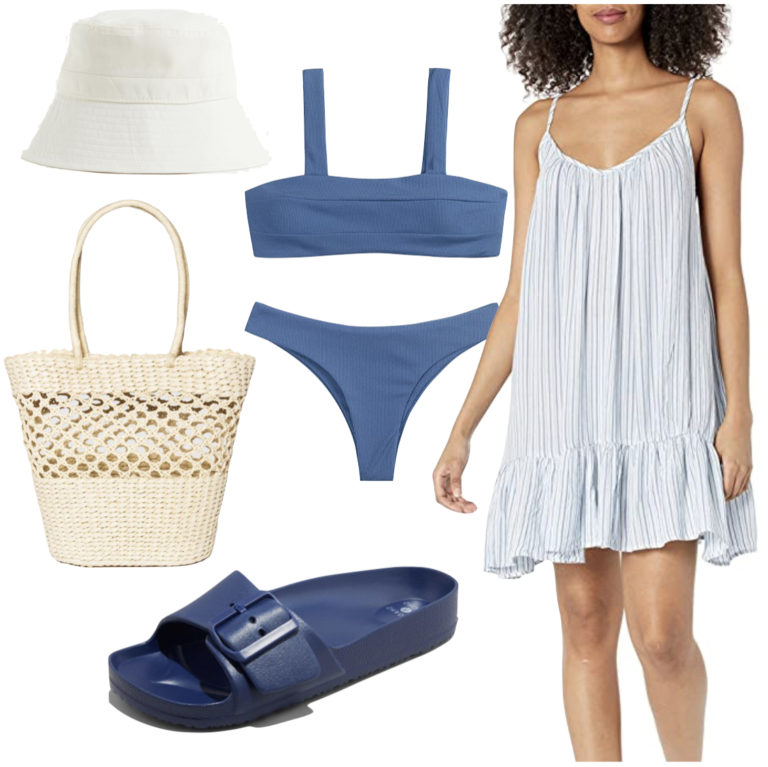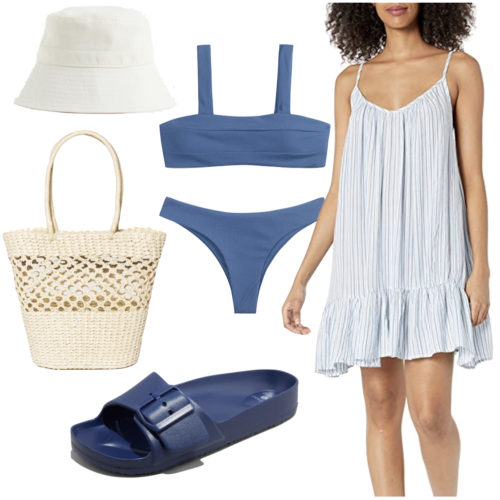 Products:
While we love to dress up, a boat ride should be relaxing (and fun!). You don't want to get so caught up in the details of your outfit that you lose focus of the activity at hand. That's why a relaxed, effortless outfit that doesn't require a lot of thought is often best for boat rides.
A breezy cover-up dress like this blue and white striped dress is easy to put on and off over your swimsuit. Its lightweight woven material will help you beat the heat, too.
Waterproof sandals like these single-band slide sandals are uncomplicated, functional, and easy to slip on and off – plus, they match the blue color palette of this outfit.
Bring along a large straw tote bag to carry your boat day essentials, and try a simple white bucket hat for an on-trend way to keep the sun off of your face.
4. Trendy Boat Outfit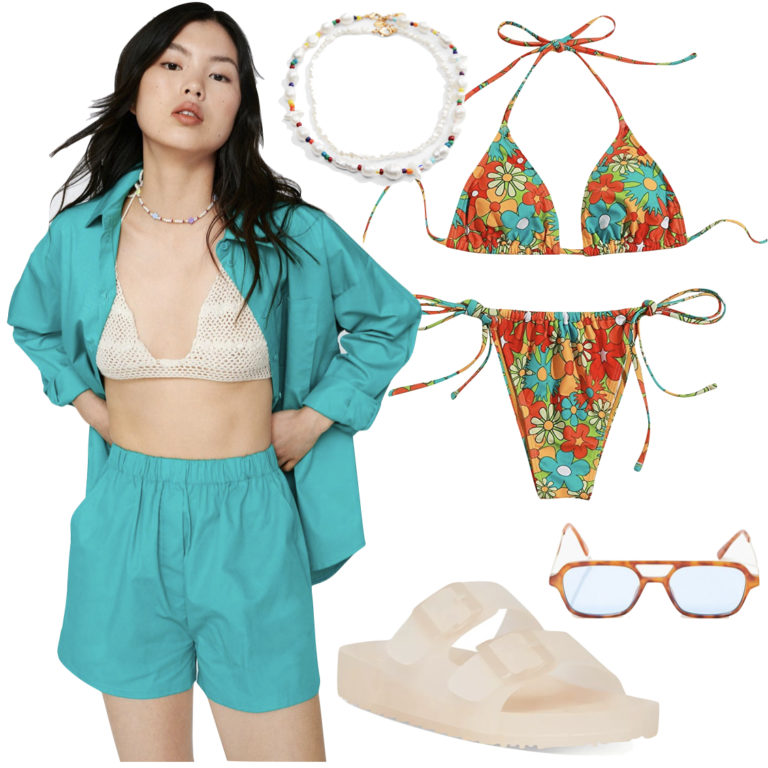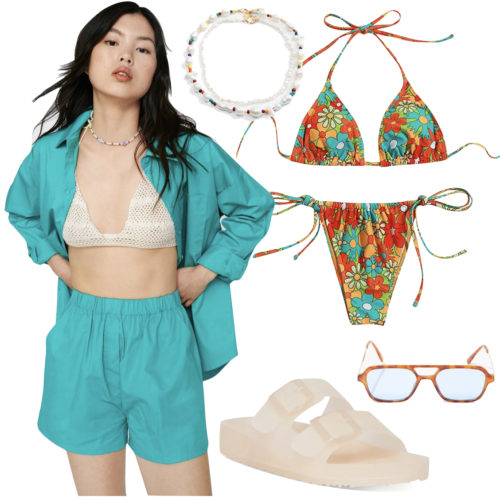 Products:
If you want a trendy outfit on your next boat ride, a shirt and shorts co-ord set is a must. These easy-going sets are trending this season, and they make for fantastic swimsuit cover-ups.
You can choose a classic feel with a neutral or striped set or go bold with a bright color like this turquoise poplin set. Not only is it trendy, but it's perfect for relaxing thanks to the oversized fit of the shirt and the pull-on design of the shorts. This features a comfy elasticized waist and breathable fabric.
This floral print bikini incorporates a similar shade of turquoise in its retro-inspired print and will pop underneath the button-down shirt. Keep the retro vibe going with a pair of aviator sunglasses with tinted lenses and layered necklaces like this beaded pearl set.
Complete the look with a pair of jelly-footbed sandals that are stylish and functional for a day at sea.
5. Classic Boat Outfit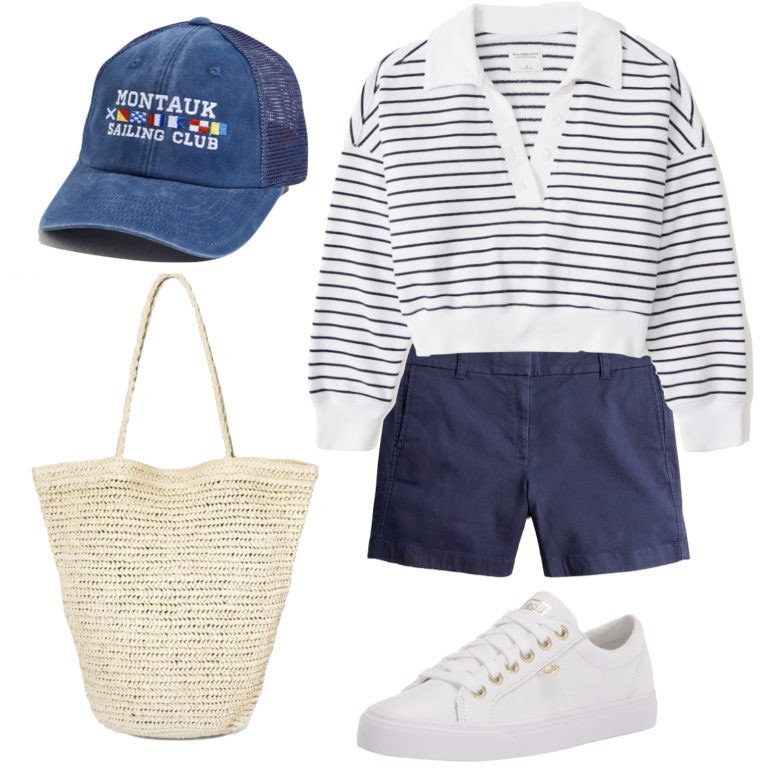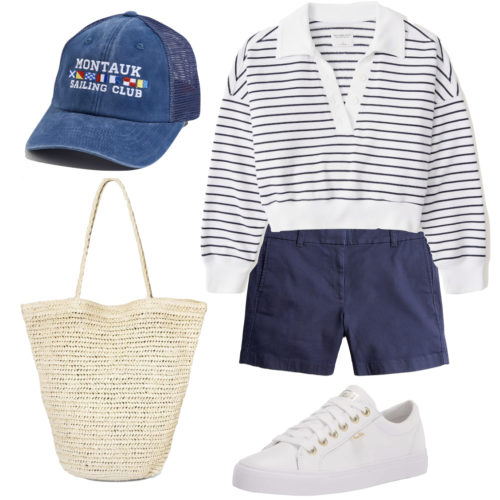 Products:
I love dressing on theme depending on where I'm headed, and it doesn't get more nautical than navy and white stripes. This Johnny-collar button-up striped sweatshirt looks like it was made for sailing. Its lightweight material is ideal for a summer evening spent on the water. Pair it with some matching navy-colored chino shorts and white low-top sneakers for a sporty vibe.
A large straw shopper tote is functional and fits the nautical aesthetic of this outfit, while this embroidered "Montauk Sailing Club" baseball cap will make you look like a seasoned sailor!
6. An All-Day Affair
If you're planning on spending a full day on a boat, you'll want to dress comfortably (but still stylishly, of course). I'd recommend some breezy wide-leg linen pants as a cover-up over a swimsuit, like this blue cut-out one-piece. The pants have side slits for added flair, and also give them an extra breezy feel.
Keep things simple with white waterproof slide sandals, and consider a straw visor to shield you from the sun while also looking chic. Oversized sunglasses (these have blue gradient lenses to match the swimsuit) make for both a practical and glam accessory.
You'll want to bring a large bag to carry your day-long boat essentials, like sunscreen and a sweater. This blue circle rope tote bag will hold everything you need while combining the ensemble with its color scheme.
7. Cute Boat Outfit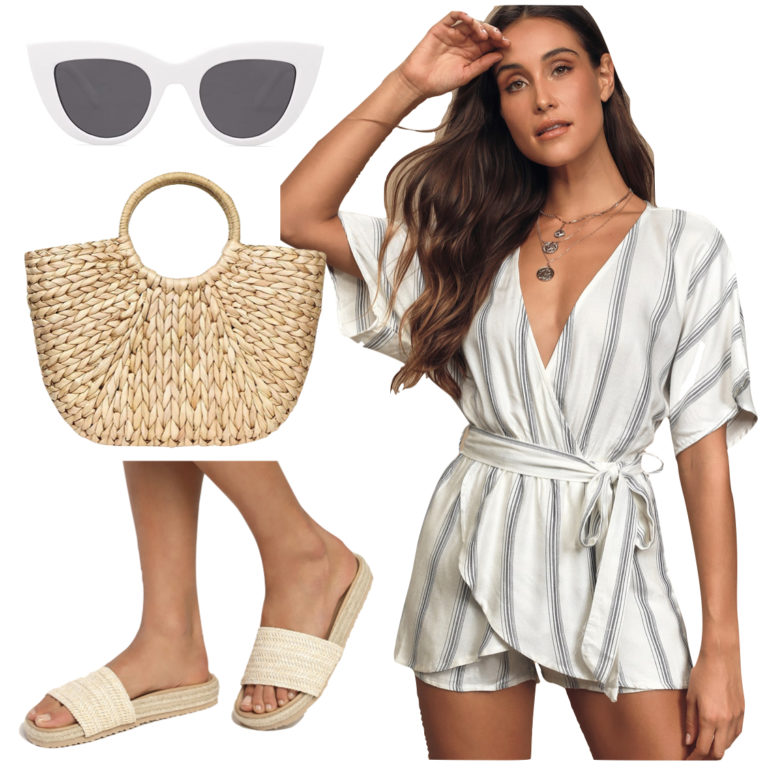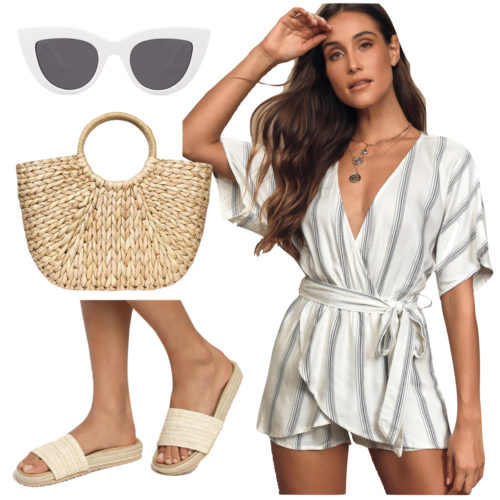 Products:
For a cute outfit to wear on a boat ride where you won't be swimming or sunbathing, this striped romper will do the trick. This romper has a nautical vibe thanks to its gray and white striped print and lightweight fabric. It is sure to look adorable in photos you take while on board.
Play up its summery feel by wearing it with some flat espadrille slide sandals, white cat-eye sunglasses, and a woven straw top-handle bag.
This outfit is perfect for a boat ride during which you hang out with friends or family, head to lunch, go sightseeing, or take a sunset cruise.
8. Glam Boat Outfit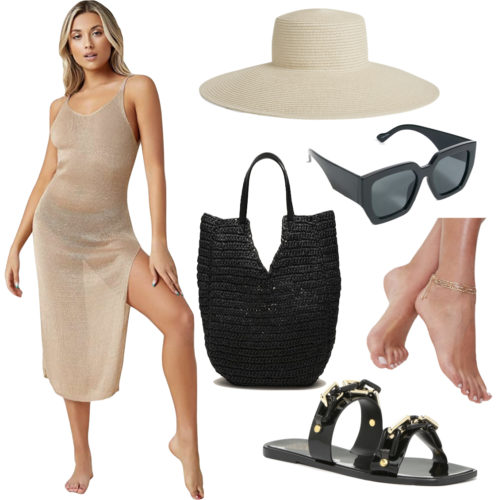 Products:
Want a glam outfit to make you feel *fancy* while on a boat? Even if you aren't going to be spending your day on a yacht, you'll feel in this glam look. (Though if you are going on a yacht, this outfit is especially perfect!)
A subtly-sexy cover-up dress to wear over your swimsuit. This sheer crochet dress will make a significant statement thanks to its open back, side slits, and slight shimmer.
Up the glamour with a straw wide-brim hat and dark, oversized sunnies for a chic touch. This modern black straw tote bag will easily hold all of your belongings while looking elevated.
Complete the look with some practical yet luxe-looking chainlink jelly sandals. Add a bit more bling by wearing a gold chain anklet set.
9. Casual All White Boat Outfit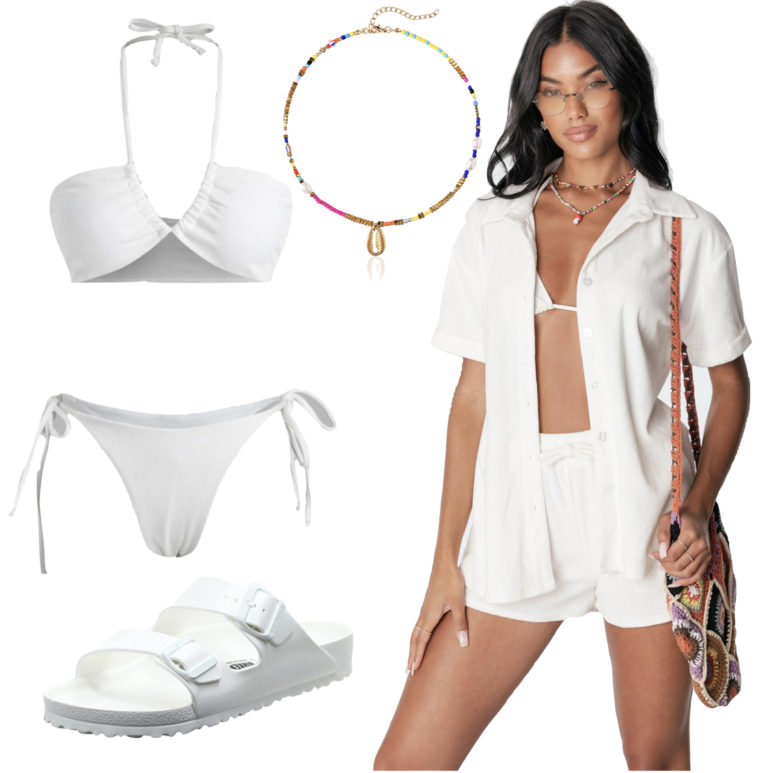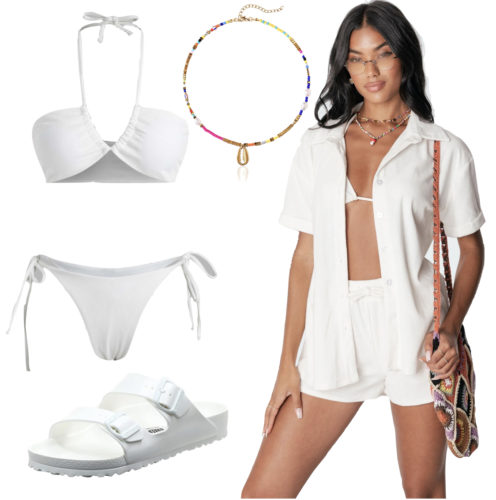 Products:
People love to throw white parties during the summertime, especially on boats. If you score an invite to a casual white party, or if you want to make a statement in a monochromatic white look. Try this terrycloth shorts and shirt co-ord set.
Terry cloth is ideal for boating (along with going to the beach and pool). Thanks to its absorbent fabric, the white-on-white palette looks extra fresh. Wear the set over a white bikini or one-piece swimsuit, and opt for some white rubber sandals, like this comfy waterproof pair with a footbed.
Add a hint of color with a trendy colorful beaded necklace to give your monochromatic outfit a little pop.
10. Dressy All White Boat Outfit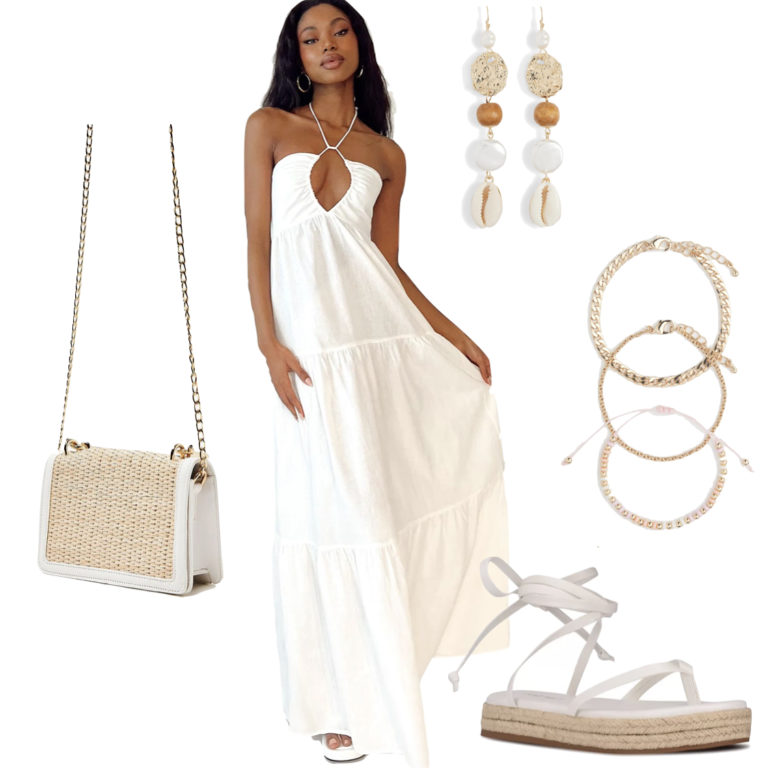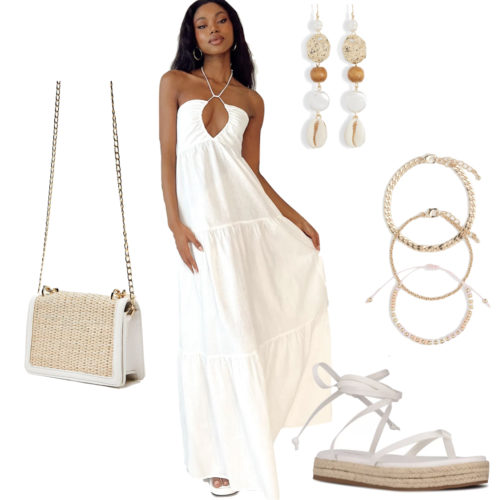 Products:
Similarly, if you've received an invite to an all-white party on a boat with a more formal dress code, this look is going to dazzle. (You can also wear this to a boat party in general – it doesn't have to require a white dress code for you to wear this outfit!).
Turn heads in this white, tiered maxi dress with a halter neck and plunging neckline. It's made from a linen-look material that is airy and light. Accessorize with gold jewelry like stacked bracelets and drop earrings; these earrings feature faux pearls and shells for a beachy look.
Add in straw details to keep the outfit summery and boat-appropriate like a faux leather and straw crossbody bag with gold chain and white lace-up woven espadrille sandals.
What do you think of our guide to what to wear on a boat?
Which outfit idea is your favorite? Will you be spending time on a boat this summer? Leave a comment and let us know!
If these styling tips inspired your boating outfits, dive into these posts below for more fashion insights to elevate your style on the water –