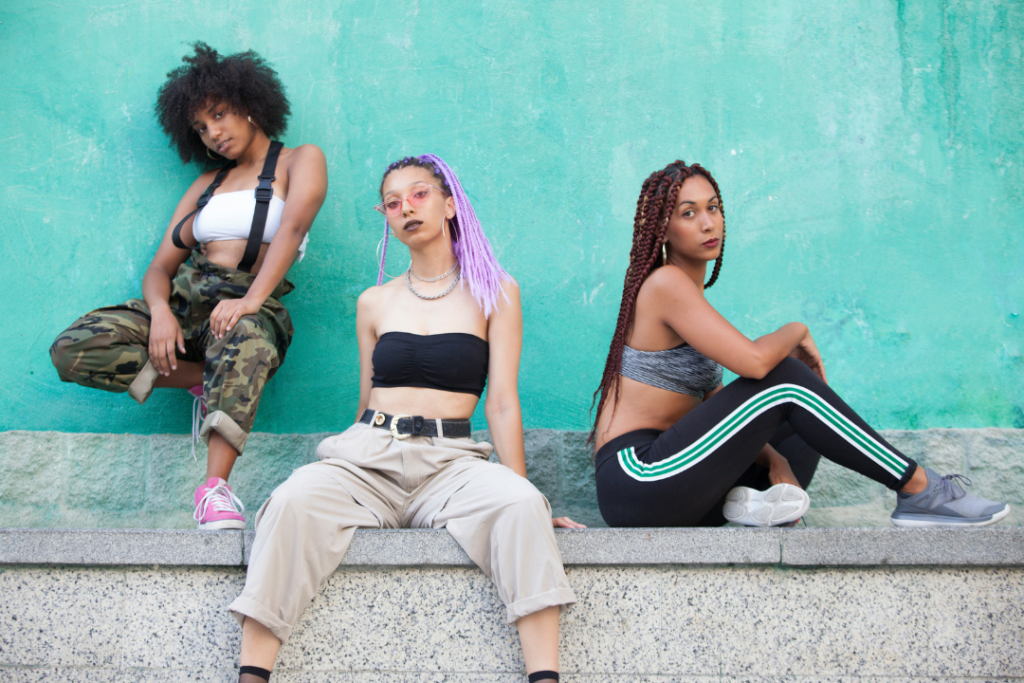 I had a little trouble coming up with the perfect title for this edition of our must-have essentials lists.
The style I'm describing is something we've all seen at concerts, college bars, social mixers, dance clubs, and even in our classrooms. It's partially inspired by hip-hop, partially inspired by electronic dance music, and vastly present at outdoor concert festivals.
It borrows from both hipster culture and the mainstream, and mirrors the collision of several different music genres that are popular today — but I'm not sure if a term has been coined for the style or not.
The look is underground enough to be considered insanely cool, and has enough momentum to be instantly recognizable. It's sporty and fun, and blends luxury pieces with low-end finds. It's very current, but throws back to the '80s and '90s.It blends LA fashion with Bushwick style, and a touch of the European party scene. Think of what would happen if Icona Pop, Nicki Minaj, and everything sold on Nasty Gal had a love child.
For the sake of this post (and who knows, maybe this term will catch on!), I'm calling this style Electro-Urban.
If you're into electronic dance, dubstep, and/or hip-hop music, you know exactly the vibe this post channels. Since this style is so fresh, new, and up for interpretation, think of this list as just a starting point. Mix and match with the things you already have in your closet to create a look that's uniquely yours!
Anyways, let's jump right in the the 15 Must-Have Pieces for an Electro-Urban Wardrobe:
(For more must-have lists like this, check out our posts on street style essentials, classic and timeless essentials, and bohemian essentials.)
1. Graphic Print Leggings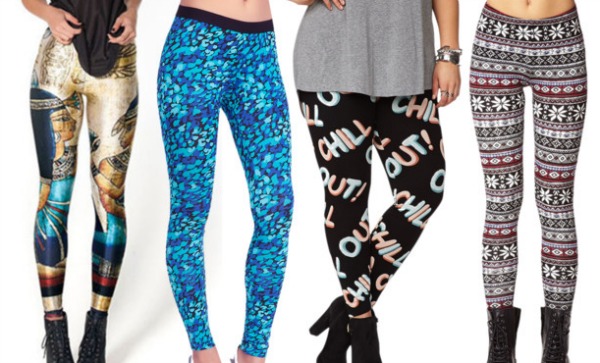 For an instant and unexpected pop of color, try a thick and supportive pair of printed leggings. Cloth pairs will breathe and stay comfortable all day, but some stretch pairs hold you in nicely and give your legs a flattering shape.
A casual, fun way to wear these is with a long, tunic-length white v-neck and a trusty pair of combat boots. Add a cardigan or hoodie if it's chilly out!
Try them with a skin-tight black mini dress and killer stilettos.
If you have a pair with more muted colors, try wearing them with leg warmers, knee-high riding boots, and a oversized sweater. Finish with an (#11) army-inspired anorak.
2. A Body Con Dress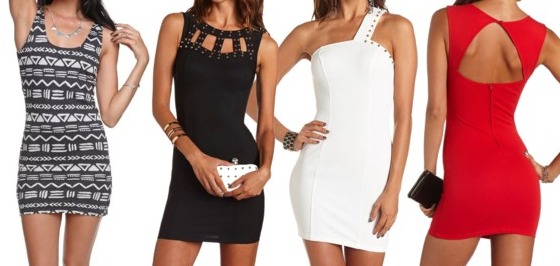 Body con bandage dresses are so sexy and – luckily – now they don't have to be expensive! I prefer black ones because they're so easy to style, but multicolored ones look awesome, too. Go for cut-outs or interesting necklines if you're feeling bold.
The obvious shoe to wear with a body con dress is a pair of pumps or high heeled ankle boots…but I think it would look super chic with combat boots or (#3) high top sneakers.
Body con dresses are perfect for chic nights on the town, just they can be dressed down for dates or casual house parties as well. Try wearing one with a distressed knit sweater and wedges.
Want the look of a body con dress, but crave a little more versatility? Try a body con skirt instead! You can wear these babies with (#8) cropped tops, a tucked-in (#10) graphic top, vests, jackets, and more!
3. Pumped-Up Kicks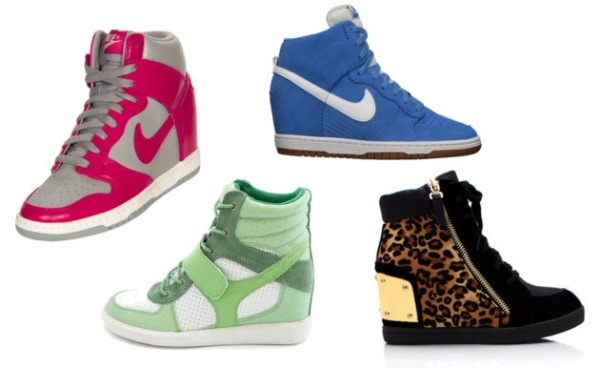 Clockwise from the left: 1, 2, 3, 4
A fast and easy way to add some funk and personality to even the plainest of outfits is with an awesome pair of eye-catching sneakers. Play it safe with regular ankle-cut ones or even canvas sneakers, but pump up the style and look for high top or even wedge versions.
Rolled out of bed and in a rush to get to class? Add a cool pair of sneakers to your Nike shorts and t-shirt look, along with huge sunglasses and a swipe of bright lip gloss.
For a cool look at a rave or dance party, throw on a pair of sneakers with your favorite fitted minidress.
Old school kicks will look awesome with a simple pair of skinny jeans, a v-neck tee, a cardigan, and a top knot.
4. Bold Statement Make-Up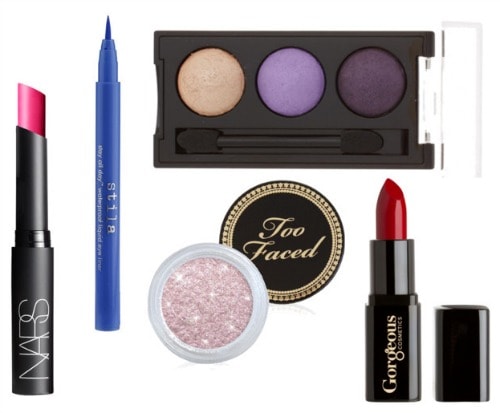 Clockwise from the left: 1, 2, 3, 4, 5
Trendy girls wanting to make a statement have turned to flashy make-up for years. Utilize make-up for a neon pop of color that's inexpensive and fun.
Hot pink lipstick has been a recent favorite of mine. Slick your lips with balm, wait 15 minutes, then buff the dead skin off your lips with an old toothbrush before applying for the cleanest look.
Electric blue eyeliner is another unexpected and fun way to wear color. Be sure to coat your upper and lower eyelids with primer first, though, to keep it from smearing.
Want to rock some day-glo brights, but not a big fan of make-up? Try wearing glittery or neon-colored nail polish instead.
5. A Fun Hat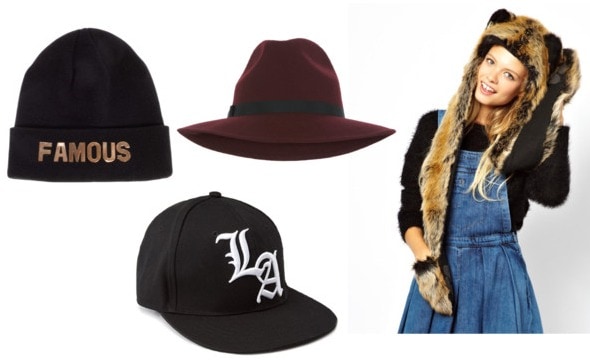 Clockwise from the left: 1, 2, 3, 4
Any music-saavy, downtown chic girl knows the importance of having an awesome signature hat – especially at concerts! Pick out one that's quirky and suits your personality – it'll be a great conversation starter.
Call me crazy, but has anyone else noticed the obsession with long animal hats at concerts lately? I've always thought they were pretty cool, although I had no idea where I'd wear them. A concert seems like the perfect place to rock one!
In the same vein, those animal beanies are adorable too, like the signature one Ming wears in Awkward.
Surprisingly, I'm super into this whole fashionable baseball cap trend that's catching on! A leather one, or even a tongue-in-cheek flatbill would be cool too.
6. Skinny Cargo Pants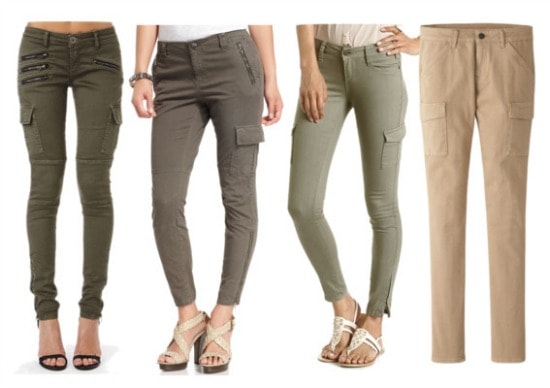 When these suckers first came out, I thought for sure they'd be a one-season sort of item. Now, I regret not splurging on a pair from J Brand because they're so versatile! I love how they're just a good alternative to the denim rut we've all fallen into before. Skinny cargo pants give such a cool, rebellious vibe to outfits.
Skinny cargos look fantastic with distressed sweaters and ankle boots.
Try wearing a (#10) graphic top with a pair of skinny cargos, and add a denim vest. Finish with a pair of Converse or Vans.
I love the juxtaposition of tough pieces with really feminine, ornate (#13) jewelry. Try wearing skinny cargos with a statement bib necklace or chandelier earrings.
7. Something Metallic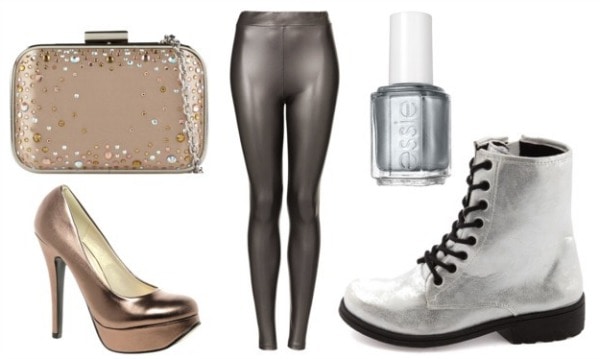 Clockwise from the top left: 1, 2, 3, 4, 5
Metallic pieces will help give your look an edgy vibe without having to actually wear any hardware. For an extreme look, think of the crazy space dress Marnie wore to Booth's party in Girls. For something more subtle, think of accent pieces — a clutch, a belt, or even a pair of shoes.
Call me crazy, but I have a pair of metallic gold leggings from American Apparel that I bought for a costume party (I was an ice dancer, hah!) and I'm shocked at how often I have events that I want to wear them to. My favorite occasion? A Girl Talk concert with an MTV muscle tank and (#3) Nike Dunks!
Metallic box clutches, soft clutches, and even structured envelope clutches are perfect for hot nights on the town.
Try silver or gold eyeshadow next time you feel a little wild.
8. A Cropped Top

If you're a little nervous about baring your midsection, don't write off cropped tops all together–there's tons of ways to wear them that look chic and not trashy. It just takes a little bit of creative styling!
Try a corset-like cropped tank with high-waist jeans or shorts and a (#11) army jacket.
Any sort of crop top will look fantastic with a high waist skater skirt. Finish with ankle booties.
Another way I love to wear cropped tops is layered over plain dresses. Try one with a slim maxi dress, or a solid colored (#2) body con dress.
9. Acid-Washed Denim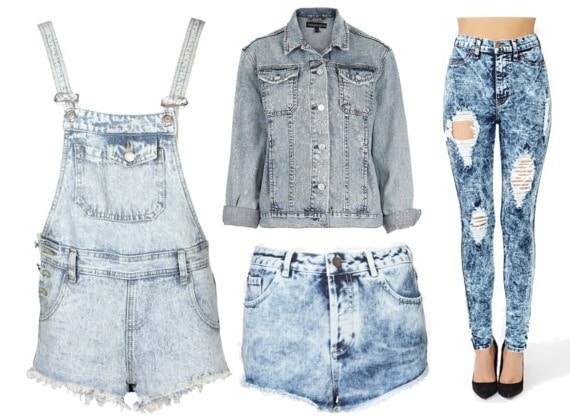 Clockwise from the left: 1, 2, 3, 4
There's something so retro, cool, and old school hip-hop about acid-washed denim. Plus, it fits right in with all of the throwback trends of today.
Distressed acid wash denim vests are extremely versatile. Try wearing one with a fitted v-neck and a chic pair of harem pants.
Acid washed jeans have a really retro, almost Barbie Doll-esque feel to them. Wear a pair with a pink peplum top and bright colored pumps! (If you're an over-the-top dork like me, you can add a scrunchie and a side ponytail too!)
This is insane, but I bought a pair of short overalls at Forever 21 a few weeks ago for an outdoor music festival and I'm totally crazy about them. For a really fun concert look, wear them with a (#8) cropped top underneath!
10. Graphic Pop Top

Graphic t-shirts are a great staple for almost any sort of style, but they're especially key to a music-inspired wardrobe like the one we're channeling in this post. Pick up a tee or a tank at the merch booth at the next concert you attend for a great conversation piece!
Wear a graphic t-shirt, tank, or sweatshirt with (#9) acid washed jeans and a pair of ankle boots.
Try wearing one with a very girly and frilly skirt — think tutu-like tulle material or one made of sequins.
For a fast yet stylish outfit on the run, throw a graphic tee or tank under a (#11) military jacket or a (#12) colored leather jacket and a pair of jean shorts.
11. An Army Jacket

Is there anything that a fantastic military-inspired jacket doesn't go with? I love structured, anorak, and utility styled army jackets, especially during this time of year, because they make pretty much anything in your closet look like your walked straight out of an Urban Outfitters catalog or fashion blog.
Throw one over any dress you have for a grungy, downtown LA sort of vibe. I especially like the look of utility coats with (#2) body con dresses or flashy sequined styles. They even look great with maxi dresses!
Tone down colorful denim or a loud patterned top with a grungy and tough army jacket. Finish with a (#5) fun hat.
Wear one with a long-cut t-shirt, thick leggings, (#13) statement jewelry and riding boots and call it a day.
12. Colored Leather

An unexpected and fun way to wear some color during the chilly fall and winter is by rocking colored leather or faux leather jackets and vests. They'll protect you from the elements, but will give you more of an energetic vibe than a rustic, wintery one.
A bright leather jacket will look great with a white tank top and (#9) acid washed jeans.
Wear a colored denim vest with a fitted black long sleeve shirt and wide leg jeans.
A white or tan leather jacket will look fantastic with a (#15) basketball jersey. Finish with (#14) leopard jeans or colored denim and canvas sneakers.
13. Chunky Statement Jewelry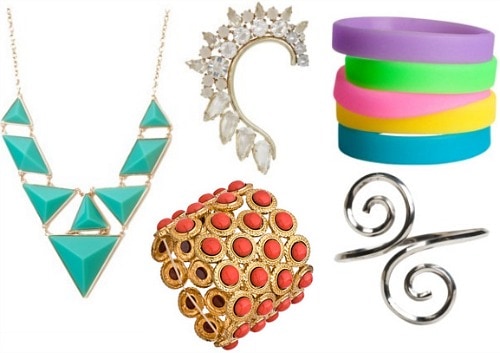 Clockwise from the left: 1, 2, 3, 4, 5
Jewelry is a fast and easy way to add a funky, urban, and eccentric look to an otherwise basic outfit. At electronic concerts, homemade PLUR (Peace, Love, Unity, Respect) bracelets are all the rage to trade with other attendees. Bold colored bangles, feathered earrings, chunky rings, and, of course, glowsticks are staples as well.
Don't worry, I was totally caught off guard when someone handed me a PLUR bracelet at the Big Gigantic concert I went to. Don't feel like you need to make or bring anything if you're just a casual EDM fan like myself, but feel free to accept one if a generous concert goer offers you an innocent-looking one.
Watch out for jewelry that can get caught or tangled in things if you're at a concert and big on dancing.
Look out for unusual, statement-making pieces like arm bands or ear cuffs!
14. Something Animal Print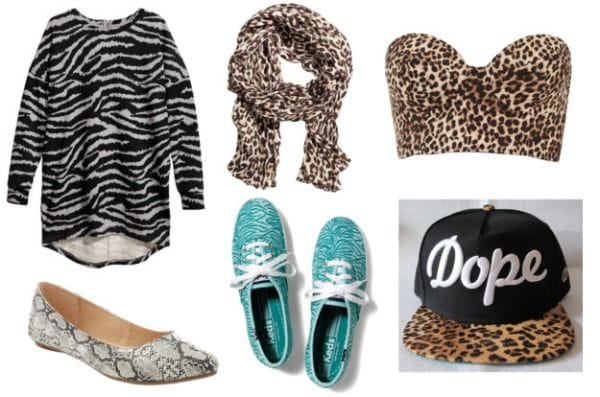 Clockwise from the top left: 1, 2, 3, 4, 5, 6
For those who know me, it's no secret that leopard print is my favorite color. In fact, I challenged myself to wear something leopard on every single game day this year! Whether you have a penchant for zebra, tiger, snake, cheetah, or you're a leopard gal like myself, incorporating one animal print item in an outfit can look incredibly urban, trendy, and fun.
Leopard pants are pretty much the coolest thing in the work (well, to me at least). Snake patterned pants can look awesome too, but the key to rocking either is to find prints that are more on the subtle, muted side.
If pants are too over-the-top for you, try tucking a silky or sheer animal print blouse into colored skinny jeans or under a (#12) colored leather jacket.
Shoes are a tried-and-true no-brainer way to rock animal prints. Try them with (#9) acid washed jeans and a (#10) graphic top. This is probably bonkers, but I have ballet flats, pointy-toe high heel pumps, AND ankle booties all in leopard print. They really are that versatile!
15. A Sporty Jersey or Top

Surprisingly, sports jerseys are just as popular as concert tees and boho gear at music festivals! Not only are they a fun way to show school or team spirit, but I love wearing my OKC Thunder jersey out and about because it's such a departure from everything else I have in my closet.
When shopping for football or basketball jerseys, look for kids or women's versions. They'll be a fraction of the price and provide a better fit.
Hockey shirts and jerseys are cool because since they're so oversized, that you can turn them into a makeshift tunic.
Baseball and intramural-style t-shirts are really great alternatives, too. Buy one for a team you actually love (or are learning to love!) for a great conversation piece.
Even More Style Guides:
Urban chic not your thing? Check out our other style guides to find the must-have pieces for YOUR aesthetic.
What Do You Think?
Are you big into EDM, dubstep, mash-up, or hip-hop hybrid music? What sort of style have you seen prevalent at these sort of concerts? Do you see girls dress like this at your school? What do you think about the pieces on this list? What other styles would you like to see us write a must-have list on? Leave a comment and tell us what you think!