Short for "body conscious" (think super tight bandage style dresses, Hérve Léger, etc.), body-con is a huge trend for fall.
From skintight pencil skirts (or bodycon skirts) to figure-hugging dresses and even form-fitting high-waisted jeans, the body-con silhouette will have you showing off your shape if you choose to partake this season.
But how do you wear it? Will it be flattering? How can you keep your look sultry, not trashy? Are there cute pieces out there that don't come with a Hérve Léger price tag? Read on, chicas! I'll let you know.
General Body-Con Tips:
Don't be afraid! The thought of tight, figure-hugging clothing probably inspires fear in the majority of women, but it shouldn't! Most body-con pieces are actually pretty flattering, due to the fact that they suck you in, smoothing out your shape. Still self-conscious? Try wearing Spanx (Jessica Alba swears by 'em) or even high-waisted sheer footless tights under anything you feel is too tight or short.
Play with proportions. As I've stressed in previous articles, if you're wearing a tight item of clothing, it's a good rule to balance it out with an item that's not as form fitting. Wearing a tight skirt? Try a colorful, loose-fitting tank tank top for balance.
Choose what to showcase. Sure, a tight bandage dress is a great option for a night at the club, but it's not for every day! For normal wear, it's best to decide what assets to flaunt and cover the rest! Example: if you're wearing tight, high-waisted jeans, put on a short sleeved turtleneck! That way, you flaunt your legs and butt, but keep the cleavage under wraps for a classy look.
Go dark. Because these styles are so form fitting, it's best to opt for a dark color if you're feeling at all shy about showing your shape. Black, dark gray, brown, navy, and even deep purples and reds are all great color choices for body-con pieces.
Pick your pairings wisely. What you wear with your body-con is almost as important as the body-con item itself! For city chic looks, pair body-con dresses with bombers, boyfriend blazers, or jean jackets. If you're doing the body-con thing in the AM (or any in-class hours!) choose conservative shoes–think ballet flats or boots. Even your accessories can provide some needed coverage, so go ahead and pull out your scarf from last fall! It's all about striking a balance between showing off your hot bod and keeping it classy.
Outfit Inspiration:
Body-Con Look 1: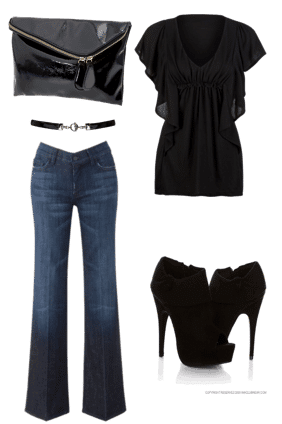 This is a great, sophisticated interpretation of the body-con trend, without the typical bandage details. Inspired by a look Kim Kardashian wore earlier in the year, dark high-waisted jeans and a waist-cinching skinny belt provide a hint of the body-con trend, while the ruffled top keeps you appropriately covered up.
Product Information: 7 For All Mankind High Waist Bootcut Jeans, net-a-porter.com. Full Tilt Batwing Top, Tillys. Black patent waist belt, Dorothy Perkins. Faux Suede Peep Toe Zipper Side Booties, amiclubwear.com. Patent zipper clutch, Aldo.
Body-Con Look 2:
A black bodycon skirt is a must-have item this season. So functional! So versatile! While this skirt would look great with a tank top and heels at a party, this outfit provides a look at how it can be worn casually. Tuck your favorite v-neck (plain or printed) into your skirt, throw on a long sweater, and slip into some flats for a look that is comfortable, yet totally chic.
Product Information: Bandage skirt, Forever 21. Zebra Stripe Burnout Top, Buckle. Deep V cardigan, American Eagle. Chain Detail Pumps, Dorothy Perkins.
Body-Con Look 3:
This dress is a hot pick for a special night out, and it's under $100! The snug fit and short hemline will definitely show off your curves! Pull out all the stops with leg-elongating nude heels and fun costume jewelry. For a more conservative spin, you could also wear the dress with sheer black tights, a cropped cardigan, and a pair of pretty flats.
Product Information: Cross Front Bandage Dress, Metropark. Ranjana Khan Simulated Pearl and Crystal Bib Necklace, hsn.com. Dolce Vita Madison Pumps, Zappos. Amethyst and Smokey Topaz Rings, fantasyjewelrybox.com. Oversized faceted cocktail ring, ASOS.
What Do You Think?
Have you braved the body-con trend yet? If so, how do you wear it? If you haven't tried the trend yet, are you going to pick up a bandage skirt or dress for fall? Let everyone know what you think — leave a comment!