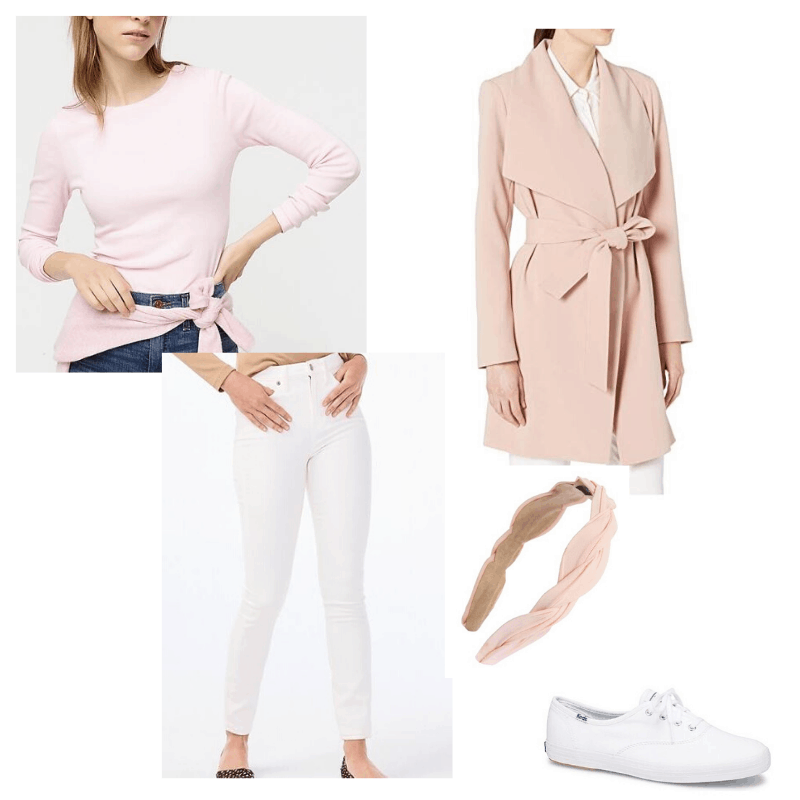 Dorm room closets are short on space, so capsule wardrobes based on neutral tones are a smart choice for college women.
When we hear the term neutrals in fashion, our minds tend to think of classic black, navy, white, and grey. However, if you have a girly or classically feminine sense of style, you may already be familiar with a different set of neutral tones — as I like to call them, the "feminine neutrals."
If you aren't already familiar with them, today's post will break down exactly what feminine neutrals are and how you can use them to create a polished capsule wardrobe that has a sweet and girly vibe.
Psst: Is your style more classic than feminine? Check out our guide to a chic capsule wardrobe for school, work, and class. Also, see our general guide on how to build a wardrobe.
What Are Feminine Neutrals?
Feminine neutrals, as I like to define them, include beige, blush, white, and tan/light brown. Occasionally a dove grey or powder blue will spill in to freshen up the palette. What makes these colors classically feminine is that they're light, soft, and delicate.
Unlike black and navy, feminine neutrals are more gentle on the eyes. However, they're still strong enough to act as base colors for an outfit (and wardrobe).
As I've honed my sense of style over the years, I've begun to build my entire closet around these tones. Sticking to this palette every time I went shopping eventually created a feminine, simple, and trendy capsule wardrobe.
Now that I've built this capsule wardrobe, getting dressed is incredibly easy. That's because everything in my closet matches everything else.
For instance, on days when I have early classes, I know I can throw on white jeans, a blush top, and my go-to sneakers and look cute. And if the weather is chilly, opting for a sweater instead or adding a cardigan is simple. All my sweaters and cardigans work with all of my outfits. This allows for much more time and enjoyment in the mornings!
A Feminine Capsule Wardrobe & How to Style It Year-Round
Now that you know how my wardrobe works, I'm sharing a feminine capsule wardrobe based around these feminine neutral tones.
Whether it's winter or summer, each item matches and transitions from season to occasion! Plus, you don't need too many pieces to have a complete wardrobe. This allows for a simple and minimal wardrobe that actually fits in a dorm room closet.
My top essentials for feminine neutral pieces include white jeans or skinny pants, a sweater, a cardigan, basic tops (t-shirt, blouse, and a long sleeve), a blush or beige coat, ballet flats, sneakers, booties, a dress, and a skirt. Also, you can add whichever accessories you desire to show off your personality.
Winter
Styling these feminine neutrals in the winter is my favorite. Their lightness contrasts against the dark days for a refreshing look. Plus, they stand out in a sea of black and gray on campus.
My go-to pieces for winter include white jeans or skinny pants, white and blush sweaters, a beige or blush coat, and warm shoes in a light neutral shade. I like to add pops of color with complementary winter accessories in grey, white, or blush!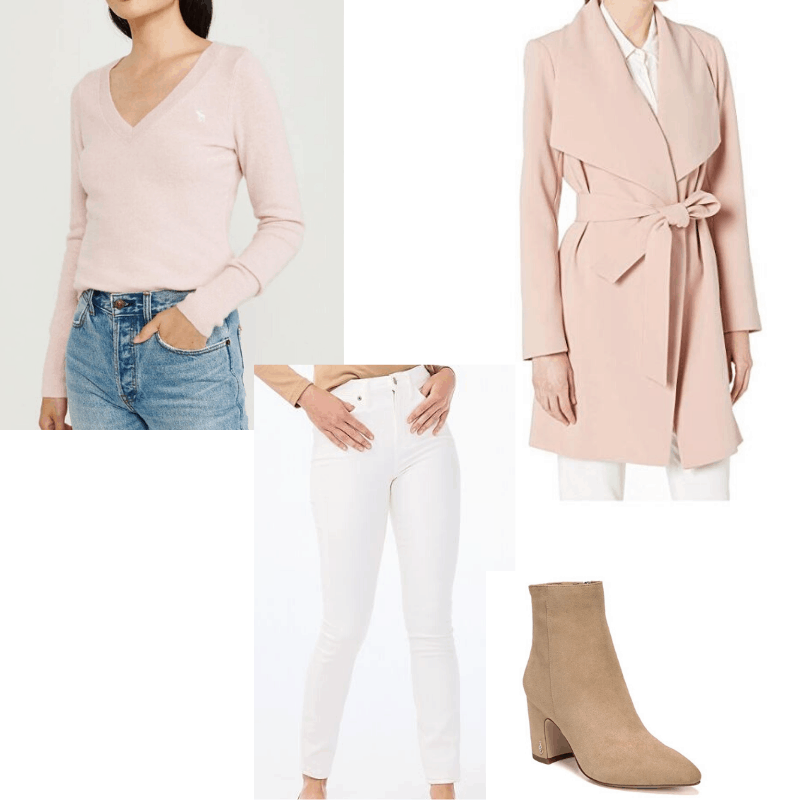 Products:
My favorite everyday winter outfit to wear anywhere includes white jeans, a blush sweater, and a blush coat. These little sock booties keep my feet warm and look super chic! For extra coziness, add a scarf, a beanie, and warm gloves.
Spring
Spring is such a romantic time of year, and it's a season when these tones really look at home.
In my wardrobe, this is when lighter tops, such as blouses and t-shirts, can come in to replace winter's heavy sweaters. However, winter essentials, such as your coat, are still appropriate to keep out as spring weather is unpredictable. White jeans and pants will continue to be staples of your feminine capsule wardrobe, although you can opt for a skirt if the weather allows.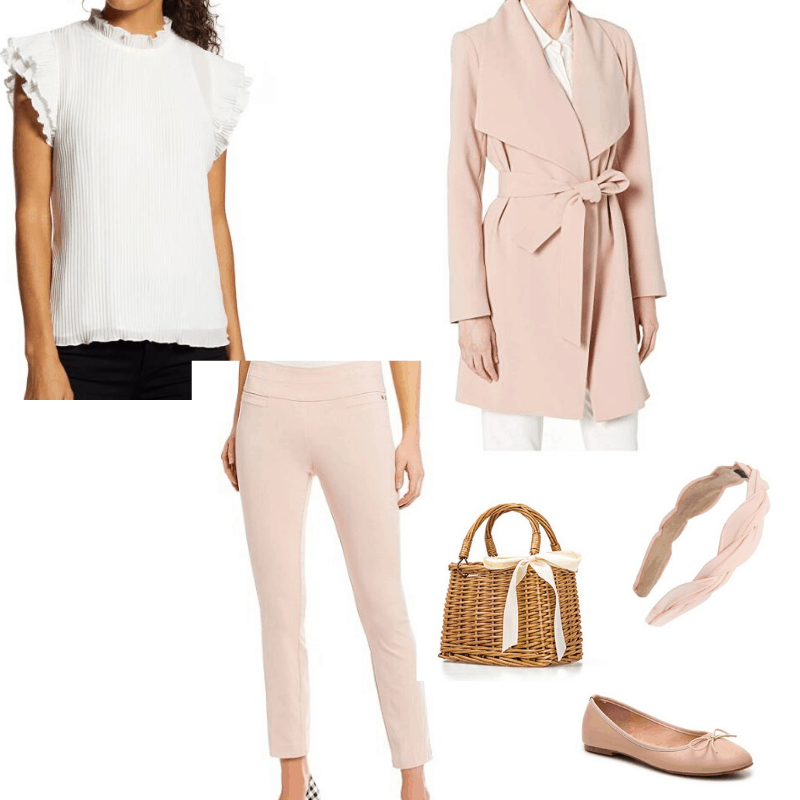 Products:
I love this easy outfit combo for spring. Start with staple white jeans or a pair of blush pants. Then, add a simple blouse. This makes you look a little more put together while keeping you comfortable.
Depending on the weather, either a cardigan or a wrap coat is ideal to pop on over top. Finally, nude ballet flats are a total spring staple.
Spring accessories are more fun than their winter counterparts as they are mainly for style, not survival. So weave some trends into this classic outfit with a cute headband and a basket bag.
Summer
Oh summer, how we adore you so. Our days (when we're lucky) include hours at the beach, picnics, and plenty of sunshine.
Feminine neutrals are lovely for these easy, breezy days. Your coat is finally packed away, as are your thicker pants. This makes room for a little dress, a skirt, and some easy tops to shine in your feminine capsule wardrobe.
Paired with sneakers, these pieces are great for casual days. Personally, I like to swap in my ballet flats for a dressier occasion.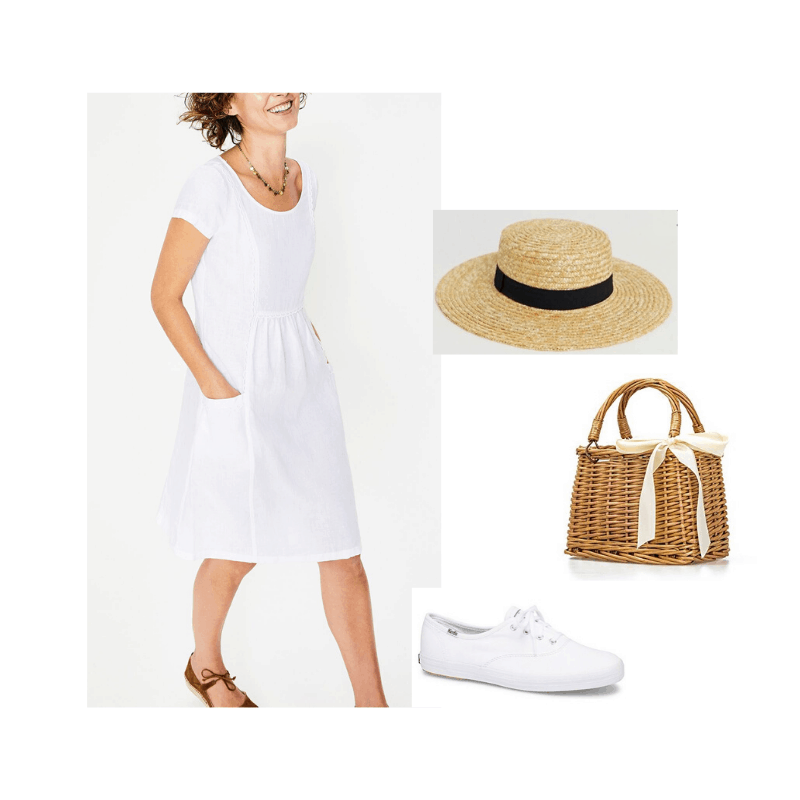 Products:
For a breezy look, I always turn to a little white dress and these sneakers! They are simple, easy, and comfortable for any summer day. To add texture to my summer looks, I adore basket bags and a sun hat.
For a twist on this look, you could also rock a pink tee and skirt with these sneakers, then accessorize with the basket bag and the headband from outfit 2.
Fall
Fall is fashion's favorite season, but a few factors make it tricky to get dressed during these months. For one thing, we're busy with our new class schedules. For another, we're usually dealing with unpredictable weather. Therefore, having easy fall pieces you can mix and match is great.
For fall, I recommend pulling out your white jeans, short and long sleeve tops, and a cardigan. For shoes, resurrect your ankle booties and keep your sneakers out. Also, your winter coat might be something to bring out if you're like me and live in a cold climate.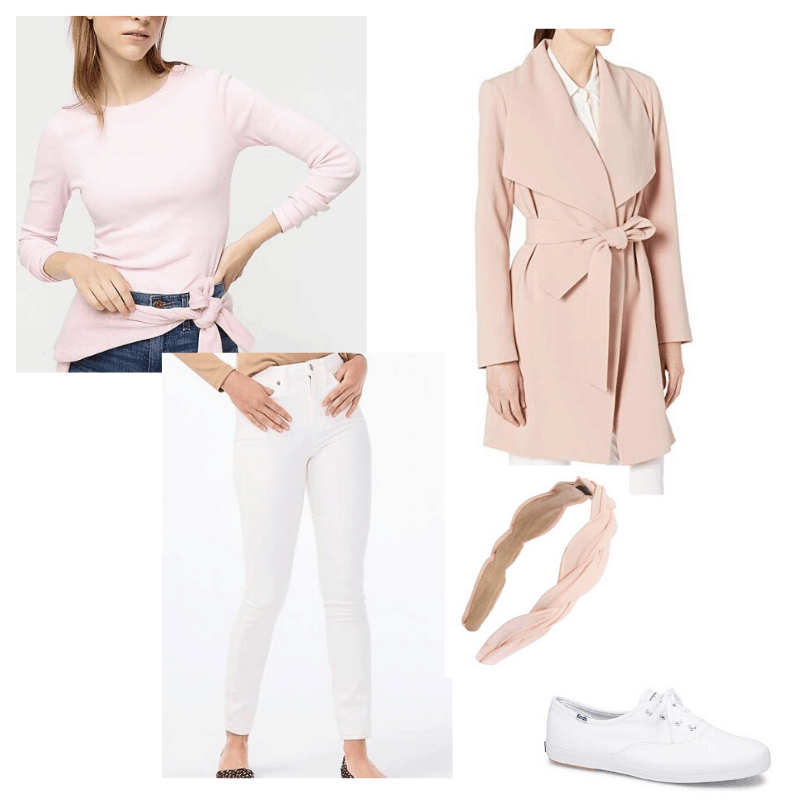 Products:
Once classes start back up, a soft long sleeve shirt, trusty white jeans, and sneakers form my go-to outfit. It's casual, comfortable, easy to throw on, and accessorize with a headband.
When it's a chilly day, I grab my coat for extra warmth. However, on warmer days when I've chosen a short sleeve top, slipping on my trusty cardigan is a savior.
What do you think of my feminine capsule wardrobe?
With a wardrobe of a few feminine neutrals, you can create ladylike outfits for any day. Each piece is versatile comfortable, and transitions from season to season. Which is your favorite way to style these neutrals?
If you liked this article about a feminine capsule wardrobe, consider checking out these other articles below —