Plaid fashion in the fall just feels right. It's a timeless look that never goes out of style, and has a seasonal appeal that never gets old!
In 2020, there are so many new ways to rock plaid in the fall beyond a flannel shirt – pieces like shackets and jeggings make for great canvasses for this autumnal print.
I've rounded up 13 of the cutest (and non-boring!) plaid fashion pieces perfect for the fall season, and the best part is, they are all under $40!
Read on for these unique, fashionable, and affordable plaid clothing pieces that you will want to *add to cart* ASAP.
1. Aria Smocked Plaid Blouse
I love this non-basic version of a plaid flannel shirt – the feminine touches like the smocked hem, flared sleeves, and cropped length make it unique!
Wear this with jeans and booties (wide-brim hat optional) for a super cute fall look.
2. Pleated Plaid Mini Skirt
This skirt is under $15 and combines two looks we love: plaid (of course), and the tennis skirt trend, which is so major right now.
For a trendy look, style this skirt with sneakers, a crewneck sweatshirt, and a small shoulder bag.
You could also wear an academia vibe by pairing it with a knit sweater and tights. There are lots of styling possibilities with this piece!
3. Plaid Puff Long Sleeve Shirtdress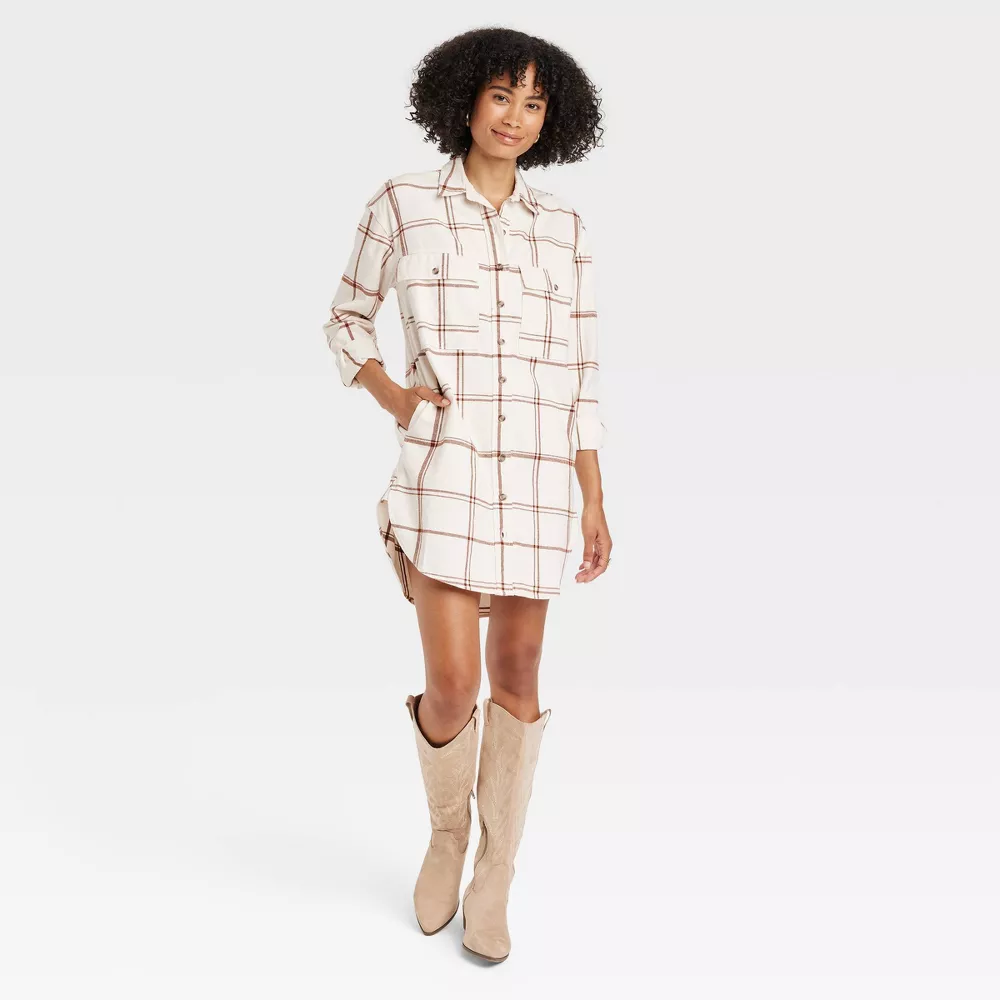 This puff long-sleeved shirtdress has such a timeless fall vibe and comes in two plaid prints: black and red (shown above), as well as an earth-toned plaid.
Its tiered bodice makes for a flattering yet comfortable fit that moves with you and isn't constricting. I also adore the puffed sleeves, which add flair.
This dress is totally made for boots and booties and would look great with a faux leather or denim jacket worn over the top.
4. High-Waisted Plaid Jegging
Who doesn't love to wear jeggings?! They are some of the most comfortable pants to wear (these have "Super Stretch" – yes, please!).
This pair in a charcoal-colored plaid is a great alternative to plain black leggings come fall and winter. By adding the print to your outfit, you will look put-together while still being ultra-comfy.
These jeggings can be dressed up or down; think low-top sneakers and a t-shirt for a casual daytime look or a dark blouse and a moto jacket for a cool nighttime look.
5. Buffalo Plaid Sherpa Quarter-Zip Pullover
How cozy does this sherpa pullover look? The red and black buffalo plaid print has a quintessential fall feel, while the sherpa fleece material looks so soft and warm.
Throw this on on a chilly autumn day, and you're sure to feel snuggly and super chic. There is also a cute mock neck detail to keep you extra warm.
Get in on the 90's-inspired trend with this fuzzy plaid cardigan.
The cropped length makes this plaid fashion pick especially perfect for pairing with high-waisted denim. You can wear it alone or wear it with a matching cami underneath for a coordinated look.
Also read: 5 Reasons You Should Own a Cardigan
7. Multi Plaid Shacket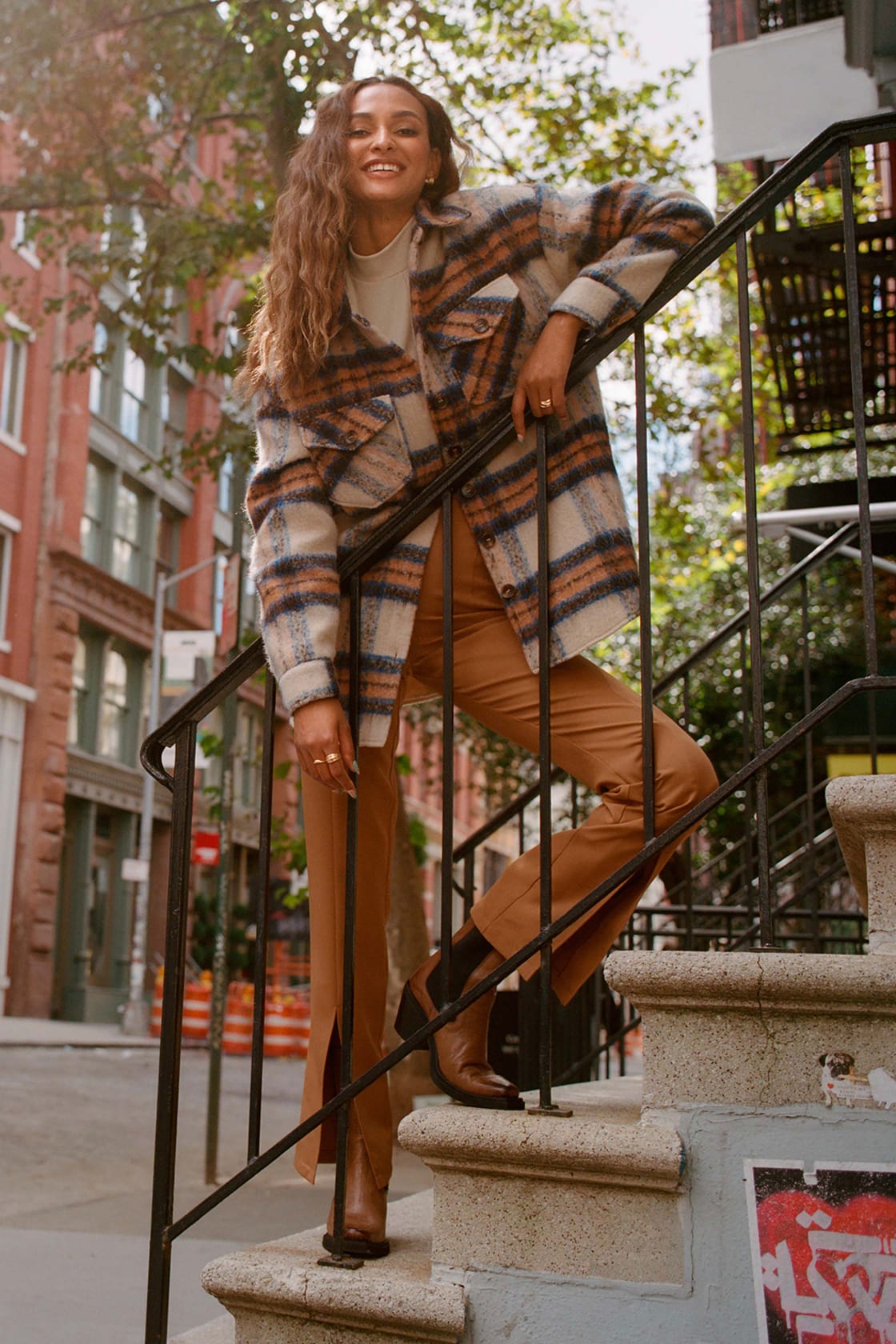 I can't get enough of shackets (a.k.a. shirt jackets) this season, especially plaid ones!
This beige and burnt orange checked shacket features a perfect fall color palette, along with contrasting tortoise buttons for a cute touch. Its material is super fuzzy and is perfect for keeping you extra warm this season.
I love how versatile shackets are; they make for a great layering piece this time of year.
8. Short Wool-Blend Skirt
This plaid mini skirt caught my eye thanks to its unique color scheme: cool-toned, neutral plaid is something you don't come across as often, and it looks so chic.
With hues of white, beige, and light blue, this skirt features a concealed zipper and a brushed finish. It gives me a prepster vibe which can be so fun to wear!
9. Black Check Contrast Oversized Shirt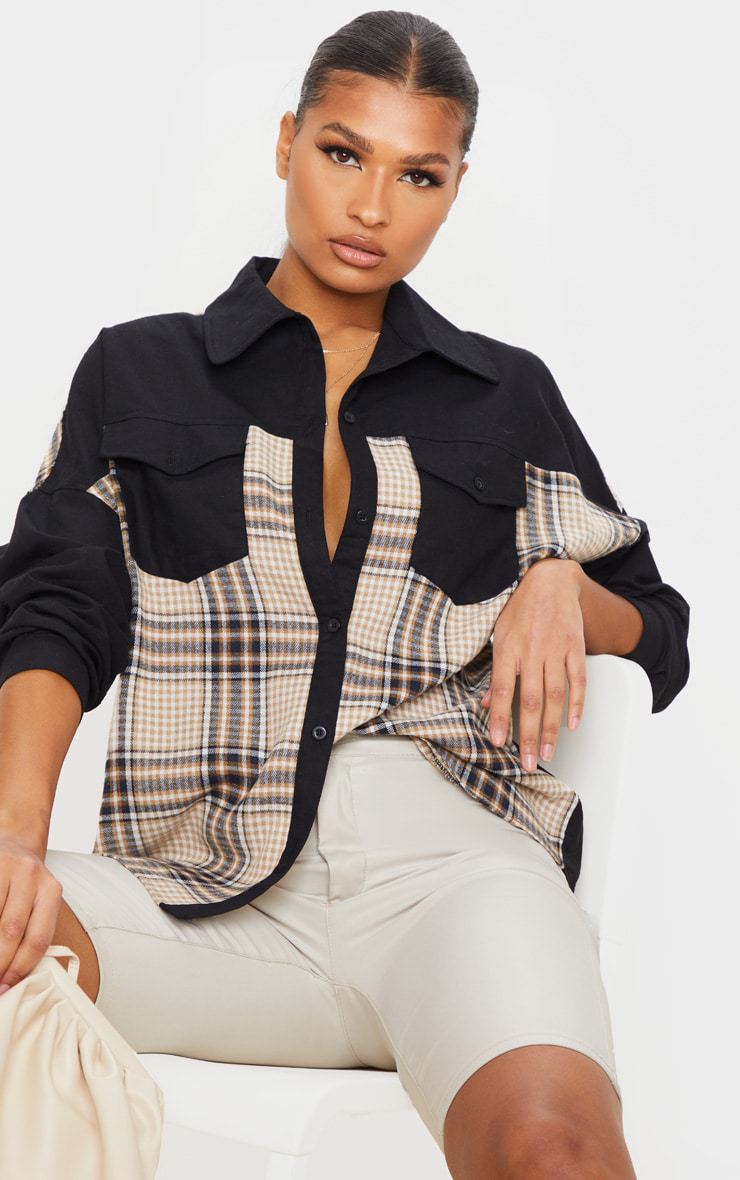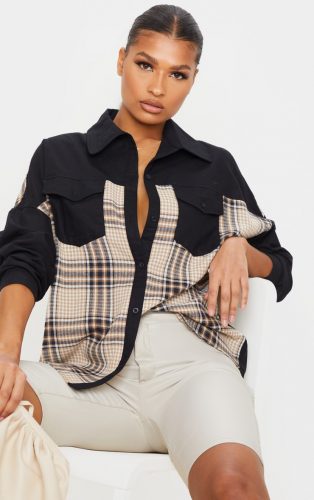 In the fall, I love throwing on an oversized plaid shirt with leggings and combat boots for a simple yet cool outfit. This shirt would be perfect for that type of look!
With an oversized fit, including a longer backside, this shirt pairs well with basic black leggings or faux leather leggings.
The contrasting black and plaid panels give it a unique edge.
Also read: 25 Stylish Mini Dresses for Every Body Shape
10. Plaid Mini Dress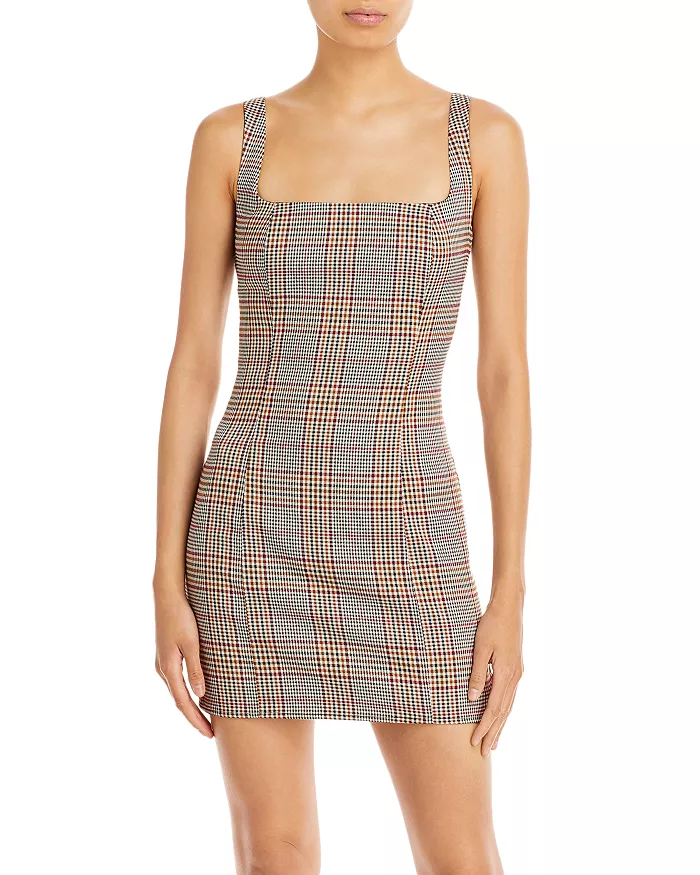 Picture how adorable this mini plaid dress would look with booties and a black turtleneck underneath. Peak plaid fashion for fall!
And while you could wear this anytime, I think it would look particularly adorable on Thanksgiving; just saying.
The belted waist gives this dress a complementary touch that will flatter your physique.
11. Plaid Faux Shearling Jacket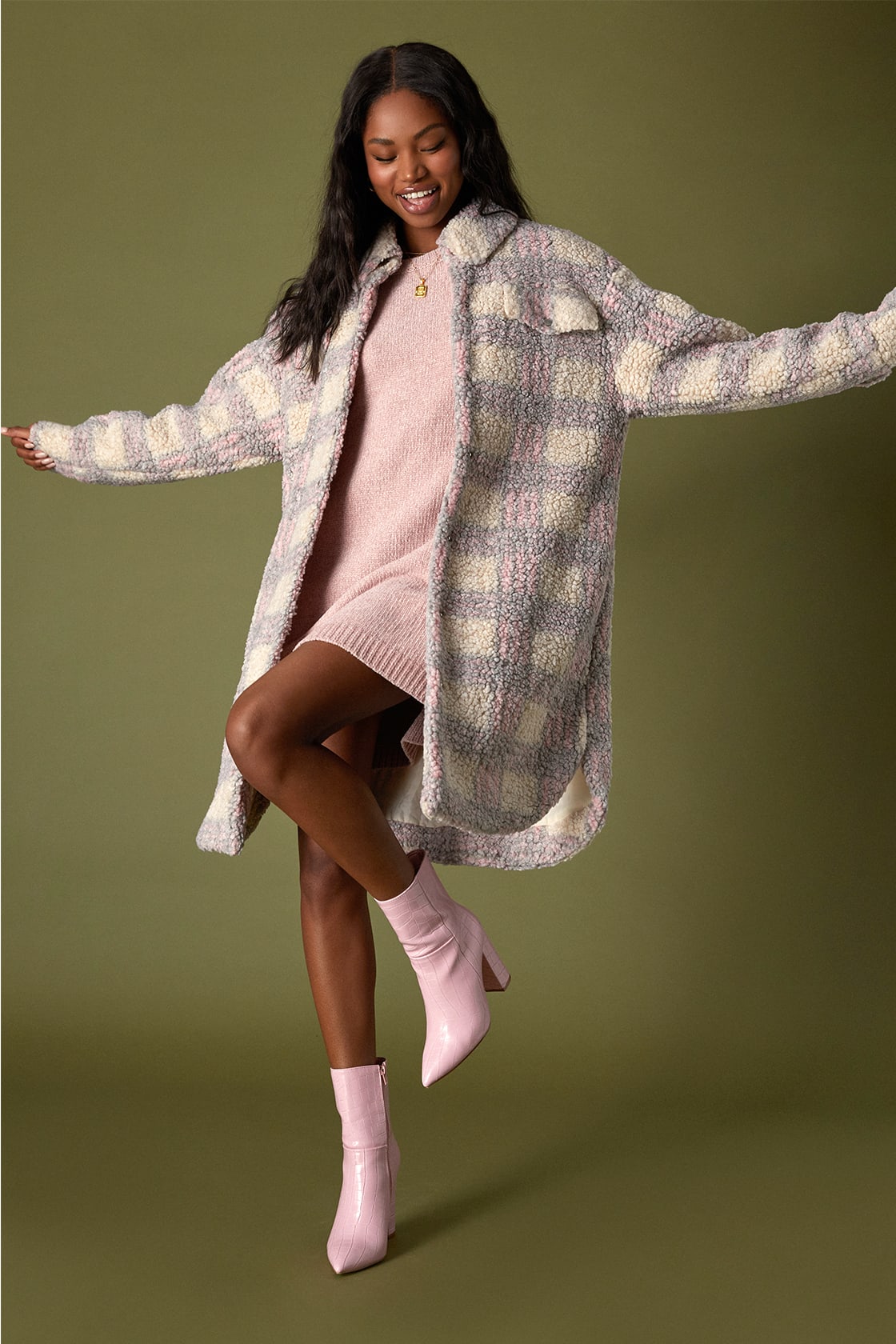 This plaid faux shearling jacket is the perfect combination of cute and cozy.
The faux shearling material will make you want to snuggle up in this jacket, while the longer length looks super chic.
The fresh combination of pink, gray, and cream hues is woven into the plaid print, giving this jacket a charming look.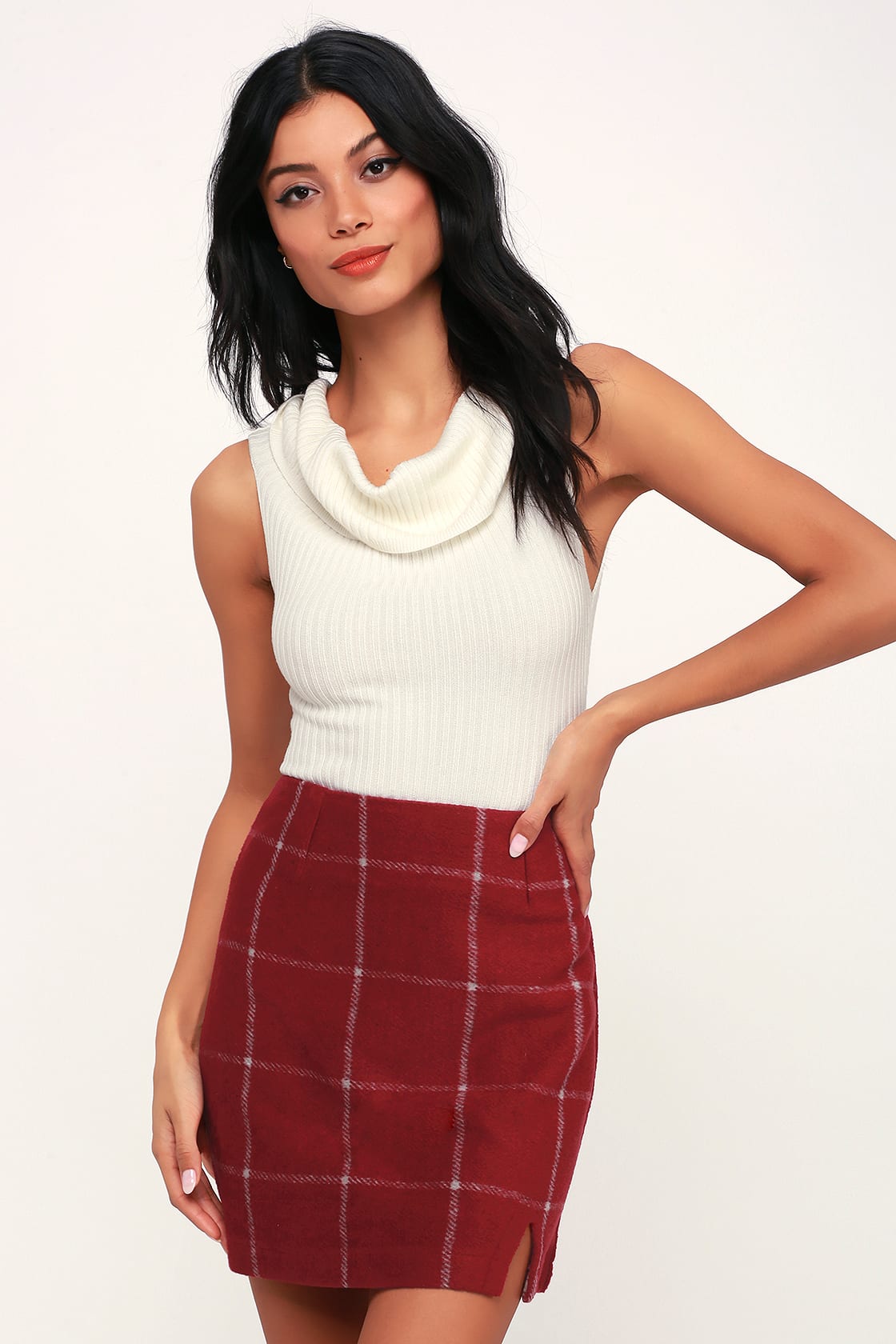 This adorable red plaid mini skirt is so chic and classic. It's a piece you're bound to have in your wardrobe for years and years to come.
I love how this is styled with a sweater tank tucked in, but you could also do a slouchy turtleneck half-tucked in front. Pair with tights, a long coat, and ankle boots for a super cute fall or winter outfit.
13. Glen Plaid Ankle Pants
These wide-leg ankle pants are made of a stretch knit material which makes them ultra-comfortable, yet the glen plaid print keeps them looking polished.
The tie-waist belt adds to the polished look, though these can totally be dressed up or down!
Flannel vs. Plaid
Ever seen these terms used interchangeably? They're not the same!
Flannel clothing is made of a soft material. It often comes in a plaid pattern, but not always! Plaid clothing can be made of any type of material; it just has to have a plaid print.
In short, plaid refers to the print; flannel refers to the material.
How To Wear a Plaid Shirt
There are many ways to wear a plaid shirt, but the most popular way is to button it up and tuck it in halfway to the front of your jeans. You can wear the combo with a belt or without a belt. You can also wear a plaid shirt with a skirt or pants.
If you want to wear a plaid shirt with a belt, make sure the belt goes with the general color of the plaid shirt. (Do a black belt if your plaid print contains black; do a brown if your plaid print contains brown, etc.)
A couple more general rules to follow: If you want to wear a plaid shirt with a skirt, make sure the plaid shirt is the same color family as the skirt. If you want to wear a plaid shirt with pants, make sure the plaid shirt is the same color family as the pants.
Also read: How To Wear Plaid Pants
What do you think of my plaid fashion picks?
Would you wear these plaid clothing items? Which style is your favorite? Leave a comment and let us know!
If you found this plaid fashion post helpful, you may also want to check out our favorites below —