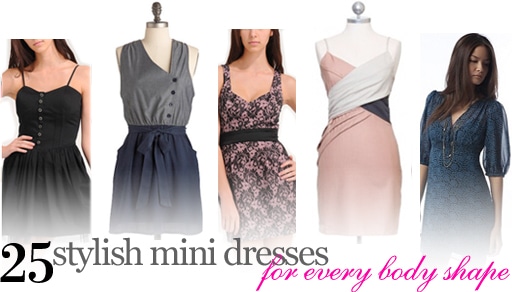 Mini dresses have been hot for a few seasons now, and the look is still in for spring – but can anyone wear them? It may seem like a rather unforgiving trend — don't you need, like, a model's figure to pull this off?
No, you don't.
I'm a firm believer that every fashion trend can be adapted to every person's individual shape and personal style – you do not have to be a skinny size zero! With so many designers and companies out there, there are plenty of options that will look like they were made just for you.
As with all other clothes, pulling off a sexy, flirty, fabulous mini-dress is about highlighting your assets and creating balance – not dressing to "hide a problem area!" Which body parts do you love the most? That's what you should dress to maximize. For more on highlighting your best parts, see our post Fashion for Your Body Shape: The Basics.
Accentuating Your Chest
Want to draw attention to your chest area? It's all about creating volume. If you want to be subtle about it, go for pleats or ruching. The folded material adds dimension and space so that you can make the most of what you've got.
If you want to create a little drama, go for ruffles. Structured ruffles, especially, exude an irresistible mix of femininity and strength. Also, cinched waists, are always a great bet if you want to draw attention up top since they'll help create a more definitive hourglass shape.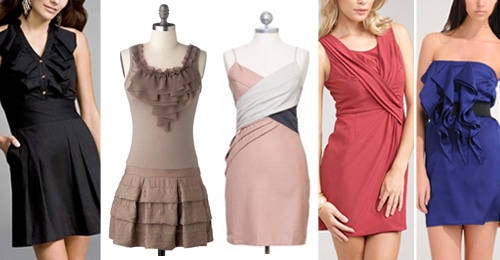 Left to right: Express — ModCloth — Ruche — Forever 21 — Forever 21
Accentuating Your Lower Half
If you want to create balance in an outfit, it's all about visual proportions that make your body look even all over. When picking out dresses, larger chested ladies that love their arms, legs, and lower half should first look for styles that are roomy on the bottom half – this will create more volume and draw attention down. Also, dresses that have a print on the bottom half (resembling a skirt and top combo) are a great way to draw the eye down.
Also, keep an eye out for styles that have more coverage up top so the focus will be on your bottom half. Sleeveless dresses can cut off your upper body before the shoulder, showcasing awesome arms. You can also experiment with dolman sleeves, which balance out broad shoulders.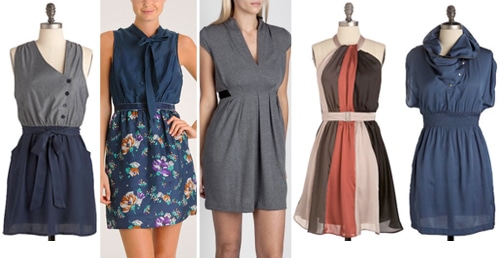 Left to right: ModCloth — Forever 21 — Charlotte Russe — ModCloth — ModCloth
Accentuating Arms, Hips, and Bust
First of all, I promise that nobody — nobody — expects you to have abs of steel, and in fact the gentle curve of a woman's belly is graceful, delicate, and beautiful. So there's no shame in having a tummy. But if you'd rather a dress accentuate your amazing hips, arms, and assets up top, here are some dresses that will help you do that.
Empire waists are great because they accentuate your assets up top, and then drape gracefully down, generously skimming over your midsection. Overall, draping of any kind will create nice vertical lines and is thus a good thing. Small patterns are helpful, too, because they create balance all over. And a mini dress is perfect if you want to show off your arms and legs – just get a sleeveless one, and they will instantly be the focus.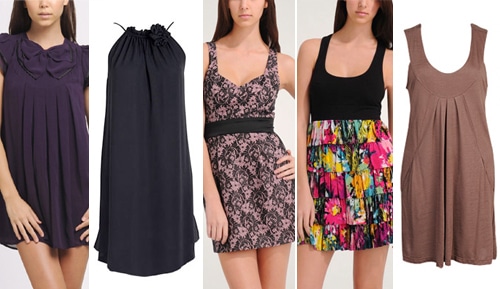 Left to right: Forever 21 — Delia's — Forever 21 — Forever 21 — Forever 21 Resort
Accentuating Curves
Striving to show off your curves? The key is to bring out the hourglass in your figure by wearing a dress that clearly defines your waist and separates your upper and lower body.
I find color-block dresses to be very effective for this purpose. Being very minimalist, they're also great at highlighting sleek lines. If you want to create more curves, look for dresses that are more structured, since those tend to have "built-in" volume.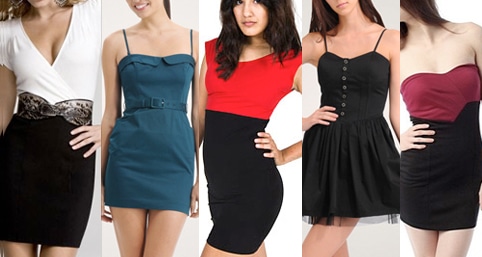 Left to right: Express — Forever 21 — American Apparel — Forever 21 — Urban Outfitters
To show off an hourglass shape without going for a tight dress, try to choose dresses in softer fabrics, as these will cascade down your figure and maintain sleek, flowing lines. Muted patterns and simple embellishments add detail and precision, but remember to keep them subtle, or else they disrupt the clean lines you're going for.
Choose a dress that cinches at the waist to show off your beautiful curves. If you like a boxier fit, pick a more rectangular silhouette that just grazes the outlines of your figure. Sleeves that go past the elbow are always flattering, and will bring the focus to your body, although sleeveless dresses can also be fab.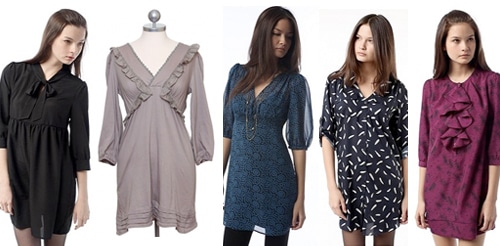 Left to right: Urban Outfitters — Ruche — Urban — Urban — Urban
What About Legs?
Since we're working with short hemlines, you have to expose your legs. Sort of. See, here's the catch — you don't have to expose your bare legs (unless you want to).
Tights are a great, fashion-forward option if you don't feel like having your legs as the focus. Slip some on, and immediately, you're covered, you're warm, and your legs look irresistibly smooth and touchable. Black is one of the most universally flattering shades, followed by other dark colors, but nude tights also have all of these effects. Then, to finish it off, step into a pair of heels of the same color. Now you've grown a couple inches, and the colors of your tights and shoes will blend together to elongate the visual length of your legs.
Even More Cute Options to Flaunt Your Figure
Ideally, you love the body that you live in — every curve, line, groove, and dimple. That's what we're all about here at CF!
I'm sure all of the styles I've covered so far would look great on you, but if you're looking for something that really lets you flaunt your gorgeous figure, here are some of my recommendations. They're daring, bold, sexy, and assertive. They are not forgiving, but they will turn heads.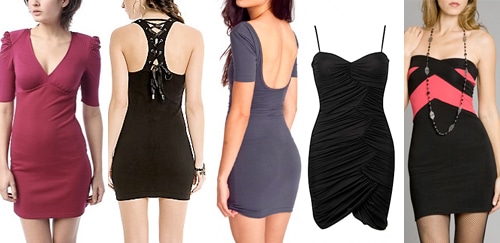 Left to right: Urban Outfitters — Guess — American Apparel — Forever 21 — Windsor
What's your take?
Have you been wearing mini-dresses this winter, and do you plan to don them for spring? Did any of these dresses really catch your eye? Also, if you have any good rules for dress shopping, I hope you can share them in the comments so we can all learn from each other!