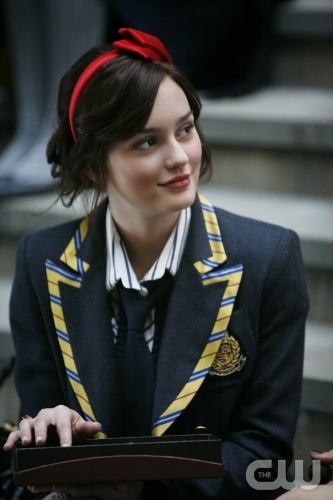 Photo: The CW
Today's the day, everyone: The Gossip Girl series finale airs tonight (8pm on The CW)!

Maybe I'm just being dramatic, but this feels like the end of an era. I remember constantly running up my parents' cell phone bill in high school because I could not stop texting my friends during every episode. And even though GG has run its course, I'll never forget the amazing characters or fabulous fashion that helped shape my high school years.
On that nostalgic note, we're finishing our Gossip Girl fashion retrospective series with our beloved queen bee – the stunning Blair Waldorf. As a devoted fan of the book series, I was terrified that the TV Blair wouldn't live up to her fierce reputation. I was so wrong! Leighton Meester brought the lovably-neurotic Blair to life, becoming a fashion icon in the process.
From the manipulative, insecure teen queen of the earlier seasons to the passionate, dedicated fashion mogul we know and love today, Blair inspired both our lives and our closets. It's SO hard to say goodbye, but below, we'll give her a sendoff with 5 outfits inspired by our favorite Blair looks.
Fille Fatale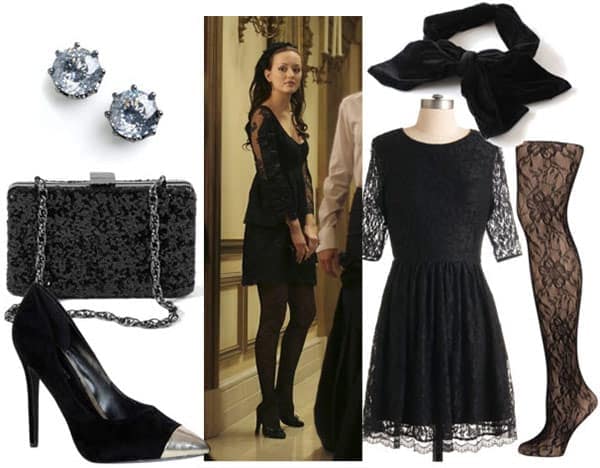 Dress, Tights, Headband, Pumps, Clutch, Earrings | Photo: The CW
When we first met Blair in the pilot episode, she was desperate to win the devotion of her long-term boyfriend, Nate Archibald. And with an outfit like this, how could she not prevail? I think at this point, the show wanted Blair to play villain against Serena's heroine, so it's no surprise she's vamping it up with lots of rough textures and black lace. She may look nice, but this B is definitely naughty.
Snag Blair's bad girl look in a black lace dress with sheer lace sleeves. Textured floral tights and black court shoes add to this look's vintage feel. Get some much needed Upper East Side sparkle with a sequined clutch and diamond studs (real or fake – we won't tell!). Complete the look by paying homage to Blair's signature accessory – a black hair wrap tied into a girlish bow. Feel like a queen yet?
Queen of Constance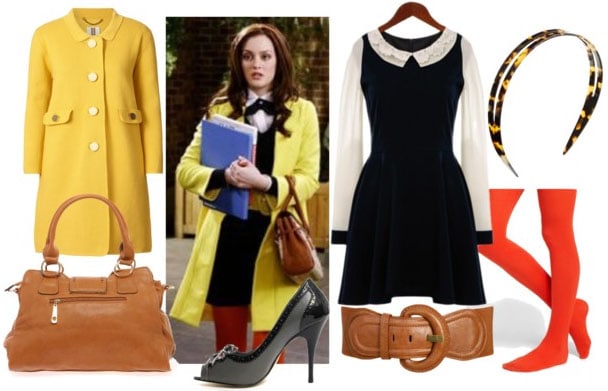 Dress, Coat, Tights, Belt, Bag, Pumps, Headband | Photo: The CW
As Constance Billard's reigning Queen Bee, Blair always made sure she looked impeccable. She specialized in preppy classics and expertly mixed primary colors, creating some absolutely drool-worthy looks. I don't know a single girl at my high school who didn't own at least one fancy headband after Blair made them a must-have.
To look like Queen B, create a classic schoolgirl look with pops of bright, primary colors. Pair a scholarly black and white collared dress with a vivid yellow pea coat and coral-red tights and you'll be on the top of the Met steps in no time. Add trendy but classic accessories, like a neutral brown waist belt and a matching satchel, for the ultimate in old-money elegance. Oxford heels and a tortoiseshell headband complete this Blair-approved look.
Bright Young Thing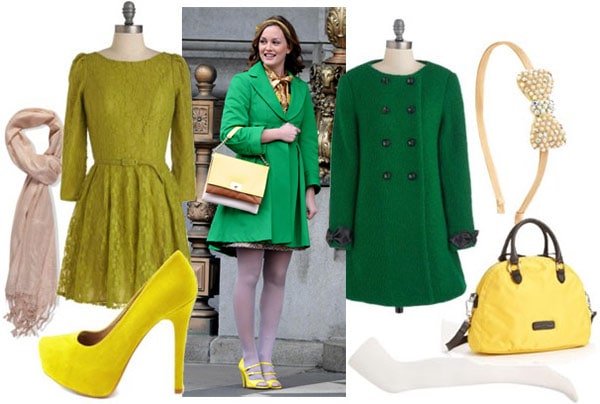 Dress, Coat, Scarf, Tights, Pumps, Bag, Headband | Photo: Pacific Coast News
If Blair is a master of anything, it's mixing bright, monochromatic hues and vintage-inspired glamor. Of course, all of Blair's outfits are envy-worthy, but she really shines in her gorgeous outerwear. It's obvious that she stole a few wardrobe secrets from her role model, Audrey Hepburn, here. (Note: this is the outfit she wore when Chuck told her he loved her for the first time!)
To match B's chic out-on-the-town look, you'll need a brightly colored, '60s-inspired wool coat – I'm loving this rich green one! Layer it over a long-sleeve lace dress in deep lime, and top it with a metallic scarf tied into a bow. Blair loves her tights, so channel her style with an opaque white pair. Bright yellow pumps and a matching bag add that much-needed pop of color, while a pearl-embellished bow headband completes the look.
Fit for a Princess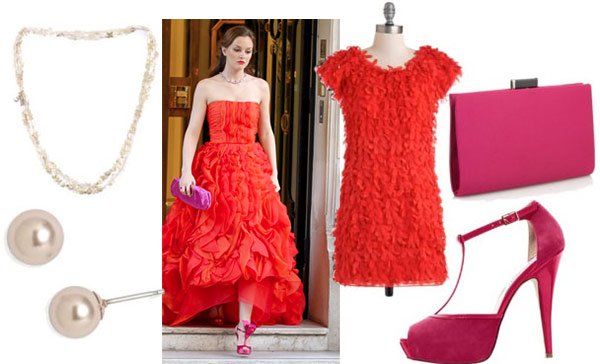 Dress, Sandals, Clutch, Necklace, Earrings | Photo: Pacific Coast News
Step aside, Kate Middleton. Blair's time as a princess helped her style evolve past schoolgirl-chic, requiring her to add more classic, mature pieces pieces to her wardrobe. Though Prince Louis turned out to be a total sociopath (really should have seen that one coming, Blair), at least he gave her a chance to wear the most beautiful clothes the show had ever seen, like the breathtaking Oscar de la Renta gown she wore on their first official date.
I'm pretty sure none of us can afford a real Oscar gown (or even a decent knock-off), so try a more wearable short dress covered in orange-red ruffles to get Blair's future-princess look. A dress this fabulous doesn't need many accessories, so stick with simple pops of fuchsia – a pair of peep-toe sandals and a classic clutch will look absolutely stunning. Keep your jewelry refined and sophisticated, adding a simple gold necklace and elegant pearl studs.
Born to Rule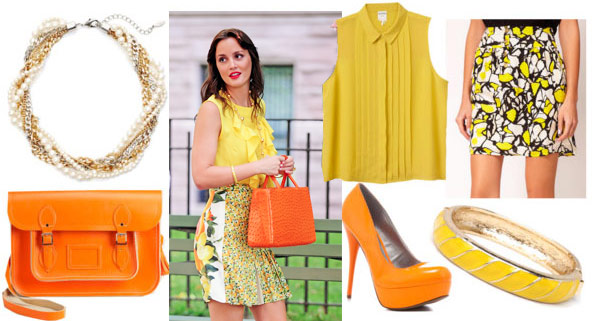 Blouse, Skirt, Bag, Pumps, Necklace, Bangle | Photo: Pacific Coast News
After overcoming every obstacle a teen drama can throw at a girl (unintended pregnancy, life-threatening car accident, dating a Brooklynite, etc.), Blair matured with grace and dignity, especially in the wardrobe department. These days, her headbands and tights are nearly nonexistent, and though I miss her signature accessories, it really shows how much Blair has grown. Her style is still preppy and proper, but it's much more relaxed, with the refined elegance of a woman who knows what she wants and who she wants to be.
Steal Blair's casual elegance by pairing a ruffled yellow blouse with a high-waisted floral skirt for a look that's both fun and sophisticated. One thing that hasn't changed about Blair is her love of bright, matching accessories, so grab some vibrant orange pumps and a matching bag. Complete the look with chic but casual jewelry, like a bright bangle and a stylishly tangled necklace.
Your thoughts?
What's your favorite Blair look? Any last minute finale predictions? Be sure to leave a comment and let me know what you think of the outfits – I'd love to hear your thoughts!