This post may contain affiliate links, which means we may receive a commission if you purchase through our links. Please
read our full disclosure here
.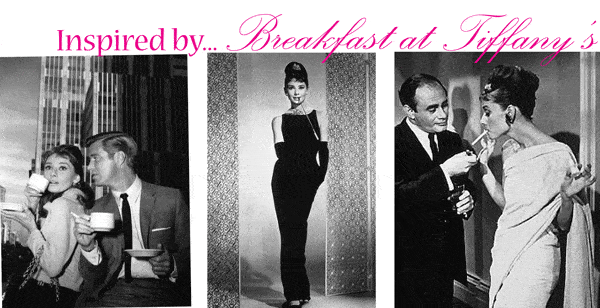 Thank you to everyone who left such great comments on the Top 10 Movies for Fashion Inspiration! The consensus seems to be that a) you would like to see specific outfits inspired by each movie and b) The Devil Wears Prada should definitely be on the list!
With that in mind, here comes the first post of many on fashion inspired by these great movies. Let's start with a classic: Breakfast at Tiffany's.
Audrey Hepburn's style in Breakfast at Tiffany's can be summed up in three words: Simple, Classic and Glamorous. Her looks are characterized by simple yet breathtaking pieces combined with glamorous accessories. With that philosophy, I've assembled four affordable outfits inspired by Audrey's look in the movie.
Outfits Inspired by Breakfast at Tiffany's:
Outfit 1: A day out shopping
Cropped trench coat: Forever 21, Always skinny black riding jeans: Gap.com, "Lolita" heart shaped sunglasses and hand knotted glass pearls: Girlprops.com, Sandie ballet flat: Delia's
Outfit 2:Dinner with friends
Cotton twill shift dress: Old Navy, Belt: Forever 21, Floppy wide brim hat: White House Black Market, Eiffel tower pendant bracelet: Girl Props, "Frankie" flat: Nordstrom
Outfit 3: Cocktail party
Cotton/silk draped dress: Banana Republic, Jewel flower earrings: Forever 21, Black/gold cinched clutch: Target, Patent peep toe slingback: Forever 21
Outfit 4: A formal event
Gia stapless dress:Forever 21, Tiara and Gloves: GirlProps, Brooch collar: Forever 21, Electra by Nina shoes: Zappos
What do you think?
Would you wear these outfits or something similar for a classic yet glamorous look? Do you love the Breakfast at Tiffany's look yourself? Leave a comment and let us know!