When I think about French girl style, the words classic, sophisticated, feminine, minimalistic, and confident instantly come to mind. French women (and especially French influencers) always seem to have everything together, even looking oh-so perfectly undone.
Achieving that je ne sais quoi covetable French girl style has been a pursuit of American women for ages.
As the home of design houses like Louis Vuitton, Chanel, Dior, etc., it's no wonder that the French have nailed down such an iconic style. While it might seem odd to generalize an entire culture of women and their fashion, (after all, not everyone is impeccably dressed in France) I think what truly separates French style is the philosophy behind it.
French women keep it simple and easy when it comes to fashion. You won't find them in flashy logos or wild trends, but rather timeless, low-key pieces that will last. However simple these pieces may be, French girls make them utterly chic.
But how does the typical French woman leave us drooling over everyday basics? Here are the 7 keys to French girl style, plus three French girl-inspired outfits to help you get the look for yourself.
The 7 Keys to French Girl Style
1. Less is more.
Keep accessories minimal and choose fewer colors and patterns (stripes being the exception). The key is to never look overdone or overly styled.
This also applies to makeup. Think subtle eye makeup and natural looking foundation and lip colors.
It's amazing how stylish these simple outfits can be sometimes. For example, see "French Girl" style icon Jeanne Damas' look above — she is literally just wearing jeans, boots, and a button-down, but the cuts and styling make it interesting.
Related post: How to Get the "Clean Girl" Aesthetic That's Everywhere Right Now
2. Two words: leather jackets.
I could give a lot of reasons why I think every girl should own at least one leather jacket. They're incredibly versatile, they can be dressed up or down, they're super easy to clean, they are warm without being bulky… I could go on.
If you don't take my word for it, then surely you'll take the French's word for it. Black leather jackets are a staple on French bloggers, especially in the cooler seasons. Invest in one. You won't regret it.
3. Focus on the basics.
Although the French don't ignore trends, they tend to focus on buying quality pieces that are timeless. Usually this means that they are more basic, such as dark skinny jeans, white button-downs, classic beige trench coats, and solid-colored tees.
This advice is ideal for a college budget, because you won't be as tempted to spend money on items that will only be wearable for a short time. Focus on versatility rather than trendiness when you shop. (See: Why We Recommend Spending More on Fewer Pieces of Clothing for more on this.)
4. Dark colors are chic.
Some people may think dark colors are boring, but I respectfully disagree. There's a reason black is always in style. It looks good on everyone, matches essentially anything, and is inherently stylish. Other neutrals, like camel, brown, gray, and navy blue, are also great and contrary to popular belief, they do match each other.
A wardrobe built from these colors (with some pops of color in between) makes it easy to create outfits because everything already matches.
5. Get creative with accessories.
While a French girl's closet may consist of more simple basics, the creativity lies in how she accessorizes her outfits. Since accessories are usually cheaper than buying an entirely new outfit, this is especially handy for a college budget.
As a key ingredient in French girl style, scarves can take a boring outfit from blah to fashion-forward. I recommend checking out this tutorial if you're interested in learning how they achieve that perfectly disheveled yet put-together look with scarves.
Hats are also popular on French bloggers right now — obviously the classic beret (seen above) is a thing, but experiment with other styles to see what you like best.
6. Quality over quantity.
Because closet space is more limited (and expensive) in France, French woman invest in fewer pieces of quality clothing that will last far longer than many cheap pieces of clothing.
This idea goes hand in hand with my article on creating a feminine capsule wardrobe.
7. Confidence!
French women have such an enviable style because they wear their clothes with confidence. They walk down the streets with their heads held high. French designer Yves Saint Laurent, is famously quoted as saying:
"Over the years I have learned that what is important in a dress is the woman who is wearing it."
In other words, it's not what you're wearing, but how you're wearing it.
Outfit Inspiration to Help You Dress Like a French Girl
French Girl Style: Outfit 1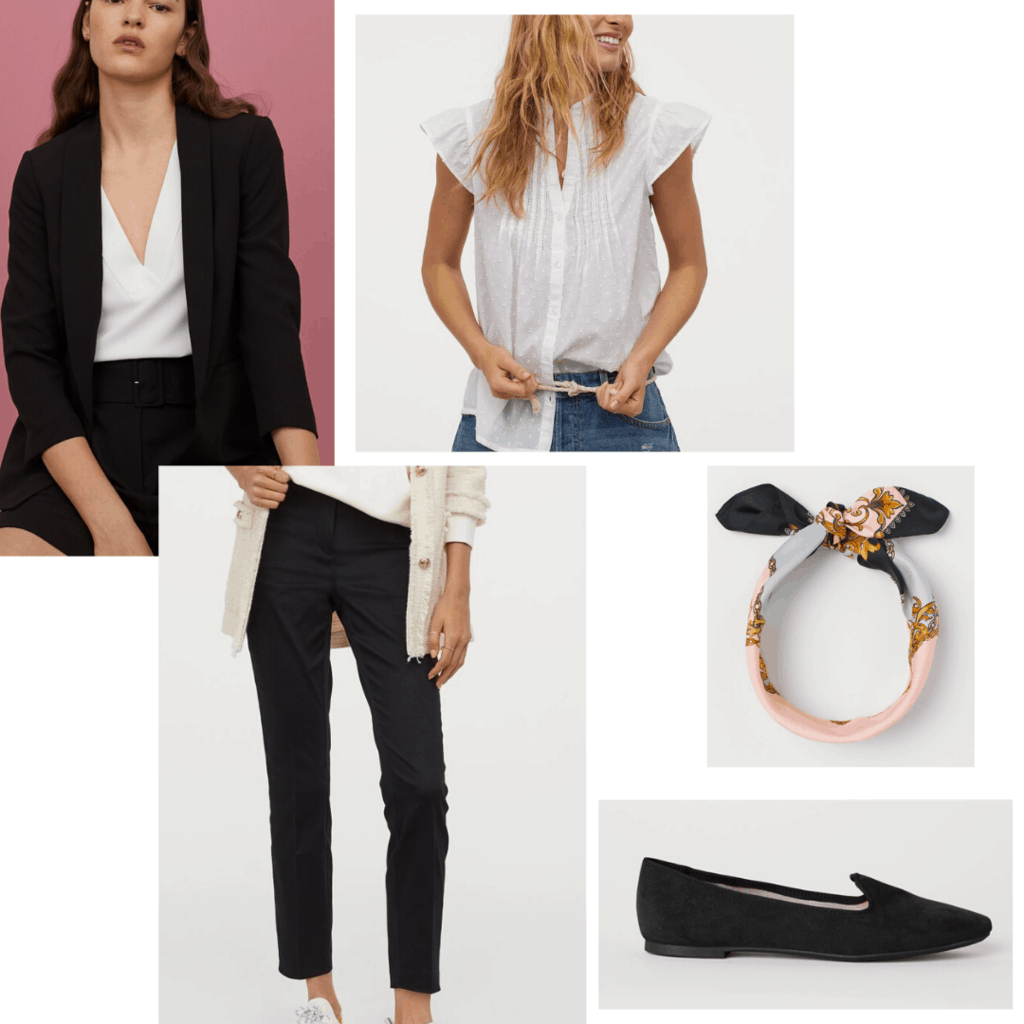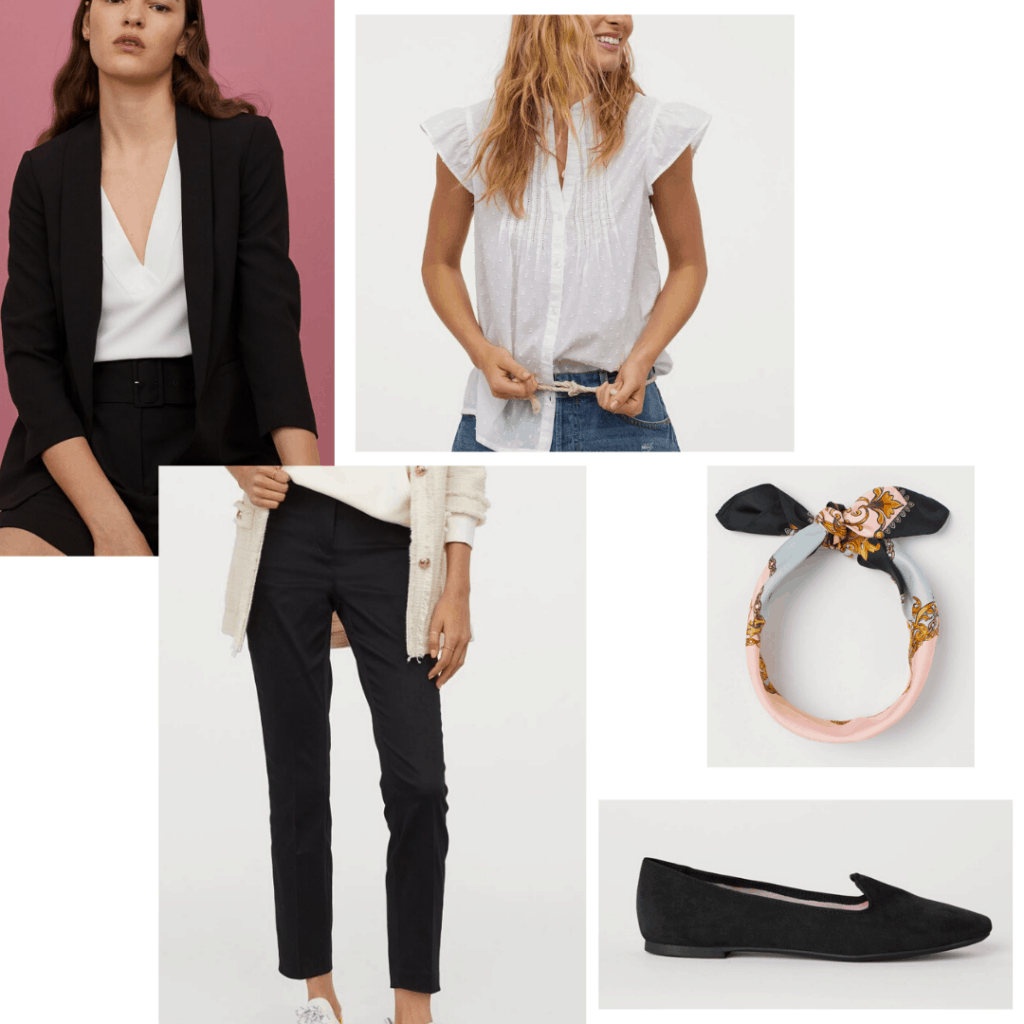 Products: Blazer – H&M, Blouse – H&M, Pants – H&M, Loafers – H&M, Scarf – H&M
A blazer is a must have for a French girl. It makes an outfit go from messy to professional in an instant, creating effortless elegance. You can slip it over just about anything from a white tee to a dress.
Our favorite is this classic combo of a white blouse and tailored pants. It's a typical French girl outfit that will never go out of style.
For a splash of color, add a scarf to your neck. This brings personality to the look and makes it versatile for more occasions.
Also these loafers are the ideal shoe — they're classic, simple, and comfortable. Whether you're headed to class or lunch with friends, you'll look elegant without the hassle.
French Girl Style: Outfit 2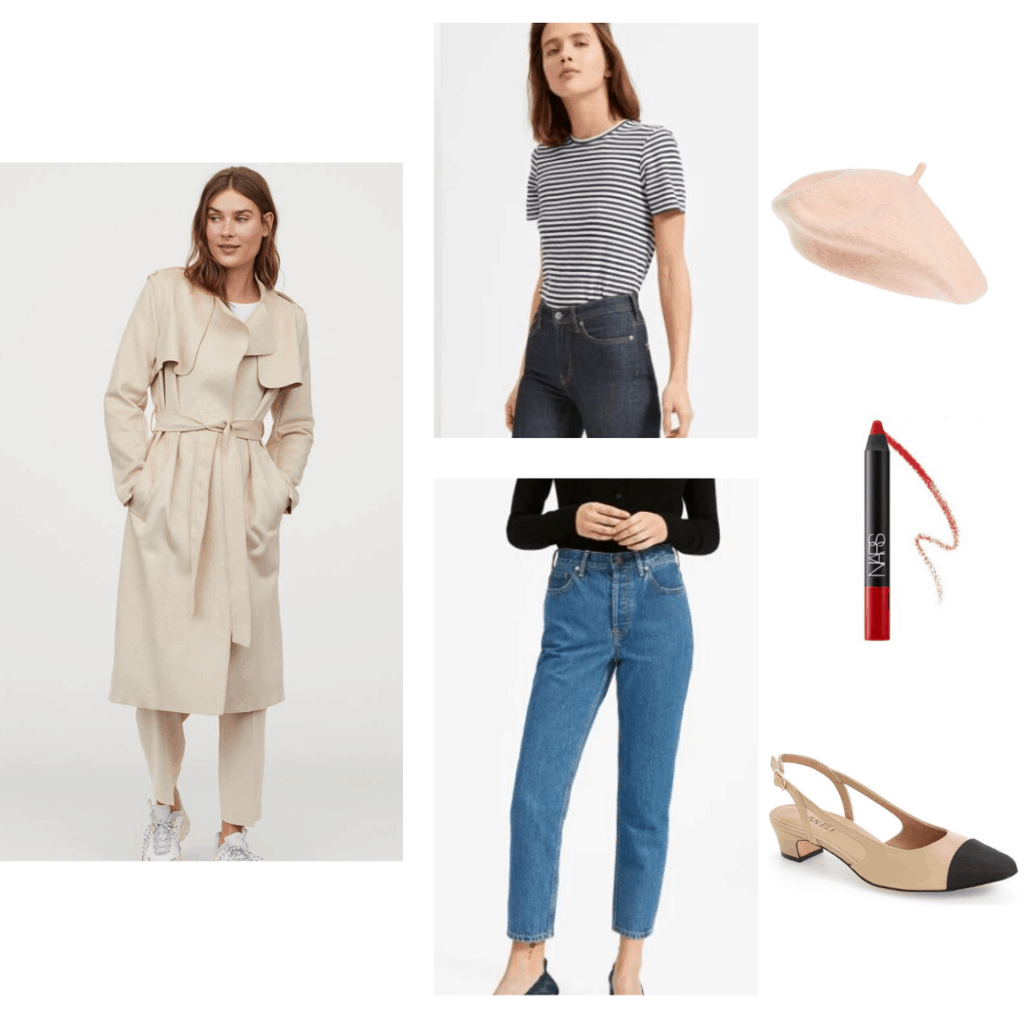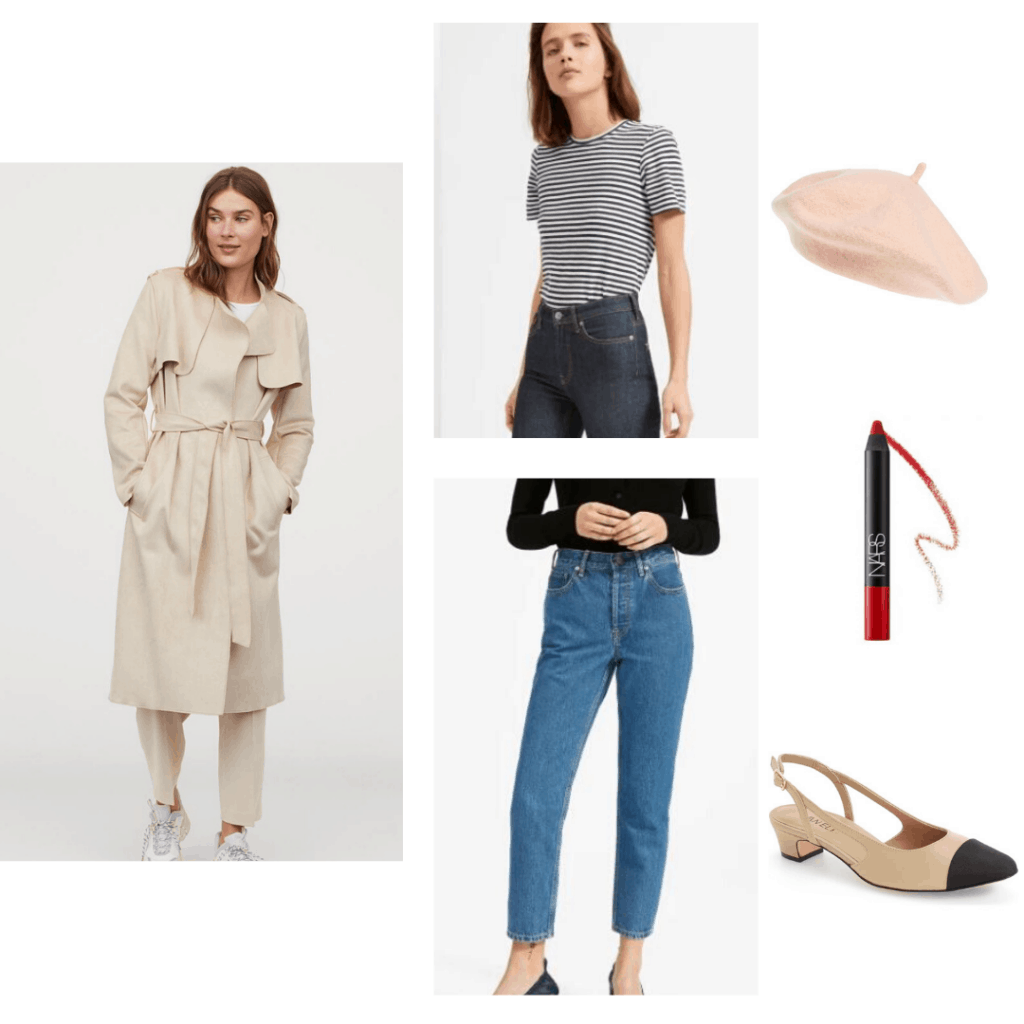 Products: Trench – H&M, Shirt – Everlane, Jeans – Everlane, Shoes – Nordstrom, Beret – Nordstrom, Lipstick – Sephora
Off to grab a fresh baguette, wander an art museum, or — more realistically — run errands? This foolproof, cliche but still totally chic outfit is your best option.
A trusty striped tee, straight leg jeans, and a trench are a recipe for perfection according to French women. This is their ultimate uniform and it's no surprise why.
Classic and simple, this outfit looks great on everyone. Plus you can wear it anywhere and look incredible.
Play up the French vibe with a beret and red lipstick to complete the look. And these Chanel lookalike shoes will make you look as though you truly belong in the "City Of Lights".
French Girl Style: Outfit 3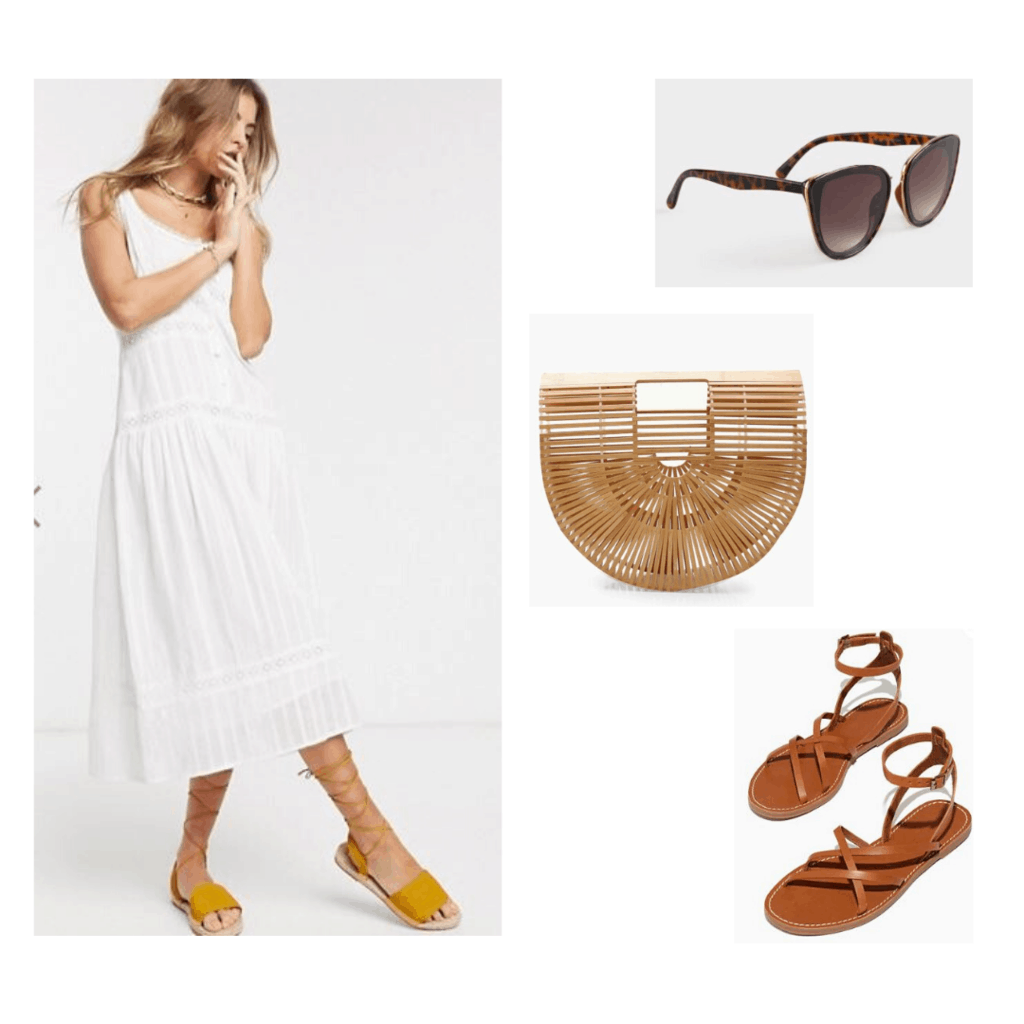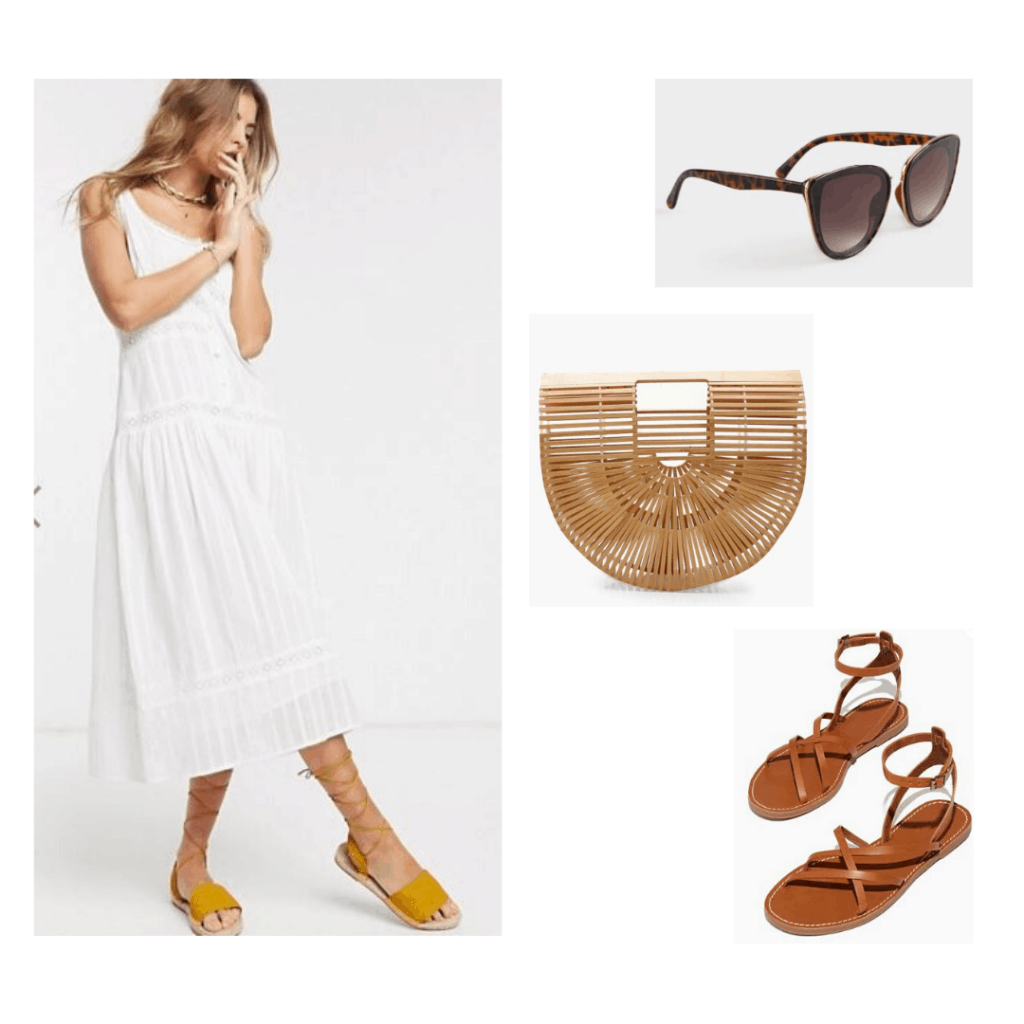 Products: Dress – ASOS, Shoes – Madewell, Sunglasses – Francescas, Bag – Boohoo
French girls seems to look amazing year round, even on hot Summer days. You'll always find flowy sundresses and strappy sandals in any Parisian's suitcase for their Summer getaway. It's a look that can transition from the beach to dinner with ease.
This white cotton midi is the essence of a French summer daydream. Flowy, delicate, and simple, it's everything you could desire in a sundress. The lace adds a romantic detail that feels very Parisian. Add these sandals and a basket bag for the ultimate French gal inspired look.
Which outfit will you be styling to channel your inner French Girl?
Do you envy French girl style as much as I do? What will you take away from this article? Looking forward to reading all of your lovely comments!
Editor's note: This post was originally published in 2015; it was completely updated and revamped in 2020 with new photos, outfit sets, and information.