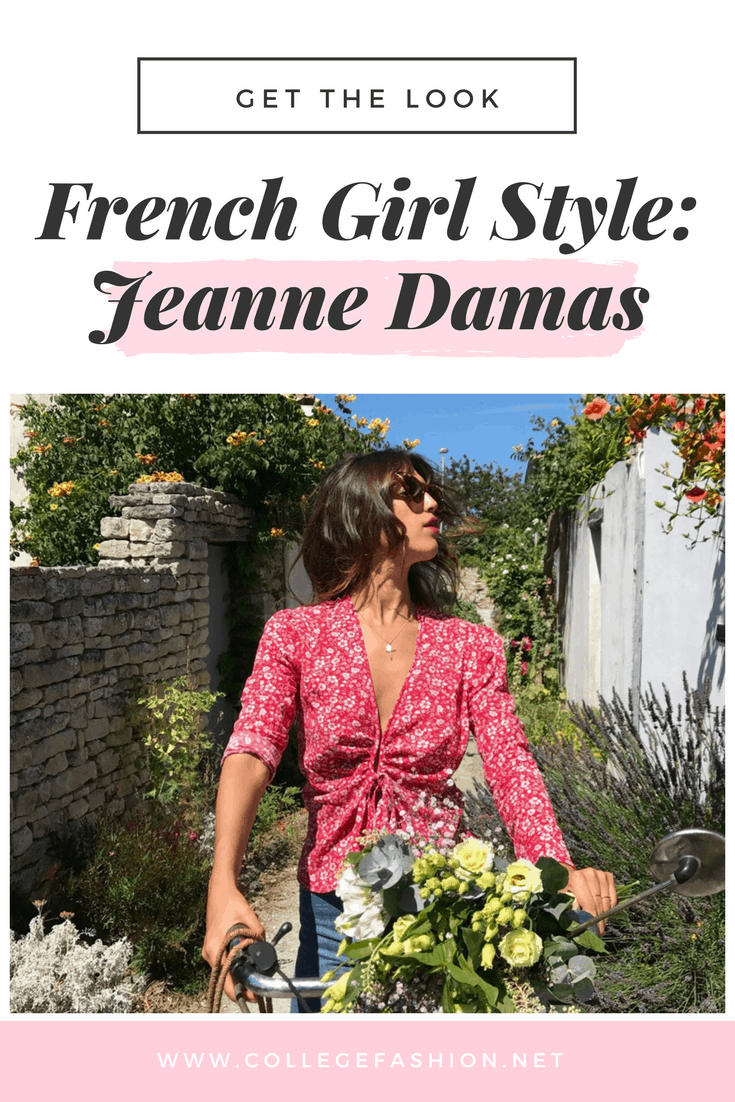 If the name Jeanne Damas doesn't ring a bell, I have two tasks for you. First, please familiarize yourself with her Instagram. Second, know this; she is a French model and influencer who has her own clothing line called Rouje.
Jeanne has recently reignited (or did it ever require reigniting?) the western world's fascination with the windswept and effortless "French girl."
To be more specific, Jeanne Damas embodies the ideal of the "Parisian look"; she's the girl who wears Chanel No. 5, rocks flats instead of high stiletto heels, and loosely drapes perfectly tailored jackets over her shoulders. She might be smoking a cigarette – which I am not advertising – but despite that, you are charmed by her, and the natural makeup and hair she has.
Interested yet? Eager to cut out pictures of Jeanne and craft a makeshift shrine of her? (No, just me?) Don't fret! I've analyzed some looks of hers so you don't have to do the dirty work.
Below, I'll share an in-depth guide to getting Jeanne Damas' style for yourself, with analysis of her wardrobe, accessories, and beauty regimen.
Jeanne Damas' Clothes:
First things first, let's talk about Jeanne's clothes.
Above, Jeanne is sporting a vintage-inspired look, with a printed midi skirt, espadrille sandal/flats, a red sweater, and classic black sunglasses. The photo above that shows her in her full Parisian getup ready to grace the sidewalks in Paris.
The main takeaways here are the color palettes. Jeanne sticks to classic color combinations, like her reds and blues, and her browns and blacks. There are no fluorescent colors here, or crazy prints. If one item in the outfit has texture, that piece alone stands out. She is cool that way.
Jeanne's pieces always go together, and they appear to be quality pieces, not trendy, fast fashion items. That, combined with the vintage inspired flare of the items she wears (the '40s-style midi skirt and sweater, the '70s high-waisted jeans she wears all the time) makes her timeless.
Reminded of any other French girl yet?
Bottom line: Jeanne loves vintage inspired, quality pieces that stand the test of time. Think white button-downs with vintage sensibilities, high-waisted jeans, classic color combinations. Primary colors are your friend. And keep it minimal, but not boring by any means.
Your outfit staples should look something like this: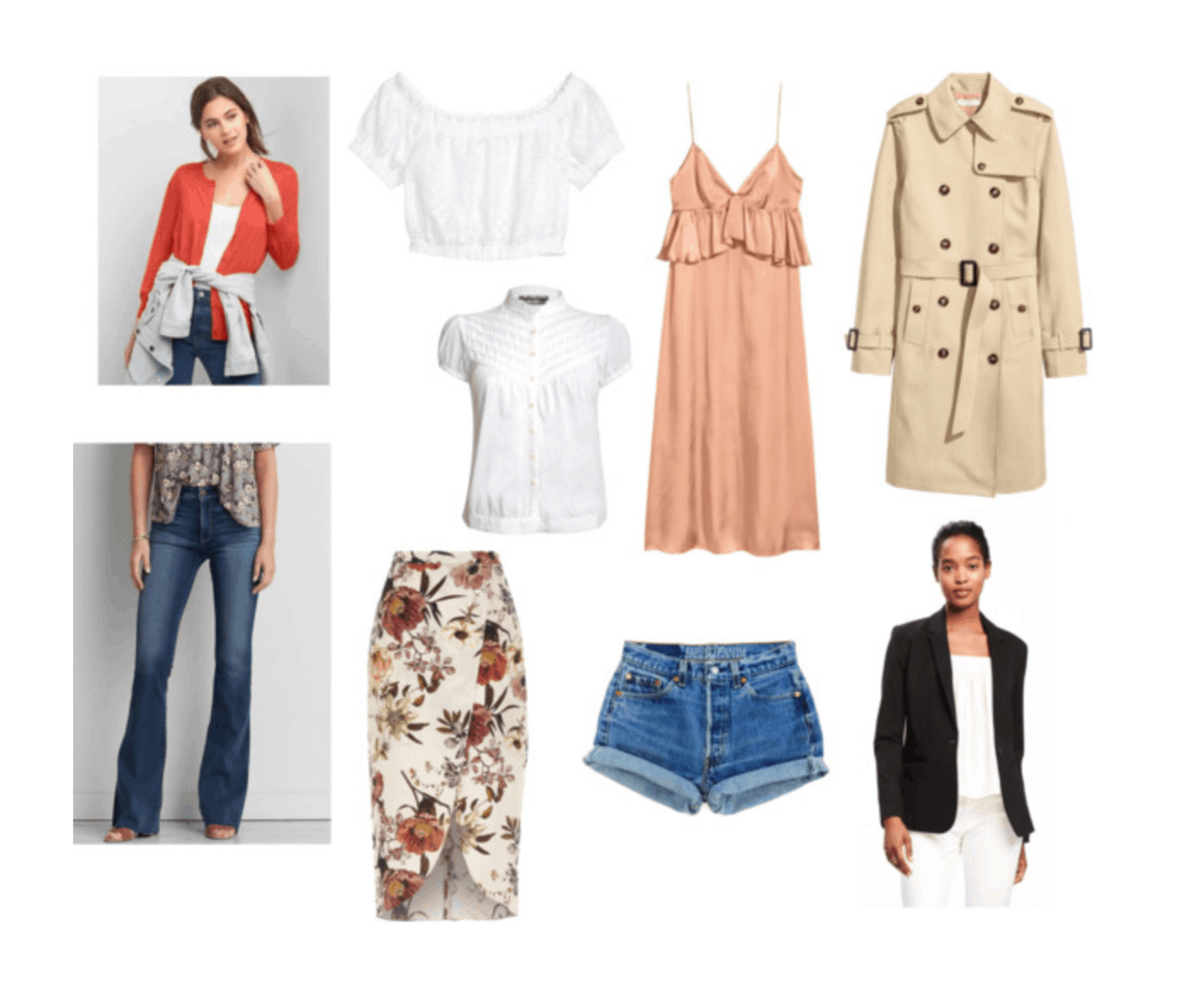 Jeanne Damas Accessories:
Let's talk accessories.
Above, we have Jeanne casually squinting at us, making us question how she can possibly be so unaware of how exact her matching skills are. How she got her vintage wicker basket bag (you're welcome) to match the shade of the print on her shirt, I will never know.
Jeanne takes great care to coordinate accessories with her clothes. Everything. Makes. Sense.
Here, we have legitimate proof that Jeanne and Jane have communicated in the fashion universe, via the Birkin basket.
But on a more serious note, here we see that Jeanne repeats accessories. She wears what she likes, and sticks to what she knows. Remember that.
In this close-up shot, we have Jeanne's accessories du jour. As someone who has an embarrassing amount of knowledge of her quotidian style now, I can vouch for her here – she really does keep it to a pair of gold hoops, a couple of small rings, and occasionally two necklaces instead of earrings.
Her bags are small, usually vintage, and almost always match her top, shoes, or lipstick.
As for shoes, almost all of her shoes have a 60's mod quality to them. It's like if Jackie O. woke up in Paris (flats), hit up the French Riviera for lunch (espadrilles), and then took a evening trip to dance the night away in Monte Carlo (polished and classic pumps with ankle straps, think Miu Miu).
A capsule collection of Jeanne's accessories and shoes would look like this: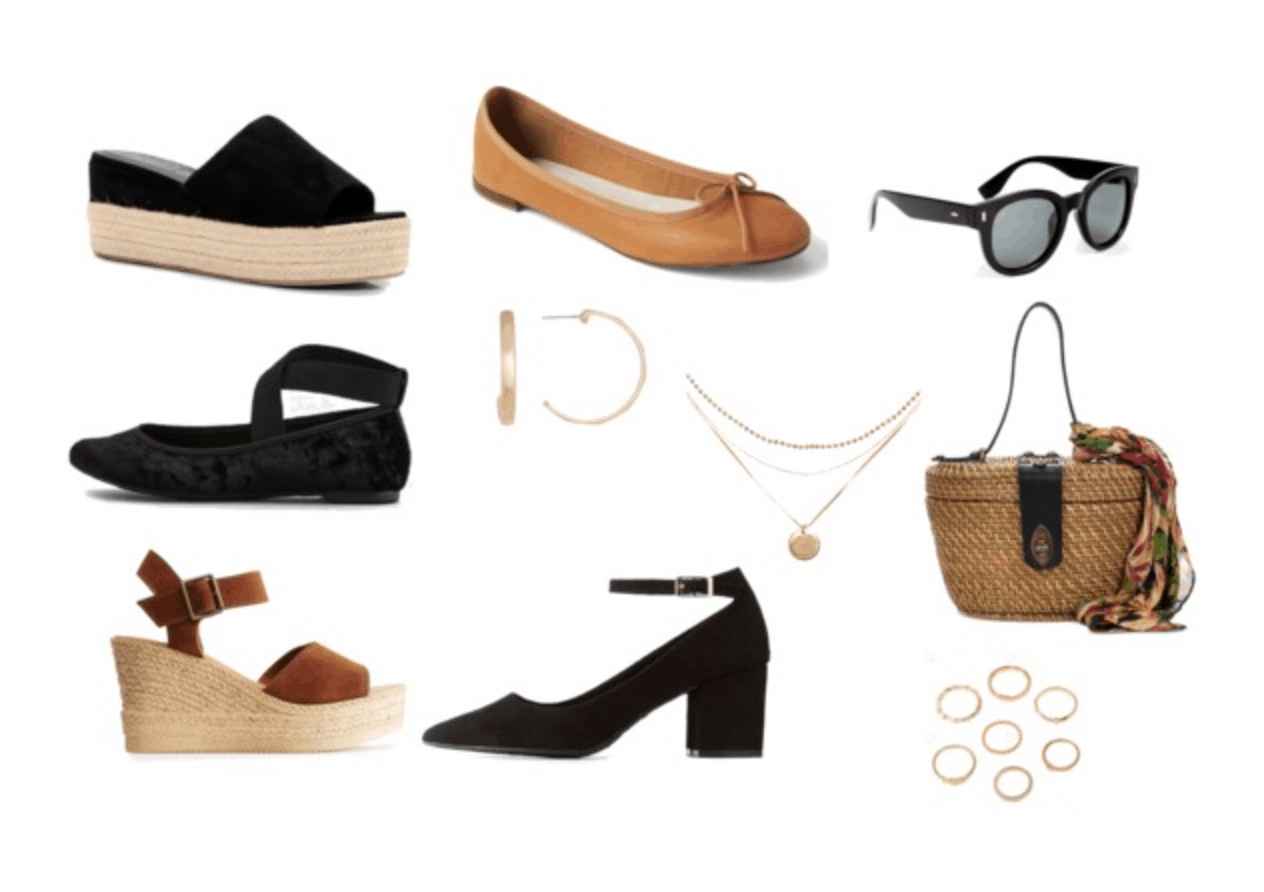 Jeanne Damas Beauty Routine:
Let's end this with makeup and hair.
First, I can tell Jeanne likes to have a tan. Now, because she lives in Paris, it is likely that she gets spray tans at some point during the year. But her signature look is that enigmatic red lip.
The closest she has ever come to revealing the red lipstick shade she wears so well was once in a YouTube video that I saw years ago. She discreetly flashes a MAC tube that I want to go out on a limb and say is Ruby Woo.
In this same interview, she divulges that she mixes colors, and uses MAC sheen supreme in 'Venomous Violet' as a base for the red color. And she always, always, always applies lip colors with her fingers to keep it natural and subtle. Personally, I think a lip stain would provide the same end result.
She delicately lines her eyes and wears NO mascara, although she curls her lashes.
She has said before that she will occasionally use highlighter, but in many photos and instagram stories, she appears bare faced.
So I'm telling you now, don't feel the need to wear a full face of makeup if you want to claim Jeanne's French girl look. It is about being quick, and not having time to care too much about your appearance. You are too busy to care what others think of you when you are juggling classes and being fabulous 110% of the time.
And now it's time for a much needed visual aid, am I right?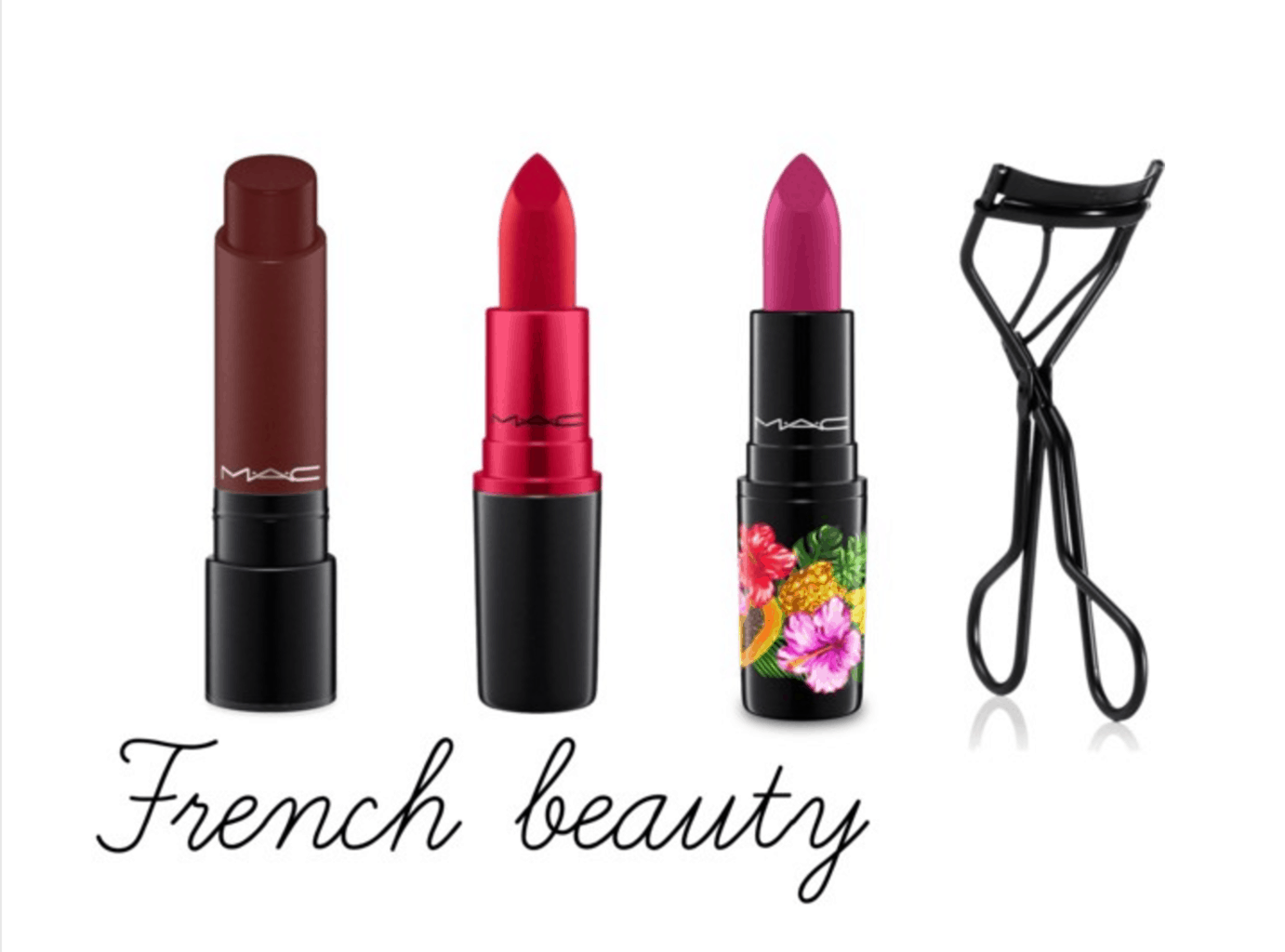 As for hair, besides when she goes to special events, Jeanne never does her hair, or uses heat on her hair. Occasionally, Jeanne will sport a French twist. Her hair is mostly either clipped up, in a low ponytail, or in its natural bed head state.
How to Get Jeanne Damas' Style:
Let's recap what we've learned today! Here are the key takeaways for getting Jeanne Damas' style for yourself:
Embrace a classic color palette, and vintage0inspired pieces that can be used over and over again.
Think timeless style, not trendy – and look to the '60s/'70s for inspiration, rather than the '80s or '90s.
Avoid too much of one thing, be it textured fabrics, or too many prints. All pieces should all be subtle and blend well together, while not being as boring as wallpaper.
Accessories should coordinate.
Shoes are mostly vintage style, mostly '60s, and pumps/espadrilles/flats
Two words: Red lips.
Let your personality shine with dainty jewelry that is unique to you. And choose well-made pieces you can wear all the time, not trendy pieces that are here only for the season.
Wake up, brush your hair out, and if you're feeling that look, keep it down. If not, tie it up. *slaps hand* No hot tools!
That's a wrap! Now go off, ladies, and make me (and Jeanne) proud!
Thank you guys so much for reading my first article here on College Fashion! I'm grateful and very excited to be here with you for the coming semester. And be sure to let me know if you try these looks!