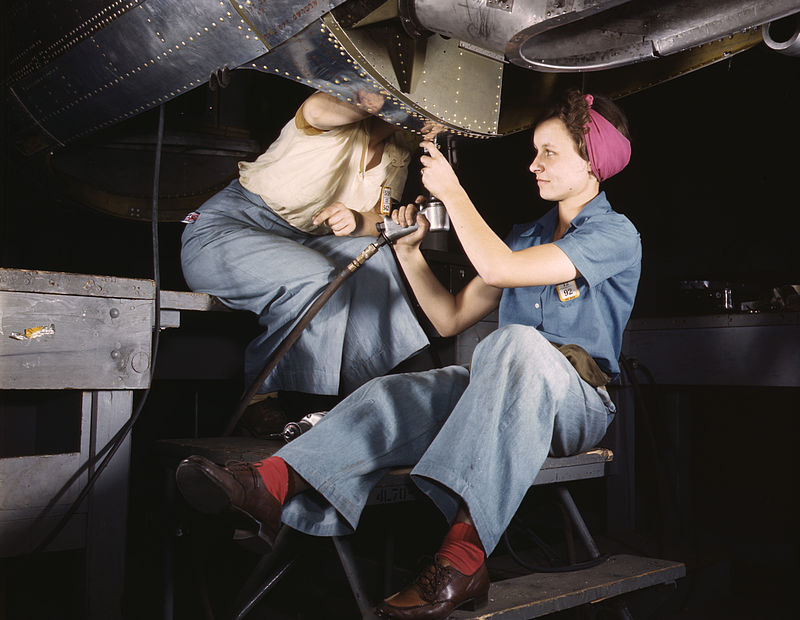 You might not be as familiar with the 1940s as you are with other fashion decades — it's probably a decade you associate with WWII and not much else. However, now that we've made it to our 1940s fashion article, I need to reassure you that the '40s still have a lot to offer. In fact, the impact that the war had on women's fashion was huge.
Not only did WWII separate America from the Parisian designers who previously led American trends, it also limited the materials and designs clothing manufacturers – and at-home seamstresses – could use.
After the war, of course, the separation from Europe allowed room for American designers and fashions to gain popularity. The war also made way for opulent and colorful trends that sought to make up for the wartime austerity. But even during the war, there were a lot of looks worth discussing. One definitely has to admire how even with the limitations placed upon them, women still managed to find their own styles.
I won't go too deep into the fashion of this decade in the overview section, as the three looks below are tied to historical events, but here's a quick look at 1940s fashion:
1940s Fashion Overview
Prior to WWII, America was still in the Great Depression of the late '30s, so fashion wasn't of much concern to the nation, even prior to the war. Nevertheless, the war brought about many sartorial changes. Fashion became more casual, as rationing limited how much fabric could be used in clothing, bringing skirts shorter and tighter, and many of the accessories that defined pre-war fashion were no longer available. Gloves and hats were still a must for women, but nice stockings were hard to get ahold of, and corset makers and materials were needed for the war effort instead.
In Britain, designers came out with Utility fashions, which were designed to make the most of the wartime silhouettes and fabrics, and the motto of many became 'make do and mend' as books gave advice for how to repurpose old curtains and suits into cute new frocks.
Additionally, women had to take over many traditionally male jobs, like factory and farm work, so trousers and jumpsuits became the uniform of many working women. And speaking of uniforms, numerous women became part of the military as well, and the uniforms designed for them inspired fashion in the years to come.
Outfits Inspired by 1940s Fashion
If you're interested in seeing how you can add a bit of vintage 1940s fashion trends to your wardrobe, I have three 1940s outfits, going from slightly '40s, to mostly '40s, to super '40s. Additionally, I also tried to vary the inspiration from different parts of the '40s. I hope you can find something that inspires you! 
1940s Outfit 1: Save the Last Dance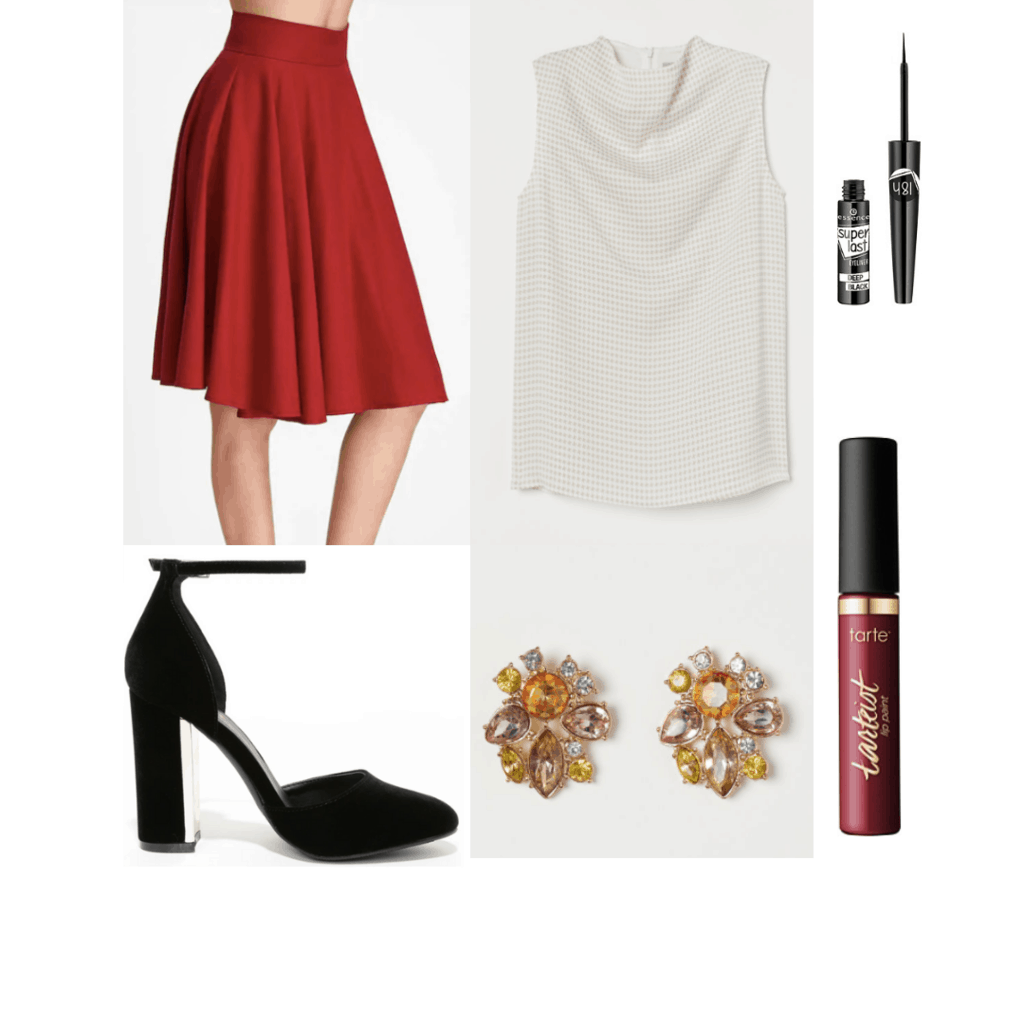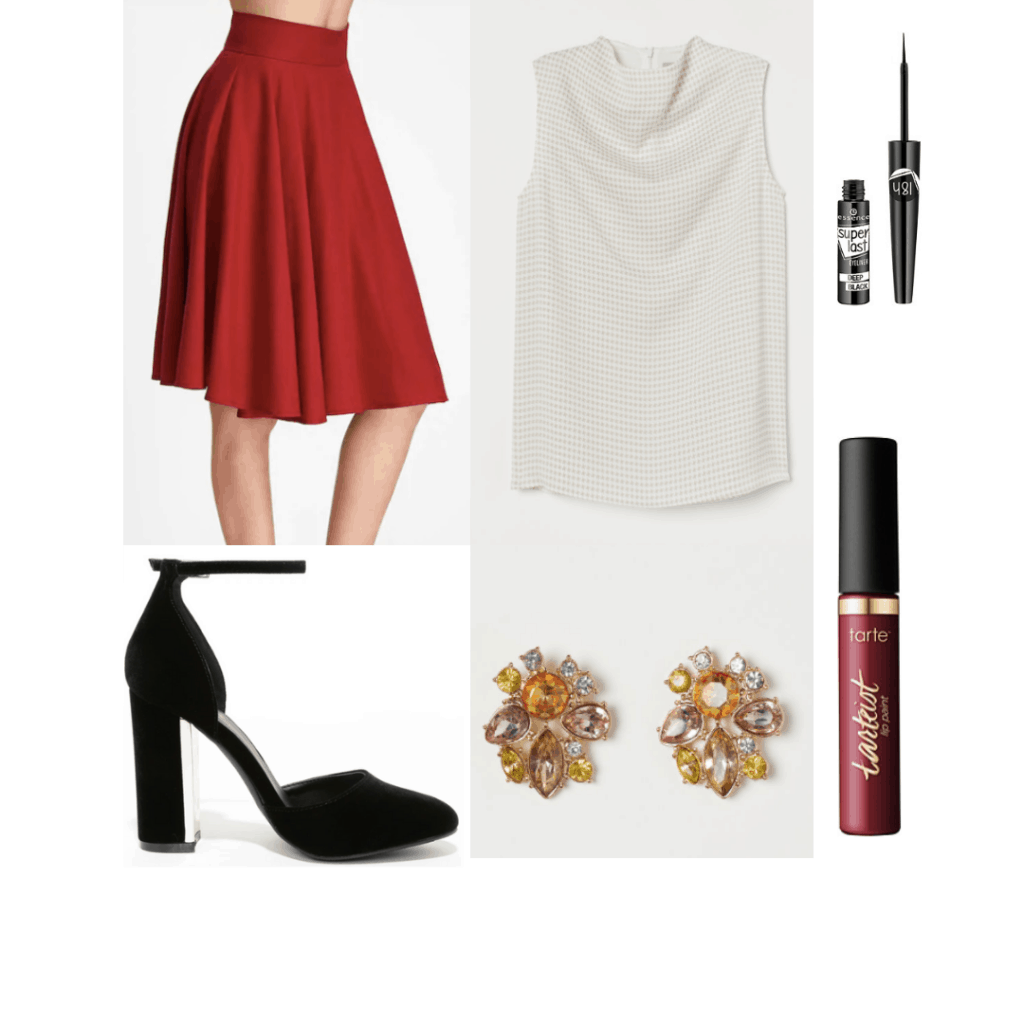 Products: Dress – Shein, Blouse – H&M, Shoes – Lulus, Earrings – H&M, Eyeliner – Ulta, Lipstick in "Vibin" – Ulta
I spent about two years learning traditional swing dancing, and had a lot of fun playing around with vintage inspired clothing and cosmetics. A huge part of my interest in the forties were developed out of this hobby, and it was a great way to make new friends!
This outfit is based off of movement and comfort. Many traditional dance halls in the '40s were overcrowded, making it a little warm. The short sleeved blouse provides structure to this pairing, while allowing you to stay cool and relaxed. The skirt itself is long enough for any elaborate spinning, and is colored red to reflect the changing season.
Lastly, the accessories make the outfit. When dancing, having a sturdy heel is essential. That doesn't mean a blocky heel like this one, but just having a reliable strap around your ankle. If you're going to channel 1940s dancing into your everyday life, it's good to take care of your feet!
Finally, some liquid eyeliner and lipstick makes for makeup that won't budge.
1940s Outfit 2: Working Gals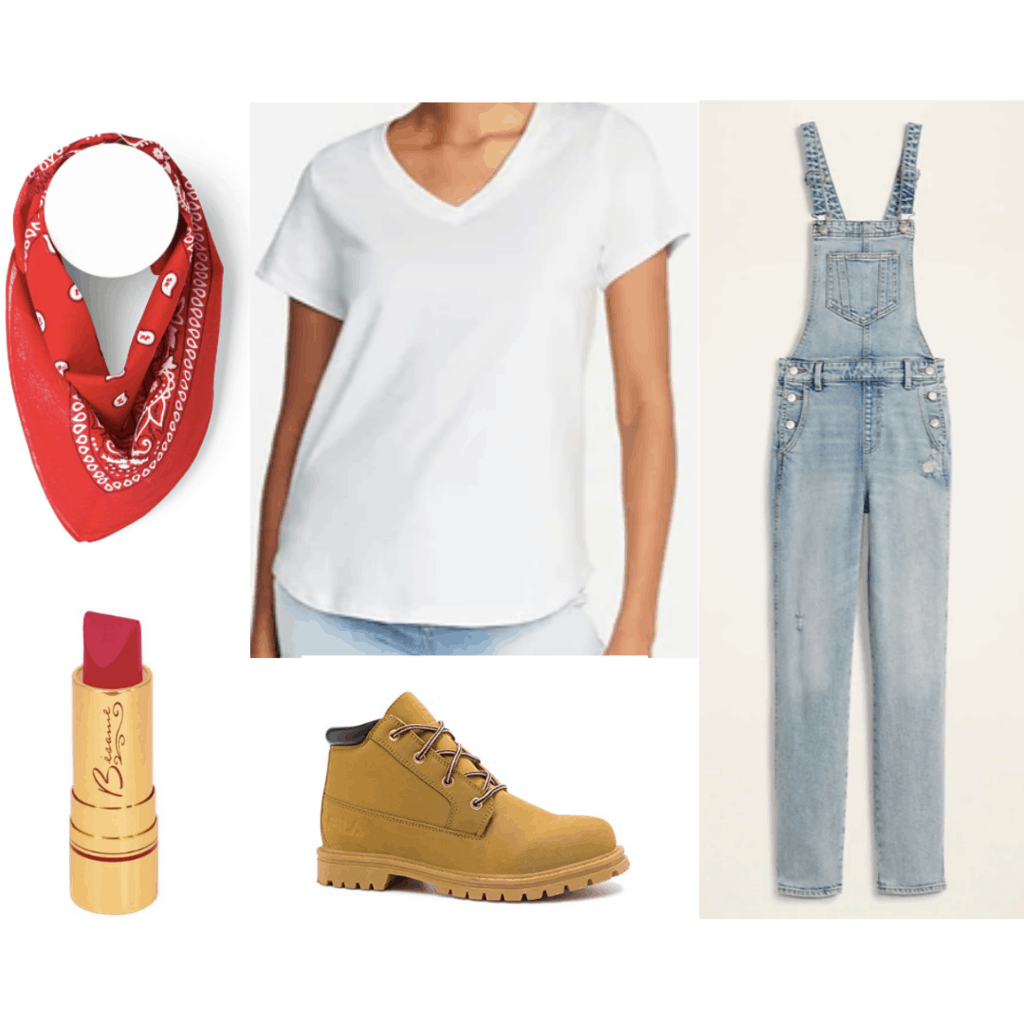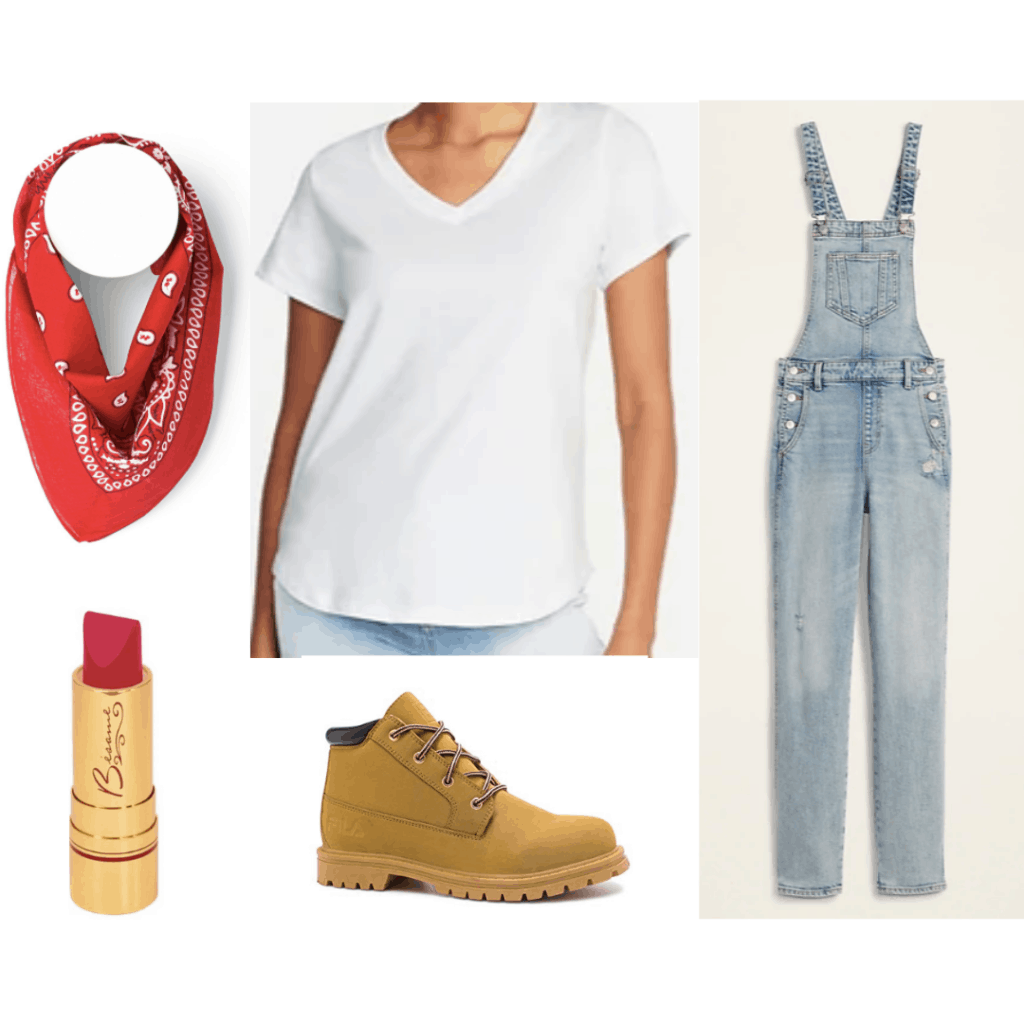 Products: Overalls – Old Navy, Shirt – Old Navy, Boots – Amazon, Lipstick- Besame, Bandana – Simons
Industrialization was huge in the decades leading up to the 1940s. The First World War transformed workplaces to include women in areas like factories and agriculture, but this was multiplied tenfold in the 1940s.
With the Great Depression releasing its hold on North American economics and the Second World War picking up, factories were popping up everywhere, and more women were seeking to earn incomes in them.
Working women pop up everywhere in period dramas, for instance Bomb Girls, a two season series based on the fictional lives of workers at a munition factory in Canada. (That show gave me inspiration for this look.)
You might also recognize a lot of this look as elements from the famous icon Rosie the Riveter, but there's a reason why her image was so universal during the 1940s. Factories were dangerous, and women were walking a fine line between uniform and gender, which is why so much of the decade tried to incorporate femininity.
Overalls or coveralls kept women safe from hooks and other moving parts of machineries, while workplace appropriate boots were also required. Finally, I added Victory Red lipstick and a red scarf to hold back any loose hair!
1940s Outfit 3: D-Day Dames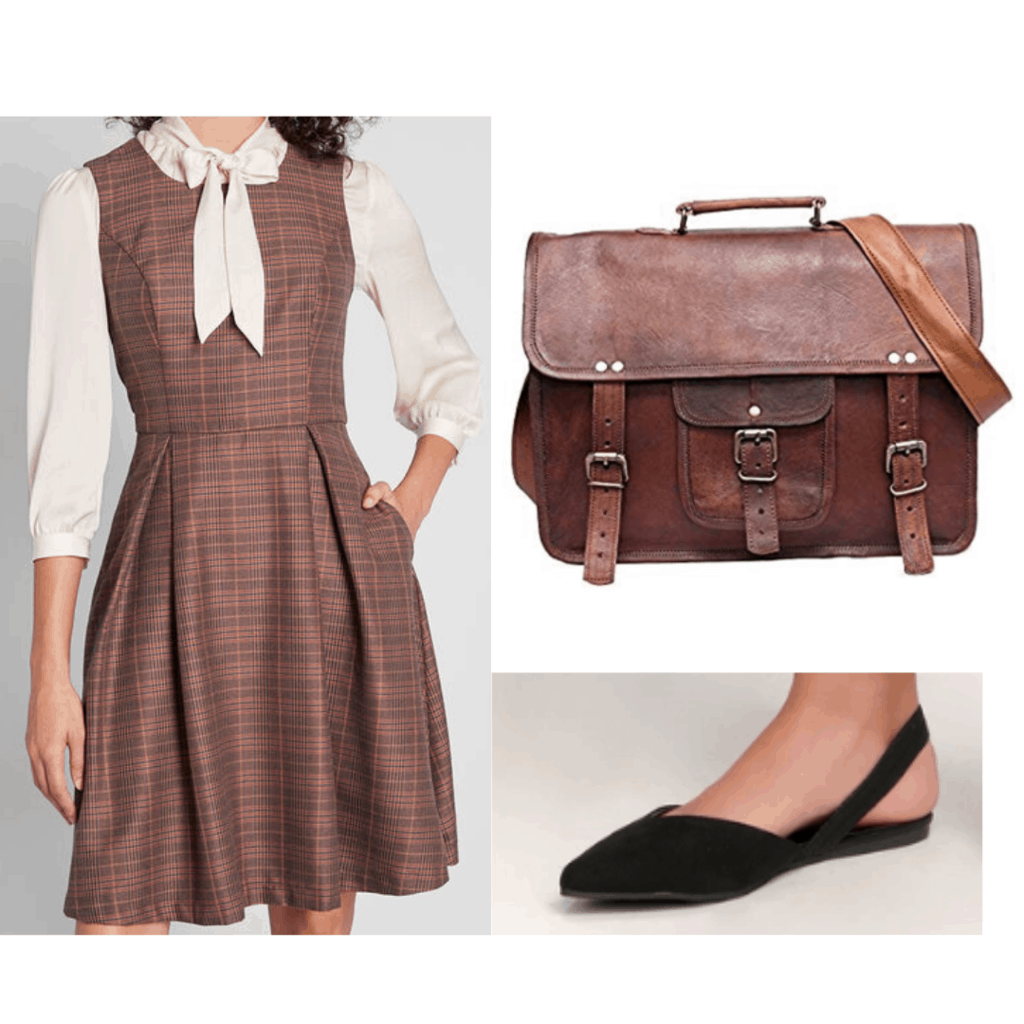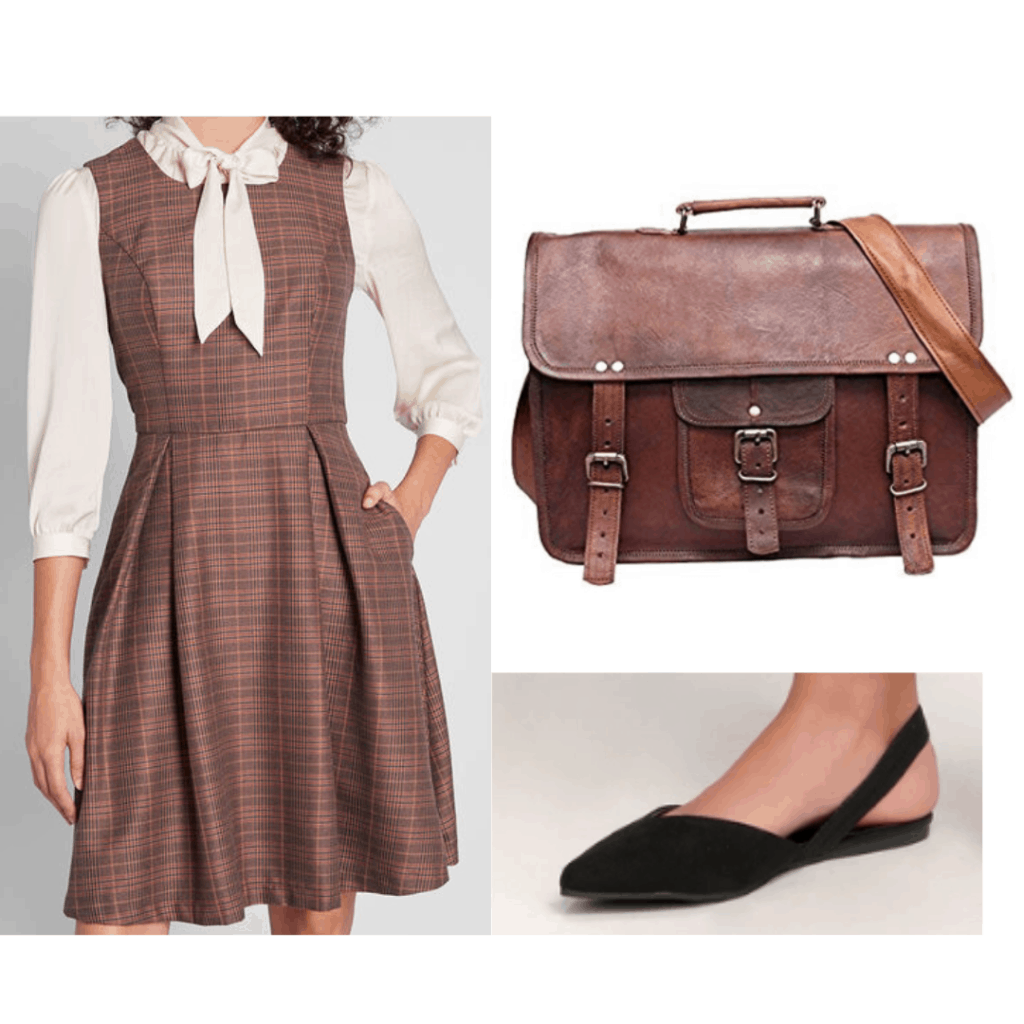 Products: Dress – Modcloth, Flats – Lulu's, Messenger Bag – Amazon
I've talked a lot about industrial workplaces. They were incredibly popular spaces for women in the '40s, due to their then-ubiquity, and that they were filled with so many vacancies when men left for wartime.
However, in the 1940s, women were also jumping to take on roles as journalists, exploring the war up close. Cleverly titled D-Day Dames, they often smuggled themselves over Europe in order to get a perspective on the battles, and wrote a variety of reports.
Because it isn't entirely appropriate to deck yourself out in a vintage uniform, this dress carries the professionalism and the aesthetics on the 1940s, combined with solid heels. I chose this purse because of its ability to stow away a notebook and a book.
More Styles by the Decade:
Want to travel to a different decade with your style? See our other posts on '90s fashion, '80s fashion, '70s fashion, '60s fashion, '50s fashion, '30s fashion, '20s fashion, and '10s fashion for more!
What's your opinion on 1940s fashion?
Are you planning to incorporate 1940s style into your look this year? Are there any 1940s fashion trends you think I should have included? What's your favorite '40s look? Let us know in the comments, we'd love to hear from you!
Editor's note: This post was originally published in 2016; it was completely updated and revamped in 2019 with new outfit sets and information.