I know I talked a lot in my last article about how 1950s fashion was about breaking free from the minimalism and austerity of the 1940s. Of course, now that we've actually made it to our 1940s fashion article, I need to reassure you that the '40s still have a lot to offer. In fact, the impact that the war had on women's fashion was huge.
Not only did WWII separate America from the Parisian designers who previously led American trends, it also limited the materials and designs clothing manufacturers – and at-home seamstresses – could use.
After the war, of course, the separation from Europe allowed room for American designers and fashions to gain popularity. The war also made way for opulent and colorful trends that sought to make up for the wartime austerity. But even during the war, there were a lot of looks worth discussing. One definitely has to admire how even with the limitations placed upon them, women still managed to find their own styles.
I won't go too deep into the fashion of this decade in the overview section, as the three looks below are tied to historical events, but here's a quick look at 1940s fashion:
1940s Fashion Overview
Prior to WWII, America was still in the Great Depression of the late '30s, so fashion wasn't of much concern to the nation, even prior to the war. Nevertheless, the war brought about many sartorial changes. Fashion became more casual, as rationing limited how much fabric could be used in clothing, bringing skirts shorter and tighter, and many of the accessories that defined pre-war fashion were no longer available. Gloves and hats were still a must for women, but nice stockings were hard to get ahold of, and corset makers and materials were needed for the war effort instead.
In Britain, designers came out with Utility fashions, which were designed to make the most of the wartime silhouettes and fabrics, and the motto of many became 'make do and mend' as books gave advice for how to repurpose old curtains and suits into cute new frocks.
Additionally, women had to take over many traditionally male jobs, like factory and farm work, so trousers and jumpsuits became the uniform of many working women. And speaking of uniforms, numerous women became part of the military as well, and the uniforms designed for them inspired fashion in the years to come.
Outfits Inspired by 1940s Fashion
If you're interested in seeing how you can add a bit of vintage 1940s fashion trends to your wardrobe, I have three 1940s outfits, going from slightly '40s, to mostly '40s, to super '40s . Additionally, I also tried to vary the inspiration from different parts of the '40s. I hope you can find something that inspires you!
Outfit #1: Stars and Stripes Forever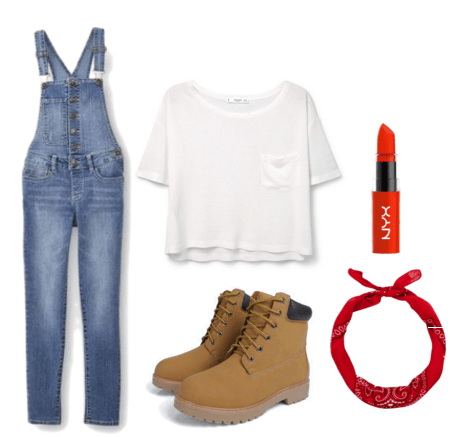 Products: Overalls, Top, Boots, Headband, Lipstick
Admittedly, the clothing worn by women who took over farm and factory work while the men were away was never intended to be fashionable. These duds were purely practical and often considered pretty unflattering and shapeless by the women who had to wear them. That being said, the styles worn then did still have a huge impact on fashion after the war. Additionally, Rosie the Riveter is a pretty iconic figure from this era and it seemed wrong to pass her by.
We tend to associate overalls with the '90s, but denim jumpsuits and coveralls were more or less the uniform for factory workers. Though a button-down is what would typically be worn underneath, this white t-shirt is a bit more modern, especially when paired with hiking boots, my take on the practical work boots the women would have had to wear.
The girls working in the factories were also required to tie back their hair in turbans and handkerchiefs, so I've included a red bandana to hold back your own locks. Women were still encouraged to primp and take care of their appearances in order to keep up morale, so red nail polish and lipstick brightens up this look.
Outfit #2: Bloomer Girl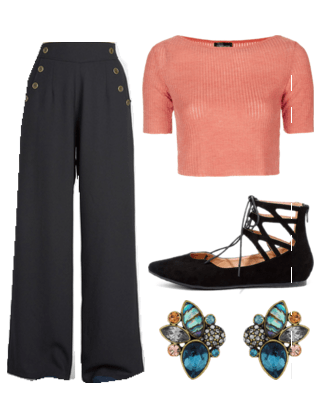 Products: Pants, Top, Shoes, Earrings
One thing we can definitely thank the war for is the beginning of women wearing trousers. Prior to the war, pants were still considered scandalous and were only worn by ultra-wealthy women who could push the fashion boundaries. Having experienced the freedom and comfort of trousers while working, though, women decided the trend was here to stay.
Original 1940s trousers were still reminiscent of skirts, though, with wide legs, so I picked these cute nautical-inspired ones. A bright crop top is a modern take on the knits that a classy '40s lady would have worn, as bright fabrics came back after rationing ended. Rather than going with low heels, I picked a pair or cute flats and finished the look with these bold statement earrings.
Outfit #3: Save a Dance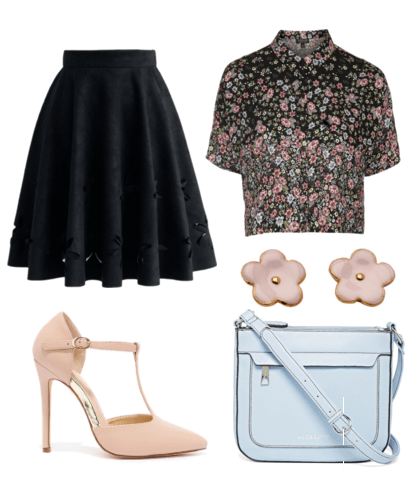 Products: Skirt, Top, Shoes, Purse, Earrings
I was really tempted to do an outfit inspired by women's military styles during the war, with short belted jackets and slim knee-length skirts, but in the end I chose a more homefront-inspired look. Blouses with skirts, rather than full dresses, were just starting to come into fashion, and collared shirts were all the rage. Rather than a midi length skirt, I chose one closer to knee length, as rationing limited how long and full skirts could be.
Rationing also dictated which fabrics and dyes could be used, so I picked a more toned-down color palette. I did add a pale blue purse for a pop of color, though. I finished off the look with vintage-inspired t-strap heels and simple earrings. Of course, if you want a look that's truly of the era, a stylish hat never goes astray.
More Styles by the Decade:
Want to travel to a different decade with your style? See my other posts on '90s fashion, '80s fashion, '70s fashion, '60s fashion, and '50s fashion for more!
What's your opinion on '40s fashion?
Are you planning to incorporate 1940s style into your look this year? Are there any 1940s fashion trends you think I should have included? What's your favorite '40s look? Let us know in the comments, we'd love to hear from you!