I'm going to go ahead and admit that prior to researching this article, I knew very little about 1930s fashion. It doesn't seem like people talk about it much. While styles from the '60s through the '90s are making a comeback and the '40s and '50s are always classically vintage, the '30s are rarely mentioned. Well, no more, I say!
The '30s represent an important transition period between the extravagance of the '20s and the conservative looks of the early '40s, but more than that, the decade has a style all its own. I'll take you through it below.
1930s Fashion Overview
As the stock market crashed in late 1929 and America began to feel the effects of the Great Depression, conservative fashion styles began to replace the glitz of the '20s. Waistlines nipped back in and skirt lengths dropped back down. '30s fashion placed an emphasis on a strong yet feminine silhouette with bias cut dresses and v line silhouettes with shoulder pads and exaggerated sleeves becoming all the rage.
The decade saw the first widespread use of manmade fabrics and zippers rather than natural fibers and buttons, all in the name of cost-cutting and convenience. Accessories gained popularity as well, since a woman could spruce up an old frock with a new hat or gloves. Costume jewelry also became a big seller, as it was inexpensive and had a lot of flair.
Some of the decade's most important style changes came from the silver screen. With the Great Depression sweeping the country, many Americans escaped to the movie theaters to be distracted by the glitz and glamour of Hollywood pictures. Stars like Greta Garbo, Joan Crawford, and Marlene Dietrich became style icons, as women dreamed of wearing the glittering gowns and sharp looks designed for them.
Outfits Inspired by 1930s Fashion
If you want to show some love for the styles of this under-appreciated era, here are a few outfits to get you started! Look #1 is the simplest of the bunch, while #2 brings in a little more of the decade, and look #3 goes all out. Whichever you choose, I hope these outfits can help you find your 1930s inspiration.
Outfit #1: LBD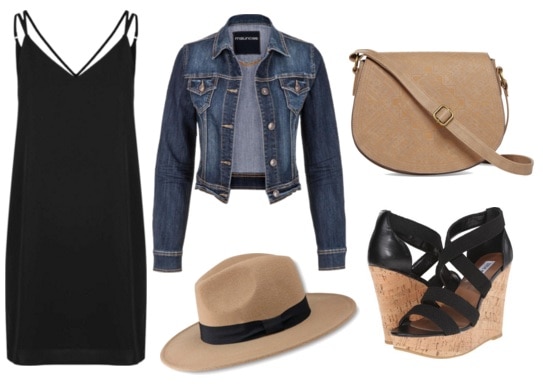 Products: Dress, Jacket, Hat, Purse, Shoes
With spring approaching, I figured I could contribute to the plethora of early spring outfit ideas around. Now, I know this doesn't look particularly '30s, but I promise there's a method behind my madness!
Though the Little Black Dress was introduced by Coco Chanel in 1926, it didn't truly become a must-have item until the 1930s, when simplicity and versatility were the name of the game. This strappy one is a modern take on the classic. Additionally, short bolero jackets were all the rage in the '30s, so a cropped jean jacket is a good stand in. The cloche hats of the 1920s only remained popular until about 1933, with other styles eventually taking over. The panama hat (called the slouch hat in those days) was one such style, and it's one of the few that's still fashionable today.
We may consider it unnecessary now, but in the 1930s, matching your hat to your purse or gloves was extremely on-trend. Lastly, sandals, especially heeled sandals, first became popular in the '30s, so I added a pair of cute strappy wedges to finish the look.
Outfit #2: The Golden Age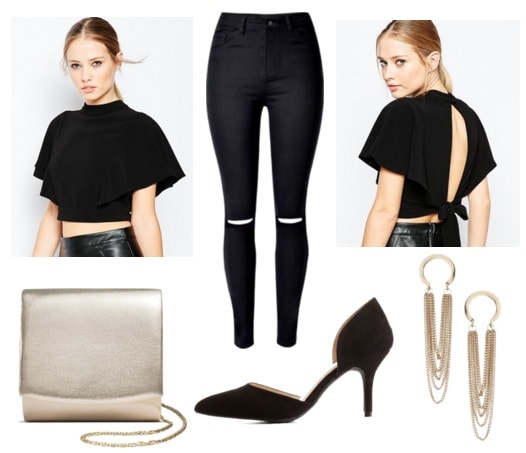 Products: Top, Jeans, Purse, Shoes, Earrings
Though the fashions on the silver screen weren't what women in the '30s were actually wearing, they did have an impact on '30s styles, and honestly, they're just too gorgeous to skip over.
One of the most popular silhouettes of the '30s was a V-shaped look, which was achieved with a slim skirt and a broad shouldered top. This kimono sleeve blouse allows you to pull off a more toned-down version of this trend, and it also emulates the high-necked and low-backed evening gowns that became popular later in the decade.
Dark wash jeans make this outfit a little more casual, and low pumps are the perfect '30s style shoe for this look. Gold lame' and metallic fabrics were all the rage in Hollywood, so a small gold purse and glittery gold earrings are the ideal accessories.
Outfit #3: V for Victory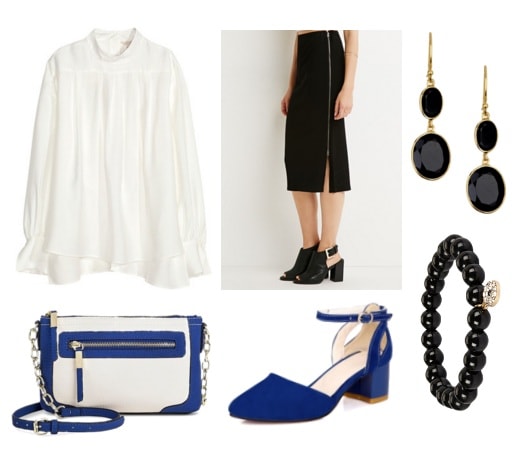 Products: Top, Skirt, Purse, Shoes, Earrings, Bracelet
This outfit definitely has the most '30s silhouette, with a balloon sleeved top and a sleek, feminine skirt. True '30s skirts got even longer than the midi skirts we have today, with most reaching shin or ankle length and evening gowns sweeping down to the floor, but this seemed like a good compromise. Once again, I matched the accessories, adding a pop of color with a small purse and low heels.
A little bit of jewelry always helps a look. Gem drop earrings were particularly fashionable in the '30s and I added a matching bracelet, though you could go for a necklace or even a brooch if you wanted. I shied away from adding any dainty gloves to my outfits, but for a truly 1930s look, they're the perfect finishing touch.
More Styles by the Decade:
Want to travel to a different decade with your style? See my other posts on '90s fashion, '80s fashion, '70s fashion, '60s fashion, '50s fashion, and '40s fashion for more!
What's your opinion on '30s fashion?
Are you planning to incorporate 1930s style into your look this year? Are there any 1930s fashion trends you think I should have included? Are there any '30s trends you wish would come back in style? Let us know in the comments, we'd love to hear from you!